WASHINGTON
Washington Trailers & RVs for Sale! Buy or sell used trailers in Washington – we have used RVs, used horse trailers, used camper travel trailers, used heavy equipment trailers, used dump trailers, used livestock trailers, etc… AllUsedTrailers.com brings Washington safe, easy transactions of buying used near you!
DISPLAY OPTIONS
Item No: WA-RV-552H
2008 - 40 FOOT ALLEGRO PHAETON COACH Motor Home!!!
Unit has only 14k miles on it. Has dual roof ait & heat pumps, automatic awning, solar panels, and water filtration system. Loaded with features, its in like new condition. See details for list of amenities & features.

$137,694. Prosser, Washington.

CLICK on "MORE DETAILS" for PICS & FEATURES!!!
Call Stacy at 601-749-5660, or click the REQUEST button below to email for more info on this trailer.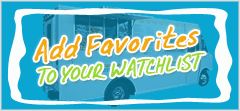 Login to Inquire Online
Call: 601-749-5660
Customer Experiences
Dealing with Stacy at usedvending.com was great! He was able to answer all my questions and concerns in a prompt manner. A great help in facilitating the sale of my mobile kitchen!
D.H.
Charlottesville, VA

05/15/2014

Usedvending was very helpful on everything we ask about, they got me answers about the vehicle I was looking at. I think my broker Stacy Sweet was very good about his job, and went out of his way to do a couple things that I ask him to do. So I just want to give Stacy a big thank you.
J.B.
Teutopolis, IL



03/05/2012

We have completed the sale of our concession trailer! Melissa was great to work with - from start to finish everything went very smoothly. We have already recommended Melissa and USEDvending to a friend of ours. Thank you!

Diane,
Plant City, FL

10/23/2009

I had several questions about a vending trailer that I found on the usedvending site and Melissa wrote me and then called me right away. She worked between me and the seller and provided excellent service. Unfortunately I did not end up getting this particular trailer, but Melissa has kept me updated on new listings that may meet my needs. I look forward to doing business with her and usedvending again in the future. I definitely will only go through used vending when i'm ready to buy. Thanks again for all your hard work and great service.

Joe M
Greeneville, Tennessee

06/18/2011

The purchase of my concession tailer could not have been a better experience for me! Melissa was great and took care of everything for me. Great experience at Used Vending and Melissa is the BEST!!!!

Noelle, TX

06/11/2014

We just wanted to say thank you!!! It was a pleasure working with your company. If we ever have a need to sell our trailer we will definitely be using your services. Not only did you provide quality assistance but you were also very professional and prompt. We would highly recommend you Usedvending.com. Go Crissy!
Travis & Stacy, California



10/14/2010

I WOULD LOVE TO THANK MELISSA FOR THE CUSTOMER SERVICE AND PERSONAL TOUCH WHEN COMMUNICATING WITH. HER VOICE IS PLEASING TO LISTEN TOO AND SHE BECAME MY ANGEL WHEN SHE HELPED US SELL OUR TRAILER. WE HAVE BEEN TRYING FOR MONTHS AND WITH IN ONE WEEK ON THIS WEB SITE IT WAS SOLD. THANK YOU SO MUCH FOR YOUR BUSINESS. TAKE CARE AND GOD BLESS YOU AND YOURS.PEACE OUT SISTER TAMARA

04/10/2014

Hello April,
I wanted to drop a line and Thank you again for the wonderful experience I had in dealing with you. The process on my end was much longer than expected. In fact about 6 months longer than it should have been. During that time every obstacle that came up you had a solution for. You made me feel as if I was your only customer with quick responses to all my questions. I would definitely recommend you to anyone who is need of your company's products and/or services. Please feel free to share this with your superiors or prospective clients.
James Z.
Oakwood Village, OH

09/23/1999

I have had great results with the folks at Used Vending when selling my machines. If you want results, I would highly recommend their services.
Jason G.
Slidell, LA

02/19/2010

Would recommend UsedVending.
What a pleasure it was to work with Melissa. We went into his process not knowing what to expect. Melissa walked us though each segment of the deal and was totally helpful in every way. We were also working with a time factor, us being on the west coast but she worked it out. I have enjoyed working closely with Melissa and would highly recommend the company to my friends and family.

San Francisco, CA

08/12/2012

Dear Melissa, Thank you so much for all your time and help with the used trailer from Brooklyn. You provided us with all the information we needed and were able to answer all of our questions when needed. The buying of the trailer this weekend went very smoothly and it looked exactly like the pictures and had all of the amenities which were listed. Once again thank you for your time, information and all of the knowledge you were able to help with throughout this process.

Sincerely, Jennifer, Christopher & Dominick
New York

02/17/2011

I enjoyed working with Mellisa, she made it easy to sell my vending machine and the seller the company found was nice to deal with also.

Sincerely,
Lou P.

02/07/2012

Melissa, All I can say is WOW. You did a great job selling our concession trailer. You made the transaction very smooth. You are a true professional....I would recommend Usedvending.com and Melissa Powers to any one needing to sell a concession trailer.. In my opinion you are the best in the business!!!! Thanks, for the hard work!!

Irby Gilder Cataula, GA

11/17/2014

Hi April, It was a real pleasure working with you for the purchase of a Coin Change Machine. You were responsive in a very timely manner, were able to address all of my questions. Delivery was done in the time promised. I truly appreciated working with you and will gladly recommend your company to anyone who is looking for a vending machine. Thank you again!

Melissa Pachon-Tepper
Glendale, WI

04/18/2012

Gini was awesome to work with!! I was very pleased with the service received and response time on everything. I would highly recommend them and would do business with them in the future for sure! Thanks for making my life easier!

Ryan Roberts Grimes, IA

02/14/2011

Melissa was great to work with. The sale was handled very professionally.

Thank you



TX

10/26/2009

Working with April has been a real pleasure. April is always willing to go the extra mile and ensure all of my needs are taken care of. I highly recommend working with April for your vending needs.

John,
Connecticut

04/25/2011

Thank you, Melissa, for making the sale of my vending machines so easy. This is THE BEST way to sell equipment (or find equipment). You even worked out a negotiated deal to meet the needs of myself and the seller.

Tony from Iowa

12/05/2014

Hi April, First of all, let me apologize for taking so long to get back to you! I want to really thank you for your persistence on behalf of your client who purchased our machines and on our behalf because we were not sure that we were ever going to be able to sell our machines since they are no longer being manufactured. It was only through your persistence in finding your customer what he needed and matching that need with our machines were we able to sell our machines. The credit for our successful transaction goes to you, April. You are the best!!! And your customer was very pleasant to work with. It all boils down to working with reputable, professional people on all sides of a transaction.

The only suggestion that I have is for the actual instructions for sellers to use in performing the required electronic signatures be revised to reflect the exact experience that the seller is going to have online with regard to the individual steps of the process. If you remember, I had a little trouble because what the video instructions indicated would happen was not exactly how the process went. Other that that,.everything was wonderful!

I certainly would recommend Used Vending.com as an advertising platform and specifically I would recommend you, April, as the company representative of choice for handling the sales transaction. I can not say enough about your professionalism, due diligence and overall pleasant, cheerful attitude when dealing with us. It was, indeed, our pleasure to work with you! Keep up the outstanding work! Have a happy, safe Holiday Season!
Brenda McGee
Las Vegas, NV

05/07/2015

Our experience working with Melissa at USED Vending was great. We started working on getting a truck in the fall of 2014. I first spoke with Melissa then on our intentions to start our own business and the timeline for which everything would unfold over the next several months. Melissa & I touched based every so often along the way to discuss progress. When the time finally came for us to make our truck purchase , I felt like Melissa had our best interest in mind when helping to find the perfect truck. As it turned out, the perfect truck for us was half way across the US. Melissa helped the seller & I connect so that we could all work as a team to get the truck safely to it's new home in New Jersey. I could not have asked for a better experience in dealing with USED Vending or the seller. Making such a huge purchase can be a harrowing experience, but Melissa was there to answer questions and lend expertise at each turn. Thanks USED Vending!
Daisy Maurer,
Pedricktown, NJ

06/15/2010

The mobile kitchen I found was exactly what I was looking for and saved me thousands as opposed to trying to retro-fit a truck or trailer myself. Melissa was a joy to work with and the transaction was quite smooth.
J L.

Oklahoma

08/13/2009

Melissa, Thanks for the list. I just want to say that you all are the most professional folks I have dealt with. You are extremely helpful and always positive. I bought a new machine from you in March 2005 and it was at a much lower price than was quoted from another vendor. In addition, it arrived within a few days. If megavending ever needs a reference, please feel free to contact me.

Bobby Bain

03/17/2014

Working with USEDvending.com was a great experience to sell my 5 machines. It was taking up so much space at the house and USEDvending.com sold those for a price I was looking for and made my life a bless.
M.S.
Alexandria, VA

10/14/2009

Found an item that I was interested in and contacted UsedVending. April and all the others I worked with were friendly and very professional. Responses to questions were prompt and thorough. The purchase was completed in a smooth and timely manner, and I am a satisfied customer who would certainly recommend this company. A big "Thank You" to April for her help.
L'il Rob's Hot Dogs
Fort Payne, Alabama

03/12/2015

"After no success on Craigslist, I decided to try listing an item with UsedVending.com. A few months went by and I forgot about the ad, but the machine sold for the full asking price. Transaction was seemless and the staff handled the all communications with the buyer. Will definitely use these guys again, great experience."
Jordan S.
Unionville, PA

02/10/2011

It has been a pleasurable experience working with Melissa. The sale process was quick, well organized and hassle free.

We appreciate your help and will utilize your services in the futuer.

Thanks,

Michelle Vervaeke

03/23/2011

We had a great transaction with Melissa Powers , this is our second purchase with her and it was even better than the first one.Her great sence of urgency and professionalism made it a very satisfying experience.

C.V.Vending.

10/22/2009

I have got 2 location with the help Melane
every thing work out as expected
thank you

Vendorkay
Granada Hills, Illinois

08/04/2010

Used Vending was very helpful in assisting with the purchase of a concession trailer. Melissa did a super job keeping me posted on the status of the transaction. Thanks for all your work!

Lynn Roath, Jr.
Grass Valley, CA

09/14/2010

They found me a good buyer,
and now I have room in my garage!
Great communication from April...

Canada

08/23/2012

Thanks to Calice for connecting me with the Seller of a used vending machine. Everything about the transaction was handled well. All of my questions were answered in a timely manner and there were no unforeseen circumstances. The seller was honest and worked with our pick-up issues. Expectations were certainly met!

M.B.
Irwin, PA

09/29/2010

My experience with usedvending.com was great. Melissa Powers was very helpful and most importantly quick with information and feedback with any of my questions.
C. Turney
Hospitality Business Owner

11/02/2010

April was just amazing. I asked so many questions! She answered them tirelessly. She is an expert in her field. April was prompt with her replies, accurate with her information, and her customer service skills were awesome. She was a true professional throughout the experience.
Thanks so much, April.

Wanda, Evans, GA

01/13/2011

I have had only good experiences when dealing with April at 4 mega vending. Whenever I call and whatever I need, she is right on top of things. I will not be using any other company for our vending needs. April has completely sold us on this company.
Dave
Palm Bay, Fl

04/22/2013

Thank you for all your help in selling our food truck. The process was quick and painless.
I.R.
Miami, FL



11/18/2014

Thanks crissy for all your help with the sale of my food truck, you made it very easy for me sell.
Thank you,
Andrew Pellicane,
Hutto, TX

03/24/2011

Needed to get 2 vending machines sold. April Hurd was very professional & informative she made the process smooth & simple. Thank u April.

Valerie Hawkins.

10/09/2008

Hello, April did a great job selling me my coke machine, everything was just like she said it would would be, I would recommend for all your vending needs.

Rocky,
Rome Georgia

10/20/2009

Earlier this year (2009) i was contemplating a start-up vending biz...having no prior experience i searched online for suitable "information" providers...i stumbled onto April and i was very impressed with her patience, demeanor, ability to answer all of my stupid questions and ask me the ones i couldn't think of - she was extremely helpful to me

although i decided not to pursue the biz i wholeheartedly endorse April and wish her continued good luck in the future

mike henry
colorado

10/24/2009

April, is very helpful, amd really knows machines. She is very honest and trustworthy, not like other distributors that give vending a bad name.
Maryann
Framarang Refreshment Svcx.
Edison, NJ

03/12/2015

I would like to personally thank Melissa from UsedVending.com for her remarkable customer service. This was a first time purchase for me and Melissa walked me through the process and secured a great deal for me. I can not be more pleased with my transaction and the customer service I received. BIG THANK YOU!!!!
Jeff in Florida

12/23/2014

Hi Ms Crissy, I want to thank you and your company, UsedVending.com for making the transaction of finding and obtaining a food truck. Your system was very simple and easy. It was great to have such a major purchase go so smoothly. Thanks again for all your help, we love the truck. Hope you all have a very Merry Christmas and a happy new year. Thanks again.
Pastor Jones, The Anchor
Irving, Texas

06/30/2012

Melissa at usedvending.com was amazing! She always called me right away. She handled everything professionaly and with a great attitude. I am more than satisfied with my purchase!!! I could not thank you enough!

L.R.
Minneapolis, MN

09/07/2012

Gini was very helpful working things out with my vending location. I hope to do business with her in the future.

Ed,
St.Louis, MO

05/04/2011

used vending was great to work with. While my transaction was small, Melissa and the company treated me with respect and care. They made me feel that my business was the most important thing they were working on. Thanks so much for a job well done.

Paul

Jackson, MS

10/09/2010

Hi Connie,
Just a quick note and thank you for your professionalism and ease in doing business with your company!!

Arizona

02/23/2012

I was very pleased with the professional and helpful way that Melissa Powers assisted me in selling my equipment. Melissa was very good at keeping me informed about the process, as well as understanding of my situation. Thanks so much, Melissa!

Julie,
New Orleans

hello april
thanks for the e-mail, i received the 4 route pros today!! man that was fast!! thanks again for the great service and the followups, you folks are professionals and i appreciate it!! i plan of building this business as large as possible and you are the ones i am exclusively dealing with!! great people, great machine in the route pro, and great prices!! again, thank you april. darrell

Louisiville, KY

01/01/2009

Thanks for all your efforts- you have been a real professional to work with and there is a good possiblity that we may make a second purchase from you within the next 90 days.

Aloha!
Jay Higgins

Hawaii

08/21/2010

Found an add for Wowie Zowie gumball machines on UsedVending.com and got a great deal on them. Thanks to Melissa for send info on completing transaction. VERY HAPPY!!
UKJEFF
See Hundreds more or Write your own...