WASHINGTON
Washington Trailers & RVs for Sale! Buy or sell used trailers in Washington – we have used RVs, used horse trailers, used camper travel trailers, used heavy equipment trailers, used dump trailers, used livestock trailers, etc… AllUsedTrailers.com brings Washington safe, easy transactions of buying used near you!
DISPLAY OPTIONS
Item No: WA-RV-552H
2008 - 40 FOOT ALLEGRO PHAETON COACH Motor Home!!!
Unit has only 14k miles on it. Has dual roof ait & heat pumps, automatic awning, solar panels, and water filtration system. Loaded with features, its in like new condition. See details for list of amenities & features.

$137,694. Prosser, Washington.

CLICK on "MORE DETAILS" for PICS & FEATURES!!!
Call Stacy at 601-749-5660, or click the REQUEST button below to email for more info on this trailer.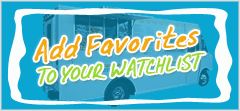 Login to Inquire Online
Call: 601-749-5660
Customer Experiences
09/09/2010

April was amazing to work with. Unlike other vending sell reps, her communication was consistent and professional. I look forward to purchasing my next set or Vending Machines, as April made the process smooth and effortless. Thank you,

Mr. Sherrod- New to the vending business

03/22/2016

Hi Melissa - Thanks so much for helping us get our Food Truck sold! The way you worked with the buyer, the buyer's bank and how you arranged all the meet and greets and test drives, was instrumental in getting everyone on the same page and ultimately closing the deal. We couldn't have done it without you, and will send anyone we know that is looking to sell, or buy, a truck or trailer to you! Cheers!

Ann and Dave,
Kenmore, WA

Hi Gini, This was my first experience and transaction with your machine placement program. Everything went very smoothly and expedious as we conversed back and forth via email or telephone. I appreciate your quick response and thoroughness in providing the needed information. A vending machine has been placed and the customer is very excited about it. Thank you again for the referral.

Tom Mennetti
South Carolina

05/11/2016

I would like to start out by saying Jennifer Melerine was very helpful in every aspect of my transaction from the beginning until even after the sale was completed, she went above and beyond to help make this happen, even to the point of taking care of a couple small problems after hours, I say great job and all my thanks to . Jennifer Melerine . people like her makes makes a great company to deal with...Again Jenn thanks for all u did in order to make this happen. very satisfied customer.
Gary Ditch,
Norman, OK

06/03/2014

Usedvending.com was the easiest and best way to sell your equipment. I will be using you again! Thank you for your help.
Eric, Arkansas

03/16/2012

Again this was another smooth and fast transaction. Stacy Sweet worked very hard to ensure the transaction was handled very fast. I am very pleased with the machines. We were dealing with more than one seller and Stacy was great in helping me coordinate the pick-up at all locations. Thanks again for all the help and assistance. usedvending.com is our #1 source for all our vending machine purchases.

C. Hollingsworth,
Mississippi

09/27/2009

When our church decided to purchase a drink machine for our fellowship hall, I was clueless on how to begin the process. I called 4Mega Vending Company. Because it was a used machine, I was originally skeptical. However, they were patient and helpful in answering all of my questions concerning costs, return in investment, up-keep, and models available for my situation.

After the purchase they delivered the machine and were helpful in walking me through the process of adjustments that I wanted to make, such as price changes, temperature control, etc. If I have a question, even after the warranty expiration, they have always been helpful in resolving the problem.

We have been extremely pleased with our purchase and our association with 4Mega Vending Company.

Sincerely,

Dr. Ed Ferlazzo
Minister of Worship and Administration
Haltom Road Baptist Church
Haltom City, TX

05/30/2012

I received a location notification from 4Mega Vending, and found it very interesting. I contacted Gini and she helped me through the entire process, and I was awarded the location. As it turned out the securing of the location took longer then anticipated, and was more troublesome then expected. Gini stood by me the whole way and was in constant contact with me. With her help I was able to get the location and complete the installation of the machines. I am very much looking forward to working with Gini and securing more locations. My appreciation to Gini and everyone at 4 Mega Vending.

Preston Nebel NEI Video & Vending,
VA

10/09/2013

Calice was a great help and stayed on top of negotiations. She kept in contact periodically and advised us. We highly recommend her!
L.I.
Deland, FL

02/24/2016

USEDVending made selling our items so much easier, really appreciate all the hard work they go through to pair buyer/seller together!
Patrick Davis,
Plainfiels, IN

06/01/2011

ALTHOUGH IT TOOK A WHILE..WHEN THE RIGHT BUYER CAME ALONG, MELISSA AND HER STAFF MADE THE TRANSACTION REAL SMOOTH.ALL PHONE MESSAGES WERE RETURNED. ALL QUESTIONS AND CONCERNS WERE ADDRESSED. IF YOU KNOW ANYONE BUYING OR SELLING,THIS IS THE PLACE TO GO!! THANKS AGAIN

BILL SHICK,CLEVELAND TN.

01/07/2014

Melissa did a great job helping me with getting the food truck we really wanted. Great service and super responsive.
J.P.
St. Louis, MO



10/16/2009

Thanks Melanie for the help in finding locations. 4 Mega Vending has a professional customer service staff and fair pricing for locations. I definitely recommend 4 Mega Vending service.

Thanks!
Eric
Triple E Vending
Palatine, Illinois

03/04/2013

Very nice doing business through your site.
D.H.
Whittier, CA




12/09/2014

Hi Melissa i just want to thank you for your help in selling my food truck. I know you worked really hard to get this done. I have used you and your company in the past to buy a trailer you were so helpful, and then you helped me sell it a year later and now you helped me sell my food truck. I have had nothing but great experiences working with you. You have great understanding of the food vending world and are able to explain it all very clearly. I will call you if I want to get back into it. Once again thank you.
Yours Truly,
Scott Hoffman
Southbridge, MA

01/31/2013

Melissa , everything went great we are pleased with our purchase and we thank you for making it easy for everyone

G. C.
Kane, Pennsylvania

11/14/2014

Just a short note to let you know that I am very pleased with my experience doing business with MegaVending. Your patience with my "shopping" and your follow up concerning all the details were outstanding. I hope to add another machine late Spring 2015 and will certainly come back to MegaVending for my needs. Thanks once again for everything.
Tommy Allen -
Allen Rental Properties Alamo,Tn.

I have purchased 10 vending machines through Eric at USEDvending.com and have been very pleased with the service I have recieved.They were several different transactions and I received the same service each time. Eric always follows through to be sure I am satisfied. I will continue to do business with USEDvending.com as long as they are on the web. sincerely,

Dan

02/07/2012

Tara is amazing! She answered her phone almost all the time (or got right back to me if she was on another call). Tara answered my e-mails very quickly, so between those and the phone calls, I felt like I had a personal rep helping me with my research and eventual transaction! Tara provides extremely fast and friendly service, and I will use her again without hesitation. Thanks, Tara! You rock.

Rob,
Texas

09/04/2012

Special Thanks to Melissa for a perfect service. she sold my 1st Food Truck in less than a month and now my second in less than a week !!! What a great experience again! Thanks.

Kevin
Miami, FL

03/30/2011

I was able to sell three vending machines in about three months thanks to this website service and the wonderful help I received from Melissa. She was very helpful, attentive and professional. I recommend this website service as it is the only thing that worked in trying to sell my machines (I also tried Craigs list, the local newspaper and another website.) Thanks!!! Christine

CA

After deciding to close our vending business, my husband and I were at a loss about how we were going to sell 23 vending machines! We researched the internet to get an idea of how much Antares machines were selling for and came across USEDvending.com. It took us about 2 months to enter all of the information on the machines and we eventually finished by getting help from Melissa Powers. About 2 months passed and we did not have any bites on the machines, finding out that Antares had discontinued making our model because they were manufacturing a new, upgraded model. Melissa helped us with pricing and we waited! Two weeks ago, Melissa talked with a man interested in purchasing 4 machines from us. She called me and Randy, left messages. I called Melissa the following day and she was very thorough & efficient. She provided detailed information on my responsibilities to complete the sale and she was prompt to contact the buyer. After the purchase was complete, she followed up to make sure all was well. She then gave us the option of mailing a check or ACH deposit and we chose ACH deposit. To my surprise (not very many people follow up anymore!), when Melissa knew the ACH credit would not show up when originally discussed, she emailed me with an update. Today, the ACH credit was processed and I just received an email from her, letting me know! My first experience selling ANYTHING over the internet has been a great one.....and Melissa made it happen for us! Thanks Melissa!

05/23/2010

April was so helpful and such a delight to do business with. I was very happy with my soda/snack machine and the customer service I received was excellent!!

Lisa

08/23/2010

Through youe site i was able to identify sellers that were close to home and with quick response from Melissa was able to acquire the machines i needed to replace a couple that were no longer working. My experience in picking them up was quite agreeable and both seller and buyer were satisfied.

John, Orangeville ON Canada

03/07/2016

Thank you Very Much for your help on our Purchase of a Used Vending trailer for our Rotary Club! Melissa was always there to help us through the process along the way. The transaction went very smoothly.
Brian Brewer
Lamar, Missouri

11/17/2010

April Hurd was very helpful in providing excellent customer service. She definately is a great asset to your company! Look forward to work with her again in the future.

Gor, CA

08/15/2013

Stacy, it was a pleasure working with you. You were very helpful in helping me select the correct machine. When there were changes to our order you handled them expeditiously. Thank you.
T.M.
Simi Valley, CA

10/13/2009

Working with April to locate and secure new vending machines for our company was an absolute pleasure.

She exceeded all of my expectations and was able to find me new machines at a fantastic price! The new machines that she found for me were actually less than other companies wanted for used machines!

I would and will recommend usedvending.com and April Hurd to anyone looking for new or used vending equipment!

Lake Geneva, Wisconsin

06/13/2012

I've sucessfully purchased candy machine lots twice from Usedvending.com and both times have been very pleased with the results. Calice is GREAT to deal with. My last deal only worked because of her persistence and understanding. I highly recommend both the site and Calice!

Eric
Manassas, VA

11/13/2014

Thank you so much for assistance in getting us a drink vending machine. Your assistance, along the technical assistance received, was very beneficial and allowed for a smooth process in ordering and receiving our machine. Thanks again for all of your help and Prince George County will keep you mind should we have future vending needs.
Leigh Primmer,
Prince George County, VA



06/26/2014

Hello, my name is Tasha Crafton. I really would like to thank Usedvending and Mr. Sweet for making my experience a great one. This is my first time and first vending I purchased; I was a little skeptical at first - after talking with Mr. Sweet for a few days ease my fear. Everything was done in decency in order. I thank you very much, I planned using this company in the future to purchase my first vending truck. Thank you again, Usedvending.
Tasha,
Smyrna, Delaware

09/28/2009

I was impressed by your representative (April) and the customer service she provided us. Not many companies like this left around the country. Better to hear it from the boots on the ground rather than from some far away place or recorded info.

Brian
Lindsay, California

01/06/2013

Melissa was great to work with- thank you.

B.B.
Grand Forks, ND

09/27/2012

Gini did a great job of answering all of my questions and making all of the arrangements. My experience with Usedvending was very positive.

P.M.
Salt Lake City, Utah

04/29/2010

We are SO happy with our soda machine, but April Hurd is our angel. She was SUPER in facilitating our purchase, but she also was so gracious when we lost our key. In a FLASH we were back in business. She actually thanked us for the opportunity to serve us further! You can't beat that!

Pastor Steve

04/23/2016

After having my Food Truck listed on other list sites and having dealt with the many emails and phone calls that went nowhere, I finally decided to list my truck for sale with UsedVending.com. I am so glad I did. I got exactly what I wanted for my truck, I didn't have to haggle with anyone over price and the money was wired directly into my account within hours. Truly one of the smoothest transactions I have ever done. Jen, my rep, kept me informed and was great to work with. She helped me navigate through the transaction which was comforting when dealing with large amounts of money. Thank you,
Cambria,
Central Point, OR

12/09/2010

Thank you for all of your help in obtaining our two machines last month. You made it very easy and the transaction went smoothly. We appreciate your patience in helping us get this done. If we need more machines, you will be the first one we call.........you made things so much easier than we thought possible!!

Darwin,
MO

05/18/2015

After 1 1/2 years of looking for a Concession Trailer / Mobil Kitchen and running into scams and miss represented junk. I finally found a company I could do business with. Thank You April. You were there every step of the way. Even texting, to wish me a safe trip, after the deal was done. The Mobil Kitchen was everything it was represented to be. And the seller was honest and told me everything about the trailer. Right down to giving me the books on the refrigerator and freezer. I could not be more pleased. Thank you.
Curt Richey,
Fremont, NE

05/16/2016

Wendy did a great job helping me buy my concession trailer. She answered all my questions quickly and accurately. She was polite and helpful from start to finish. Wendy kept me informed of all aspects of the transaction as we went along. I would recommend Used Vending to anyone with vending needs. Sincerely,
Sharon H.
Grand River, OH

08/15/2014

My experience with MEGAvending has been great, especially my sales rep April Hurd! She was extremely helpful in getting us the right machine for our application and getting them set up for us. Once they arrived all we had to do is plug them in and stock them up. No programming needed! I was on a pretty serious time crunch and she helped us meet our schedule. I would most certainly use MEGAvending in the future!
Jason Bailey,
Evansvillle, IN

12/16/2015

April has done such an outstanding job helping us with this transaction!! This is our second time using usedvending.com and we are really excited about using them again in the very near future!
Julie Farrar,
Ocala, Florida

01/25/2010

These is my second purchase of Vending Machines with USEDvending I am extremely pleasure by the exelent service that They give to me and specially the affectionate treatment(deal) that give to me April Hurd.

Thanks a Lot.

B.Colón
San Juan,P.R.

02/11/2014

Melissa was on top of the sale of our trailer and equipment having a buyer within a few days of our listing. Usedvending.com and Melissa were instrumental for us. Thank you!
S.R.
Durham, NC



02/20/2012

Tara Nelson-Pettigrew was terrific! She kept us informed every step of the way and was very prompt to respond to any of our questions. Not only is she right on top of everything but she has a wonderful upbeat personality and was a real pleasure to talk to. Great job Tara.

Candy,
California

12/22/2012

Hi Melissa, Thank You for all your help. The Office deli I purchased is up and running fine.

John
Modern Day Vending
NJ

05/09/2013

I just wanted to say how great it was working with Cristina and getting the truck sold. She was very professional and informed me of each step. Thank you so much for getting the truck sold!! I highly recommend USEDvending.
Claudia,
Colorado

10/25/2009

My experience with usedvending.com was the best. All information regarding the sale was clear and concise and April was extremely informative and easy to work with. I will only use usedvending in the future and will only recomend them to get the job done. Thank you!!!
I am happy that some companies still believe in excellent customer service.

Satisfied customer,
Natasha
Miami, Florida

Thanks you soooo much for your help . You have one great employee that has your customers first Wowww! Kristen- pass this on or you can your boss call me

Thank you for all the effort that you are putting into this. I appreciate it. I have sent the dimensions to my shipping guy to see what he can come up with. Thanks again.
Cory C.
Senior Systems Engineer
Intelligent Technology Systems

Alpharetta, GA

07/30/2014

Respectfully, I would like to take a moment to thank Used Vending, staff and especially Calice, for their courtesy towards me, in finding me vending machines at Great prices. Calice has helped me on at least three occasions with finding me Great deals. I would recommend Used VENDING to anyone that is in the vending business, like I said the staff is Great and that is the reason why I keep coming back. Thanks Again.
Robert Kennedy
Baltimore, Maryland.
See Hundreds more or Write your own...