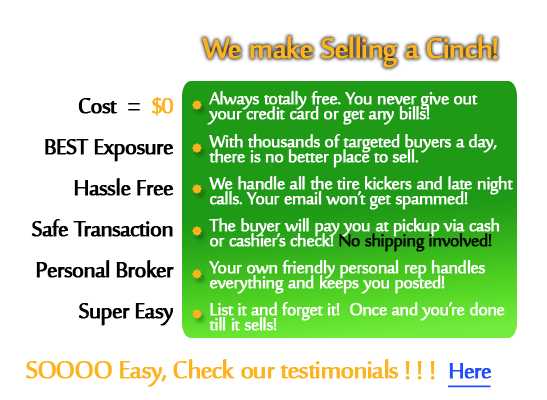 Selling Used Horse Trailers
Selling your used horse trailer could not be easier! Not only is it a free online service, but we even take care of weeding through the tire kickers for you.
Unlike a used trailer classifieds site where you get calls from every curious George that stumbles across your ad, we handle all that for you. Once we find a serious buyer that is ready and able to pay, we put them in touch with you for the pickup! Since 1999, we have been bringing sellers top dollar for their equipment and making buyers happy by finding the perfect used equipment for their needs.
Don't take our word for it - checkout hundreds of testimonials from many happy used trailer sellers just like you!
Used Trailer Testimonials
Our long history of a quality reputation and many repeat customers is why so many trust us to sell their
used horse trailers
.
Horse trailers can be expensive; if needed, we even offer an escrow service to allow both parties complete security for a safe transaction. It's a very simple process, but your friendly agent is always here to walk you through any questions that you may have. We have thousands of buyers who visit our sites daily; so, rest assured, you're in the right place!
When you list your horse trailer for sale, remember... PICTURES SELL ;-) The more pictures, the better!! We'll post all your used trailer pictures online for the world to see. If you have video that shows a walkthrough of your horse trailer, we'll even provide that to give buyers a complete look and feel to close the deal!
To list your trailer for sale, simply click on the "Free - Sell My Trailer" link at the top of this page. Once you create a free account, just log into your account and click the link to add a new listing. Fill in your horse trailer details, and we do the rest! If you later have info or pictures to add to the listing, just login and add them from your account.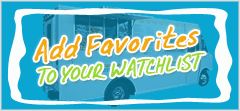 Customer Experiences
10/22/2008

Hi Melissa,
Yes our vending machine has been very profitable for our office.It has made money for us.
Unfortunately we are not in the vending business so i wouldn't be able to purchase more.
I still have your number and if i see any business that are looking for a machine i will reffer them to you.
Thank you for services and it won't be forgotten.
I wish you a great day!

G. Ruggiero,
Florida

07/09/2013

Melissa at Usedvending.com helped me get the ball rolling to start my new business and replied very quickly any time I had a question. She even did research for me!
H. B.
Bismarck, Arkansas

12/05/2013

April
Thank you for the wonderful customer service during my purchase of my son's vending machine. The assistance with the delivery was great.

Paul
Flint, Michigan

01/29/2012

I've been in business with 4megavending since 2010 and they are GREAT! Stacy Sweet is very professional and easy to work with. I'm blessed to be in business with them.

Wesley Chapel, Florida

02/27/2014

Good Morning Stacy, I would like to tell how pleased I am with the way everything went with the purchase I made through Usedvending.com . Connie was awesome and even threw in a few items I could use in starting up my new food truck business. I would also like to thank you Stacy, you were very cordial and professional through the whole transaction.I would recommend your company without hesitation...
Rick,
Skandia, MI

10/21/2009

April with USEDvending.com worked very hard to help us sell our machines. She regularly checked in to ask if the machines were still for sale, and although it took awhile, she paired us with the perfect buyer. The transaction was smooth and simple.
I would definitely do business with this company again.

One Satisfied Customer
Columbus, Mississippi

04/02/2015

As a premier wholesale distributor, Starkman €has reputation for exceptional personalized service is key. That's why we rely on professional vendors like MegaVending. Their personalized service and exceptional products are unmatched. Starkman can always count on Megavending for competitive prices and outstanding customer service.
Maria Orengo Starkman,
Distributors Atlantic City, NJ

06/13/2014

Dear Mega Vending Management, We have recently had the pleasure in dealing with Ms. April Hurd / Mega Vending Sales Associate. April was extremely helpful with this process. She understood our requirements and easily guided us Through set up. Thereafter, professional vendors promptly contacted us and presented us proposals. They too were responsive and flexible. Whole process was less than 1 week. I would strongly suggest Mega Vending services for anyone looking to fulfill their needs.
Neil Dale,
Vice President €General Manager
Clark Worldwide Transportation

09/27/2012

Gini did a great job of answering all of my questions and making all of the arrangements. My experience with Usedvending was very positive.

P.M.
Salt Lake City, Utah

10/15/2011

I AM 11 YEARS OLD AND I OWN A VENDING BUSINESS. My name is Tyler Hollingsworth and I just wanted to share my story of how I started my vending business. I am in the Boy Scouts and I wanted to earn my Personal Management Merit Badge, to do this I had to have an income and manage it for a period of time. I asked my dad for if he would pay me to do my chores around the house so I could earn my Merit Badge and he said no that my chores was part of my family responsibility. He said I needed to find something that had a supply and demand earn the money. About a week later I asked my dad if he would loan me the money to buy me some gumball machines. After a long discussion he loaned me $1000.00 with a payment plan. After I got my first gumball machines in June 2010 and located them I realized that I needed more machines to really make good money. I asked my dad for another loan, he hesitated but loaned me the money in the end. I have since payed my loan off and my business is debt free. Today I have over 200 vending machines valued at over $60,000.00 and over $40,000.00 in merchandise. I should end this year with a $30,000.00 plus in profits, and if I stay on track I should make a profit of between $50,000 to $70,000 next year. I also give a percentage of my profits to Boy Scouts because the Boy Scouts is the reason I stared my business. Usedvending.com and Stacy Sweet are part of my success. I now use them as my main source for purchasing vending machines. Stacy Sweet is my broker rep. with usedvending.com and I feel that when I need machines I can call on him and he will find the machines at the price I can afford. Tyler Hollingsworth, Mississippi

03/21/2016

At first I was very hesitant because I never heard of this company before and to be honest when it came to leaving a small deposit towards the vending machine I almost didn't do it. After doing some research it seemed to be a legitimate company so I went ahead with it and I am very happy that I did. April was very helpful in seeing me through with filling out the paperwork and even gave me a call to see how everything went she was very helpful. I hope this company knows how lucky they are to have her on board. I had a great experience with Used Vending and looking forward to doing business with them in the future. Thank you April!!!
Andre Aponte,
Brooklyn, NY

03/10/2013

Christina did a wonderful job of helping me find just the right trailer that I was looking for. She kept in touch with me the entire time and even followed up with me after the transaction! Thanks, Christina for a job well done!

Nadine in Colorado

09/10/2014

These guys get the job done! The last business i did with them was great fast and easy. Im so happy with the service that I added 2 more listings. They are responsible, reliable and know what they are doing. They look at your sale like their own and they care for the seller as much as the buyer! You have a business to sell this is the place!

Jose Paniagua,
Harrisonburg, VA

10/29/2009

I had some used vending machines I had been trying to sell for a couple of years.

Melissa did a great job not only finding a buyer, but facilitating the whole transaction.

When I ran into a big problem at the time of the sale, Melissa took care of it for me immediately.

I had a great experience with Melissa and UsedVending.com and I would encourage anyone to give them a try.

Sincerely,

Karl Hummel
Live Oak, Texas

09/20/2011

When my 9yo son came up with the idea to start his own business in vending, we researched companies and chose 4 Mega Vending. We were so lucky to have April as our sales representative. Not only did we feel like we were talking to a friend we've known for years, she went out of her way to research and find the machine we wanted that was shown on the website but not readily available.

Her professionalism, combined with her enthusiasm were infectious. April has been so helpful to us that now, when I need something, I call and ask for her specifically. She managed to take away any anxiety we felt about navigating through my son's first entrepreneurial experience. Thanks April. You're the best!!!

Melanie
Roslyn, NY

05/23/2014

Hey Tina Just a note to say thanks and job well done! ! I'm really happy with how things worked with USEDVENDING. If I have something to sell in the future you will hear from me. Thanks again.
Tim, MN

10/14/2014

Crissy, Thank you for the great service. Within days of posting my listing, I had several offers. I cannot believe how quickly my truck sold with zero hassles to me!
Betsy Jervis,
Chicago, IL

06/06/2009

To whom it may concern:
I just wanted to write this letter to inform you of the wonderful service I received from Ms. April Hurd in September 2008. Her informative emails, willingness to assist, and efficiency in answering my questions made my vending machine purchase a breeze. She was there with me every step of the way, whenever I needed her, all the way up until the machine was delivered. If there is ever an employee recognition ceremony or employee of the month spot light program hosted by your company, April will definitely be a great candidate!
Again, I thank you for the wonderful service that I have received and because of Ms. Hurd's excellent customer service, Mega Vending will always be my first choice when purchasing in the future.
With many thanks,
Gloria D. Smith
Owner, SNACKTIVITY, LLC

05/20/2014

Tina,
Just wanted to drop you a note to thank you for your assistance with my recent purchase of a food trailer. The whole experience of was very enjoyable. You and your company made it a very simple and quick process. You were very efficient in getting information between the seller and myself and always very pleasant and helpful. The seller was also a joy to work with when we met to complete the transaction.
Thanks again for your help.
J.T. Schacherer, Minnesota

06/15/2010

The mobile kitchen I found was exactly what I was looking for and saved me thousands as opposed to trying to retro-fit a truck or trailer myself. Melissa was a joy to work with and the transaction was quite smooth.
J L.

Oklahoma

02/20/2012

Tara was amazing. Being a businesswoman myself, I was very impressed with the fact that Tara was available every time I called. A+ service. Looking forward to future business.

Tia,
South Carolina

SOLD!!! This is a Great Company. I Listed my Lunch Truck with Melissa Powers, and She sold it right away. Not any of those other cheesey websites. Its as simple as listing it at the right price, and forgeting about it.

D.N.
Forked River, New Jersey

08/31/2015

My experience with this company was awesome. Love, love, love my agent Melissa. Awesome! Thank you very much.
Eddie Thiel,
Ontario, OR

03/20/2016

My experience with USEDvending was a great one. My inquiries were promptly answered, the buying process was thoroughly explained, and Julia was fantastic at following up with where we were at in the transaction. I would definitely use them again!
Sheri Blake,
Springdale, AR

03/30/2011

April Hurd was very prompt, helpful, and really cares about you as a customer. Excellent follow up.

WI

10/06/2009

I recently placed an order for coffee and when it arrived I realized I had ordered decaf instead of regular. Melanie was very helpful in expediting an exchange for the correct item. I have been purchasing all of my coffee and tea from Coffeeasap for a couple of years and have been extremely pleased with the service - especially the fast shipping!

-anonymous

11/29/2013

Melissa Powers was awesome! The attention to details made me at ease to know that she knew her stuff. You have a tremendous asset to your company. Don't let her go! Thanks Melissa!
Greg C.
Las Vegas, NV.

11/06/2011

I would like to thank Stacy Sweet for his perseverence in selling a portion of my vending machines. He really got creative in selling them and it's been a pleasant experience. I'm sure in due time he'll sell the rest. Thanks Stacy. Pam Al-Bawab Georgia

08/22/2009

Hi April, I wanted to get back to you.

In my dealings with you I have been very impressed with your customer service skills and your willingness to go the extra mile. Your attitude is both refreshing and greatly appreciated. I wish every business that I dealt with had your friendly demeanor as well as your knack for following up.

Thank you so much for all of your extra efforts. It is my pleasure to work with someone who is so committed to helping their customers.

Best regards,
John
West Haven, CT

03/23/2011

April Hurd is a wonderful person to work with. She is very professional and patient. I had a great experience purchasing vender machine. I am sure I will come back again for more products in the future. Thanks, April.

Roger Zhang
Brooklyn, NY

I had a very excellent experience with Used Vending. The whole process was just flawless from start to finish. The company even set it up so that the trailer was delivered to my location. I just only had to pay a small delivery fee. I did not want to deal with the Houston Texas traffic. Jennifer Melerine over at Used Vending was very outstanding and helped me through the whole process. If I ever need another trailer, I will most definitely use this company again. AAAA++++
William McKinney,
Wolfforth, TX

07/06/2009

Wanted to express my gratitude to April for being so helpful over the past year! We've bought vending machines from Mega Vending on several occasions, and each time April was friendly and professional, and went WAY above and beyond what she had to in order to make sure we were taken care of. I have been recommending Mega Vending to other vendors I run into online, and will continue to do so...and tell them to ask for April! Keep up the great customer service!

Preston Dillon, Tree Frog Vending
Arvada, Colorado

06/28/2011

I used your company through Melissa Powers and she has made the purchases go very smoothly,one that fell apart,but with her experiance she moved me along to another purchase which was necessary for me to fulfill my clients needs,Thanks so much Melissa for your great help and caring for my business needs.

Wayne Basilotto,Your Choice Vending

07/12/2013

Cristina Lumpkin was AWSOME, said she would sell my food bus fast, and that is exactly what she did. Within just a few days I had a full price offer, that buyer backed out and within a few hours she had another buyer that bought it, full price. NO hassles, the transaction went just like she promised. I will call Cristina again when I have more items to sale. You should also. Nice work Cristina, you know what you are doing, GREAT customer service. Thanks.
Roger
Orangevale, CA

06/09/2016

Dear Melissa,
Thank you for all of the hard work you have done on spearheading my mobile kitchen purchase. Your dedication to seeing it through from start to finish is truly an example of a great sales agent.
You have been effective and you have been responsive to all of my requests. I contacted six or so companies about buying a mobile kitchen, you were the most knowledgeable. The consensus among my staff is that I made a great buy.
Thank you again for all your hard work. Should you ever find yourself in Key West, FL, please look me up. I'll buy you dinner, better yet I'll make you dinner!!
Warmest Island regards.
Chef Warren,
Key West, FL

09/12/2011

I can say enough about the super quick response time and professionalism by Stacy Sweet. He sent me a lead. I followed up and within two days I had a new customer. In this industry, new qualified leads are hard to come by but Stacy and his team makes it so smooth for all parties. I highly recommend all vendors to contact Stacy and he will help you grow your business!!

Jon,
Boston, MA

08/07/2015

Buyer said everything was nicer than he expected. It has been great working with you. The sales process was fast and everything went smoothly. The buyer was super easy to deal with. You found a good one! We got our money. So all set, until the next one.
Best regards, Jill Kup
Jonas Ridge, North Carolina

06/06/2016

April, Please accept my heartfelt thanks for your professional assistance throughout the sale of my vending machines. The process was easy and you made sure all the legal issues were covered. My buyer arrived as scheduled with cash in hand. Without USEDvending.com, it would have been very difficult to sell my machines. You made it easy!

Ed Mulholland| Scout Executive

BOY SCOUTS OF AMERICA
Muskingum Valley Council

09/11/2010

Forget E-Bay, Whatshisname's list and all the rest, and dispense with the spammers, fruitcakes, and lookylou's! Don't let Melissa Power's sweet smile fool you - The woman is a pit bull when it comes to selling your merchandise!

John C. Sumter

01/30/2011

I had a great experience on usedvending.com and with all of Aprils help. She answered all my questions and gave tons of helpful tips and information that I really appreciated! She was very patient with me since I am just starting out in the vending machine business. I have done a lot of research and compared different websites and I am sticking with usedvending.com and April! They have the lowest prices and people are negotiable. I was even happier with my machine in person than in the picture and it works great! THANKS APRIL!!!

Ashley V.

03/12/2015

Calice, Having never purchased vending equipment through USEDvending.com. I must say that my first time experience was positive. The negotiation process between myself and the seller was smooth; the broker (Calice) was responsive to my questions and all issues where handled in a professional and business like manner. The document processing involved with the purchase transaction was very easy to understand and navigate. Overall, I would buy through USEDvending.com in the future.
Sincerely,
LAUNDROLUX - HAVRE DE GRACE, LLC
Stan Marshall - General Manager
Havre De Grace, MD

03/03/2016

€ My experience with Wendy from USEDvending.com was excellent. This was the first time I'd used their services and I found the process to be quite user-friendly. Wendy was very knowledgeable and helpful serving as the go-between. She kindly answered all of my questions, followed up via email, phone and text (which was very handy) and ultimately worked hard to make sure both the buyer and I were satisfied. This is a service I 'd definitely recommend to others and if I find I have more equipment to sell, I'll definitely reach out to Wendy and her team.
Cynthia Kallile
Chief Meatloaf Maker/Owner/Author
The Meatloaf Bakery Cookbook: Comfort Food With a Twist
The Meatloaf Bakery- Chicago, IL

I Purchased Six Used Vending Machines through Eric Normand at Usedvending.com. Through out the entire process I found Eric to be very Professional, and extremely helpful. Eric arranged a purchase for me of machines that were within driving distance, so that I could pick them up and save on packaging and shipping charges. I also purchased some machines that required to be shipped from out of state. The machines arrived Promptly on the date Eric told me they would be here, there was a misunderstanding with the shipping company of payment of shipping, I called Eric, prior to going to the shipping company, and by the time I arrived he had it all straightened out. The Products and Service I received from Eric, and Usedvending.com were First rate all the way. I would recommend usedvending.com to anyone looking for Vending equipment.
P.L. Brown
Beaumont, Texas

03/05/2012

We have completed the sale of our concession trailer! Melissa was great to work with - from start to finish everything went very smoothly. We have already recommended Melissa and USEDvending to a friend of ours. Thank you!

Diane,
Plant City, FL

07/16/2012

Melissa at usedvending.com was spectacular !! We purchased a concession trailer and could not be more pleased with her professionalism and the quality of the new business we purchased. She was always available to answer our questions and the turn around time on return calls was very efficient. She really takes the time to ensure everything is covered for a smooth transaction.

Erika and Rob
Ontario, Canada

03/08/2016

Used Vending made selling my coffee cart an easy transaction. Very professional and efficient. They always returned calls for any questions and kept up with emails. I would recommend them for the sale of any vending truck machine etc. I had a good experience with them and would use again.
Cindy Schwartz
Palm Harbor, FL

05/27/2016

Melissa,

Thanks for all your assistance throughout the process of this transaction! My new trailer is in my commissary lot and I'm ready to get started as a new business owner! (Wish me luck!)

The sale yesterday went very smoothly. The trailer was everything I'd expected and David, the seller, was very helpful and happy to answer all my questions.

I'm glad I happened to find USEDVending.com or else I'm sure I'd still be haunting the personal ads looking for the right trailer. The site's options and the information provided really put my mind at ease that I was making the right choice.

Most importantly, the personal touch and knowledge you provide as a sales representative really insured that this transaction went smoothly. What could have been a very stressful process turned out to be a piece of cake!

Thanks and all the best

Jeff B. Gimbel
Philadelphia, PA

10/06/2009

Dear April,

Thank you so much for your help and assistance with helping me sell one of my machines. I believe everything went very well and I believe your pre-screening the buyer was great.

The buyer was extremely nice and I think very satisfied. We thourghly went through the whole machine and I believe he was very happy with the results.

I thank you so very much and thank you for expediting the sale quickly.

I also thank you for your attention and consideration of my needs. You are a very thourough and most pleasant person to deal with.

Thanks again,

Gil
Baldwin Park, California

02/23/2012

Thanks!! I appreciate Stacy Sweet's help in negotiating the sale of my machines ... he made it quick and simple. Great site, great service.

Charles,
Mobile, Alabama

04/26/2011

APRIL'
IT HAS BEEN REALLY NICE (AND EASY) TO DEAL WITH YOU.
I COULD NOT FIND THE PART I NEEDED ANYPLACE I LOOKED BUT YOU CAME WITH IT QUICKLY.
EVEN THOUGH I WAS ORDERING A SINGLE SMALL PART YOU MADE ME FEEL LIKE A BIG CUSTOMER(MAYBE SOMEDAY).
THANK YOU


HB
ELMIRA NEW YORK
See Hundreds more or Write your own...