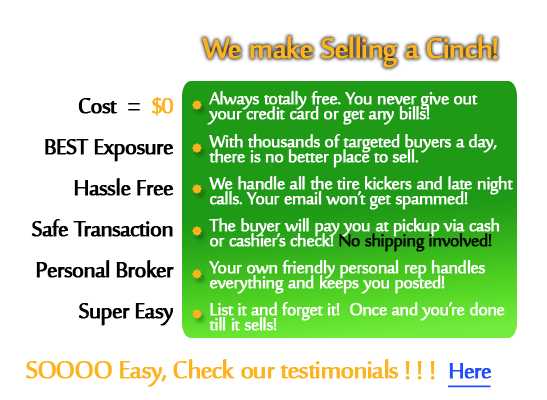 Selling Used Horse Trailers
Selling your used horse trailer could not be easier! Not only is it a free online service, but we even take care of weeding through the tire kickers for you.
Unlike a used trailer classifieds site where you get calls from every curious George that stumbles across your ad, we handle all that for you. Once we find a serious buyer that is ready and able to pay, we put them in touch with you for the pickup! Since 1999, we have been bringing sellers top dollar for their equipment and making buyers happy by finding the perfect used equipment for their needs.
Don't take our word for it - checkout hundreds of testimonials from many happy used trailer sellers just like you!
Used Trailer Testimonials
Our long history of a quality reputation and many repeat customers is why so many trust us to sell their
used horse trailers
.
Horse trailers can be expensive; if needed, we even offer an escrow service to allow both parties complete security for a safe transaction. It's a very simple process, but your friendly agent is always here to walk you through any questions that you may have. We have thousands of buyers who visit our sites daily; so, rest assured, you're in the right place!
When you list your horse trailer for sale, remember... PICTURES SELL ;-) The more pictures, the better!! We'll post all your used trailer pictures online for the world to see. If you have video that shows a walkthrough of your horse trailer, we'll even provide that to give buyers a complete look and feel to close the deal!
To list your trailer for sale, simply click on the "Free - Sell My Trailer" link at the top of this page. Once you create a free account, just log into your account and click the link to add a new listing. Fill in your horse trailer details, and we do the rest! If you later have info or pictures to add to the listing, just login and add them from your account.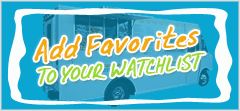 Customer Experiences
11/04/2014

I am very happy with the service I received form usedvending.com. Melissa worked diligently to find me the right buyer. The transaction went smoothly and without any hiccups. I would recommend their service to anyone looking to sell their mobile food carts, they have really helped me tremendously & I am very thankful.
Al S.
All Star Hot Dogs, Inc.
Boca Raton, FL

08/14/2015

Greg, I can't thank you & USEDVending.com enough. Closing my business was tough; tougher was the thought of how long it'd take to sell my 26 € Food Trailer in the dead of Summer. But in just 1 week from when we listed you had a buyer, & 24 hours later they were driving away with the trailer! Hallelujah! Thank you Greg, what a relief your company has brought to me & my family.
Soli Deo Gloria,
Dan Gallo, Owner Boom Town Food Services, LLC
Grenwich, CT

03/23/2000

My experience with Eric Normand has been nothing but good. Have had two separate transactions with Eric and both have gone quickly and as represented. Received both payments promptly by mail with a check and no problems.

Ron
Texas

01/29/2015

We looked for a year for a trailer our church could use for "mobile missions', and disaster relief. We found the perfect one on Usedvending.com. We were nervous at first, we have never bought anything of this magnitude online before, but Melissa Powers was very helpful. She answered all our questions and put us in touch with the seller who not only provided us with a great trailer but also threw in a couple extras. Thank You.

Carleen Sanderson
Carrier Mills, Illinoise

02/29/2016

Hey Wendy, I just wanted to tell you (and UsedVending) Thank you! How pleasantly surprised I was when you told me you had a buyer! I could hardly believe it, so fast, and I got the price I was asking. You were a big help in walking me through the process. With you, and the paper work you provided me, it was as easy as 1, 2, 3. It certainly made me feel protected for when the people came to pay me and pick it up. I sure wish I had known about UsedVending.com when I was buying my trailer. Thanks again,
Dee Dimmick,
Key Largo, FL

01/20/2015

Mellissa, I just wanted to write and thank you. You and usedvending are a pleasure to deal with. From the setup of my listing to the sale, you and your company have made selling my trailer a dream experience. You have been very professional and nice, and I will definately be using you and usedvending in the future. Thank you again,
Vincent Cacio
Wildwood, NJ

04/17/2011

Thanks Melissa. It was a fast and smooth deal.

Toronto, Canada

I recently sold four combo machines through USEDvending.com, and was very satisfied with the service Eric Normand provided. While I received substantially less for my equipment than I originally paid, that was more a function of being ripped off by (distibuting company name protected) when I originally bought them. I wish I knew about USEDvending.com back then! Eric was prompt in returning my calls, and most importantly sent the check when promised! At any rate, I would highly recommend USEDvending.com and Eric Normand to other sellers and also buyers too, who can get some outrageous deals. Don't be like me - avoid (distibuting company name protected) and other 1-800-RIPOFFVEND companies like the plague, and go with USEDvending.com instead.
Barry Waterman

Chicago, Illinois

11/11/2013

You have been excellent handling my order like true professionals. Your customer service has been wonderful and blows away what I have dealt with on other sites. Your response time has been great too. All my future orders will be with you.

R.M.
St. Anne, IL

06/11/2011

I am very thankful for Mr. Stacy Sweet and his team being such a great help in finding a wonderful new client for Heavenly Snacks. I highly recommend their service and I am very grateful! THANK YOU!

Virginia

04/30/2018

Melissa didn't stop until she got me EXACTLY what I was looking for. She was so helpful that I learned more from her about food trailers. She was there everytime I needed her on the phone or by email, it was like she was there in person with me searching. I highly recommend using Usedvending.com because they have many resources and I feel that you will become a very satisfied customer as well.
Demetrius Sewell,
Shreveport, LA

05/07/2018

Wow Melissa hit it out of the park, AGAIN!!! She has sold my trailers quickly and for the right price. Nobody better. Many thanks Melissa. Great job. !!

S.B.,

Texas

02/22/2018

We purchased a trailer and it was exactly as depicted on site. The representative was helpful, timely and provided guidance throughout the process.
Catholic Charities West,
Grand Rapids, MI

10/05/2016

Hi Wendy! I just want to thank you and your company USEDVending for all of your help. You were very prompt with getting back to us with the answers we needed. You went above and beyond for us by allowing us to contact you through messages, via email and text due to our conflict in schedule's. I would recommend you and your company to anyone that is looking to buy used vending or trucks!Thank you for everything that you have done!

Amanda J Shear,
Mexico, NY

I had a very excellent experience with Used Vending. The whole process was just flawless from start to finish. The company even set it up so that the trailer was delivered to my location. I just only had to pay a small delivery fee. I did not want to deal with the Houston Texas traffic. Jennifer Melerine over at Used Vending was very outstanding and helped me through the whole process. If I ever need another trailer, I will most definitely use this company again. AAAA++++
William McKinney,
Wolfforth, TX

08/24/2010

We purchased our equipment back in 2007 through Mega Vending, April was our sales contact.2010 we decided to sell this same unit through their affiliate, Used Vending. We all know making the purchase is exciting but their are times when the sell can be more than challenging. This particular challenge was overcome by a sales representative that worked through the issue, communicated clearly, and resolved our issue. It takes an experienced staff and strong company to work through these challenges and ultimately make both parties happy. This is that kind of company.

Thanks again April

P Webster/ P an B Petro

06/26/2014

Hello, my name is Tasha Crafton. I really would like to thank Usedvending and Mr. Sweet for making my experience a great one. This is my first time and first vending I purchased; I was a little skeptical at first - after talking with Mr. Sweet for a few days ease my fear. Everything was done in decency in order. I thank you very much, I planned using this company in the future to purchase my first vending truck. Thank you again, Usedvending.
Tasha,
Smyrna, Delaware

02/01/2011

Just wanted to take a minute to say how impressed I am by your customer service. We bought a cigarette machine from you all in 2007, we ended up selling the buiness so it went into storage. We aquired the business again and I couldn't find my manual. I spoke to my original contact, April Hurd, who was still so friendly and helpful. She sent me an email within 10 minutes with the manual attached. Thank you again! Kim

FL

12/02/2017

Thank you so much for your help Melissa. You were so helpful, friendly and a joy to work with selling or concession trailer.

Thank You,

Donald Coller,
Madison, GA


08/27/2012

Calice, All i have to say is just look at all the other testmonials... No words!! was a pleasure you took care of the hard part and left me with money... Thanks again!!

Pinny
Brooklyn, NY

Thank you for all the effort that you are putting into this. I appreciate it. I have sent the dimensions to my shipping guy to see what he can come up with. Thanks again.
Cory C.
Senior Systems Engineer
Intelligent Technology Systems

Alpharetta, GA

11/01/2010

Thanks to Melissa, one of my vending machines sold in as little as one mo. she is very professional and polite.! You are very lucky to have someone like her with your company. Thank you Melissa !!!

IL

02/16/2018

Melissa is the Best.....She was very attentive and professional. We sold our food truck within 30 days. It has been a great experience for us. I highly recommend this Company.
Michael Hicks,
Leonardtown, Maryland

09/04/2018

I have enjoyed working with your company with buying trailers and keeping me up on special sales...I look forward to getting the new updates every week & hoping to find the trailers I need for my company..Thanks Melissa for all your help...
Bill Mayo,
Sulphur, OK


03/04/2012

We just completed a major purchase of a food truck in Kansas - Melissa kept the process going and helped us work with the owner to fix issues with the title and complete the sale. She was quick with responses and even helped connect us with someone about a mobile POS they were selling even though there was nothing in the deal for her. We appreciated the professional service she provided.

06/13/2012

I would like to say Thank You to Calice for finding a Buyer for one of my Vending Machines. The paperwork and transaction went smoothly. I hope she can help find buyers for the rest of my machines.

Kathy S.
Louisville,Colorado

06/13/2019

I recently sold 10 vending machines with the help of Denise Keyes and

UsedVending.com. Denise was friendly, helpful and extremely competent, the whole process was so much easier than I had thought it would be. I HIGHLY recommend using them, a definite A+ rating! Thanks so much,

Danielle S.
Fountain Hills, AZ

04/06/2018

Nothing but praise for UsedVending.com! Thank you so much for working with us and helping us sell our concession trailer. Your representatives communicated regularly, and we never felt forgotten or overlooked! We would definitely work with you again!
Erin Andrade,
Great Oak High School
Temecula, CA

02/27/2012

My experience was one to remember! Tara Nelson-Pettigrew was amazing and never stop placing all my needs and concerns first. I look forward to business with her and the entire Company in the very near future! Thank You.

12/08/2009

April helped me out so much, i would have been lost with out her

Takoma Park, Maryland

03/15/2017

April:This email is intended to confirm that we received the two Naturals2Go entree units and to thank you for your efforts on our behalf. Working with you was truly a great experience. You not only worked tirelessly on our behalf, but your happy and gracious demeanor made the experience relaxed and enjoyable. I would highly recommend you to anyone looking for a specialist in used vending machines. Your knowledge and patience ultimately led to a successful transaction. Thank you, thank you and most of all, THANK YOU!! All the best and I will definitely be using you for all my future needs.

David Propis
CEO, Island Vend Enterprises Corp.
Melville, NY

03/12/2015

It was a pleasure doing business with USED Vending. Your were very professional and more than helpful through the whole purchasing process. Thank you again for a stress-free transaction.

Ian N,
Columbia, SC

12/19/2018

Melissa did a spectacular job! I explained to her what kind of business I wanted to do, and she worked with me to narrow down the search on what I wanted. She made herself available and responded quickly to answer questions through texts and phone. Melissa had deep industry knowledge of buying and selling food trucks. I would definitely do business with Melissa and Used Vending again.
The Martinez Family,
Mesa, AZ

Thank you for helping me find the Great Deal I received by going to your web site. I was surprised to find that I could get machines in such great shape at such an extremely low price! The final cost came in even lower that we had first discussed due to your hard work on keeping the shipping cost down. The service I received was second to none. My machines are all placed and are operating just like new.
Thank you again and God Bless.
Ricky

04/28/2014

For the past three months I have been dealing with Calice on vending machines. The seller was over 1500 miles away, however somehow she worked out an agreement where it made it worthwhile to purchase these machines. I thank you and look forward to doing business again.
Sandy,
Casper, WY

07/12/2019

Thank you Denise Keyes. My trailer had been listed for a while. I had almost decided to pull the listing. Night before last I got a call from Denise telling me she had a buyer for my trailer. Within 26 hours all paperwork was completed and the buyer was on his way home. I can only imagine what it would have been like to deal with the over 25K views of the posted ad. Working with Denise was a pleasure. I know numerous people who purchased food truck/trailers thru used vending. All were happy as buyers and now I am happy as a seller.

Bill Skipper,
Jacksonville, FL

06/03/2015

My experience with USEDvending.com was a wonderful experience. Greg Frierson was a great help in answering all of my 

questions and the transaction went very smoothly.
 I am the proud new owner of a Food Concession Trailer thanks to Greg!
Donna K. Tyson,
Columbia, VA


06/01/2015

My experience with USEDvending was nothing but positive. My sales rep was very friendly and professional. Any time I had a question or concern she got back to me in a very timely manner. Communication was very open, being someone who is on the go quite a bit it eat nice to have many options for communication. Phone calls, text messages and emails were all accepted forms of communication which made the process very simple to get the information I needed. The seller of the trailer was also extremely accommodating, friendly and professional. I couldn't be happier with the final product, it screams professionalism. I strongly recommend using USEDvending for your food truck purchasing needs.

Tim Grow.
Eerie, PA


01/07/2017

I recently purchased a truck through this site. Bradley Heath was extremely helpful throughout the entire process. Bradley went out of his way to make the transaction smooth and was there to answer all of our questions/ concerns at any time. Thank you for all of your help Bradley.
Jim Coponi
Colonia, NJ

10/26/2009

Thanks Melanie for your time and dedication in assisting our company with trying to locate a leasing vending machine company that would meet our needs. Any additional suggestions are welcome.

Again thank you.
Washington, DC

10/06/2009

I recently placed an order for coffee and when it arrived I realized I had ordered decaf instead of regular. Melanie was very helpful in expediting an exchange for the correct item. I have been purchasing all of my coffee and tea from Coffeeasap for a couple of years and have been extremely pleased with the service - especially the fast shipping!

-anonymous

08/26/2010

Melissa,
I have no idea where I would be without you and usedvending.com! You sold 5 of my machines for me and all without any hassles.The ease of using your website was great and all 3 buyers were easy to deal with also.I would recommend you to anyone trying to sell!
Thanks so much!!
Carol,Pa.

02/02/2018

If you are looking to sell a catering vehicle, Look no further. After months of trying to sell my Mobile Kitchen on my own a busy professional , I found USED VENDING! i listed my Kitchen and Bradley did the rest! No better way to advertise across the Country and reach the people that are looking for YOUR vehicle.The customer service is superior and in this day and age rare to find. Look no further than Used Vending for prompt, courteous and professional business folks. Thank you so much!
Billie Chisman,
Edinburgh, IN

02/11/2017

I was very fortunate to find a great deal with the help of Melissa Powers, when we were unable to seal the deal on a trailer that would not be ready until three days after the date that I needed the trailer. She worked relentlessly to find me the perfect trailer for the perfect price. I cannot thank Melissa enough for the help she provided ensuring that I got a beautiful trailer for the perfect price! Thank you Melissa, you were wonderful.
Synthia Mallard,
Jacksonville, FL

02/26/2011

Melissa Powers at USEDvending was great to work with. She was patient with the paperwork, prompt with e-mails, knowledgeable with logistics, pleasant over the phone and professional in the process. I'd recommend USEDvending to anyone in the business thanks to Melissa.

St.Louis, MO.

04/02/2015

April, thankyou for your help in finding the right machine for my needs. It was a pleasure to visit with you and your recomendations are greatly appreciated. The machine arrived as described and has been put in service. Works great. Any future vending needs will definitely be referred your way Thankyou HUGH

03/27/2012

Melissa was very approachable and was wonderful work with throughout the entire process. She was very helpful and helped educate us on the selling process. Communication was consistent and we were always kept in the loop. We would definitely recommend Used Vending to other people and give them Melissa's name. We are 100% satisfied and are so glad we used UsedVending.com!

Kristin,
Maryland

10/13/2009

Working with April to locate and secure new vending machines for our company was an absolute pleasure.

She exceeded all of my expectations and was able to find me new machines at a fantastic price! The new machines that she found for me were actually less than other companies wanted for used machines!

I would and will recommend usedvending.com and April Hurd to anyone looking for new or used vending equipment!

Lake Geneva, Wisconsin

07/20/2014

Thank You. Everything was very fast and easy, Melissa Help me a lot in everything!!! She is great!!!!!!!
Carlos Perez,
Miami, FL
See 1,900+ more or Write your own...