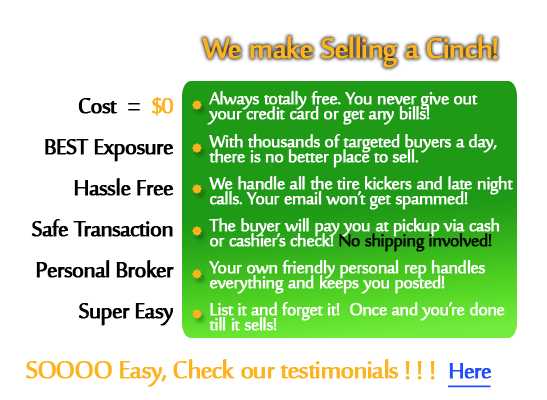 Selling Used Horse Trailers
Selling your used horse trailer could not be easier! Not only is it a free online service, but we even take care of weeding through the tire kickers for you.
Unlike a used trailer classifieds site where you get calls from every curious George that stumbles across your ad, we handle all that for you. Once we find a serious buyer that is ready and able to pay, we put them in touch with you for the pickup! Since 1999, we have been bringing sellers top dollar for their equipment and making buyers happy by finding the perfect used equipment for their needs.
Don't take our word for it - checkout hundreds of testimonials from many happy used trailer sellers just like you!
Used Trailer Testimonials
Our long history of a quality reputation and many repeat customers is why so many trust us to sell their
used horse trailers
.
Horse trailers can be expensive; if needed, we even offer an escrow service to allow both parties complete security for a safe transaction. It's a very simple process, but your friendly agent is always here to walk you through any questions that you may have. We have thousands of buyers who visit our sites daily; so, rest assured, you're in the right place!
When you list your horse trailer for sale, remember... PICTURES SELL ;-) The more pictures, the better!! We'll post all your used trailer pictures online for the world to see. If you have video that shows a walkthrough of your horse trailer, we'll even provide that to give buyers a complete look and feel to close the deal!
To list your trailer for sale, simply click on the "Free - Sell My Trailer" link at the top of this page. Once you create a free account, just log into your account and click the link to add a new listing. Fill in your horse trailer details, and we do the rest! If you later have info or pictures to add to the listing, just login and add them from your account.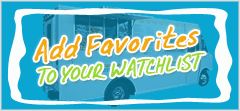 Customer Experiences
05/17/2016

Many Many Thanks to Wendy Byrd for selling my trailer. If anyone reads this I highly recommend Wendy as she will get the job done. Best Regards,
Jeff T.
Fort Walton Beach, FL

12/21/2010

HELLO MY NAME IS MARTA AND WE WERE WORKING WITH MELISSA, FIRST OF ALL WE HAD OUR CONCESSION TRAILER ON EBAY AS WELL, WHICH CAUSED US NOTHING BUT MONEY I FOUND USED VENDING'S WEBSITE AND CALLED. MELISSA TOLD ME HOW TO POST IT EVEN MADE IT EASY FOR ME AS FAR AS PUTTING THE PICTURES ON MY AD. NO PRESSURE,OR WORK SHE DID IT ALL I JUST SAT AT HOME AND GOT CALLS FROM MELISSA WITH OFFERS.
WHAT I LIKE ABOUT MELISSA WAS HER EXCITING PERFESSIONAL PERSONALITY, AND THERE WAS NO PRESSURE TO TAKE OFFERS, AND AFTER THREE OFFERS WE DECIDED TO SELL OUR TRAILER IT WAS CLOSED AND PICK UP IN A WEEK. SHE TOOK CARE OF ALL OF THE SMALL TALK AS WELL AS IMPORTANT DOCUMENTS.

THANK YOU MELISSA
MARTA
TOLEDO,OHIO

08/01/2014

Much thanks to Stacy for the constant communication and support. You made this an enjoyable and seamless experience. Anytime I had to edit my listing for pictures or added items the customer service team here was quick to make those changes. Having someone do the initial contact with interested buyers was worth a great deal to my partner and I. I would recommend everyone give you guys a shot at helping sell their equipment. Thanks again for everything!

Brittney B.
Terrel, TX

08/27/2012

Calice, All i have to say is just look at all the other testmonials... No words!! was a pleasure you took care of the hard part and left me with money... Thanks again!!

Pinny
Brooklyn, NY

06/10/2014

Used Vending: Just wanted to share my experience with others regarding Used Vending. We were selling a coffee trailer in Montana, definitely off the beaten path, and were not expecting any interest anytime soon. Low and behold Crissy kept telling us that there was an interested party and they would put an offer in soon (we thought, "yeah right"), except that they actually did put in an offer! Within 5 days the trailer was leaving our house and the money was in our bank! Crissy was amazing, the process is very simple, and UsedVending gets results! Thank you UsedVending!
Jon in Montana

10/14/2009

The rep at usedvending.com was very professional and thorough. It only took 2 weeks from the first contact untill the sale went through! Thank you usedvending.com!

Humble, Texas

01/26/2011

"Customer Service" is a term that has been used very loosely and often misused. But any time I had to deal with you guys, I knew that I get a straight answer and clear instruction on what you could do for me and in return what are my obligations. There was no empty promises nor dilatory responses. I knew exactly when and what would take place next. This service approach along with the pleasant phone conversation with Vanessa Long, makes a very positive business experience. One initial e-mail and one follow up phone call took care of the business. With my crazy schedule, I appreciate this quick & straightforward service and Vanessa is always a joy to contact, to wrap up the business. Keep up the good work guys.
Thank you.

MTPVending

05/11/2016

April,I wanted to thank you for all your help and guidance that you gave us during this process. We are certainly new to the vending industry and you went out of your way to show us the ropes. I am excited about the opportunities that vending offers and there is no doubt that we will be calling you in the future as the business grows. Thanks again and God Bless.
Gerrad Hicks,
Helena, AL

01/08/2017

Excellent customer service from Wendy. Big attention to details and to do things really by the book. I am very satisfied with this service that exceeded my expectations. Thank you!
Thomas Nieves,
Fort Mill, SC

08/10/2010

Thanks Malissa,we appreciate everything you did to assist us in making our dream come true.You made this process simple from beginning all the way to the end.
Businesses need more professional, friendly and enthusiatic people like you. Keep up the great work.


April and Antonio Rodgers

I found USEDvending.com to be very useful in helping me sell my machines. Eric was very helpful, and worked with us when we had trouble with shipping, and even reimbursed us when we had some problems. He was very willing to work with us!-----------

Joseph Schweitzer

06/18/2011

The purchase of my concession tailer could not have been a better experience for me! Melissa was great and took care of everything for me. Great experience at Used Vending and Melissa is the BEST!!!!

Noelle, TX

07/13/2010

Melissa Powers has helped us to find used equipment twice now and she has been quick to get responses both times. We really appreciate her help and will continue to use her resources in the future.
thanks so much.
Phyllis Long

08/26/2009

I just wanted to say how happy I was with your handling of the sales of my catering truck. Melissa did a fantastic job at coordinating the flow of information between myself and the buyer. It was a pleasant sales experience.
J. R. Smith,
Leesburg, Florida

03/07/2013

Hi Calice, Thank you for your help in getting us a nice deal on some good used snack and soda combo machines. The transaction was very smooth.

Chris Farmer,
Dallas Area Vending Company LLC

08/21/2011

All I can say is Stacy rocks! Quick and dependable!

Shannon B.
Arlington, TX

03/29/2017

Thanks so much Wendy for walking me through the process of buying a concession trailer. I wanted to buy a used trailer, but it sold and my next choice the owner decided to keep it. Wendy helped me in having one built. She explained everything I did not understand and assured me of the builder, It was an excellent choice. It was about a two week process to have it built. Thanks again Wendy and usedvending.com.
Patrick Thrower,
Camden, AR

dear usedvending.com, i just wanted to let you know how much i appreciate your excellent
service. i have already bought 10 vending machines from your website on 3 separate occasions, from 3 different sellers. mellissa and kara are absolutely a dream to work with! customer service at its finest. the website is clean, efficient, and organized well. this week i received a call from kara, who offered me a vending location with 80 employees!! your company is a real "keeper." i look forward to many years of a mutually prosperous relationship, and i wish you all the best of luck and success. thank you again for helping me grow my business.
yours truly, alex landy,
happy vend llc, brooklyn, n.y.

09/21/2016

Working with Bradley to purchase our food truck in Chicago was an absolute pleasure. He was available throughout every step of the process and we were able to close the deal in less than a week. Would definitely reach out to Bradley again for future projects.

Best,
Phil
Minneapolis, MS

06/17/2010

April went above and beyond to help me yesterday. I will use them for all my vending needs in the future!!!!

Syd Costa
Sales Manager
Regency Inn
Fayetteville, NC

12/14/2015

Hello Calice, Thank you very much for helping me find the vending machine I was looking for. You made the process easy. When I arrive to see the machine the seller was very friendly and knowledgable about the machine, and it was in good working condition. Everything was as advertised in your website. I will surely be contacting you soon for additional vending machines. Thanks Again.
Juan Govens, Newark, DE

10/25/2009

Bought a catering truck from you, and sold it through you! Great customer service!

Laura
Reunion, Florida

02/22/2012

Thanks to Tara Nelson-Pettigrew for assisting in the sell of my vending machines. She kept me aware of any inquiries and interested buyers. It was a pleasure to communicate with her during the listing of items. Thanks again Tara. Job well done. Gold Star awarded!!!!!!

Ray
South Carolina

hello april
thanks for the e-mail, i received the 4 route pros today!! man that was fast!! thanks again for the great service and the followups, you folks are professionals and i appreciate it!! i plan of building this business as large as possible and you are the ones i am exclusively dealing with!! great people, great machine in the route pro, and great prices!! again, thank you april. darrell

Louisiville, KY

04/26/2010

April did a terrific job finding exactly the machine I was looking for, within my area, and within a week! This was a terrific experience and completely relaxed me as a first time buyer.

05/19/2016

I have been watching the UsedVending.com website for several years as I was preparing to start our non-profit business. When I finally made contact with Wendy, she was extremely patient and informative. She was aware of my lack of experience with concession trailers, and took the time to make sure that I understood everything that was necessary to have a successful start-up. She raised questions that I would not have considered, insuring a seamless inspection and licensing process here in WI. I am very happy with our recent purchase of a fully equipped, 20' 2015, World Wide Trailer. And extremely satisfied with the service provided to me. I feel that Wendy has a genuine interest in my success beyond the actual transaction! I will definitely recommend her personally and Used Vending to any of my peers who might be interested in the mobile restaurant business.
Thanks for your patience and your concern,

Pat Joyce
Pay It Forward Ethiopia Inc.
De Pere, WI

07/09/2013

Melissa at Usedvending.com helped me get the ball rolling to start my new business and replied very quickly any time I had a question. She even did research for me!
H. B.
Bismarck, Arkansas

I Purchased Six Used Vending Machines through Eric Normand at Usedvending.com. Through out the entire process I found Eric to be very Professional, and extremely helpful. Eric arranged a purchase for me of machines that were within driving distance, so that I could pick them up and save on packaging and shipping charges. I also purchased some machines that required to be shipped from out of state. The machines arrived Promptly on the date Eric told me they would be here, there was a misunderstanding with the shipping company of payment of shipping, I called Eric, prior to going to the shipping company, and by the time I arrived he had it all straightened out. The Products and Service I received from Eric, and Usedvending.com were First rate all the way. I would recommend usedvending.com to anyone looking for Vending equipment.
P.L. Brown
Beaumont, Texas

10/23/2014

Thanks for the great services- I would recommend you highly.
Yours truly,
Wrangler Rich from the Shiloh Ranch,
Hobart, Indiana

09/24/2015

I've never purchased a concession trailer. Thank you for making this process extremely easy and working with me every step. I appreciate the great job you did. Thanks again.
Julie Swann
Hayden, AL




01/31/2013

Calice did an excellent job with posting my ad and selling my vending machine within weeks after posting! She was also very nice and always available when I had questions. She got back with me in minutes anytime I had a question! Thank you so much for making this quick and easy! Seller is very happy!

A. James
Winchester, KY

10/26/2009

i enjoyed this knowldageble visiting this site.

Phoenix, Arizona

11/03/2016

Melissa powers was more than helpful! She was very prompt (even though I think she forgot about the time difference and always text me at 6 am but it was great!) and funny too! Which is what I enjoyed most. It wasn't a transactional deal, she was genuinely interested. It felt like she really was trying to help me. I would definitely go through her again if I need another truck!
Carmen Caristo,
Las Vegas, NV

10/02/2016

Melissa Powers - was WONDERFUL. Melissa made this transaction almost seamless. I had never sold an item with anyone like this before so didn't really know what to expect, but Melissa asked all the right questions, of both myself and also of the buyer, followed up with emails and phone calls on a regular basis and also had a very positive and helpful attitude. I would highly recommend Melissa Powers to anyone who was looking to get the job done in a timely and professional way.

Nancy Grochmal,
Wallingford, CT

08/08/2010

I was sooooo impressed with the professionalism and great commitment to the sale of my concession trailer on Usedvending.com. Melissa Powers called me consistantly every week with 3-4 potential buyers, and kept on plugging until she hooked one. She is a bulldog when it comes to selling. Only took 2 weeks, and I was making a deposit in the bank. Thank you Melissa and Usedvending.com

FL

08/01/2014

Hi Melissa, Thanks for finding a buyer for our food trailer. I tried Craigslist but had no luck. Thanks to you I sold it and the transaction was easy. The buyer came and picked it up, we transferred title and everything was smooth. I appreciate your help.
Chuck Kane,
New Hope, Pennsylvania

10/28/2009

Found your company on the web sort of by accident. Had 50 candy machines I was looking to sell. It took 3 separate sales, but Melissa helped me sell them at the price I wanted. Would certainly recommend you to anyone. Thanks a lot!

Paul,
Indiana

02/06/2012

Hello I would like to thank Melissa a lot, she was really helpful and nice. She knows what she is doing and that helps a lot. Each time when i call her with questions she has answers. Melissa is devoted to her job and excellent customer service. She is always trying to find buyers for our vending machines for the right price. Thank you Melissa Powers.

Ronald and Rasia Wells
R&R Vending.

08/06/2012

Gini is WONDERFULL!!! I love Gini and how she is so kind to assist me in this vending business. This is the first time I used this website and company and already I have had a pleasant experience with her. She made me feel very special and important and I recommend her to anyone out there!

Jason,
Los Angeles, CA

07/18/2016

My experience with UsedVending was easiest, April was a great help for the transactions went smoothly and everybody wins. Thank you.
Dee McCarty
Stokesdale, NC


11/03/2014

USEDVending is a great online site to get listed to sell your used/new vending machines. Usedvending staffs are professional and committed to sell the listed products as quickly as possible. In particular, Calice is awesome and she did her best to get sold my 7 machines in a short period of time. I'm a happy customer of usedvending.com.
- Sankar Egambaram,
Houstom,TX

08/24/2009

I sold my 48 Vendstar candy machines through USEDvending.com. The service is very good. There was always someone answer my questions and phone calls. I had a very good experience by working with them.

Derwood, Maryland

12/05/2013

Hello April,
I am extremely pleased with the machine that I purchased from you and in fact have already had to refill it twice. As with previous purchase ( from Stacy Sweet), your customer service was wonderful and you were very quick in responding to my order. Thank you so much for the outstanding service that you have continued to provide me with and in the future if I need another Lil €™ Medic vending machine, I will come to you first!!
J.M.
Hattiesburg, MS

05/21/2000

I contacted Eric Normand through his webpage several months ago in regards to some vending machines that I had for sell. His service provided another way to sell my vending machines other than posting classified ads. His service directly reached potential buyers and saved me money. I got a fair price for my vending machines and was able to sell them in a reasonable time. He kept in contact with me the whole time we worked together and I felt reassured that his efforts were true to helping me sell my machines.
Thanks,
Jason Aycock

09/21/2017

I can not recommend this company enough. I purchased a hot cart for my son and Wendy from used vending helped coordinated everything. The seller was so helpful and this was such a wonderful experience for my son and I. The cart is called the dream maker and it is my sons dream to start his own business. So great to have such a great experience buying on line. We all know online purchases can be frightening. We promise to send picture to Wendy and the seller when the cart is up and running. The cart is like new with lots of extras as well as great tips from the seller. Thanks to all.
Joanne & Frank Dunphy,
Wareham, MA


10/17/2012

Melissa was very professional, punctual and efficient during the sales process. She was understanding of both seller and buyer considerations, offering suggestions without being pushy. This made the negotiation and the final deal once that both sides were happy with. Highly recommended.

Burak
NY, NY

I recently sold four combo machines through USEDvending.com, and was very satisfied with the service Eric Normand provided. While I received substantially less for my equipment than I originally paid, that was more a function of being ripped off by (distibuting company name protected) when I originally bought them. I wish I knew about USEDvending.com back then! Eric was prompt in returning my calls, and most importantly sent the check when promised! At any rate, I would highly recommend USEDvending.com and Eric Normand to other sellers and also buyers too, who can get some outrageous deals. Don't be like me - avoid (distibuting company name protected) and other 1-800-RIPOFFVEND companies like the plague, and go with USEDvending.com instead.
Barry Waterman

Chicago, Illinois

Melissa,
Thanks for your help in making all the connections!
Your help was great.

Eli Weaver
Christian Aid Ministries
Berlin, OH

05/17/2016

Hi Jennifer, I was very satisfied with the service that you provided. You did an excellent job and I am grateful you didn't give up on getting a hold of the owner. You were also very helpful through the process communicating with the owner and getting all the questions I had answered so I could make a educated decision on the purchase. Thank you! Much Appreciated,
Michelle Wood,
Santa Rosa, CA

08/11/2015

Ciao Jennifer. We received the truck and looks great. I want to let you know that we are very happy on how fast you were be able to find us the right deal, and how professional is your Team. Looking forward to keep doing business with you.
Fabrizio Cercatore
Berkely, California
See Hundreds more or Write your own...