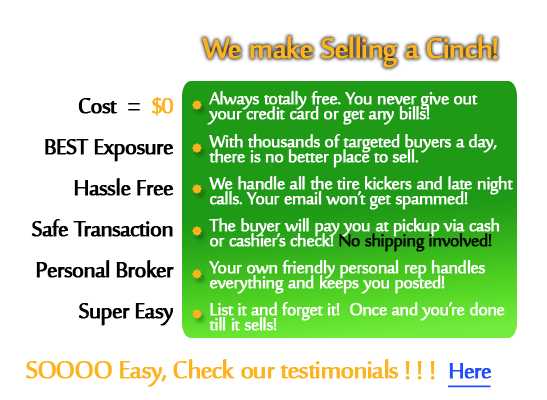 Selling Used Horse Trailers
Selling your used horse trailer could not be easier! Not only is it a free online service, but we even take care of weeding through the tire kickers for you.
Unlike a used trailer classifieds site where you get calls from every curious George that stumbles across your ad, we handle all that for you. Once we find a serious buyer that is ready and able to pay, we put them in touch with you for the pickup! Since 1999, we have been bringing sellers top dollar for their equipment and making buyers happy by finding the perfect used equipment for their needs.
Don't take our word for it - checkout hundreds of testimonials from many happy used trailer sellers just like you!
Used Trailer Testimonials
Our long history of a quality reputation and many repeat customers is why so many trust us to sell their
used horse trailers
.
Horse trailers can be expensive; if needed, we even offer an escrow service to allow both parties complete security for a safe transaction. It's a very simple process, but your friendly agent is always here to walk you through any questions that you may have. We have thousands of buyers who visit our sites daily; so, rest assured, you're in the right place!
When you list your horse trailer for sale, remember... PICTURES SELL ;-) The more pictures, the better!! We'll post all your used trailer pictures online for the world to see. If you have video that shows a walkthrough of your horse trailer, we'll even provide that to give buyers a complete look and feel to close the deal!
To list your trailer for sale, simply click on the "Free - Sell My Trailer" link at the top of this page. Once you create a free account, just log into your account and click the link to add a new listing. Fill in your horse trailer details, and we do the rest! If you later have info or pictures to add to the listing, just login and add them from your account.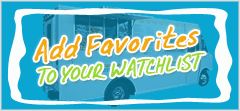 Customer Experiences
07/20/2014

Thank You. Everything was very fast and easy, Melissa Help me a lot in everything!!! She is great!!!!!!!
Carlos Perez,
Miami, FL

08/27/2012

Calice, All i have to say is just look at all the other testmonials... No words!! was a pleasure you took care of the hard part and left me with money... Thanks again!!

Pinny
Brooklyn, NY

08/13/2011

Melissa did a great job of keeping me informed and finalizing the sale while I was out of the country. I did nothing. Thanks a bunch.

Bob
Houston, TX

11/28/2010

I want to thank Melisa Powers for her help in finding our catering trailer. She was very professional and thoughtfull of all our needs. We looked at several hundred trailers before finding Melissa. I would recomend her to anyone searching for a safe way of buying a catering trailer. Thanks Again Melissa.

Robert, TX

11/28/2013

Thanks Mellissa, everything was as represented. The deal was so easy, I will not hesitate to call you again.
B.C.
Bloomington, IN



06/16/2012

WOW--what a great sales team--these people know their business!! Gini Sweet is just the best--I look forward to using their service again.

S.B.
Lampasa, Texas

Gini is very sweet to work with. Professional and casual at the same time. Make her laugh for a discount :)

Scott - The vending guy
Minnesota

06/11/2011

I am very thankful for Mr. Stacy Sweet and his team being such a great help in finding a wonderful new client for Heavenly Snacks. I highly recommend their service and I am very grateful! THANK YOU!

Virginia

05/23/2014

Hey Tina Just a note to say thanks and job well done! ! I'm really happy with how things worked with USEDVENDING. If I have something to sell in the future you will hear from me. Thanks again.
Tim, MN

10/23/2014

Thanks for the great services- I would recommend you highly.
Yours truly,
Wrangler Rich from the Shiloh Ranch,
Hobart, Indiana

11/01/2011

Once again Melissa and company sold my concession trailer. This is my 2nd item sold and I got a better price and less hassle then CL. No tire kickers. Thanks so much.

Chris
Golden, CO

12/27/2012

We have had 2 very good experiences with placing our machines through our representative Gini Sweet. She has been most helpful and follows up on our placements regularly. Thanks Gini for being so helpful. We look forward to doing business with you in the future.

G & M
Hueytown, Alabama

10/26/2009

We were very impressed with Mellisa and all the hard work she put into selling out conssesion trailer for us, she was very easy to work with and took care of all our needs, I will defenitly contact her for any future needs.
Thank you so much.
Meagan, Texas

10/15/2012

HEY CALICE, THANKS SO MUCH FOR ALL HARD WORK IN CLOSING THIS DEAL FOR ME. NOW LETS SELL THE OTHERS!

JWE
WHITE PLAINS, MD

04/07/2014

I wanted to say Thank You to Stacy Sweet at USEDvending.com. Stacy made my purchase nice and easy. Thank You again for all your help!
A. W.
Soperton, FL

11/08/2012

When I first got into the vending business,I used a different locating service. Let me tell you that they didnt really do a good job. When I found out about 4VENDINGTIPS.COM, I decided to give them a try. The absolute best decision I ever made. Gini Sweet is an absolute pleasure to do business with and I'm looking forward to my next GREAT location with their help! THANKS GINI!!

GW
Birmingham, AL

07/09/2013

I am very happy to say that USEDVENDING has been a plus in my life. I have had a great experience, and I have had a excellent time working thru them. Melissa, has been oh so helpful, accessible, and knowledgeable of their products. I'm very happy!!! I'll refer any friend or person to her and USEDVENDING .

L.C. (Buyer)
Texas

02/07/2012

From my initial research to the first can of soda purchased, Used Vending was awesome. Melissa took care of all my questions along the way. Even after the sale, she has been there to help in all aspects. The whole situation went exactly as I had hoped. Thank you!!!

Benjamin,
Ohio

06/23/2011

April made the whole process a breeze. Thanks for helping me find what I needed quickly and easily!

Mike, NJ

10/03/2010

When I put my concession truck on USEDvending.com I thought that I might get a call or two. Boy was I surprized!!! In just 3 weeks my truck has been sold due to the hard work of Melissa Powers. She was very professional and consistant in persute of finding the right buyer for my unit. I would like to thank you Melissa and USEDvending.com for a job well done.

Kentucky

10/01/2012

Thanks Gini for helping to fill our soda void! You found us very nice vendors who catered to our needs and made the process very easy. I know that if we need something in the future you will be the first person I call!

Adrianna
Dallas, Texas

10/23/2009

My experience with Mega-Vending was very pleasurable. The staff was most helpful and professional. I look forwad to continued business with them in the future.
JDFDYER

North Hollywood, CA

09/04/2012

I had a great experience. I was called back at a reasonable time and was connected with a nice vendor in my area. I would recommend this site to anyone looking for a vendor in their area.

Debbie,
Forest Hill, Maryland

07/27/2009

April is very sweet and very nice to deal with. I brought several machines from her and she is very professional. She is also willing to negotiate on the prices of the Machines unlike some cut and throat sales people We have come across in the past. She is prompt in her sales inquiries and knowledegable on the Machines.

Livingston, New Jersey

05/01/2012

UsedVending.com, especially dealing with Melissa, gave us a great selling experience to move our vending machines. This company was efficient, professional & caring- matching & selecting with seller & buyers to complete a smooth & pleasurable transaction. I would recommend use of their services anytime.

H & P
Massapequa Park, NY

12/25/2010

Vanessa Long helped our company with a new location from beginning to end. She was very helpful and gave us all the details...and very honest i might add...even when we had a new company move on my location she was on my side and reassured my location,,,thank so much i will look forward in doing business your company soon!!!

TN

08/28/2011

Yippeee!! That is the last batch of those confounded machines.
Attached is signed ownership transfer form... It's been a pleasure working with you.. Thanks Melissa, for all your
assistance over the past year to get these OUT of my garage....

Darlene,
Texas

12/20/2012

I cannot recommend this site enough; Melissa Powers made selling my trailer so easy taking care of everything all I had to do was sign the papers. She kept me up to date on the people that were interested in the trailer and made sure they had all the information they wanted. Thanks for all you did.

J.G.
Moorhead,MN

05/10/2014

Calice Bilica could NOT have been more helpful, patient and absolutely wonderful with the sale of our vending machines. Facing the issue of aging parents is difficult enough, but when they live in a totally different state, well... We ended up with a most enthusiastic buyer and feel confident our clients will be in the best of hands. Thank you CALICE!!!
Jodi
Sabillasville, MD

04/29/2010

We are SO happy with our soda machine, but April Hurd is our angel. She was SUPER in facilitating our purchase, but she also was so gracious when we lost our key. In a FLASH we were back in business. She actually thanked us for the opportunity to serve us further! You can't beat that!

Pastor Steve

09/22/2011

APRIL WAS VERY HELPFUL AND HONEST WE WORRIED HER A LOT, AND SHE NEVER COMPLAINED. OUR MACHINE CAME IN A TIMELY FASHION. WE PURCHASED TWO OF THEM FOR OUR DRIVING ACADEMY. WE WERE PLEASED.

Sharonda,
Maryland

April, Thanks for your help with my recent purchase. Getting a follow up call from a website!! What a pleasant, unexpected phone call. Definitely a first! I look to deal with businesses who enjoy giving Positively Outrageous Service as much as I do in mine.
Thanks again,
Dave

Austin, Texas

12/07/2009

April was very helpful. She make sure the order is shipping out correct. Great follow up.

Lincolnshire, Illinois

10/26/2010

April, thanks for all that you do! With your helpful and cheerful demeanor, you have made my purchase a "very painless experience". Again, much thanks!

Take Good Care!

John "The Wash Tub"
Decatur, TN

09/23/1999

I have had great results with the folks at Used Vending when selling my machines. If you want results, I would highly recommend their services.
Jason G.
Slidell, LA

10/14/2009

I have been in the vending business for the past 22 years. I have seen a lot of bad locators who promise the world and deliver less than rocks!! We have taken several leads from 4Mega Vending with April, Kara, & Mel. I can truthfully say that all the leads that we have taken have been good for us. In addition, to lead acquisition, we have also purchased several machines through their site. All of which are in service today. So I would do them an injustice to not recommed them to anyone. They have proven themselves to me and I look forward to a more prosperous year in sales and growth!

Demetrius Williams
21st Century Vending
Fontana, CA

10/15/2009

Melissa has helped me sell 2 machines in a short amount of time, at no cost to me. She does all of the work with a few phone calls and emails. I tried a newspaper ad for 4 weeks that cost over $100 and I had 1 response. Used Vending. com has worked very well for me.

West Hartford, Connecticut

10/26/2009

Working with April has been a real pleasure. April is always willing to go the extra mile and ensure all of my needs are taken care of. I highly recommend working with April for your vending needs.

John,
Connecticut

03/24/2014

I wanted to share with you my experience with your company. I looked all over the web for a company that would supply our office with a soda vending machine, without much luck. I came across your website and filled out the questionnaire, hoping your company could help me find someone who is willing to put one into an office of less than 40 people. April contacted me right away via email and stayed with me through the whole process. We had a gentleman come out to our office this week and will be returning next week to install our machine. I really appreciate all the help and the follow up from April. I will be sure to suggest her to anyone I know. Thank you again for all of your help!
Carrie B., Colorado



My hats off to Melissa and her staff. When my husband was diagnosed with cancer several months ago, we thought for sure we would be stuck with our concession trailer until the spring. But thanks to Melissa's and staff's hard work, they found a buyer and yesterday they picked it up. What a breeze it is to work with Melissa and the staff. They truly take care of EVERYTHING. Well worth it if you have something they can sell for you. Thanks again for everything!!!

M. H.
Virginia Beach, VA

03/04/2013

Melissa Powers did a great job in handling the purchase of our new vending trailer. I would not hesitate to contact usedvending.com for future needs or to refer them to someone else. A very professional sales person and site.

Deborah Walker
Happy in Coffee City, TX

05/04/2011

used vending was great to work with. While my transaction was small, Melissa and the company treated me with respect and care. They made me feel that my business was the most important thing they were working on. Thanks so much for a job well done.

Paul

Jackson, MS

09/15/2009

I have become used to everything working so smoothly with your company. Customers are always aware of what to expect; there are no surprises. Your communication is timely and reliable. As a result, there are no big issues. That is a great comfort to a vending operator.
Thanks

Don Knight
Schaumberg, Illinois

09/11/2010

Forget E-Bay, Whatshisname's list and all the rest, and dispense with the spammers, fruitcakes, and lookylou's! Don't let Melissa Power's sweet smile fool you - The woman is a pit bull when it comes to selling your merchandise!

John C. Sumter

05/28/2012

I found Used Vending on an internet search and thank God I did!! They were finally able to sell 2 of the 5 vending machines I was trying to sell! I sold them to a young man who seems quite eager to start his business. Thank you Melissa for all your help!! Now just sell my other 3!!!

D.W.
Westmont, IL

04/25/2011

OMG! Melissa was professional, personable, knowledgeable and made my transaction go off as smoothly as possible, she is truly an ace. Thanks again, you get an A

Cameron, IL

10/19/2009

Dear Melissa,

Thank you for your help. You truly worked hard to answer my questions. I appreciated all that you did to make this a wonderful experience. If I ever need any other equipment I will definitely look to your services again.

With many thanks,
Brent Hardesty.
Pella, Iowa

02/23/2012

I recently purchased my first vending machine from USEDvending.com. The staff was great and always was available to answer my concerns. I would especially thank Stacy Sweet for his time and patience!

Denise,
New York

08/06/2012

Gini is WONDERFULL!!! I love Gini and how she is so kind to assist me in this vending business. This is the first time I used this website and company and already I have had a pleasant experience with her. She made me feel very special and important and I recommend her to anyone out there!

Jason,
Los Angeles, CA
See Hundreds more or Write your own...