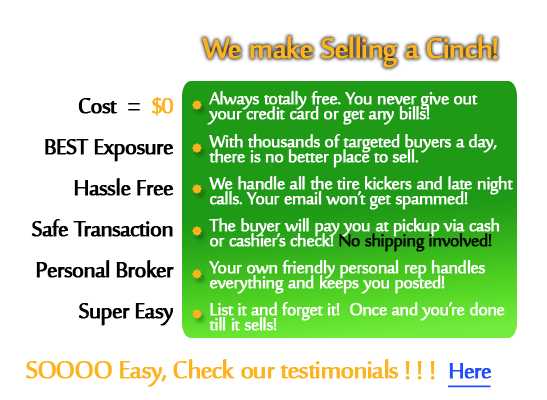 Selling Used Horse Trailers
Selling your used horse trailer could not be easier! Not only is it a free online service, but we even take care of weeding through the tire kickers for you.
Unlike a used trailer classifieds site where you get calls from every curious George that stumbles across your ad, we handle all that for you. Once we find a serious buyer that is ready and able to pay, we put them in touch with you for the pickup! Since 1999, we have been bringing sellers top dollar for their equipment and making buyers happy by finding the perfect used equipment for their needs.
Don't take our word for it - checkout hundreds of testimonials from many happy used trailer sellers just like you!
Used Trailer Testimonials
Our long history of a quality reputation and many repeat customers is why so many trust us to sell their
used horse trailers
.
Horse trailers can be expensive; if needed, we even offer an escrow service to allow both parties complete security for a safe transaction. It's a very simple process, but your friendly agent is always here to walk you through any questions that you may have. We have thousands of buyers who visit our sites daily; so, rest assured, you're in the right place!
When you list your horse trailer for sale, remember... PICTURES SELL ;-) The more pictures, the better!! We'll post all your used trailer pictures online for the world to see. If you have video that shows a walkthrough of your horse trailer, we'll even provide that to give buyers a complete look and feel to close the deal!
To list your trailer for sale, simply click on the "Free - Sell My Trailer" link at the top of this page. Once you create a free account, just log into your account and click the link to add a new listing. Fill in your horse trailer details, and we do the rest! If you later have info or pictures to add to the listing, just login and add them from your account.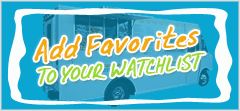 Customer Experiences
04/10/2019

I would like to thank Ms Tonya Wages for her hard work and diligence. She made it personal to sell all of my vending machines and because of her efforts, they are all sold! You did a great job Tonya and I liked the way you kept in touch through all the transactions. You made this seem so effortless. Thank you again for all your help!!

H. Wright,
Plant City, FL

07/13/2017

Your service was great, very simple and explained by you in an ABC manner that a third grader could follow. You were quick responding to questions, easy to communicate with Email and text, which is great for corresponding from mobile devises away from a work station (golf course)! Exactly the case when I was approached, both, by UsedVending and contacted with the offer for the purchase of my concession trailer. 5 stars.
Steve Snyder,
Portland, IN


11/15/2018

Working with your company was a good experience. Denise was very helpful through each step of the process until final purchase and even assisted with price negotiations and getting all the paperwork signed and delivered. The whole experience was great using your company as the broker. Kudos to Denise.
William Pohl,
Panama City, FL

12/30/2010

Melissa

I would like to thank you for all the help in selling my used vending machines. You were very helpful and i never had any issues or problems with any of the transactions.I recommend you and usedvending.com to anyone who needs to sell used vending equipment.

Thank you Melissa.

Mike
Garden city, Michigan

05/18/2015

Greg did a great job on his communication and I believe he is a great asset to your company, my experience was great. Thank You very much!!!
Hugo Tamayo,
Bakersfield, CA



11/13/2015

I am very thankful for the company. The entire experience was outstanding, and quite simple. The trip I made from Nashville, TN to Oklahoma was long, but very worth it. I am happy with the services I was offered, and I wouldn't think twice about using them again in the future! Thank you!
Humerto Zarate,
Nashville, TN

03/12/2015

Hi Melissa, Thank you so much for all your help with selling our Food Trailer! You helped us understand the information and details of what the buyer looks for, and helped broker the the deal which completed the sale. I will definitely recommend your services in the future to anyone looking to purchase, or sell equipment. Thank you again for all of your help!
Valerie Ledgerwood,
Port Orange, FL

10/15/2011

I AM 11 YEARS OLD AND I OWN A VENDING BUSINESS. My name is Tyler Hollingsworth and I just wanted to share my story of how I started my vending business. I am in the Boy Scouts and I wanted to earn my Personal Management Merit Badge, to do this I had to have an income and manage it for a period of time. I asked my dad for if he would pay me to do my chores around the house so I could earn my Merit Badge and he said no that my chores was part of my family responsibility. He said I needed to find something that had a supply and demand earn the money. About a week later I asked my dad if he would loan me the money to buy me some gumball machines. After a long discussion he loaned me $1000.00 with a payment plan. After I got my first gumball machines in June 2010 and located them I realized that I needed more machines to really make good money. I asked my dad for another loan, he hesitated but loaned me the money in the end. I have since payed my loan off and my business is debt free. Today I have over 200 vending machines valued at over $60,000.00 and over $40,000.00 in merchandise. I should end this year with a $30,000.00 plus in profits, and if I stay on track I should make a profit of between $50,000 to $70,000 next year. I also give a percentage of my profits to Boy Scouts because the Boy Scouts is the reason I stared my business. Usedvending.com and Stacy Sweet are part of my success. I now use them as my main source for purchasing vending machines. Stacy Sweet is my broker rep. with usedvending.com and I feel that when I need machines I can call on him and he will find the machines at the price I can afford. Tyler Hollingsworth, Mississippi

10/07/2010

After contacting 4vendingtips.com I was put in touch with one of the most pleasant, professional people I've ever dealt with. Jackie at Grand Slam Innovations has been an absolute pleasure to work with and it all started with a simple email to 4vendingtips.com. Connie Jordan was very nice and did a GREAT job putting me in touch with Jackie. Many thanks to Connie and 4vendingtips.com.

Charlie DiPatri

07/18/2016

My experience with UsedVending was easiest, April was a great help for the transactions went smoothly and everybody wins. Thank you.
Dee McCarty
Stokesdale, NC


08/21/2011

All I can say is Stacy rocks! Quick and dependable!

Shannon B.
Arlington, TX

01/30/2017

April and her team at UsedVending.com are a tremendous value to me. She works diligently to understand what is going on and ensure all parties are happy with the outcomes. She is always prompt to reply via email, voicemail, or text. She makes a difficult process much easier. I fully intend to work with April for all of my purchases indefinitely.

Sincerely,
Michael Wiggins
Healthy Vending Options, LLC
Hammond, LA

10/25/2009

April did a great job, the sale went very well and according to plan.

Thank you
Glenn
Loveland, Ohio

05/25/2016

Dear April,Thank you very much for your help in purchasing the two orders. It was a really good experience to work with you. For sure, we'll make more acquisitions by usedvending.com.

Best regards,
Mihai-George, STATE Administrator
www.magicball.ro

I was skeptical about using a website selling company from my experience with time shares but was pleasantly surprised when I received two offers for my machines from Usedvending.com I would definitely feel good to use them again if I had more machines to sell. Melissa was great in this transaction. Thanks Melissa, you are a great asset to your company.

Lou E.
San Jose, CA.

07/17/2018

Denise Keyes did an excellent job assisting me on purchasing 3 vending machines. Her product knowledge was spot on and an excellent communicator through out the process. Thanks Denise.
John S.,
Santa Fe Springs, CA

09/11/2013

I would like to thank Melissa for helping me with the sale. In the future I would use this site again.
D.W.
Ottawa, IL

12/09/2015

Working with Melissa and Usedvending.com was a breeze - they got me the price I wanted and sold my unit in 2 days. Thanks guys.
David H. Farr
Mansfield, PA

Usevending is one of the few reliable sources that we found to sell our used vending machine April was helpful in every step of the process, she was diligent and communicated frequently. Thank you!
Stacey, CA

06/01/2011

April Hurd is an excellent sales person to deal with. I never met her but feel she is a true friend. She is very professional. I will continue to do business with her whenever I can and will spread the word out. Thanks April

Helen Wong

11/04/2015

A gigantic THANK YOU to Melissa and the crew at UsedVending.com. Given the cost of advertising, it is amazing that a trailer would be internationally advertised on a high profile web-site at no cost to the seller. More importantly my trailer was portrayed professionally yet in a format that presented the unit exactly as it appears and is functionally operable; including many pictures and a quality description for the potential buyer. I always knew the status of potential purchasers, and when the "correct" buyer came along, all of the documentation and coordination of the sale was "spot on." Thanks again Melissa and UsedVending.com... I am now in the process of designing and ordering a new trailer with cash-in-hand.
Dave @ Prairie Fire
Forsyth, Montana

03/06/2018

April Hurd found the perfect location for me. I am new to the business and I've always heard that good locations are hard to find. April led me to a much sought out location with lots of foot traffic and I landed the account.I definitely would recommend their services.
Heather Washington,
Smyrna, GA

02/14/2018

Thank you Deidre for making the sale of the food truck as simple as it was,you helped us with the questions and other things before we even asked. Thanks for all of your help and looking forward to selling our next piece of equipment with you soon.
Russ Bowers,
Smithville, WV

10/03/2016

It was a pleasure to work with Melissa Powers and USEDvending in finding and purchasing a concession trailer. As I communicated via email or phone, Melissa had the information or was quick to get the information for the questions that I asked. I was specific in what I was looking for and she was helpful in finding a trailer within driving distance to meet the specifications. Thank you Melissa and USEDvending. We look forward to using the trailer in many events to come.

Mickey Burroughs, Minister of Education & Administration
First Baptist Church - New Port Richey, FL

10/25/2009

4 vending the best. I highly recomend 4 vending, very professional company and the staff Melanie lee, April, super, very helpful. I will definitely use 4 vending in the future. Very good locations. DLara vending.

Westmont, Illinois.

09/22/2015

I put my concession trailer on usedvending. It was no time Melissa powers contacted me. It sold right off. I highly recommend them for ur needs. Melissa did a great job couldn't have asked for more. Thanks.
G. Floyd,
Athens, Alabama

06/04/2018

Wendy was a huge help in the process. Made everything run smooth and efficiently. Couldn't of done it without her!
John Wipfli,
Minneapolis, MN


12/09/2014

Melissa, Thank you so much for all your time & help selling our food stand! I am sure to tell anyone & everyone about you! Also wanted to say thank you for all your time texting me when I didn't have a voice! God Bless You,
Clayton & Cammie Thayer
Wheatridge, CO

01/12/2016

I can't believe how easy it was to sell our food trailer with Used Vending. I got a call one morning that there was an offer and by 4pm that afternoon the trailer was sold and on its way to a new destination!!!! Thank you so much for making this procces of closing our business easy!!!!!
Duane and Lori Coucke,
Vinemont, AL

06/09/2016

Dear Melissa,
Thank you for all of the hard work you have done on spearheading my mobile kitchen purchase. Your dedication to seeing it through from start to finish is truly an example of a great sales agent.
You have been effective and you have been responsive to all of my requests. I contacted six or so companies about buying a mobile kitchen, you were the most knowledgeable. The consensus among my staff is that I made a great buy.
Thank you again for all your hard work. Should you ever find yourself in Key West, FL, please look me up. I'll buy you dinner, better yet I'll make you dinner!!
Warmest Island regards.
Chef Warren,
Key West, FL

03/20/2017

Hi April,Thank you so much for finding a great vendor for us.We were looking for a right vending service who can provide drink and snack machine for our office and you found a great company for us. It happened so easy thanks to your help.

Mina,
Los Angeles, CA

Thank you for helping me find the Great Deal I received by going to your web site. I was surprised to find that I could get machines in such great shape at such an extremely low price! The final cost came in even lower that we had first discussed due to your hard work on keeping the shipping cost down. The service I received was second to none. My machines are all placed and are operating just like new.
Thank you again and God Bless.
Ricky

05/02/2017

I would like to say I was hesitant initially with listing my truck on USEDvending.com. Instantly I was impressed with the quality service from all of the representatives that I interacted with. This positive interaction made the whole process run smoothly from beginning to end. As the seller, and from the buyers perspective it was well worth using their outstanding services. Wendy was very professional and made every part of the selling process understandable and worthwhile! I highly recommend that anyone that is interested in selling or buying any kind of commercial equipment regardless of size check out USEDvending .com.

Highly satisfied customer,
Kalan Chaloupek
Las Cruces, NM


01/24/2011

Melissa from Used Vending was an incredible asset in selling my mobile kitchen and equipment. From the start, Melissa was a true professional and I credit the sale to her caring attitude for both seller and buyer. She is friendly and knowledgeable and always took the time necessary to answer any questions. I could not be more satisfied with my experience.

Thank you,
Michael

08/25/2014

MEGAvending is a great company to work with. They were with me every step of the way from ordering all the way until after delivery. They are professional and friendly, and the vending machines came quick and undamaged.

Ashley,
Pryor, OK



10/25/2009

Bought a catering truck from you, and sold it through you! Great customer service!

Laura
Reunion, Florida

04/04/2018

Had a great experience with Usedvending.com. Bradley was my representative and was great. Very very knowledgeable and helpful. Very unbiased opinions and suggestions which was great. Wasn't trying to steer me and specific direction or trying to push certain products more than others. Answered all my questions confidently and his response time was very prompt when I would email or call. I couldn't have asked for a better experience! Thank you!
Nick Perata,
Napa Valley, CA

09/22/2016

Hello April, Once the deal is complete, I just wanted to let you know how much I appreciate the great job that you did in helping me to sell the vending machines that I had. Especially the dedication on your part, with the monthly updates/checks on my account, all the way up to the completion of the sale. Thank you very much, great job by you and your organization.
Phil Hardy,
Broomfield, CO

02/21/2011

usedvending.com gave us a free, easy way to get rid of a machine that was just taking up space in our office. April Hurd was the rep that helped us throughout the entire sale.She was professional, polite, and made sure that everything was made easy enough that a kindergartener could have sold the machine. I would recommend usedvending.com to anyone who wants a painless way to sell their unwanted vending machine.

Liz LeBleu
Chief Operations Officer
PrescriptFit, INC
Gulfport, MS

01/26/2017

I have been doing business with Used Vending and my experience is breathtaking. I received a phone call from April Hurd and my machine sold 3 days after speaking with the buyer. He is very pleased with the machine and the transaction was flawless.

Thanks for the assistance April.

Dana Boykin | Materials Manager | The Crown Group
Livonia, MI

03/01/2017

What an experience. I have been looking for the perfect trailer to start my own catering business out of and I saw a website called Usedvending.com. I went on and looked for almost 2 years and then I saw the one. It was as simple as a phone call. Wendy was so awsome to work with . She was there to help me through every step of the way, she made me feel like family and not just another sale. 100 stars all the way. Thank you you for all your help Wendy & all Y'all at Usedvending.com keep in touch eh!!!

Bevan Sweeney,
Terrance, CAN


05/31/2016

Dear April,

Thank You so much for the sale of my popcorn wagon. Even though this is a unique item you never gave up on me. You kept constant contact and finally got the job done. I am super happy with April and this company . They explained things to me each step of the way and the payment was received promptly. I wouldn't hesitate to do business with used vending again.

Darlene M.,
Sloughhouse, CA

04/14/2018

This was the first time I used Used Vending, they were extremely helpful and walked me through the entire process. Best part was the communication. I would definitely use them again. Thanks Tonya!

Anthony Eder,
San Mateo, CA


03/20/2018

Bradley 1st of all I want to say much thanks to you and your operation, I'm so glad I signed up with your outfit. Truly a great experience working with you personally also Bradley. I deal with a lot of people in and I have to say hands down the easiest sale situation I've ever been in, I'm definitely going to use your outfit for any future business, 5 star all the way. Thanks.

R. Martinez,
Denver, CO


07/25/2010

Vannesa, This is the transfer of goods. Sale is complete and I thank you for such prompt service and attention to detail. It was a very pleasant and refreshing experience. I will recommend you to anyone that I know that needs to sell or purchase you products.

Jeff

08/23/2012

Wanted to drop a line to tell you that it was a pleasure dealing with 4megavending.com and Stacy. I had quite a few questions before my purchase and Stacy was informative and helpful in helping me pick out the right machine for our office. Ordering was easy and once the machine arrived it only took us @30 minutes to get it unpacked and running. Keeps the drinks colder than I expected. Thanks again for all your help Stacy. Look forward to working with you in the future.

R.M.
Baton Rouge, LA

10/24/2009

April, is very helpful, amd really knows machines. She is very honest and trustworthy, not like other distributors that give vending a bad name.
Maryann
Framarang Refreshment Svcx.
Edison, NJ

02/22/2019

I couldn't be happier with this A-1 company..Melissa helped me with every step of the way in purchasing our food truck... She answered every question I had in a very timely manner....Would use this company in a heart beat...Melissa you are the BEST....
Cheryl Johnson,
Ellsworth, WI

10/16/2016

Hi April, I would like to thank you and your co-worker Erin for a great job in helping me sell my vending machines. You all are so friendly and really seem to enjoy what you do. I appreciate all your efforts and would like to say thanks a bunch!!

Henry Wright,
Plant City, FL

07/11/2015

Hi, Melissa, I want to let you know that I am so happy with the service that you and your company give me I want to thank you for your help, thanks again.
M. Popalzai,
Springfield, VA
See 1800+ more or Write your own...