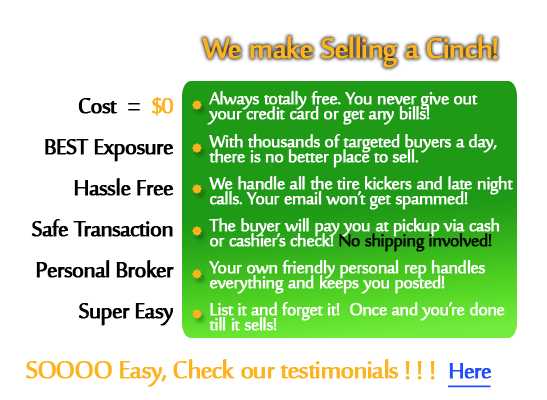 Selling Used Horse Trailers
Selling your used horse trailer could not be easier! Not only is it a free online service, but we even take care of weeding through the tire kickers for you.
Unlike a used trailer classifieds site where you get calls from every curious George that stumbles across your ad, we handle all that for you. Once we find a serious buyer that is ready and able to pay, we put them in touch with you for the pickup! Since 1999, we have been bringing sellers top dollar for their equipment and making buyers happy by finding the perfect used equipment for their needs.
Don't take our word for it - checkout hundreds of testimonials from many happy used trailer sellers just like you!
Used Trailer Testimonials
Our long history of a quality reputation and many repeat customers is why so many trust us to sell their
used horse trailers
.
Horse trailers can be expensive; if needed, we even offer an escrow service to allow both parties complete security for a safe transaction. It's a very simple process, but your friendly agent is always here to walk you through any questions that you may have. We have thousands of buyers who visit our sites daily; so, rest assured, you're in the right place!
When you list your horse trailer for sale, remember... PICTURES SELL ;-) The more pictures, the better!! We'll post all your used trailer pictures online for the world to see. If you have video that shows a walkthrough of your horse trailer, we'll even provide that to give buyers a complete look and feel to close the deal!
To list your trailer for sale, simply click on the "Free - Sell My Trailer" link at the top of this page. Once you create a free account, just log into your account and click the link to add a new listing. Fill in your horse trailer details, and we do the rest! If you later have info or pictures to add to the listing, just login and add them from your account.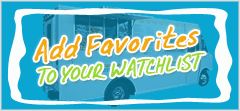 Customer Experiences
06/01/2011

ALTHOUGH IT TOOK A WHILE..WHEN THE RIGHT BUYER CAME ALONG, MELISSA AND HER STAFF MADE THE TRANSACTION REAL SMOOTH.ALL PHONE MESSAGES WERE RETURNED. ALL QUESTIONS AND CONCERNS WERE ADDRESSED. IF YOU KNOW ANYONE BUYING OR SELLING,THIS IS THE PLACE TO GO!! THANKS AGAIN

BILL SHICK,CLEVELAND TN.

06/26/2018

My sister and I recently made the decision to get into the food concession business. I came across this website and saw a trailer that looked like just what we needed to start our new venture. Bradley was my contact person at UsedVending and was so great to work with!! He ensured the title/registration was up to date and everything on the concession trailer was as advertised. We drove over 400 miles to look over the trailer and purchased it then and there! The seller was very motivated and gave us detailed explanations and demonstrated all the equipment. The overall experience was awesome! I'm so grateful to have come across this site and highly recommend other prospective buyers to check out UsedVending!

Becky Short,
Ursa, IL

08/30/2017

The staff at Used Vending worked very hard for me in selling my trailer! They did the tedious work of sifting through potential buyers and put me in line with someone who was looking for exactly what I had! Melissa at Used Vending was very detail oriented and made the sale very simple. I wouldn't hesitate to use them again, should the need arise! Friendly, professional and tactful is everything I could ask for in a service provider and they delivered in every way!
Corey Fisher,
Gonzales, LA

10/24/2010

Melissa Powers is an awesome individual with awesome sales power! If you want something sold you need to speak with Melissa Powers! Awesome job Melissa! Thanks for all your help!!

Regards,
Mike Archuleta
Trinidad Colorado

12/14/2015

Thanks Melissa again for selling our 16 foot food trailer. It was a pleasure and if anyone has something to sell I highly recommend USEDVENDING.COM they are friendly and professional in every aspect.
Pasquale Venditti
Shohola, PA

03/23/2016

The Usedvending.com website was very user friendly. It was wonderful to see contact information for your reps on some of the ads. I was lucky enough to reach Jennifer Melerine. She was absolutely wonderful. Jennifer was so helpful in finding something I could afford. I know it was a challenge because I did not have big bucks to spend on anything. She suggested a couple of trailers and one seemed to be a good fit. She was very knowledgeable about the item I was interested in seeing. She provided information via e-mail and on the phone. The process of getting the transaction completed was made exceedingly easy because of Jennifer's attention to detail. She even went the extra mile by providing her after hours telephone number should there be any concerns or problems. I sincerely hope that all of your reps are as conscientious as Jennifer. If anyone should ever ask where I purchased my "new to me" trailer, I will let them know to check out Usedvending to avoid any hassels and scams that seem to be everywhere.
Rosemarie Titus,
Janesville, WI

10/14/2010

Special recognition MUST go to Melissa on account of her unparalleled professionalism. Her combination of friendliness and efficiency in consummating my purchase exceeded my expectations for customer service. USEDvending has a workforce to be proud of; I couldn't be happier! Thank you so much, Melissa!

Patti
Fresno, CA

05/06/2011

First, the service was fantastic. I was looking for a very specific vending machine. Melissa was very prompt, cordial, and exact in her search. Every expectation in customer service was satisfied. I will most definitely recommend and use this service in the future.

Thanks from RockStarVending!

04/20/2016

Hi Melissa, wanted to say thank you for your help with getting this truck. I am really excited as well as my staff and FANS. I'll keep you in the loop and get you some finish pics. Aloha.
Cary Peterson,
Kawaihae - Kamuela, Hawaii

03/28/2010

Thank you for all of your help. I am just starting my company and so far you have provided more info than others.I look forward to working with you in the future.



Chris

05/14/2012

Mellisa was a tremendous asset to connecting us with some truly wonderful people, who also were great to work with, paying a reasonable price, moving the machines and all very timely. Would give my repeat business to her and her Company any time.

Jim,
Colorado

11/01/2010

Thanks to Melissa, one of my vending machines sold in as little as one mo. she is very professional and polite.! You are very lucky to have someone like her with your company. Thank you Melissa !!!

IL

08/12/2012

I am very happy with the service Gini gave me, as she was upfront and asked me to provide some basic information. In a few days I was able to have a vendor come out and view my Office. I had tried on my own to get a machine out here, but had no luck. The efficiency in matching and doing all the leg work is impressive. I will refer many others to your site. Thank you.

T. M.
Milpitas, California.

06/27/2017

I would definitely recommend used vending for my leads and to acquire more equipment April was awesome at helping me get the job done and was super professional and was happy to help me when additional time was needed, I look forward to working with April again here soon.

Lennie Blevins,
Wichita, KS

08/20/2010

This is my second time working with Melissa. She has been a great help to me in both purchases. She is very helpful and knowledgeable about the products they sell. Thanks Melissa

Vanessa, Louisiana

07/11/2016

Working with UsedVending.Com was very positive for me. First, my contact, Wendy, was so helpful and kind. She walked me through the process giving me peace of mind. I felt the whole experience was better than I hoped. This transaction can be stressful. Wendy put me at ease and I felt my sale would be handled well for both parties.

Kristina D. Taylor
Operations Manager
Sodexo - Pittsburg State University, KS

03/09/2016

Absolutely it was a real pleasure working with you and your company. You guys made it easy and smooth all the way through the entire transition. I'll definitely spread the word if I ever come across anyone looking to buy or sell a food truck. Thanks again and take care and talk to you when I need my second one.
Chris Innes - The Salt Water Truck
Albuquerque, NM

06/20/2017

Melissa Powers is a SUPERSTAR! She made my selling experience a great one. She was extremely personable and I felt like I was speaking to a friend every time I needed to reach her. She kept me informed every step of the way and was there to answer all of my questions. I would definitely recommend Used Vending if I was going to buy or sell again!
Paulean Robinson,
Hampton, VA

09/22/2015

Melissa, Our experience with USEDvending was good. The website is easy to navigate. Melissa was very friendly, helpful and available! The pictures were good quality and the listing of specs helped us make a confident purchase. The purchase was a smooth and easy transaction! Thank you so very much!!
Sincerely,
Marjorie Cobb, Gourmet Grits LLC
Huntsville, AL

05/17/2016

I am writing this to compliment Used Vending for selling my gumball machines. Someone from Romania purchased them so I was highly skeptical. April's service and quick responses instilled confidence in me to try this internationally . Everything worked out and I was pleasantly surprised.
David baker,
Phoenix, AZ

02/18/2014

I truly enjoyed my experience with UsedVending.com, they were steadfast and structured with the entire process. I was able to search products and talk to a great customer service representative in Ms. April. She helped me receive my products within days with a smooth trustworthy transaction at a great price!
Thanks again April
Cordially,
Harvey in MS

01/11/2017

April, thanks again for all your help in my purchasing the yogurt machines. I had a genuine feeling that it was actually my interest that you were most focused on. It went a long ways in helping to get this deal done.
Thanks again,
Kevin Harper,
Sugar Land, TX

05/16/2017

Good Evening Bradley/USEDvending.com- We want you to know how much we appreciate the outstanding customer service you have given us. We want you to know that we sincerely appreciate your responsiveness. We cannot express how pleased we are with the outstanding service your company provides. We love the trailer and will recommend your company to our friends and family. Thank You!
Harry and Barbara Carter,
Baton Rouge, LA

08/21/2010

Found an add for Wowie Zowie gumball machines on UsedVending.com and got a great deal on them. Thanks to Melissa for send info on completing transaction. VERY HAPPY!!
UKJEFF

07/27/2011

I bought the perfect concession trailer that fit my needs through your service. Mellisa Powers was awesome awesome help. She made everything very easy and she is a pleasure to work with.
Thank you so much for a job well done.

Dan Mullin / Mullin's catering
New York

06/06/2016

Jennifer,

Thank you so very much for all of your help in completing our search and ultimately buying our new trailer! Above all, your patience and calm demeanor was paramount in keeping our deal alive throughout its completion.

As with any large purchase from out of state, things can seem pretty hectic and out of control but your mediation between the manufacturer and me the buyer truly exemplified your work ethic.

It was a pleasure doing business with you and we have found a new friend in the manufacturer.

Our most prevalent obstacle was the transfer of funds. dBoth myself and the seller really felt comfortable having UsedVending as the escrow account prior to approval of purchase.

I hope to do business with you all in the future.

Sincerely,

Anthony Falcon, Chef Proprietor

Gaucho Parrilla Argentina, LLC

02/20/2018

Yes u made it easy and u sold my truck- I think Your Company DID A GREAT JOB, THANK YOU.
Reford Earles,
Indianapolis, IN



04/11/2017

Hi Grey, Working with you and usedvending was great. With so many Scams and con artists out there it was great to find an honest and professional company and staff. Great experience. Thank you.

Chris D.
Palm Coast, FL

12/23/2014

Thank you Melissa for all the great work you do. Its been a pleasure doing business with you and for having the patience to work with me. Sometimes I can be difficult to work with but you always kept your cool, with prompt and courteous responses to all my questions and eventually during the years resulting in the purchase of nine vending machines all in the condition described or better.
Thanks, Blessing, Merry Christmas and a Happy New Year
Al Hernandez, Falcon Vending Solutions
Austin, Texas

11/11/2014

Hi Crissy, Just wanted to thank you for all your help with the sale of my Ice Cream trailer. Everything went very good and quick. I would for sure use your web site to sell items again. I was very surprise how easy everything went and hassle free. thanks again.
Best Regards,
Paul Angerami
Phoenix, AZ

10/15/2009

melissa did a fast and wonderful job selling my machines thank u. od

Raymore, Missouri

Melissa I can't thank you enough for finally getting the machines out of my living room. It's amazing - I can now actually walk right up to the dining window and look out. - Wow. I appreciate the time and effort that went into your accomplishment and its greatly appreciated. Thanks a bunch. It was also a pleasure working with you. The couple that bought the machines was absolutely adorable. Ciao, BJ

Culver City, California

04/27/2016

The Usedvending.com did a pretty good job and had helped me to sell my food truck fast within a week only. Thanks.
Thomas Fang,
Fresno, CA

12/28/2010

Melissa,
Thank you so very much for everything you've done for Greg & I. Where do I email a letter of how well we were treated!

Sincerely,
Greg & Colleen

02/11/2011

Vanessa made our whole transaction so easy. She was very informative in our first conversation. A vendor contacted me the next day. Everything was installed the next week. Couldn't ask for better customer service. I would recommend your company to anyone needed great vending service!!

C Jennings, GA

01/25/2010

Made the best decision of my life choosing usedvending.com to represent me in my first vending machine purchase. My agent April was amazing in every way! Her dedicated loyalty to me as a customer (buyer) has moved me to write this testimonial. Where in this society most people tend to take things for granted, she went above and beyond to see that i was satisfied with the end result of our transactions. This combined with her concerned follow up has impressed me immensely.I would highly recommend Usedvending.com and her as an agent to anyone looking to buy a vending machine.

Sedona, AZ

03/03/2017

Hey Wendy Jim here Just wanted to say thank you for all the help you gave me in purchasing the trailer. Everything went off without a hitch (no pun intended). You did a great job with the sell. I really appreciated all the fine assistance. I would surely recommend you and your company to anyone that would be interested in your service. Thanks again.
Jim McDaniel,
Charleston, WV

06/12/2011

Professional,courteous and efficient!

April exceeded my expectations in the search for a vending machine for our restaurant. She made the transaction very easy and I would recommend her highly.

South Carolina

05/28/2012

I found Used Vending on an internet search and thank God I did!! They were finally able to sell 2 of the 5 vending machines I was trying to sell! I sold them to a young man who seems quite eager to start his business. Thank you Melissa for all your help!! Now just sell my other 3!!!

D.W.
Westmont, IL

05/15/2017

Hi Melissa, Thank you for your help. Usedvending.com was extremely quick about contacting us with details of the trailer and constantly looking to answer any questions. It's a challenging process when a trailer is 300 miles away, but Usedvending.com helped to bridge that gap. Thanks and Godspeed!
Brian Starkey,
Spring Creek, IL

04/11/2018

I just want to send a shout out to Usedvending.com but especially Wendy Byrd. She was helpful not only with relaying information back and forth from me to buyer but also very helpful with getting sale to go through. My trailer was 4 hours from where I live now and I had 2 sick kids come out of no where. In between Wendy, understanding buyer, and my mother, the process went smoother then I had planned before the sick kids.
Sheree Macaroni,
Sharpsburg, GA

04/02/2015

Great Experience.. Fast Deal Very Professional... Machine was exactly like described...friendly staff.
J. Marion, Wellsville, NE

06/26/2018

We had a terrific experience with UsedVending.com. We are in Montana bought a food trailer that was in Washington. Melissa Powers took all the anxiety out of our buying experience. She negotiated a price that we were comfortable with and handled all the paperwork. All we had to do was pick up the trailer & pay the the seller in person. We love our trailer. We recommend USEDvending.com and Melissa.
~Tim Hubbard,
Kalispell, Montana

06/18/2013

I was very impressed by my dealings with usedvending.com in general, and with Cristina in particular. She was a total pleasure to communicate with, and always had a cheery, positive attitude. Thanks so much for making the selling of my concession trailer such a quick, easy, and enjoyable experience!

T. W.
Bloomington, IN




02/02/2012

Melissa was absolutely wonderful to work with! We had a few challenges getting our unit sold but she never gave up! She was very thorough and worked hard to get the price we wanted.

Thanks again UsedVending - you're great! :)
Martha, Colorado

02/22/2018

They were great to deal with, very professional and did everything they said they would do . Would definitely recommend doing business with them. There is no doubt I will be doing business with them again in the future .
Steve Michalec,
Lakeland, FL

03/07/2013

Hi Calice, Thank you for your help in getting us a nice deal on some good used snack and soda combo machines. The transaction was very smooth.

Chris Farmer,
Dallas Area Vending Company LLC

04/17/2018

I COULD NOT HAVE DONE IT WITHOUT THEM. They were excellent in all aspects of handling the transaction and sale of my food truck. Thank you for your service...
Maria Naples,
Hockessin, DE

02/23/2011

With Melissa's professional guidance my selling experience went very smoothly. It was a delight to work with Melissa. Thank you.



Pittsboro, NC

12/15/2012

Thanks Melissa Powers for your salesmanship and getting my Office Deli finally sold. I called to cancel and you had an interested buyer for me. Thanks for the good communication in handling this sale.

Jan,
IOWA
See 1700+ more or Write your own...