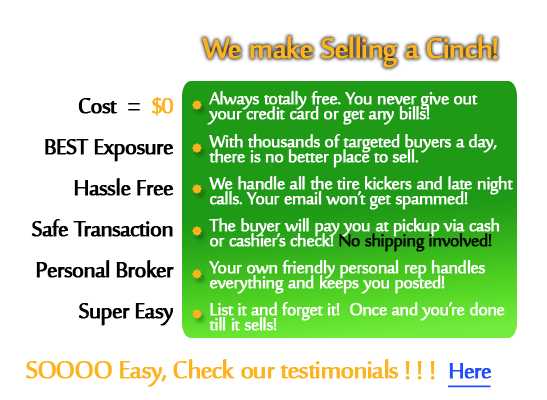 Selling Used Horse Trailers
Selling your used horse trailer could not be easier! Not only is it a free online service, but we even take care of weeding through the tire kickers for you.
Unlike a used trailer classifieds site where you get calls from every curious George that stumbles across your ad, we handle all that for you. Once we find a serious buyer that is ready and able to pay, we put them in touch with you for the pickup! Since 1999, we have been bringing sellers top dollar for their equipment and making buyers happy by finding the perfect used equipment for their needs.
Don't take our word for it - checkout hundreds of testimonials from many happy used trailer sellers just like you!
Used Trailer Testimonials
Our long history of a quality reputation and many repeat customers is why so many trust us to sell their
used horse trailers
.
Horse trailers can be expensive; if needed, we even offer an escrow service to allow both parties complete security for a safe transaction. It's a very simple process, but your friendly agent is always here to walk you through any questions that you may have. We have thousands of buyers who visit our sites daily; so, rest assured, you're in the right place!
When you list your horse trailer for sale, remember... PICTURES SELL ;-) The more pictures, the better!! We'll post all your used trailer pictures online for the world to see. If you have video that shows a walkthrough of your horse trailer, we'll even provide that to give buyers a complete look and feel to close the deal!
To list your trailer for sale, simply click on the "Free - Sell My Trailer" link at the top of this page. Once you create a free account, just log into your account and click the link to add a new listing. Fill in your horse trailer details, and we do the rest! If you later have info or pictures to add to the listing, just login and add them from your account.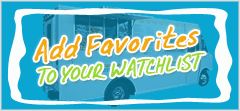 Customer Experiences
11/11/2013

You have been excellent handling my order like true professionals. Your customer service has been wonderful and blows away what I have dealt with on other sites. Your response time has been great too. All my future orders will be with you.

R.M.
St. Anne, IL

07/21/2011

We had a great experience using 4VendingTips.com. The response was prompt, and we are pleased with the outcome. I'd recommend them to anyone seeking a vending machine or vending services.

-John Evans
Edwin Watts Golf
Arlington, TX

12/31/2014

Although it took a couple of months, my item sold... Thank you Calice!!
J. Dodd
Lawrenceville, GA

08/13/2015

April, Thank you so much for helping us find a food truck! First of all, usedvending.com is the BEST website out there, and that is why I chose to continue looking on your site. It was very easy to use, prices were displayed on each listing, and listings could easily be added to a watch list. Like a lot of other feedback states, you are very easy to work with, friendly, and helpful. Thanks again. We are extremely pleased with our experience with Used Vending!
Naomi Hochstetler, iGrandma's
St. Joe, Indiana

03/28/2016

Melissa was very helpful and patient with us. She made everything easier and understanding for us. I would recommend Usedvending.Com a safe and trust worthy company to deal with. We loved working with Melissa because there was no pressure in purchasing our food trailer. We are well satisfied with everything Melissa helped us with. Thank you Melissa!!!

Jessica/Gilbert Torres,



03/16/2018

Wendy has done a fantastic job for me in the purchase of my vending trailer. She stayed on top of things. Returned all messages & phone calls. Give her a raise!!!
Mike Henson,
Willis, TX

08/23/2012

Thanks to Calice for connecting me with the Seller of a used vending machine. Everything about the transaction was handled well. All of my questions were answered in a timely manner and there were no unforeseen circumstances. The seller was honest and worked with our pick-up issues. Expectations were certainly met!

M.B.
Irwin, PA

10/08/2010

Connie Jordan/MegaVending referred us to a real money-maker location. We depend on MegaVending for quality referrals to expand our vending business. Thanks Connie/MegaVending. We look forward to more referrals!

Prestigious Partners LLC

06/07/2018

Very professional and fast responding.
David Sheiefelbein,
Bulls Gap, TN


01/20/2015

Mellissa, I just wanted to write and thank you. You and usedvending are a pleasure to deal with. From the setup of my listing to the sale, you and your company have made selling my trailer a dream experience. You have been very professional and nice, and I will definately be using you and usedvending in the future. Thank you again,
Vincent Cacio
Wildwood, NJ

03/18/2015

I would like to leave a heartfelt thank you to your team. The experience I had, headed up by Crissy, was exceptional. From inception to receipt of the trailer, it went like clockwork. Crissy made it very easy, fast, and painless. Kudos to Crissy!!
Thanks again,
Mike A, NJ

10/24/2016

Jennifer, Wanted to send out a special thanks for going out of your way to help me close my truck deal. I was impressed at how you found solutions at every turn, even when things were starting to look hopeless. As things turned out, both me and the seller were very pleased with the results. Thanks again.
John Brsan,
Marina Del Rey, CA

02/17/2018

Wendy was very helpful and knowledgeable about the industry. Helped me settle on the right price for my trailer for quick sale and negotiated a good deal when an offer came in. Sold in under 2 months! Now I can get started on a brick and mortar before expected, so I am very happy with UsedVending and how they handled everything.
Jacob Harver,
Virginia Beach, VA

06/09/2017

Hello my name is Brad, and I recently got into the shaved ice business. I ran a automotive service department for Buick GMC for 15 years in Atlanta. I always stressed how important it is to give excellent customer service and go the extra mile to make sure your customers would never even think about going somewhere else. And that's exactly the service I received from Wendy Byrd. Since I am new in this business I had a lot of questions and many of them were not related to the trailer I was buying but more towards the business I was getting Into. She always went the extra Mile! Made sure she got me the answers I needed by calling DMVs and companies to make sure the information she provided for me was correct. Most importantly and I always did business like this is, she didn't just treat me like a customer. I truly felt a family atmosphere from Wendy and all the rest of the staff that helped me out. My plan is to have 5 trailers in 2 years and without a doubt I have my company and saleswoman and there is no need to look elsewhere. Great job ladies and Gents. Great experience and I look forward to doing more business with you in the future and recommending you to anyone that's is looking for your product. I will pitch it and sell it for you lol. Thanks again, God Bless.
Brad Vickers,
Stuart, FL

12/03/2013

This was our first experience with Usedvending. Melissa kept us informed every step of the way with potential buyers and the sale went wonderfully. We couldn't be happier with how smooth the process went!!
T. & B.
Lyman, ME

06/13/2011

Thanks, Mr. Stacy Sweet, for the great combo machine account! The leads and accounts that you & Vanessa have turned me on to has almost wiped out my stock pile of equipment in my warehouse, and that's a wonderful thing! I look forward to each & every transaction with you and 4 Mega, you guys make it so unbelieveably easy! Thanks again!

Victor Carter
Mr. All Worlds Inc.
"Vending Excellence"
469-231-7255
www.mrallworldsinc.com

10/31/2017

Wow wow wow! Honestly I never thought I would've sold my food truck through a company that was free. I had every intention of selling it myself but boy was i wrong. UsedVending came in and sold it without hassle or trouble it was a really great experience, thanks Wendy! You're awesome!
Benjmain Campbell,
Ropesville, TX


05/29/2015

If only everyone in customer service could be half a nice and helpful as Melissa , the world would be a better place . She was very informative and thorough with all my questions & if i ever need to sell something again i will definitely use this web site. It was actually a fun experience. Thank you Melissa.

Gail Hultquist,
Sacramento, CA

11/13/2008

Melissa,
Recieved the vending machine. It looks great! Can't wait to use it. Thank you for your help! You made this easy.
Kim

Utah

05/15/2017

Hi Melissa, Thank you for your help. Usedvending.com was extremely quick about contacting us with details of the trailer and constantly looking to answer any questions. It's a challenging process when a trailer is 300 miles away, but Usedvending.com helped to bridge that gap. Thanks and Godspeed!
Brian Starkey,
Spring Creek, IL

05/10/2011

Melissa,

Used Vending is the best site we found we had used others to try to sell our vending trailer and had the most response from Used Vending. The sale started slow and and closed fast Melissa was great though out it all.

Thanks
Don & Donna

10/14/2009

I have been in the vending business for the past 22 years. I have seen a lot of bad locators who promise the world and deliver less than rocks!! We have taken several leads from 4Mega Vending with April, Kara, & Mel. I can truthfully say that all the leads that we have taken have been good for us. In addition, to lead acquisition, we have also purchased several machines through their site. All of which are in service today. So I would do them an injustice to not recommed them to anyone. They have proven themselves to me and I look forward to a more prosperous year in sales and growth!

Demetrius Williams
21st Century Vending
Fontana, CA

08/26/2012

Calice, Everything was perfect! I tried selling these many times on eBay with no results. it only took you two weeks to get me a buyer.....phenomenal!

Gianni,
Hicksville, NY

02/05/2011

I just bought my second machine which is already set up and making money! April was so great! She responds so quickly which made it possible to get the machine as quickly as I did! She even stayed at work late on a Friday to get all the paper work processed so I could pick up that day! Thank you so much April!! I will be contacting you soon for my 3rd machine!! :)

Stamford, CT

03/02/2018

I had a great experience selling my food truck on Used Vending. Bradley with Used Vending is great. If you are lucky enough to have Bradley facilitate the sale, you are indeed in good hands. He certainly worked harder than I did to get the deal done. He and the others I spoke with at Used Vending were always ready to answer the questions I had.

R. Peden,
North, LA

I would like to say I had the BEST experience ever! Tara at ext 15 was AWESOME and provided the absolute BEST customer service and I would reccomend her or your service to anyone. If I ever purchase other vending machinces I will definitely use your service again. Thank you once again for the best experience ever!

12/02/2016

Jennifer I just wanted to let you know how fortunate Used Vending is to have a member of their team as professional as you! Your extra effort made our transaction easy! It was a pleasure working with you!! Thank you so much!!
Aaron Lerner,
Minneapolis, MN

06/30/2011

I was very pleased with the location service and Stacy Sweet!! It really saves time and money to use this service. Great Job!!!
Thanks,

Darrell, SC

10/15/2009

Melissa was just the BEST person/middleperson for the job of finally getting rid of my machines! She was persistant and consistent and I truly appreciated all her efforts!

Thanks Melissa!

Jessica
Gainesville, Virginia

02/27/2014

Good Morning Stacy, I would like to tell how pleased I am with the way everything went with the purchase I made through Usedvending.com . Connie was awesome and even threw in a few items I could use in starting up my new food truck business. I would also like to thank you Stacy, you were very cordial and professional through the whole transaction.I would recommend your company without hesitation...
Rick,
Skandia, MI

03/06/2012

I worked with Melissa Powers on the Used Vending Machine purchase. I purchased two used Deli Combo Vending Machines as a result of that. The process was very simple and easy. Melissa made it easier with every communication that I had with with her. Overall, the service was very good.

T. S.
Elicott City, MD

10/22/2009

April at Used Vending has been very helpful and attentive to all my questions and issues. She has been wonderful to work with!

Thank you!
Jody Hewitt
Sweet Sisters, L.A. Ca.

04/15/2014

I have worked with Melissa Powers in the past when purchasing equipment through your website. She always makes things fun...but, I had no idea how fast Stacy Sweet works his magic, because my unit literally flew out the door once I priced it ready to sell. Not only that, but he somehow came up with a buyer only 45 minutes away! I am completely satisfied once again with UsedVending.com and would recommend Stacy Sweet anytime. Well done.
F.S.
Santa Rose, CA

I recently sold four combo machines through USEDvending.com, and was very satisfied with the service Eric Normand provided. While I received substantially less for my equipment than I originally paid, that was more a function of being ripped off by (distibuting company name protected) when I originally bought them. I wish I knew about USEDvending.com back then! Eric was prompt in returning my calls, and most importantly sent the check when promised! At any rate, I would highly recommend USEDvending.com and Eric Normand to other sellers and also buyers too, who can get some outrageous deals. Don't be like me - avoid (distibuting company name protected) and other 1-800-RIPOFFVEND companies like the plague, and go with USEDvending.com instead.
Barry Waterman

Chicago, Illinois

06/29/2009

Melanie has been wonderful assisting me in obtaining vending machines for our facility. She has been in constant contact with me throughout the screening process and has followed up with me to make certain I am satisfied with the services. I truly thank Melanie for her professionalism and will definitely recommend your services to our other offices.


Sincerely,


Aleshia VM Thomas-Miller
Veteran's Employment Representative
Alexandria, VA

04/19/2017

Bradley was very friendly, flexible, and very easy to work with. The whole process with Usedvending.com was pleasant and a breeze. Great communication from Bradley. He helped me each step of the way and I would most definitely work with and use your services again! Usedvending.com is top notch.

Brian Bernstien,
Boca Raton, FL






01/26/2017

I have been doing business with Used Vending and my experience is breathtaking. I received a phone call from April Hurd and my machine sold 3 days after speaking with the buyer. He is very pleased with the machine and the transaction was flawless.

Thanks for the assistance April.

Dana Boykin | Materials Manager | The Crown Group
Livonia, MI

12/22/2014

Crissy, Thank you very much for your help purchasing our first-ever coffee van! Your patience and understanding while we worked through the process was greatly appreciated. You were extremely helpful in making sure that all of our questions were answered in a timely manner. The care you took making our experience as painless as possible was outstanding. It felt as if you were right there with us the whole time.
Sincerely, Sherri & Jeff Woods
Senoia, GA

05/20/2016

It was a pleasure to work with April, she always kept me in the loop and never had a problem. Things went very smoothly. Thanks for the help.
Rick LoChirco
Henderson, NV

10/25/2009

April Hurd Rocks!

Thanks for your help and support.
Monica Reimer

10/09/2016

Thank goodness for Used Vending, I've been scoping out food trucks for a few months. I've traveled hundreds of miles by flight and car so the last thing I want is a food truck that needs a few grand of work after the purchase. With Melissa, I was able to check out a truck that I decided not to go with and almost instantly, I had a seller not too far away and Melissa talked to the seller and negotiated a price that matched my budget. She was there every step of the way and kept my whole buying experience in line. Currently I am halfway to Las Vegas from Oklahoma with a great food truck and within weeks of starting my dream business. Don't fall for those C******** pictures of trucks these sellers don't have. Just call Melissa, and she'll make sure you find a great truck that'll put you on your way.

Tim Lang- Future owner of Inca vs Azteca
Las Vegas, NV

10/16/2009

Thanks Melanie for the help in finding locations. 4 Mega Vending has a professional customer service staff and fair pricing for locations. I definitely recommend 4 Mega Vending service.

Thanks!
Eric
Triple E Vending
Palatine, Illinois

03/19/2014

I was very satisfied with the service I received From APRIL HURD. She was very helpful in getting the deal worked out and very patient with the issues I bought up doing this transaction. She has a very awesome personality and no matter the situation or time, she was also very helpful. I will again use the service from USEDvending.com and only request for April to help me.
H.H.
Jacksonville, FL

10/09/2010

Hi Connie,
Just a quick note and thank you for your professionalism and ease in doing business with your company!!

Arizona

01/19/2011

USEDvending.com is the greatest website to sell or buy vending machines. Customer service is the best I have ever worked with. I placed my information on the website and Melissa did the rest. Melissa provided a buyer and took care of all the paper work. The transaction went smoothly.
I look forward to working with Melissa again in the near future.

Julia
Marrero, La.

06/04/2016

I had an awesome experience with usedvending.com. I contacted Melissa Powers and she was always quick to respond and extremely helpful locating and negotiating a concession trailer for my new business. I plan to expand and I will definitely contact her through this site again!
Lori Culver,
Roanoke, VA

12/17/2013

I have high marks for UsedVending and its staff. I would like to let everyone know how helpful Melissa from Used Vending has been to work with on selling one of our food trucks. They handle everything from setting up the profile and ad to finding the buyer. We had a great experience dealing with UsedVending and they found a buyer fairly quickly. The buyer just came, quickly looked over the truck, and drove off with the food truck due to how well everything was advertised and questions that could be asked before the sale. UsedVending dealt with all the offers and paperwork trying to get the food truck sold for us. I would highly recommend Used Vending to anyone trying to sell their food trucks.

Kevin Tighe
Georgetown, MA

09/14/2015

Good service.
Harjit Singh,
San Jose, CA

05/20/2013

We purchase our vehicle from Melissa -who was amazing in the process. We had such a great experience with her that when we needed to sell .. She was the 1st person we called. He follow up skills are impressive .. Along with her diligent goals to help sell your vehicle. We are SUPER happy and definitely reccomend Melissa 1000%
E.P.
Ft. Lauderdale, FL

09/03/2014

Thank you Usedvending.com for your help with all of my buying/selling needs! You guys are like the realtors of the vending industry!
Romaro Crowder,
Indian Head, MD
See 1700+ more or Write your own...