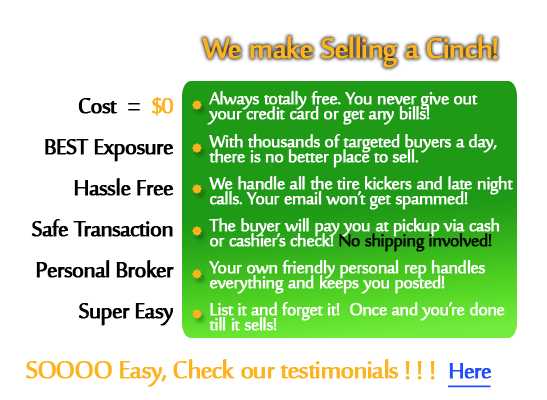 Selling Used Horse Trailers
Selling your used horse trailer could not be easier! Not only is it a free online service, but we even take care of weeding through the tire kickers for you.
Unlike a used trailer classifieds site where you get calls from every curious George that stumbles across your ad, we handle all that for you. Once we find a serious buyer that is ready and able to pay, we put them in touch with you for the pickup! Since 1999, we have been bringing sellers top dollar for their equipment and making buyers happy by finding the perfect used equipment for their needs.
Don't take our word for it - checkout hundreds of testimonials from many happy used trailer sellers just like you!
Used Trailer Testimonials
Our long history of a quality reputation and many repeat customers is why so many trust us to sell their
used horse trailers
.
Horse trailers can be expensive; if needed, we even offer an escrow service to allow both parties complete security for a safe transaction. It's a very simple process, but your friendly agent is always here to walk you through any questions that you may have. We have thousands of buyers who visit our sites daily; so, rest assured, you're in the right place!
When you list your horse trailer for sale, remember... PICTURES SELL ;-) The more pictures, the better!! We'll post all your used trailer pictures online for the world to see. If you have video that shows a walkthrough of your horse trailer, we'll even provide that to give buyers a complete look and feel to close the deal!
To list your trailer for sale, simply click on the "Free - Sell My Trailer" link at the top of this page. Once you create a free account, just log into your account and click the link to add a new listing. Fill in your horse trailer details, and we do the rest! If you later have info or pictures to add to the listing, just login and add them from your account.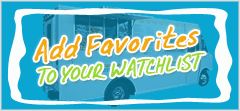 Customer Experiences
05/29/2018

Excellent transaction, everything went perfect and they always stayed in touch. Denise was a wonderful sales rep.
Kory B.
Bullhead City, Az

01/31/2013

Calice did an excellent job with posting my ad and selling my vending machine within weeks after posting! She was also very nice and always available when I had questions. She got back with me in minutes anytime I had a question! Thank you so much for making this quick and easy! Seller is very happy!

A. James
Winchester, KY

03/12/2015

It was a pleasure doing business with USED Vending. Your were very professional and more than helpful through the whole purchasing process. Thank you again for a stress-free transaction.

Ian N,
Columbia, SC

09/01/2011

Thanks Melissa! You were a great help keeping this transaction coordinated and organized. I would highly reccommend you and your organization and if these two machines work out for Northwest Alternatives, we may be back for more. Thanks again!

Brian
Boise, ID

11/09/2010

Melissa was so helpful and very professional. SHe did everything she could to sell our unit. When it sold the transaction went very smoothly. Thanks, Melissa and Used Vending!

Cindy S.

08/08/2010

I was sooooo impressed with the professionalism and great commitment to the sale of my concession trailer on Usedvending.com. Melissa Powers called me consistantly every week with 3-4 potential buyers, and kept on plugging until she hooked one. She is a bulldog when it comes to selling. Only took 2 weeks, and I was making a deposit in the bank. Thank you Melissa and Usedvending.com

FL

08/24/2009

I sold my 48 Vendstar candy machines through USEDvending.com. The service is very good. There was always someone answer my questions and phone calls. I had a very good experience by working with them.

Derwood, Maryland

06/25/2018

I have had a very positive experience with Usedvending.com. It was super easy to complete the forms and paperwork to list my machines. I was informed at every step along the way regarding how to price to sell & the next steps. I was connected with a wonderful buyer. I would use the services again.

Renay B,
St. Louis, MO


12/03/2013

This was our first experience with Usedvending. Melissa kept us informed every step of the way with potential buyers and the sale went wonderfully. We couldn't be happier with how smooth the process went!!
T. & B.
Lyman, ME

12/06/2010

What a wonderful group to work with. I needed to downsize my business due to illness and listed my machines with USEDvending. It took a little while because at first I was stubborn about negotiating the porice. But I have sold what I wanted to sell and the delivery and all was painless. Thanksd for all your service.

TX

12/20/2017

We needed to move our machines because another vendor was taking over and we were under a very tight deadline. We listed our machines with usedvending.com becsue we decided to get out of the business. After I reduced the price because our deadline was getting close I got a call from April. I explained our situation and she made a couple of phone calls. The machines were sold in just a couple of hours. the transaction was easy and fast. The buyer was great. I wish I'd have found this site sooner.

Duaine Cihacek,
Council Bluffs, IA

08/23/2012

Wonderful wonderful!!Not only was the product delivered in 30 minutes flat, they helped move out our old machine that our past vendor has not moved. So professional and extremely exceptional service!!!

K.T.
South Bend, Indiana

10/15/2012

HEY CALICE, THANKS SO MUCH FOR ALL HARD WORK IN CLOSING THIS DEAL FOR ME. NOW LETS SELL THE OTHERS!

JWE
WHITE PLAINS, MD

I have purchased 10 vending machines through Eric at USEDvending.com and have been very pleased with the service I have recieved.They were several different transactions and I received the same service each time. Eric always follows through to be sure I am satisfied. I will continue to do business with USEDvending.com as long as they are on the web. sincerely,

Dan

10/14/2019

Very smooth process from beginning to end. Sales team was responsive and helpful. I got a great product at a great price and I would use them again in the future if the need arose.

James Gworek,
East Hampton, CT

09/03/2016

My experience was great! Everything was so easy. All my questions were answered in a timely manner and my contract to purchase the trailer I liked was easy to understand. I hope to expand my new business, and I know you will be there for me when I do.
Kelly Pulver,
Ocklawaha, FL

10/03/2018

Thank you Wendy - she is a awesome sales person. If you have any kind of food service units to sell I really recommend Wendy, she stays in contact with you at all times . She helped sell my trailer fast, real smooth transaction, Great Service and will highly recommend this company in buying and selling.

Kerry Glass,
Albany, GA

08/17/2009

I can olny think of a few words for to say about 4MEGA Vending. honest,up frount, helpful. I guess I could go on. The best part about 4Mega is the(WICKED GOOD) employees. All are willing to help you with any of your needs. The one stand out person in my mind. Would be April She is liike talking to a friend. I feel she realy cares about you and your sucsess. She is why I buy all my new machiens from 4 MEGA. THANK YOU from Drop Q Vending Jay burbee
Henniker, New Hampshire

11/13/2015

My experience with Greg and USEDVENDING was an absolute A+. I really had no idea what to expect, I had never used a service like this before and was very hesitant/skeptical of used vending since I couldn't talk to the seller directly. Unknowingly I assumed their process would be a hindrance to me, since I'm use to dealing with sellers first hand. Let me tell you, it wasn't a hindrance, it was a blessing. Greg took a ton of leg work out of the deal for me, and made it so smooth and easy. He even went out of his way to contact two different states to gather our state specific forms and information, which was a must for the deal, for me anyway. Totally worth it, I would certainly use this company again, and when it's time to upgrade trailers, Greg will be the first person I call to start hunting for me. Outstanding job guys!
Another Satisfied Customer, Trent W.
Dixon, KY

02/11/2011

Vanessa made our whole transaction so easy. She was very informative in our first conversation. A vendor contacted me the next day. Everything was installed the next week. Couldn't ask for better customer service. I would recommend your company to anyone needed great vending service!!

C Jennings, GA

10/23/2014

Thanks for the great services- I would recommend you highly.
Yours truly,
Wrangler Rich from the Shiloh Ranch,
Hobart, Indiana

09/06/2018

Thank you so much our employees are enjoying their new vending machines!!!!! Denise was such a pleasure to work with, she made sure I had all the info I need to make an informative purchase!
Rebecca H.,
Eldon, MO

06/26/2014

Hello, my name is Tasha Crafton. I really would like to thank Usedvending and Mr. Sweet for making my experience a great one. This is my first time and first vending I purchased; I was a little skeptical at first - after talking with Mr. Sweet for a few days ease my fear. Everything was done in decency in order. I thank you very much, I planned using this company in the future to purchase my first vending truck. Thank you again, Usedvending.
Tasha,
Smyrna, Delaware

03/11/2019

Melissa, You did an absolute outstanding job on helping me to purchase this trailer. You helped answer my questions and look at details to help determine if this purchase was what I needed and really wanted. I appreciated that you went far beyond your duties to call the DMV to check regulations for the transfer to my possession. You were so kind and understanding and professional. Definitely will use UsedVending.com and you for future needs!
Becky E.,
Greensburg, IN

Usedvending.com was a lifesaver for me in selling my concession trailer. After trying the popular ......list for 8 months and attracting hundreds of scammers, deadbeats and people who wanted me to finance for them, I found Melissa! She helped me fine tune my ad and target the right buyers. My deal went fast, and I had my money within a week from the time the buyer first came to look ! I can't say enough about the professionalism at Usedvending.com.
Dennis Coffey,
New York

03/19/2018

I had a great experience with Used Vending. They made the process easy and were able to answer all of my questions. It was awesome to work with someone who went the extra mile to find all my answers! Thanks Tonya, you did a superb job!
Brad Ebersberger,
Jacksonville Beach, FL


07/03/2018

We bought our food trailer through Used Vending and sold it several years later through them also. Both times were great experiences. They really guide you through the process as a buyer or seller with professionalism and ease. Highly recommend them and their excellent staff.
Bill S.,
Olivehill, TN

07/31/2018

I have nothing but positive things to say about my experience with Denise and her company. If the process started to get slow she made sure and kept the ball rolling. Very impressed with everything!
Danielle Marshall,
Vestaburg, MI

04/06/2014

I really enjoyed working with Used Vending. I tried other sites, but always had unqualified people wanting to purchase. Melissa called me with a buyer who was looking for a food truck and was very qualified and after looking at my truck, brought it. I would highly recommend Melissa and Used Vending.
B.A.
Chester, VA

10/07/2014

Aside from the hiccup in programming the prices and the absence of labels that fit the machine, everything was perfectly satisfying. Ultimately, the mechanical setup within the machine was correct in spite of our initial uncertainty. It was simply my installer who needed a tutorial in that department. Thanks for all your help. I would be glad to do business again if/when I am in need of additional equipment.

Nathan Wilson,
Lewiston, ID

12/08/2009

April did a great job helping me the select the right machine for my oepration. We operate MixStirs juice bars throughout the east coast and are considering adding these machines to all of our locations. Our machine is working flawlessly. Thanks again!

Mike Greenberg
President, MixStirs

07/29/2009

I have been very pleased with the support I've received from Usedvending.com. Melissa has been great to work with and is an advocate for both the buyer and seller. She coordinates with both parties to insure the transaction goes smoothly and that everyones needs are met. I have been very surprised at how easy it is buying used vending equipment online. Thank you Melissa and Usedvending.com.

Karen,
Glen Allen, VA

03/05/2018

I was looking for a food trailer to elevate my catering business. Melissa was super helpful helping me navigate through an unknown process. It all went well, we got a very good trailer for a very good price and are looking forward to using it. I would use Usedvending.com again
Nick Holguin
Paso Robles, CA


06/06/2015

Melissa,

I just wanted to thank you for your help with finding us a great food trailer. The first one was sold however you took the time and found even a better one for my company. Took the 500 mile trip everything the seller and you told were 100%. It's good to know where to look for future growth with my company looking forward to another one soon..
Mathhew Massiak,
Clayton, NC

02/25/2011

Thanks to Vanessa. Very friendly service. A pleasure to work with and look forward to more opportunities.

Chris, IL

I tried selling my machines on my own with no success. Denise helped me sell 3 out of 5 units so far. I can't wait for her to help me sell the last 2. Thank you so much!
Edwin Matos,
Sumter, SC

11/02/2009

We purchased a Soda Machine. The whole transaction was a blast. The sales rep was very professional and friendly. She patiently answered all our questions and helped us with our modification requests. We recieved the machine as promised and the deliverly guys were nice also.

Astoria, New York

10/12/2016

I was looking for a concession stand when I came across USEDvending.com. I found one I thought I might like but was apprehensive about how to go about negotiating the price I wanted to pay. The process was much easier than I thought. One phone call to Wendy and my fears were gone. She was the "go between" for me as I negotiated and eventually purchased the stand. She asked the seller all the questions I had and went back to him several times on my behalf. I felt more at ease having her ask my questions than having to do it directly with a seller I didn't know. Overall a great experience. Thank you Wendy and USEDvending.com

Steve Hanvey
Owner/ Austin Ice Company
Austin, TX

03/05/2012

We have completed the sale of our concession trailer! Melissa was great to work with - from start to finish everything went very smoothly. We have already recommended Melissa and USEDvending to a friend of ours. Thank you!

Diane,
Plant City, FL

04/05/2011

awesome service despite the miles. my wife and I live in NH,our vending trailer for sale was in FL,the buyer from TN and Mellisa taking care of the whole deal fom MS.Things could'nt have gone better if we were all sitting at the same table.Great communication,smooth transaction.Thankyou so much Mellisa!



EB

03/28/2016

Julia, I just want to thank you for all the help you provided in the sale of my trailer. You really went above and beyond in finding the right buyer for me. If I ever had anything like this to sell again, I would be sure to contact you first!
Thank you,
Melanie DeRoehn
Warren, NH

10/02/2018

Tonya was excellent throughout the entire process. Very organized, professional and responded quickly to any questions that I had during the process of purchasing our food truck. She was the intermediary between myself and the seller during the negotiations for the purchase. I would give Tonya and the company a resounding recommendation to anyone that is interested in purchasing a food truck. Thank you Tonya!
Jimmy Kimball,
Knightdale, NC

09/12/2011

I can say enough about the super quick response time and professionalism by Stacy Sweet. He sent me a lead. I followed up and within two days I had a new customer. In this industry, new qualified leads are hard to come by but Stacy and his team makes it so smooth for all parties. I highly recommend all vendors to contact Stacy and he will help you grow your business!!

Jon,
Boston, MA

08/30/2010

MELISSA,
THANK YOU FOR YOUR ASSISTANCE IN SELLING MY MACHINE. I HAD IT ON EBAY FOR 2 OVER WEEKS WITH NO HITS, BUT YOU FOUND ME A BUYER IN LESS THAN A WEEK! I GOT THE PRICE THAT I WANTED AND THE TRANSACTION WENT QUITE SMOOTH!
THANK YOU AGAIN!

New Jersey

03/23/2017

I really enjoyed working with Wendy. We are very happy with the truck we just purchased. Everything Wendy said was true about the truck, they don't try to hide anything, they tell you the way it is and I really appreciated that. I would definitely recommend UsedVending.com to anyone.
Alan Hill,
Polk City, IA


11/14/2017

Overall a great experience. Bradley and the rest of the team were extremely helpful and did all the work selling my two unique vintage ice cream trucks. UsedVending takes all the pressure off when it comes to selling your vending equipment. Many Thanks and a big thumbs up!
William Richards,
Santa Rose, CA

04/23/2019

I had a great experience working with Denise Keyes, she was so helpful. When we got there to pick up the trailer there was no surprises - things could not have went better. Thanks Denise I will send you pictures when I get it up and running. Thanks again.

Rick Rost,
Three Forks, MT

03/29/2019

This is so easy! I found the vending machine online on Friday evening, contacted Tonya on Monday and picked up the machine on Tuesday. Very happy with the customer service, ease of doing business and efficiency of Used Vending.com. I will definitely contact them again. Thank you so much Tonya!

Vickie Farmer,
Seffner, FL

01/29/2015

My experience with usedvending.com was great. They immediately took over the selling process and my concession trailer sold very shortly their after. Their marketing exposure is effective and easy to use. Customer support is outstanding. Thanks usedvending.com

Allen Holton.
Charlotte, NC

10/16/2009

Thanks Melanie for the help in finding locations. 4 Mega Vending has a professional customer service staff and fair pricing for locations. I definitely recommend 4 Mega Vending service.

Thanks!
Eric
Triple E Vending
Palatine, Illinois
See 2,000+ more or Write your own...