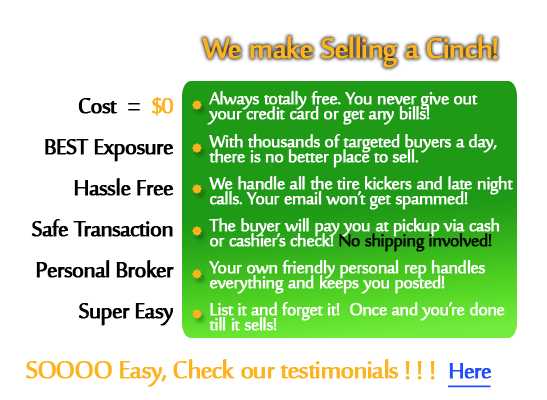 Selling Used Horse Trailers
Selling your used horse trailer could not be easier! Not only is it a free online service, but we even take care of weeding through the tire kickers for you.
Unlike a used trailer classifieds site where you get calls from every curious George that stumbles across your ad, we handle all that for you. Once we find a serious buyer that is ready and able to pay, we put them in touch with you for the pickup! Since 1999, we have been bringing sellers top dollar for their equipment and making buyers happy by finding the perfect used equipment for their needs.
Don't take our word for it - checkout hundreds of testimonials from many happy used trailer sellers just like you!
Used Trailer Testimonials
Our long history of a quality reputation and many repeat customers is why so many trust us to sell their
used horse trailers
.
Horse trailers can be expensive; if needed, we even offer an escrow service to allow both parties complete security for a safe transaction. It's a very simple process, but your friendly agent is always here to walk you through any questions that you may have. We have thousands of buyers who visit our sites daily; so, rest assured, you're in the right place!
When you list your horse trailer for sale, remember... PICTURES SELL ;-) The more pictures, the better!! We'll post all your used trailer pictures online for the world to see. If you have video that shows a walkthrough of your horse trailer, we'll even provide that to give buyers a complete look and feel to close the deal!
To list your trailer for sale, simply click on the "Free - Sell My Trailer" link at the top of this page. Once you create a free account, just log into your account and click the link to add a new listing. Fill in your horse trailer details, and we do the rest! If you later have info or pictures to add to the listing, just login and add them from your account.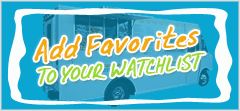 Customer Experiences
10/08/2018

Melissa with UsedVending was very helpful in selling my food truck. She helped me add a video of my truck to their website which lets their client see the product in a more professional atmosphere. Out of all the national vehicle selling sites they were only one that sent me seriously interested people. Thanks Melissa.
Joel St. John,
Houston, TX

03/13/2015

I found Used Vending when I decided I really wanted to get out of the RAT RACE and stop making others rich and make myself some money instead! Used Vending had so many options for mobile food start ups I was overwhelmed. Finally, a MATCH! Plus, the owner was only 60 miles from me. Yes, I picked up "The Beast" as we call our food trailer and made new friends. The previous owner was so kind and we just clicked. She gave me great tips on the biz! Used Vending Melissa Powers was the agent that put the whole thing together. MAN---I wish she was available for all of the biz stuff I have to do from now til I open....lol! YOU CANNOT go wrong with this agency. They truly JUMP RIGHT ON IT! I want to thank Melissa again, you gave me and my daughter and son a REAL COOL and FUN yet challenging future! We will send photos once the biz is up and running. I will also give the info on Used Vending to anyone looking for anything MOBILE FOOD!
Thanks S. Golden-
Edgewater, Maryland

11/25/2008

April: We had a very positive working relationship with you and mega-vending. You were very helpful, courteous, and knowledgeable about your products. After talking with you, I had all the info I needed to order what we needed. Thank you for your assistance, and we will contact you with all our vending orders in the future.
Again, "Thanks",
John Karaska, Principal, Burlington County Institute of Technology.
Medford, New Jersey

08/07/2015

Hey Greg, thank you for all your help with the purchase of my new Snowie trailer! The transaction went exactly as you said it would. Thanks again,
Ray ( Gainesville Ga)

06/06/2013

Super great deal with Stacy> will repeat business with this company.....
R.D.
Chino Hills, CA

04/06/2018

Nothing but praise for UsedVending.com! Thank you so much for working with us and helping us sell our concession trailer. Your representatives communicated regularly, and we never felt forgotten or overlooked! We would definitely work with you again!
Erin Andrade,
Great Oak High School
Temecula, CA

12/10/2014

April. Working with MEGA vending was a positive experience. Working with you definitely made the purchase easier with you keeping me informed and keeping the communication line open at all times. And of course your positive attitude was nice also. After using the machines for the last couple of months we decided we made a great purchase and we would definitely use MEGA vending again for any future vending purchases and will recommend it to other people. Thank you for the help with the purchase.
Jeffery A. Ham SFC, Readiness NCO
Sioux city, IA

06/10/2014

Used Vending: Just wanted to share my experience with others regarding Used Vending. We were selling a coffee trailer in Montana, definitely off the beaten path, and were not expecting any interest anytime soon. Low and behold Crissy kept telling us that there was an interested party and they would put an offer in soon (we thought, "yeah right"), except that they actually did put in an offer! Within 5 days the trailer was leaving our house and the money was in our bank! Crissy was amazing, the process is very simple, and UsedVending gets results! Thank you UsedVending!
Jon in Montana

02/21/2011

Had a rush order and worked with April Hurd. She was very plesant to deal with and turned my order quickly. Actually gathering the data I needed for a quote that particular day. Actually won my repeat business. Keep up the good work!

Ohio

03/08/2016

Used Vending made selling my coffee cart an easy transaction. Very professional and efficient. They always returned calls for any questions and kept up with emails. I would recommend them for the sale of any vending truck machine etc. I had a good experience with them and would use again.
Cindy Schwartz
Palm Harbor, FL

07/04/2012

We recently bought a food truck and couldn't be happier. Gini Sweet did an awesome job for us. She was prompt and efficient which was critical because of our desire to purchase a truck immediately. Gini, thank you for your excellent service and helping us realize our dreams.

Kathy R.,
Wheel Good Food, LLC Anchorage, Alaska

06/17/2010

April went above and beyond to help me yesterday. I will use them for all my vending needs in the future!!!!

Syd Costa
Sales Manager
Regency Inn
Fayetteville, NC

01/07/2020

Thank you Tonya for your help selling my vending machine! I am so glad to have worked with Tonya at UsedVending.com to sell my vending machine. She was there every step of the way and made sure the sale went smoothly. I would definitely recommend UsedVending.com and use them again when needed.
Pat L.,
Washington, MO

09/18/2011

Just a note to show appreciation for Melissa Powers help in selling our two Planet ( wherever their from ) deli machines. Once a buyer came forward the process went pretty smooth. Thanks again.

Gene S. , Idaho

03/17/2012

Great machines very fast and smooth transaction. Stacy Sweet was very helpful in making sure that all parties were in contact in a fast manner. This was one of the easiest and fastest transaction that I have made buying vending machines. Thanks again for the great efforts. uesedvending.com and Stacy Sweet are #1 in my book.

Charles, MS

08/02/2018

I have nothing to say but great things about this company. The service is great on the seller side and also the leads on placing machines. Very smooth transaction and working with Denise is just great. Keep up the great customer service
Harold Russel,
CCIVENDING.COM
Bethesda, MD

07/11/2015

Hi, Melissa, I want to let you know that I am so happy with the service that you and your company give me I want to thank you for your help, thanks again.
M. Popalzai,
Springfield, VA

08/01/2016

Short and sweet, April is the absolute best at helping people close deals, she is the best.
Don Goeldi,
Chilton, WI

03/11/2019

Worked with Kristy to get the coffee trailer of my dreams at a very good price. She was very professional and thorough and answered every question and concern that I had. Loved working with her and would do it again in a heart beat.
Happily,
Audrey D. Young
Yuba City, CA

02/13/2009

Wonderful Customer Service...all my questions were answered in a timely manner...she was wonderful!!.....a true asset to your Company!!! Way to Go!!

Lisa Thurman
Prudential Gary Greene
Friendswood, Texas

05/23/2019

Thanks so much Tonya for always responding to my inquiries about my cart when I would call you. I really enjoyed working with your company. You all have exceptional customer service. I'm looking forward to enjoying my lemonade cart.

Avis Heard,
Chicago, IL

01/07/2020

Once a buyer was identified , Tonya communicated with me and the deal was completed in one day!

Ron Yarger,
Wahoo, NE

04/24/2016

Melissa did an excellent job facilitating the sale of my food truck. Far exceeded my expectation and really went the extra mile!
Emily, MI

12/30/2019

Samantha, thank you so much for selling our used stepvan and making the experience easy and quick! We were contacted with a buyer on December 26th and the van was pulling out the driveway on the 27th. Samantha handled all communication to make sure everything went smoothly. I would highly recommend UsedVending.com and especially Samantha! Warmest Regards,

Donald S.,
Clinton, MD

04/07/2015

Thank you Used vending and Greg for assisting me with the sale of my trailer. Through your patience and expertise it made this process simple and fast. If it was not for you and your staff I do not think I would have been able to sell my trailer. I hope others utilize your services for your promptness and professionalism. Thanks again.
Zorayda Borrero, Miami, FL

09/30/2010

Melissa Powers did a great job lining up the seller and myself quickly. I was able to start my business much sooner. Thanks again, Melissa.

Steve M

01/05/2011

Great service and easy to use website. April was very courteous and quick in a response to my questions. very professional organization.



NE

11/13/2017

If you are considering listing your unit with UsedVending, i highly recommend it. I had the pleasure of working with Wendy in the sale of my mobile vending unit. From start to finish my experience was great! It took less than 2 weeks to sell. Wendy was so helpful and quick in responding she made the experience easy and pleasurable. I can't thank Wendy and UsedVending enough for the service provided!
Sincerely,
Nancy A.
Fort Pierce, FL

06/23/2015

April, Using used vending.com was a great experience. It was easy to set up and the transaction process is well orchestrated. I will use Usedvending.com again.
Chris,
Kennelon, NJ

10/09/2012

Hello Melissa, I know it's a bit late but I wanted to say Thank YOU !!! for all the work you did for us on the last transaction. The machines are in great condition and working great. Excellent buy!!! Thanks Again!!!

C. Velez
Jacksonville, FL

10/11/2017

Usedvending.com was so instrumental in selling my dessert truck.. it only took days for them to help find the right buyer. They guided both the seller and buyer all the way to the end..i could not say enough good things about Deidre, our consultant...she was very knowledgeable and did not hesitate to ask the right questions for both parties....i am getting ready to contact them again to help sell some of my large equipment from my former bakery..you rock USEDVENDING!
Patti Jones,
Ellsworth, ME

10/24/2016

We found your site very informative & your rep Bradley Heath very helpful. He worked with us & the seller to reach an agreement that worked for both parties. I will recommend your site as well as Bradley to others who are looking for a concession business. Thanks for all your help!
Carolyn Morgan,
Peculiar, MO

05/17/2018

We have loved working with April at Mega Vending. She has gotten us several leads which we now still have. We love April.
Mary G. Adams,
Hueytown, AL

09/15/2009

Please tell Melissa THANK YOU for her great assistance in helping me to sell all five of my machines. I was shocked at the little time it took for me to get buyers. I had posted them on another website some time ago and nothing happened. I was really impressed when Melissa called to inform me that three of the five had been purchased, a day or two later she called back to say she had a second buyer for the other two machines. I can't say thank you enough and I will definitely tell my friends and anyone else that I come in contact with about my great experience and professional customer service Melissa gave me in assisting my sell. All I had to do was sign my name on the consignment form, she took care of the rest.

DeBorah
Charlotte, NC

06/29/2009

Hi,

I just wanted to drop a note about my experience with your company (4 mega vending .com). I run a dormitory at a college preparatory school and we have for years been thinking about whether we should take the leap and purchase machines for our dorms rather than having an outside service providing full service snacking. The concern was where we could find a company that could supply the machines we needed and the extra support we needed as people new to the vending process. After scouring the internet we stumbled into this site and decided to call. April, our sales rep, was thoughtfully unassuming and helpful throughout the process. When we asked ridiculous amounts of questions she happily answered them and patiently walked us through the selection process taking into consideration our population size, budget and dimension constraints while also keeping in mind our goals for providing nutritional options for our students. After we made our machine selection the order arrived just as we had discussed (on the day and time they were scheduled) and there were no surprises. After the sale, when I had some additional questions and when most companies no longer care, April was courteous and helpful once again. April has demonstrated that at least one company truly knows how to make vending easy.

Thanks,
Stephen Moyer
George School
Newtown, Pa.

07/22/2019

Bradley stayed in touch with us throughout the sales process. He even worked nights and weekends to give and get timely updates. Once the sale looked like a done deal he got us connected with the buyers to work out pick up details. We were glad to have Bradley working on our side to get the sale done.
Pat T.,
Mims, FL

06/11/2018

I worked with Wendy to purchase a concession trailer over 1,000 miles away. She stepped me through the entire process and offer helpful advice to make my transaction seamless. She went above and beyond to get extra photos and videos from the seller and get the price in my target range. She ensured everything would be in order when I arrived to view and purchase the trailer. She took my calls after hours and through the weekend to ensure my trip was successful and I was 100% satisfied. She really was a blessing.
David Prior,
Mexico, MO

10/25/2009

I am not in the vending industry so I didn't know a lot about the product. I had looked at many machines, both new and used, which only added more to the confusion about what to do. Somehow I found April Hurd and she took care of everything. She was very informative and helpful and her follow up was great. I ended buying a new machine and it has been great.

Thank you very much.

Mark Winkler
Huntersville, NC

09/04/2012

I run an industrial catering outfit and was in need of some extra catering trucks, upon some extensive reasearch on the internet, I found used vending and got to talk to melissa. She really helped me in what I needed to do all thru the process and she even called Mississippi DMV to find out some things as far as me having them transportated back to Ohio. I would reccommend UsedVending and Melissa for all my needs, I had a great experience.

Von Troy,
Ohio

11/15/2019

I just today, Friday Nov 15, 2019, sold my concession trailer, having initially contacted UsedVending not even a month ago; they scrutinized and helped me get right the details and photos which effectively presented my trailer advertised on their site. Working with Wendy was a mutual effort of coordinating information, both in presentation on the site and in contact with the interested buyer, who ended up buying my concession trailer. It was very important to me to get this done efficiently before winter set in, and it was a pleasure dealing with UsedVending- especially Wendy lending her patience and expertise in all phases of the process. Again, much thanks.

Joseph Maclaren,
Mancos, CO

12/17/2013

I have high marks for UsedVending and its staff. I would like to let everyone know how helpful Melissa from Used Vending has been to work with on selling one of our food trucks. They handle everything from setting up the profile and ad to finding the buyer. We had a great experience dealing with UsedVending and they found a buyer fairly quickly. The buyer just came, quickly looked over the truck, and drove off with the food truck due to how well everything was advertised and questions that could be asked before the sale. UsedVending dealt with all the offers and paperwork trying to get the food truck sold for us. I would highly recommend Used Vending to anyone trying to sell their food trucks.

Kevin Tighe
Georgetown, MA

10/11/2011

I searched everywhere for a operating manual to an older vending machine. I decided to shoot an email to usedvending.com as they seemed like the most searched and reputable company on the internet to see if they could help. Within the same day of contacting them April Hurd responded with a PDF copy of the manual. This has to be the BEST customer service ever, especially considering I did not even buy anything. I will definitely use these guys next time for my vending machine purchases. Thanks again April. Matt, Redwood City, CA

01/13/2011

I have had only good experiences when dealing with April at 4 mega vending. Whenever I call and whatever I need, she is right on top of things. I will not be using any other company for our vending needs. April has completely sold us on this company.
Dave
Palm Bay, Fl

07/13/2016

I just recently sold my food truck that I had listed with Usedvending.com. Melissa was my contact there and she did a great job handling the sale. It makes things a lot easier when your not used to selling. All the paperwork was provided which made it a breeze. I would list items again on USEDvending.com.
Victor Routsis
Richmond, VA

02/13/2012

Melissa Powers was very helpful to me throughout the entire process. Very courteous, professional, and prompt and thorough with her responses. This is a great outfit to do business with. I highly recommend. :)

RH,
South Carolina

04/09/2019

The ability to see what is out there with just a few clicks makes shopping for a food truck VERY easy. Wendy was a delight and very helpful in getting me the right truck at a great price!

Aaron B.,
Las Vegas, NV

04/11/2018

Great company and great customer service! Appreciate Wendy and all they've done for us.

Havird Usry,
Augusta, GA

08/14/2015

Greg, I can't thank you & USEDVending.com enough. Closing my business was tough; tougher was the thought of how long it'd take to sell my 26 € Food Trailer in the dead of Summer. But in just 1 week from when we listed you had a buyer, & 24 hours later they were driving away with the trailer! Hallelujah! Thank you Greg, what a relief your company has brought to me & my family.
Soli Deo Gloria,
Dan Gallo, Owner Boom Town Food Services, LLC
Grenwich, CT

07/16/2019

I had Melissa as my rep and I was selling a concession trailer. Melissa was amazing from the time I listed to the time I sold. Updates to my listing were taken care of quickly and communication was great. Melissa worked diligently to get this sale completed and her patience was unending. I feel I received a fair price for my item and the follow through was top notch. I would recommend Used Vending to anyone who wants to sell their item quickly and efficiently. I told Melissa if I am ever in her area I would love to meet her in person and treat her to lunch.!!! I love these folks and job well done.
Sincerely,
Connie G. from TN.

10/06/2016

Dear Bradley, Thank you again for all your help in finding and purchasing our new hot dog truck. We are in the midst of the paperwork and licensing portion of starting our business. Everyone who has seen the truck loves it and is amazed at how quickly and easily we found it and got it here (especially when they learn it came from Alabama!) I would recommend your company, and particularly you as a representative to anyone who was interested in purchasing vending equipment.

Best wishes,
Michael and Dianne Vara
Stamford, CT
See 2,000+ more or Write your own...