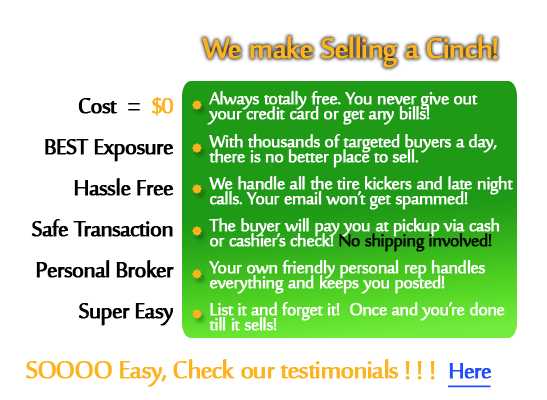 Selling Used Horse Trailers
Selling your used horse trailer could not be easier! Not only is it a free online service, but we even take care of weeding through the tire kickers for you.
Unlike a used trailer classifieds site where you get calls from every curious George that stumbles across your ad, we handle all that for you. Once we find a serious buyer that is ready and able to pay, we put them in touch with you for the pickup! Since 1999, we have been bringing sellers top dollar for their equipment and making buyers happy by finding the perfect used equipment for their needs.
Don't take our word for it - checkout hundreds of testimonials from many happy used trailer sellers just like you!
Used Trailer Testimonials
Our long history of a quality reputation and many repeat customers is why so many trust us to sell their
used horse trailers
.
Horse trailers can be expensive; if needed, we even offer an escrow service to allow both parties complete security for a safe transaction. It's a very simple process, but your friendly agent is always here to walk you through any questions that you may have. We have thousands of buyers who visit our sites daily; so, rest assured, you're in the right place!
When you list your horse trailer for sale, remember... PICTURES SELL ;-) The more pictures, the better!! We'll post all your used trailer pictures online for the world to see. If you have video that shows a walkthrough of your horse trailer, we'll even provide that to give buyers a complete look and feel to close the deal!
To list your trailer for sale, simply click on the "Free - Sell My Trailer" link at the top of this page. Once you create a free account, just log into your account and click the link to add a new listing. Fill in your horse trailer details, and we do the rest! If you later have info or pictures to add to the listing, just login and add them from your account.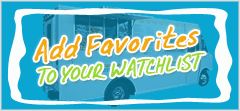 Customer Experiences
03/03/2016

Melissa, thank you for all your help you gave us locating our new concession trailor. The service you provided was great from start to finish. You just don't find this kind of service anymore. So we greatly appreciate you and your company for being there. We will definitely be back in touch with you for our next purchase. As you know this was number 2 - can't say enough about the service, keep it up and you will over exceed everyone in your industry, again Thank You.
Steven and Mary Santo
North Richland Hills, TX

09/13/2016

I had a great experience with UsedVending.They stayed on top of things and were responsive to every question and concerns I had. I would use them again without hesitation.
Richard Terry,
Spring Hill, TN

03/24/2011

Needed to get 2 vending machines sold. April Hurd was very professional & informative she made the process smooth & simple. Thank u April.

Valerie Hawkins.

02/20/2017

Hey there April...Just a quick note of appreciation for the successful handling the disposition of my vending machines. In fact the whole team deserves some praise as everything went off without a hitch. Having purchased these particular machines through UsedVending.com a few years ago with ease and convenience, it was only natural to use you again to sell them.The buyer was awesome and his crew arrived to pick them up ahead of schedule! Off to the bank now to deposit the check!!
Thanks again,
Chris Thompson
Santorini Vending Co.
Richmond, CA

05/17/2016

Hi Jennifer, I was very satisfied with the service that you provided. You did an excellent job and I am grateful you didn't give up on getting a hold of the owner. You were also very helpful through the process communicating with the owner and getting all the questions I had answered so I could make a educated decision on the purchase. Thank you! Much Appreciated,
Michelle Wood,
Santa Rosa, CA

12/30/2014

I just want to say thanks to UsedVending and in particular, Melissa Powers. She took care of EVERYTHING just like they say they will. I got a call when there was an interested buyer, a meet was set up and done! The process could not have been simpler from a sellers end. Melissa was fantastic at coordinating anything and everything that needed to be done. It was truly a great experience.

Steve A.
Mahtowa, Mn.

11/15/2010

I was truly surprised at how quick and easy it was to get the two machines I needed for my two locations. They shipped almost instantly and I had them delivered and in place weeks before I expected. Props to April, she got the job done with exceptional professionalism and expedience.

-Charlie, TX

04/07/2015

Thank you Used vending and Greg for assisting me with the sale of my trailer. Through your patience and expertise it made this process simple and fast. If it was not for you and your staff I do not think I would have been able to sell my trailer. I hope others utilize your services for your promptness and professionalism. Thanks again.
Zorayda Borrero, Miami, FL

01/15/2016

Thank you to UsedVending.com and especially our Broker Wendy Byrd for quickly selling my food truck. The process was extremely easy and Wendy was very helpful in helping me put some finishing touches on my ad to attract buyers quickly. What a great experience! Communication and responses were timely! I am using them again to sell additional items!
Phil West Owner - Hungry, INC
www.HungryTruckINC.com
Phil@HungryTruckINC.com

01/19/2011

USEDvending.com is the greatest website to sell or buy vending machines. Customer service is the best I have ever worked with. I placed my information on the website and Melissa did the rest. Melissa provided a buyer and took care of all the paper work. The transaction went smoothly.
I look forward to working with Melissa again in the near future.

Julia
Marrero, La.

08/23/2011

Had a wonderful 1st experience with you. Can't wait to get the next lead. Thanks so much for the help.

Mary,
Birmingham, AL

06/14/2013

My daughter Evelyn and I had a great experience with Stacy. I had problems with my computer but Stacy got the deal done with Evelyn and we got a great deal. Thanks Stacy.
WJ Price
Montgomery,tx

03/10/2016

Hi Greg, I had a very smooth experience using you and your company. I can't remember exactly how long my listing was active but I think it was less than two weeks and I had my unit sold and for full asking price. The buyer came up fully qualified and with a check in hand. It was very easy. Thank you,
Jake Sanders,
Director of Operations COLLEGE CHEFS, LLC
Champaign, IL

06/09/2016

Dear Melissa,
Thank you for all of the hard work you have done on spearheading my mobile kitchen purchase. Your dedication to seeing it through from start to finish is truly an example of a great sales agent.
You have been effective and you have been responsive to all of my requests. I contacted six or so companies about buying a mobile kitchen, you were the most knowledgeable. The consensus among my staff is that I made a great buy.
Thank you again for all your hard work. Should you ever find yourself in Key West, FL, please look me up. I'll buy you dinner, better yet I'll make you dinner!!
Warmest Island regards.
Chef Warren,
Key West, FL

08/13/2015

April, Thank you so much for helping us find a food truck! First of all, usedvending.com is the BEST website out there, and that is why I chose to continue looking on your site. It was very easy to use, prices were displayed on each listing, and listings could easily be added to a watch list. Like a lot of other feedback states, you are very easy to work with, friendly, and helpful. Thanks again. We are extremely pleased with our experience with Used Vending!
Naomi Hochstetler, iGrandma's
St. Joe, Indiana

03/21/2016

At first I was very hesitant because I never heard of this company before and to be honest when it came to leaving a small deposit towards the vending machine I almost didn't do it. After doing some research it seemed to be a legitimate company so I went ahead with it and I am very happy that I did. April was very helpful in seeing me through with filling out the paperwork and even gave me a call to see how everything went she was very helpful. I hope this company knows how lucky they are to have her on board. I had a great experience with Used Vending and looking forward to doing business with them in the future. Thank you April!!!
Andre Aponte,
Brooklyn, NY

12/02/2010

Melissa - I want to thank you and your company for helping me sell my vending machines. Back in the Spring of '10 I decided I wanted to unload my machines. I had no idea how I was going to do this, an add in the local paper a notice on the bulletin board in my local supermarket I was stumped. I googled used vending machines and your company was the first on the list. I listed my machines in May, sold 4 in August and 3 in November. Thank you for all your hard work you were wonderful to deal with and I wish you a very happy holiday season and a prosperous 2011.

Thank you again,
Jean
New Jersey

10/19/2009

Use this site if you want to buy or sell your vending equiptment, fast! Great customer service and easy sale procedures.

Mike
Memphis, Tennessee

I can't tell you what a relief it is to have an empty garage. Without your help, I may never have sold those vendors. I was ready to dump them and lose everything. This would have been easier than the sight of them everyday. Your service is very much appreciated.
Jody
Denver, CO

01/19/2011

Thanks Melissa, your assistance in quickly and accurately listing my machine and identifying a qualified buyer helped my transaction go very smoothly. Your company is truly one of kind!

Darryl RR,LLC
Gaithersburg, MD

09/30/2010

April worked very hard between me and the seller. I found her to be very professional and got back to me in a timely manner. April is also lighthearted and makes her job seem effortless which I'm sure it isn't. I would and will do business with April and USEDvending again. I give them 100% on a job well done!

RHY
Port St. Lucie, FL

10/03/2010

When I put my concession truck on USEDvending.com I thought that I might get a call or two. Boy was I surprized!!! In just 3 weeks my truck has been sold due to the hard work of Melissa Powers. She was very professional and consistant in persute of finding the right buyer for my unit. I would like to thank you Melissa and USEDvending.com for a job well done.

Kentucky

02/13/2017

Grey-My experience with usedvending was fantastic. It was easy to get the product photos and description loaded into the site, and once you found a buyer, the experience was great. Easy to get everything completed and the transaction was smooth. I would certainly recommend USEDvending. Thanks for making it easy!

Chad Ballard,
Denver, CO

06/13/2014

Dear Mega Vending Management, We have recently had the pleasure in dealing with Ms. April Hurd / Mega Vending Sales Associate. April was extremely helpful with this process. She understood our requirements and easily guided us Through set up. Thereafter, professional vendors promptly contacted us and presented us proposals. They too were responsive and flexible. Whole process was less than 1 week. I would strongly suggest Mega Vending services for anyone looking to fulfill their needs.
Neil Dale,
Vice President €General Manager
Clark Worldwide Transportation

12/01/2014

My experience with April has been exceptional. I have done two transactions with her and she worked hard to get me what I needed. I trust her to get the job done and highly recommend her to anyone looking for a vending machine.
Jerry Kelow,
New Day Vending
Colorado Springs , CO

11/06/2013

I would like to thank Melissa Powers for all her help, she was very professional thru the whole process of selling my food truck. She walked me thru every step from the time my truck was put on your site until the very end when it was sold. I will be letting all my friends know of your site in case they have a need for it in the future. Once again thanks to Melissa, & the best part, it was sold in less than three months!
Thank You,

Joe B.
Cape Coral, FL

06/23/2015

I had a wonderful experience with the purchase of anteres machine through usedvendning company. Calice made me feel confident that I dealt with professional people. Calice is very professional, organize, and above friendly person who cares with whom she does business with. Thank you so much foe wonderful experience, I will use your service in the future if I need to purchase more equipment. I will also recomand Calice's outstanding service to anyone interested in vending product. Thank you so much, and keep up the great service .
MARIUSZ CZUPIAL,
Sicklerville, NJ

10/10/2012

This is our second transaction with usedvending.com and as before, everything went smoothly and our whole experience makes us want to come back again.

D. LONG - WEST VIRGINIA

11/26/2016

Dealing with Melissa and USED Vending was a most pleasant experience!! Melissa was very knowledgeable and her response time was amazing. She helped me every step of the way and even on her day off!!! I advertised my food truck trailer on several different sites but sold it only on USED Vending! Thanks for everything!!! India (new owner) seems very pleased and excited as well. We are following her journey on Facebook and are so happy she is living her dream. Thanks Again!
Anne Baumann,
Memphis, TN

10/06/2016

Usedvending.com helped sell our concession trailer in two weeks' time. No stress and a very easy transaction. And the icing on the cake is we sold it to a very nice couple.
Linda Boles,
Talahassee, FL

08/17/2009

I can olny think of a few words for to say about 4MEGA Vending. honest,up frount, helpful. I guess I could go on. The best part about 4Mega is the(WICKED GOOD) employees. All are willing to help you with any of your needs. The one stand out person in my mind. Would be April She is liike talking to a friend. I feel she realy cares about you and your sucsess. She is why I buy all my new machiens from 4 MEGA. THANK YOU from Drop Q Vending Jay burbee
Henniker, New Hampshire

03/03/2016

I've had my trailer on the market for the last 6 months, I learned of UsedVending.com by searching the internet. I listed my trailer on Used Vending and it was sold within two months. I would highly recommend that anyone needing to sell a concession trailer to list with this company immediately, you will be happy with the results. We worked with Melissa Powers and she assisted us through the process, she was absolutely amazing! Thank you UsedVending! :)
Kaylee Pelton

12/18/2013

April,
I would like to thank you for the wonderful customer service you provided to me on my recent purchase. You were very helpful and pleasant to deal with. Everything was delivered as promised and in good condition. Thank you.
L.B.
Magnolia, TX

05/20/2014

Tina,
Just wanted to drop you a note to thank you for your assistance with my recent purchase of a food trailer. The whole experience of was very enjoyable. You and your company made it a very simple and quick process. You were very efficient in getting information between the seller and myself and always very pleasant and helpful. The seller was also a joy to work with when we met to complete the transaction.
Thanks again for your help.
J.T. Schacherer, Minnesota

02/12/2013

After our business failed we were worried that selling our concession trailer would be difficult. Since we are in a small town in Kentucky we felt like it would be hard to find local buyers. Melissa did a great job advising us on pricing, our pictures, and our followers. She helped us find a buyer in a reasonable time and was available to answer our questions along the way. She even helped us through some difficulties as the sale was coming together. We were very happy with Melissa Powers and Usedvending.com.

-Jason
Berea, KY

06/15/2015

Hi Melissa,I wanted to thank you. I really never thought we could sale the trailer so fast. It was easy, very easy and faster than what i thought. Our buyer was serious and did not came to try to lower the price or anything. Thank you.

Ivan Enrique Gonzalez Lauzardo,
Miami, FL

09/03/2016

My experience was great! Everything was so easy. All my questions were answered in a timely manner and my contract to purchase the trailer I liked was easy to understand. I hope to expand my new business, and I know you will be there for me when I do.
Kelly Pulver,
Ocklawaha, FL

04/18/2012

I worked with Melissa for months. The education and honesty were most helpful. She kept me in my price range, didn't try to upsell me or sell me junk, and she was always available. We journeyed across the US and I highly recommend Melissa for her professionalism and the friendship that grew. The couple of units that I missed out on were due to my hesitation. I should have listened to her.

Brian Lurie
Kirkland, Wa.

09/19/2012

I cannot say enough about this website. Melissa was excellent. What drive and dedication, Melissa worked with the buyer, stayed in contact with both of us. Follow up calls for both parties. I cannot say enough about this company, my trailer was sold in roughly 5 weeks, amazing. Very satisfied. Thank You Melissa and Usedvending.
A.P.
Michigan


10/05/2016

Hi Wendy! I just want to thank you and your company USEDVending for all of your help. You were very prompt with getting back to us with the answers we needed. You went above and beyond for us by allowing us to contact you through messages, via email and text due to our conflict in schedule's. I would recommend you and your company to anyone that is looking to buy used vending or trucks!Thank you for everything that you have done!

Amanda J Shear,
Mexico, NY

02/09/2012

Melissa and Calice were so helpful during the whole process. I appreciate their hard work. This went as smooth as can go, great comunication and excellent people. The best in the business!!!!!

Raphael,
PA

02/13/2012

Melissa Powers was very helpful to me throughout the entire process. Very courteous, professional, and prompt and thorough with her responses. This is a great outfit to do business with. I highly recommend. :)

RH,
South Carolina

10/23/2016

As a military veteran, I didn't know much about the vending business. My wife stumbled across Usedvending.com , and we were able to sell our entire inventory of machines in a matter of weeks. The process was smooth and stress free. I would recommend Usedvending.com to anyone looking to sell their machines quickly and efficiently. An appreciative customer
Glenn R. Mosher
US Army, Retired
Leavenworth, KS

12/28/2010

Melissa,
We want to thank you and UsedVending.com for selling our vending truck.We tried to sell our truck for approx. 3-4 years and because of your professional and prompt service you sold our truck in 3 months.We recommend contacting Melissa at UsedVendin.com if you have anything to sell. She has an A+ personality and is very easy to work with.

Thank you Melissa and UsedVending.com
Greg
West Virginia

02/16/2015

Wow!! What a great group at Usedvending. They are the best. The sale of my trailer could not have gone better. If I am buying or selling, I will always go to Usedvending. They are they group to trust.
Stuart B.,
Burnet, TX

10/28/2009

Your web site was very helpful. I was able to create my own web sale ad on your site by following your clear directions. The staff at UsedVending was attentive to my needs ; and responded to my questions promptly. Thankyou for making the sale of my vending machines complete. I highly recommend your service to all in need.

Tuscon, Arizona

10/26/2010

April, thanks for all that you do! With your helpful and cheerful demeanor, you have made my purchase a "very painless experience". Again, much thanks!

Take Good Care!

John "The Wash Tub"
Decatur, TN

06/18/2013

I was very impressed by my dealings with usedvending.com in general, and with Cristina in particular. She was a total pleasure to communicate with, and always had a cheery, positive attitude. Thanks so much for making the selling of my concession trailer such a quick, easy, and enjoyable experience!

T. W.
Bloomington, IN




10/13/2009

I recently purchased 3 G620 model vending machines. April made this purchase go really smoothly and I was able to close the deal within a few days. I appreciate all the help and being able to secure these machines for the deal I got.

Kevin
Orlando, Florida
See Hundreds more or Write your own...