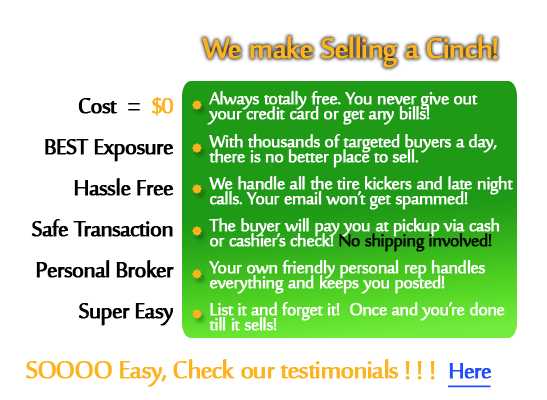 Selling Used Horse Trailers
Selling your used horse trailer could not be easier! Not only is it a free online service, but we even take care of weeding through the tire kickers for you.
Unlike a used trailer classifieds site where you get calls from every curious George that stumbles across your ad, we handle all that for you. Once we find a serious buyer that is ready and able to pay, we put them in touch with you for the pickup! Since 1999, we have been bringing sellers top dollar for their equipment and making buyers happy by finding the perfect used equipment for their needs.
Don't take our word for it - checkout hundreds of testimonials from many happy used trailer sellers just like you!
Used Trailer Testimonials
Our long history of a quality reputation and many repeat customers is why so many trust us to sell their
used horse trailers
.
Horse trailers can be expensive; if needed, we even offer an escrow service to allow both parties complete security for a safe transaction. It's a very simple process, but your friendly agent is always here to walk you through any questions that you may have. We have thousands of buyers who visit our sites daily; so, rest assured, you're in the right place!
When you list your horse trailer for sale, remember... PICTURES SELL ;-) The more pictures, the better!! We'll post all your used trailer pictures online for the world to see. If you have video that shows a walkthrough of your horse trailer, we'll even provide that to give buyers a complete look and feel to close the deal!
To list your trailer for sale, simply click on the "Free - Sell My Trailer" link at the top of this page. Once you create a free account, just log into your account and click the link to add a new listing. Fill in your horse trailer details, and we do the rest! If you later have info or pictures to add to the listing, just login and add them from your account.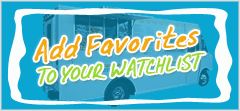 Customer Experiences
10/16/2009

Thanks Melanie for the help in finding locations. 4 Mega Vending has a professional customer service staff and fair pricing for locations. I definitely recommend 4 Mega Vending service.

Thanks!
Eric
Triple E Vending
Palatine, Illinois

09/22/2011

APRIL WAS VERY HELPFUL AND HONEST WE WORRIED HER A LOT, AND SHE NEVER COMPLAINED. OUR MACHINE CAME IN A TIMELY FASHION. WE PURCHASED TWO OF THEM FOR OUR DRIVING ACADEMY. WE WERE PLEASED.

Sharonda,
Maryland

11/06/2013

I would like to thank Melissa Powers for all her help, she was very professional thru the whole process of selling my food truck. She walked me thru every step from the time my truck was put on your site until the very end when it was sold. I will be letting all my friends know of your site in case they have a need for it in the future. Once again thanks to Melissa, & the best part, it was sold in less than three months!
Thank You,

Joe B.
Cape Coral, FL

03/23/2011

We had a great transaction with Melissa Powers , this is our second purchase with her and it was even better than the first one.Her great sence of urgency and professionalism made it a very satisfying experience.

C.V.Vending.

10/15/2014

Using USEDvending.com made my search and purchase of a mobile coffee shop incredibly simple and easy. Melissa and the staff are more than helpful!! I will recommend to anyone and everyone who is looking for vending items and equipment. Thanks for making my transition into the food truck industry so easy!
Caleb Brantley,
Wichita Falls, TX

12/31/2014

Although it took a couple of months, my item sold... Thank you Calice!!
J. Dodd
Lawrenceville, GA

12/23/2014

Hi Ms Crissy, I want to thank you and your company, UsedVending.com for making the transaction of finding and obtaining a food truck. Your system was very simple and easy. It was great to have such a major purchase go so smoothly. Thanks again for all your help, we love the truck. Hope you all have a very Merry Christmas and a happy new year. Thanks again.
Pastor Jones, The Anchor
Irving, Texas

I will like thank Melissa with usevending.com for her great professionalism, promptness, and politeness. (the 3 P's!). My purchase of the VM251/1515 Mechanical Snack & Soda Combo w/ Bill Changer was flawless because of her great feed back and pleasant attitude. The seller was also very polite. I look forward to doing more business with her in the future, Thanks!

Dave.D
Norfolk, VA

12/30/2014

Hi April, Thank you so much for all of your help. My coworkers are all very happy that we now have a snack machine and its all thanks to you finding us a great vendor. Mario has come and set up the machine sooner than expected and has been very helpful. Your email correspondence has been fantastic and you kept me well informed through the whole process. Thanks Again!
-Jessica Freitag,
Macomb County Habitat for Humanity Restore Assistant Manager
Mt Clemens, MI

02/22/2012

I never thought selling our business would be so easy. Calice was awesome! She kept us informed durning whole process and was great during the whole thing. I really apprecaited having her negoiate everything for us. Thanks Calice

Debbie
North Carolina,

08/23/2012

Thank u Used Vending for a easy way to get what u need with no hassle. I give y'all two thumbs and toes up!!!! Keep doing what u doing and a special thanks to Calice for working that deal out for me. Take care will be using used vending again soon!!!!!

Mike W( make that money)
Pittsburgh, PA

My hats off to Melissa and her staff. When my husband was diagnosed with cancer several months ago, we thought for sure we would be stuck with our concession trailer until the spring. But thanks to Melissa's and staff's hard work, they found a buyer and yesterday they picked it up. What a breeze it is to work with Melissa and the staff. They truly take care of EVERYTHING. Well worth it if you have something they can sell for you. Thanks again for everything!!!

M. H.
Virginia Beach, VA

09/06/2011

I think Melissa was the first to help. I think she did a great job and was very professional in dealing with the public. Sometime that can be hectic.

April Hurd was very helpful when I contacted her for some information. She didnt hestitate to help. Keep up the GOOD WORK. I would recommend you to other people.

Gwyn,
Alabama

04/14/2014

I purchased my first concession trailer from UsedVending.com. I want to thank Stacy Sweet for the great customer service. He had all the information I needed which made my purchase easy and fast. I am very satisfied and look forward to working with you again. Thanks again.
M.H.
Vacaville, CA

09/29/2010

THANKS FOR EVERYTHING YOU DID FOR US APRIL.WE LOOK FORWARD TO MORE BUSINESS WITH YOU VERY SOON! I KNOW OUR MASSAGE CHAIRS WILL DO GREAT!

HEAVENLY TOUCH

09/20/2001

Eric, thank you for helping me find a buyer for my vending machines. Your services to the general public help eliminate Biz-Op ripoffs where companies charge 5 times the cost of an actual combo unit. Hopefully many people new to the vending business trying to start their own route will meet up with you first before being taken for extremely large sums of money. Your website is a great place for buyers and sellers to meet. Sincerely,

James Falce,
New York

10/26/2009

What a relief to connect easily with a knowledgeable person to walk me through my stamp machine purchase. Thank you, April, for making it so easy.

Lisa
Denver, CO

08/26/2012

Calice and Used Vending ROCK!! Used Vending has been a fabulous way to purchase bulk vending equipment. Calice has worked hard to get me the best price on all of the equipment. I will continue to utilize Used Vending and Calice for my equipment needs.

C.F.
Virginia Beach, VA

10/28/2010

Mellisa Did Great Job Very Easy Deal

Russell B.
TEXAS

04/24/2012

My experience with your company, and with Mellissa was the best! This is the first time working with usedvending.com and I am extremely impressed. It was effortless. Melissa did everything, all I did was pay and pick up. How easy is that? Now usedvending.com is my "go to" for all future purchases. Thanks Melissa.

K.G.,
Fresno, California

09/09/2011

I have been working with your company going on three years now in reference to my vending equipment, my experience working with you has always been great. Your company is of great service to our industry. Special thanks to April and Stacy, thank you again for all your help.

Matthew B,
Maryland

10/03/2011

April was a great sales rep. Thank You!! Tommy, Atlanta, Georgia

08/12/2014

Hi, I am writing to let you know that my experience with Melissa was awesome, she really knows what she is doing and made it incredibly easy and fun. Thank You and I'm enjoying my new food trailer!!

Rylee Mac's Market & Cooking School,
Durango, Colorado




06/14/2013

My daughter Evelyn and I had a great experience with Stacy. I had problems with my computer but Stacy got the deal done with Evelyn and we got a great deal. Thanks Stacy.
WJ Price
Montgomery,tx

03/31/2013

I been trying to sell my giant gum ball machine for two years and had no luck until this website. Great service where they get you money for your old equipment. Thanks to Amanda Haynes for helping me from beginning to end. They are part of BBB and have no bad comments. I highly recommend them to help sell old products.

B.W.
Lake Worth, Florida

06/26/2014

Hello, my name is Tasha Crafton. I really would like to thank Usedvending and Mr. Sweet for making my experience a great one. This is my first time and first vending I purchased; I was a little skeptical at first - after talking with Mr. Sweet for a few days ease my fear. Everything was done in decency in order. I thank you very much, I planned using this company in the future to purchase my first vending truck. Thank you again, Usedvending.
Tasha,
Smyrna, Delaware

10/15/2009

Whenever I contacted Melissa, she was always prompt getting back to me and very friendly and helpful. My overall experience with Usedvending.com was positive and I would recommend them to anyone looking for vending equipment.
Donna J. Morgan
Alpena, Michigan

10/06/2009

Dear April,

Thank you so much for your help and assistance with helping me sell one of my machines. I believe everything went very well and I believe your pre-screening the buyer was great.

The buyer was extremely nice and I think very satisfied. We thourghly went through the whole machine and I believe he was very happy with the results.

I thank you so very much and thank you for expediting the sale quickly.

I also thank you for your attention and consideration of my needs. You are a very thourough and most pleasant person to deal with.

Thanks again,

Gil
Baldwin Park, California

10/25/2009

I found your site to be very helpful in our search for several vending machines. When I contacted the number to get more information, April Hurd was the cs rep and she was extremely helpful and followed up with me throughout my search. We did not purchase from you (although we wish we had) April kept a pleasant professional and courteous attitude. I will keep you in mind when its time to replace what we have. Thank you.
Marquita Smith,
Tampa, FL

04/30/2014

Thanks so much for helping us sell our food truck! It was quick, easy and everyone was happy with the sale price.
C.P.
Carbondale, IL



11/26/2013

April is the best! She worked with me to obtain great profitable locations. She was there throughout the whole process to make sure everything went smoothly and to make sure that both parties were completely satisfied. And I I'm satisfied every time! As well as my locations that I have obtained with her. April is the best and I love doing business with her and her company Megavending.com.

Kenneth,
New Jersey



Eric Norman Thank You, Your customer service is extraordinarily splendid and deserves to be commended thank you !! You've went beyond the call of duty to satisfy a potential customer. If this is your policy or standard operating procedure then success is inevitable with you and your company!!!

M. Maynard SR

09/15/2011

I had the best person in the world to assist, Melissa is theeee best, I was looking for a vending truck; she assist me with the transaction, everything went well. I had a wonderful experience with 4 Megavending.com, I would recommend anyone out there to use their services. It would be the best decision to make. Inspite of the long drive everthing was good.

Primrose,
New Orleans LA

04/02/2015

Calice,I want to thank your for all your help with my latest transaction. You have been very helpful and answered all my questions in a timely manner. I was happy to have sold my first machine!! Keep up the good work and again I appreciated your attention and friendly service.
Henry Wright,
Plant City, FL

08/15/2009

I have used 4megavending.com for several years now, and they are always helpful and have excellent customer service. I have referred other vending operators to their site as well. Keep up the good work!

Marion, Iowa

04/28/2013

Excellent service from Stacy Sweet! He was able to provide me with a location and a machine! I would recommend this company to anyone in the vending business.
F.C.
Louisville, KY

I purchased an Antares combination (snack/soda) vending machine from USEDvending.com and was very pleased with the outcome. I had been searching for a combo machine for over a year when I received a solicitation email from USEDvending.com. I must admit, I was leary about dealing with a company of whom I had no reference. The price was very very reasonable. The machine was practically new and in great condition. Since I've had the machine I haven't had any problems with it and am very happy with my selection of distributors. I would DEFINITELY recommend USEDvending.com for your source of vending equipment.

Mechelle
Houston, Texas

07/10/2013

If you want to sell quickly and without headaches, I suggest contacting Melissa today. I couldn't be happier with my results, and you will agree by simply using Used Vending as your source to sell. Thank you again Melissa!

Tony from Tucson, AZ

03/12/2015

Hi Calice, I want to thank you and Used Vending for helping me sell my machines. Without you, I doubt if I'd ever be able to sell them. You were more than helpful. Every aspect of the transaction, from beginning to end, was done in a professional manner !
Thanks again,
Andy J., Shelby Township, MI

10/20/2014

We were looking online for a food trailer and came across the Used Vending site. It was easy to navigate and once we found the trailer we were interested in we sent an email for more info. Traci got back to us the very next day and was able to answer some of our questions. The ones she couldn't answer, she had the information back to us within hours. Being from Canada there were a few more hurdles to clear before we could make an offer. Traci was great at getting answers and helping us all through the transaction. She helped get the deal done, we flew down to where it was and dragged it back across the country to our home. We love the trailer, can't wait to use it and when we expand our business, we are calling Traci again!
Bjorn & Brenda
Edmonton, Alberta



04/25/2012

Melissa was most helpful from the initial listing phase to the final sale process and follow-through. It was 1-2-3 simple and easy. UsedVending.com enabled me to sell my product fast and efficiently. I wouldn't hesitate to use their services again.

Alan
Franklin, TN

03/08/2010

The help I recieved from April at used vending was great. The profesionalism was there from the begining of the process till the end. I look forward to using their service again.


abdul
MD

05/30/2011

I would like to thank 4 Mega Vending for all the assignments that have come our way in Arizona. They have been a pleasure to work with. They are very professional and dedicated. Each account has been very profitable.

Thank you!!!

Michael Alston/Debra Cancel
Empire Vending
Arizona

05/23/2014

To whom it may concern: I recently made a large vending machine purchase through Usedvending.com, with the help of Calice. This was my first time purchasing vending machines through a third party. As I was spending close to forty thousand dollars, I was somewhat nervous about the transaction. Everything went more smoothly than I could have asked and this has everything to do with Calice. She was wonderful and it was obvious that she cared about the process going off without a hitch. She was continually in contact with me throughout the entire transaction. Literally, every step of the way. I know for a fact that she even checked in with me on her off time. I was truly impressed with her dedication and I feel that she genuinely cared that both I and the seller were satisfied. When I purchase vending machines again, Usedvending.com is where I'll look first and I would hope to work with Calice again. Thank you.
Roy E. Sakker,
Colorado Healthy, LLC

12/09/2010

Thank you for all of your help in obtaining our two machines last month. You made it very easy and the transaction went smoothly. We appreciate your patience in helping us get this done. If we need more machines, you will be the first one we call.........you made things so much easier than we thought possible!!

Darwin,
MO

10/20/2009

Earlier this year (2009) i was contemplating a start-up vending biz...having no prior experience i searched online for suitable "information" providers...i stumbled onto April and i was very impressed with her patience, demeanor, ability to answer all of my stupid questions and ask me the ones i couldn't think of - she was extremely helpful to me

although i decided not to pursue the biz i wholeheartedly endorse April and wish her continued good luck in the future

mike henry
colorado

10/02/2011

I tried so many other venues and ways to sell my equipment, but your company and specifically, Stacy Sweet, got the job done! Stacy was no nonesense, right to the point and wasted no time. He called when he had an interested buyer, settled the terms between us and the sale was complete within 24 hours from the initial call to me! Bravo Stacy!! And thank you USEDvending.com. Jodie, Clifton, NJ

09/30/2010

Melissa Powers did a great job lining up the seller and myself quickly. I was able to start my business much sooner. Thanks again, Melissa.

Steve M

10/09/2008

Hello, April did a great job selling me my coke machine, everything was just like she said it would would be, I would recommend for all your vending needs.

Rocky,
Rome Georgia

07/28/2014

Dear April, I want to take this time to express my gratitude to You for providing us an excellent service and handling it very professionally. We have been in business for almost 20 years now and I have never worked with a more professional person like you, you have been very honest with from start to finish and have dedicated your time in helping me and guiding me to get the right product to suit our needs. We are extremely and very satisfied with the machine, and the size this couldn't have been any better than this. We want your company to feel free to use us as a reference for potential customers in the future. All the best to you, And thank you. Best-Regards.
Ayman Datoo,
Flanders NJ
See Hundreds more or Write your own...