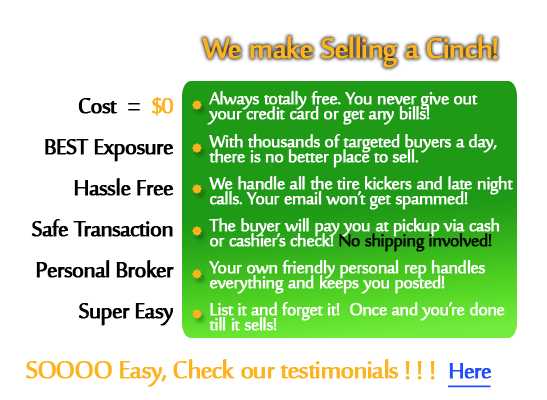 Selling Used Horse Trailers
Selling your used horse trailer could not be easier! Not only is it a free online service, but we even take care of weeding through the tire kickers for you.
Unlike a used trailer classifieds site where you get calls from every curious George that stumbles across your ad, we handle all that for you. Once we find a serious buyer that is ready and able to pay, we put them in touch with you for the pickup! Since 1999, we have been bringing sellers top dollar for their equipment and making buyers happy by finding the perfect used equipment for their needs.
Don't take our word for it - checkout hundreds of testimonials from many happy used trailer sellers just like you!
Used Trailer Testimonials
Our long history of a quality reputation and many repeat customers is why so many trust us to sell their
used horse trailers
.
Horse trailers can be expensive; if needed, we even offer an escrow service to allow both parties complete security for a safe transaction. It's a very simple process, but your friendly agent is always here to walk you through any questions that you may have. We have thousands of buyers who visit our sites daily; so, rest assured, you're in the right place!
When you list your horse trailer for sale, remember... PICTURES SELL ;-) The more pictures, the better!! We'll post all your used trailer pictures online for the world to see. If you have video that shows a walkthrough of your horse trailer, we'll even provide that to give buyers a complete look and feel to close the deal!
To list your trailer for sale, simply click on the "Free - Sell My Trailer" link at the top of this page. Once you create a free account, just log into your account and click the link to add a new listing. Fill in your horse trailer details, and we do the rest! If you later have info or pictures to add to the listing, just login and add them from your account.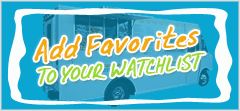 Customer Experiences
03/10/2019

I had fantastic experience buying my second truck from UsedVending.com . Wendy is great to work with. It was a one stop shop for all my question and made truck buying a worry free experienceexceptional value and was offered a high level of customer service. I highly recommend buying from UsedVending.com.
Maher.B,
Floral Park, NY

10/26/2009

i enjoyed this knowldageble visiting this site.

Phoenix, Arizona

01/20/2017

I had the best experience selling my vending machines with April with UsedVending.com. She helped me from start to finish and kept me close to her through my selling process. She was a go getter and got the price I wanted for my machines. She even stayed in touch over the weekend to make sure my transaction was going smooth. I will definitely use this company again due to their hospitality.
Ashley W.
Memphis, TN

11/06/2010

Melissa was extremely helpful and professional with us as a first time buyer. She made everything go smoothly and I was not only extremely impressed by her efforts through the purchasing process, but with the follow up as well. My company will definately be using Melissa and her company again. Thank you again.

Rob G
Pennsylvania

05/23/2016

Morning Melissa. I just wanted to take a moment to express my satisfaction in doing business with Used Vending... the experience was a very pleasant and the process was simple and smooth. Thanks for making it so easy to sell my unit.

Jerome D. Buggs

J&L ENTERPRISE LLC(Your Total Solution Company)


Florissant, MO

03/15/2016

I can't say enough great things about Used Vending! You guys are great, you take bad selling experiences that most people like myself have from other sites and really truly make the selling process very easy and enjoyable! I've talked to many of the sales people through this process and they were all very nice to deal with. I would like to say a big thank you to Greg for getting the same done! Thank you, Todd.
Todd Halverson,
Vermillion, SD

09/29/2010

April and 4mega vending have provided me with quality equipment and great service. All questions are answered timely and professionally and April is great to work with. Thanks!

Rob
Tots' Landing Learning Centers, LLC

02/11/2014

Melissa Powers was a pleasure to work with and really made it a smooth transaction. I never felt pressured into a decision or rushed. With patience Melissa answered every question and I had a lot of them. I would definitely recommend UsedVending.com. Great Experience. Thanks Melissa.
Justin B.
East Windsor, CT

03/25/2012

UsedVending.com is a very professional company. Excellent customer service and very thorough. I trusted them to help me sell a trailer and they did the job in an A+ fashion. Two potential buyers came at the same time and they negotiated a great price of sale. I'm very pleased and grateful!!!

Terri, CA

08/02/2018

Was worried at first, but got excellent support -and thank you guys.
Josphat Ombacho,
Aurora, CO

10/26/2010

April, thanks for all that you do! With your helpful and cheerful demeanor, you have made my purchase a "very painless experience". Again, much thanks!

Take Good Care!

John "The Wash Tub"
Decatur, TN

09/18/2009

I made one phone call and the rest was handled.

You can not get any better than that.

Chuck
American Linehaul Inc.
Wood Dale, Illinois

04/09/2016

I recently bought a concession trailer through Melissa and it worked out very well. She was very professional with everything and the paperwork was very easy. Thank you Melissa!!!
Nathan Wittmer,
Loogootee, IN

03/06/2016

Dear Jennifer Melerine, I'd like to thank you for your time and patience with the process of purchasing the vehicle from you. I appreciated the thoughtfulness and courtesy you showed me during this extensive process. I just finished the final DMV process and wanted to thank you kindly for your help.
Chih Wha Wang,
Alhambra, CA

10/07/2010

Had a great experience with Mega Vending!!! We got our soda and snack machine within 1 week at our school. I would definitely suggest using Mega Vending, the customer service was amazing. Connie Jordan was a great help.

Thanks Mega Vending

04/15/2009

We had a positive experience in dealing with both Melissa and Cheryl at Used Vending while selling our hotdog cart. We had placed our cart on craigs list and had not received any responses when I did some research and found Used Vending online. I first talked with Cheryl, who helped me with providing a write-up, pictures and made suggestions on the price. After not receiving any calls, I called Cheryl and asked for suggestions - we lowered the price and waited patiently. Not much longer and it was sold. It was great to let someone else deal with the customer and negotiate and all we had to do was show it and let them take it home. If there is a need to sell concession equipment in the future, we will definitely call Used Vending and specifically ask for Cheryl and/or Melissa.
Thanks.
Starla Peninger
N. Richland Hills, Texas

05/15/2018

UsedVending got it sold! They were great to deal with, very professional, excellent customer service. I couldn't be happier!

Benjamin Hale,
Raleighm NC

01/31/2017

You did an awesome job! You went above and beyond!!!
Arson Taitano
Galveston, TX



12/08/2009

April did a great job helping me the select the right machine for my oepration. We operate MixStirs juice bars throughout the east coast and are considering adding these machines to all of our locations. Our machine is working flawlessly. Thanks again!

Mike Greenberg
President, MixStirs

11/07/2014

Hello Usedvending staff/Calice. My experience with usedvending during my recent purchase was great- there were no problems on either end and i enjoyed every step due to having no problems along the way. I will in the future look to usedvending for my purchases as I build my vending route and have recommended it to friends as a great place to purchase from. Thank you,
Romel J.
DJB Vending
McKinney, TX

01/11/2017

April, thanks again for all your help in my purchasing the yogurt machines. I had a genuine feeling that it was actually my interest that you were most focused on. It went a long ways in helping to get this deal done.
Thanks again,
Kevin Harper,
Sugar Land, TX

06/10/2016

Jennifer, It was a pleasure to do business with you and your company UsedVending. Everything went real smooth with the transactions of the sale. I would recommend your company to anyone. If I ever need assistance selling anything again I will most definitely use your company again.

Thanks,
Bruce Benkurt,
Hanover, PA

09/29/2014

I just want to thank you so much, you helped me so much. Your professionalism was a breath of fresh air for me. My son and I had a great trip getting the truck. If I ever need anything else I will go to you for what I'm looking for. Thank you again so much.
Sincerely, Laura Dumas
Sioux Falls, SD

01/28/2016

Jennifer, I would just like to take a minute to thank you and Used Vending in helping me sell my Concession Trailer. I was a little leary when I was first contacted about listing it on your sight but in less than 6 months it was sold! You were great in explaining to me how everything worked and what would take place and everything went exactly as you said it would. I am so happy that I ended up letting it be listed and even happier that it sold so quickly! Thank you!
Cindy Brennan
Cardwell, MT

09/11/2018

We are very satisfied with Denise's efforts, follow up, constant communication and support through out the whole process of acquitting the vending machines. Definitively more business will come through her. Denise is definitively in the top for customer service.

Jose Ardila,
Houston,. TX

10/26/2009

Working with April has been a real pleasure. April is always willing to go the extra mile and ensure all of my needs are taken care of. I highly recommend working with April for your vending needs.

John,
Connecticut

04/26/2017

Used Vending does what they say they do. Melissa was very instrumental in the closing of the sale. Everything went as expected. I do recommend them.
Thank you.
Ricardo Zeschitz,
El Paso, TX.



10/13/2009

Working with April to locate and secure new vending machines for our company was an absolute pleasure.

She exceeded all of my expectations and was able to find me new machines at a fantastic price! The new machines that she found for me were actually less than other companies wanted for used machines!

I would and will recommend usedvending.com and April Hurd to anyone looking for new or used vending equipment!

Lake Geneva, Wisconsin

02/11/2017

I was very fortunate to find a great deal with the help of Melissa Powers, when we were unable to seal the deal on a trailer that would not be ready until three days after the date that I needed the trailer. She worked relentlessly to find me the perfect trailer for the perfect price. I cannot thank Melissa enough for the help she provided ensuring that I got a beautiful trailer for the perfect price! Thank you Melissa, you were wonderful.
Synthia Mallard,
Jacksonville, FL

03/19/2014

I was very satisfied with the service I received From APRIL HURD. She was very helpful in getting the deal worked out and very patient with the issues I bought up doing this transaction. She has a very awesome personality and no matter the situation or time, she was also very helpful. I will again use the service from USEDvending.com and only request for April to help me.
H.H.
Jacksonville, FL

10/20/2009

I worked with April over several months to get everything worked out perfectly! She was amazing in every aspect. Every question we asked she had an answer for and responded very quickly!!! She went above and beyond any customer service expectations. THANKS APRIL!!!!!!!

Tomball, Texas

04/06/2011

Thanks, Melissa, for your patience and persistence when I was hard to get hold of! Appreciate it very much.
Had a very straight forward and smooth transaction! Looking forward to working with you again!

Edmonton, Canada

10/21/2009

I recently became aware of 4 MEGA Vending, I am a small vending operator. my contact there is Ms. Melanie Lee, who has been very helpful,not pushy, no hade sell, only the help that you request and need.
They have found me one location already. And have a large inventory of routes and new and used equipment. In a business that has it's share of fly by night operators with over priced equipment wit alledged $800.00 per day income, these people are real helpful, and I woudl readly reccomend any looking for locations, equipment, or advise to call them, I highly reccomend them and I am a 35 year retired federal law enforcement officer.
Charlie
Houston, Texas

05/18/2015

Greg did a great job on his communication and I believe he is a great asset to your company, my experience was great. Thank You very much!!!
Hugo Tamayo,
Bakersfield, CA



07/11/2016

Working with UsedVending.Com was very positive for me. First, my contact, Wendy, was so helpful and kind. She walked me through the process giving me peace of mind. I felt the whole experience was better than I hoped. This transaction can be stressful. Wendy put me at ease and I felt my sale would be handled well for both parties.

Kristina D. Taylor
Operations Manager
Sodexo - Pittsburg State University, KS

10/12/2016

Had an awesome experience working with Melissa Powers and Used Vending. Melissa explained every step of the process completely. She kept in contact with us and the buyer continually; we never had to wonder what was happening. Melissa is a pleasant, caring person and was so patient with our questions and concerns. Our buyer was a nice young man. It was enjoyable for us to share in his enthusiasm as he took possession of the trailer and looked forward to his new concession venture. Thank you for the help with our sale.
Jerome and Sheryl Johnson,
Marshfield, WI

09/19/2014

We had a good experience and everything was perfect.

A. Janlou
Rockville, MD

09/24/2018

I cannot Express my appreciation to the staff at UsedVending enough. My listing was very short with UsedVending. I had listed my food trailer on 2 other sites. It had been over a year on both sites. Less than 3 months with UsedVending. I want to say thank you to Bradley! You were so wonderful. The sale went so smoothly you were a tremendous help to me especially with the paper work.
Terri Dumas,
Oviedo, FL

03/28/2016

Overall, I had a quite positive experience with your company. The responsiveness and communication of your sales team is impressive. Having a direct line of communication via text is extremely helpful and Mrs. Hodges would take the time out to answer my questions well after office hours. I am very happy with my purchase and I believe the seller can agree, Usedvending helped to streamline and make this transaction happen! I will certainly recommend usedvending.com to anyone I come across in the market for a food truck.
Anthony B.
Greensboro, NC

10/06/2010

Attention Mega Vending,

What I would like to say is not exaggerating or complimenting ,it is true ,and really mean it with full honesty .
April is not just a sales lady or in charge person ,she is a real human ,very helpful .very easy to deal with and very humble .My wife contacted her once and she came back to with this impression .Hay Mohamed she said , do you know this lady April is very nice ,call her for your machine problem ,she will help you ,I said yes you are right . I enjoyed working with her in spite of I never met her.If you deal with her you will never regret.
God Bless April and i really thankful.

Mohamed Hassan

09/25/2011

Melissa, Thanks that was a great deal. As soon as we have these machines placed, I am sure I will be in touch for other great deals. If you do come across another great deal like this one, please feel free to give me a call. Like my husband said, too great a deal to pass on.

Thanks again for thinking of me when this deal came up and I appreciate the personal attention. It was great working with you, your company was very professional and I appreciate the fast turn around.

Thanks again, Denise
Poconos, PA

12/01/2010

Melissa was GREAT to work with! She is truly interested in her customers success and this shows in her warm personality as well as her professionalism in her business. I felt very comfotable dealing with her and had a high level of trust. Melissa always returned my calls and had some great ideas in how to best sell my concession vehicle. Thanks!

Keep up the good and honest work!

Mark M.
The Macho Taco

03/30/2011

I was able to sell three vending machines in about three months thanks to this website service and the wonderful help I received from Melissa. She was very helpful, attentive and professional. I recommend this website service as it is the only thing that worked in trying to sell my machines (I also tried Craigs list, the local newspaper and another website.) Thanks!!! Christine

CA

01/31/2011

Courteous and Knowledgeable.

April sets the standards of customer service other business could use as a model. A simple and streamlined process for acquiring vending equipment enabled by a polite and confident staff.

I am currently acquiring more equipment using their services, and will continue to do so in the future. I personally wouldn't consider taking chances with any other service. More than just a brokerage, they're your full-service partners in the business.

Thank you 4MEGAVENDING.com for all your help!

CA

03/06/2013

Very good doing business with Amanda and Calice, when we finally got the machines priced correctly.

G.B.
Oak Lawn, IL

06/28/2011

I used your company through Melissa Powers and she has made the purchases go very smoothly,one that fell apart,but with her experiance she moved me along to another purchase which was necessary for me to fulfill my clients needs,Thanks so much Melissa for your great help and caring for my business needs.

Wayne Basilotto,Your Choice Vending

06/01/2011

I want to thank Melissa Powers for her prompt response and hassle free procedures in handling my recent BBQ concession trailer purchase. Negotiating started on May 17th and I brought the unit home on May 29th. The unit was even more stunning than the online pics.
Whether you a buyer or seller on you next deal, I strongly recommend usedvending.com and Melissa Powers.

Don Baucham
DB's Rustic Iron BBQ
Odessa, Tx.
rusticironbbq.com

02/03/2016

I'm glad that I found USED vending. All the representatives were professional and explained the process well. Best thing was that they sold my item! The company was reliable and always followed up with me. I was very happy with the customer service experience and would recommend the company.
Best, Alexandra & Miguel
Manassas, VA

07/10/2013

If you want to sell quickly and without headaches, I suggest contacting Melissa today. I couldn't be happier with my results, and you will agree by simply using Used Vending as your source to sell. Thank you again Melissa!

Tony from Tucson, AZ

08/05/2014

We were very pleased with the ease of listing our equipment and the incredible customer service we received during the process. Communication is everything in making a business transaction and they were great. We highly recommend using UsedVending.com to buy or sell your equipment.
P. Brill
League City, Texas
See 1800+ more or Write your own...