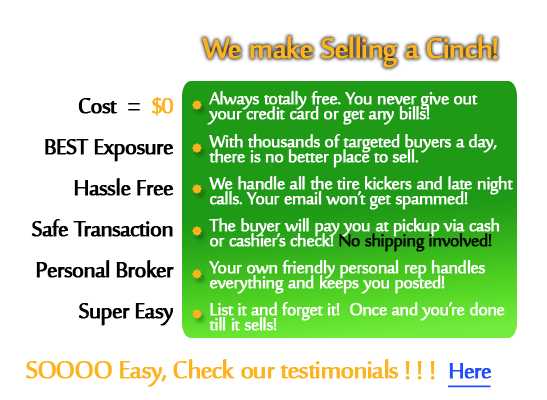 Selling Used Horse Trailers
Selling your used horse trailer could not be easier! Not only is it a free online service, but we even take care of weeding through the tire kickers for you.
Unlike a used trailer classifieds site where you get calls from every curious George that stumbles across your ad, we handle all that for you. Once we find a serious buyer that is ready and able to pay, we put them in touch with you for the pickup! Since 1999, we have been bringing sellers top dollar for their equipment and making buyers happy by finding the perfect used equipment for their needs.
Don't take our word for it - checkout hundreds of testimonials from many happy used trailer sellers just like you!
Used Trailer Testimonials
Our long history of a quality reputation and many repeat customers is why so many trust us to sell their
used horse trailers
.
Horse trailers can be expensive; if needed, we even offer an escrow service to allow both parties complete security for a safe transaction. It's a very simple process, but your friendly agent is always here to walk you through any questions that you may have. We have thousands of buyers who visit our sites daily; so, rest assured, you're in the right place!
When you list your horse trailer for sale, remember... PICTURES SELL ;-) The more pictures, the better!! We'll post all your used trailer pictures online for the world to see. If you have video that shows a walkthrough of your horse trailer, we'll even provide that to give buyers a complete look and feel to close the deal!
To list your trailer for sale, simply click on the "Free - Sell My Trailer" link at the top of this page. Once you create a free account, just log into your account and click the link to add a new listing. Fill in your horse trailer details, and we do the rest! If you later have info or pictures to add to the listing, just login and add them from your account.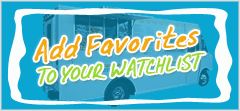 Customer Experiences
02/14/2011

Melissa was great to work with. The sale was handled very professionally.

Thank you



TX

02/14/2012

Thank you Stacy for your patience. Thanks to 4vendingtips.com I landed a location in an area where I desperately needed more business. I received a lead for a very strong vending location and I look forward to the next one.

Keith,
PA

07/13/2010

Melissa Powers has helped us to find used equipment twice now and she has been quick to get responses both times. We really appreciate her help and will continue to use her resources in the future.
thanks so much.
Phyllis Long

09/01/2015

Hello Jennifer, I just wanted to let you guys know that it was a pleasure working with you and thank you so much for helping me sell the truck. With me moving, you have no idea what kind of burden that took off my shoulders. We had been trying for 2 months on *bay and ******List with no luck and within a week or two of putting it on your site, it was sold...the day before I moved. Talk about last minute!!! The process was simple and efficient and all the employees that I spoke with were very professional and helpful, especially Jennifer who helped close the deal. You guys were great and I would recommend you to anyone. Thanks again and best wishes! Kind regards,
Daniel Rosenberg,
Hollywood, FL

I can't tell you what a relief it is to have an empty garage. Without your help, I may never have sold those vendors. I was ready to dump them and lose everything. This would have been easier than the sight of them everyday. Your service is very much appreciated.
Jody
Denver, CO

05/17/2016

Good afternoon ladies, I have been so busy that I was not able to thank you so much for your hard work. I greatly appreciate all of your help. The machine looks and works great. Thank you again for everything.

Sincerely,Reginald King Jr.
Crown Vending Services
Houston, TX

06/07/2008

USED VENDING, I wanted to express my appreciation for the great job that Used Vending has done for me. I am just starting into the vending business and have spent hours and days doing research to be certain I can make a profit and it is something I would be happy doing. Your company and especially Mellissa and April have listen to my questions and shared their experience and knowledge with me. They have cautioned me in areas that I need to understand and have guided me with helpful advice that will increase my probability of success. I have just bought my first 17 vending machine and will be buying more as I learn this business.The machines were as advertised in excellent condition and dramatically less than a new machine. I know I will increase my probability of success because of the information that Mellissa and April have shared with me. I sincerely appreciate the time and effort your company has extended in helping me to get into the vending business

Thank You
Carlton Faulconer
Lake Forest, CA

01/25/2015

Tried selling my trailer local, craiglist, trailer shopper with no luck. Had some scammers and people who wasted my time. Then listed with Usedvending with doubts, but was proven wrong. Melissa with Usedvending SOLD my concession trailer. Thank you Melissa for answering all my texts and phone calls on the sale of trailer.
Gregg McCabe
Morganton, NC

06/30/2010

Melissa did all the work! What a great experience. We just sat back and waited for Melissa's call arranging the sale of our 8 machines. Great job!

Bob

11/13/2015

Greg was very helpful in helping me sell my trailer, we had great communication and he gave me very good advice. I hope to work with him again!
Julie Farrar,
Ocala, FL

02/24/2011

Vanessa and April have been very helpful in getting us set up with a vendor. Vanessa went over and above helping us out. I would recommend this company to anyone looking for vendors.

Debbie
Administrative Assistant
Champaign, IL

07/29/2009

I have been very pleased with the support I've received from Usedvending.com. Melissa has been great to work with and is an advocate for both the buyer and seller. She coordinates with both parties to insure the transaction goes smoothly and that everyones needs are met. I have been very surprised at how easy it is buying used vending equipment online. Thank you Melissa and Usedvending.com.

Karen,
Glen Allen, VA

10/15/2009

What a great company. If I've ever had questions and needed to call, I've always been treated with courtesy and a willingness to help. This is a true stand up company. And the coffee is GREAT! Always fast shipping.

Thanks, Melanie, for helping me with my order and the quick response. My package arrived today. I always recommend you guys for anyone using Flavia.

Diana

10/30/2009

April Hurd is the best thing since cotton candy, literally... I started my business a little less than three years ago and her office has already provided me with three top-notch locations that have propelled my business ten folds. April has been helpful throughout each and every process that I had with MegaVending. I purchased equipment and had locations given to me, every transaction was handled professionally, courteously, and expeditiously, you don't want it any other way. Thank you April for your dedication to your professionalism. It's people like you that makes dealing with MegaVending more rewarding.

Las Vegas, Nevada

Melissa, Thank you for all your help in the sale of my vending machines. We just completed the transaction and everything went great. Nice man! I would highly recommend your business to anyone. Thanks again. Scott

Wisconsin Dells, Wisconsin

10/26/2016

My experience with the website has been a good experience the sales person ( Jennifer Melerine ) that was working with me did here do diligence in both helping the buyer and the seller in closing the deal. I would use the website and the sales person again. She followed through in all aspects of the sale.
Gene Brown,
Houston, TX

02/10/2015

I would just like to comment on how pleased I am with USEDvending! This was my first experience and at first I was a little skeptical. They proved me wrong and handled the sale of my trailer very efficiently and without a hitch!!! The staff was outstanding and made the transaction very smooth and easy for a first time seller. Thank you Crissy for your patience and great customer service! I will definitely recommend USEDvending to others!
Laura Rojas,
Chula Vista, CA

03/13/2017

Melissa,Thank you so much for your perseverance in selling my Airstream! You and others at UsedVending made this adventure super easy and smooth! I definitely will use you guys again if I need to sell a trailer!
Jill Turner,
Waco, TX

11/30/2011

I have had good experience's with Stacy Sweet and Mega Vending. Very easy to work with. No scamming, real and honest business. I have had several opportunities given to me, and it has helped grow my business.

The Vending Guy
Twin Cities, Minnesota

04/07/2015

Thank you Used vending and Greg for assisting me with the sale of my trailer. Through your patience and expertise it made this process simple and fast. If it was not for you and your staff I do not think I would have been able to sell my trailer. I hope others utilize your services for your promptness and professionalism. Thanks again.
Zorayda Borrero, Miami, FL

05/29/2014

April was very helpful with us, with our decision to purchase a vending machine, starting with the type of machine and the price of the machine. I really do thank her for her feedback and help with locating a vending machine that fits our need. Thanks April.

C&J Mallet, MS

10/06/2017

Bradley was very helpful with the purchase of our cooking trailer. If I had a question or concern Bradley got me immediate answers. Everything went smooth on the sale. If i ever have a need or another unit they will be where I go to. Thanks again for your help Bradley.
Johnny Wisdom,
Longview., TX

04/03/2017

Love this website! Found my dream vending trailer here. Melissa was great to deal with. She answered questions she in short time and walked me through the transaction from the beginning until I hooked on and pulled it home. Thanks again!!
Sandra Boldon,
Oglala, SD

11/01/2010

Thanks to Melissa, one of my vending machines sold in as little as one mo. she is very professional and polite.! You are very lucky to have someone like her with your company. Thank you Melissa !!!

IL

03/04/2012

We just completed a major purchase of a food truck in Kansas - Melissa kept the process going and helped us work with the owner to fix issues with the title and complete the sale. She was quick with responses and even helped connect us with someone about a mobile POS they were selling even though there was nothing in the deal for her. We appreciated the professional service she provided.

02/23/2010

I would highly recommend Used Vending. They were very knowledgeable and were prompt in answering any questions that I had. Melissa was a pleasure to work with and always greeted me with a positive and friendly demeanor.

Thank you for your good work

Sonya
Houston, TX

10/12/2016

Had an awesome experience working with Melissa Powers and Used Vending. Melissa explained every step of the process completely. She kept in contact with us and the buyer continually; we never had to wonder what was happening. Melissa is a pleasant, caring person and was so patient with our questions and concerns. Our buyer was a nice young man. It was enjoyable for us to share in his enthusiasm as he took possession of the trailer and looked forward to his new concession venture. Thank you for the help with our sale.
Jerome and Sheryl Johnson,
Marshfield, WI

06/07/2016

This was my first time using usedvending.com. and let me tell ya the i'll definitely use them again. I was able to buy a good food truck and they made the entire process a breeze. I highly recommend Melissa Powers she's very helpful and professional.

Orfil Quezada,
Columbus, OH

I have to admit, I was very skeptical when I made the decision to list our trailer on this site. Melissa made contact with us immediately. She offered suggestions about info to post and offered to help us post more info (pics).
When Melissa informed us about a potential buyer, my questions began pouring in to her. She contacted me via phone, e-mail, and text (as it was convenient for me!). Melissa guided us through the entire process and made us feel like we had no worries about selling on the internet! Melissa closed the deal for us. We are happy with the entire process. For Melissa's sake, I hope not all customers need hand holding like we did! She was GREAT! The entire process was a great experience and we would use this company again and we recommend it to everyone!!!

Ken & Janet
Tifton, GA

04/23/2012

Melissa was most helpful in answering the "ton" of questions I had asked of her concerning my concession trailer. She would also respond as quickly as possible to my messages left for her. Melissa and her company are very professional. The transaction went smoothly and I will recommend Used Vending always for their great service! Thanks Melissa!

Jay Miron, Iuka MS.

10/10/2012

This is our second transaction with usedvending.com and as before, everything went smoothly and our whole experience makes us want to come back again.

D. LONG - WEST VIRGINIA

04/22/2013

Thank you for all your help in selling our food truck. The process was quick and painless.
I.R.
Miami, FL



10/18/2016

The sale went great he is very pleased with the product. The buyer was very professional and nice demonstrated everything we need to know about the vending machine. It was a pleasure working with you. I hope your company knows what an asset you are.
Thank you,
Dorothy Meadows
Greensboro, NC

10/02/2011

I tried so many other venues and ways to sell my equipment, but your company and specifically, Stacy Sweet, got the job done! Stacy was no nonesense, right to the point and wasted no time. He called when he had an interested buyer, settled the terms between us and the sale was complete within 24 hours from the initial call to me! Bravo Stacy!! And thank you USEDvending.com. Jodie, Clifton, NJ

03/24/2017

You guys Rock! Grey and his team handled my transaction with complete professionalism and I would highly recommend their services to anyone!
Doug M,
Houston TX

01/07/2014

Melissa did a great job helping me with getting the food truck we really wanted. Great service and super responsive.
J.P.
St. Louis, MO



05/28/2014

Tina was extremely helpful throughout the entire process and the seller and I were able to come to a reasonable and mutually beneficially agreement. I would definintely recommend using UsedVending to anyone who is considering purchasing used concession equipment. Thank you Used Vending for all of your help and for my new (used) trailer.
S. Morris,
El Paso, TX

07/14/2016

Hello Wendy- Thank you so very much for your help finding a buyer for my food truck! You reassured me when my nerves got the best of me and I thank you for that! I would recommend your company to anyone looking to reach the larger market of perspective buyers!

Thank you again

Lynn Pfeil,
Big Bend, WI


04/14/2016

We had the pleasure of being on both sides of the sales experience with Used Vending.com and I have to say it was effortless in both cases. A few years ago we needed (2) more machines for a location and went on to the website and found exactly what we were looking for. The transaction was quick, simple and easy. We were very impressed. Now recently we were looking to sell the (3) vending machines we had left as we are no longer in the business. I placed my ad on their website and over the months, received monthly updates from the website to verify machines were still for sale at the same price listed. This was very helpful as it was a constant reminder that we needed to sell them, and allowed me the opportunity to adjust my price if needed. I was contacted by April recently with an offer. I accepted, the paperwork was initiated, the buyer called me and set up a time to make the transaction. All this happened within a week. Machines are gone and I am very happy. The staff at UsedVending.com was very helpful, thorough and professional and I could not have done this without their help. It was a great experience dealing with the company and I would definitely refer them to anyone in the vending business who needs to buy or sell. Thanks for everything and keep up the good work!

Gina Hough
Davie, FL

05/04/2010

My experience with Melissa Powers usedvending.com was great. The process went very smoothly.

08/12/2012

Dear Melissa, Thank you so much for all your time and help with the used trailer from Brooklyn. You provided us with all the information we needed and were able to answer all of our questions when needed. The buying of the trailer this weekend went very smoothly and it looked exactly like the pictures and had all of the amenities which were listed. Once again thank you for your time, information and all of the knowledge you were able to help with throughout this process.

Sincerely, Jennifer, Christopher & Dominick
New York

02/01/2011

Just wanted to take a minute to say how impressed I am by your customer service. We bought a cigarette machine from you all in 2007, we ended up selling the buiness so it went into storage. We aquired the business again and I couldn't find my manual. I spoke to my original contact, April Hurd, who was still so friendly and helpful. She sent me an email within 10 minutes with the manual attached. Thank you again! Kim

FL

06/24/2016

I am so pleased with my experience with Usedvending.com. The staff was helpful and courteous. My sale went off without a hitch and I would certainly use this company again.
John Standifer III,
McKinney, TX



10/15/2013

I purchased two food concession trailers recently with Melissa acting as my broker. One of the trailers was 700 miles away. I was able to make all arrangements through Melissa, including inspection. She handles all details flawlessly. The trailer was picked up and delivered through a third party transporter. The only hitch in doing business with UsedVending is the hitch used by the transporter. Needless to say, I am a totally satisfied buyer and would gladly use Used Vending the next time I am in the market for a trailer.
Stephen W.
Miami, FL

12/02/2009

Melissa and Cheryl,

Thanks to both of you for all your help in liquidating the machines.

My wife is so happy to have the cash, but more importantly, the extra space in the house !

Again thank you both and hope your Thanksgiving was good and that your Christmas will be a wonderful time with your families.

Mark and Sheryl,
Arkansas

10/09/2013

Calice was a great help and stayed on top of negotiations. She kept in contact periodically and advised us. We highly recommend her!
L.I.
Deland, FL

02/07/2012

Melissa, All I can say is WOW. You did a great job selling our concession trailer. You made the transaction very smooth. You are a true professional....I would recommend Usedvending.com and Melissa Powers to any one needing to sell a concession trailer.. In my opinion you are the best in the business!!!! Thanks, for the hard work!!

Irby Gilder Cataula, GA

Melissa was a great help with helping us buy a food trailer in Atlanta Georgia. With out usedvending.com the transaction would not of happened. I would of bought a lesser trailer locally. Thank you for your help. God Bless Brad & Rea San Angelo, Texas

11/12/2015

To whom it may concern: I have recently purchased some used vending machines through UsedVending/MegaVending and worked with April Hurd as the broker. After explaining my intentions, and the time frame I was interested in, she immediately contacted the seller and coordinated the transaction THE SAME DAY! Words can not express how pleasantly surprised I was to actually complete the transaction in the same day. But she didn't stop there...she also made sure both buyer and seller had the appropriate forms filled out, and paperwork completed. There were no "surprises" in the transaction, and her customer service was EXCELLENT.

Since completing the transaction, I now intend to continue working with MegaVending to find new locations for my vending machines. Hopefully, I will still be working with April on that part as well, as working with her has been a refreshing change from what I'm used to with some other companies.

Customer Service is a largely overlooked area, but it is of utmost importance as well. Because April has provided such excellent customer service, your company will continue having my business in the future. She really shines...and your company would be very fortunate to have more employees like her!

Regards,
Steve, General Manager
Maranatha Vending LLC
Indianapolis, IN


03/02/2012

The experience of buying a used vending machine through USEDvending.com was very quick and easy. Melissa Powers walked me through the entire transaction. At first, there was a question of whether another buyer was in line ahead of me. Melissa told me that she would know for sure within a day. Sure enough, she called me back to give me the green light. Melissa led me through the steps of charging my deposit online, then put me in touch with the seller. Every step of the transaction went off exactly as Melissa told me it would.

Dan K. ,
Illinois
See Hundreds more or Write your own...