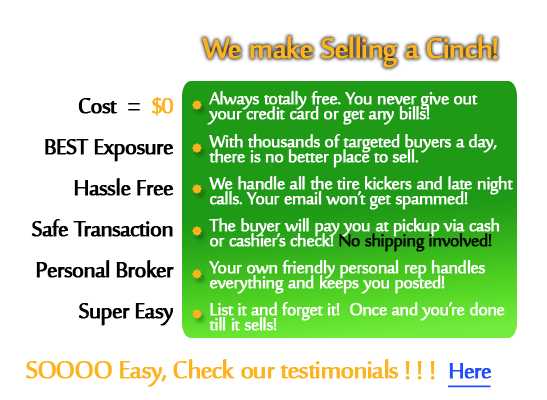 Selling Used Horse Trailers
Selling your used horse trailer could not be easier! Not only is it a free online service, but we even take care of weeding through the tire kickers for you.
Unlike a used trailer classifieds site where you get calls from every curious George that stumbles across your ad, we handle all that for you. Once we find a serious buyer that is ready and able to pay, we put them in touch with you for the pickup! Since 1999, we have been bringing sellers top dollar for their equipment and making buyers happy by finding the perfect used equipment for their needs.
Don't take our word for it - checkout hundreds of testimonials from many happy used trailer sellers just like you!
Used Trailer Testimonials
Our long history of a quality reputation and many repeat customers is why so many trust us to sell their
used horse trailers
.
Horse trailers can be expensive; if needed, we even offer an escrow service to allow both parties complete security for a safe transaction. It's a very simple process, but your friendly agent is always here to walk you through any questions that you may have. We have thousands of buyers who visit our sites daily; so, rest assured, you're in the right place!
When you list your horse trailer for sale, remember... PICTURES SELL ;-) The more pictures, the better!! We'll post all your used trailer pictures online for the world to see. If you have video that shows a walkthrough of your horse trailer, we'll even provide that to give buyers a complete look and feel to close the deal!
To list your trailer for sale, simply click on the "Free - Sell My Trailer" link at the top of this page. Once you create a free account, just log into your account and click the link to add a new listing. Fill in your horse trailer details, and we do the rest! If you later have info or pictures to add to the listing, just login and add them from your account.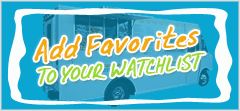 Customer Experiences
02/12/2012

Stacy, thanks for all your help - everything went well, please send more my way. Thanks.

Andy,
Kansas

Dear Eric, Your Great! I want to purchase 10 NEW Vendstars complete with stands. I'll tell you Eric I will definitely be doing more business with you in the future...you shall see. I have searched the entire net practically looking for not only good prices but someone I felt comfortable working with and BINGO....I found You!
Thanks Eric
Sincerely, Shirley D.

03/23/2017

I just wanted to let you know how much I appreciated everything you did to get us the trailer we picked out. I had a very good experience working with you and would do so again in the future. I know this deal was very trying for you and you held it together professionally and saw us through it.Thank you.

Dave Robinson,
Columbus, GA

05/09/2012

Pleasantly surprised on the process of sale, quick & effortless... Melissa was AWESOME, she took care of everything very professionally!! Thank you again Melissa.

Ryan,
Des Moines, IA

02/23/2011

With Melissa's professional guidance my selling experience went very smoothly. It was a delight to work with Melissa. Thank you.



Pittsboro, NC

05/25/2012

I have been working with 4Mega for a few years now and would like to say that working with Gini is a real pleasure! She is very professional, knows her trade and easy to work with.I would highly recommend 4Mega to any other vendor in the field!

Patrick Scott Rowlett, Texas

08/26/2009

My experience with Used Vending.com was extremely good. The information
given on the vehicle was accurate and supported with documentation from
the seller. Both the seller and Used Vending.com answered all of my
questions and exceeded my expectations for a smooth purchase and
transfer process. The seller and Used Vending.com were there after the
sell to make sure everything went well and to ask if I had any
additional questions.
I would highly recommend them.
Regards,
LZ
Stephenville, Texas

07/12/2013

Cristina Lumpkin was AWSOME, said she would sell my food bus fast, and that is exactly what she did. Within just a few days I had a full price offer, that buyer backed out and within a few hours she had another buyer that bought it, full price. NO hassles, the transaction went just like she promised. I will call Cristina again when I have more items to sale. You should also. Nice work Cristina, you know what you are doing, GREAT customer service. Thanks.
Roger
Orangevale, CA

03/24/2011

April was wonderful to work with, she always followed through with everything she said and made the process of buying and setting up our soda machine very easy. Right down to the delivery guys it was a wonderful experience. I will definitely use them again when I need to purchase my next machine

Dale

10/28/2010

Mellisa Did Great Job Very Easy Deal

Russell B.
TEXAS

10/15/2012

HEY CALICE, THANKS SO MUCH FOR ALL HARD WORK IN CLOSING THIS DEAL FOR ME. NOW LETS SELL THE OTHERS!

JWE
WHITE PLAINS, MD

05/02/2016

We recently purchased a trailer that was listed on Used Vending. The information and mediation supplied by them made the transaction much easier.
Brent Dugdale,
Chestermere, Canada

10/23/2017

WOW, thank you for a smooth and easy transaction. Melissa Powers was my agent and she insured all my questions were answered, even on her day off. I got the mobile kitchen I was looking for. I would and will recommend her services. Thank you UsedVending from Grimms Grub.
Ronald Foreman,
Grimms Grub,
Clarington, OH

05/09/2014

Stacy Sweet was extremely helpful with locating the best truck for our needs. He took a lot of time to assist us along the way. We received our truck last week, and are very pleased with it. We think it will be the first of many more. Thanks Stacy!
K.H.
Chicago, IL

10/13/2009

Dealing with April was a real pleasure! When she told me that we would have the deal wrapped up that day I thought no way - but she was true to her word. If I could deal with more people like her I'd have a whole lot more hair.

Bill Ruby
Las Vegas Ice Center

02/07/2012

Melissa, All I can say is WOW. You did a great job selling our concession trailer. You made the transaction very smooth. You are a true professional....I would recommend Usedvending.com and Melissa Powers to any one needing to sell a concession trailer.. In my opinion you are the best in the business!!!! Thanks, for the hard work!!

Irby Gilder Cataula, GA

07/20/2011

Wow! Stacy, you & your colleagues at 4 Mega have done it again! The new account that you referred me to is awesome! It's amazing how easy you make it for me, you do all of the locating work and I just meet and shake hands with the contact & roll in with my machines! What a winning combination! I look forward to conducting lots of business with you! Thank you!

Steve S.
Ohio

09/03/2014

Thank you Usedvending.com for your help with all of my buying/selling needs! You guys are like the realtors of the vending industry!
Romaro Crowder,
Indian Head, MD

Usevending is one of the few reliable sources that we found to sell our used vending machine April was helpful in every step of the process, she was diligent and communicated frequently. Thank you!
Stacey, CA

05/23/2014

Hey Tina Just a note to say thanks and job well done! ! I'm really happy with how things worked with USEDVENDING. If I have something to sell in the future you will hear from me. Thanks again.
Tim, MN

11/20/2014

I €'ve been talking to restaurants to consider being a commissary for me. Ran across an established business who, just by chance, €wants to take on another to help. €So looks like the money will be in a partnership with another business. €But, I do thank you for your time and should this not work out, I'll be in touch again, since it seems €from the little I've learned, €that your organization is honest and above board, and that is getting to be a rare thing these days. €
Sincerely.
€F. Flemish
Huntsville, AL

10/10/2014

Hi Traci, I wanted to thank you and Used Vending.com for a great experience. I was impressed with how quick my concession trailer sold. You were very helpful answering my questions and explaining all the details. The high level of communication keeping me up to date every step of the way was important to me. The entire process was very professional and I am extremely satisfied with the outcome. I will absolutely consider Used Vending.com again in the future and I will also be sure to tell my family, friends and business contacts about your service.
Sincerely,
John Raimondo
Laurel Maryland

11/18/2010

April was a lifesaver! Inheriting a purchasing position; and working with another new employee in our vending department, we were both at a loss . . . April made it very easy to obtain the materials and pats we requested. THANKS!

M.Cadora
Fiscal/Acquisitions
Robinson Rancheria

10/02/2014

Just wanted to send a very big € Thank You €to Melissa and the Usedvending.com team. They found the perfect buyer for our truck. We could not be more pleased with the outstanding communication and flawless transaction. They made the entire process simple. We wish them, and the new owner, every success in the future.
Mark Wilson
Clinton, MO

11/04/2009

April at 4Mega Vending is the best. I had a time frame that needed to be met and she pulled it off. All she said she would do she did. I will always and only use april in the future. Thanks again

James
Long Island NY

08/01/2017

I would like to thank Melissa and Used Vending for a quick and smooth transaction. Melissa was quick to get all of my questions answered, and went out of her way to get the seller lined up with me to have the trailer delivered to our location. I would definitely use them again.
B. Jury,
Crown Point, IN

10/14/2009

April was great before our purchase of 2 cigarette machines, and after when we purchased another. She always respond to my emails making inquiries on the purchase of said machines as well as other vending machines and possible vendors from which to get supplies. April is my contact for 4MegaVending. Thanks so much, your customer TFN!
SunRay Park and Casino Purchasing Clerk, Leisa
Farmington, New Mexico

09/11/2013

I would like to thank Melissa for helping me with the sale. In the future I would use this site again.
D.W.
Ottawa, IL

08/12/2009

I was happy to know that our company was provided with the service that others could not fulfil. At first I thought that we weren't going to be able to get a machine but they came through. Thank you for the hard work.

Van Nuys, California

07/27/2009

April is very sweet and very nice to deal with. I brought several machines from her and she is very professional. She is also willing to negotiate on the prices of the Machines unlike some cut and throat sales people We have come across in the past. She is prompt in her sales inquiries and knowledegable on the Machines.

Livingston, New Jersey

09/21/2016

Working with Bradley to purchase our food truck in Chicago was an absolute pleasure. He was available throughout every step of the process and we were able to close the deal in less than a week. Would definitely reach out to Bradley again for future projects.

Best,
Phil
Minneapolis, MS

01/13/2016

It was a pleasure dealing with usedvending.com! I listed my trailer a few months ago and it was not long at all before we had an interested client and sale. My service rep went above and beyond customer service. She kept in constant contact with me during the sale, even after normal business hours to accommodate my schedule. My experience with this company is very highly marked! I would use them again, and again! Thanks guys!
Chuck Phillips- Olive Tree Kitchens and Catering LLC
Farmington, MO

03/06/2012

I worked with Melissa Powers on the Used Vending Machine purchase. I purchased two used Deli Combo Vending Machines as a result of that. The process was very simple and easy. Melissa made it easier with every communication that I had with with her. Overall, the service was very good.

T. S.
Elicott City, MD

11/15/2010

I was truly surprised at how quick and easy it was to get the two machines I needed for my two locations. They shipped almost instantly and I had them delivered and in place weeks before I expected. Props to April, she got the job done with exceptional professionalism and expedience.

-Charlie, TX

02/20/2017

Wendy and the Usedvending team were very professional and did a super job in assisting me in selling my food truck. I would recommend anyone selling a food truck or other equipment to use Wendy and her team. Completely satisfied client.
Tim Barber,
Owens Cross Roads, AL

05/31/2017

Bradley was a pleasure to work with. He answered all of our questions and concerns promptly. He helped make the transaction a smooth one from start to finish. We highly recommend Bradley and used vending.
Anne Almeida,
Hilmar, CA

08/23/2010

Through youe site i was able to identify sellers that were close to home and with quick response from Melissa was able to acquire the machines i needed to replace a couple that were no longer working. My experience in picking them up was quite agreeable and both seller and buyer were satisfied.

John, Orangeville ON Canada

06/11/2011

I am very thankful for Mr. Stacy Sweet and his team being such a great help in finding a wonderful new client for Heavenly Snacks. I highly recommend their service and I am very grateful! THANK YOU!

Virginia

02/25/2011

I am so pleased to have done business with UsedVending.com. I worked with April who was very knowledgeable about the products. It was a pleasure working with her. She was very helpful in finding me machines that fit my needs. I look forward to working with her again on my next purchase. I highly recommend this company. I give them an A+ outstanding job.

Jonathan Washington D.C

02/14/2011

Melissa was great to work with. The sale was handled very professionally.

Thank you



TX

04/17/2011

Melissa, you have been a fantastic individual to work with. Even though we are many many miles apart, it was like working within someone locally, geat job.

And what I also love about your service, is the ability of the owner to control the costs online. And of course they are all confirmed very quickly by your update department.

This is our second successful sale and I will have no problems recommending you to anyone wishing to sell their Vending equipment.

Ron
Ontario, Canada

12/13/2010

I dont have words to describe how professional and efficient Melissa was. Her Costumer Service was amazing. Melissa you made the process very easy and the most important thing everybody was happy with the transaction. Thanks Again.

Lina,

FL

03/31/2013

I been trying to sell my giant gum ball machine for two years and had no luck until this website. Great service where they get you money for your old equipment. Thanks to Amanda Haynes for helping me from beginning to end. They are part of BBB and have no bad comments. I highly recommend them to help sell old products.

B.W.
Lake Worth, Florida

10/20/2009

It was a pleasure dealing with April.I thought I was dealing with a person I've known my whole life.She was extremly helpful and I thought I was buying a vending machine from a family friend.
When I needed a secong machine I called april only, because I knew she would give me the best price.
It was a real pleasure to deal with April.
Regards
Barry
Boston, Massachusetts

02/11/2014

We just sold our concession trailer at Usedvending.com and it would not have been possible without the kind assistance of Melissa Powers! She was patient, informative and overall amazing! Despite our skepticism about selling a large item online, she made the transaction happen so smoothly and answered all our questions,and we had a lot! Thank you Melissa!!!
J.M.
Bakerfield, CA

05/27/2016

Melissa,

Thanks for all your assistance throughout the process of this transaction! My new trailer is in my commissary lot and I'm ready to get started as a new business owner! (Wish me luck!)

The sale yesterday went very smoothly. The trailer was everything I'd expected and David, the seller, was very helpful and happy to answer all my questions.

I'm glad I happened to find USEDVending.com or else I'm sure I'd still be haunting the personal ads looking for the right trailer. The site's options and the information provided really put my mind at ease that I was making the right choice.

Most importantly, the personal touch and knowledge you provide as a sales representative really insured that this transaction went smoothly. What could have been a very stressful process turned out to be a piece of cake!

Thanks and all the best

Jeff B. Gimbel
Philadelphia, PA

01/31/2012

Hi Melissa- Yes, he came, on time, very pleasant transaction, no drama. Ibrahim and I want to thank you for your never-ending dedication to finding buyers for the express purchase of these machines and, for your sunny deposition and demeanor. You are a true customer service professional, and, an all around nice person. I cannot extoll your virtues enough. Good luck in your endeavors whatever they may be. You deserve the best, as, in our opinion, you are the best!

Sincerely, Ibrahim and Tamara
Chicago, IL

03/12/2016

You guys and especially you (Melissa) are amazing!
Jerrod Bobbit,
Rock Hill, SC

05/09/2016

My interaction with Julia and Used Vending was nothing short of great. Fantastic customer service, alerts to new items and arrangements for the pick up of the trailer that saved us 5 hours on our 13 hour drive from MD. to TN. I guarantee this company will make things easy.
Kathleen Keller,
Princess Anne, MD
See Hundreds more or Write your own...