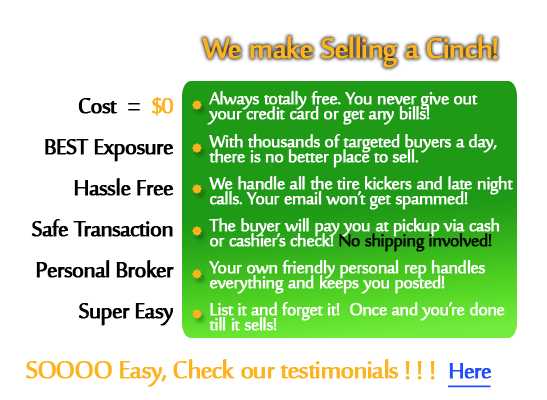 Selling Used Horse Trailers
Selling your used horse trailer could not be easier! Not only is it a free online service, but we even take care of weeding through the tire kickers for you.
Unlike a used trailer classifieds site where you get calls from every curious George that stumbles across your ad, we handle all that for you. Once we find a serious buyer that is ready and able to pay, we put them in touch with you for the pickup! Since 1999, we have been bringing sellers top dollar for their equipment and making buyers happy by finding the perfect used equipment for their needs.
Don't take our word for it - checkout hundreds of testimonials from many happy used trailer sellers just like you!
Used Trailer Testimonials
Our long history of a quality reputation and many repeat customers is why so many trust us to sell their
used horse trailers
.
Horse trailers can be expensive; if needed, we even offer an escrow service to allow both parties complete security for a safe transaction. It's a very simple process, but your friendly agent is always here to walk you through any questions that you may have. We have thousands of buyers who visit our sites daily; so, rest assured, you're in the right place!
When you list your horse trailer for sale, remember... PICTURES SELL ;-) The more pictures, the better!! We'll post all your used trailer pictures online for the world to see. If you have video that shows a walkthrough of your horse trailer, we'll even provide that to give buyers a complete look and feel to close the deal!
To list your trailer for sale, simply click on the "Free - Sell My Trailer" link at the top of this page. Once you create a free account, just log into your account and click the link to add a new listing. Fill in your horse trailer details, and we do the rest! If you later have info or pictures to add to the listing, just login and add them from your account.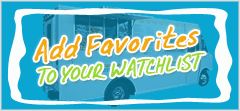 Customer Experiences
09/11/2012

Melissa was very helpful in finding additional vending machines for our little business. Her part in making it all work for our two seperate purchases could not have been any better or more pleasant. Melissa handled evertything professionally and with good humor. Well done. We will use your service again when we have a need. Right now I am way too busy with the wine grape harvest here in the Napa Valley, looks like a great year by the way.

Eric
Napa,CA

I found USEDvending.com to be very useful in helping me sell my machines. Eric was very helpful, and worked with us when we had trouble with shipping, and even reimbursed us when we had some problems. He was very willing to work with us!-----------

Joseph Schweitzer

12/05/2013

April
Thank you for the wonderful customer service during my purchase of my son's vending machine. The assistance with the delivery was great.

Paul
Flint, Michigan

10/03/2011

WHAT A GREAT RESOURCE!!! Listing and selling my used vending machines was easy and hassle free. Stacy Sweet contacted me when he had a buyer. Stacey was very professional and kind as he brokered the sale. It was a pleasure meeting the buyer and his family. Because of the great service of Stacey and usedvending.com, I sold my machines and met some terrific people! I will be sure to recommend this site to others. Keep up the great work! Delphine, Florida

10/16/2009

Thanks Melanie for the help in finding locations. 4 Mega Vending has a professional customer service staff and fair pricing for locations. I definitely recommend 4 Mega Vending service.

Thanks!
Eric
Triple E Vending
Palatine, Illinois

02/23/2012

We are a fairly new vending company, unfortunately we had problems with people breaking into the machines. One phone call to Stacy was all it took. He totally took the time to assist in which direction to take. I did as instructed, and am totally happy with results.

Steve,
Pennsylvania

After deciding to close our vending business, my husband and I were at a loss about how we were going to sell 23 vending machines! We researched the internet to get an idea of how much Antares machines were selling for and came across USEDvending.com. It took us about 2 months to enter all of the information on the machines and we eventually finished by getting help from Melissa Powers. About 2 months passed and we did not have any bites on the machines, finding out that Antares had discontinued making our model because they were manufacturing a new, upgraded model. Melissa helped us with pricing and we waited! Two weeks ago, Melissa talked with a man interested in purchasing 4 machines from us. She called me and Randy, left messages. I called Melissa the following day and she was very thorough & efficient. She provided detailed information on my responsibilities to complete the sale and she was prompt to contact the buyer. After the purchase was complete, she followed up to make sure all was well. She then gave us the option of mailing a check or ACH deposit and we chose ACH deposit. To my surprise (not very many people follow up anymore!), when Melissa knew the ACH credit would not show up when originally discussed, she emailed me with an update. Today, the ACH credit was processed and I just received an email from her, letting me know! My first experience selling ANYTHING over the internet has been a great one.....and Melissa made it happen for us! Thanks Melissa!

06/01/2011

April Hurd is an excellent sales person to deal with. I never met her but feel she is a true friend. She is very professional. I will continue to do business with her whenever I can and will spread the word out. Thanks April

Helen Wong

03/04/2012

We just completed a major purchase of a food truck in Kansas - Melissa kept the process going and helped us work with the owner to fix issues with the title and complete the sale. She was quick with responses and even helped connect us with someone about a mobile POS they were selling even though there was nothing in the deal for her. We appreciated the professional service she provided.

01/26/2011

"Customer Service" is a term that has been used very loosely and often misused. But any time I had to deal with you guys, I knew that I get a straight answer and clear instruction on what you could do for me and in return what are my obligations. There was no empty promises nor dilatory responses. I knew exactly when and what would take place next. This service approach along with the pleasant phone conversation with Vanessa Long, makes a very positive business experience. One initial e-mail and one follow up phone call took care of the business. With my crazy schedule, I appreciate this quick & straightforward service and Vanessa is always a joy to contact, to wrap up the business. Keep up the good work guys.
Thank you.

MTPVending

I can't tell you what a relief it is to have an empty garage. Without your help, I may never have sold those vendors. I was ready to dump them and lose everything. This would have been easier than the sight of them everyday. Your service is very much appreciated.
Jody
Denver, CO

My first experience with usedvending.com had the makings of a complete disaster to no fault of the company. However customer service representative Calice was diligent, understanding, and always accessible when I needed her throughout my first experience with the company. I know things donít always go as expected therefore itís refreshing to know that there are still companies that give top notch customer service. Thanks Robert

07/16/2009

I just wanted to say THANKS! for my recent experiences I have had with your company. I am new to the vending industry, establishing myself in January 2009, and am still learning the ropes with a lot of help from April and Kara. These two ladies are huge assets to your company! I can't thank them enough for the assistance and information they have given to me.
I was contacted by Kara in March 2009 about a medium size account in my service area. After meeting with the client, it seemed like a good fit, and I informed Kara of my decision. She handled the entire transaction smoothly and without a hitch; it was a very different experience then I have had with the few locating services I have dealt with.
At that point, I contacted April about the location. She listened to specifics of the account and made a recommendation as to which machines to consider. When it turned out that the machine we had chosen (an ST3000) was a little outside of my price range, April promptly arranged financing for the equipment. Considering the recent state of the credit markets, and the short length of time I have been in business, I was relieved to say the least!
The machine was delivered with no problems and has been on location for about a month now. Everything is working great and the capacity of the unit seems a perfect fit for the account it is in. Thanks again, April and Kara, you made this the easiest account that I have!
Joshua J.
Milpitas, California

10/02/2012

Calice did a fantastic job in helping us acquire our two vending machines. Thanks Calice!!

J.H.
Burkburnett, TX

02/17/2011

I enjoyed working with Mellisa, she made it easy to sell my vending machine and the seller the company found was nice to deal with also.

Sincerely,
Lou P.

10/25/2009

I am not in the vending industry so I didn't know a lot about the product. I had looked at many machines, both new and used, which only added more to the confusion about what to do. Somehow I found April Hurd and she took care of everything. She was very informative and helpful and her follow up was great. I ended buying a new machine and it has been great.

Thank you very much.

Mark Winkler
Huntersville, NC

12/17/2013

I have high marks for UsedVending and its staff. I would like to let everyone know how helpful Melissa from Used Vending has been to work with on selling one of our food trucks. They handle everything from setting up the profile and ad to finding the buyer. We had a great experience dealing with UsedVending and they found a buyer fairly quickly. The buyer just came, quickly looked over the truck, and drove off with the food truck due to how well everything was advertised and questions that could be asked before the sale. UsedVending dealt with all the offers and paperwork trying to get the food truck sold for us. I would highly recommend Used Vending to anyone trying to sell their food trucks.

Kevin Tighe
Georgetown, MA

03/15/2012

I have been using Usedvending.com for the past 6 months or so. They have posted great pictures of my food cart and a very descriptive ad.

Steve,
Aurora, OR

07/08/2011

I just want to say that Melissa and April are truly a blessing. They both helped me tremendously in finding the vending machine that best suits my needs. Melissa walk me thru the steps and A to Z. It's been a few months now since I've had my machine and I must say it's a huge success. Thank you ladies so much for helping a new comer like myself get adjusted to the vending businness. Mega Vending/ Used Vending you rock!!!!

Josh T., Los Angeles, Ca.

07/13/2010

USEDvending did a great job at selling our trailer; Cheryl and Melissa are wonderful to work with and if I have a future need, I'll go right back to sell or buy with them again! Thanks girls for all you did for us!

EA and Donna Click
Abilene, TX

03/01/2011

It was a great pleasure working with April who was really helpful and available along all the process. I really appreciate working with April and Vanessa and I will recommend 4vendingtips to everybody I know. I will be back ladies!

Seydi Olney, Maryland

12/05/2013

Hello April,
I am extremely pleased with the machine that I purchased from you and in fact have already had to refill it twice. As with previous purchase ( from Stacy Sweet), your customer service was wonderful and you were very quick in responding to my order. Thank you so much for the outstanding service that you have continued to provide me with and in the future if I need another Lil ¬Ä™ Medic vending machine, I will come to you first!!
J.M.
Hattiesburg, MS

08/19/2010

Can't say enough how much I appreciate the effort from Melissa. Super job from posting until the final sale. I look forward to againg working with you in the future.

Jim O.

06/11/2014

I was very pleased with my sale through Usedvending.com. All of the sales associates I worked with very knowledgeable and helpful in making my decision. They were very prompt in their communications especially the man who completed the sale for me Stacy Sweet.
Tom, KS

02/16/2010

I am new to this business and have found it to be very easy dealing with These folks. April is the best! She was very friendly, knowledgeable, helpful and knows this business !

I look forward to working with these guys in the future !

Keep up the great job!

Mike
Capital Vending
Hammond, Louisiana

08/31/2011

Stacy has been of great value in locating my combo vending machine. I am not a sales type person and was at a stumbling block in getting my machines placed. Stacy was able to obtain a location for me in a very timely fashion.
Will definitely use you again.

Steve
Portland, OR

07/27/2011

I have been with Mega Vending for countless years. I just recently worked with Stacy there and he performed like a champ. The location he found was quite unreasonable, however patience and determination won out. They must have a top of line trainng facility there at Mega, everyone is so nice and they really know you once they interact with you. You are not a person with a wallet, they treat you like family and work hard to make sure you are completely satisfied, not only with locations but also equipment! Good Company, Great people, superior knowledge, that's what gets the job done!


Demetrius W.
21st Century Vending
Fontana, CA

03/24/2010

Wish I had known about Used Vending BEFORE I got involved with vending. Melissa has assisted me in selling 3 machines now, and does whatever is required to negotiate the deal. She is very knowledgeable of the industry, and up front about the current environment. She initially spent quite of bit of time educating me about the process and prospects. What a great forum for bringing vending buyers and sellers together. Thanks for all your help so far!

DJ
Dallas, Texas

01/01/2009

Thanks for all your efforts- you have been a real professional to work with and there is a good possiblity that we may make a second purchase from you within the next 90 days.

Aloha!
Jay Higgins

Hawaii

04/24/2012

My experience with your company, and with Mellissa was the best! This is the first time working with usedvending.com and I am extremely impressed. It was effortless. Melissa did everything, all I did was pay and pick up. How easy is that? Now usedvending.com is my "go to" for all future purchases. Thanks Melissa.

K.G.,
Fresno, California

10/20/2011

Thank you Stacy for the excellent location and working to a very smooth set up. The location is very happy and I have a new location. I have had multiple dealings with usedvending.com and they have all ran very smoothly and profitably, mostly due to the excellent staff there. I am really looking forward to our next deal. Thanks again for everything.

PRESTON NEBEL PAVCO, LLC BURKE, VA.

02/13/2009

Wonderful Customer Service...all my questions were answered in a timely manner...she was wonderful!!.....a true asset to your Company!!! Way to Go!!

Lisa Thurman
Prudential Gary Greene
Friendswood, Texas

04/30/2014

I had dealt a lot with Melissa and Stacy through the selling of my concession trailer and equipment. Both of them were on the ball when it came to serious offers about my stuff and Stacy was the man who got my stuff sold. He made sure that the gentleman who was interested in my stuff was extremely serious in purchasing it because the gentleman was 3000 miles away. As a result my stuff was sold and I am extremely satisfied with the work that was done in getting it sold. Thank You Melissa and Stacy for all your hard work.
Sincerely,
Patrick
Riverview, Fl

02/10/2011

It has been a pleasurable experience working with Melissa. The sale process was quick, well organized and hassle free.

We appreciate your help and will utilize your services in the futuer.

Thanks,

Michelle Vervaeke

I purchased an Antares combination (snack/soda) vending machine from USEDvending.com and was very pleased with the outcome. I had been searching for a combo machine for over a year when I received a solicitation email from USEDvending.com. I must admit, I was leary about dealing with a company of whom I had no reference. The price was very very reasonable. The machine was practically new and in great condition. Since I've had the machine I haven't had any problems with it and am very happy with my selection of distributors. I would DEFINITELY recommend USEDvending.com for your source of vending equipment.

Mechelle
Houston, Texas

05/30/2012

I received a location notification from 4Mega Vending, and found it very interesting. I contacted Gini and she helped me through the entire process, and I was awarded the location. As it turned out the securing of the location took longer then anticipated, and was more troublesome then expected. Gini stood by me the whole way and was in constant contact with me. With her help I was able to get the location and complete the installation of the machines. I am very much looking forward to working with Gini and securing more locations. My appreciation to Gini and everyone at 4 Mega Vending.

Preston Nebel NEI Video & Vending,
VA

04/07/2014

I wanted to say Thank You to Stacy Sweet at USEDvending.com. Stacy made my purchase nice and easy. Thank You again for all your help!
A. W.
Soperton, FL

01/28/2014

I'm not sure why you would want to sell your stuff on any other site because UsedVending.com sold my Food Truck in less than a month. The process was professional, friendly and quick. They help you throughout and build a relationship with you. I will definitely use them again, everything was just that easy. My point of contact was Stacy. He was great, friendly and just amazing.

Thanks Stacy Sweet, What a sweet experience!
Deonne, MD

05/20/2014

Tina,
Just wanted to drop you a note to thank you for your assistance with my recent purchase of a food trailer. The whole experience of was very enjoyable. You and your company made it a very simple and quick process. You were very efficient in getting information between the seller and myself and always very pleasant and helpful. The seller was also a joy to work with when we met to complete the transaction.
Thanks again for your help.
J.T. Schacherer, Minnesota

10/09/2013

Calice was a great help and stayed on top of negotiations. She kept in contact periodically and advised us. We highly recommend her!
L.I.
Deland, FL

10/03/2011

April was a great sales rep. Thank You!! Tommy, Atlanta, Georgia

07/27/2009

April is very sweet and very nice to deal with. I brought several machines from her and she is very professional. She is also willing to negotiate on the prices of the Machines unlike some cut and throat sales people We have come across in the past. She is prompt in her sales inquiries and knowledegable on the Machines.

Livingston, New Jersey

06/22/2011

Thanks Stacey,
After posting my cart on ebay and craigslist with no success, i ran across your web listing for selling carts and ultimately found a buyer through you guys over the other two outlets. The offer and counter was no nonsense and the deal was executed professionally.

trey weiland

11/28/2010

What a FANTASTIC experience working with April and the usedvending.com site. I posted my machines and 2 weeks later they are all SOLD! I couldn't have asked for a smoother experience. No hassles! I should have done this sooner!!! April YOU ROCK!!!

PA

10/25/2009

April did a great job, the sale went very well and according to plan.

Thank you
Glenn
Loveland, Ohio

08/12/2012

I am very happy with the service Gini gave me, as she was upfront and asked me to provide some basic information. In a few days I was able to have a vendor come out and view my Office. I had tried on my own to get a machine out here, but had no luck. The efficiency in matching and doing all the leg work is impressive. I will refer many others to your site. Thank you.

T. M.
Milpitas, California.

08/03/2013

Thank you Stacy! We couldn't have done this on our own. Thank you for helping us find a buyer, and for making the selling process so easy. We are very grateful.
R.L.
Severn, MD

01/25/2010

These is my second purchase of Vending Machines with USEDvending I am extremely pleasure by the exelent service that They give to me and specially the affectionate treatment(deal) that give to me April Hurd.

Thanks a Lot.

B.Colůn
San Juan,P.R.

10/20/2009

Melanie Lee was very helpful in assisting me to obtain the vending company that was right for our company. Thank you Melanie for all of your help!

Lisa
Buffalo, New York
See Hundreds more or Write your own...