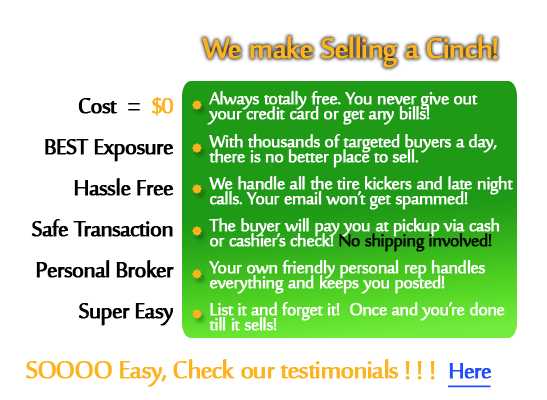 Selling Used Horse Trailers
Selling your used horse trailer could not be easier! Not only is it a free online service, but we even take care of weeding through the tire kickers for you.
Unlike a used trailer classifieds site where you get calls from every curious George that stumbles across your ad, we handle all that for you. Once we find a serious buyer that is ready and able to pay, we put them in touch with you for the pickup! Since 1999, we have been bringing sellers top dollar for their equipment and making buyers happy by finding the perfect used equipment for their needs.
Don't take our word for it - checkout hundreds of testimonials from many happy used trailer sellers just like you!
Used Trailer Testimonials
Our long history of a quality reputation and many repeat customers is why so many trust us to sell their
used horse trailers
.
Horse trailers can be expensive; if needed, we even offer an escrow service to allow both parties complete security for a safe transaction. It's a very simple process, but your friendly agent is always here to walk you through any questions that you may have. We have thousands of buyers who visit our sites daily; so, rest assured, you're in the right place!
When you list your horse trailer for sale, remember... PICTURES SELL ;-) The more pictures, the better!! We'll post all your used trailer pictures online for the world to see. If you have video that shows a walkthrough of your horse trailer, we'll even provide that to give buyers a complete look and feel to close the deal!
To list your trailer for sale, simply click on the "Free - Sell My Trailer" link at the top of this page. Once you create a free account, just log into your account and click the link to add a new listing. Fill in your horse trailer details, and we do the rest! If you later have info or pictures to add to the listing, just login and add them from your account.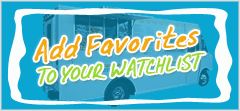 Customer Experiences
03/12/2015

"After no success on Craigslist, I decided to try listing an item with UsedVending.com. A few months went by and I forgot about the ad, but the machine sold for the full asking price. Transaction was seemless and the staff handled the all communications with the buyer. Will definitely use these guys again, great experience."
Jordan S.
Unionville, PA

10/02/2011

I tried so many other venues and ways to sell my equipment, but your company and specifically, Stacy Sweet, got the job done! Stacy was no nonesense, right to the point and wasted no time. He called when he had an interested buyer, settled the terms between us and the sale was complete within 24 hours from the initial call to me! Bravo Stacy!! And thank you USEDvending.com. Jodie, Clifton, NJ

04/02/2015

April, thankyou for your help in finding the right machine for my needs. It was a pleasure to visit with you and your recomendations are greatly appreciated. The machine arrived as described and has been put in service. Works great. Any future vending needs will definitely be referred your way Thankyou HUGH

02/20/2012

Tara Nelson-Pettigrew was terrific! She kept us informed every step of the way and was very prompt to respond to any of our questions. Not only is she right on top of everything but she has a wonderful upbeat personality and was a real pleasure to talk to. Great job Tara.

Candy,
California

08/01/2017

I would like to thank Melissa and Used Vending for a quick and smooth transaction. Melissa was quick to get all of my questions answered, and went out of her way to get the seller lined up with me to have the trailer delivered to our location. I would definitely use them again.
B. Jury,
Crown Point, IN

05/03/2016

Usedvending.com is by far the only site I trust to do an excellent job. Jenn was more than helpful,she had my trailer sold and money in my hand in six days. She even took her personal time to help with questions and give me the best experience. 15 out of 10 stars! Thank you.
Matthew Hembree,
Wenatchee, WA

10/16/2016

Hi April, I would like to thank you and your co-worker Erin for a great job in helping me sell my vending machines. You all are so friendly and really seem to enjoy what you do. I appreciate all your efforts and would like to say thanks a bunch!!

Henry Wright,
Plant City, FL

11/25/2008

April: We had a very positive working relationship with you and mega-vending. You were very helpful, courteous, and knowledgeable about your products. After talking with you, I had all the info I needed to order what we needed. Thank you for your assistance, and we will contact you with all our vending orders in the future.
Again, "Thanks",
John Karaska, Principal, Burlington County Institute of Technology.
Medford, New Jersey

04/04/2017

I was on the Usedvending.com website for about 3 hrs total, spraed out in a weeks time. Once I found the unit I wanted, it took four days to purchase and have the unit. The process was fast and efficient. The customer service Wendy provided was top notch- GREAT job, thank you from the Family Home Center family.

Michael M,
President.F.H.C

02/07/2012

Tara is amazing! She answered her phone almost all the time (or got right back to me if she was on another call). Tara answered my e-mails very quickly, so between those and the phone calls, I felt like I had a personal rep helping me with my research and eventual transaction! Tara provides extremely fast and friendly service, and I will use her again without hesitation. Thanks, Tara! You rock.

Rob,
Texas

08/09/2018

Bradley was easy to work with, made the process effortless.
Thanks,
Chris C.
Kingston, TN

03/08/2012

My husband and I have just started in the vending business and we needed some dollar bill changers. Stacy Sweet was our sales contact. Not only did he have good prices but also gave us beginners some valid advice. Thanks Stacy.

Joanie,
Virginia

09/28/2016

It is great to do the business with you & your company; good service & offering the paper work at a quick action. It is a good agent between buyer and seller. Thank you and have a wonderful day.
Mr Wong,
San Antonio, TX

06/20/2012

Amazing experience - everything went so smoothly. Melissa did a great job with communication on what the next step and kept us very informed. Thanks.

Fran,
IL

10/06/2016

April, Just a note of appreciation to you and the Used Vending team for helping to sell my three machines. Your professionalism is most valued. The efficiency of your organization in processing my initial request and guiding the process is most valued for the first time customer. Again thank you, Lee
Lee J. Cox,
St. Louis, MO

04/21/2016

Hi April € Thank you for all your help and your follow up. It was a pleasure and a great experience working with you and your company. This was my first experience purchasing items from your company and you made my experience very comfortable and easy. Thank you for all your help.
Robert Lopez,
Rancho Viejo, TX

11/13/2010

April Hurd is not only good looking and helpful, she's also very smart; what a great combination.

Manny, NV

10/28/2014

To whom it may concern, I'd been searching your web sight for sometime looking for a concession trailer to start a business. After finding one that might fit my needs I contacted your web sight. I was surprised at how quick a response I received. Crissy, one of your Reps. was who helped me through the process. Her personable manor put me at ease and made me feel comfortable with my business venture. Each question I had was responded to by Crissy quickly. She found out all I need to know in order to make a reasonable offer. After making a decision to buy, the paperwork was made simple and fast. My experience with Crissy (UsedVending) was completed from start to finish in four days. Thanks so much for making this big buying experience as painless as it was.
Ronald Judkins,
Longdale, Nevada

06/07/2008

USED VENDING, I wanted to express my appreciation for the great job that Used Vending has done for me. I am just starting into the vending business and have spent hours and days doing research to be certain I can make a profit and it is something I would be happy doing. Your company and especially Mellissa and April have listen to my questions and shared their experience and knowledge with me. They have cautioned me in areas that I need to understand and have guided me with helpful advice that will increase my probability of success. I have just bought my first 17 vending machine and will be buying more as I learn this business.The machines were as advertised in excellent condition and dramatically less than a new machine. I know I will increase my probability of success because of the information that Mellissa and April have shared with me. I sincerely appreciate the time and effort your company has extended in helping me to get into the vending business

Thank You
Carlton Faulconer
Lake Forest, CA

02/18/2017

Dear Wendy,Thank you for all the help you provided in locating the appropriate trailer for our mobile coffee roasting company. You connected us with a very conscientious and dedicated seller whose staff went out of their way to help make certain that we were satisfied with our purchase. Thank you again, and should we find ourselves in a position that allows us to expand our fleet, we know where we will turn to do so.
Marianne and Herb Rudolph
Tumbleweeds Coffee Roasting Co
Tucson, AZ


02/12/2013

I am in auto sales and have been for 20 yrs. Melissa made this a very positive experience! She was knowlegable and very helpful. We will come back to your site for future needs because of her.
Thank you,

Mark Smith
FSM Enterprises Inc.

07/01/2014

Good Morning, My experience with your company (you) was fantastic!
K. Bates
Tacoma, Washington

10/23/2009

I had several questions about a vending trailer that I found on the usedvending site and Melissa wrote me and then called me right away. She worked between me and the seller and provided excellent service. Unfortunately I did not end up getting this particular trailer, but Melissa has kept me updated on new listings that may meet my needs. I look forward to doing business with her and usedvending again in the future. I definitely will only go through used vending when i'm ready to buy. Thanks again for all your hard work and great service.

Joe M
Greeneville, Tennessee

05/23/2018

It was great to work with April. She was constantly in touch with me and the buyer to make sure both of us are comfortable and move things along. She is very sweet person and works hard to make the transaction happen. I was very nervous throughout the process as it was my first time nutshell helped me long the way and answered my questions.

Regards,
Nupur Daruka


April, Thanks for your help with my recent purchase. Getting a follow up call from a website!! What a pleasant, unexpected phone call. Definitely a first! I look to deal with businesses who enjoy giving Positively Outrageous Service as much as I do in mine.
Thanks again,
Dave

Austin, Texas

11/02/2009

We purchased a Soda Machine. The whole transaction was a blast. The sales rep was very professional and friendly. She patiently answered all our questions and helped us with our modification requests. We recieved the machine as promised and the deliverly guys were nice also.

Astoria, New York

03/02/2012

The experience of buying a used vending machine through USEDvending.com was very quick and easy. Melissa Powers walked me through the entire transaction. At first, there was a question of whether another buyer was in line ahead of me. Melissa told me that she would know for sure within a day. Sure enough, she called me back to give me the green light. Melissa led me through the steps of charging my deposit online, then put me in touch with the seller. Every step of the transaction went off exactly as Melissa told me it would.

Dan K. ,
Illinois

01/07/2010

Thanks alot for you help, selling goes without any problems and safe.

Charlotte, NC

06/05/2014

My fiancee and I purchased our very first food trailer and Melissa could not have made the process any easier! The transaction was so smooth I was almost waiting for a "catch" but there was none. She is so down to earth, professional and ready to go out of her way to help you out. I definitely recommend using both used vending and Melissa Powers! :)
Amanda & Angelo Diaz, NY

03/20/2018

UsedVending said and did everything they said they would do, Wendy was a real pleasure to work with, she walked me thru the whole process, will use UsedVending when I decide to sell my other trailer
Allen Calp,
Temperanceville, VA

02/16/2010

I am new to this business and have found it to be very easy dealing with These folks. April is the best! She was very friendly, knowledgeable, helpful and knows this business !

I look forward to working with these guys in the future !

Keep up the great job!

Mike
Capital Vending
Hammond, Louisiana

09/27/2017

This had to be the easiest transaction I've ever been involved in. Wendy Byrd arranged this so quickly and effortlessly. Thank you.
Tony B., North East MD

04/24/2016

My dealing with Melissa was the most satisfying experience and enjoyable one. She is a professional and prompt.
Luis Taza
Hackensack, NJ

09/01/2018

Denise at UsedVending made this a easy pleasant experience- everything was timely and she took care of all the work - it was a good transaction all the way through.

Dan Zika,
Freeburg, IL

08/04/2010

Used Vending was very helpful in assisting with the purchase of a concession trailer. Melissa did a super job keeping me posted on the status of the transaction. Thanks for all your work!

Lynn Roath, Jr.
Grass Valley, CA

10/24/2018

Melissa helped me throughout the whole sale. She answered all my questions to the fullest. She made this sale go by Very very smooth. Wouldn't have wanted it to go another way. This was perfect, simple, and easy!
Thank You. :)
Afrim Hetemi,
Twin Falls, ID

09/18/2015

Jennifer, I just wanted to thank you for being so efficient and helpful with the purchase of the concession trailer we bought through your company!! We are very happy with our purchase, everything went very smooth!! Again, thank you so much,
Sherry Minor.
Bethpage, TN

03/26/2018

Wendy was a dream to work with. I won't lie, I thought it was a scam at first because it was too good to be true. I will most definitely be using them again!
Crittenden, KY

12/22/2017

Tonya was great from beginning to end! I've been looking for an 18 foot stepvan for six months. After finding one on UsedVending, she expedited the process because of my time constraints. She was extremely professional and polite. Even reached out after the deal to see how my trip out to Nebraska to pick up the unit went. I will definitely use UsedVending again and will definitely hook up with Tonya for any future dealings. Thank you for a great transaction!

Dina Barnes,
Peterstown, WV

10/14/2017

Thank you Bradley & UsedVending for helping to make my dream come true. I was able to enjoy the experience of purchasing my concession trailer in just a few days. Bradley made it effortless & his guidance and follow-up were invaluable. I've looked at several sites and fabricators but working with Bradley and Used Vending was worth the wait! I highly recommend them and look forward to using both again in the future.
Cheryl M.
Tucson, AZ

06/14/2012

The transaction went really smoothly Thanks to Calice she was great and helpful. At first i was a little scared. But Calice helped me to make this transaction went smoothly, I would recommend anyone to use this website.

R.S Ramsingh Singh

01/29/2012

I've been in business with 4megavending since 2010 and they are GREAT! Stacy Sweet is very professional and easy to work with. I'm blessed to be in business with them.

Wesley Chapel, Florida

10/15/2009

Melissa has helped me sell 2 machines in a short amount of time, at no cost to me. She does all of the work with a few phone calls and emails. I tried a newspaper ad for 4 weeks that cost over $100 and I had 1 response. Used Vending. com has worked very well for me.

West Hartford, Connecticut

10/21/2009

I had a great experience doing business with this company. Specially when I had no experiance about vending business. I have recieved a reliable info about which machine I needed to buy in a given location and what it takes to grow my vending buinesses not to mention a very attractive business card brought me a handfull of locations. They are very truthfull, realiable and dependable.

Alexandria, Virginia

09/24/2015

I've never purchased a concession trailer. Thank you for making this process extremely easy and working with me every step. I appreciate the great job you did. Thanks again.
Julie Swann
Hayden, AL




01/14/2017

I had reservations about weather to believe selling with Usedvending was real or a scam. Well I found out it's real. Bradley did a great job from start to finish. Thanks Bradley.
Alan Michael,
Anna, OH


I had a very excellent experience with Used Vending. The whole process was just flawless from start to finish. The company even set it up so that the trailer was delivered to my location. I just only had to pay a small delivery fee. I did not want to deal with the Houston Texas traffic. Jennifer Melerine over at Used Vending was very outstanding and helped me through the whole process. If I ever need another trailer, I will most definitely use this company again. AAAA++++
William McKinney,
Wolfforth, TX

08/22/2018

I listed 5 Healthy Vending machines on Used Vending and they sold in 2 weeks. Denise was great to work with. Very pleased with the results.
Irene Lobato,
Denver, CO

06/03/2014

Usedvending.com was the easiest and best way to sell your equipment. I will be using you again! Thank you for your help.
Eric, Arkansas

05/16/2014

Thank you Melissa Powers! I was selling my food truck and dreading each tedious step of the process. I listed my truck on Craigslist and eBay and a couple of smaller internet sites, when I was contacted by Usedvending.com! I practically jumped at the opportunity to take the exhausting leg work out of this sell. My PERSONAL AGENT WAS MELISSA POWERS. My interaction with Melissa was very professional and at times humorous. She never doubted for a minute she wouldn't get the job done. Thank you again Melissa for doing the most awesome JOB.
Dano.
Florence, SC
See 1800+ more or Write your own...