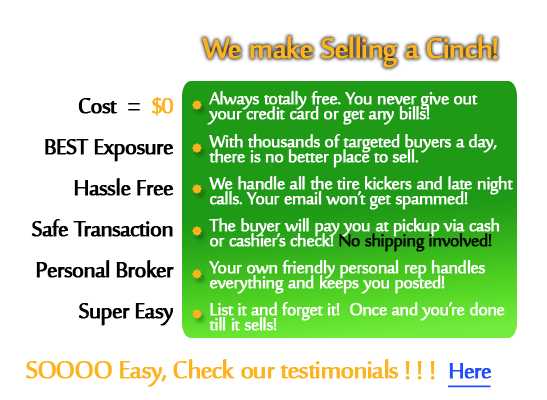 Sell Used Livestock Trailers
Selling your used livestock / cattle trailer is free! Whether it's 10 ft long or 50 ft, we have hundreds of buyers looking for the perfect used livestock trailer. Our free online broker service never charges you a dime. It's a no brainer, just ask our thousands of satisfied customers - many are sellers just like you. Click the link in the blue area above to see hundreds of testimonials!!
We sell
used livestock / cattle trailers
in the most secure, safe manner. Avoid the problems and fees associated with using ebay or other online sites; we handle all the hassles to bring you only a serious buyer that has paid or put down a deposit and is ready to buy.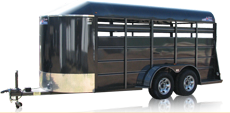 It doesn't matter what you've been hauling - cows, pigs, llamas, porcupines, or kids - we can sell it. The kids may cause some issues though :-) Your used livestock trailer will get outstanding exposure to thousands of buyers. Best part is It's Free and you don't have to deal with the hassles! Your friendly assigned agent will handle all the phone calls and emails. Once a paying buyer is found, they will meet with you to buy the trailer. Couldn't be easier!!
Take plenty of pictures - PICTURES SELL! We'll post them for free so that the buyer knows exactly what they are getting and there are no questions when they come to get your cattle / livestock trailer. We'll even take video of the trailer if you have that!
Selling your used trailer is easy...
1. Create a free
Trailer Seller Profile
2. Login and provide your trailer ad details and pics
3. Leave the rest to us!!
If you later need to add additional info or pictures to the listing, no problem - just login to your account and do so.
It's easy, remember to checkout our hundreds of testimonial letters from buyers and sellers!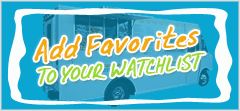 Customer Experiences
10/28/2009

Found your company on the web sort of by accident. Had 50 candy machines I was looking to sell. It took 3 separate sales, but Melissa helped me sell them at the price I wanted. Would certainly recommend you to anyone. Thanks a lot!

Paul,
Indiana

05/15/2018

I was able to get the specific vending machine I needed for my business at a reasonable price. I will use them again if I'm in the market for a vending machine!

Brian Lewis,
St. George, UT

01/25/2015

Tried selling my trailer local, craiglist, trailer shopper with no luck. Had some scammers and people who wasted my time. Then listed with Usedvending with doubts, but was proven wrong. Melissa with Usedvending SOLD my concession trailer. Thank you Melissa for answering all my texts and phone calls on the sale of trailer.
Gregg McCabe
Morganton, NC

06/09/2017

Bradley Heath was my sales person. Perfect, professional service. Thank you for your help and support during all the time.
Maryna Onishchenko,
Palm Coast, FL

03/23/2017

I just wanted to let you know how much I appreciated everything you did to get us the trailer we picked out. I had a very good experience working with you and would do so again in the future. I know this deal was very trying for you and you held it together professionally and saw us through it.Thank you.

Dave Robinson,
Columbus, GA

10/25/2009

April did a great job, the sale went very well and according to plan.

Thank you
Glenn
Loveland, Ohio

09/29/2010

April was so great and she made my experience easy. She was so kind, patient and met each need I had professionally,yet very personable. Thank you April for everything!

Best wishes Shauna

TX

05/08/2018

What a pleasure and great experience we had working to purchase our hot dog cart. Wendy is so easy to work with. She answered all questions and went out of her way to make us Satisfied Customers. If at any point in the future we are in the market for a larger trailer, Usedvending.com will be the first (and probably the last) place we go.

Joyce Funk,
Grand Junction, CO

11/15/2018

Working with your company was a good experience. Denise was very helpful through each step of the process until final purchase and even assisted with price negotiations and getting all the paperwork signed and delivered. The whole experience was great using your company as the broker. Kudos to Denise.
William Pohl,
Panama City, FL

04/03/2011

Thank You Melissa for a smooth transaction. I appreciate your help in moving my machines!

Mr. Milner

10/22/2009

April at Used Vending has been very helpful and attentive to all my questions and issues. She has been wonderful to work with!

Thank you!
Jody Hewitt
Sweet Sisters, L.A. Ca.

01/13/2011

I have had only good experiences when dealing with April at 4 mega vending. Whenever I call and whatever I need, she is right on top of things. I will not be using any other company for our vending needs. April has completely sold us on this company.
Dave
Palm Bay, Fl

02/12/2014

We recently sold our concession trailer through Usedvending.com. Melissa Powers was awesome. She handled all of the paperwork and made our end very easy. From the time we got the offer call from Melissa until the unit rolled out of the driveway was only 22 hours! Thank you very much, Melissa € € .
R.Z.
Sierra Vista, AZ

12/09/2016

Melissa, I just wanted to take the time to let you know how much I appreciated your help. We have not even met face to face, and I want you to know that is a big deal with me. I have been burnt on so many transactions in the past when I thought I was dealing up standing people. I had no doubts about you from the beginning, and this was the most smoothest transaction I have ever had I can tell you. It was so easy I almost thought it was to good to be true. I am, and have recommended you to other people here in Oklahoma. Thank You again, and God bless you.
Sincerely, Rev. Carmela Cook;
Bristow, Oklahoma

04/11/2018

Great company and great customer service! Appreciate Wendy and all they've done for us.

Havird Usry,
Augusta, GA

03/27/2017

I was kind of skeptical of the site at first, however after speaking and working with Bradley, I found that they do exactly what they say they will. I was able to purchase my trailer, it looked exactly as it was pictured and Bradley worked with me from start to finish. I would recommend them 100%!!!
Sylvia Davis,
Columbus, OH

04/22/2016

Melissa has been wonderful to work with and always quickly resolves any problems you may have with your transaction. She really knows how to close the deal! I have worked with her on several deals and she is always a pleasure to work with, helpful and knowledgeable! €
Julie Farrar,
Ocala, FL

06/06/2010

UsedVending.com Is a fast and easy way to find vending Machines. Almost every machine is like new, and they are also cheap!

AL

04/24/2016

We completed the deal yesterday and brought the food trailer home. It was no problem and the seller was honorable and helpful. I found Melissa Powers to be very professional, knowledgeable and responsive during the entire purchasing process of our food trailer. I am a beginner in this type of business and her informative approach to my questions made it easy to do business and by our first food trailer. Thanks again!
Mike Ravn,
Merrill, Wisconsin

I recently sold 2 Antares Combo Machines through USEDvending.com. I never expected to sell them as quickly as I did and must really commend Eric Normand for handling everything so well. Any questions I had, he answered promptly. I was a little leary doing business on the internet with someone I had never met, but Eric will make you feel like you've known each other for a while. If you have any doubts about dealing with USEDvending.com, it is not necessary. The transaction went very smoothly and after the buyer picked up his machines, I received my check within days. If you are buying or selling, this is the way to go!

Anne Green
Florida

09/28/2000

Thanks so much for your help! The machines are perfect; just glad that I found you before I made that other purchase.
Thanks again,
Tim
San Diego, California

05/20/2016

It was a pleasure to work with April, she always kept me in the loop and never had a problem. Things went very smoothly. Thanks for the help.
Rick LoChirco
Henderson, NV

03/19/2018

I had a great experience with Used Vending. They made the process easy and were able to answer all of my questions. It was awesome to work with someone who went the extra mile to find all my answers! Thanks Tonya, you did a superb job!
Brad Ebersberger,
Jacksonville Beach, FL


12/08/2011

I contacted Melissa at extension 11 to look for vending machines, and the work she did for me was very good. The machines were just like she said and everything went as planned. Very happy with purchase.

Claud,
Big Spring, TX

02/23/2011

April is a terrific person. She has, I think, really gone out of her way to help me sell some of my vending machines. She has been very helpful in understanding and following through with some of my most difficult time. She has often very courteous and has made suggestions to help me sell my my machines. I think she well serves her employer as well as her customers. It has always been a true pleasure to work with her.

Gil Gamboa,
Baldwin Park, CA.

05/14/2012

Mellisa was a tremendous asset to connecting us with some truly wonderful people, who also were great to work with, paying a reasonable price, moving the machines and all very timely. Would give my repeat business to her and her Company any time.

Jim,
Colorado

04/26/2016

Working with Wendy was wonderful, She was able to get me to get me the truck I wanted for a great price and the transaction went through smoothly.
Danielle Thomas,
El Segundo, CA

03/05/2001

Used vending helped me to purchase a good quality used machine. I happen to live near to their location and met Eric face to face. You can trust their honest desire to serve their customers.
Sincerely,
David Trosclair
Mandeville, LA

10/26/2009

Keep up the good work!!

I cannot praise Melissa enough on all her help. She made it so easy to purchase more equipment for our new business and I will diffidently be contacting her again, SOON I HOPE!

Shawnee, CA.

11/18/2014

Thanks crissy for all your help with the sale of my food truck, you made it very easy for me sell.
Thank you,
Andrew Pellicane,
Hutto, TX

06/20/2000

Eric, I wanted you to know that I was pleasantly surprised at how efficient your business was. I received all the equipment I ordered on time and with no problems. As you know, one of the pieces was broken, and I really appreciated you sending me a replacement part rather than making me have to order a new one from a manufacturer.
This was my first venture into ordering online (As you probably guessed by all the questions I was sending by e-mail) and the fact that you continued to reply promptly gave me a little more assurance about your company. I really did appreciate all the help and in the end, the very good service.

By the way, I found you by accident. I was looking for used equipment, but it never entered my mind to use "USEDvending.com". Thus, I found you at the bottom of a very long list of sites on Yahoo. After hours of inquiring into each I almost gave up and then noticed you close to the bottom of the list. Maybe you should consider advertising through some one of the major on-line services.

Anyway, thanks again. I am going to continue to grow my vending business, so I'll be in touch when I am ready to buy. If you need a reference, feel free to use my name. You have my phone number.

Sincerely,
Richard Willis First Choice Vending
Georgetown, Texas

02/27/2016

Me and my husband just got back home with our beauty dream trailer. We want to thank you Greg for all your help from first steps till we found the exact trailer we was picturing on our minds . You have been very helpful and answered all our million questions in minutes . and thank you for your patience and didnt push us to get any other trailer till we found the right one for us! Greg handled it in a very professional manner, was available whenever we had questions and assisted me ..We appreciate all of the help that he provided us! And we are so exited to start our new journey in business with our beauty trailer!
Ayzat Mar,
Miramar, FL

05/16/2017

Good Evening Bradley/USEDvending.com- We want you to know how much we appreciate the outstanding customer service you have given us. We want you to know that we sincerely appreciate your responsiveness. We cannot express how pleased we are with the outstanding service your company provides. We love the trailer and will recommend your company to our friends and family. Thank You!
Harry and Barbara Carter,
Baton Rouge, LA

10/18/2016

The sale went great he is very pleased with the product. The buyer was very professional and nice demonstrated everything we need to know about the vending machine. It was a pleasure working with you. I hope your company knows what an asset you are.
Thank you,
Dorothy Meadows
Greensboro, NC

06/01/2011

April Hurd is an excellent sales person to deal with. I never met her but feel she is a true friend. She is very professional. I will continue to do business with her whenever I can and will spread the word out. Thanks April

Helen Wong

03/07/2017

Hi Melissa,I was very skeptical about your company at first, and I thought It was going to take a long time to sell our trailer.Then I immediately started receiving inquiries from your sales and it was sold within in 2 weeks. The process was easy, and you knew exactly what we wanted.I was very impressed by your service, and I would definitely come back in future. Thank you very much for your help.

Regards,
Terry Yo
CNS Logistics, Inc.
Gardena, CA

02/18/2014

I truly enjoyed my experience with UsedVending.com, they were steadfast and structured with the entire process. I was able to search products and talk to a great customer service representative in Ms. April. She helped me receive my products within days with a smooth trustworthy transaction at a great price!
Thanks again April
Cordially,
Harvey in MS

04/29/2015

Melissa, I want to thank you very much for producing the sale of my lunch truck. When I first put the truck on Craigslist I got a call from you wanting to put my truck on your site at no charge to me. I accepted your offer & the truck was featured on your site. Some time passed & I got a call from Greg w/ a buyer. That buyer fell through, but you all kept working hard to find a buyer. I was impatient & I paid another company to advertiswe & sell the truck. Error on my part. They posted lots of ads but produced no results. YOU PRODUCED A SUCCESSFUL SALE. Melissa found a buyer & put together an agreeable sale. The buyer came to my house w/ a cashiers check & the sale was consumated. I couldn"t have done it without you. THANK'S A MILLION.
Mike Culliney,
Leavenworth, KS

09/06/2018

I'm a simple man without education or social etiquette to navigate through this crazy world. Tonya from UsedVending took the time to locate a Food Truck that was within my budget 20k 30k maximum. I first felt ashamed to even inquire because all I had was "small" money but she diligently returned my calls and even called up sellers to see if I could get the price dropped. Long story short, I finally got a truck from UsedVending that had everything I needed to start my business. The truck even had the California Insignia on it. If you're into Food Trucks you know that's a miracle in itself. I must say I got Blessed with Tonya as my broker and Used Vending has made my dreams come true. ALOHA!!!
Shane Aloha,
Manteca, CA

08/24/2018

As a first time vending vehicle purchaser, Wendy was very helpful walking us through every step of the process. They were personal and professional helping buyer and seller through negotiations and logistics in the process. I would highly recommend UsedVending for anyone in the market.
Jeff Hall,
Mary Esther, FL

10/19/2009

Dear Melissa,

Thank you for your help. You truly worked hard to answer my questions. I appreciated all that you did to make this a wonderful experience. If I ever need any other equipment I will definitely look to your services again.

With many thanks,
Brent Hardesty.
Pella, Iowa

09/22/2011

APRIL WAS VERY HELPFUL AND HONEST WE WORRIED HER A LOT, AND SHE NEVER COMPLAINED. OUR MACHINE CAME IN A TIMELY FASHION. WE PURCHASED TWO OF THEM FOR OUR DRIVING ACADEMY. WE WERE PLEASED.

Sharonda,
Maryland

03/20/2018

I recently used UsedVending.com to purchase a concession trailer and it was truly a great experience. Working with Wendy was a pleasure and she walked me through every step of the process until the trailer was in my driveway. I would definitely recommend Usedvending.com to anyone who is looking to sell or buy. I am a very pleased buyer!!!
Eliza W.,
Midlothian, VA

07/21/2016

Wendy,Thanks again for helping sell my concession trailer. I was very happy with the whole experience.I asked my buyer how he liked it. He said it was very easy and that you walked him through everything he needed to do. I will refer you and your company to anyone I come across needing your service. Best Regards,

Ray Rabenda,
Beacon, NY

11/14/2010

Vanessa was great to work with. I received her E mail, made a phone call, met with the customer & moved my machines in. It was a slam dunk! Easy. Thank you Vanessa!

KS

I can't even begin to tell you how wonderful, helpful and proficient our sales rep April Hurd was in getting us started in our vending adventure. She was so fast at getting a response to all my needs. We couldn't be happier with our combo machine! We will continue to work with April as our business expands as I couldn't imagine going to anyone else. Big thanks MEGAvending and April!
Jessica Anderson,
Ridge, New York

11/13/2014

I just wanted to give a big thanks to Melissa for helping me through the transaction of selling my vending machine. Tried to sell for a couple of years, then posted it on used vending. As soon as they found a buyer, the process only took 2 days. Melissa was very easy to communicate with and moved everything along painlessly.
Chris Dellinger,
Clemmons, North Carolina

05/29/2018

Excellent transaction, everything went perfect and they always stayed in touch. Denise was a wonderful sales rep.
Kory B.
Bullhead City, Az

01/01/2013

Amanda and her colleague were very helpful and professional in dealing with selling my machine. It was nice and easy transaction. Thank you for all your help.

Liza,
SFO

07/25/2010

Used Vending was great in helping me despose of all of my vending machines. The add was great, they helped me negoiate price and did everything they could to bring buyer and seller together. These people are the best.

Dave Clement,
Madison, Alabama
See 1800+ more or Write your own...