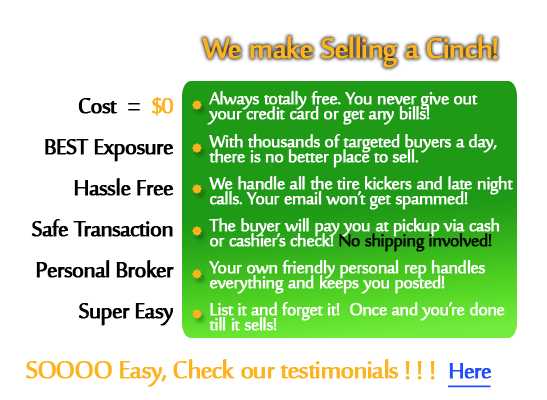 Sell Used Livestock Trailers
Selling your used livestock / cattle trailer is free! Whether it's 10 ft long or 50 ft, we have hundreds of buyers looking for the perfect used livestock trailer. Our free online broker service never charges you a dime. It's a no brainer, just ask our thousands of satisfied customers - many are sellers just like you. Click the link in the blue area above to see hundreds of testimonials!!
We sell
used livestock / cattle trailers
in the most secure, safe manner. Avoid the problems and fees associated with using ebay or other online sites; we handle all the hassles to bring you only a serious buyer that has paid or put down a deposit and is ready to buy.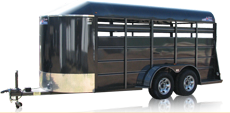 It doesn't matter what you've been hauling - cows, pigs, llamas, porcupines, or kids - we can sell it. The kids may cause some issues though :-) Your used livestock trailer will get outstanding exposure to thousands of buyers. Best part is It's Free and you don't have to deal with the hassles! Your friendly assigned agent will handle all the phone calls and emails. Once a paying buyer is found, they will meet with you to buy the trailer. Couldn't be easier!!
Take plenty of pictures - PICTURES SELL! We'll post them for free so that the buyer knows exactly what they are getting and there are no questions when they come to get your cattle / livestock trailer. We'll even take video of the trailer if you have that!
Selling your used trailer is easy...
1. Create a free
Trailer Seller Profile
2. Login and provide your trailer ad details and pics
3. Leave the rest to us!!
If you later need to add additional info or pictures to the listing, no problem - just login to your account and do so.
It's easy, remember to checkout our hundreds of testimonial letters from buyers and sellers!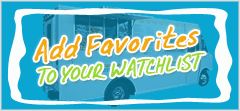 Customer Experiences
06/01/2015

My experience with USEDvending was nothing but positive. My sales rep was very friendly and professional. Any time I had a question or concern she got back to me in a very timely manner. Communication was very open, being someone who is on the go quite a bit it eat nice to have many options for communication. Phone calls, text messages and emails were all accepted forms of communication which made the process very simple to get the information I needed. The seller of the trailer was also extremely accommodating, friendly and professional. I couldn't be happier with the final product, it screams professionalism. I strongly recommend using USEDvending for your food truck purchasing needs.

Tim Grow.
Eerie, PA


10/24/2009

April, is very helpful, amd really knows machines. She is very honest and trustworthy, not like other distributors that give vending a bad name.
Maryann
Framarang Refreshment Svcx.
Edison, NJ

Hi Gini, This was my first experience and transaction with your machine placement program. Everything went very smoothly and expedious as we conversed back and forth via email or telephone. I appreciate your quick response and thoroughness in providing the needed information. A vending machine has been placed and the customer is very excited about it. Thank you again for the referral.

Tom Mennetti
South Carolina

09/14/2011

I recently completed a sale of a used food truck through your website. Thanks to Melissa Powers I had a very positive and professional experience. From the ease of setting up the information on your professional website and the customer support that followed I was confident the vehicle would sell on this site. Thank you for all of your assistance.

Patrick
Cromwell, CT

07/11/2015

Hi, Melissa, I want to let you know that I am so happy with the service that you and your company give me I want to thank you for your help, thanks again.
M. Popalzai,
Springfield, VA

05/11/2010

I was looking for 25 cent coin machine and April found the right ones with no problem was fast and easy to work with her she was friendly and courteous a nice person to talk to thank you

BEN GAUDIANO

02/09/2011

Melissa was fantastic to work with. She was able to coordinate a smooth transaction. I was able to get a fantastic deal on a machine that was still in the box!!

12/16/2015

Hey Melissa, Thank you very much for your help in selling my catering truck. You were prompt with communication and were a great liaison between the buyer and me. Thanks very much too, for pulling everything together to make the sale happen.
Sincerely, Lori Stratford
Bozeman, Montana

01/19/2018

It was great to work with a broker so we knew we were getting verified information from the seller. I felt more at ease with the UsedVending.com system for researching and ultimately purchasing our concession trailer. We're really looking forward to using it at baseball games this summer!
Dana Wagner,
Kalamazoo, MI

09/29/2009

Two thumbs up to April Hurd. She helped me out with a Ship To Address correction, and it turns out she was a Sales Rep who went the extra mile to help out a customer. She did not take the stance "That's not my job", but followed thru till the issue was resolved. That's good PR for your company. Thanks!!!!!
Rosemary, Mandeville, LA

02/23/2017

My journey to find an affordable, suitable, usable mobile food trailer started on *****slist and *bay with no luck. I then found and ended up using the services provided by usedvending.com. My search was like finding a needle in a haystack due to the strict mobile food plan codes dictated by Los Angeles County. I ran into many obstacles in finding the right trailer (such as no exhaust system, no drainboards, floors not coved, no emergency exit, etc...) but I did not give up.I was patient and consulted with Melissa Powers at Usedvending for almost a year. Melissa was very patient with my search and updated me on every potential mobile food trailer that met my requirements (which was very specific). The search ended when Melissa aligned my search with a seller that had a trailer with all the requirements to meet my business needs. Melissa handled the seller/buyer communication and purchasing process very professional and made things easy to understand for me. The trailer that I ended up purchasing had all the cooking equipment's and so much more! It even came with 2 large size propane tanks, a generator and a power converter! The trailer was very clean, equipment's well cared for and even had screened sliding doors, AC and heating! Who would've guess? I would be paying double or even triple for the same trailer anywhere else. I am overly satisfied and enthusiastic about the quality of the trailer and the money that I saved. I am now in the process of starting my mobile food business thanks to usedvending.

I would especially like to thank Melissa Powers at usedvending.com for all her help, guidance and encouragement on this long journey on finding the perfect mobile food truck and at such a great price. Without Melissa and usedvending.com, I would probably still be on the search for my trailer. I highly recommend the services of usedvending.com for your mobile trailer needs. Don't waste your time with any other sites (trust me, I've used them all!)

Thank you Melissa Powers for your professionalism and superb customer service at usedvending.com!

Pang Kue,
Castaic, CA


04/23/2016

After having my Food Truck listed on other list sites and having dealt with the many emails and phone calls that went nowhere, I finally decided to list my truck for sale with UsedVending.com. I am so glad I did. I got exactly what I wanted for my truck, I didn't have to haggle with anyone over price and the money was wired directly into my account within hours. Truly one of the smoothest transactions I have ever done. Jen, my rep, kept me informed and was great to work with. She helped me navigate through the transaction which was comforting when dealing with large amounts of money. Thank you,
Cambria,
Central Point, OR

10/12/2016

Melissa,Thank you so much for handling the sale of my food concession trailer. You did a great job and it sold faster then I expected. It was a pleasure working with you!

Thank you,
Denny Conrad
Springfield, Mo.

12/08/2017

Thank you Melissa for your professionalism and organization
Alix Jean-Pierre,
Edmonton, Canada

10/09/2008

Hello, April did a great job selling me my coke machine, everything was just like she said it would would be, I would recommend for all your vending needs.

Rocky,
Rome Georgia

10/25/2017

Thank you Used Vending! They helped me sell our old step van in under a week! It was such an easy process and they were in contact with me the whole time. Couldn't have been a better experience!
Jamie E.
Martinsville, IN

05/03/2018

Hey Bradley, it was a real pleasure doing business with UsedVending. I think it was up only 2 weeks and you found a buyer. I would advise anyone looking to sell food trailers to start with you first.best of luck, Phil.
Phil Levin,
Minneapolis, MN

06/16/2018

Used Vending is awesome. They made the sale of my Italian ice pushcart quick and easy. Denise was very helpful and friendly. I will definitely use UsedVending in the future.
Dan Ritter,
Urbandale Iowa

06/14/2013

Stacy Sweet was a pleasure to work with. It was my first time to use this website and I couldn't be happier. Stacy had answers to all my questions and completed my purchase from start to finish within 24 hours!!! He was AWESOME !!! I will certainly be on this site daily looking for more good deals and will insist on Stacy to help me.

MB
Katy, TX

08/24/2018

As a first time vending vehicle purchaser, Wendy was very helpful walking us through every step of the process. They were personal and professional helping buyer and seller through negotiations and logistics in the process. I would highly recommend UsedVending for anyone in the market.
Jeff Hall,
Mary Esther, FL

01/12/2011

1/13/2011

I would like to thank Vanessa for all her efforts and due diligence in seeking out a quality vendor for our company. I have had no success on my own locating vending company's that can support our small company needs. I was at a point of giving up when I found and contacted 4Mega Vending. My search was over. Vanessa took over and began searching for me. Vanessa was always their for me explaining the process and working very hard to find vendors. The calls came in. It was great. My labor intensive project just became easy. Due to Vanessa, I believe I have found an excellent, quality, vendor. I am excited about our choice. Vanessa made my search very easy, smooth and pleasant. I just cannot say enough about Vanessa. My experience has been exceptional. I have dealt with many companies and many individuals during my career and Vanessa knows what customer service means.

I highly recommend 4 Mega Vending to anyone who is looking for assistance in locating vending services.

Susan
McKinney, Texas

10/28/2009

Found your company on the web sort of by accident. Had 50 candy machines I was looking to sell. It took 3 separate sales, but Melissa helped me sell them at the price I wanted. Would certainly recommend you to anyone. Thanks a lot!

Paul,
Indiana

05/09/2016

I had a wonderful experience with my customer service rep. She answered all of my questions in a timely manner. She was honest and straight-forward, as well as caring. I can't see no better way.
Anieti Umanah
Houston, TX

09/19/2012

I cannot say enough about this website. Melissa was excellent. What drive and dedication, Melissa worked with the buyer, stayed in contact with both of us. Follow up calls for both parties. I cannot say enough about this company, my trailer was sold in roughly 5 weeks, amazing. Very satisfied. Thank You Melissa and Usedvending.
A.P.
Michigan


02/22/2018

They were great to deal with, very professional and did everything they said they would do . Would definitely recommend doing business with them. There is no doubt I will be doing business with them again in the future .
Steve Michalec,
Lakeland, FL

09/18/2009

I made one phone call and the rest was handled.

You can not get any better than that.

Chuck
American Linehaul Inc.
Wood Dale, Illinois

10/17/2012

Working with Used Vending was very straightforward and painless. Melissa was very helpful in every aspect of the transaction process, and doesn't take sides when conducting the deal. I would recommend contacting Melissa if your thinking about getting into or out of the mobile food game.

Frank,
Buffalo, NY

03/25/2011

thank you for your service.Vanessa was truely great in her help and was very sweet in the way she helped.

sincerely howard swayne

08/01/2014

Much thanks to Stacy for the constant communication and support. You made this an enjoyable and seamless experience. Anytime I had to edit my listing for pictures or added items the customer service team here was quick to make those changes. Having someone do the initial contact with interested buyers was worth a great deal to my partner and I. I would recommend everyone give you guys a shot at helping sell their equipment. Thanks again for everything!

Brittney B.
Terrel, TX

04/19/2017

I recently purchased a concession trailer through Usedvending.com and could not have been more pleased with the experience!! Wendy was very helpful, and had every question I had answered very quickly. She went above and beyond to make sure I had all of the info I needed, she even made time to talk to me on her off days. I would recommend to anyone looking to purchase this type of equipment to consider using there services!!

Jason McLendon

900 Degrees Catering

05/10/2018

Our UsedVending.com representative Wendy was awesome. She was very professional and fast about responding to my texts and questions. Wendy made the whole process easy, comfortable, and trusting. She was very informative and the deal went perfect and I absolutely love our new food trailer. The seller was also very cool and easy to work with. Thanks UsedVending and Wendy.
Kyle,
Eureka, CA

12/30/2014

Dear Ms Melissa, I am very happy with the transition with you. It went very smoothly, U took care of things very professionally and very good attitude. I felt like I had known U for ever. I still need another trailer and I promise you it will be through U my dear friend.
Love, Ruby
Needville, TX

04/30/2018

Experienced Team. If your a serious seller and it's priced to sell, they will sell it. Easy process.Thanks, to all & specially Bradley, for his guideance & patience.
Elsa Gonzalez,
Homestead, FL

03/14/2018

I would highly recommend Usedvending.com to sell your item. They sold our mobile food truck with no hassle and took care of all details. Tonya was a pleasure to deal with and very professional. I would rate them 5 out of 5 stars. Very satisfied with whole experience.
Joe & Kim,
Palmetto, FL

10/27/2014

I just wanted to share some of my wonderful experience with purchasing a concession trailer with your company through Crissy Cook. She made sure that every thing was done quickly and easily. From the beginning I stated to her that we were needing a trailer within a week and she made that possible. She answered ever one of our questions very to a tee and in a quickly manner. We know in the future we will be using this company again. Fantastic experience and transaction. We couldn't Thank her enough.
-Tiffany Sprayberry, Just A Little Frosting Co-Owner
Lineville, AL

05/02/2017

I would like to say I was hesitant initially with listing my truck on USEDvending.com. Instantly I was impressed with the quality service from all of the representatives that I interacted with. This positive interaction made the whole process run smoothly from beginning to end. As the seller, and from the buyers perspective it was well worth using their outstanding services. Wendy was very professional and made every part of the selling process understandable and worthwhile! I highly recommend that anyone that is interested in selling or buying any kind of commercial equipment regardless of size check out USEDvending .com.

Highly satisfied customer,
Kalan Chaloupek
Las Cruces, NM


03/04/2012

I was very satisfied with the service, Melissa powers was very helpful, the whole deal was quick and easy and we had our machine in the office in 2 days, thanks!

Terry, B
Baltimore, MD

11/07/2014

Hello Usedvending staff/Calice. My experience with usedvending during my recent purchase was great- there were no problems on either end and i enjoyed every step due to having no problems along the way. I will in the future look to usedvending for my purchases as I build my vending route and have recommended it to friends as a great place to purchase from. Thank you,
Romel J.
DJB Vending
McKinney, TX

09/30/2010

Melissa Powers did a great job lining up the seller and myself quickly. I was able to start my business much sooner. Thanks again, Melissa.

Steve M

05/10/2018

It was a tough decision to sell our concession trailer but they made the sale easy. If I have any more food vending equipment to sell in the future Ill definitely be listing it with them. Thanks for the help selling it and making it simple on my end.

Michael Price,
Baroda, Michigan

02/23/2013

Your company was terrific, and Amanda Haynes was a huge help. It was great doing business with you!

M. Russell
Dallas, TX

05/14/2018

Outstanding customer service and seamless transaction when selling my concessions trailer. Wendy provided excellent service every step of the way. In a world filled with internet scammers, UsedVending provides professional service with a real "piece of mind."

Andrew Northam,
Ft. Rucker, AL

09/25/2012

Great experiences with 4 Vending. Very professional and I have landed 3 accounts thanks to their service. I have worked with Gini Sweet and she has been exceptional from day one. Thank you again for all your efforts.

Frank P.
Schaumburg, Illinois.

My hats off to Melissa and her staff. When my husband was diagnosed with cancer several months ago, we thought for sure we would be stuck with our concession trailer until the spring. But thanks to Melissa's and staff's hard work, they found a buyer and yesterday they picked it up. What a breeze it is to work with Melissa and the staff. They truly take care of EVERYTHING. Well worth it if you have something they can sell for you. Thanks again for everything!!!

M. H.
Virginia Beach, VA

09/22/2016

Hello April, Once the deal is complete, I just wanted to let you know how much I appreciate the great job that you did in helping me to sell the vending machines that I had. Especially the dedication on your part, with the monthly updates/checks on my account, all the way up to the completion of the sale. Thank you very much, great job by you and your organization.
Phil Hardy,
Broomfield, CO

02/16/2011

Thanks Melissa. Your're the greatest. I will always recommend Usedvending.com and Melissa for selling and buying vending machines. You get the job done! Thanks again for the professional and prompt service.

Julia
Marrero, La.

03/17/2017

I recently purchased an ice block machine via usedvending.com and I was very impressed with the experience. Grey did an excellent job communicating and facilitating the transaction with the seller. I appreciated the documentation process and the ease in getting everything completed. I will definitely use your site again should I need to purchase or sell equipment.
Nathan Peck,
Americus, GA



06/28/2011

I used your company through Melissa Powers and she has made the purchases go very smoothly,one that fell apart,but with her experiance she moved me along to another purchase which was necessary for me to fulfill my clients needs,Thanks so much Melissa for your great help and caring for my business needs.

Wayne Basilotto,Your Choice Vending

03/04/2013

Melissa Powers did a great job in handling the purchase of our new vending trailer. I would not hesitate to contact usedvending.com for future needs or to refer them to someone else. A very professional sales person and site.

Deborah Walker
Happy in Coffee City, TX

07/25/2011

Thanks so much, Stacy, for your quick help in finding me a great location for my machine. I have been working with 4VendingTips.COM for 3 years now and every experience just gets better and better! It's nice to know that there are still quality people who want to make sure that their customers are well taken care of!

Robin Edwards
Quality Vending Solutions
Euless, Texas
See 1700+ more or Write your own...