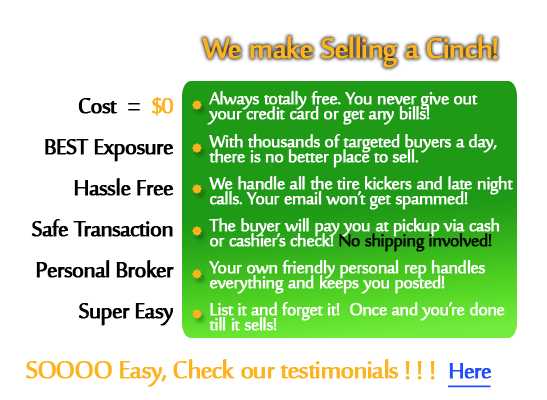 Sell Used Livestock Trailers
Selling your used livestock / cattle trailer is free! Whether it's 10 ft long or 50 ft, we have hundreds of buyers looking for the perfect used livestock trailer. Our free online broker service never charges you a dime. It's a no brainer, just ask our thousands of satisfied customers - many are sellers just like you. Click the link in the blue area above to see hundreds of testimonials!!
We sell
used livestock / cattle trailers
in the most secure, safe manner. Avoid the problems and fees associated with using ebay or other online sites; we handle all the hassles to bring you only a serious buyer that has paid or put down a deposit and is ready to buy.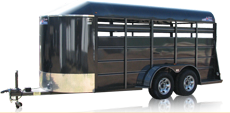 It doesn't matter what you've been hauling - cows, pigs, llamas, porcupines, or kids - we can sell it. The kids may cause some issues though :-) Your used livestock trailer will get outstanding exposure to thousands of buyers. Best part is It's Free and you don't have to deal with the hassles! Your friendly assigned agent will handle all the phone calls and emails. Once a paying buyer is found, they will meet with you to buy the trailer. Couldn't be easier!!
Take plenty of pictures - PICTURES SELL! We'll post them for free so that the buyer knows exactly what they are getting and there are no questions when they come to get your cattle / livestock trailer. We'll even take video of the trailer if you have that!
Selling your used trailer is easy...
1. Create a free
Trailer Seller Profile
2. Login and provide your trailer ad details and pics
3. Leave the rest to us!!
If you later need to add additional info or pictures to the listing, no problem - just login to your account and do so.
It's easy, remember to checkout our hundreds of testimonial letters from buyers and sellers!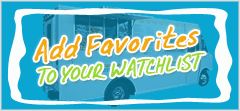 Customer Experiences
08/31/2015

My experience with this company was awesome. Love, love, love my agent Melissa. Awesome! Thank you very much.
Eddie Thiel,
Ontario, OR

05/29/2015

If only everyone in customer service could be half a nice and helpful as Melissa , the world would be a better place . She was very informative and thorough with all my questions & if i ever need to sell something again i will definitely use this web site. It was actually a fun experience. Thank you Melissa.

Gail Hultquist,
Sacramento, CA

05/29/2018

UsedVending is awesome. They handle everything and the sale went through easily. Melissa is awesome, keeping me up to date on everything that is happening with buyer. Sale went through without a hitch.
Kristi Cardinal,
Shalimar, FL

I just want to say thank you so much for the excellent customer service and patience that you've had with me. I purchased 3 great combo units from your web site and they are perfect and arrived without a scratch. I was and still am new at this business but you made it a comfortable first purchase. I love vending, thanks :o)
P.S. My friends and I will be back for more great deals!!
Sincerely,
A beginning vendor :o)

07/12/2013

Cristina Lumpkin was AWSOME, said she would sell my food bus fast, and that is exactly what she did. Within just a few days I had a full price offer, that buyer backed out and within a few hours she had another buyer that bought it, full price. NO hassles, the transaction went just like she promised. I will call Cristina again when I have more items to sale. You should also. Nice work Cristina, you know what you are doing, GREAT customer service. Thanks.
Roger
Orangevale, CA

10/14/2014

Crissy, Thank you for the great service. Within days of posting my listing, I had several offers. I cannot believe how quickly my truck sold with zero hassles to me!
Betsy Jervis,
Chicago, IL

01/07/2010

Thanks alot for you help, selling goes without any problems and safe.

Charlotte, NC

09/01/2015

Hi Melissa Thank you for doing a terrific job in helping me sell my kitchen trailer. You were always prompt, courteous and very easy to work with. I wish you and UsedVending.com all the best.
Ketan Parikh,
Moreno Valley, CA

11/26/2016

Dealing with Melissa and USED Vending was a most pleasant experience!! Melissa was very knowledgeable and her response time was amazing. She helped me every step of the way and even on her day off!!! I advertised my food truck trailer on several different sites but sold it only on USED Vending! Thanks for everything!!! India (new owner) seems very pleased and excited as well. We are following her journey on Facebook and are so happy she is living her dream. Thanks Again!
Anne Baumann,
Memphis, TN

08/20/2010

Received a call from Melissa on August 17, 2010 at 9:30 am to let me know about an inquiry re my machines. At 10:00 am received another call informing me that my machines wer sold. Thank you Melissa for your hard work

Wayne Bovell
Brampton , Canada

11/01/2011

Once again Melissa and company sold my concession trailer. This is my 2nd item sold and I got a better price and less hassle then CL. No tire kickers. Thanks so much.

Chris
Golden, CO

12/27/2012

We have had 2 very good experiences with placing our machines through our representative Gini Sweet. She has been most helpful and follows up on our placements regularly. Thanks Gini for being so helpful. We look forward to doing business with you in the future.

G & M
Hueytown, Alabama

05/04/2018

Tonya from UsedVending was a great person to work with. She always kept me informed on the progress of the sale of our trailer until it was sold.
Bob Martin,
Lakeville, MA

02/25/2014

We were thrilled with the level of service and professionalism we received from your company. We had no idea the trailer would sell so soon!!! Only listed a few weeks and the next thing we knew it was a done deal. Couldn't believe how easy the whole thing was. Thanks again for your help, you were amazing.
A.B.
Kilgore, TX

10/26/2009

i enjoyed this knowldageble visiting this site.

Phoenix, Arizona

10/25/2009

I am not privy of the vending industry and didn't know where to begin. Mega-Vending, in particular, Ms. Melanie Lee, made the task effortless. She found and screened the vendors, and provided them with the particulars about my office. All I had to do was meet and make my selection. Melanie, we couldn't have done it without you.

Thanks for your assistance.
Carol Johnson
Maryland

09/04/2012

I run an industrial catering outfit and was in need of some extra catering trucks, upon some extensive reasearch on the internet, I found used vending and got to talk to melissa. She really helped me in what I needed to do all thru the process and she even called Mississippi DMV to find out some things as far as me having them transportated back to Ohio. I would reccommend UsedVending and Melissa for all my needs, I had a great experience.

Von Troy,
Ohio

12/09/2014

Hi Melissa i just want to thank you for your help in selling my food truck. I know you worked really hard to get this done. I have used you and your company in the past to buy a trailer you were so helpful, and then you helped me sell it a year later and now you helped me sell my food truck. I have had nothing but great experiences working with you. You have great understanding of the food vending world and are able to explain it all very clearly. I will call you if I want to get back into it. Once again thank you.
Yours Truly,
Scott Hoffman
Southbridge, MA

03/20/2012

Melissa Powers helped me a great deal with selling my trailer. She got me in touch with serious buyers and when it comes to certain items, you cannot not mess around with non-serious buyers. Melissa was always very prompt and she was always very friendly. Thanks usedvending.com!

Landon,
North Dakota

09/29/2010

THANKS FOR EVERYTHING YOU DID FOR US APRIL.WE LOOK FORWARD TO MORE BUSINESS WITH YOU VERY SOON! I KNOW OUR MASSAGE CHAIRS WILL DO GREAT!

HEAVENLY TOUCH

05/17/2016

Many Many Thanks to Wendy Byrd for selling my trailer. If anyone reads this I highly recommend Wendy as she will get the job done. Best Regards,
Jeff T.
Fort Walton Beach, FL

11/25/2014

Calice, Thank you very much for Your help finding the perfect vending machine. You made the process easy and painless. The photos on the site were exactly what I was getting. I felt good that the purchase was secure and I was not being take advantage of. When I arrived to see the machine, it was in good working condition and in better shape that I thought it would be in. If I need anything else vending related, I will be sure to come to you! Thanks Again!
Tyler Diciola,
Algonquin, IL

01/20/2015

Mellissa, I just wanted to write and thank you. You and usedvending are a pleasure to deal with. From the setup of my listing to the sale, you and your company have made selling my trailer a dream experience. You have been very professional and nice, and I will definately be using you and usedvending in the future. Thank you again,
Vincent Cacio
Wildwood, NJ

05/20/2014

Tina,
Just wanted to drop you a note to thank you for your assistance with my recent purchase of a food trailer. The whole experience of was very enjoyable. You and your company made it a very simple and quick process. You were very efficient in getting information between the seller and myself and always very pleasant and helpful. The seller was also a joy to work with when we met to complete the transaction.
Thanks again for your help.
J.T. Schacherer, Minnesota

08/25/2014

The process for purchasing our new concession trailer was quick and easy. UsedVending.com was helpful in the entire process and it was nice knowing there was a 'middle man' ensuring both parties were accountable in their own right. I would highly recommend buying from this site.

Elizabeth Brown,
Mansfield, AR

06/20/2012

Amazing experience - everything went so smoothly. Melissa did a great job with communication on what the next step and kept us very informed. Thanks.

Fran,
IL

02/06/2011

I really appreciate all you have done for me in setting up this transaction. Your whole staff was very knowledgeable and professional from the beginning. Thanks again for all of your help.

St. Petersburg, FL

08/22/2012

Thanks Stacy for all your help through the process of finding the right machine for our church. You were very prompt in all communications and we were able to have the units delivered and up and running in less than two weeks. Everyone at the church were impressed and pleased with our purchased. I will have no reservations in referring others to you.

Royce H.
Madison, MS

02/22/2018

We purchased a trailer and it was exactly as depicted on site. The representative was helpful, timely and provided guidance throughout the process.
Catholic Charities West,
Grand Rapids, MI

10/17/2012

Melissa, Thanks so much for all your help. Everything was done in a very professional and efficient manner. I will definitely recommend you to anyone who is in need of your services. Thanks again.

MW
Knoxville, TN

06/15/2015

Hi Melissa,I wanted to thank you. I really never thought we could sale the trailer so fast. It was easy, very easy and faster than what i thought. Our buyer was serious and did not came to try to lower the price or anything. Thank you.

Ivan Enrique Gonzalez Lauzardo,
Miami, FL

02/13/2018

I worked with Melissa for over a year looking for the trailer I needed. She was professional at all times, patient, and positive she could find a trailer to fit my needs. In the end, she did just that. I'm now the owner of a food trailer that fits my needs, both financially, and with the equation need to hit the road running. UsedVending and all of their employees deserve a big round of applause for their dedication to their work. Thank you very much.

Steve Blevins,
Farmington, NM

03/26/2016

UsedVending.com helped us sell our unit a second time around. We sold it last year and then the buyers needed to re-sell it this year and UsedVending stepped up to the plate and made it happen! Thanks!
Greg Fisher
North Fort Myers, FL

05/25/2011

Hi Vanessa,

I am EXTREMELY pleased with your site. You give me (the small businessman) an opportunity to expand and compete. My experience in dealing with you and everyone on the site has been Great!

Thanks,
Vending for All
Tennessee

10/26/2017

We recently sold our trailer through Used Vending. From start to finish everyone we dealt with was very professional. The company continually stayed in touch to make sure all information was current and listed correctly. Once we had an interested buyer, Wendy Byrd stayed on top of everything until the close of the sale. She was available to answer all questions and address our concerns. We are extremely pleased with the whole transaction and would not hesitate to use them in the future. Thank you Wendy and Used Vending for everything you did!!

Vince Puglia,
Saint Augustine, FL


06/18/2013

Thank you so much Cristina for the Super work you did in selling my vending trailer! From the begining you were Great, and on top of everything! Never a slow or lacking moment, easy and simple, as always, you were there to help, guide and instruct me every step! How amazing it was to see how things laid out so perfect and ....getting top dollar too! Everything went so perfect and smooth! cant say enough good! Your Great! thanx! Hope to do buisness again with you and people like you! God bless you, as i know He will! It was such a pleasure to work with people that know and care!

R.R.
Carthage, MS



03/17/2016

Hi April, Just wanted to drop you a note to tell you how happy I am with Used Vending and how you handled my machine sales. I really appreciated that you always kept me in the loop, during the sales process, explaining how everything should go. Because of you, the whole process went smoothly. You anticipated pitfalls and worked to prevent them. This type of customer service is so rare in any industry, that it really stood out to me how professional you and your company are. I would and will highly recommend you and Used Vending. Thank you again,
-- Sue Hoffman
BTR4U Enterprises



10/09/2010

Hi Connie,
Just a quick note and thank you for your professionalism and ease in doing business with your company!!

Arizona

05/09/2012

Pleasantly surprised on the process of sale, quick & effortless... Melissa was AWESOME, she took care of everything very professionally!! Thank you again Melissa.

Ryan,
Des Moines, IA

09/11/2010

Forget E-Bay, Whatshisname's list and all the rest, and dispense with the spammers, fruitcakes, and lookylou's! Don't let Melissa Power's sweet smile fool you - The woman is a pit bull when it comes to selling your merchandise!

John C. Sumter

04/03/2017

Love this website! Found my dream vending trailer here. Melissa was great to deal with. She answered questions she in short time and walked me through the transaction from the beginning until I hooked on and pulled it home. Thanks again!!
Sandra Boldon,
Oglala, SD

05/10/2011

Melissa,

Used Vending is the best site we found we had used others to try to sell our vending trailer and had the most response from Used Vending. The sale started slow and and closed fast Melissa was great though out it all.

Thanks
Don & Donna

08/15/2018

We want to thank Melissa for her Outstanding job on helping us sell our trailer. Great service and very knowledgeable in the customer service business. She helped us every step of the way until the end of the sale. Can't be any more grateful for her service. Thank you.....
J. Ortiz / Mike C.
Allentown, PA

09/20/2017

I wish everything else I dealt with along my process of opening my food truck was as easy as dealing with Melissa at usedvending.com. Melissa was on it every step of the way and she rocked it. Any questions or problems I had along the way she took care of it and went above and beyond. I would recommend the services at usedvending.com to anyone looking at purchasing a food truck.
J. Trez
Santa Rosa, CA

09/20/2011

When my 9yo son came up with the idea to start his own business in vending, we researched companies and chose 4 Mega Vending. We were so lucky to have April as our sales representative. Not only did we feel like we were talking to a friend we've known for years, she went out of her way to research and find the machine we wanted that was shown on the website but not readily available.

Her professionalism, combined with her enthusiasm were infectious. April has been so helpful to us that now, when I need something, I call and ask for her specifically. She managed to take away any anxiety we felt about navigating through my son's first entrepreneurial experience. Thanks April. You're the best!!!

Melanie
Roslyn, NY

01/29/2019

Melissa was so friendly and awesome. This was the first time I have ever used a site like this to sell an item but Melissa made it easy and super quick. If i ever have another item to sell or buy I will definitely go thru her again! --

Rachael Y,
Apple Valley, CA

03/01/2016

Every part of our journey with your company went without any problems, only super customer service by our rep. Melissa Powers!
Joe Keel
Palm Harbor, FL

03/17/2014

My dealings with UsedVending.com were great and super easy. The truck listings were an excellent tool for finding just what I was looking for in a vending truck. Melissa was excellent and assisted me along the way. She was always quick to respond and very attentive to my emails. Thank you very much!
D.M.
Atlanta, GA

06/13/2012

I've sucessfully purchased candy machine lots twice from Usedvending.com and both times have been very pleased with the results. Calice is GREAT to deal with. My last deal only worked because of her persistence and understanding. I highly recommend both the site and Calice!

Eric
Manassas, VA
See 1800+ more or Write your own...