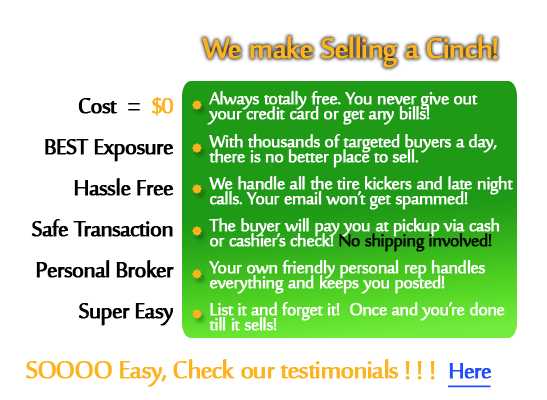 Sell Used Livestock Trailers
Selling your used livestock / cattle trailer is free! Whether it's 10 ft long or 50 ft, we have hundreds of buyers looking for the perfect used livestock trailer. Our free online broker service never charges you a dime. It's a no brainer, just ask our thousands of satisfied customers - many are sellers just like you. Click the link in the blue area above to see hundreds of testimonials!!
We sell
used livestock / cattle trailers
in the most secure, safe manner. Avoid the problems and fees associated with using ebay or other online sites; we handle all the hassles to bring you only a serious buyer that has paid or put down a deposit and is ready to buy.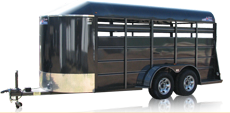 It doesn't matter what you've been hauling - cows, pigs, llamas, porcupines, or kids - we can sell it. The kids may cause some issues though :-) Your used livestock trailer will get outstanding exposure to thousands of buyers. Best part is It's Free and you don't have to deal with the hassles! Your friendly assigned agent will handle all the phone calls and emails. Once a paying buyer is found, they will meet with you to buy the trailer. Couldn't be easier!!
Take plenty of pictures - PICTURES SELL! We'll post them for free so that the buyer knows exactly what they are getting and there are no questions when they come to get your cattle / livestock trailer. We'll even take video of the trailer if you have that!
Selling your used trailer is easy...
1. Create a free
Trailer Seller Profile
2. Login and provide your trailer ad details and pics
3. Leave the rest to us!!
If you later need to add additional info or pictures to the listing, no problem - just login to your account and do so.
It's easy, remember to checkout our hundreds of testimonial letters from buyers and sellers!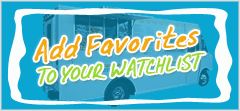 Customer Experiences
12/11/2015

We purchased a food trailer from UsedVending and Jennifer Melerine. She was great to work with as well as your web site. We located the trailer that we were interested in and she did everything she could to get us this trailer. She even contacted the seller who had the trailer to save it for us as we were working on getting a check cut to purchase it. Jennifer followed up with the seller and myself to make sure that the trailer pickup went well. Your partner was a great experience as well. They made us feel at home from the moment we got there to the time we left. All in all it was a great experience. If we need a trailer in the future we will use both of these companies again.

Andrew Hamilton | Senior Director of Food and Beverage | Choctaw Casinos
Durant, OK

03/06/2012

I worked with Melissa Powers on the Used Vending Machine purchase. I purchased two used Deli Combo Vending Machines as a result of that. The process was very simple and easy. Melissa made it easier with every communication that I had with with her. Overall, the service was very good.

T. S.
Elicott City, MD

10/17/2012

Our dream came through. Thanks for your professional effort Gini. I will recommend you to anyone.

Jhun
Cheyenne, WY.

07/28/2015

Hi Crissy - Well you did it again you helped me sell my second truck. Thank you for being on top of the potential and final person that purchased my truck. You helped make the process very easy for me. Thank you.
Andy,
DeValle, TX

10/30/2014

Melissa, Thank you so much for all the Help you and your company gave me during the selling process of my Vending trailer. I am so glad I chose your service to sell my trailer. You made it easy, and I could not believe how fast it sold .. I think from start to finish too only 3 weeks. The experience was so good I wish I had another trailer to sell. Your service and your company did a great job and I will definitely recommend you to all my friends and family in the food service industry. Thanks Again Mellissa you were a pleasure to work with.
Be Well,
Mike Perna,
Mt. Prospect, IL

03/04/2012

I was very satisfied with the service, Melissa powers was very helpful, the whole deal was quick and easy and we had our machine in the office in 2 days, thanks!

Terry, B
Baltimore, MD

05/17/2016

Hi Jennifer, I was very satisfied with the service that you provided. You did an excellent job and I am grateful you didn't give up on getting a hold of the owner. You were also very helpful through the process communicating with the owner and getting all the questions I had answered so I could make a educated decision on the purchase. Thank you! Much Appreciated,
Michelle Wood,
Santa Rosa, CA

12/17/2014

Hi Traci, I just want to thank you for all your help,you were outstanding in the way you helped me to to buy my concession truck. I will let anyone know who is looking for a food truck, to use your company. thank you again.
Al Newton
Forestdale, MA

02/11/2014

Melissa was on top of the sale of our trailer and equipment having a buyer within a few days of our listing. Usedvending.com and Melissa were instrumental for us. Thank you!
S.R.
Durham, NC



07/10/2015

Hi April, sure thing. Purchase was easy and straightforward. Equipment came in good shape, and install was a piece of cake. Seems to be working well but do have a question about coin distribution € will contact a different time.
Thanks,
Molly Medkovik
Denver, CO

08/26/2009

My experience with Used Vending.com was extremely good. The information
given on the vehicle was accurate and supported with documentation from
the seller. Both the seller and Used Vending.com answered all of my
questions and exceeded my expectations for a smooth purchase and
transfer process. The seller and Used Vending.com were there after the
sell to make sure everything went well and to ask if I had any
additional questions.
I would highly recommend them.
Regards,
LZ
Stephenville, Texas

09/06/2016

Professionals at their Best. I listed my Food Trailer with UsedVending; Melissa Powers had several buyers for me. The first buyer had problems and was unable to complete the transaction. Melissa keep me informed the whole time. When the deal fell through, Melissa had 2 backup offers waiting. Melissa contacted the 2nd buyer and within a couple of days the transaction was complete and I had my money. I have listed another item with UsedVending and Melissa has buyers for it. UsedVending is a GREAT company to work with and Melissa is the bomb. Thanks so much for caring.

Kenneth Nutt
Clovis, NM

03/22/2016

I recently advertised and sold a small vending machine through your site. The process was quick, smooth, and everybody involved was fair and honest. Your agent, April Hurd was professional, friendly and made the process easy. Thank you for a job well done.
J. Clay,
Marietta, GA

11/18/2014

Thanks crissy for all your help with the sale of my food truck, you made it very easy for me sell.
Thank you,
Andrew Pellicane,
Hutto, TX

10/07/2014

Aside from the hiccup in programming the prices and the absence of labels that fit the machine, everything was perfectly satisfying. Ultimately, the mechanical setup within the machine was correct in spite of our initial uncertainty. It was simply my installer who needed a tutorial in that department. Thanks for all your help. I would be glad to do business again if/when I am in need of additional equipment.

Nathan Wilson,
Lewiston, ID

05/31/2012

Melissa Powers at usedvending.com is a true sales professional that blew me away with her persistence and abilities, I will definitely refer her to anyone I can looking to buy or sell vending equipment. Thank you very much and I wish you great success with your future endeavors!!!

Ron F.,
Lancaster, PA

08/18/2011

I was very pleased with my interaction with Milissa Powers during our lastest purchase of two vending machines. She was easy to talk with, has a great sense of humor, and completely competent in helping us close the deal. Thanks Milisa.

Gerald Landry
Rose City Vending
Pasadena, CA

05/09/2014

Stacy Sweet was extremely helpful with locating the best truck for our needs. He took a lot of time to assist us along the way. We received our truck last week, and are very pleased with it. We think it will be the first of many more. Thanks Stacy!
K.H.
Chicago, IL

06/11/2014

We just wanted to say thank you!!! It was a pleasure working with your company. If we ever have a need to sell our trailer we will definitely be using your services. Not only did you provide quality assistance but you were also very professional and prompt. We would highly recommend you Usedvending.com. Go Crissy!
Travis & Stacy, California



04/15/2014

I've spent months looking for the right food truck- April saved me so much time and effort, she found me what I was looking for in a week. I'm very happy I went the usedvending.com way. Better then sifting through the crazies on craigslist!
Jason Masek,
Corpus Christi, Texas


02/10/2011

Melissa was very helpful in getting my deal finalized. She even stayed after normal business hours to complete my deal. Best service anyone could ask for hands down.

Dionte'

Iowa

05/27/2016

Melissa,

Thanks for all your assistance throughout the process of this transaction! My new trailer is in my commissary lot and I'm ready to get started as a new business owner! (Wish me luck!)

The sale yesterday went very smoothly. The trailer was everything I'd expected and David, the seller, was very helpful and happy to answer all my questions.

I'm glad I happened to find USEDVending.com or else I'm sure I'd still be haunting the personal ads looking for the right trailer. The site's options and the information provided really put my mind at ease that I was making the right choice.

Most importantly, the personal touch and knowledge you provide as a sales representative really insured that this transaction went smoothly. What could have been a very stressful process turned out to be a piece of cake!

Thanks and all the best

Jeff B. Gimbel
Philadelphia, PA

April, Thanks for your help with my recent purchase. Getting a follow up call from a website!! What a pleasant, unexpected phone call. Definitely a first! I look to deal with businesses who enjoy giving Positively Outrageous Service as much as I do in mine.
Thanks again,
Dave

Austin, Texas

02/21/2011

Had a rush order and worked with April Hurd. She was very plesant to deal with and turned my order quickly. Actually gathering the data I needed for a quote that particular day. Actually won my repeat business. Keep up the good work!

Ohio

08/25/2014

MEGAvending is a great company to work with. They were with me every step of the way from ordering all the way until after delivery. They are professional and friendly, and the vending machines came quick and undamaged.

Ashley,
Pryor, OK



05/23/2014

Hey Tina Just a note to say thanks and job well done! ! I'm really happy with how things worked with USEDVENDING. If I have something to sell in the future you will hear from me. Thanks again.
Tim, MN

09/25/2011

Melissa, Thanks that was a great deal. As soon as we have these machines placed, I am sure I will be in touch for other great deals. If you do come across another great deal like this one, please feel free to give me a call. Like my husband said, too great a deal to pass on.

Thanks again for thinking of me when this deal came up and I appreciate the personal attention. It was great working with you, your company was very professional and I appreciate the fast turn around.

Thanks again, Denise
Poconos, PA

02/07/2014

Melissa was most helpful in my purchase. She is very professional and a joy to do business with. Usedvending.com has a valuable asset in Melissa Powers, she made this as smooth a transaction as could be expected.
R.B.
Ridgecrest, CA

10/14/2009

Our journey to find the exact machine for our needs turned out to be an easy one....April our customer service rep was not only helpful and informative but turned out to be that real down to earth friendly person that we all look for but never seem to find. On normal terms we are usually forced to speak to automated operators or tranfered to person to person. April became our personal assistant until we found exactly what suited our needs. Thank you for a pleasant expierience.
Best Regards Sheryl Elliott Easy Management Co.
Walpole, MA

01/27/2009

April, it seems that it is hard to find someone who is honest and trustworthy in the world today and it makes people leery of buying things online, especially when you have to give personal financial information. Our experience with Usedvending.com was awesome. The person that we bought our machine from was very helpful even after the purchase. I was so pleased to see that the machine I purchased was like new and operates the same. Thank you for being a company of integrity, offering money back guarantees if the machine is not as specified. This was the best experience I have had online.
Sylvia

02/26/2012

Thanks!! I appreciate Stacy Sweet's help in negotiating the sale of my trailer; he made it quick and simple. Great site, great service.

Palmdale, California

12/17/2013

I have high marks for UsedVending and its staff. I would like to let everyone know how helpful Melissa from Used Vending has been to work with on selling one of our food trucks. They handle everything from setting up the profile and ad to finding the buyer. We had a great experience dealing with UsedVending and they found a buyer fairly quickly. The buyer just came, quickly looked over the truck, and drove off with the food truck due to how well everything was advertised and questions that could be asked before the sale. UsedVending dealt with all the offers and paperwork trying to get the food truck sold for us. I would highly recommend Used Vending to anyone trying to sell their food trucks.

Kevin Tighe
Georgetown, MA

06/30/2010

Melissa did all the work! What a great experience. We just sat back and waited for Melissa's call arranging the sale of our 8 machines. Great job!

Bob

04/28/2016

Thanks for all your help Greg. You found a buyer very quickly and assisted me along the way. The process with your business could not have been easier- especially with a difficult buyer!
Amy Shepherd,
Woodstock, GA

09/10/2014

These guys get the job done! The last business i did with them was great fast and easy. Im so happy with the service that I added 2 more listings. They are responsible, reliable and know what they are doing. They look at your sale like their own and they care for the seller as much as the buyer! You have a business to sell this is the place!

Jose Paniagua,
Harrisonburg, VA

12/09/2010

Thank you for all of your help in obtaining our two machines last month. You made it very easy and the transaction went smoothly. We appreciate your patience in helping us get this done. If we need more machines, you will be the first one we call.........you made things so much easier than we thought possible!!

Darwin,
MO

07/20/2011

Wow! Stacy, you & your colleagues at 4 Mega have done it again! The new account that you referred me to is awesome! It's amazing how easy you make it for me, you do all of the locating work and I just meet and shake hands with the contact & roll in with my machines! What a winning combination! I look forward to conducting lots of business with you! Thank you!

Steve S.
Ohio

04/25/2016

Dear Wendy,
Thank you so much for all your work to find me a buyer. Your company handled all the steps in a thorough and a professional manner. I felt secure in having you filter and screen all interested buyers and only disclosing my personal information after a deposit had been made. When the buyer offered a lower price than what I was asking, your negotiating skills were key in arriving at an amount we both were comfortable with. I have, and will continue recommending UsedVending.com as a reliable, professional, and well run broker service for the vending industry.

Sincerely,
Janet Wilson

07/22/2016

Melissa:I wanted to thank you for assisting me with my Food Trailer purchase, at first I was very nervous to even call, (since most listings I found to be a scam of some sort), but I had a choice on who to contact (pictures), I actually got to see a face with whom I had the PLEASURE to actually speak with, I definitely made the best choice, based on your picture only…LOL. Thank you a million times, you not only made me feel comfortable over the phone and the transaction so simple, you put me in touch with the most amazing Seller. So thank you for assisting me with beginning my dream, I would defiantly refer you (personally), you are the perfect Salesperson, you made me feel like it was more than a business transaction and so easy.

Thanks again!
Theresa Montalvo,
Plantation, FL

06/17/2014

I am very pleased with my experience with Megavending in purchasing our first vending machine. My sales person, April was quick to respond to my questions, helped me through the purchasing and financing options and ensured that I was kept informed through the entire process to delivery. She is excellent in follow up and I highly recommend the company and my account representative. When we purchase our next machine...we will be repeat customers.
Marc B.
San Diego, CA

07/09/2013

I am very happy to say that USEDVENDING has been a plus in my life. I have had a great experience, and I have had a excellent time working thru them. Melissa, has been oh so helpful, accessible, and knowledgeable of their products. I'm very happy!!! I'll refer any friend or person to her and USEDVENDING .

L.C. (Buyer)
Texas

07/27/2009

April is very sweet and very nice to deal with. I brought several machines from her and she is very professional. She is also willing to negotiate on the prices of the Machines unlike some cut and throat sales people We have come across in the past. She is prompt in her sales inquiries and knowledegable on the Machines.

Livingston, New Jersey

12/05/2013

Hello April,
I am extremely pleased with the machine that I purchased from you and in fact have already had to refill it twice. As with previous purchase ( from Stacy Sweet), your customer service was wonderful and you were very quick in responding to my order. Thank you so much for the outstanding service that you have continued to provide me with and in the future if I need another Lil €™ Medic vending machine, I will come to you first!!
J.M.
Hattiesburg, MS

03/02/2012

The experience of buying a used vending machine through USEDvending.com was very quick and easy. Melissa Powers walked me through the entire transaction. At first, there was a question of whether another buyer was in line ahead of me. Melissa told me that she would know for sure within a day. Sure enough, she called me back to give me the green light. Melissa led me through the steps of charging my deposit online, then put me in touch with the seller. Every step of the transaction went off exactly as Melissa told me it would.

Dan K. ,
Illinois

07/22/2012

I sold my food cart through Melissa at Usedvending.com. I really liked Melissa, and enjoyed working with her. I like her southern accent, too!! I would use you again, and recommend usedvending to a potential customer, should the opportunity arise.

Steve Kasel, former customer.



10/27/2014

I just wanted to share some of my wonderful experience with purchasing a concession trailer with your company through Crissy Cook. She made sure that every thing was done quickly and easily. From the beginning I stated to her that we were needing a trailer within a week and she made that possible. She answered ever one of our questions very to a tee and in a quickly manner. We know in the future we will be using this company again. Fantastic experience and transaction. We couldn't Thank her enough.
-Tiffany Sprayberry, Just A Little Frosting Co-Owner
Lineville, AL

Hello Julie, I just received the shipment. That was fast. I really appreciate your help and I'm very impressed how fast you filled and shipped my order. I'll be ordering 20-25 more machines in the next two or three months. I'll definitely be in touch when the time comes. Thanks again,
Randy P.

01/19/2011

Thanks Melissa, your assistance in quickly and accurately listing my machine and identifying a qualified buyer helped my transaction go very smoothly. Your company is truly one of kind!

Darryl RR,LLC
Gaithersburg, MD

04/05/2012

"Thanks" Mr. Stacy Sweet for helping me negotiate on "5" machines I needed for my company. I have been self-employed for over 30 years with many miles of business transactions and deals. Mr. Sweet made this transaction so smooth, flawless, and professional. One of the smoothest transacion EVER in my history of self-employment! Thanks again Stacy and I look forward toward our next deal!

James Bastrop,
Texas

03/04/2010

With all the companies we deal with, we have never had a more pleasant and thorough experience than we had with April Hurd and Used vending. They have come through on two seperate occasions now in finding great customers to purchase our equipment. Very dedicated, professional, quick, and flawless transactions each time!! Thank you, April for all your hard work now and in the future. You are the best!

Matt
Carlisle, PA
See Hundreds more or Write your own...