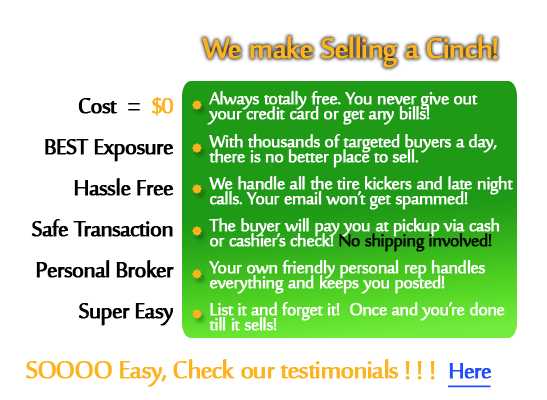 Sell Used Livestock Trailers
Selling your used livestock / cattle trailer is free! Whether it's 10 ft long or 50 ft, we have hundreds of buyers looking for the perfect used livestock trailer. Our free online broker service never charges you a dime. It's a no brainer, just ask our thousands of satisfied customers - many are sellers just like you. Click the link in the blue area above to see hundreds of testimonials!!
We sell
used livestock / cattle trailers
in the most secure, safe manner. Avoid the problems and fees associated with using ebay or other online sites; we handle all the hassles to bring you only a serious buyer that has paid or put down a deposit and is ready to buy.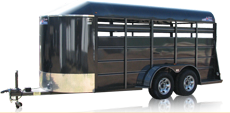 It doesn't matter what you've been hauling - cows, pigs, llamas, porcupines, or kids - we can sell it. The kids may cause some issues though :-) Your used livestock trailer will get outstanding exposure to thousands of buyers. Best part is It's Free and you don't have to deal with the hassles! Your friendly assigned agent will handle all the phone calls and emails. Once a paying buyer is found, they will meet with you to buy the trailer. Couldn't be easier!!
Take plenty of pictures - PICTURES SELL! We'll post them for free so that the buyer knows exactly what they are getting and there are no questions when they come to get your cattle / livestock trailer. We'll even take video of the trailer if you have that!
Selling your used trailer is easy...
1. Create a free
Trailer Seller Profile
2. Login and provide your trailer ad details and pics
3. Leave the rest to us!!
If you later need to add additional info or pictures to the listing, no problem - just login to your account and do so.
It's easy, remember to checkout our hundreds of testimonial letters from buyers and sellers!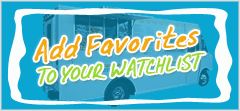 Customer Experiences
02/07/2012

From my initial research to the first can of soda purchased, Used Vending was awesome. Melissa took care of all my questions along the way. Even after the sale, she has been there to help in all aspects. The whole situation went exactly as I had hoped. Thank you!!!

Benjamin,
Ohio

07/24/2019

I was skeptical at first like most because I had never heard of Used Vending before. Soon after talking with Denise I knew this was the right decision. The process was easy and they stay on top of everything. The transaction with the buyer was fantastic! If you're debating selling with Used Vending, you're wasting valuable time.
Michael Murphy,
Mountain City, TN

11/04/2015

A gigantic THANK YOU to Melissa and the crew at UsedVending.com. Given the cost of advertising, it is amazing that a trailer would be internationally advertised on a high profile web-site at no cost to the seller. More importantly my trailer was portrayed professionally yet in a format that presented the unit exactly as it appears and is functionally operable; including many pictures and a quality description for the potential buyer. I always knew the status of potential purchasers, and when the "correct" buyer came along, all of the documentation and coordination of the sale was "spot on." Thanks again Melissa and UsedVending.com... I am now in the process of designing and ordering a new trailer with cash-in-hand.
Dave @ Prairie Fire
Forsyth, Montana

10/10/2012

Melissa, Thanks for the really great help finding buyers for my vending machines in April and October 2012. This is a real 'class act'. Melissa did 99% of the work and I got 100% satisfaction. I will singing your praises to anyone who will listen. Many thanks again.

PMG
Bossier City, LA

03/16/2018

Wendy was great to work with, she calls and checks back and fourth throughout the process. If you want to make sure you get exactly what you want within your budget, call Wendy! Highly recommended!
Bogdan Enache,
Miramar Beach, FL

11/04/2009

April at 4Mega Vending is the best. I had a time frame that needed to be met and she pulled it off. All she said she would do she did. I will always and only use april in the future. Thanks again

James
Long Island NY

05/31/2017

Bradley was a pleasure to work with. He answered all of our questions and concerns promptly. He helped make the transaction a smooth one from start to finish. We highly recommend Bradley and used vending.
Anne Almeida,
Hilmar, CA

12/01/2010

Melissa was GREAT to work with! She is truly interested in her customers success and this shows in her warm personality as well as her professionalism in her business. I felt very comfotable dealing with her and had a high level of trust. Melissa always returned my calls and had some great ideas in how to best sell my concession vehicle. Thanks!

Keep up the good and honest work!

Mark M.
The Macho Taco

12/07/2009

April is the best,
We have been trying to purchase a vending machine for several months, April has worked with us through the process. I always look forward to our conversatons on the phone, April never had a harsh word to say, even on the days I called her three and four times about the same thing. Our machine is operating beyond our expectations. We are looking at getting a much larger machine in the near future through 4Mega Vending.
Thank again for everything and Stay Blessed.

Maurice
Lawton, Oklahoma

05/28/2011

Melissa is a pleasure to work with. Your service has been very, professional and fast. you have been great and encouraging throughout the entire process. Thank you very much for making this easy for me. I would highly recommend your service to anyone!...John

08/05/2019

Denise with UsedVending was, and still is, very supportive. I could not have purchased my vending truck without her insight on what was specific for my area. I purchased an out of state truck that I could not personally inspect. Denise made it painless with contacts for inspections and hauling. Also I need to recognize April for her support and professionalism. This company is absolutely amazing for their "never say never" attitude. When I expand to more trucks, these are the people i will call.

Prime Thyme,
Buffalo, WY

12/17/2014

Hi Crissy, I wanted to say thank you so much for all your help in selling our truck! It was a pleasure to work with you and Usedvending. We were very pleased at how smoothly and professionally the whole transaction went down. Thank You again.

Michelle Rex,
Brecksville, OH

11/03/2016

Melissa powers was more than helpful! She was very prompt (even though I think she forgot about the time difference and always text me at 6 am but it was great!) and funny too! Which is what I enjoyed most. It wasn't a transactional deal, she was genuinely interested. It felt like she really was trying to help me. I would definitely go through her again if I need another truck!
Carmen Caristo,
Las Vegas, NV

12/13/2010

I dont have words to describe how professional and efficient Melissa was. Her Costumer Service was amazing. Melissa you made the process very easy and the most important thing everybody was happy with the transaction. Thanks Again.

Lina,

FL

09/30/2010

Melissa Powers did a great job lining up the seller and myself quickly. I was able to start my business much sooner. Thanks again, Melissa.

Steve M

10/04/2017

I never had used an online broker before. The experience I had was a good one. The UsedVending company and the associate (Wendy) were very helpful. She helped me get through a few hurdles along the way, but everything worked out well. The sellers of the property were also quite nice and accommodating to my needs. Everything went well and a special thanks to Wendy.

Harry Oakes,
Cato, NY


05/18/2017

Melissa was great to work with. She told me I could text her anytime and she always responded right away. I had the best experience buying my custom trailer from her. It was also built very quickly!
Launi Wylie,
Vinita, OK

05/01/2017

I'm thankful for finding this site. Buying things online is scary but this site is very helpful and reliable. Thanks Brad for helping me to buy that what I wanted.
Mohammad I.,
Anaheim, CA

03/24/2017

You guys Rock! Grey and his team handled my transaction with complete professionalism and I would highly recommend their services to anyone!
Doug M,
Houston TX

07/09/2019

Selling my unit was as easy as spreading warm butter on a freshly baked slice of bread. Effortlessly!! Used Vending did all the work. Melissa, my sales rep. was extremely professional and always on top of the sale. I seriously just gave Used Vending, details and pictures of the unit, copies of the title, and cashed the check at the bank. I wish life was this easy!!! Thank you, thank you, thank you!!!

Gloria Buley,
Shokan, NY

07/08/2016

I Contacted Jennifer Melerine at USED Vending in May.I informed her that I was looking for a food truck & the price range willing to spend. She promptly forwarded several vehicles to my email.

Jen was very helpful in answering questions & walking me through the process. She coordinated with the seller (in another state), and arranged for me to see the vehicle. She also followed up before, during & after the transaction. The vehicle was purchased the first week in July.

All in all, the experience from start to finish was positive & pretty seamless. I won't hesitate to call Jen for our company's next food truck.

Patrick
Managing Partner
Beans & Cornbread,
Southfield, MI

02/06/2011

I really appreciate all you have done for me in setting up this transaction. Your whole staff was very knowledgeable and professional from the beginning. Thanks again for all of your help.

St. Petersburg, FL

09/20/2011

April did a great job from start to finish, everything went according to plan and there were no surprises. I bought 2 machines in August and decided to buy 2 more after the we realized the need and there was only one place i thought to call. Great job.

C Pollard,
Texas

03/19/2014

I was very satisfied with the service I received From APRIL HURD. She was very helpful in getting the deal worked out and very patient with the issues I bought up doing this transaction. She has a very awesome personality and no matter the situation or time, she was also very helpful. I will again use the service from USEDvending.com and only request for April to help me.
H.H.
Jacksonville, FL

01/30/2011

I had a great experience on usedvending.com and with all of Aprils help. She answered all my questions and gave tons of helpful tips and information that I really appreciated! She was very patient with me since I am just starting out in the vending machine business. I have done a lot of research and compared different websites and I am sticking with usedvending.com and April! They have the lowest prices and people are negotiable. I was even happier with my machine in person than in the picture and it works great! THANKS APRIL!!!

Ashley V.

11/14/2011

Melissa Powers, you have done an awesome job of selling my vending machines. I really appreciate your dilligence and follow through. It really paid off. I will definitely use you to sell any machines in the future.

Gary S.
San Diego, California

11/13/2015

I am very thankful for the company. The entire experience was outstanding, and quite simple. The trip I made from Nashville, TN to Oklahoma was long, but very worth it. I am happy with the services I was offered, and I wouldn't think twice about using them again in the future! Thank you!
Humerto Zarate,
Nashville, TN

11/28/2017

UsedVending.com is awesome! They helped me sell a party bus that I have been trying to sell on my own for a couple of months. Wendy my sales rep was a big help. She quickly found me several very interested buyers and I finally got it sold! The whole process was done very professionally. I will definitely use them again. If you need to sell anything UsedVending is the way to go.

Stewart Londono,
Mandeville, LA

07/10/2014

Very positive experience. My company's listing of a food truck with Usedvending.com brought a legitimate, qualified buyer to the table. We previously tried online vehicle auction type sites and had no success. Usedvending.com was more of the niche market we needed to sell the vehicle. Great exposure to those buyers specifically looking for food trucks, as was our case. My account rep Melissa was very cheerful and pleasant to work with. Very professional, knowledgeable and explained the transaction process in detail. Online signing of documents was easy & convenient. Overall a very smooth transaction. I highly recommend Usedvending.com.

S.B.
San Antonio, TX



02/19/2013

Stacy Sweet did a great job by working with me on a great new vending location.

S.F.
Frankfort, IL

10/13/2009

Dealing with April was a real pleasure! When she told me that we would have the deal wrapped up that day I thought no way - but she was true to her word. If I could deal with more people like her I'd have a whole lot more hair.

Bill Ruby
Las Vegas Ice Center

08/02/2018

Was worried at first, but got excellent support -and thank you guys.
Josphat Ombacho,
Aurora, CO

08/30/2017

The staff at Used Vending worked very hard for me in selling my trailer! They did the tedious work of sifting through potential buyers and put me in line with someone who was looking for exactly what I had! Melissa at Used Vending was very detail oriented and made the sale very simple. I wouldn't hesitate to use them again, should the need arise! Friendly, professional and tactful is everything I could ask for in a service provider and they delivered in every way!
Corey Fisher,
Gonzales, LA

05/23/2010

April was so helpful and such a delight to do business with. I was very happy with my soda/snack machine and the customer service I received was excellent!!

Lisa

01/10/2017

Thank you April for an outstanding job in selling two of my H4U vending machines. She went above and beyond to assist with a smooth transaction. Even sending me her personal cell phone in case questions came up over the weekend.
Hollie Bardin,
Woodstock, GA

Melissa, Thank you for all your help in the sale of my vending machines. We just completed the transaction and everything went great. Nice man! I would highly recommend your business to anyone. Thanks again. Scott

Wisconsin Dells, Wisconsin

01/13/2011

I have had only good experiences when dealing with April at 4 mega vending. Whenever I call and whatever I need, she is right on top of things. I will not be using any other company for our vending needs. April has completely sold us on this company.
Dave
Palm Bay, Fl

10/19/2009

4 mega vending and used vending was extremely helpful with the startup of my cigarette vending business.

Very knowledgeable and excellent follow up skills.

Thanks again!
Apple Vending
Atlanta, Georgia

05/24/2016

April and the team at usedvending.com helped me sell 4 yogurt machines. They were professional and straight forward on my expectations. They answered all my questions and responded in a very quick manner. I would highly recommend them for all of your used vending needs.
Matt Shehadi,
Las vegas, NV

06/18/2010

April Hurd is the best. Wicked fast responding to emails and worked the sale so everything went as smooth as butter. This has been the best brokered purchase I have ever had!!!

New Hampshire

03/23/2016

The Usedvending.com website was very user friendly. It was wonderful to see contact information for your reps on some of the ads. I was lucky enough to reach Jennifer Melerine. She was absolutely wonderful. Jennifer was so helpful in finding something I could afford. I know it was a challenge because I did not have big bucks to spend on anything. She suggested a couple of trailers and one seemed to be a good fit. She was very knowledgeable about the item I was interested in seeing. She provided information via e-mail and on the phone. The process of getting the transaction completed was made exceedingly easy because of Jennifer's attention to detail. She even went the extra mile by providing her after hours telephone number should there be any concerns or problems. I sincerely hope that all of your reps are as conscientious as Jennifer. If anyone should ever ask where I purchased my "new to me" trailer, I will let them know to check out Usedvending to avoid any hassels and scams that seem to be everywhere.
Rosemarie Titus,
Janesville, WI

04/21/2010

"Thanks April for all your help, counsel, and time in procuring my 4 vending machines!" You are very professional, informed, and a delight to work with! We will work again on more machines in the very near future! Thanks again!

James Sterling
Bastrop, Texas

07/03/2018

Denise, I am writing this email to let you know how much I appreciate your professionalism and to let you know my experience with Used Vending has been flawless and seamless. Thank you for being there every step of the way making sure all the i's were dotted and all the t's crossed. I look forward to doing business with Used Vending and their excellent staff in the near future.
Sincerely,
Chip Owens,
Kingwood, TX

What would I do without your help in all this stuff?....You have always gone that extra step for me and it is appreciated. Once again you came through for me.
Bud F.

Cashmere, Washington

03/01/2011

It was a great pleasure working with April who was really helpful and available along all the process. I really appreciate working with April and Vanessa and I will recommend 4vendingtips to everybody I know. I will be back ladies!

Seydi Olney, Maryland

04/18/2016

ust wanted to let you know that my experience with UsedVending.com.com was a great experience. Julia Hodges was great in helping both the seller and buyer with all the questions and answers. The sale went very well and as the seller, I was very pleased. From the buyers experience, she stated to us that the trailer was in very good shape and better than she expected. Julia was great in assisting with everything. The trailer sold faster than I expected and might have taking me several more months without Usedvending.com. Thank you very much for your help and I would recommend anyone to use your company to sale their trailers with you!
Tony Douglas,
Humboldt, TN

10/14/2009

Called with a simple parts question and was attended to in a very prompt and courteous manner. Unfortunatly I was looking for VERY obscure parts for an OLD machine ( older than the help...) still the person I talked to, April, was very helpful and provided the contact number for a possible solution to my problem.
Thanks to you April.

Coatesville, Pennsylvania

02/28/2010

April was wonderful to work with. She kept us up to date on the progress of our machines the entire time. We are very pleased with the product that we recieved also...Very good quality machines for the price. Thanks April for all your help!

11/09/2015

I had a great experience dealing with usedvending. I had most of my interaction with Melissa Powers. She is fun and upbeat. Always gets right back to you with answers. I had high expectations for selling my BBQ trailer for lots of money, but, while I didn't get what I was hoping..do we ever?....the whole process was painless. Very professional and effective at what they do!! Thanks Melissa!!!
Wendy Binder,
Derry, PA

11/27/2017

Thank you very much Wendy for your excellent work in finding the right food truck and for your prompt and informative communications. Best regards,
Richard Slawson
Slawson Organic Food and Juice
Palm Beach Gardens, FL


See 1,900+ more or Write your own...