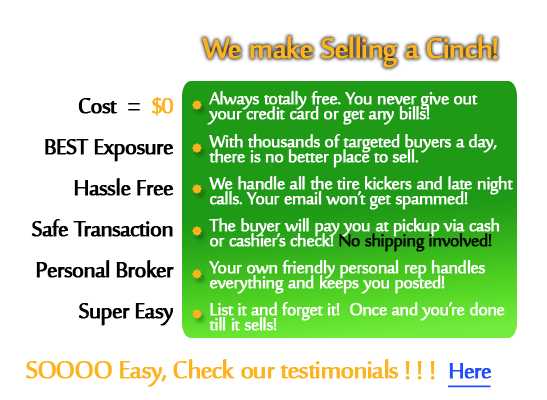 Sell Used Livestock Trailers
Selling your used livestock / cattle trailer is free! Whether it's 10 ft long or 50 ft, we have hundreds of buyers looking for the perfect used livestock trailer. Our free online broker service never charges you a dime. It's a no brainer, just ask our thousands of satisfied customers - many are sellers just like you. Click the link in the blue area above to see hundreds of testimonials!!
We sell
used livestock / cattle trailers
in the most secure, safe manner. Avoid the problems and fees associated with using ebay or other online sites; we handle all the hassles to bring you only a serious buyer that has paid or put down a deposit and is ready to buy.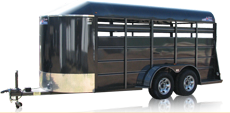 It doesn't matter what you've been hauling - cows, pigs, llamas, porcupines, or kids - we can sell it. The kids may cause some issues though :-) Your used livestock trailer will get outstanding exposure to thousands of buyers. Best part is It's Free and you don't have to deal with the hassles! Your friendly assigned agent will handle all the phone calls and emails. Once a paying buyer is found, they will meet with you to buy the trailer. Couldn't be easier!!
Take plenty of pictures - PICTURES SELL! We'll post them for free so that the buyer knows exactly what they are getting and there are no questions when they come to get your cattle / livestock trailer. We'll even take video of the trailer if you have that!
Selling your used trailer is easy...
1. Create a free
Trailer Seller Profile
2. Login and provide your trailer ad details and pics
3. Leave the rest to us!!
If you later need to add additional info or pictures to the listing, no problem - just login to your account and do so.
It's easy, remember to checkout our hundreds of testimonial letters from buyers and sellers!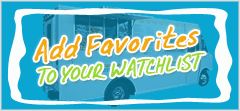 Customer Experiences
10/20/2009

Melanie Lee was very helpful in assisting me to obtain the vending company that was right for our company. Thank you Melanie for all of your help!

Lisa
Buffalo, New York

After advertising my concession trailer for more than 4 months on various advertising outlets on line, I was approached by Melissa with UsedVending.com. I have to admit, at first I was a bit skeptical. Within a week, I already had an interested buyer but we couldn't quite close-in on the price, but there were others shortly afterward. After less than 2 months of advertising on UsedVening.com, I had the buyer I had been waiting for nearly a half year, and he was very serious and willing to pay the asking price to get what I had originally wanted for the trailer in the beginning. After a couple of days, the deal was pretty well buttoned up. I'm very fortunate to have been approached by Melissa and glad that she convinced me to list the trailer with her. After all is said and done, I wouldn't list it with anyone but UsedVending.com. They were very fair and professional throughout the entire process. Thanks Melissa and if I ever have a similar need, rest assured, you will be the first person I call.
Jason Bell
Plano, Texas

09/26/2014

Hi Calice, Just a few words on my experience with Used Vending. I have been very happy using Used Vending. I have been in the vending business for 1 year and am trying to grow my company. Buying the vending machines from your site has helped me grow from 5 machines to 16 in no time at all. Calice has been a great help getting my bids to the right people and getting back to me. The deposit went smoothly every time. I picked up 10 machines yesterday and the couple was from Hastings NE. I live in Omaha and had to hire a truck and coordinate with the couple from Hastings a pick up time for both of us. There was never I a time where I felt uncomfortable and things from Calice were upfront. Thanks for saving me lots of money on machines and helping grow my business in a short time. I will definitely be using your site in the future.
Thanks,
Cathy Burdis
CBvendingomaha.com
Omaha, Nebraska

11/01/2010

Everything went like clockwork! Thank you so much for your help. Will certainly be in touch when we have another location to place!

Thanks, Jane

12/21/2010

HELLO MY NAME IS MARTA AND WE WERE WORKING WITH MELISSA, FIRST OF ALL WE HAD OUR CONCESSION TRAILER ON EBAY AS WELL, WHICH CAUSED US NOTHING BUT MONEY I FOUND USED VENDING'S WEBSITE AND CALLED. MELISSA TOLD ME HOW TO POST IT EVEN MADE IT EASY FOR ME AS FAR AS PUTTING THE PICTURES ON MY AD. NO PRESSURE,OR WORK SHE DID IT ALL I JUST SAT AT HOME AND GOT CALLS FROM MELISSA WITH OFFERS.
WHAT I LIKE ABOUT MELISSA WAS HER EXCITING PERFESSIONAL PERSONALITY, AND THERE WAS NO PRESSURE TO TAKE OFFERS, AND AFTER THREE OFFERS WE DECIDED TO SELL OUR TRAILER IT WAS CLOSED AND PICK UP IN A WEEK. SHE TOOK CARE OF ALL OF THE SMALL TALK AS WELL AS IMPORTANT DOCUMENTS.

THANK YOU MELISSA
MARTA
TOLEDO,OHIO

08/24/2010

We purchased our equipment back in 2007 through Mega Vending, April was our sales contact.2010 we decided to sell this same unit through their affiliate, Used Vending. We all know making the purchase is exciting but their are times when the sell can be more than challenging. This particular challenge was overcome by a sales representative that worked through the issue, communicated clearly, and resolved our issue. It takes an experienced staff and strong company to work through these challenges and ultimately make both parties happy. This is that kind of company.

Thanks again April

P Webster/ P an B Petro

10/23/2009

My experience with Mega-Vending was very pleasurable. The staff was most helpful and professional. I look forwad to continued business with them in the future.
JDFDYER

North Hollywood, CA

07/10/2014

Very positive experience. My company's listing of a food truck with Usedvending.com brought a legitimate, qualified buyer to the table. We previously tried online vehicle auction type sites and had no success. Usedvending.com was more of the niche market we needed to sell the vehicle. Great exposure to those buyers specifically looking for food trucks, as was our case. My account rep Melissa was very cheerful and pleasant to work with. Very professional, knowledgeable and explained the transaction process in detail. Online signing of documents was easy & convenient. Overall a very smooth transaction. I highly recommend Usedvending.com.

S.B.
San Antonio, TX



10/15/2013

I purchased two food concession trailers recently with Melissa acting as my broker. One of the trailers was 700 miles away. I was able to make all arrangements through Melissa, including inspection. She handles all details flawlessly. The trailer was picked up and delivered through a third party transporter. The only hitch in doing business with UsedVending is the hitch used by the transporter. Needless to say, I am a totally satisfied buyer and would gladly use Used Vending the next time I am in the market for a trailer.
Stephen W.
Miami, FL

10/26/2009

We were desperate to sell...April sold not 1 but 2 machines for us in one week. Wow!
Ann Schwausch

Utah

04/15/2014

I have worked with Melissa Powers in the past when purchasing equipment through your website. She always makes things fun...but, I had no idea how fast Stacy Sweet works his magic, because my unit literally flew out the door once I priced it ready to sell. Not only that, but he somehow came up with a buyer only 45 minutes away! I am completely satisfied once again with UsedVending.com and would recommend Stacy Sweet anytime. Well done.
F.S.
Santa Rose, CA

11/06/2010

Melissa was extremely helpful and professional with us as a first time buyer. She made everything go smoothly and I was not only extremely impressed by her efforts through the purchasing process, but with the follow up as well. My company will definately be using Melissa and her company again. Thank you again.

Rob G
Pennsylvania

10/17/2012

Mad Sam's Mobile food unit is up and running in the Kentucky area....Would not have been possible without the wonderful help from Melissa..she answered every question ( being new at this I had a bunch )and if she didn't know she would find out....anyways she did a wonderful job and I wouldn't hesitate to use them again........

Mad Sam's in Columbia KY - Stop by and see us

04/30/2014

I had dealt a lot with Melissa and Stacy through the selling of my concession trailer and equipment. Both of them were on the ball when it came to serious offers about my stuff and Stacy was the man who got my stuff sold. He made sure that the gentleman who was interested in my stuff was extremely serious in purchasing it because the gentleman was 3000 miles away. As a result my stuff was sold and I am extremely satisfied with the work that was done in getting it sold. Thank You Melissa and Stacy for all your hard work.
Sincerely,
Patrick
Riverview, Fl

11/20/2011

I am very pleased with Melissa Power's successful handling of vending machine sales for me and am continuing to work with her to sell the rest of my equipment. She was instrumental in negotiating a price which expedited my sale.

Sincerely,
Buz Rummel

12/30/2010

Melissa

I would like to thank you for all the help in selling my used vending machines. You were very helpful and i never had any issues or problems with any of the transactions.I recommend you and usedvending.com to anyone who needs to sell used vending equipment.

Thank you Melissa.

Mike
Garden city, Michigan

06/18/2012

Stacy was very helpful and went out of his way to help us. Great service, big thumbs up.

Alex,
New York

06/11/2014

We just wanted to say thank you!!! It was a pleasure working with your company. If we ever have a need to sell our trailer we will definitely be using your services. Not only did you provide quality assistance but you were also very professional and prompt. We would highly recommend you Usedvending.com. Go Crissy!
Travis & Stacy, California



10/15/2009

Melissa has helped me sell 2 machines in a short amount of time, at no cost to me. She does all of the work with a few phone calls and emails. I tried a newspaper ad for 4 weeks that cost over $100 and I had 1 response. Used Vending. com has worked very well for me.

West Hartford, Connecticut

05/21/2000

I contacted Eric Normand through his webpage several months ago in regards to some vending machines that I had for sell. His service provided another way to sell my vending machines other than posting classified ads. His service directly reached potential buyers and saved me money. I got a fair price for my vending machines and was able to sell them in a reasonable time. He kept in contact with me the whole time we worked together and I felt reassured that his efforts were true to helping me sell my machines.
Thanks,
Jason Aycock

12/27/2012

We have had 2 very good experiences with placing our machines through our representative Gini Sweet. She has been most helpful and follows up on our placements regularly. Thanks Gini for being so helpful. We look forward to doing business with you in the future.

G & M
Hueytown, Alabama

01/22/2014

Calice,
Thank you so much for the kind and generous help with my purchase. You went well beyond my expectations with the numerous emails, text and phone conversations to help with my last minute deal, in the last few hours of 2013. The transaction was flawless. I will definately be contacting you again in the future for more purchases
Sincerely,
Hudson Gray
Clarksville, TN

05/20/2013

We purchase our vehicle from Melissa -who was amazing in the process. We had such a great experience with her that when we needed to sell .. She was the 1st person we called. He follow up skills are impressive .. Along with her diligent goals to help sell your vehicle. We are SUPER happy and definitely reccomend Melissa 1000%
E.P.
Ft. Lauderdale, FL

07/10/2013

If you want to sell quickly and without headaches, I suggest contacting Melissa today. I couldn't be happier with my results, and you will agree by simply using Used Vending as your source to sell. Thank you again Melissa!

Tony from Tucson, AZ

08/05/2014

We were very pleased with the ease of listing our equipment and the incredible customer service we received during the process. Communication is everything in making a business transaction and they were great. We highly recommend using UsedVending.com to buy or sell your equipment.
P. Brill
League City, Texas

07/13/2010

Melissa Powers has helped us to find used equipment twice now and she has been quick to get responses both times. We really appreciate her help and will continue to use her resources in the future.
thanks so much.
Phyllis Long

10/11/2010

The first time Melissa Powers called me regarding a buyer for my vending machines, I knew that I had made the right choice in using your company. Melissa is friendly, professional, polite and knowledgeable. Melissa made the sale a pleasure - she is an asset to your company! Thank you!

Denise A.
Owner

07/12/2013

Cristina Lumpkin was AWSOME, said she would sell my food bus fast, and that is exactly what she did. Within just a few days I had a full price offer, that buyer backed out and within a few hours she had another buyer that bought it, full price. NO hassles, the transaction went just like she promised. I will call Cristina again when I have more items to sale. You should also. Nice work Cristina, you know what you are doing, GREAT customer service. Thanks.
Roger
Orangevale, CA

10/16/2011

My experience with this company was superb. Not only was I treated with respect and professionalism, but the customer service rep that I worked with was competent, punctual, and followed-through on every lead and responded to every question. This is a company that does what it say it will do and I am happy to recommend them to anyone.

Very Satisfied Customer
Miami, FL

05/14/2013

Working with the team at UsedVending.com was great. We quickly narrowed down options for what we needed and were able to take care of the paperwork quickly. Cristina was very responsive and made this a quick, painless transaction. Highly recommend.

D. Miller
Seatte, WA

06/12/2014

I bought my food trailer a couple of months ago with Melissa from Usedvending.com. It was an easy process and really enjoyed all the help she gave me when trying to find just the right rig. We are so happy with our trailer and are finally all ready to open for business. Thanks Melissa for all your help along the way and we can't say enough for helping us achieve our dreams!!! Gourmet Sandwiches anyone??
Sean Collins,
Deli'cious Mischief, Washington

12/20/2012

I cannot recommend this site enough; Melissa Powers made selling my trailer so easy taking care of everything all I had to do was sign the papers. She kept me up to date on the people that were interested in the trailer and made sure they had all the information they wanted. Thanks for all you did.

J.G.
Moorhead,MN

01/12/2011

1/13/2011

I would like to thank Vanessa for all her efforts and due diligence in seeking out a quality vendor for our company. I have had no success on my own locating vending company's that can support our small company needs. I was at a point of giving up when I found and contacted 4Mega Vending. My search was over. Vanessa took over and began searching for me. Vanessa was always their for me explaining the process and working very hard to find vendors. The calls came in. It was great. My labor intensive project just became easy. Due to Vanessa, I believe I have found an excellent, quality, vendor. I am excited about our choice. Vanessa made my search very easy, smooth and pleasant. I just cannot say enough about Vanessa. My experience has been exceptional. I have dealt with many companies and many individuals during my career and Vanessa knows what customer service means.

I highly recommend 4 Mega Vending to anyone who is looking for assistance in locating vending services.

Susan
McKinney, Texas

03/19/2014

I worked with Stacy Sweet. He was very knowledgeable in trailers and gave me good advice. He always answered my questions with a quick turnaround. When I asked for something custom he got it done. Thanks for a nice and easy transaction! I love my new trailer.
Rhonda
The Woodlands

09/19/2014

We had a good experience and everything was perfect.

A. Janlou
Rockville, MD

Hello Julie, I just received the shipment. That was fast! I really appreciate your help and I'm very impressed how fast you filled and shipped my order. I'll be ordering 20-25 more machines in the next two or three months. I'll definitely be in touch when the time comes.
Thanks again, Randy P.

03/07/2013

Hi Calice, Thank you for your help in getting us a nice deal on some good used snack and soda combo machines. The transaction was very smooth.

Chris Farmer,
Dallas Area Vending Company LLC

I have purchased 10 vending machines through Eric at USEDvending.com and have been very pleased with the service I have recieved.They were several different transactions and I received the same service each time. Eric always follows through to be sure I am satisfied. I will continue to do business with USEDvending.com as long as they are on the web. sincerely,

Dan

06/18/2013

Sold our unit shortly after being posted. Christina was not only professional but a joy to work with! Thanks again!!
Judy M.
Lauderhill, FL

10/09/2012

Hello Melissa, I know it's a bit late but I wanted to say Thank YOU !!! for all the work you did for us on the last transaction. The machines are in great condition and working great. Excellent buy!!! Thanks Again!!!

C. Velez
Jacksonville, FL

06/15/2009

Here you go April! I just wanted you to know that I had a very good experience working with you. This was my first time and now I am ready to go any other time because thanks to you I know what I'm doing. All transactions were easy and whenever I needed you, you were there. Not only were you there ready to go, but you were there with an AMAZING attitude and OUTSTANDING service. Even when you were sick you came in and took care of me and who knows what else. Also the day before that you were too sick to come in, other people stepped up and helped me out with great service.

Last but for sure not least, it was great to work with someone else in THE Faith. Ha I keep reading your email signatures. Anybody reading this, just know that if you get to work with April, you are very lucky!
Josh

05/23/2012

Gini Sweet helped find us a vending service right away. A problem came up and she help solve it immediately. Vending machine was set up within a few days after contact. Thanks!

Jeff,
Sugar Grove, IL

10/18/2009

I was very pleased with Usedvending services and very please with April she did a very good job and I would recommend her to my friends. I hope to do business with her again soon.
Arnita Williams
Colonial Heights, Virginia

08/10/2010

Thanks Malissa,we appreciate everything you did to assist us in making our dream come true.You made this process simple from beginning all the way to the end.
Businesses need more professional, friendly and enthusiatic people like you. Keep up the great work.


April and Antonio Rodgers

10/26/2009

Working with April has been a real pleasure. April is always willing to go the extra mile and ensure all of my needs are taken care of. I highly recommend working with April for your vending needs.

John,
Connecticut

10/01/2012

Thanks Gini for helping to fill our soda void! You found us very nice vendors who catered to our needs and made the process very easy. I know that if we need something in the future you will be the first person I call!

Adrianna
Dallas, Texas

03/15/2012

I have been using Usedvending.com for the past 6 months or so. They have posted great pictures of my food cart and a very descriptive ad.

Steve,
Aurora, OR

03/06/2012

I was very satisfied with the great customer service that I received. Stacy made sure that all my needs were met and allowed me to receive the machine I ordered in the time I needed it. I love the fraud protection, it may be a hassle to some, but it made my transaction feel safe. Thanks again the crew of the Ronald H. Brown loves the new machine.

Jake,
Charleston, SC

09/23/1999

I have had great results with the folks at Used Vending when selling my machines. If you want results, I would highly recommend their services.
Jason G.
Slidell, LA

06/20/2012

Amazing experience - everything went so smoothly. Melissa did a great job with communication on what the next step and kept us very informed. Thanks.

Fran,
IL
See Hundreds more or Write your own...