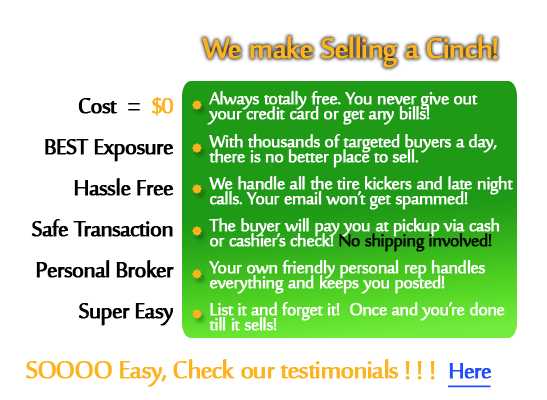 Sell Used Livestock Trailers
Selling your used livestock / cattle trailer is free! Whether it's 10 ft long or 50 ft, we have hundreds of buyers looking for the perfect used livestock trailer. Our free online broker service never charges you a dime. It's a no brainer, just ask our thousands of satisfied customers - many are sellers just like you. Click the link in the blue area above to see hundreds of testimonials!!
We sell
used livestock / cattle trailers
in the most secure, safe manner. Avoid the problems and fees associated with using ebay or other online sites; we handle all the hassles to bring you only a serious buyer that has paid or put down a deposit and is ready to buy.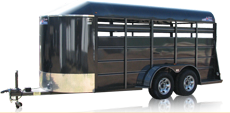 It doesn't matter what you've been hauling - cows, pigs, llamas, porcupines, or kids - we can sell it. The kids may cause some issues though :-) Your used livestock trailer will get outstanding exposure to thousands of buyers. Best part is It's Free and you don't have to deal with the hassles! Your friendly assigned agent will handle all the phone calls and emails. Once a paying buyer is found, they will meet with you to buy the trailer. Couldn't be easier!!
Take plenty of pictures - PICTURES SELL! We'll post them for free so that the buyer knows exactly what they are getting and there are no questions when they come to get your cattle / livestock trailer. We'll even take video of the trailer if you have that!
Selling your used trailer is easy...
1. Create a free
Trailer Seller Profile
2. Login and provide your trailer ad details and pics
3. Leave the rest to us!!
If you later need to add additional info or pictures to the listing, no problem - just login to your account and do so.
It's easy, remember to checkout our hundreds of testimonial letters from buyers and sellers!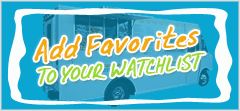 Customer Experiences
12/08/2009

April helped me out so much, i would have been lost with out her

Takoma Park, Maryland

06/13/2009

Professional, Has located me numerous accounts the past few years! Easy to deal with, Good Communication! Look forward to many more years of doing business together. Keep up the good work! David @ BCH Vending
Germantown, Tn

01/22/2018

I am so thrilled that I chose to use your company to sell our trailer. Great customer service from Melissa. She really made the experience simple. I give it a five star and I highly recommend your services. Thanks again

Dolores Ciccone,

Stuart, FL

12/11/2017

Service was great. UsedVending.com made selling my trailer a snap!

Stephen Worsham,
Columbia, MO

01/01/2013

Amanda and her colleague were very helpful and professional in dealing with selling my machine. It was nice and easy transaction. Thank you for all your help.

Liza,
SFO

02/12/2013

I am in auto sales and have been for 20 yrs. Melissa made this a very positive experience! She was knowlegable and very helpful. We will come back to your site for future needs because of her.
Thank you,

Mark Smith
FSM Enterprises Inc.

04/21/2014

I used craigslist for months, and ended up with people that wanted to talk about buying the trailer, but didn't have any money. After patiently updating my listing month upon month, Melissa hooked me up with a buyer that was sincere and had money. The process was very easy and my trailer is sold. Melissa you are the lady! Thanks

HEM
Los Angeles, CA

01/19/2018

It was great to work with a broker so we knew we were getting verified information from the seller. I felt more at ease with the UsedVending.com system for researching and ultimately purchasing our concession trailer. We're really looking forward to using it at baseball games this summer!
Dana Wagner,
Kalamazoo, MI

04/05/2017

Mr. Grey - Thanks to Used Vending my equipment moved really fast.This went really well. Thanks a lot all sold because of you guys!
Mark Maclin,
Memphis, TN


10/13/2009

I recently purchased 3 G620 model vending machines. April made this purchase go really smoothly and I was able to close the deal within a few days. I appreciate all the help and being able to secure these machines for the deal I got.

Kevin
Orlando, Florida

03/09/2011

I will continue business..
April was awesome! She so friendly taking care of a need I had. In today's world it is nice to see there are still good people out there who care. She made my day. I will continue doing business with this company because of her. Thank you April

Robert, New Jersey

10/24/2010

Connie, Thank you so much for helping us build our business. With your help we learned of key locations and secured a position in the vending market. Hope to hear from you again soon.

Herriman, Utah

04/27/2016

The Usedvending.com did a pretty good job and had helped me to sell my food truck fast within a week only. Thanks.
Thomas Fang,
Fresno, CA

10/21/2009

April with USEDvending.com worked very hard to help us sell our machines. She regularly checked in to ask if the machines were still for sale, and although it took awhile, she paired us with the perfect buyer. The transaction was smooth and simple.
I would definitely do business with this company again.

One Satisfied Customer
Columbus, Mississippi

10/08/2010

Connie Jordan/MegaVending referred us to a real money-maker location. We depend on MegaVending for quality referrals to expand our vending business. Thanks Connie/MegaVending. We look forward to more referrals!

Prestigious Partners LLC

11/20/2017

I had very difficult time trying to sell some of the equipments. I had tried local retailers to various national vendors but then by chance I came across used vending and gave it a shot.
What a pleasant experience it has been since then. They took care of all the paperwork, negotiations and made the process very very friendly and easy. I personally enjoyed working with Grey from UsedVending as he is very very prompt and does not waste any time.
Very precise and to the point. If you want to get your used equipment sold with minimal time wastage then look no further and just call UsedVending and ask for Grey.
Just FYI I wasn't paid to write this review but I felt like grey deserves this good review purely because of the services and the way he handled the entire transaction. Very pleased and highly recommended.
Ash Purohit,
Asheville, NC


08/29/2010

Melissa,
Just a note to let you know that my vending machine arrived within the time frame you promised and in good order. Set up was easy and my clients, grade school teachers, are thrilled to once again have a working vending machine.
Thanks for your help and I'll keep your company in mind if the need ever arise again.

Sincerely,
Ray Pierce

03/06/2018

April Hurd found the perfect location for me. I am new to the business and I've always heard that good locations are hard to find. April led me to a much sought out location with lots of foot traffic and I landed the account.I definitely would recommend their services.
Heather Washington,
Smyrna, GA

01/27/2017

Really impressed with Used Vending website very helpful and they always kept me informed with pricing update. There staff was very helpful with paper work for both parties to close and protect buyer and seller.
Wade Sinor,
Seminole, OK



07/25/2010

Vannesa, This is the transfer of goods. Sale is complete and I thank you for such prompt service and attention to detail. It was a very pleasant and refreshing experience. I will recommend you to anyone that I know that needs to sell or purchase you products.

Jeff

06/04/2015

Thanks for making the sale of my vending machine go so smoothly. Upon receiving the initial three emails, it felt somewhat overwhelming but instructions where clear and concise, which made the whole process actually straightforward and simple. At one point in the process, I felt a little bit in the dark on where we stood with the seller's interest and how long it might take to close but you quickly responded to my inquiry with clear status on what the next steps were, and when they would happen. Thanks again,
Rick Gerardi
Orange, CA

12/15/2017

We had a great experience buying a food truck with UsedVending. Melissa was extremely responsive to my endless requests for information. She was very patient as we sought to find the truck that best fit our needs. We love the truck we purchased. Thank you, Melissa! You rock!!
Bobby Williams,
The Messy Chef Bakeshop
Bedford, TX

11/14/2011

Melissa Powers, you have done an awesome job of selling my vending machines. I really appreciate your dilligence and follow through. It really paid off. I will definitely use you to sell any machines in the future.

Gary S.
San Diego, California

Dear Eric, Your Great! I want to purchase 10 NEW Vendstars complete with stands. I'll tell you Eric I will definitely be doing more business with you in the future...you shall see. I have searched the entire net practically looking for not only good prices but someone I felt comfortable working with and BINGO....I found You!
Thanks Eric
Sincerely, Shirley D.

04/22/2016

Melissa has been wonderful to work with and always quickly resolves any problems you may have with your transaction. She really knows how to close the deal! I have worked with her on several deals and she is always a pleasure to work with, helpful and knowledgeable! €
Julie Farrar,
Ocala, FL

09/25/2012

Great experiences with 4 Vending. Very professional and I have landed 3 accounts thanks to their service. I have worked with Gini Sweet and she has been exceptional from day one. Thank you again for all your efforts.

Frank P.
Schaumburg, Illinois.

03/16/2012

Melissa powers of used vending was very helpful and efficient in all of our dealings. I would recomend the company and Melissa in particular to anyone.

Gene,
Belmar, NJ

02/05/2011

I just bought my second machine which is already set up and making money! April was so great! She responds so quickly which made it possible to get the machine as quickly as I did! She even stayed at work late on a Friday to get all the paper work processed so I could pick up that day! Thank you so much April!! I will be contacting you soon for my 3rd machine!! :)

Stamford, CT

08/07/2015

Hi Crissy! This is Kim & Jay - the Pico De Guyo people! We wanted to let you know how pleased we were with the service we received from you and USEDvending.com. From the first phone call we made, it was EASY for us to get our truck listed, updates made, and questions answered. You provided our first qualified buyer within 10 days of listing, and 3 weeks later our truck was sold! We love how you have designed your service so that sellers don't have to come up with any money to list their truck - and your system really works! Thank you for the great service you are providing to those of us in this industry! We would definitely recommend you to anyone looking to sell their truck! Thanks.

Kim Walgren,
Buffalo, WY

09/04/2016

Here is a first for you. We drove over a major incline and summit here in Colorado called Monarch Pass. It's summit is 11,312 feet and the grade is 6.4% about ALL the way. Got down to 25 mph at one point but didn't stall out or overheat. Great job for a 77 Dodge 440! The folks who passed up on this lost out! The attached picture is the Beast at the summit with her very first bumper sticker.....I have got to say the whole experience was new to me and you helped make it all a bit easier to decide on such a major purchase potential that was, for us, long distance.I am extremely satisfied with my purchase and may someday be looking for other vehicle through you! Thank you very much!

Noel Napolitan
Nine Mile Coffee,
Simla, CO

08/26/2012

Calice and Used Vending ROCK!! Used Vending has been a fabulous way to purchase bulk vending equipment. Calice has worked hard to get me the best price on all of the equipment. I will continue to utilize Used Vending and Calice for my equipment needs.

C.F.
Virginia Beach, VA

06/09/2015

This transaction went very smooth and seamless, With the Greg and the company operation in general. Once a buyer was interested, The sale was completed within a few days, Exactly what Greg said.

Thank You All so much,

Dennis D.
Lees Summit, MO

06/23/2015

I recently purchased a vehicle from USEDvending.com and it was a terrific experience! Melissa was very efficient and professional. My questions were answered immediately which made the decision process very easy! Once I decided to purchase the vehicle the paperwork and entire transaction was seamless and very professionally handled. I felt like I had an advocate in this deal instead of the uneasy feeling of purchasing through an un-vetted vendor. My vehicle was delivered on time and in the condition as promised. Thanks Melissa!
Karen Morse
Ben & Jerry €'s Ice Cream
Washington, DC

04/07/2014

Melissa was very professional and sweet to work with. She was very helpful, and she went above and beyond to make the purchase of these Office Deli combo machines possible. I will always recommend her to others, and will purchase our next vending machines from her when the right time comes.
"Bravo Lady."
Michael,
Maryland

09/22/2016

Hello April, Once the deal is complete, I just wanted to let you know how much I appreciate the great job that you did in helping me to sell the vending machines that I had. Especially the dedication on your part, with the monthly updates/checks on my account, all the way up to the completion of the sale. Thank you very much, great job by you and your organization.
Phil Hardy,
Broomfield, CO

12/20/2012

I cannot recommend this site enough; Melissa Powers made selling my trailer so easy taking care of everything all I had to do was sign the papers. She kept me up to date on the people that were interested in the trailer and made sure they had all the information they wanted. Thanks for all you did.

J.G.
Moorhead,MN

03/02/2016

April, One again you have proved that working with you and usedvending.com is pure ease and a pleasure. You've made my small business a growing force. I will always search your site first when looking to add more machines in the future. Thanks again, and I'm sure continued business in the future. Thanks.
Lance Heutel,
DeSoto, MO

08/07/2015

Buyer said everything was nicer than he expected. It has been great working with you. The sales process was fast and everything went smoothly. The buyer was super easy to deal with. You found a good one! We got our money. So all set, until the next one.
Best regards, Jill Kup
Jonas Ridge, North Carolina

02/11/2013

Amanda did a good job. It took quite some time to find a buyer in my area, but she did it!! Yea!!

J. N.
Yelm, Washington

02/20/2018

It is a very professional company and efficient, the sale was made in a week. The attention of Melissa was incredible, very attentive and nice. I give them 5 stars, thanks Melissa.
Yosvani Llanes,
Orlando, FL


12/20/2010

April with mega vending was very helpful in helping us select and order our vending machine for our new office. Upon receiving our machine April has been very helpful with our follow up questions and getting our questions directed to the right people. We are extremely pleased with the machine and the customer service we have received from mega vending and April specifically.

N. Turner with Edcor

06/05/2014

Dear April, Everything went very well with the transaction, I am pleased with the equipment. Andrei was not only very helpful and informative, but pleasant to get to know and 2.5 hours after contact I drove out of Lancaster with the new truck and drove through the night and was back in Holbrook by noon the next day, ran the title work and everything is switched over and looking good. I am very pleased with how everything went and want you to look for a comparable deal on a short bed rollback. You have been pleasant to work with and the whole transaction has moved smoothly and rapidly.
Steve,
Holbrook, AZ

09/28/2000

Thanks so much for your help! The machines are perfect; just glad that I found you before I made that other purchase.
Thanks again,
Tim
San Diego, California

07/25/2011

Thanks so much, Stacy, for your quick help in finding me a great location for my machine. I have been working with 4VendingTips.COM for 3 years now and every experience just gets better and better! It's nice to know that there are still quality people who want to make sure that their customers are well taken care of!

Robin Edwards
Quality Vending Solutions
Euless, Texas

03/06/2014

Firstly, everybody I dealt with at USEDvending (Stacy) was more than helpful. Melissa, you restored my faith in dealing with large purchases. I only wish the remainder of getting my dream business up and running could be so easy. I am not just being nice, Melissa truly went above and beyond the call of duty in every. Thank all ya'all again.
JK
Las Vegas

05/28/2010

Working with Millisa Powers was as fascinating as a roadkill. She explores, analyze and mediates between the buyer and seller to get my requests to purchase vending machines satisfied at the least possible time. Thank you Mellisa.

04/06/2011

Thanks, Melissa, for your patience and persistence when I was hard to get hold of! Appreciate it very much.
Had a very straight forward and smooth transaction! Looking forward to working with you again!

Edmonton, Canada

12/17/2013

I have high marks for UsedVending and its staff. I would like to let everyone know how helpful Melissa from Used Vending has been to work with on selling one of our food trucks. They handle everything from setting up the profile and ad to finding the buyer. We had a great experience dealing with UsedVending and they found a buyer fairly quickly. The buyer just came, quickly looked over the truck, and drove off with the food truck due to how well everything was advertised and questions that could be asked before the sale. UsedVending dealt with all the offers and paperwork trying to get the food truck sold for us. I would highly recommend Used Vending to anyone trying to sell their food trucks.

Kevin Tighe
Georgetown, MA

08/14/2015

Greg, I can't thank you & USEDVending.com enough. Closing my business was tough; tougher was the thought of how long it'd take to sell my 26 € Food Trailer in the dead of Summer. But in just 1 week from when we listed you had a buyer, & 24 hours later they were driving away with the trailer! Hallelujah! Thank you Greg, what a relief your company has brought to me & my family.
Soli Deo Gloria,
Dan Gallo, Owner Boom Town Food Services, LLC
Grenwich, CT

04/03/2017

Love this website! Found my dream vending trailer here. Melissa was great to deal with. She answered questions she in short time and walked me through the transaction from the beginning until I hooked on and pulled it home. Thanks again!!
Sandra Boldon,
Oglala, SD
See Hundreds more or Write your own...