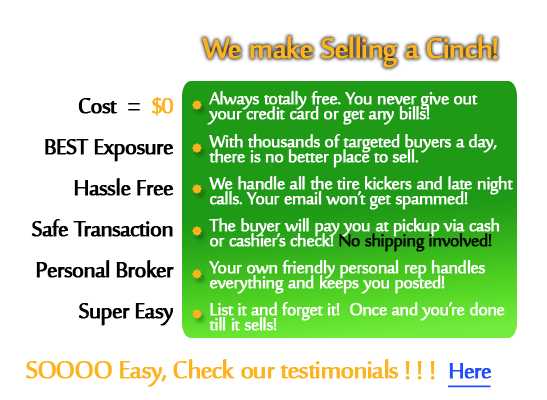 Sell Used Livestock Trailers
Selling your used livestock / cattle trailer is free! Whether it's 10 ft long or 50 ft, we have hundreds of buyers looking for the perfect used livestock trailer. Our free online broker service never charges you a dime. It's a no brainer, just ask our thousands of satisfied customers - many are sellers just like you. Click the link in the blue area above to see hundreds of testimonials!!
We sell
used livestock / cattle trailers
in the most secure, safe manner. Avoid the problems and fees associated with using ebay or other online sites; we handle all the hassles to bring you only a serious buyer that has paid or put down a deposit and is ready to buy.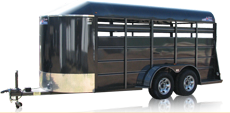 It doesn't matter what you've been hauling - cows, pigs, llamas, porcupines, or kids - we can sell it. The kids may cause some issues though :-) Your used livestock trailer will get outstanding exposure to thousands of buyers. Best part is It's Free and you don't have to deal with the hassles! Your friendly assigned agent will handle all the phone calls and emails. Once a paying buyer is found, they will meet with you to buy the trailer. Couldn't be easier!!
Take plenty of pictures - PICTURES SELL! We'll post them for free so that the buyer knows exactly what they are getting and there are no questions when they come to get your cattle / livestock trailer. We'll even take video of the trailer if you have that!
Selling your used trailer is easy...
1. Create a free
Trailer Seller Profile
2. Login and provide your trailer ad details and pics
3. Leave the rest to us!!
If you later need to add additional info or pictures to the listing, no problem - just login to your account and do so.
It's easy, remember to checkout our hundreds of testimonial letters from buyers and sellers!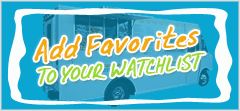 Customer Experiences
07/01/2014

April, I just wanted to thank you for the quick response in getting our office a new vending machine. Everyone is really pleased and Mike is great to work with.
Judy,
Atlanta, GA

12/05/2013

Thank You April, for the great customer service and information.
C.R.
Greenburg, PA

10/26/2009

What a relief to connect easily with a knowledgeable person to walk me through my stamp machine purchase. Thank you, April, for making it so easy.

Lisa
Denver, CO

04/15/2014

I have worked with Melissa Powers in the past when purchasing equipment through your website. She always makes things fun...but, I had no idea how fast Stacy Sweet works his magic, because my unit literally flew out the door once I priced it ready to sell. Not only that, but he somehow came up with a buyer only 45 minutes away! I am completely satisfied once again with UsedVending.com and would recommend Stacy Sweet anytime. Well done.
F.S.
Santa Rose, CA

10/25/2009

My experience with 4 mega vending was awesome! I contacted several other companies and it took several days for them to contact me.I emailed and within a few minutes I had a response. April Hurd is very professional and wonderful to work with.

Thanks
Monica Reece
Harris Jobe Elementary PTO

09/20/2009

I had an exceptional experience working with Mega-vending. April, of your sales team, made me feel like a valued customer instead of another order number. I received my purchase in a timely manor, and the product was exactly what I was looking for.

Morton Grove, Illinois

06/05/2014

Dear April, Everything went very well with the transaction, I am pleased with the equipment. Andrei was not only very helpful and informative, but pleasant to get to know and 2.5 hours after contact I drove out of Lancaster with the new truck and drove through the night and was back in Holbrook by noon the next day, ran the title work and everything is switched over and looking good. I am very pleased with how everything went and want you to look for a comparable deal on a short bed rollback. You have been pleasant to work with and the whole transaction has moved smoothly and rapidly.
Steve,
Holbrook, AZ

10/07/2014

Aside from the hiccup in programming the prices and the absence of labels that fit the machine, everything was perfectly satisfying. Ultimately, the mechanical setup within the machine was correct in spite of our initial uncertainty. It was simply my installer who needed a tutorial in that department. Thanks for all your help. I would be glad to do business again if/when I am in need of additional equipment.

Nathan Wilson,
Lewiston, ID

After trying to find a vending machine company for 2 months I decided to try 4VendingTips.com. They quickly got with me and within a few days had connected me with a company willing to provide us what we needed. Great job!

Steve J.D. Byrider
Harrisonburg, VA

10/22/2009

4-Mega Vending is great! I had the pleasure of working with Melanie Lee. She helped me find a wonderful Vendor who was matched perfectly with the needs of my company. I will definitely use 4-Mega Vending in the future and will definitely recommend it to my friends.

Allentown, Pennsylvania

11/14/2010

Vanessa was great to work with. I received her E mail, made a phone call, met with the customer & moved my machines in. It was a slam dunk! Easy. Thank you Vanessa!

KS

12/21/2010

HELLO MY NAME IS MARTA AND WE WERE WORKING WITH MELISSA, FIRST OF ALL WE HAD OUR CONCESSION TRAILER ON EBAY AS WELL, WHICH CAUSED US NOTHING BUT MONEY I FOUND USED VENDING'S WEBSITE AND CALLED. MELISSA TOLD ME HOW TO POST IT EVEN MADE IT EASY FOR ME AS FAR AS PUTTING THE PICTURES ON MY AD. NO PRESSURE,OR WORK SHE DID IT ALL I JUST SAT AT HOME AND GOT CALLS FROM MELISSA WITH OFFERS.
WHAT I LIKE ABOUT MELISSA WAS HER EXCITING PERFESSIONAL PERSONALITY, AND THERE WAS NO PRESSURE TO TAKE OFFERS, AND AFTER THREE OFFERS WE DECIDED TO SELL OUR TRAILER IT WAS CLOSED AND PICK UP IN A WEEK. SHE TOOK CARE OF ALL OF THE SMALL TALK AS WELL AS IMPORTANT DOCUMENTS.

THANK YOU MELISSA
MARTA
TOLEDO,OHIO

03/25/2011

thank you for your service.Vanessa was truely great in her help and was very sweet in the way she helped.

sincerely howard swayne

12/27/2012

We have had 2 very good experiences with placing our machines through our representative Gini Sweet. She has been most helpful and follows up on our placements regularly. Thanks Gini for being so helpful. We look forward to doing business with you in the future.

G & M
Hueytown, Alabama

10/25/2009

My experience with usedvending.com was the best. All information regarding the sale was clear and concise and April was extremely informative and easy to work with. I will only use usedvending in the future and will only recomend them to get the job done. Thank you!!!
I am happy that some companies still believe in excellent customer service.

Satisfied customer,
Natasha
Miami, Florida

05/14/2014

I've done business in the past with Mega Vending and will continue to. Their step by step buying process works right down to the delivery date. They'll also assist you in which machine would most suit your needs. April was most helpful, honest and always there when I had any questions. I recommend MegaVending and April very highly, Keep up the great buying experience!!!!
W.B.
Your Choice Vending, NJ

10/14/2009

Found an item that I was interested in and contacted UsedVending. April and all the others I worked with were friendly and very professional. Responses to questions were prompt and thorough. The purchase was completed in a smooth and timely manner, and I am a satisfied customer who would certainly recommend this company. A big "Thank You" to April for her help.
L'il Rob's Hot Dogs
Fort Payne, Alabama

02/23/2012

We are a fairly new vending company, unfortunately we had problems with people breaking into the machines. One phone call to Stacy was all it took. He totally took the time to assist in which direction to take. I did as instructed, and am totally happy with results.

Steve,
Pennsylvania

01/31/2011

Great service, April was really nice and helpful!!!

03/10/2012

USEDVENDING.COM & MELISSA, 1ST CLASS OPERATION. I was so lucky to have found Used Vending and Melissa Powers to help me with the sale of my food truck. Melissa was very efficient and a joy to work with. She was always there if the buyer needed information to help with the negotiations. Her personality made our phone calls pleasureable. She would be the 1st person I would call if I needed help with buying or selling. I have and will recommend Melissa and Used Vending to help with their Buy/Sell needs. This was a 1st class experience, THANKS SO MUCH!

Bob
El Dorado, KS

Thank you for all the effort that you are putting into this. I appreciate it. I have sent the dimensions to my shipping guy to see what he can come up with. Thanks again.
Cory C.
Senior Systems Engineer
Intelligent Technology Systems

Alpharetta, GA

10/26/2009

I tried selling on Craigslist but didn't receive one call. Melissa at Used Vending had us 2 potential buyers in a short period of time. I highly recommend using this site and will do so in the future if I have other machines to sell. It's a very simple process. Thank you, Used Vending!

Bill & Shelly
Glendale, Arizona

09/03/2014

I bought my concession trailer from Usedvending.com. I wanted something in good condition and just happened across an ad for new snowball trailers. I checked around and found that their prices beat other ads. I contacted Usedvending and talked with Melissa. She handled everything for me. I was skeptical at first about sending money out of state but Melissa made me comfortable. It was a pleasure dealing with her and she built a relationship and trust with me. Thank you for all you did! I received my trailer from Texas and it was in perfect condition when it arrived. I couldn't have been more satisfied. Thanks Usedvending and Melissa!
Shawn Crutchfield,
North Carolina

09/29/2010

April was so great and she made my experience easy. She was so kind, patient and met each need I had professionally,yet very personable. Thank you April for everything!

Best wishes Shauna

TX

03/15/2012

I have been using Usedvending.com for the past 6 months or so. They have posted great pictures of my food cart and a very descriptive ad.

Steve,
Aurora, OR

01/22/2014

Calice,
Thank you so much for the kind and generous help with my purchase. You went well beyond my expectations with the numerous emails, text and phone conversations to help with my last minute deal, in the last few hours of 2013. The transaction was flawless. I will definately be contacting you again in the future for more purchases
Sincerely,
Hudson Gray
Clarksville, TN

07/25/2010

Used Vending was great in helping me despose of all of my vending machines. The add was great, they helped me negoiate price and did everything they could to bring buyer and seller together. These people are the best.

Dave Clement,
Madison, Alabama

02/27/2014

Good Morning Stacy, I would like to tell how pleased I am with the way everything went with the purchase I made through Usedvending.com . Connie was awesome and even threw in a few items I could use in starting up my new food truck business. I would also like to thank you Stacy, you were very cordial and professional through the whole transaction.I would recommend your company without hesitation...
Rick,
Skandia, MI

11/27/2013

April, Thanks you did a great job in a timely manner. I would be happy to work with you again.
Keith A.
Port St. Lucie, FL



02/11/2011

Vanessa made our whole transaction so easy. She was very informative in our first conversation. A vendor contacted me the next day. Everything was installed the next week. Couldn't ask for better customer service. I would recommend your company to anyone needed great vending service!!

C Jennings, GA

10/14/2014

Crissy, Thank you for the great service. Within days of posting my listing, I had several offers. I cannot believe how quickly my truck sold with zero hassles to me!
Betsy Jervis,
Chicago, IL

02/25/2014

We were thrilled with the level of service and professionalism we received from your company. We had no idea the trailer would sell so soon!!! Only listed a few weeks and the next thing we knew it was a done deal. Couldn't believe how easy the whole thing was. Thanks again for your help, you were amazing.
A.B.
Kilgore, TX

01/24/2011

Melissa from Used Vending was an incredible asset in selling my mobile kitchen and equipment. From the start, Melissa was a true professional and I credit the sale to her caring attitude for both seller and buyer. She is friendly and knowledgeable and always took the time necessary to answer any questions. I could not be more satisfied with my experience.

Thank you,
Michael

02/26/2011

Melissa Powers at USEDvending was great to work with. She was patient with the paperwork, prompt with e-mails, knowledgeable with logistics, pleasant over the phone and professional in the process. I'd recommend USEDvending to anyone in the business thanks to Melissa.

St.Louis, MO.

09/20/2011

It was a pleasure working with April in purchasing my first vending machine. Her pleasant personality and rapid response made it a great shopping experience; will definitely recommend her services.

Thanks again April look forward to working with you in the future!

Shakia,
Georgia

03/24/2011

Needed to get 2 vending machines sold. April Hurd was very professional & informative she made the process smooth & simple. Thank u April.

Valerie Hawkins.

11/28/2010

I want to thank Melisa Powers for her help in finding our catering trailer. She was very professional and thoughtfull of all our needs. We looked at several hundred trailers before finding Melissa. I would recomend her to anyone searching for a safe way of buying a catering trailer. Thanks Again Melissa.

Robert, TX

08/15/2010

Can't tell you how much ive enjoyed working with all of you at used vending . April was great to work with every step of the way. Everyone looking to sell or buy should with out doubt use Used vending for their needs. Web site is great also, very easy to use and follow. Great job folks , keep it up .

James Stoops

02/11/2014

We just sold our concession trailer at Usedvending.com and it would not have been possible without the kind assistance of Melissa Powers! She was patient, informative and overall amazing! Despite our skepticism about selling a large item online, she made the transaction happen so smoothly and answered all our questions,and we had a lot! Thank you Melissa!!!
J.M.
Bakerfield, CA

02/07/2012

Tara is amazing! She answered her phone almost all the time (or got right back to me if she was on another call). Tara answered my e-mails very quickly, so between those and the phone calls, I felt like I had a personal rep helping me with my research and eventual transaction! Tara provides extremely fast and friendly service, and I will use her again without hesitation. Thanks, Tara! You rock.

Rob,
Texas

06/18/2010

April Hurd is the best. Wicked fast responding to emails and worked the sale so everything went as smooth as butter. This has been the best brokered purchase I have ever had!!!

New Hampshire

06/06/2011

April Hurd was a great help to me with my questions regarding our vending machine. It is no longer being made and we did not have and information on it. She was able to get me a users manual.
Thanks

California

05/21/2009

My experience with Used Vending was fantastic. My rep was very efficient in her communications and explained the whole process in detail. Her customer service was amazing, she was very courteous and extremely helpful in facilitating the purchase of my vending machines. Don't waste your time looking around, if you are reading this comment, you have found your one stop shop.

Maria
Toronto, Canada

05/29/2012

Gini Sweet Helped me out tremendously in getting someone in here to take care of my vending needs. Thanks Gini for all your help in this matter.

Terry Lovely, Storm Trailers
Indiana

08/12/2012

Dear Melissa, Thank you so much for all your time and help with the used trailer from Brooklyn. You provided us with all the information we needed and were able to answer all of our questions when needed. The buying of the trailer this weekend went very smoothly and it looked exactly like the pictures and had all of the amenities which were listed. Once again thank you for your time, information and all of the knowledge you were able to help with throughout this process.

Sincerely, Jennifer, Christopher & Dominick
New York

Melissa, Thank you for all your help in the sale of my vending machines. We just completed the transaction and everything went great. Nice man! I would highly recommend your business to anyone. Thanks again. Scott

Wisconsin Dells, Wisconsin

02/11/2014

Melissa Powers was a pleasure to work with and really made it a smooth transaction. I never felt pressured into a decision or rushed. With patience Melissa answered every question and I had a lot of them. I would definitely recommend UsedVending.com. Great Experience. Thanks Melissa.
Justin B.
East Windsor, CT

03/04/2012

We just completed a major purchase of a food truck in Kansas - Melissa kept the process going and helped us work with the owner to fix issues with the title and complete the sale. She was quick with responses and even helped connect us with someone about a mobile POS they were selling even though there was nothing in the deal for her. We appreciated the professional service she provided.

05/01/2012

UsedVending.com, especially dealing with Melissa, gave us a great selling experience to move our vending machines. This company was efficient, professional & caring- matching & selecting with seller & buyers to complete a smooth & pleasurable transaction. I would recommend use of their services anytime.

H & P
Massapequa Park, NY

06/30/2012

Melissa at usedvending.com was amazing! She always called me right away. She handled everything professionaly and with a great attitude. I am more than satisfied with my purchase!!! I could not thank you enough!

L.R.
Minneapolis, MN
See Hundreds more or Write your own...