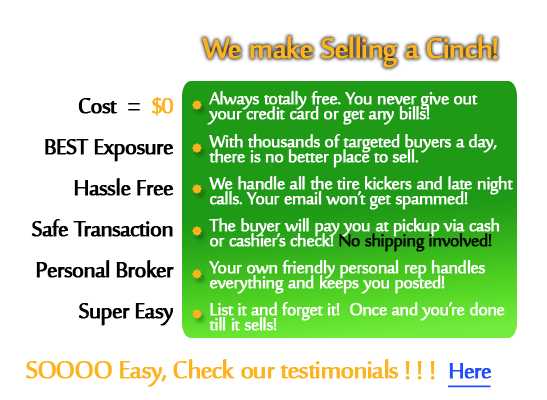 Sell Used Livestock Trailers
Selling your used livestock / cattle trailer is free! Whether it's 10 ft long or 50 ft, we have hundreds of buyers looking for the perfect used livestock trailer. Our free online broker service never charges you a dime. It's a no brainer, just ask our thousands of satisfied customers - many are sellers just like you. Click the link in the blue area above to see hundreds of testimonials!!
We sell
used livestock / cattle trailers
in the most secure, safe manner. Avoid the problems and fees associated with using ebay or other online sites; we handle all the hassles to bring you only a serious buyer that has paid or put down a deposit and is ready to buy.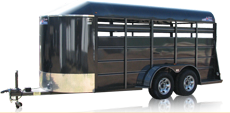 It doesn't matter what you've been hauling - cows, pigs, llamas, porcupines, or kids - we can sell it. The kids may cause some issues though :-) Your used livestock trailer will get outstanding exposure to thousands of buyers. Best part is It's Free and you don't have to deal with the hassles! Your friendly assigned agent will handle all the phone calls and emails. Once a paying buyer is found, they will meet with you to buy the trailer. Couldn't be easier!!
Take plenty of pictures - PICTURES SELL! We'll post them for free so that the buyer knows exactly what they are getting and there are no questions when they come to get your cattle / livestock trailer. We'll even take video of the trailer if you have that!
Selling your used trailer is easy...
1. Create a free
Trailer Seller Profile
2. Login and provide your trailer ad details and pics
3. Leave the rest to us!!
If you later need to add additional info or pictures to the listing, no problem - just login to your account and do so.
It's easy, remember to checkout our hundreds of testimonial letters from buyers and sellers!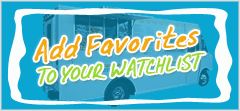 Customer Experiences
10/25/2009

I am not in the vending industry so I didn't know a lot about the product. I had looked at many machines, both new and used, which only added more to the confusion about what to do. Somehow I found April Hurd and she took care of everything. She was very informative and helpful and her follow up was great. I ended buying a new machine and it has been great.

Thank you very much.

Mark Winkler
Huntersville, NC

05/23/2014

Hey Tina Just a note to say thanks and job well done! ! I'm really happy with how things worked with USEDVENDING. If I have something to sell in the future you will hear from me. Thanks again.
Tim, MN

07/20/2011

Wow! Stacy, you & your colleagues at 4 Mega have done it again! The new account that you referred me to is awesome! It's amazing how easy you make it for me, you do all of the locating work and I just meet and shake hands with the contact & roll in with my machines! What a winning combination! I look forward to conducting lots of business with you! Thank you!

Steve S.
Ohio

02/07/2012

Tara is amazing! She answered her phone almost all the time (or got right back to me if she was on another call). Tara answered my e-mails very quickly, so between those and the phone calls, I felt like I had a personal rep helping me with my research and eventual transaction! Tara provides extremely fast and friendly service, and I will use her again without hesitation. Thanks, Tara! You rock.

Rob,
Texas

06/13/2012

Calice was very efficient and answered any questions that I had. The transaction went smoothly and I would use this company again.

R.H.
Somonauk, Illinois

01/23/2011

Usedvending...One Of A Kind Melissa is awesome. She did an exceptioal job. everything went very smooth with the sale of two of my vending machines. Looking forward to working with Melissa again on the sale of my five other machines.Thanks again melissa. Great Job Usedvending!!! Sandra T. Crossville, Tenn.

08/07/2015

Hey Greg, thank you for all your help with the purchase of my new Snowie trailer! The transaction went exactly as you said it would. Thanks again,
Ray ( Gainesville Ga)

12/08/2011

Another satisfied repeat customer. Melissa Powers has the professional experience and the personal touch to get the job done. All my interactions and transactions has got off without a hitch. She not only follows up, keeps you informed but also follows through. Thanks and keep up the excellent work.

Regards,
Willam L. Colorado Springs

01/31/2011

Great service, April was really nice and helpful!!!

04/07/2016

Fast and smooth operation. Got the call, next day the equipment was picked up. Thanks April.
Chris Kane,
Anaheim, CA

10/05/2009

Used Vending is a great venue to sell your machines quickly.

I have found the team at Used Vending to be knowledgeable, timely, professional and very helpful. They took the time to understand my specific situtation and to deliver results that exceeded my expectations.

I highly recommend Used Vending to sell and buy quality vending machines.

Pansy
Huntington Beach, CA

05/16/2014

We sold a shaved ice concession trailer on USEDVending. Melissa was our representative and walked us through every step of the sale. This was our first experience at selling anything via internet and we were pleased with our experience. We were able to make the sale profitable for us and Melissa was an integral part of that.
Thanks,
Cheryl, FL

06/19/2011

I worked with April Hurd to purchase my first Vending machine. She was professionsal and answered all of my questions. She provided copies of the manuals for my review and made sure I knew what I was getting into when I ordered the Combo 300. The system arrived on time but the key was missing. April provided a key to me the next day and we go the system working. It was a great experience for my first system and I plan to call on her when my customers want to add vending to their business.

Fairfax, VA

06/12/2014

I bought my food trailer a couple of months ago with Melissa from Usedvending.com. It was an easy process and really enjoyed all the help she gave me when trying to find just the right rig. We are so happy with our trailer and are finally all ready to open for business. Thanks Melissa for all your help along the way and we can't say enough for helping us achieve our dreams!!! Gourmet Sandwiches anyone??
Sean Collins,
Deli'cious Mischief, Washington

09/18/2009

I made one phone call and the rest was handled.

You can not get any better than that.

Chuck
American Linehaul Inc.
Wood Dale, Illinois

12/02/2009

Melissa and Cheryl,

Thanks to both of you for all your help in liquidating the machines.

My wife is so happy to have the cash, but more importantly, the extra space in the house !

Again thank you both and hope your Thanksgiving was good and that your Christmas will be a wonderful time with your families.

Mark and Sheryl,
Arkansas

10/21/2009

Friendly, Informative and an asset for anyone looking to get started in the vending business.

Carl
Wolcott, Connecticut

03/17/2014

My dealings with UsedVending.com were great and super easy. The truck listings were an excellent tool for finding just what I was looking for in a vending truck. Melissa was excellent and assisted me along the way. She was always quick to respond and very attentive to my emails. Thank you very much!
D.M.
Atlanta, GA

03/17/2016

I signed up with 4Vendingtips.com to get locations for my machines and have gotten several good accounts. April Hurd is the best. She is so nice and helpful. Thank you.

Jeff L.
Oceanside CA

05/09/2014

Stacy Sweet was extremely helpful with locating the best truck for our needs. He took a lot of time to assist us along the way. We received our truck last week, and are very pleased with it. We think it will be the first of many more. Thanks Stacy!
K.H.
Chicago, IL

01/02/2014

I want to say that working with you was a pleasure and you always returned my calls promptly and had answers it a timely manner. I wish all the suppliers I worked with on a daily basis where as quick and full of answers as you have been. Thanks again for everything up to this point and I will be in touch if I need help or just to report or success with our vending machine set up.
D.A.
Brighton, CO

04/23/2016

Hi Jennifer Wanted to thank you for your assistance in getting my machines sold. You went the extra mile late on a Friday to make sure all was taken care of and kept in touch to make sure the transaction went smoothly...which it did! I appreciate your help with this transaction! Thanks. Donald Chase,
Westlake, LA

11/04/2015

I am happy about the service you did, I really appreciate all the help you provide. . Your loyalty is very much appreciated. If is need it I will be call you back to get this great service again !
Sincerely,
Jose Leon & Cecilia Leon
Lexington, SC

12/29/2011

I'm an independent owner of a vending service company (WMJ LLC). The demand for quality equipment and service is paramount in my business. Stacy Sweet at 4-MEGA Vending provided me with quality service and equipment; a job well done. I have refered Stacy and 4-MEGA Vending to my friends.

Bowie, MD

10/13/2009

Dealing with April was a real pleasure! When she told me that we would have the deal wrapped up that day I thought no way - but she was true to her word. If I could deal with more people like her I'd have a whole lot more hair.

Bill Ruby
Las Vegas Ice Center

12/22/2012

Hi Melissa, Thank You for all your help. The Office deli I purchased is up and running fine.

John
Modern Day Vending
NJ

09/19/2012

I cannot say enough about this website. Melissa was excellent. What drive and dedication, Melissa worked with the buyer, stayed in contact with both of us. Follow up calls for both parties. I cannot say enough about this company, my trailer was sold in roughly 5 weeks, amazing. Very satisfied. Thank You Melissa and Usedvending.
A.P.
Michigan


03/12/2015

To whom it may concern - Hands Across The Water Inc would like to thank Ms April Hurd, of Mega-vending for her assistance with obtaining a combo machine for our office. We had a number of issues that Ms hurd was able to guide us through such as finding an realistic machine for an office of 30, locating a delivery service that would bring the machine all the into our area, although there was three sets doors to pass through and none being double doors. Ms Hurd was always polite, helpful and professional. When we decide to add vending in our other offices Ms Hurd will be the one we contact. Thank you.
Respectfully,
James C. Nelson - Board of Directors, Hands Across The Water Inc.
Ann Arbor, MI

01/20/2014

Hi Calice, I just wanted to thank you again and make you understand how satisfied I am with you. It's your continued persistence that made the difference. The USEDvending.com company will definately be in my future business transactions.
Thank You Again,
Anthony DeLillis, New York

03/12/2015

I would like to personally thank Melissa from UsedVending.com for her remarkable customer service. This was a first time purchase for me and Melissa walked me through the process and secured a great deal for me. I can not be more pleased with my transaction and the customer service I received. BIG THANK YOU!!!!
Jeff in Florida

08/31/2015

Hi Melissa! Crazy day!!! But we got everything sorted! I just wanted to say thank you so much for all your help in making the purchase as fluid & effortless as it possibly could have been. So excited about my new business venture!!!! :) You were wonderful to work with. Hope you have a fantastic evening! I know I will (so much planning left to do)!!!!! :D
Lois Willis,
Austin, TX

07/05/2010

April was a FANTASTIC representative. She was very easy to work with and has a very sweet personality. I hope to deal with her again on the next machine I will be purchasing.


Paul Haanen Jr
Pres. AWC Employee Committee

02/02/2012

Melissa was absolutely wonderful to work with! We had a few challenges getting our unit sold but she never gave up! She was very thorough and worked hard to get the price we wanted.

Thanks again UsedVending - you're great! :)
Martha, Colorado

02/16/2011

Thanks Melissa for making our 1st experience with www.UsedVending.com so simple and pleasurable. It was a great dealing with you and your seller. I will be using your company again in the future and I look forward to a long, mutually beneficial relationship.

Sincerely,
Bobby

05/18/2016

It was pleasure doing business with your company. The transaction was smooth from the beginning until we drove away with the vending machine we purchased in the end. It was easy working with the Broker and we were ready to buy the item from seller ALL the leg work had been done. We will definitely use your company again should the need arise. Happy Customer!!!!
Dorothy Meadows,
Greensboro, NC

04/24/2012

My experience with your company, and with Mellissa was the best! This is the first time working with usedvending.com and I am extremely impressed. It was effortless. Melissa did everything, all I did was pay and pick up. How easy is that? Now usedvending.com is my "go to" for all future purchases. Thanks Melissa.

K.G.,
Fresno, California

11/07/2011

This is a great place to sell your equipment. Melissa was very cordial, to the point, and did a good job to find a buyer for the concession trailer. Thanks Melissa.

Deloris B., Mississippi

05/09/2016

I had a wonderful experience with my customer service rep. She answered all of my questions in a timely manner. She was honest and straight-forward, as well as caring. I can't see no better way.
Anieti Umanah
Houston, TX

09/20/2009

I had an exceptional experience working with Mega-vending. April, of your sales team, made me feel like a valued customer instead of another order number. I received my purchase in a timely manor, and the product was exactly what I was looking for.

Morton Grove, Illinois

11/11/2014

I tried for for two years to sell my Food Truck on my own, using time, energy and a lot of money to no avail. Usedvending.com came to my rescue with advertising, helpful hints, excellent and clear communication and follow up. Melissa made sure I had all the information and resources for a smooth transaction experience with the buyers. I most appreciated Melissa providing me feedback from failed previous potential buyers and advised me based on her experience in this business. The day I finally listened to her advice is the very day I sold my Food Truck. Thank you Melissa and thank you usedvending.com for providing wonderful, professional service.
S. Waithe,
Yorktown Heights, NY

12/25/2010

Vanessa Long helped our company with a new location from beginning to end. She was very helpful and gave us all the details...and very honest i might add...even when we had a new company move on my location she was on my side and reassured my location,,,thank so much i will look forward in doing business your company soon!!!

TN

05/25/2012

I have been working with 4Mega for a few years now and would like to say that working with Gini is a real pleasure! She is very professional, knows her trade and easy to work with.I would highly recommend 4Mega to any other vendor in the field!

Patrick Scott Rowlett, Texas

03/12/2015

"After no success on Craigslist, I decided to try listing an item with UsedVending.com. A few months went by and I forgot about the ad, but the machine sold for the full asking price. Transaction was seemless and the staff handled the all communications with the buyer. Will definitely use these guys again, great experience."
Jordan S.
Unionville, PA

08/27/2009

I have been in the vending business for nearly 5 years and only had moderate success until Melanie, at 4 Mega Vending, offered me the perfect location. The location proved to be my most profitable location of all times and I am forever grateful to Melanie for all of her assistance. She is the reason why I have been so successful in the vending business while many others have failed.

Atlanta, Georgia

07/02/2015

We would like to thank usedvending.com for your service and professionalism helping us sale our concession trailer. After months of paid listing with two of the three largest internet outlets we found more serious people was shopping with Usedvending.com. They could talk with a live expert and the commission fee is very reasonable compared to our brokers.
Thank you,
Billy Davis
Loganville, GA

11/05/2008

Hi April,
Long time past since we sold through your help our vending machine.

Thanks again, you did a fine job.

David Bromberger
Florida

05/07/2015

Our experience working with Melissa at USED Vending was great. We started working on getting a truck in the fall of 2014. I first spoke with Melissa then on our intentions to start our own business and the timeline for which everything would unfold over the next several months. Melissa & I touched based every so often along the way to discuss progress. When the time finally came for us to make our truck purchase , I felt like Melissa had our best interest in mind when helping to find the perfect truck. As it turned out, the perfect truck for us was half way across the US. Melissa helped the seller & I connect so that we could all work as a team to get the truck safely to it's new home in New Jersey. I could not have asked for a better experience in dealing with USED Vending or the seller. Making such a huge purchase can be a harrowing experience, but Melissa was there to answer questions and lend expertise at each turn. Thanks USED Vending!
Daisy Maurer,
Pedricktown, NJ

10/23/2014

My experience dealing with Melissa Powers was great. A smooth easy transfer of equipment, with no out of pocket funds from me. Thanks Melissa for a great job.
Sincerely,
Jim Lowe
Crawfordville, FL

02/25/2011

I am so pleased to have done business with UsedVending.com. I worked with April who was very knowledgeable about the products. It was a pleasure working with her. She was very helpful in finding me machines that fit my needs. I look forward to working with her again on my next purchase. I highly recommend this company. I give them an A+ outstanding job.

Jonathan Washington D.C

06/04/2015

Thanks for making the sale of my vending machine go so smoothly. Upon receiving the initial three emails, it felt somewhat overwhelming but instructions where clear and concise, which made the whole process actually straightforward and simple. At one point in the process, I felt a little bit in the dark on where we stood with the seller's interest and how long it might take to close but you quickly responded to my inquiry with clear status on what the next steps were, and when they would happen. Thanks again,
Rick Gerardi
Orange, CA
See Hundreds more or Write your own...