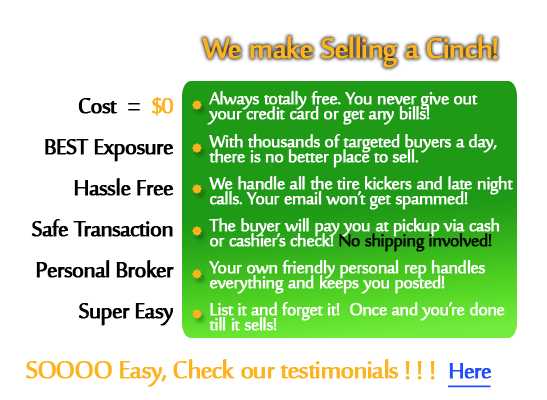 Sell Used Livestock Trailers
Selling your used livestock / cattle trailer is free! Whether it's 10 ft long or 50 ft, we have hundreds of buyers looking for the perfect used livestock trailer. Our free online broker service never charges you a dime. It's a no brainer, just ask our thousands of satisfied customers - many are sellers just like you. Click the link in the blue area above to see hundreds of testimonials!!
We sell
used livestock / cattle trailers
in the most secure, safe manner. Avoid the problems and fees associated with using ebay or other online sites; we handle all the hassles to bring you only a serious buyer that has paid or put down a deposit and is ready to buy.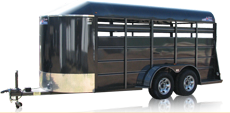 It doesn't matter what you've been hauling - cows, pigs, llamas, porcupines, or kids - we can sell it. The kids may cause some issues though :-) Your used livestock trailer will get outstanding exposure to thousands of buyers. Best part is It's Free and you don't have to deal with the hassles! Your friendly assigned agent will handle all the phone calls and emails. Once a paying buyer is found, they will meet with you to buy the trailer. Couldn't be easier!!
Take plenty of pictures - PICTURES SELL! We'll post them for free so that the buyer knows exactly what they are getting and there are no questions when they come to get your cattle / livestock trailer. We'll even take video of the trailer if you have that!
Selling your used trailer is easy...
1. Create a free
Trailer Seller Profile
2. Login and provide your trailer ad details and pics
3. Leave the rest to us!!
If you later need to add additional info or pictures to the listing, no problem - just login to your account and do so.
It's easy, remember to checkout our hundreds of testimonial letters from buyers and sellers!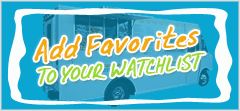 Customer Experiences
06/06/2015

Melissa,

I just wanted to thank you for your help with finding us a great food trailer. The first one was sold however you took the time and found even a better one for my company. Took the 500 mile trip everything the seller and you told were 100%. It's good to know where to look for future growth with my company looking forward to another one soon..
Mathhew Massiak,
Clayton, NC

12/06/2009

I am BEYOND satisfied with your services. Melissa not only helped my mother and I with a purchase of a catering trailer earlier this year. But, she assisted us in a sale of one we had to do just this past week. From beginning to the very final piece of paperwork they were just a phone call away. Melissa and Cheryl made our buying and selling experience a very smooth one.Thanks girls.

Gainesville, Georgia

04/24/2016

My dealing with Melissa was the most satisfying experience and enjoyable one. She is a professional and prompt.
Luis Taza
Hackensack, NJ

12/10/2012

Very professional and simple...Found the site thru a google search and was happy with everything.

RT,
Orlando, FL

04/11/2017

Hi Grey, Working with you and usedvending was great. With so many Scams and con artists out there it was great to find an honest and professional company and staff. Great experience. Thank you.

Chris D.
Palm Coast, FL

08/12/2015

€ Mega Vending was easy to work with and did an excellent job in communication with pricing and delivery. I would use them again. €
Edna Cummings,
Houston, TX

03/05/2016

Hello, our experience with Jennifer was outstanding. Overall we are extremely pleased with the service we received and the equipment we purchased! Thank you Used Vending!
Don B. in Montana
Bozeman, MT

12/20/2013

Melissa was of great help in selling our commercial kitchen. Made things as easy and quick as possible. Thank you again! Highly recommended!
Steven
Carlsbad, CA

11/04/2015

Usedvending.com has now helped me twice. 4 years ago I was looking to buy a food truck, I knew very little about pretty much anything involving this business.Melissa took me by the hand and walked me thru the purchase of my knew business, after 3 successful years I was able to finally retire,so I figured who else but Usedvending to sell my food truck. Greg took over my ad and in no time at all was able to sell my truck. Thank you Used Vending what a great team you have.
Ed Stack - Madsams Food Truck
Columbia, KY

07/27/2019

I was very very happy with the way my trailer was presented. Very professional. Communication was great with Wendy. She kept in contact with me every step of the way. It was a great experience. Thank you to all the staff at UsedVending.

Robert S.
Parker, AZ

05/14/2019

Just made my first purchase using UsedVending.com.

Melissa was wonderful, she couldn't have been better!!! She was instrumental with every aspect of the process even with my unrealistic deadlines she pulled through. I wish she worked for the DMV . I will be using this site and MELISSA again I'm sure. THANK YOU FOR EVERYTHING.

David Morrison,
Elmira, NY

11/04/2016

April --I'd like to thank you and your team for making the buying process so simple. We just completed the purchase of our second set of healthy vending machines and except to continue to purchase the machines through USEDvending. April makes the process simple, easy and stress-free. Both times the machines have been "as advertised and described" in the postings and the transaction has gone smoothly.

Thank you,
Jeff

11/15/2017

I will like to say I love using UsedVending to sell my Trucks; my experience was excellent , great customer service and customer satisfaction, the representative Tonya Wages help me during the process of selling my truck- very professional , I will definitely do more business with this great site service.
Sincerely,
Angel Lorenzo
Williamsburg, VA

02/27/2016

I wanted to drop a few lines to share our experience with UsedVending. From the beginning, we have had a wonderful relationship with our rep Jen Melerine. She was so helpful and patient with our inquiries and always very professional. In addition, she was always prompt with follow up. I truly felt like we were her only customers, that is how attentive she was. She even communicated with us outside of business hours and during weekends and shared her personal cell phone number. Now that's customer service. Jen definitely went above and beyond in every aspect. Once we found the food truck that was right for us, she was there through the entire process of the sale (one I might add which was not very easy due to our being out of the country). Even when our seller made some seemingly unreasonable requests, Jen worked with us to find solutions for both parties. In the future, should we need to buy or sell equipment we'll definitely be calling Jen directly. We are very happy to finally have our truck and look forward to opening for business in the coming months. A heartfelt thank you to Used Vending and most importantly Jenn Melerine for helping us through the long process of making this purchase.
Claudine & Trevor, TLC Enterprises
Bellingham, WA

06/13/2016

Thanks UsedVending for getting me results in 1 week. You got me a serious buyer to get my business SOLD . Now I can focus on the next new adventure in life .
Jen McCartney
Cape Coral, FL

09/21/2016

Working with Bradley to purchase our food truck in Chicago was an absolute pleasure. He was available throughout every step of the process and we were able to close the deal in less than a week. Would definitely reach out to Bradley again for future projects.

Best,
Phil
Minneapolis, MS

02/16/2010

I am new to this business and have found it to be very easy dealing with These folks. April is the best! She was very friendly, knowledgeable, helpful and knows this business !

I look forward to working with these guys in the future !

Keep up the great job!

Mike
Capital Vending
Hammond, Louisiana

12/13/2010

I dont have words to describe how professional and efficient Melissa was. Her Costumer Service was amazing. Melissa you made the process very easy and the most important thing everybody was happy with the transaction. Thanks Again.

Lina,

FL

10/05/2009

Used Vending is a great venue to sell your machines quickly.

I have found the team at Used Vending to be knowledgeable, timely, professional and very helpful. They took the time to understand my specific situtation and to deliver results that exceeded my expectations.

I highly recommend Used Vending to sell and buy quality vending machines.

Pansy
Huntington Beach, CA

11/14/2010

Vanessa was great to work with. I received her E mail, made a phone call, met with the customer & moved my machines in. It was a slam dunk! Easy. Thank you Vanessa!

KS

02/20/2019

Denise, thank you so much for looking for me the way that you have. I am just going to be patient until we come across something. I need the trailer or truck to be closer to me so that I can pick it up. The most I willing to travel would be about 250 miles. It would have to be a steal in order for me to consider going further or pay to have it shipped to me. Thanks again for your hard work and down right great customer service.

C. Goodwin,
Brunswick, GA



11/09/2015

I had a great experience dealing with usedvending. I had most of my interaction with Melissa Powers. She is fun and upbeat. Always gets right back to you with answers. I had high expectations for selling my BBQ trailer for lots of money, but, while I didn't get what I was hoping..do we ever?....the whole process was painless. Very professional and effective at what they do!! Thanks Melissa!!!
Wendy Binder,
Derry, PA

10/04/2019

Future Buyers & Sellers, My husband and I worked with UsedVending to purchase a Mobile Boutique. We had a really great and secure experience! A couple of years later when we decided to sell it we without hesitation turned to Used Vending to handle our selling needs. Melissa was a great help and they even gave us recommendations of the information buyers were looking for in our listing. We will definitely turn to UsedVending in the future regarding any buying or selling needs.
Best regards
Sarah H.
Idabel, OK

05/07/2018

After April got involved the purchase went very well. Seller was good to deal with also.
Bruce Malone,
Pawhuska, OK

10/06/2009

I recently placed an order for coffee and when it arrived I realized I had ordered decaf instead of regular. Melanie was very helpful in expediting an exchange for the correct item. I have been purchasing all of my coffee and tea from Coffeeasap for a couple of years and have been extremely pleased with the service - especially the fast shipping!

-anonymous

10/26/2009

Working with April has been a real pleasure. April is always willing to go the extra mile and ensure all of my needs are taken care of. I highly recommend working with April for your vending needs.

John,
Connecticut

05/13/2019

USEDvending's service is what you need if you're seriously interested in food vending. They do all the leg work and make the process easier than going on your own. Thanks Kristy Ripmaster!

Gordon McHugh,
Slatyfork, WV

04/17/2018

I COULD NOT HAVE DONE IT WITHOUT THEM. They were excellent in all aspects of handling the transaction and sale of my food truck. Thank you for your service...
Maria Naples,
Hockessin, DE

Again, a great experience dealing with Melissa Powers and UsedVending.com for the sale of our concession trailer. She located a buyer quickly, and the transaction went smoothly. The whole thing took less than a week! Thanks Melissa, we will definitely use you again!

Jill K.
Miami, FL

10/23/2011

I am very satisfied with how much exposure our item received on this site! Our sales rep Melissa Powers was very professional and stayed in close contact all the way through the process.

Pat,
Mt. Morris, MI

02/11/2011

Vanessa made our whole transaction so easy. She was very informative in our first conversation. A vendor contacted me the next day. Everything was installed the next week. Couldn't ask for better customer service. I would recommend your company to anyone needed great vending service!!

C Jennings, GA

12/08/2011

I contacted Melissa at extension 11 to look for vending machines, and the work she did for me was very good. The machines were just like she said and everything went as planned. Very happy with purchase.

Claud,
Big Spring, TX

09/09/2011

I have been working with your company going on three years now in reference to my vending equipment, my experience working with you has always been great. Your company is of great service to our industry. Special thanks to April and Stacy, thank you again for all your help.

Matthew B,
Maryland

02/23/2010

I would highly recommend Used Vending. They were very knowledgeable and were prompt in answering any questions that I had. Melissa was a pleasure to work with and always greeted me with a positive and friendly demeanor.

Thank you for your good work

Sonya
Houston, TX

03/08/2016

Used Vending made selling my coffee cart an easy transaction. Very professional and efficient. They always returned calls for any questions and kept up with emails. I would recommend them for the sale of any vending truck machine etc. I had a good experience with them and would use again.
Cindy Schwartz
Palm Harbor, FL

04/24/2016

Melissa did an excellent job facilitating the sale of my food truck. Far exceeded my expectation and really went the extra mile!
Emily, MI

02/07/2012

Had wonderful stress free experience with my transaction with used vending.com. Calice was just extremely helpful and provided a very good and positive experience to the transaction. thanks and will certainly use them again to buy or sell vending equipment.

Al,
Massachusetts

02/03/2014

April,
Thanks again for your help with selecting and processing the order from start to finish. I am very happy with the drink machine 600E, it will serve the needs of my 45 employees well. You were most helpful in choosing the right machine for my needs and budget, further with follow up questions and getting me the labels we needed. I have already recommended your company to another TCA Office in Boise ID, you may get a call from them in the future.
Ron. G
Chantilly, VA

10/19/2009

4 mega vending and used vending was extremely helpful with the startup of my cigarette vending business.

Very knowledgeable and excellent follow up skills.

Thanks again!
Apple Vending
Atlanta, Georgia

05/21/2000

I contacted Eric Normand through his webpage several months ago in regards to some vending machines that I had for sell. His service provided another way to sell my vending machines other than posting classified ads. His service directly reached potential buyers and saved me money. I got a fair price for my vending machines and was able to sell them in a reasonable time. He kept in contact with me the whole time we worked together and I felt reassured that his efforts were true to helping me sell my machines.
Thanks,
Jason Aycock

11/04/2015

I am delighted so far with my experience with UsedVending.com. They really know their market and the products, and have provided valuable guidance in how to market my vending machines.
Lee A. Bowers,
Villanova, PA

10/15/2009

Melissa was just the BEST person/middleperson for the job of finally getting rid of my machines! She was persistant and consistent and I truly appreciated all her efforts!

Thanks Melissa!

Jessica
Gainesville, Virginia

10/26/2017

We recently sold our trailer through Used Vending. From start to finish everyone we dealt with was very professional. The company continually stayed in touch to make sure all information was current and listed correctly. Once we had an interested buyer, Wendy Byrd stayed on top of everything until the close of the sale. She was available to answer all questions and address our concerns. We are extremely pleased with the whole transaction and would not hesitate to use them in the future. Thank you Wendy and Used Vending for everything you did!!

Vince Puglia,
Saint Augustine, FL


06/06/2019

The thought of starting another business that I had no idea what to expect, was a scary proposition. The one thing I thought would not be a problem is finding a quality used concession trailer at a fair price. Boy was I wrong! Ever website I visited tried their hardest to steer me in the direction of having one design and built from scratch. Of course the price was pretty good, until you started adding the extras. I saw my start up budget crash and burn, but the sales guy had a solution, Finance it my friend!! Really??? Start a business and already have a note due before I had my health inspection and business permits in hand, and not even sold one of my amazing Pittsburgh Italian Subs!! Then I found Bradley and Used Vending!! The experience could not have gone smoother. Amazing selection of used food concession trailers at the price that did not make my budget crash and burn!! Bradley took the time to explain everything and how the process would work. He made it seem almost too good to be true, but it really happen just like he said. Down to the offer, the negotiations, closing the deal, to the delivery of my trailer could not have gone smoother. My goal is to make back my out of pocket startup cash within the first year and reinvest it into a smaller concession trailer. My first stop will definitely be Bradley at Used Vending. Thanks again for all your assistance Bradley, it's much appreciated!!

Jack Knouse,
Galveston, TX

10/31/2017

Wow wow wow! Honestly I never thought I would've sold my food truck through a company that was free. I had every intention of selling it myself but boy was i wrong. UsedVending came in and sold it without hassle or trouble it was a really great experience, thanks Wendy! You're awesome!
Benjmain Campbell,
Ropesville, TX


08/28/2014

Hi Calice! Thank you so much for making my experience with Usedvending.com so hassle free and stress free! I loved that I only got called when there was a serious buyer and how quick you got all my paperwork to me for the sale. The transaction was incredibly smooth and easy thank you again for all your help I couldn't be happier with your services.
Pilar L.
Valencia, CA

03/10/2019

I had fantastic experience buying my second truck from UsedVending.com . Wendy is great to work with. It was a one stop shop for all my question and made truck buying a worry free experienceexceptional value and was offered a high level of customer service. I highly recommend buying from UsedVending.com.
Maher.B,
Floral Park, NY

11/18/2013

All I can say is that if you are lucky enough to get Melissa Powers as your salesperson, you've struck gold! She is as good as it gets. Attention to detail, incredible follow-up, she is all over it. Talk about taking care of a customer, it doesn't get any better. If you have any needs in used vending, do yourself a favor. Get a hold of Melissa. You won't be sorry. Super Satisfied Customer!
David D.
Cobb, CA

03/03/2016

Melissa, thank you for all your help you gave us locating our new concession trailor. The service you provided was great from start to finish. You just don't find this kind of service anymore. So we greatly appreciate you and your company for being there. We will definitely be back in touch with you for our next purchase. As you know this was number 2 - can't say enough about the service, keep it up and you will over exceed everyone in your industry, again Thank You.
Steven and Mary Santo
North Richland Hills, TX

04/03/2011

Thank You Melissa for a smooth transaction. I appreciate your help in moving my machines!

Mr. Milner
See 2,000+ more or Write your own...