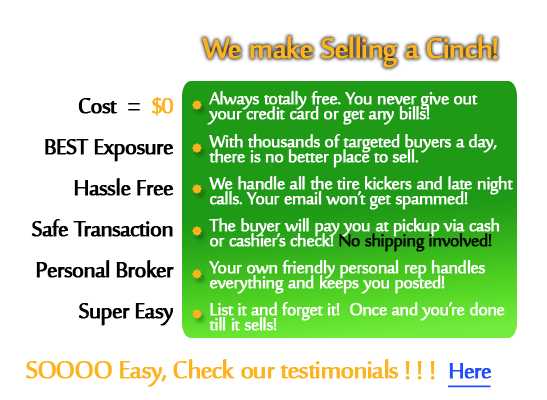 Sell Used Livestock Trailers
Selling your used livestock / cattle trailer is free! Whether it's 10 ft long or 50 ft, we have hundreds of buyers looking for the perfect used livestock trailer. Our free online broker service never charges you a dime. It's a no brainer, just ask our thousands of satisfied customers - many are sellers just like you. Click the link in the blue area above to see hundreds of testimonials!!
We sell
used livestock / cattle trailers
in the most secure, safe manner. Avoid the problems and fees associated with using ebay or other online sites; we handle all the hassles to bring you only a serious buyer that has paid or put down a deposit and is ready to buy.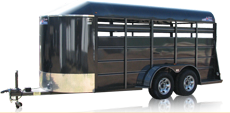 It doesn't matter what you've been hauling - cows, pigs, llamas, porcupines, or kids - we can sell it. The kids may cause some issues though :-) Your used livestock trailer will get outstanding exposure to thousands of buyers. Best part is It's Free and you don't have to deal with the hassles! Your friendly assigned agent will handle all the phone calls and emails. Once a paying buyer is found, they will meet with you to buy the trailer. Couldn't be easier!!
Take plenty of pictures - PICTURES SELL! We'll post them for free so that the buyer knows exactly what they are getting and there are no questions when they come to get your cattle / livestock trailer. We'll even take video of the trailer if you have that!
Selling your used trailer is easy...
1. Create a free
Trailer Seller Profile
2. Login and provide your trailer ad details and pics
3. Leave the rest to us!!
If you later need to add additional info or pictures to the listing, no problem - just login to your account and do so.
It's easy, remember to checkout our hundreds of testimonial letters from buyers and sellers!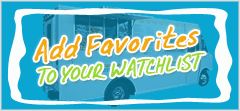 Customer Experiences
04/15/2014

I've spent months looking for the right food truck- April saved me so much time and effort, she found me what I was looking for in a week. I'm very happy I went the usedvending.com way. Better then sifting through the crazies on craigslist!
Jason Masek,
Corpus Christi, Texas


08/24/2010

We purchased our equipment back in 2007 through Mega Vending, April was our sales contact.2010 we decided to sell this same unit through their affiliate, Used Vending. We all know making the purchase is exciting but their are times when the sell can be more than challenging. This particular challenge was overcome by a sales representative that worked through the issue, communicated clearly, and resolved our issue. It takes an experienced staff and strong company to work through these challenges and ultimately make both parties happy. This is that kind of company.

Thanks again April

P Webster/ P an B Petro

03/29/2012

Thank you so much Calice! After a month or more of trying to sell my machines myself without any success, I turned to used vending. The posting process was simple and very thorough- it took all of 10 minutes to have a complete listing. Then Calice emailed me after only a short while and told me my listing was posted- I looked at it and it looked great, very professional. I couldn't believe when she told me just a day or so later that she had a very interested potential buyer. I am very satisfied with the great service I recieved from Calice, she is a real sweetheart. She kept me constantly informed and answered all of my correspondence without delay. Thanks Calice and Used Vending for the good work!

Joseph,
San Diego, CA

04/15/2014

I have worked with Melissa Powers in the past when purchasing equipment through your website. She always makes things fun...but, I had no idea how fast Stacy Sweet works his magic, because my unit literally flew out the door once I priced it ready to sell. Not only that, but he somehow came up with a buyer only 45 minutes away! I am completely satisfied once again with UsedVending.com and would recommend Stacy Sweet anytime. Well done.
F.S.
Santa Rose, CA

09/28/2000

Thanks so much for your help! The machines are perfect; just glad that I found you before I made that other purchase.
Thanks again,
Tim
San Diego, California

10/23/2009

My experience with Mega-Vending was very pleasurable. The staff was most helpful and professional. I look forwad to continued business with them in the future.
JDFDYER

North Hollywood, CA

11/28/2013

Thanks Mellissa, everything was as represented. The deal was so easy, I will not hesitate to call you again.
B.C.
Bloomington, IN



09/18/2009

I made one phone call and the rest was handled.

You can not get any better than that.

Chuck
American Linehaul Inc.
Wood Dale, Illinois

I purchased a 2006 out of Maryland. I've been looking for one locally for a while. Deciding to go online and finding Melissa at USEDvending.com was the best business decision that I ever made. The process was smooth, fast. Looking forward to working with her again. Thank you for your professionalism, patience, helpfulness. It was really appreciated.
C.G.
Fairfield, CT

04/10/2014

Hello April,
I wanted to drop a line and Thank you again for the wonderful experience I had in dealing with you. The process on my end was much longer than expected. In fact about 6 months longer than it should have been. During that time every obstacle that came up you had a solution for. You made me feel as if I was your only customer with quick responses to all my questions. I would definitely recommend you to anyone who is need of your company's products and/or services. Please feel free to share this with your superiors or prospective clients.
James Z.
Oakwood Village, OH

I just want to say thank you so much for the excellent customer service and patience that you've had with me. I purchased 3 great combo units from your web site and they are perfect and arrived without a scratch. I was and still am new at this business but you made it a comfortable first purchase. I love vending, thanks :o)
P.S. My friends and I will be back for more great deals!!
Sincerely,
A beginning vendor :o)

12/07/2009

Dear USEDVending-

I thought I would let you know that everything went REALLY smooth for our purchase of our new business adventure. The machine that we bought works great and the customer service we received from our representative, April, was OUTSTANDING. In the future we will always check with April before purchasing elsewhere. Thanks again for everything.

Columbus, Ohio

05/25/2011

Hi Vanessa,

I am EXTREMELY pleased with your site. You give me (the small businessman) an opportunity to expand and compete. My experience in dealing with you and everyone on the site has been Great!

Thanks,
Vending for All
Tennessee

09/20/2001

Eric, thank you for helping me find a buyer for my vending machines. Your services to the general public help eliminate Biz-Op ripoffs where companies charge 5 times the cost of an actual combo unit. Hopefully many people new to the vending business trying to start their own route will meet up with you first before being taken for extremely large sums of money. Your website is a great place for buyers and sellers to meet. Sincerely,

James Falce,
New York

03/25/2011

thank you for your service.Vanessa was truely great in her help and was very sweet in the way she helped.

sincerely howard swayne

10/16/2009

Couldn't have asked for a better person to work thru to get what I wanted done.

Ed in Texas

04/29/2010

We are SO happy with our soda machine, but April Hurd is our angel. She was SUPER in facilitating our purchase, but she also was so gracious when we lost our key. In a FLASH we were back in business. She actually thanked us for the opportunity to serve us further! You can't beat that!

Pastor Steve

10/17/2012

The sale of my machine was very quick. Paperwork was explained well. M. Powers did a good job of putting buyer and seller together.

Ray D.,
Northbrook, Ill.

06/21/2012

Stacy Sweet is the best! He always goes out of his way to help. Thanks so much, Stacy!

Jennifer
Denver, CO

11/13/2014

Thank you so much for assistance in getting us a drink vending machine. Your assistance, along the technical assistance received, was very beneficial and allowed for a smooth process in ordering and receiving our machine. Thanks again for all of your help and Prince George County will keep you mind should we have future vending needs.
Leigh Primmer,
Prince George County, VA



05/09/2014

Stacy Sweet was extremely helpful with locating the best truck for our needs. He took a lot of time to assist us along the way. We received our truck last week, and are very pleased with it. We think it will be the first of many more. Thanks Stacy!
K.H.
Chicago, IL

01/19/2011

USEDvending.com is the greatest website to sell or buy vending machines. Customer service is the best I have ever worked with. I placed my information on the website and Melissa did the rest. Melissa provided a buyer and took care of all the paper work. The transaction went smoothly.
I look forward to working with Melissa again in the near future.

Julia
Marrero, La.

01/31/2013

Calice did an excellent job with posting my ad and selling my vending machine within weeks after posting! She was also very nice and always available when I had questions. She got back with me in minutes anytime I had a question! Thank you so much for making this quick and easy! Seller is very happy!

A. James
Winchester, KY

10/09/2008

Hello, April did a great job selling me my coke machine, everything was just like she said it would would be, I would recommend for all your vending needs.

Rocky,
Rome Georgia

03/21/2014

I wanted to take this time to thank you for all your help. Being new to the vending machine industry I really was not even aware of all the right questions to ask before speaking to you. You really went above and beyond just making a sale. You made it easy for me to feel comfortable working with your company. From taking the time to explain to me what I should look for in a used machine or explaining the advantages of buying a new one. As well as getting the sale completed on your own time over the weekend; It was pretty amazing the level of service I received from you. Not sure when I will purchase my next vending machine but I'm sure that I will purchase it from you.
G.V.
Passaic, NJ

11/01/2011

Once again Melissa and company sold my concession trailer. This is my 2nd item sold and I got a better price and less hassle then CL. No tire kickers. Thanks so much.

Chris
Golden, CO

06/14/2012

The transaction went really smoothly Thanks to Calice she was great and helpful. At first i was a little scared. But Calice helped me to make this transaction went smoothly, I would recommend anyone to use this website.

R.S Ramsingh Singh

12/17/2014

Hi Crissy, I wanted to say thank you so much for all your help in selling our truck! It was a pleasure to work with you and Usedvending. We were very pleased at how smoothly and professionally the whole transaction went down. Thank You again.

Michelle Rex,
Brecksville, OH

11/04/2014

I am very happy with the service I received form usedvending.com. Melissa worked diligently to find me the right buyer. The transaction went smoothly and without any hiccups. I would recommend their service to anyone looking to sell their mobile food carts, they have really helped me tremendously & I am very thankful.
Al S.
All Star Hot Dogs, Inc.
Boca Raton, FL

08/20/2010

This is my second time working with Melissa. She has been a great help to me in both purchases. She is very helpful and knowledgeable about the products they sell. Thanks Melissa

Vanessa, Louisiana

09/19/2012

I cannot say enough about this website. Melissa was excellent. What drive and dedication, Melissa worked with the buyer, stayed in contact with both of us. Follow up calls for both parties. I cannot say enough about this company, my trailer was sold in roughly 5 weeks, amazing. Very satisfied. Thank You Melissa and Usedvending.
A.P.
Michigan


03/21/2011

April from UsedVending.com was very helpful in the purchasing of 6 soda machines. She wanted to make sure I got a good deal and helped out in any way she could. I was impressed with how nice she treated me even though we had never worked with this company before. I would definitely deal with April again. Thank you April!

North Dakota

10/17/2012

Melissa was very professional, punctual and efficient during the sales process. She was understanding of both seller and buyer considerations, offering suggestions without being pushy. This made the negotiation and the final deal once that both sides were happy with. Highly recommended.

Burak
NY, NY

09/11/2013

I would like to thank Melissa for helping me with the sale. In the future I would use this site again.
D.W.
Ottawa, IL

12/06/2010

What a wonderful group to work with. I needed to downsize my business due to illness and listed my machines with USEDvending. It took a little while because at first I was stubborn about negotiating the porice. But I have sold what I wanted to sell and the delivery and all was painless. Thanksd for all your service.

TX

10/23/2009

I had several questions about a vending trailer that I found on the usedvending site and Melissa wrote me and then called me right away. She worked between me and the seller and provided excellent service. Unfortunately I did not end up getting this particular trailer, but Melissa has kept me updated on new listings that may meet my needs. I look forward to doing business with her and usedvending again in the future. I definitely will only go through used vending when i'm ready to buy. Thanks again for all your hard work and great service.

Joe M
Greeneville, Tennessee

03/27/2012

Melissa worked very hard to assist me with selling my concession trailer. She was always professional and made sure all my questions were answered. The transaction was smooth and easy. I will buy and sale at usedvending.com again.

Scott Baldwin,
Florida

10/14/2010

I WOULD LOVE TO THANK MELISSA FOR THE CUSTOMER SERVICE AND PERSONAL TOUCH WHEN COMMUNICATING WITH. HER VOICE IS PLEASING TO LISTEN TOO AND SHE BECAME MY ANGEL WHEN SHE HELPED US SELL OUR TRAILER. WE HAVE BEEN TRYING FOR MONTHS AND WITH IN ONE WEEK ON THIS WEB SITE IT WAS SOLD. THANK YOU SO MUCH FOR YOUR BUSINESS. TAKE CARE AND GOD BLESS YOU AND YOURS.PEACE OUT SISTER TAMARA

05/05/2014

Stacy Sweet was patient and helpful guiding me through the process. I had questions about things I had little experience with and Stacy offered his impartial opinion without pushing me one way or the other. I really felt at ease and trusted his input while always having the door to "walk away if it does not feel right."

Thank you Stacy! Job well done! Can't wait to get cooking!
Dave S, PA

07/08/2011

I just want to say that Melissa and April are truly a blessing. They both helped me tremendously in finding the vending machine that best suits my needs. Melissa walk me thru the steps and A to Z. It's been a few months now since I've had my machine and I must say it's a huge success. Thank you ladies so much for helping a new comer like myself get adjusted to the vending businness. Mega Vending/ Used Vending you rock!!!!

Josh T., Los Angeles, Ca.

07/01/2014

I enjoyed working with used vending it was easy to post the item I needed to sell. I was impressed with the speed of the transaction. Melissa Powers was a joy to work with and made it so easy.
Jason S.
Greensboro N.C

11/01/2010

Thanks to Melissa, one of my vending machines sold in as little as one mo. she is very professional and polite.! You are very lucky to have someone like her with your company. Thank you Melissa !!!

IL

10/17/2012

09/07/2012

Gini was very helpful working things out with my vending location. I hope to do business with her in the future.

Ed,
St.Louis, MO

07/27/2009

April is very sweet and very nice to deal with. I brought several machines from her and she is very professional. She is also willing to negotiate on the prices of the Machines unlike some cut and throat sales people We have come across in the past. She is prompt in her sales inquiries and knowledegable on the Machines.

Livingston, New Jersey

08/04/2010

Used Vending was very helpful in assisting with the purchase of a concession trailer. Melissa did a super job keeping me posted on the status of the transaction. Thanks for all your work!

Lynn Roath, Jr.
Grass Valley, CA

07/23/2014

Stacy, I am very pleased with the service and helpfulness of those at usedvending.com. Every conversation was personable and informative. The sale went off with out a glitch! Paper work was minimal. I even had my lawyer check over the three documents before signing. I was assured that all was in order and legally accurate. The only thing that could have made it better for me would be if the monthly notice encouraged a lowering of the price over time if not selling. It only makes sense, but under the pressure of difficult life circumstances I never thought of it on my own. I great experience and a great company!


<>< Michele Robinson, PA

03/05/2001

Used vending helped me to purchase a good quality used machine. I happen to live near to their location and met Eric face to face. You can trust their honest desire to serve their customers.
Sincerely,
David Trosclair
Mandeville, LA
See Hundreds more or Write your own...