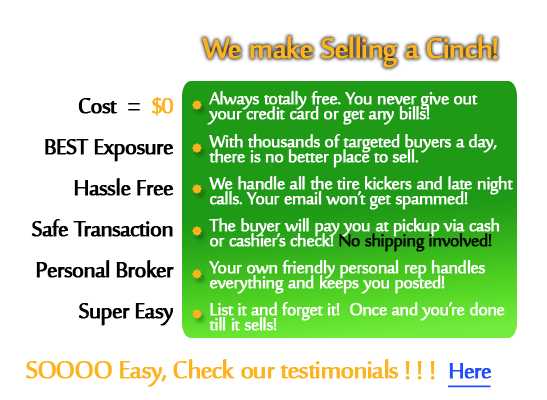 Sell Used Livestock Trailers
Selling your used livestock / cattle trailer is free! Whether it's 10 ft long or 50 ft, we have hundreds of buyers looking for the perfect used livestock trailer. Our free online broker service never charges you a dime. It's a no brainer, just ask our thousands of satisfied customers - many are sellers just like you. Click the link in the blue area above to see hundreds of testimonials!!
We sell
used livestock / cattle trailers
in the most secure, safe manner. Avoid the problems and fees associated with using ebay or other online sites; we handle all the hassles to bring you only a serious buyer that has paid or put down a deposit and is ready to buy.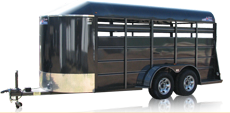 It doesn't matter what you've been hauling - cows, pigs, llamas, porcupines, or kids - we can sell it. The kids may cause some issues though :-) Your used livestock trailer will get outstanding exposure to thousands of buyers. Best part is It's Free and you don't have to deal with the hassles! Your friendly assigned agent will handle all the phone calls and emails. Once a paying buyer is found, they will meet with you to buy the trailer. Couldn't be easier!!
Take plenty of pictures - PICTURES SELL! We'll post them for free so that the buyer knows exactly what they are getting and there are no questions when they come to get your cattle / livestock trailer. We'll even take video of the trailer if you have that!
Selling your used trailer is easy...
1. Create a free
Trailer Seller Profile
2. Login and provide your trailer ad details and pics
3. Leave the rest to us!!
If you later need to add additional info or pictures to the listing, no problem - just login to your account and do so.
It's easy, remember to checkout our hundreds of testimonial letters from buyers and sellers!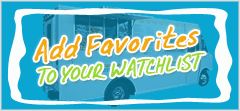 Customer Experiences
02/07/2012
To anyone looking to buy a concession trailer you should consider using usedvending.com. The staff is excellent, especially Melissa Powers. Every question and concern was answered in a sincere and timely manner. If Im involved with another trailer I will not hesitate to call Melissa.

Sincerely,
Jerry and Dee
Syracuse, NY
12/14/2011
We would like to Thank Melissa and everyone at Used Vending. Melissa was a major player in the sale of our equipment, she took all hassle out of selling it by ourselves. I highly recommend Melissa to anyone in need of selling their equipment. We couldn't have done it without Melissa. Thanks again and Merry Christmas!

Corona, CA
08/12/2009
I was happy to know that our company was provided with the service that others could not fulfil. At first I thought that we weren't going to be able to get a machine but they came through. Thank you for the hard work.

Van Nuys, California
03/04/2012
I was very satisfied with the service, Melissa powers was very helpful, the whole deal was quick and easy and we had our machine in the office in 2 days, thanks!

Terry, B
Baltimore, MD
02/09/2011
Melissa was fantastic to work with. She was able to coordinate a smooth transaction. I was able to get a fantastic deal on a machine that was still in the box!!
10/09/2012
Hello Melissa, I know it's a bit late but I wanted to say Thank YOU !!! for all the work you did for us on the last transaction. The machines are in great condition and working great. Excellent buy!!! Thanks Again!!!

C. Velez
Jacksonville, FL
04/11/2011
I had a great experience with this selling site, April Hurd is wonderful and is very helpful.I will defiantly be doing business with them in the future.

Illinois
02/08/2012
I presented my situation to Tara and she came through like a champ! She help me find my machines, Tara went above and beyond the call of duty to help out. Used vending is lucky to have an employee who cares that much and is willing to go the extra mile for excellent customer satisfaction. Will be buying more this year!

Robert,
Dallas Texas
02/19/2014
I was looking for a food truck to purchase and from the time I inquired about one until the day I drove it home, Calice Bilica, was such a tremendous help. She was there every step of the way with answers or any assistance that was needed. Thank you Calice for all of your hard work.
G.B.
Tulsa, OK
06/28/2010
Working with Melissa has been a pleasure. Not only was she courtious, prompt in returning phone calls and e-mails but she made sure our transaction ran smoothly. She even provided her cell phone number in case we had any questions after hours. Thanks Melissa for making this easy.

Barbra, GA
10/16/2009
I had a terrific experience with Used Vending. I worked with Melissa to purchase my fully equipped vending trailer and the transaction was executed quickly and professionally. Thanks Melissa.

Donna Manning
theslicedbreadcompany.com
Cumming, Georgia
11/30/2008
Seller and I are happy. You do good work. I ended up getting a personal loan to get it started.

thank you

Yemassee, South Carolina
03/15/2012
I have been using Usedvending.com for the past 6 months or so. They have posted great pictures of my food cart and a very descriptive ad.

Steve,
Aurora, OR
09/28/2009
I was impressed by your representative (April) and the customer service she provided us. Not many companies like this left around the country. Better to hear it from the boots on the ground rather than from some far away place or recorded info.

Brian
Lindsay, California
11/14/2013
Outstanding customer serivice! Great communication skills! April Hurd was able to help me 100% with all my concerns about the product I purchased today. I couldn't be happier with my experience over all. What an amazing job, April! Thanks for all your help.
Guillermo H.
McHenry IL
01/26/2011
My initial order for three machines was a positive experience. Melissa handled the order from launch to completion and there were no disappointments. Particularly noteworthy, Melissa was constantly providing order status updates and arranged for my personal pick-up at the distributor. It was a "refreshing experience" to witness customer service at this level. Cudo's to Melissa!

I certainly recommend Melissa to others interested in buying new or used equipment.

Pat S.
08/11/2009
I was very pleased with the quality of lead I was given. Information was accurate and I look forward to a continued business relationship. Melanie acted very professional and understanding in our dealings.


Sincerely yours

Howard
Old Greenwich, CT
I have purchased 10 vending machines through Eric at USEDvending.com and have been very pleased with the service I have recieved.They were several different transactions and I received the same service each time. Eric always follows through to be sure I am satisfied. I will continue to do business with USEDvending.com as long as they are on the web. sincerely,

Dan
I want to say a big "thank you" to Julie Hunger. I have just completed a purchase of four vending machines, and the transaction worked perfectly, thanks to her tireless efforts. There was a bit of negotiation involved, with quite a few telephone calls necessary to keep everything on track. But through it all, Julie kept the deal together, handled all of the paperwork with great expertise, and stayed in communication at all times. I am a satisfied customer, and will be happy to deal with usedvending.com again.
Sincerely Bill H.
09/29/2009
Usedvending.com provides excellent, professional service. I plan to do business with them again.
Matthew
Camden, Tennessee
10/15/2011
I AM 11 YEARS OLD AND I OWN A VENDING BUSINESS. My name is Tyler Hollingsworth and I just wanted to share my story of how I started my vending business. I am in the Boy Scouts and I wanted to earn my Personal Management Merit Badge, to do this I had to have an income and manage it for a period of time. I asked my dad for if he would pay me to do my chores around the house so I could earn my Merit Badge and he said no that my chores was part of my family responsibility. He said I needed to find something that had a supply and demand earn the money. About a week later I asked my dad if he would loan me the money to buy me some gumball machines. After a long discussion he loaned me $1000.00 with a payment plan. After I got my first gumball machines in June 2010 and located them I realized that I needed more machines to really make good money. I asked my dad for another loan, he hesitated but loaned me the money in the end. I have since payed my loan off and my business is debt free. Today I have over 200 vending machines valued at over $60,000.00 and over $40,000.00 in merchandise. I should end this year with a $30,000.00 plus in profits, and if I stay on track I should make a profit of between $50,000 to $70,000 next year. I also give a percentage of my profits to Boy Scouts because the Boy Scouts is the reason I stared my business. Usedvending.com and Stacy Sweet are part of my success. I now use them as my main source for purchasing vending machines. Stacy Sweet is my broker rep. with usedvending.com and I feel that when I need machines I can call on him and he will find the machines at the price I can afford. Tyler Hollingsworth, Mississippi
08/26/2009
My experience with Used Vending.com was extremely good. The information
given on the vehicle was accurate and supported with documentation from
the seller. Both the seller and Used Vending.com answered all of my
questions and exceeded my expectations for a smooth purchase and
transfer process. The seller and Used Vending.com were there after the
sell to make sure everything went well and to ask if I had any
additional questions.
I would highly recommend them.
Regards,
LZ
Stephenville, Texas
08/13/2009
Melissa, Thanks for the list. I just want to say that you all are the most professional folks I have dealt with. You are extremely helpful and always positive. I bought a new machine from you in March 2005 and it was at a much lower price than was quoted from another vendor. In addition, it arrived within a few days. If megavending ever needs a reference, please feel free to contact me.

Bobby Bain
05/20/2013
We purchase our vehicle from Melissa -who was amazing in the process. We had such a great experience with her that when we needed to sell .. She was the 1st person we called. He follow up skills are impressive .. Along with her diligent goals to help sell your vehicle. We are SUPER happy and definitely reccomend Melissa 1000%
E.P.
Ft. Lauderdale, FL
08/22/2012
The process was seamless and easy. I filled in the questionaire online and Gini contacted me the same afternoon. Within a couple of days we had 2 vendors to choose from and were up and running with the vending machines a few days after that. They are a greta resource. Thank You.

T. Dillon
Chesapeake, VA
11/14/2013
Mellissa and staff were great to work with and prompt to respond to questions as we progressed through this transaction. We would recommend them to prospective clients and hope to do further business!

Barbara and Jay Buckert
WA
11/15/2010
Ms. April is a great asset to your company, I congratulate you all for the wonderfull services you gave to Millennia Atlantic University.

Doral, FL
02/23/2010
I would highly recommend Used Vending. They were very knowledgeable and were prompt in answering any questions that I had. Melissa was a pleasure to work with and always greeted me with a positive and friendly demeanor.

Thank you for your good work

Sonya
Houston, TX
02/09/2012
Had a wonderful experience with used vending. Any question that had was answered in a timely manner. Melissa Power was wonderful. Great job Melissa. 2đź'Ťup!!!!

Anthony,
MS
02/16/2010
I am new to this business and have found it to be very easy dealing with These folks. April is the best! She was very friendly, knowledgeable, helpful and knows this business !

I look forward to working with these guys in the future !

Keep up the great job!

Mike
Capital Vending
Hammond, Louisiana
09/04/2012
I run an industrial catering outfit and was in need of some extra catering trucks, upon some extensive reasearch on the internet, I found used vending and got to talk to melissa. She really helped me in what I needed to do all thru the process and she even called Mississippi DMV to find out some things as far as me having them transportated back to Ohio. I would reccommend UsedVending and Melissa for all my needs, I had a great experience.

Von Troy,
Ohio
10/23/2009
My experience with Mega-Vending was very pleasurable. The staff was most helpful and professional. I look forwad to continued business with them in the future.
JDFDYER

North Hollywood, CA
10/25/2010
Purchasing vending machines was a new experience for me, so to close my first deal, I relied on Usedvending.com's Vannessa Long to get the sale done. She was easy to deal with and made sure it went smoothly.

Thanks Vannessa!
Eric for Karen Vending
Mannassas, VA
09/29/2010
My experience with usedvending.com was great. Melissa Powers was very helpful and most importantly quick with information and feedback with any of my questions.
C. Turney
Hospitality Business Owner
10/24/2011
When I contacted 4vendtips.com I wasn't sure of the process. Stacy Sweet immediately contacted me and thoroughly explained how their service works. She was diligent in ensuring that our current vendor was not on their list to avoid an embarrassing situation. Within 24 hours, a vendor contacted and met with me, and agreed to start service within 2 weeks. I figured that was the end of any communication but to my delightful surprise, Stacy followed up with not 1 but 2 emails to ensure our vending needs were being met. Using 4vendtips.com totally took out the hassle of trying to find a new snack vendor. This concept is a really great, hassle-free service to hook up companies with vendors. Thank you Stacy for the thorough follow up!

Happy Customer,
Franklin, TN
12/18/2013
April,
I would like to thank you for the wonderful customer service you provided to me on my recent purchase. You were very helpful and pleasant to deal with. Everything was delivered as promised and in good condition. Thank you.
L.B.
Magnolia, TX
Hi - Just wanted to say Gini Sweet helped me at just the right time; i had lost a couple of vending accounts i had, and was losing money, when i received an e-mail from Gini telling me she had a location for me. I went and spoke with the contact person and within 3 days i am delivering a machine to a new account. Thank You Gini! I appreciate it very much.

Mike Smith, MSVending
Rhode Island
10/12/2010
Connie and Mega Vending has referred us to several account of which are great locations. They are professional and very helpful in securing the right type of accounts.

Suzy Q Snacks
Las Vegas
08/27/2012
Calice, All i have to say is just look at all the other testmonials... No words!! was a pleasure you took care of the hard part and left me with money... Thanks again!!

Pinny
Brooklyn, NY
01/25/2011
When I am in need of another machine, ( USEDvending .com ) will be my first stop.

R Teel
08/23/2011
Had a wonderful 1st experience with you. Can't wait to get the next lead. Thanks so much for the help.

Mary,
Birmingham, AL
06/21/2012
Stacy Sweet is the best! He always goes out of his way to help. Thanks so much, Stacy!

Jennifer
Denver, CO
08/15/2009
I have used 4megavending.com for several years now, and they are always helpful and have excellent customer service. I have referred other vending operators to their site as well. Keep up the good work!

Marion, Iowa
10/15/2009
Whenever I contacted Melissa, she was always prompt getting back to me and very friendly and helpful. My overall experience with Usedvending.com was positive and I would recommend them to anyone looking for vending equipment.
Donna J. Morgan
Alpena, Michigan
Melissa was great, she brought me a couple offers, but the people backed out at the last minute. Thanks, I would use this company again.
11/25/2008
April: We had a very positive working relationship with you and mega-vending. You were very helpful, courteous, and knowledgeable about your products. After talking with you, I had all the info I needed to order what we needed. Thank you for your assistance, and we will contact you with all our vending orders in the future.
Again, "Thanks",
John Karaska, Principal, Burlington County Institute of Technology.
Medford, New Jersey
10/15/2009
Melissa has helped me sell 2 machines in a short amount of time, at no cost to me. She does all of the work with a few phone calls and emails. I tried a newspaper ad for 4 weeks that cost over $100 and I had 1 response. Used Vending. com has worked very well for me.

West Hartford, Connecticut
06/19/2011
I worked with April Hurd to purchase my first Vending machine. She was professionsal and answered all of my questions. She provided copies of the manuals for my review and made sure I knew what I was getting into when I ordered the Combo 300. The system arrived on time but the key was missing. April provided a key to me the next day and we go the system working. It was a great experience for my first system and I plan to call on her when my customers want to add vending to their business.

Fairfax, VA
11/27/2009
As always, our experience with UsedVending was exceptional. With Melissa's help, we sold our machine at a price that was right for us. It was quick and easy.
THANKS Melissa!

Ken R
Dallas, Texas
09/12/2012
Great experience, great coordination in selling my product. Thank for your help Calice!

Eric O.,
Illinois
See Hundreds more or Write your own...