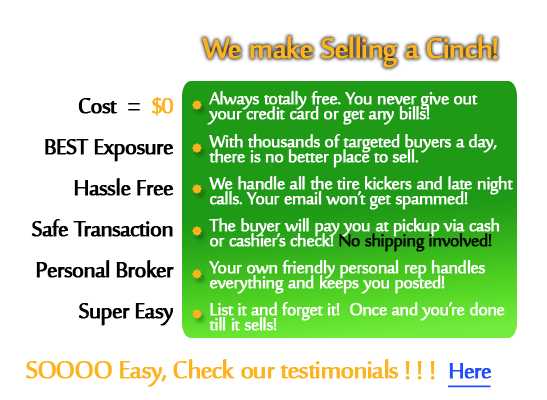 Selling Used Dump Trailers
Become one of our thousands of happy sellers! Your
used dump trailers
can be seen by thousands of buyers each and ever day. Just a few minutes of your time and you're done; we do the rest with No Cost to you - Ever.
Don't waste your time and money with other online tactics; none provide the ease, safety, and security that we do! It's true. We do all the work by handling the phone calls & emails. We advertise your used dump trailer to tens of thousands of buyers, yet you don't have to waste time with tire kickers - we handle them all.
When we find a serious buyer for your dump trailer, we will do the paperwork and only put them in touch with you if they are ready and able to purchase. If needed, we even offer the option of a free escrow service to ensure that both parties can complete a safe transaction. Here are a few hundreds letters from our thousands of happy customers - many are sellers just like you that had no luck through other online auction or classified sites...
Used Trailer Seller Letters
That's right, we remove all the headaches and provide results even when big names like ebay and craigslist can't. As one of the pioneers of online equipment brokers, we have built a strong reputation since 1999. We do a great job of promoting our seller's equipment; so they come back to us again and again.
Our buyers are given all information up front; therefore, they know they can trust us and often refer their friends and business associates. When you list your dump trailer with our broker service, just remember to include pictures, because Pictures Sell!! The more the better.
Getting started to sell your used dump trailer is easy. Just create a free account, add details about your trailer, and we do the rest. If you have other info or pictures to add later, just log into your account, it's easy to do. We may call you with a question from a buyer, but you'll love the free service which allows you to do more important things with your time.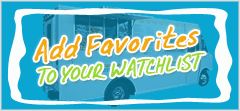 Customer Experiences
02/27/2017

Jenn has done an A-Ok job getting this trailer, for she stayed in contact with me daily to let me know the the progress of my purchase. Thank you so much Jenn you are awsome. The trailer is just as you said, very nice, and I am happy with my purchase and will deal only with Jenn in the future. Thank You again You are awsome.
John Hutchens,
Holyrod, KS

03/04/2013

Very nice doing business through your site.
D.H.
Whittier, CA




02/07/2010

Buying our vending machine was easy and professional. I appreciated all of Melissa's help in finding the right machine, it's perfect for our youth department!

Kristi
Snoqualmie, WA

09/03/2016

My experience was great! Everything was so easy. All my questions were answered in a timely manner and my contract to purchase the trailer I liked was easy to understand. I hope to expand my new business, and I know you will be there for me when I do.
Kelly Pulver,
Ocklawaha, FL

08/07/2015

Buyer said everything was nicer than he expected. It has been great working with you. The sales process was fast and everything went smoothly. The buyer was super easy to deal with. You found a good one! We got our money. So all set, until the next one.
Best regards, Jill Kup
Jonas Ridge, North Carolina

11/25/2014

Calice, Thank you very much for Your help finding the perfect vending machine. You made the process easy and painless. The photos on the site were exactly what I was getting. I felt good that the purchase was secure and I was not being take advantage of. When I arrived to see the machine, it was in good working condition and in better shape that I thought it would be in. If I need anything else vending related, I will be sure to come to you! Thanks Again!
Tyler Diciola,
Algonquin, IL

03/26/2012

Thank U so much, will be using u guys again. Thanks Calice.

Thomas,
Bardstown, Kentucky

11/13/2015

Went great, Frank was great. Thought if send a pic this is my 15 year old daughter, she's the one going into the "vending biz":). It's in the common area of my office building. We had the best time the last couple days setting it up. Take care.
Monte H.
Tulsa, OK

02/12/2016

Selling my food truck through Used Vending was very simple. Once a buyer was located, Melissa made the entire process very smooth and made sure that I felt comfortable at all times. It was awesome having a professional and neutral third party intermediary and I would recommend them to everyone looking to buy or sell their equipment. Thanks Melissa and Used Vending!
Anthony Salvagno S'wich It Up, LLC
swichitup.com
Albuquerque

10/22/2009

The team that run the company are real helpfull and super friendly. Doing business with them is always a pleasent experience. Try them You won't be sorry
Sam Elborno
school House Vending Inc2158737305
Hammonton, New Jersey

06/04/2018

Wendy was a huge help in the process. Made everything run smooth and efficiently. Couldn't of done it without her!
John Wipfli,
Minneapolis, MN


11/14/2017

Melissa from UsedVending was great through the whole process of selling my food truck. It was a painless experience. Melissa even checked with me on her day off to let me know the status of my transaction . Thanks for all you did Melissa.
Pete Stiles,
Albuquerque, NM

My hats off to Melissa and her staff. When my husband was diagnosed with cancer several months ago, we thought for sure we would be stuck with our concession trailer until the spring. But thanks to Melissa's and staff's hard work, they found a buyer and yesterday they picked it up. What a breeze it is to work with Melissa and the staff. They truly take care of EVERYTHING. Well worth it if you have something they can sell for you. Thanks again for everything!!!

M. H.
Virginia Beach, VA

Melissa Powers aggresively sought and executed the sale of one of our Office Deli Vending machines. We applaud her execellent job and that of the whole crew at Usedvending.com. We will be using Melissa & Usedvending.com to sell all of our equipment in the future.

05/23/2016

Morning Melissa. I just wanted to take a moment to express my satisfaction in doing business with Used Vending... the experience was a very pleasant and the process was simple and smooth. Thanks for making it so easy to sell my unit.

Jerome D. Buggs

J&L ENTERPRISE LLC(Your Total Solution Company)


Florissant, MO

05/25/2011

Hi Vanessa,

I am EXTREMELY pleased with your site. You give me (the small businessman) an opportunity to expand and compete. My experience in dealing with you and everyone on the site has been Great!

Thanks,
Vending for All
Tennessee

I am very happywith used vending.com Melissa and everybody are very nice and helpfull, I will use it again for my future business .
Thank you
Napa, California

05/04/2017

Selling my U-Turn vending machines with Usedvending was definitely a positive experience. I worked with Grey on selling my machines and he was on top of the entire selling process. He was always available the times that I called with questions and I never felt rushed. The entire selling process went as planned and I would recommend to anyone to do business with this company.

Dwight Smith,
Wellington, FL

10/20/2009

It was a pleasure dealing with April.I thought I was dealing with a person I've known my whole life.She was extremly helpful and I thought I was buying a vending machine from a family friend.
When I needed a secong machine I called april only, because I knew she would give me the best price.
It was a real pleasure to deal with April.
Regards
Barry
Boston, Massachusetts

10/24/2011

When I contacted 4vendtips.com I wasn't sure of the process. Stacy Sweet immediately contacted me and thoroughly explained how their service works. She was diligent in ensuring that our current vendor was not on their list to avoid an embarrassing situation. Within 24 hours, a vendor contacted and met with me, and agreed to start service within 2 weeks. I figured that was the end of any communication but to my delightful surprise, Stacy followed up with not 1 but 2 emails to ensure our vending needs were being met. Using 4vendtips.com totally took out the hassle of trying to find a new snack vendor. This concept is a really great, hassle-free service to hook up companies with vendors. Thank you Stacy for the thorough follow up!

Happy Customer,
Franklin, TN

04/07/2014

Melissa was very professional and sweet to work with. She was very helpful, and she went above and beyond to make the purchase of these Office Deli combo machines possible. I will always recommend her to others, and will purchase our next vending machines from her when the right time comes.
"Bravo Lady."
Michael,
Maryland

01/23/2015

At first, I began to wonder if my machine would ever sell. And, then I found USEDvending online. I submitted my information, and waited for a bite. This company, really knows it's stuff. Because, within a couple of months, my machine sold. The transaction with the buyer went smooth, and easy. This company does ALL the leg work, and you just rake in the profit. I must say, I have had a GREAT experience with this company, and Calice. She was both courteous, and professional. If I should need them again in the future, (which I most likely will) I will definitely use their service. I was totally satisfied, with the way in which they conduct their business!!! Thank you !!!
James Dodd,
Lawrenceville, GA

03/23/2011

We had a great transaction with Melissa Powers , this is our second purchase with her and it was even better than the first one.Her great sence of urgency and professionalism made it a very satisfying experience.

C.V.Vending.

08/18/2011

I was very pleased with my interaction with Milissa Powers during our lastest purchase of two vending machines. She was easy to talk with, has a great sense of humor, and completely competent in helping us close the deal. Thanks Milisa.

Gerald Landry
Rose City Vending
Pasadena, CA

12/16/2015

We had our concession trailer listed with you and you have sold it. It was great working with you. You kept us informed with everything. Thank you so much for all that you did. It was a great experience working with you. Thank you.
Tammy Crow,
Punta Gorda, FL

03/24/2017

You guys Rock! Grey and his team handled my transaction with complete professionalism and I would highly recommend their services to anyone!
Doug M,
Houston TX

04/11/2011

I had a great experience with this selling site, April Hurd is wonderful and is very helpful.I will defiantly be doing business with them in the future.

Illinois

09/04/2012

I had a great experience. I was called back at a reasonable time and was connected with a nice vendor in my area. I would recommend this site to anyone looking for a vendor in their area.

Debbie,
Forest Hill, Maryland

08/12/2009

I was happy to know that our company was provided with the service that others could not fulfil. At first I thought that we weren't going to be able to get a machine but they came through. Thank you for the hard work.

Van Nuys, California

11/09/2009

April got me the best deal and it shipped quickly! Thanks so much!

Elkhart, Indiana

03/17/2012

Great machines very fast and smooth transaction. Stacy Sweet was very helpful in making sure that all parties were in contact in a fast manner. This was one of the easiest and fastest transaction that I have made buying vending machines. Thanks again for the great efforts. uesedvending.com and Stacy Sweet are #1 in my book.

Charles, MS

I just want to say thank you so much for the excellent customer service and patience that you've had with me. I purchased 3 great combo units from your web site and they are perfect and arrived without a scratch. I was and still am new at this business but you made it a comfortable first purchase. I love vending, thanks :o)
P.S. My friends and I will be back for more great deals!!
Sincerely,
A beginning vendor :o)

02/24/2011

Vanessa and April have been very helpful in getting us set up with a vendor. Vanessa went over and above helping us out. I would recommend this company to anyone looking for vendors.

Debbie
Administrative Assistant
Champaign, IL

09/06/2017

I tried advertising nationally and locally with not even a bite. USEDvending found not one but two interested buyers. Wendy was awesome to work with and made the whole selling process an absolute pleasure. If you have a food cart, truck, or trailer to sell....USEDvending is the place to do it! Thanks, Ted Lambert.

12/22/2014

I don't know how to say. I only know your people have good service. And your company is very good for truck buyer and seller :)
 ‡ ˆ " Xi Lin
Malden, MA

06/13/2012

I've sucessfully purchased candy machine lots twice from Usedvending.com and both times have been very pleased with the results. Calice is GREAT to deal with. My last deal only worked because of her persistence and understanding. I highly recommend both the site and Calice!

Eric
Manassas, VA

10/02/2014

Just wanted to send a very big € Thank You €to Melissa and the Usedvending.com team. They found the perfect buyer for our truck. We could not be more pleased with the outstanding communication and flawless transaction. They made the entire process simple. We wish them, and the new owner, every success in the future.
Mark Wilson
Clinton, MO

10/11/2012

Hi Melissa Yes I did have a positive experience Thank you very much. The chap we bought it from was very helpful and went more than the extra mile. Thank you for all your help and efficiency, I am having it wrapped.

J.T.
Salt Lake City, Utah

10/26/2017

We recently sold our trailer through Used Vending. From start to finish everyone we dealt with was very professional. The company continually stayed in touch to make sure all information was current and listed correctly. Once we had an interested buyer, Wendy Byrd stayed on top of everything until the close of the sale. She was available to answer all questions and address our concerns. We are extremely pleased with the whole transaction and would not hesitate to use them in the future. Thank you Wendy and Used Vending for everything you did!!

Vince Puglia,
Saint Augustine, FL


01/08/2014

My experience in ordering stamp folders via the website went very quickly and smoothly. We received the product quickly also. Will definitely order from MEGA vending again.
P.K.
Knoxville, TN

06/20/2012

Amazing experience - everything went so smoothly. Melissa did a great job with communication on what the next step and kept us very informed. Thanks.

Fran,
IL

06/23/2015

I recently purchased a vehicle from USEDvending.com and it was a terrific experience! Melissa was very efficient and professional. My questions were answered immediately which made the decision process very easy! Once I decided to purchase the vehicle the paperwork and entire transaction was seamless and very professionally handled. I felt like I had an advocate in this deal instead of the uneasy feeling of purchasing through an un-vetted vendor. My vehicle was delivered on time and in the condition as promised. Thanks Melissa!
Karen Morse
Ben & Jerry €'s Ice Cream
Washington, DC

09/18/2015

I would recommend usedvending.com to anyone! The customer service was exceptional! If you are in the market to buy or sell new or used vending, this is definitely the place for you. Jennifer was an absolute pleasure to work with and I thank you kindly for helping me sell my concession trailer!

04/08/2011

Wow! Vanessa, you & your colleagues at 4 Mega have done it again! The new account that you referred me to is awesome! It's amazing how easy you make it for me, you do all of the locating work and I just meet and shake hands with the contact & roll in with my machines! What a winning combination! I appreciate you, Vanessa, and your co-workers at 4 Mega Vending.com, and I look forward to conducting lots of business with you! Thank you!

Victor Carter

03/03/2017

Hey Wendy Jim here Just wanted to say thank you for all the help you gave me in purchasing the trailer. Everything went off without a hitch (no pun intended). You did a great job with the sell. I really appreciated all the fine assistance. I would surely recommend you and your company to anyone that would be interested in your service. Thanks again.
Jim McDaniel,
Charleston, WV

02/23/2012

Thanks!! I appreciate Stacy Sweet's help in negotiating the sale of my machines ... he made it quick and simple. Great site, great service.

Charles,
Mobile, Alabama

09/20/2017

I wish everything else I dealt with along my process of opening my food truck was as easy as dealing with Melissa at usedvending.com. Melissa was on it every step of the way and she rocked it. Any questions or problems I had along the way she took care of it and went above and beyond. I would recommend the services at usedvending.com to anyone looking at purchasing a food truck.
J. Trez
Santa Rosa, CA

11/25/2008

April: We had a very positive working relationship with you and mega-vending. You were very helpful, courteous, and knowledgeable about your products. After talking with you, I had all the info I needed to order what we needed. Thank you for your assistance, and we will contact you with all our vending orders in the future.
Again, "Thanks",
John Karaska, Principal, Burlington County Institute of Technology.
Medford, New Jersey

06/23/2016

I just wanted to appreciate the professionalism that Melissa provided me during my purchase through Usedvending.com. I would recommend this site to anyone looking for something they know they want or need to be exactly sure what there looking for. Thanks again to Melissa and all the support!!!!
Chris Burris
Houston, TX

10/15/2009

melissa did a fast and wonderful job selling my machines thank u. od

Raymore, Missouri
See 1700+ more or Write your own...