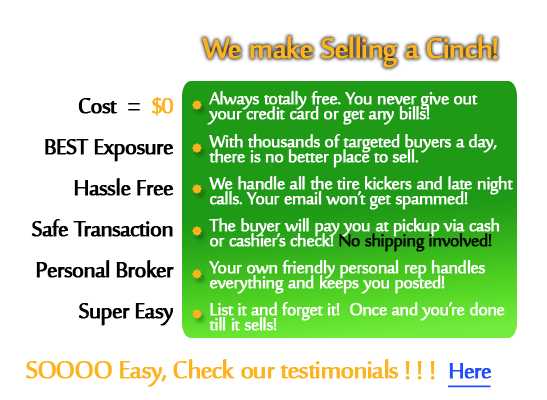 Selling Used Dump Trailers
Become one of our thousands of happy sellers! Your
used dump trailers
can be seen by thousands of buyers each and ever day. Just a few minutes of your time and you're done; we do the rest with No Cost to you - Ever.
Don't waste your time and money with other online tactics; none provide the ease, safety, and security that we do! It's true. We do all the work by handling the phone calls & emails. We advertise your used dump trailer to tens of thousands of buyers, yet you don't have to waste time with tire kickers - we handle them all.
When we find a serious buyer for your dump trailer, we will do the paperwork and only put them in touch with you if they are ready and able to purchase. If needed, we even offer the option of a free escrow service to ensure that both parties can complete a safe transaction. Here are a few hundreds letters from our thousands of happy customers - many are sellers just like you that had no luck through other online auction or classified sites...
Used Trailer Seller Letters
That's right, we remove all the headaches and provide results even when big names like ebay and craigslist can't. As one of the pioneers of online equipment brokers, we have built a strong reputation since 1999. We do a great job of promoting our seller's equipment; so they come back to us again and again.
Our buyers are given all information up front; therefore, they know they can trust us and often refer their friends and business associates. When you list your dump trailer with our broker service, just remember to include pictures, because Pictures Sell!! The more the better.
Getting started to sell your used dump trailer is easy. Just create a free account, add details about your trailer, and we do the rest. If you have other info or pictures to add later, just log into your account, it's easy to do. We may call you with a question from a buyer, but you'll love the free service which allows you to do more important things with your time.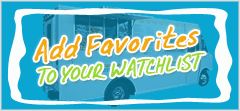 Customer Experiences
09/19/2014

"USEDvending.com was very easy to use and very helpful in selling my vending machine. The staff was absolutely wonderful and followed the sale through with me from beginning to end. They found the buyer and made the transaction very simple and professional. I would definitely recommend their services. Thank you for all of your kind assistance!"

Michael,
Brighton, Michigan

09/30/2010

Melissa Powers did a great job lining up the seller and myself quickly. I was able to start my business much sooner. Thanks again, Melissa.

Steve M

01/27/2016

The experience was great!! Melissa helped made the process easy! I would recommend this company anyday! The service was AWESOME!!!
Latoya London,
Zachary, LA



11/18/2010

Melissa an exceptional job on getting things done. She is quick with responses and she is a woman of her word :) which made things very simple. It was an Exceptional Job Mellisa

12/27/2012

We have had 2 very good experiences with placing our machines through our representative Gini Sweet. She has been most helpful and follows up on our placements regularly. Thanks Gini for being so helpful. We look forward to doing business with you in the future.

G & M
Hueytown, Alabama

12/17/2018

My experience with your company was great from the beginning to end. Very fast service and efficient. Deidre made me feel comfortable about the experience. She got back to me with all the answers to my questions very quickly. Loved my overall experience.
Helen Hall,
Mount Pleasant, SC

01/20/2015

We are a small company and found it hard to find vending options for our office. However, MEGA Vending made everything simple for us. From inquiry through installation, MEGA Vending assisted us every step of the way. Thanks!
Liz Jacobs, Director of Marketing
MPC Group, LLC
Chicago, IL


07/19/2018

Hi Wendy,Thank you for everything. You made the process go smoothly even with the much hesitation on my end. With so many scams and rip offs out there, it makes it very hard to put your trust in anyone. Your entire team were very knowledgeable and professional from the beginning to the end. Looking forward to the next sell.

From a very satisfied customer-
Michael Holland,
Terrell, TX


10/20/2009

4 Mega Vending is a solid and responsive company. When our company was looking for a low cost solution for replacing our old soda machine I found 4 Mega Vending.

It is always a risk to buy something like this without knowing the company you are working with. I took a chance and found that they are quick acting and customer service oriented. I've worked with April Hurd since 2006 and she has always answered my questions and requests. It is a welcome relief from the revolving door of customer service representatives at other companies.

I recommend 4 Mega Vending as a safe and responsible place to do your business.

BT
Honolulu, Hawaii

10/21/2017

Wendy was amazing! Always on the ball, super patient with me and the buyers... and just kept things rolling along. I'd recommend her and UsedVending.com, I purchased a vehicle from here and sold 2 - they're awesome!

Brittni Shelton,
Saint George, UT


10/23/2017

WOW, thank you for a smooth and easy transaction. Melissa Powers was my agent and she insured all my questions were answered, even on her day off. I got the mobile kitchen I was looking for. I would and will recommend her services. Thank you UsedVending from Grimms Grub.
Ronald Foreman,
Grimms Grub,
Clarington, OH

11/18/2010

I sold my machines through used vending.com. My experience with them was excellent. I am glad I could free my garage space. Thank you Melissa.

01/29/2019

Melissa did a great job helping me sell my rig. They were very helpful and made it easy.

Rick Tanner,
Apache Junction, AZ

12/10/2013

April,
Thanks for the help. I have purchased 6 machines from Mega vending and they all have worked flawlessly!
C.B.
Tulsa, OK

05/17/2016

Hi Jennifer, I was very satisfied with the service that you provided. You did an excellent job and I am grateful you didn't give up on getting a hold of the owner. You were also very helpful through the process communicating with the owner and getting all the questions I had answered so I could make a educated decision on the purchase. Thank you! Much Appreciated,
Michelle Wood,
Santa Rosa, CA

12/16/2015

We had our concession trailer listed with you and you have sold it. It was great working with you. You kept us informed with everything. Thank you so much for all that you did. It was a great experience working with you. Thank you.
Tammy Crow,
Punta Gorda, FL

04/23/2016

After having my Food Truck listed on other list sites and having dealt with the many emails and phone calls that went nowhere, I finally decided to list my truck for sale with UsedVending.com. I am so glad I did. I got exactly what I wanted for my truck, I didn't have to haggle with anyone over price and the money was wired directly into my account within hours. Truly one of the smoothest transactions I have ever done. Jen, my rep, kept me informed and was great to work with. She helped me navigate through the transaction which was comforting when dealing with large amounts of money. Thank you,
Cambria,
Central Point, OR

08/06/2014

We wanted to thank Stacy Sweet and USEDvending for helping us to sell our ice cream truck. We had dealt with several potential customers with no results, Stacy Sweet made the sale smooth and pleasant and we will use USEDvending again in the future. Thanks.
Dan Parks,
Live Oak, FL

I can't tell you what a relief it is to have an empty garage. Without your help, I may never have sold those vendors. I was ready to dump them and lose everything. This would have been easier than the sight of them everyday. Your service is very much appreciated.
Jody
Denver, CO

07/23/2013

Melissa Powers never gave up! She kept sending buyers our way until we sold. She did a great job in helping us to sell our unit and sent us a great buyer. Paperwork was a breeze.
D.A.
Magnolia, TX

12/26/2017

Great people to work with, plan and follow up. Amazing expertise and to the point. My salesman Bradley Heath,very knowledgeable with what he is doing and the communication excellent - that's why my concession trailer sold in matter of days.
Thanks, Keep the good work.
Nasser a Alawar,
Texas City,TX


09/01/2016

Overall the process was really nice. It's a little scary when you're not sure if you have a real buyer or your just being stalled until one can be acquired with all the scams out there now. You helped me hang in there and assured me there was a buyer on the other end of the deal- thank you.

Roderick McClendon,
Houston, TX

11/07/2018

Love love love! They were there every step of the way. No question was left unanswered. It was smooth from start to finish.
Katrina Hines,
Brookhaven, MS

05/23/2017

Elite customer service! My agent Melissa was awesome through this whole process. She communicated with me every step of the way. She is the main reason I would recommend usedvending.com to anyone looking to buy a food truck. Keep up the great work.
Rodney Townson,
Port Allen, LA

10/06/2010

Attention Mega Vending,

What I would like to say is not exaggerating or complimenting ,it is true ,and really mean it with full honesty .
April is not just a sales lady or in charge person ,she is a real human ,very helpful .very easy to deal with and very humble .My wife contacted her once and she came back to with this impression .Hay Mohamed she said , do you know this lady April is very nice ,call her for your machine problem ,she will help you ,I said yes you are right . I enjoyed working with her in spite of I never met her.If you deal with her you will never regret.
God Bless April and i really thankful.

Mohamed Hassan

06/11/2014

I was very pleased with my sale through Usedvending.com. All of the sales associates I worked with very knowledgeable and helpful in making my decision. They were very prompt in their communications especially the man who completed the sale for me Stacy Sweet.
Tom, KS

07/08/2015

Calice did a wonderful job with my Smoothie Cart Sale. She was always responded in a timely manner and worked through the entire sale with me. I ran into some complications with the seller but Calice had my back and made sure that the sale was conducted in a professional, safe, and fair manner. I would highly recommend her and Used Vending.

Mustafa Malik,
San Diego, CA

06/04/2015

Thanks for making the sale of my vending machine go so smoothly. Upon receiving the initial three emails, it felt somewhat overwhelming but instructions where clear and concise, which made the whole process actually straightforward and simple. At one point in the process, I felt a little bit in the dark on where we stood with the seller's interest and how long it might take to close but you quickly responded to my inquiry with clear status on what the next steps were, and when they would happen. Thanks again,
Rick Gerardi
Orange, CA

03/04/2012

We just completed a major purchase of a food truck in Kansas - Melissa kept the process going and helped us work with the owner to fix issues with the title and complete the sale. She was quick with responses and even helped connect us with someone about a mobile POS they were selling even though there was nothing in the deal for her. We appreciated the professional service she provided.

05/04/2017

Selling my U-Turn vending machines with Usedvending was definitely a positive experience. I worked with Grey on selling my machines and he was on top of the entire selling process. He was always available the times that I called with questions and I never felt rushed. The entire selling process went as planned and I would recommend to anyone to do business with this company.

Dwight Smith,
Wellington, FL

06/04/2015

I've had a really positive experience working with you at UsedVending.com. You got a fair price, were easy to use and had nationwide reach for selling our truck. You were great to work with in arranging the details and keeping us up to date on where in the process everything was. I would have no hesitation using your services again!
Thanks,
Art Garcia
Long Beach, CA

12/10/2015

Would like send out a big thank you to Melissa powers from Used vending .com for all her help in making my transaction go smoothly- at first I thought that some of these places were scams but after actually speaking with Melissa on the phone realized this was a true and reputable company. Melissa took my calls anytime I needed questions answered; she is very professional and personable. I would definitely use Melissa powers and Usedvending.com for any of my future needs. Once again, thank you Melissa powers for all your help, hope you have a merry xmass and a great new year.
Larry Clark,
Cranesville, PA

03/17/2017

I recently purchased an ice block machine via usedvending.com and I was very impressed with the experience. Grey did an excellent job communicating and facilitating the transaction with the seller. I appreciated the documentation process and the ease in getting everything completed. I will definitely use your site again should I need to purchase or sell equipment.
Nathan Peck,
Americus, GA



10/25/2011

Thank you April Hurd for your very prompt attention to my vending needs. Your company should be proud to have a dedicated and cheerful employee as they do in you. I would totally reccomend your company to anyone I possibly can. Thanks again for your help.

Vickey Lavender,
Alabama

08/22/2009

Hi April, I wanted to get back to you.

In my dealings with you I have been very impressed with your customer service skills and your willingness to go the extra mile. Your attitude is both refreshing and greatly appreciated. I wish every business that I dealt with had your friendly demeanor as well as your knack for following up.

Thank you so much for all of your extra efforts. It is my pleasure to work with someone who is so committed to helping their customers.

Best regards,
John
West Haven, CT

10/07/2010

After contacting 4vendingtips.com I was put in touch with one of the most pleasant, professional people I've ever dealt with. Jackie at Grand Slam Innovations has been an absolute pleasure to work with and it all started with a simple email to 4vendingtips.com. Connie Jordan was very nice and did a GREAT job putting me in touch with Jackie. Many thanks to Connie and 4vendingtips.com.

Charlie DiPatri

06/05/2012

It was a privilege to work with Melissa Powers on the sale of my vending trailer. She is the consummate professional; extremely skilled at the process. She was responsive to the unexpected complexity of a transport situation, her diplomacy and diligence throughout was exemplary. I would highly recommend UsedVending and Melissa whether buying or selling.

Glenda H.
Okeechobee, FL

09/25/2012

Great experiences with 4 Vending. Very professional and I have landed 3 accounts thanks to their service. I have worked with Gini Sweet and she has been exceptional from day one. Thank you again for all your efforts.

Frank P.
Schaumburg, Illinois.

04/02/2017

Hi Bradley,You guys were great! Everything went smooth and the sellers were super cool and friendly. I loved using your website to find just the right food truck/trailer for me. Having the watch list was a really great feature. It let me know when there was a drop in price on trucks I was looking at. I have wanted to do this for a long time and wanted something small to cut my teeth on. When I saw the price reduction on one of the food trailers I had on my watch list come down I shared it with my husband and he gave me the go ahead to make the call. From there it was all pretty simple. I contacted the seller and drove home with the trailer the same day. When I am ready to upgrade to something bigger I will be back to find the my next trailer/truck. Thank you for being there to connect dreamers with their dream!

Sincerely,

Amy Luksha,
Ware, MA

09/10/2014

Your Handling Of My Sale Brought Peace Of Mind! Thank you Melissa, from beginning to end you were with me all the way. Your setting up of the transaction, keeping it rolling, and your followup allowed the transaction to come off without a hitch. Highly recommend your services.

Ross Ferguson,
South Bend, Indiana

01/31/2011

April has been a great deal of help in purchasing our first vending machines. She was there from beginning to end. We received the machines today and we are very impressed with the way they look.
Thanks April for your help!
John P

07/30/2018

I bought and Recently sold on used vending and had nothing but great experience with them- the professionalism is excellent, especially Denise Keyes, who orchestrated the whole sale with no hang ups. If I was to do vending again I would use UsedVending with Denise.
Thank you,
Rick L.
Henderson, NV

03/01/2017

What an experience. I have been looking for the perfect trailer to start my own catering business out of and I saw a website called Usedvending.com. I went on and looked for almost 2 years and then I saw the one. It was as simple as a phone call. Wendy was so awsome to work with . She was there to help me through every step of the way, she made me feel like family and not just another sale. 100 stars all the way. Thank you you for all your help Wendy & all Y'all at Usedvending.com keep in touch eh!!!

Bevan Sweeney,
Terrance, CAN


12/09/2014

Melissa, Thank you so much for all your time & help selling our food stand! I am sure to tell anyone & everyone about you! Also wanted to say thank you for all your time texting me when I didn't have a voice! God Bless You,
Clayton & Cammie Thayer
Wheatridge, CO

04/02/2015

Hi Calice. My experience with USEDvending was productive and efficient. Within a week of the notification the deal was "done" and the paperwork was signed I met with the buyer and finalized the deal. Two days later he had his machines and was pleased with his purchase.
Cathy Parsons - Healthy Snacks 4 You :-)
Elkton, MD

06/04/2015

We sold our snowball vehicle last week and I just wanted to let you know that the transaction was seamless and was everything we expected and more. We appreciate all your hard work in getting us viable customers who were genuinely interested in the vehicle. We would definitely use your company again if we were ever in need to sell a concession type vehicle in the future. The communication process was exceptional as well.

Walt M,
Palm Coast, FL

09/01/2016

I enjoyed my experience with Used vending and would do it again. I was a little nervous at first because I didn't know anything about UsedVending. I literally just found it online. But Bradley was great to work with, walked me through the process and was willing to contact me via text. Best part is they brought me a qualified buyer. I didn't have to worry about all the calls and emails from random people.
Angela Sims,
Kansas City, KS

11/14/2010

Vanessa was great to work with. I received her E mail, made a phone call, met with the customer & moved my machines in. It was a slam dunk! Easy. Thank you Vanessa!

KS

06/18/2012

Buying through this group was simple and informative. Calice took care of all my questions and the machine we purchased was exactly as the seller described. Thanks to everyone involved!

Brian,
Bowmanville, Ontario

05/19/2012

This website has been a great resource for information and helping to expand my business. Gini was very professional and easy to work with. I look forward to working with this company again.

Dave,
Olathe, Kansas
See 1800+ more or Write your own...