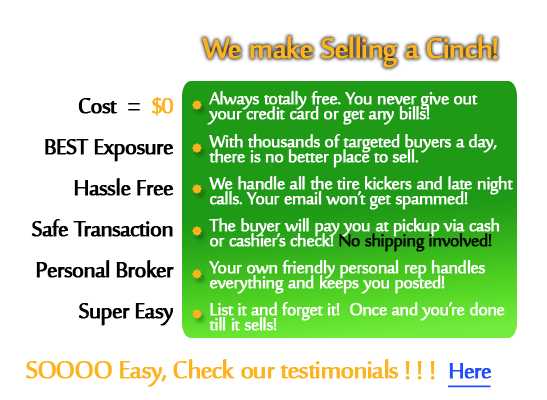 Selling Used Dump Trailers
Become one of our thousands of happy sellers! Your
used dump trailers
can be seen by thousands of buyers each and ever day. Just a few minutes of your time and you're done; we do the rest with No Cost to you - Ever.
Don't waste your time and money with other online tactics; none provide the ease, safety, and security that we do! It's true. We do all the work by handling the phone calls & emails. We advertise your used dump trailer to tens of thousands of buyers, yet you don't have to waste time with tire kickers - we handle them all.
When we find a serious buyer for your dump trailer, we will do the paperwork and only put them in touch with you if they are ready and able to purchase. If needed, we even offer the option of a free escrow service to ensure that both parties can complete a safe transaction. Here are a few hundreds letters from our thousands of happy customers - many are sellers just like you that had no luck through other online auction or classified sites...
Used Trailer Seller Letters
That's right, we remove all the headaches and provide results even when big names like ebay and craigslist can't. As one of the pioneers of online equipment brokers, we have built a strong reputation since 1999. We do a great job of promoting our seller's equipment; so they come back to us again and again.
Our buyers are given all information up front; therefore, they know they can trust us and often refer their friends and business associates. When you list your dump trailer with our broker service, just remember to include pictures, because Pictures Sell!! The more the better.
Getting started to sell your used dump trailer is easy. Just create a free account, add details about your trailer, and we do the rest. If you have other info or pictures to add later, just log into your account, it's easy to do. We may call you with a question from a buyer, but you'll love the free service which allows you to do more important things with your time.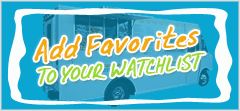 Customer Experiences
06/12/2017

April,Thanks so much for the additional business. It's en extreme pleasure to deal with someone who is a professional. We look forward to working with you again.
Marc B.,
Connecticut

01/04/2013

Melissa, Thank you so much for making this such an easy process. Your phone calls, explanations, and ease with the paperwork ... your knowledge of the entire process made the sale. You make the buyer comfortable and the seller very happy.

Sincerely, AB
Bushkill, PA

10/24/2010

Melissa is such a nice person to work with. She is not only friendly but she genuinely cares about her customers. All through my experience with her, she made certain that everything was the way it needed to be and always made sure there was nothing else she could do for us. I do wish though that she had talked us out of going to get our trailer on a Saturday when we couldn't get it plated.

Samantha
New Caste, CO

06/21/2016

Julia,
Thank you so much for helping with the sale of our food truck. From the time you contacted me with a buyer until the purchase was handled very smoothly and professionally. The organization of paperwork was extremely helpful. The ability to post and maintain the listing is very helpful as well. Being able to monitor views of the truck, allowed us to make changes to the listing and price that made the truck more marketable.

Michael Jennings,
Avon, Indiana

12/01/2016

Hi Usedvending, it's Tom from Comfort Cruzine food truck - we just sold, thanks to the great people you have on staff, especially Wendy Byrd. She answered any and all questions went out of her way to make this sale happen, thanks again and happy holidays.
Thomas Wilson,
Howell, MI

05/14/2013

Working with the team at UsedVending.com was great. We quickly narrowed down options for what we needed and were able to take care of the paperwork quickly. Cristina was very responsive and made this a quick, painless transaction. Highly recommend.

D. Miller
Seatte, WA

10/06/2010

Attention Mega Vending,

What I would like to say is not exaggerating or complimenting ,it is true ,and really mean it with full honesty .
April is not just a sales lady or in charge person ,she is a real human ,very helpful .very easy to deal with and very humble .My wife contacted her once and she came back to with this impression .Hay Mohamed she said , do you know this lady April is very nice ,call her for your machine problem ,she will help you ,I said yes you are right . I enjoyed working with her in spite of I never met her.If you deal with her you will never regret.
God Bless April and i really thankful.

Mohamed Hassan

12/17/2014

Hi Traci, I just want to thank you for all your help,you were outstanding in the way you helped me to to buy my concession truck. I will let anyone know who is looking for a food truck, to use your company. thank you again.
Al Newton
Forestdale, MA

09/27/2009

When our church decided to purchase a drink machine for our fellowship hall, I was clueless on how to begin the process. I called 4Mega Vending Company. Because it was a used machine, I was originally skeptical. However, they were patient and helpful in answering all of my questions concerning costs, return in investment, up-keep, and models available for my situation.

After the purchase they delivered the machine and were helpful in walking me through the process of adjustments that I wanted to make, such as price changes, temperature control, etc. If I have a question, even after the warranty expiration, they have always been helpful in resolving the problem.

We have been extremely pleased with our purchase and our association with 4Mega Vending Company.

Sincerely,

Dr. Ed Ferlazzo
Minister of Worship and Administration
Haltom Road Baptist Church
Haltom City, TX

01/31/2011

I want to thank April for all her help. I came into purchasing a vending machine with very little knowledge. She was extremely helpful and never pushy. We plan on purchasing another machine this year and I won't even bother looking around. I'm going straight to April.

Harrisburg, PA

05/16/2014

April helped us find a great soda machine vendor!
We had 2 different gentlemen call to come see our site and put in a soda machine.
We ended up going with Frank's Vending out of Schaumburg, IL.
The process was seamless and April kept in constant contact via email.
Thanks so much for your services!

Keller Williams Realty Infinity
Naperville, IL

05/05/2017

My buying experience was easy and pleasurable doing business with Bradley Heath. He kept in touch with me and the seller through the whole process, which made a smooth transition, as I was 850 miles away from the concession trailer I purchased. I would highly recommend doing business with Bradley and Used Vending.
Dante Maggio,
Clifton, NJ

09/22/2017

This is a fantastic website. They made the deal run so smooth. They were very helpful . Deidre made it seem so easy. If you have something to sell do it with UsedVending.com.
Diane Cummiskey,
West Warwick, RI

12/20/2010

This was a very satisfying experience for me. I had been in the market to purchase a concession trailer for six months. I had finally decided to bite the bullet and purchase a new one which was going to be over my budget. Before I committed to the new trailer I call Melissa, she remembered me from a few months before and gave me a recommendation to one of the trailers on her site. Within two days I was able to make an offer and buy my trailer. Thanks to Melissa and UsedVending.com. I will definitely use this site again for my buying and selling needs.

Reed
Loxley, AL

I Purchased Six Used Vending Machines through Eric Normand at Usedvending.com. Through out the entire process I found Eric to be very Professional, and extremely helpful. Eric arranged a purchase for me of machines that were within driving distance, so that I could pick them up and save on packaging and shipping charges. I also purchased some machines that required to be shipped from out of state. The machines arrived Promptly on the date Eric told me they would be here, there was a misunderstanding with the shipping company of payment of shipping, I called Eric, prior to going to the shipping company, and by the time I arrived he had it all straightened out. The Products and Service I received from Eric, and Usedvending.com were First rate all the way. I would recommend usedvending.com to anyone looking for Vending equipment.
P.L. Brown
Beaumont, Texas

02/19/2010

Would recommend UsedVending.
What a pleasure it was to work with Melissa. We went into his process not knowing what to expect. Melissa walked us though each segment of the deal and was totally helpful in every way. We were also working with a time factor, us being on the west coast but she worked it out. I have enjoyed working closely with Melissa and would highly recommend the company to my friends and family.

San Francisco, CA

03/23/2017

I really enjoyed working with Wendy. We are very happy with the truck we just purchased. Everything Wendy said was true about the truck, they don't try to hide anything, they tell you the way it is and I really appreciated that. I would definitely recommend UsedVending.com to anyone.
Alan Hill,
Polk City, IA


02/27/2016

I only have good things to say about your customer service. Looking for a vending machine vendor was one of the most tedious tasks I have done. When I came across your number, I thought why not. From the first conversation we had over the phone you were super knowledgeable and very friendly. Every email that I sent to you, was responded within the same day. You helped me so much, April  Š At the end of the second day you gave me an update, advising that your first search didn € t pull up anything, but you weren € t going to give up. By that same day you told me that you had found a vendor and they should be giving me a call. The following day he came over and we set up the appointment to have the vending machines installed. You were so helpful, you don € t need improving, your service was Spectacular!!! Keep up the great work. Awesome customer service, very friendly. Thank you.
Sincerely, Bianca Miranda
Corporate Administrative Assistant
Bell, CA

07/17/2012

Melissa with used vending worked closely with us and the buyer of our truck making the whole process quick and painless! We couldn't have asked for a better sale. Thanks a million!

Evan,

Virginia

04/28/2014

For the past three months I have been dealing with Calice on vending machines. The seller was over 1500 miles away, however somehow she worked out an agreement where it made it worthwhile to purchase these machines. I thank you and look forward to doing business again.
Sandy,
Casper, WY

03/27/2017

I was kind of skeptical of the site at first, however after speaking and working with Bradley, I found that they do exactly what they say they will. I was able to purchase my trailer, it looked exactly as it was pictured and Bradley worked with me from start to finish. I would recommend them 100%!!!
Sylvia Davis,
Columbus, OH

06/14/2013

My daughter Evelyn and I had a great experience with Stacy. I had problems with my computer but Stacy got the deal done with Evelyn and we got a great deal. Thanks Stacy.
WJ Price
Montgomery,tx

02/12/2016

Selling my food truck through Used Vending was very simple. Once a buyer was located, Melissa made the entire process very smooth and made sure that I felt comfortable at all times. It was awesome having a professional and neutral third party intermediary and I would recommend them to everyone looking to buy or sell their equipment. Thanks Melissa and Used Vending!
Anthony Salvagno S'wich It Up, LLC
swichitup.com
Albuquerque

Dealing with Stacy at usedvending.com was great! He was able to answer all my questions and concerns in a prompt manner. A great help in facilitating the sale of my mobile kitchen!
D.H.
Charlottesville, VA

08/14/2018

My experience with UsedVending was very good. I would highly recommend the utilization of this great organization if you have commercial items (in my case commercial vehicle) that you would have exposed to buyers nationwide.There was a quick turn around and not only did the personnel work with me (Seller) they work with the Buyer. In the end everyone was satisfied .

Vincent Smith
King Bee Smokers BBQ, LLC
Huntsville, AL


07/26/2014

Well first of all, I sold my truck at the price I was looking for and Melissa is on the ball. She has her act together and great in customer service before and after sale with a great attitude and very customer friendly. I posted another truck with used vending because im very satisfied.
Jeanpierre Lareau
Saratoga, NY

02/17/2013

I am so happy -- Used Vending.com sold all 5 of my Office Deli machines!! I worked with both Melissa and Calice I wouldn't be happier with the experience -- they were both a joy to work with.

D.R.
Westmont, IL

02/06/2019

I had a wonderful experience with Denise on Used Vending . Everything went super smooth.
Edie Findori,
Fredericksburg, VA

02/23/2012

Thanks!! I appreciate Stacy Sweet's help in negotiating the sale of my machines ... he made it quick and simple. Great site, great service.

Charles,
Mobile, Alabama

11/18/2013

All I can say is that if you are lucky enough to get Melissa Powers as your salesperson, you've struck gold! She is as good as it gets. Attention to detail, incredible follow-up, she is all over it. Talk about taking care of a customer, it doesn't get any better. If you have any needs in used vending, do yourself a favor. Get a hold of Melissa. You won't be sorry. Super Satisfied Customer!
David D.
Cobb, CA

06/10/2014

Used Vending: Just wanted to share my experience with others regarding Used Vending. We were selling a coffee trailer in Montana, definitely off the beaten path, and were not expecting any interest anytime soon. Low and behold Crissy kept telling us that there was an interested party and they would put an offer in soon (we thought, "yeah right"), except that they actually did put in an offer! Within 5 days the trailer was leaving our house and the money was in our bank! Crissy was amazing, the process is very simple, and UsedVending gets results! Thank you UsedVending!
Jon in Montana

03/23/2011

We had a great transaction with Melissa Powers , this is our second purchase with her and it was even better than the first one.Her great sence of urgency and professionalism made it a very satisfying experience.

C.V.Vending.

05/10/2019

Awesome platform to sell your candy vending machines very quickly. Sold in two weeks, can't be more happy with UsedVending.com.

Daniel Tovar,
Corpus Christi

11/11/2014

Hi Crissy, Just wanted to thank you for all your help with the sale of my Ice Cream trailer. Everything went very good and quick. I would for sure use your web site to sell items again. I was very surprise how easy everything went and hassle free. thanks again.
Best Regards,
Paul Angerami
Phoenix, AZ

11/14/2014

Just a short note to let you know that I am very pleased with my experience doing business with MegaVending. Your patience with my "shopping" and your follow up concerning all the details were outstanding. I hope to add another machine late Spring 2015 and will certainly come back to MegaVending for my needs. Thanks once again for everything.
Tommy Allen -
Allen Rental Properties Alamo,Tn.

12/17/2014

Traci, thank you for patience with me during my shopping/purchasing of my trailer. You did a fantastic job of getting my questions answered and facilitating things with the seller for me. I look forward to continuing business with you in the future. I hope to report to you in the summer with a success story which you will be part of. Thanks again for your professionalism and patience. Have a MERRY CHRISTMAS!
Dave Woods,
Keota, IA

12/16/2017

From listing my Bakery Truck to selling it, I am so Thankful that I went through Usedvending.com. I tried other sites, but with Melissa, I got the immediate response, and always accurate, organized information. Actually the day before my showing, I had a power emergency, and she was there, after business hours, to guide me through...Ultimately my vehicle sold, and the process of the sale was seamless! Pick Usedvending.com.

Stephanie Nikolic
Chapel Hill, North Carolina

04/17/2011

Melissa, you have been a fantastic individual to work with. Even though we are many many miles apart, it was like working within someone locally, geat job.

And what I also love about your service, is the ability of the owner to control the costs online. And of course they are all confirmed very quickly by your update department.

This is our second successful sale and I will have no problems recommending you to anyone wishing to sell their Vending equipment.

Ron
Ontario, Canada

09/09/2010

April was amazing to work with. Unlike other vending sell reps, her communication was consistent and professional. I look forward to purchasing my next set or Vending Machines, as April made the process smooth and effortless. Thank you,

Mr. Sherrod- New to the vending business

02/25/2019

I am completely satisfied with my experience with Used vending.com. They matched me with a buyer in less than three days and the sale was completed ten days later. Every step of the way Melissa was in communication with me and was very helpful. I would gladly recommend this service to anyone selling or buying. A+++

Miles T. McMillan,
Elko, GA

03/19/2014

April Hurd was wonderful in her customer service skills. She was very polite.

A. Wall
Morgan's Point, TX

I have purchased 10 vending machines through Eric at USEDvending.com and have been very pleased with the service I have recieved.They were several different transactions and I received the same service each time. Eric always follows through to be sure I am satisfied. I will continue to do business with USEDvending.com as long as they are on the web. sincerely,

Dan

10/20/2009

Earlier this year (2009) i was contemplating a start-up vending biz...having no prior experience i searched online for suitable "information" providers...i stumbled onto April and i was very impressed with her patience, demeanor, ability to answer all of my stupid questions and ask me the ones i couldn't think of - she was extremely helpful to me

although i decided not to pursue the biz i wholeheartedly endorse April and wish her continued good luck in the future

mike henry
colorado

01/29/2015

My experience with usedvending.com was great. They immediately took over the selling process and my concession trailer sold very shortly their after. Their marketing exposure is effective and easy to use. Customer support is outstanding. Thanks usedvending.com

Allen Holton.
Charlotte, NC

08/05/2012

MELISSA sold my coffee truck without any problem, the transaction was easy, I'm so happy and I know the buyer is happier, thank you UsedVending.com for having great people working for U!!! Thanks Melissa.

C.V.
Margate, Florida

04/07/2016

Fast and smooth operation. Got the call, next day the equipment was picked up. Thanks April.
Chris Kane,
Anaheim, CA

06/15/2010

The mobile kitchen I found was exactly what I was looking for and saved me thousands as opposed to trying to retro-fit a truck or trailer myself. Melissa was a joy to work with and the transaction was quite smooth.
J L.

Oklahoma

10/17/2012

The sale of my machine was very quick. Paperwork was explained well. M. Powers did a good job of putting buyer and seller together.

Ray D.,
Northbrook, Ill.

02/25/2014

Calice was a huge help in selling our machines. She is super nice.
-K.H. in Texas

02/20/2012

Melissa Powers did an excellent job helping us to sell our concession trailer. She was quick to follow up and kept pushing until we finally sold!! Her knowledge of business was instrumental. Thanks Melissa.

Don,
Ohio
See 1800+ more or Write your own...