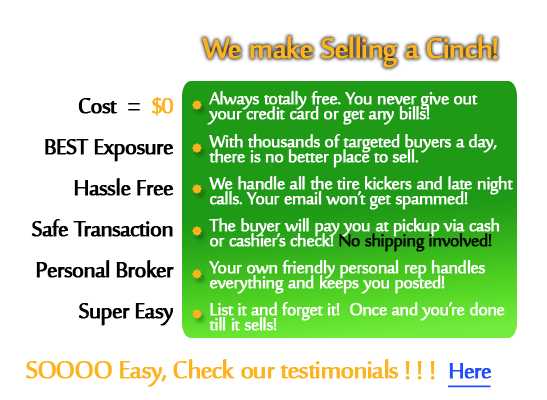 Selling Used Dump Trailers
Become one of our thousands of happy sellers! Your
used dump trailers
can be seen by thousands of buyers each and ever day. Just a few minutes of your time and you're done; we do the rest with No Cost to you - Ever.
Don't waste your time and money with other online tactics; none provide the ease, safety, and security that we do! It's true. We do all the work by handling the phone calls & emails. We advertise your used dump trailer to tens of thousands of buyers, yet you don't have to waste time with tire kickers - we handle them all.
When we find a serious buyer for your dump trailer, we will do the paperwork and only put them in touch with you if they are ready and able to purchase. If needed, we even offer the option of a free escrow service to ensure that both parties can complete a safe transaction. Here are a few hundreds letters from our thousands of happy customers - many are sellers just like you that had no luck through other online auction or classified sites...
Used Trailer Seller Letters
That's right, we remove all the headaches and provide results even when big names like ebay and craigslist can't. As one of the pioneers of online equipment brokers, we have built a strong reputation since 1999. We do a great job of promoting our seller's equipment; so they come back to us again and again.
Our buyers are given all information up front; therefore, they know they can trust us and often refer their friends and business associates. When you list your dump trailer with our broker service, just remember to include pictures, because Pictures Sell!! The more the better.
Getting started to sell your used dump trailer is easy. Just create a free account, add details about your trailer, and we do the rest. If you have other info or pictures to add later, just log into your account, it's easy to do. We may call you with a question from a buyer, but you'll love the free service which allows you to do more important things with your time.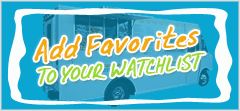 Customer Experiences
09/06/2018

I'm a simple man without education or social etiquette to navigate through this crazy world. Tonya from UsedVending took the time to locate a Food Truck that was within my budget 20k 30k maximum. I first felt ashamed to even inquire because all I had was "small" money but she diligently returned my calls and even called up sellers to see if I could get the price dropped. Long story short, I finally got a truck from UsedVending that had everything I needed to start my business. The truck even had the California Insignia on it. If you're into Food Trucks you know that's a miracle in itself. I must say I got Blessed with Tonya as my broker and Used Vending has made my dreams come true. ALOHA!!!
Shane Aloha,
Manteca, CA

02/17/2017

Usedvending .com does the job again. I have used them several times to sell equipment and they do a great job. Wendy was very helpful and had our interest in mind. She was very through on how the process works and was able to get us top dollar. We will always use Usedvending.com for any sales we need.
Randy Twyford
Twyford BBQ
Jacksonville, IL



11/14/2011

Melissa Powers, you have done an awesome job of selling my vending machines. I really appreciate your dilligence and follow through. It really paid off. I will definitely use you to sell any machines in the future.

Gary S.
San Diego, California

01/06/2015

April, you were very helpful and kept in close contact with us about the machine and the delivery. we received the machine when you said we would and arrived in like new condition. we had been dealing with another company for over three months to no avail but with your help the whole process only took three weeks. We unpacked the soda machine plugged it in for a day and then loaded it up. So far everything has worked perfectly. We will be letting anyone we come in contact with about using Megavending as a supplier of their needs. Thanks,
Butch Haus, Milesburg Lions Club president.
Milesburg, PA

10/14/2012

It was a pleasure doing business with you. Everything went as promised. Melissa did a fine job. Thank you.

A.P.
Sandwich, MA

02/07/2012

Had wonderful stress free experience with my transaction with used vending.com. Calice was just extremely helpful and provided a very good and positive experience to the transaction. thanks and will certainly use them again to buy or sell vending equipment.

Al,
Massachusetts

11/09/2015

I had a great experience dealing with usedvending. I had most of my interaction with Melissa Powers. She is fun and upbeat. Always gets right back to you with answers. I had high expectations for selling my BBQ trailer for lots of money, but, while I didn't get what I was hoping..do we ever?....the whole process was painless. Very professional and effective at what they do!! Thanks Melissa!!!
Wendy Binder,
Derry, PA

04/02/2018

Just want to thank Tonya Wages and Eric for all their hard work in getting our food truck sold.. We are very satisfied with the sale.
Greg Wright,
Fruithurst, AL

04/30/2018

Excellent service and follow-ups. Very professional personnel made the transaction easy. Wendy and Tonya were great. Thx so much!
Michael Almstedt,
Mercerville, NJ

11/07/2011

This is a great place to sell your equipment. Melissa was very cordial, to the point, and did a good job to find a buyer for the concession trailer. Thanks Melissa.

Deloris B., Mississippi

12/10/2011

I want to thank Melissa for all of her help. I checked out your website for a new combination vending machine to add to our business. We had an opportunity to add a new site and they wanted 2 machines. We found an offer for 3 machines in our area and so we contacted your company to start the process. I e-mailed with Melissa regarding our small business and the plans that we had. The next day I received a call at my home for an even better deal. For about the same amount of money that we were going to pay for the 3 machines, she told us of an offer for 6 brand new and 1 slightly used machine. The only catch was that it was a fast deal as the seller was moving out of the area and wanted to move the machines. By that weekend we had picked up our 7 new machines and placed 2 of them. We have already made enough money back from those 2 mahines to pay for the 7 that we bought. We are in the process of placing the other 5. Thank you again Melissa for looking out for our best interest. I have already recommeded your site to a friend who is just getting started in the vending machine business.

07/18/2015

My experience was wonderful with this company, thanks for the key to my future.
Stacy Clark,
Wedowee, Alabama

03/23/2011

April Hurd is a wonderful person to work with. She is very professional and patient. I had a great experience purchasing vender machine. I am sure I will come back again for more products in the future. Thanks, April.

Roger Zhang
Brooklyn, NY

04/27/2016

The Usedvending.com did a pretty good job and had helped me to sell my food truck fast within a week only. Thanks.
Thomas Fang,
Fresno, CA

10/09/2015

Hello April,

It was a really smooth and easy process conducting this transaction through the help of your website and your phone support.

I felt comfortable dealing with seller after you mentioned you had spoken to them personally and found out the answers to my questions and concerns with the vending machines I was interested in purchasing.

Thank you for all your help.

Regards

Nick Merchant

08/21/2018

Bradley, Everything went great I couldn't have asked for more. Very happy with the smoking trailer. Even the 1000 mile one way was a pleasure. I'm looking forward to many years, and a lot of good food to come. THANKS!!!!!

Bob Stephens,
Tucson, AZ



01/08/2020

I looked for a huge trailer for a long time. I was able to connect with Bradley. My search was over. I found the trailer I was looking for, for the price I wanted to pay. Absolutely no hassle or pressure. Very smooth purchase. I will use UsedVending again.

Mack Ware,
Southhaven, MS

07/24/2014

My experience with your company was absolutely positive. Your updates and e-mails were timely and informative. The buyer was a gentleman. Thank you for all for help. I hope you received the sales receipt I faxed to you on Saturday. Thank you.
Smaragda,
Clemson, SC

This was a most seamless experience I have encountered. Melissa contacted me first to inform me of a local buyer and helped walk me through the process including handling all the negotions and paperwork. I was Extremly statisfied with the website and my contact point Melissa at the company. This was a 10 plus experience.

J.M.
Jacksonville, Florida.

07/23/2015

Our experience selling our food truck on USEDvending website was great! It allowed us to expose our food truck to new markets easily. The selling process was also painless and great.
Patee Green,
Gainesville, FL

06/28/2018

My experience with UsedVending.com was great. They made the transaction easy and cut out the aggravation of using a listing site. Thanks!
Will Mann,
Overland Park, KS


06/08/2017

Great customer service and they work very fast they answered every question I had as well as gave me updates on my order. I will definitely recommend this company.
Roablas Lumpkins,
El Paso, TX

09/13/2011

The process was easy and April did a great job of facilitating the deal. My buyer was nearby and the even the process of delivering the machines was much less of a hassle than I could have imagined.

Thanks again for your assistance,

Darrell P,
TX

05/09/2016

I had a wonderful experience with my customer service rep. She answered all of my questions in a timely manner. She was honest and straight-forward, as well as caring. I can't see no better way.
Anieti Umanah
Houston, TX

08/12/2015

I send all info, pics and voila.. my truck was listed with them....Now it is sold...no problems...no headaches... I gave 5 stars to this company because they are very professionals, delivery all requested services on time. I will do it again if I have to.
Sincerely,
Liliana Orozco,
Miami, FL

11/04/2009

April at 4Mega Vending is the best. I had a time frame that needed to be met and she pulled it off. All she said she would do she did. I will always and only use april in the future. Thanks again

James
Long Island NY

09/28/2016

It is great to do the business with you & your company; good service & offering the paper work at a quick action. It is a good agent between buyer and seller. Thank you and have a wonderful day.
Mr Wong,
San Antonio, TX

07/05/2017

I would like to thank Wendy and Used Vending for the impeccable service. It was less than 4 hours from the time I received the phone call from Wendy saying she had a prospective buyer to the time I received the call from the buyer. The next day this person looked at my concession trailer and pulled out of my driveway three hours later. Wendy was great. A true Professional.

V.F.
Jefferson, NY


10/17/2012

Melissa was very professional, punctual and efficient during the sales process. She was understanding of both seller and buyer considerations, offering suggestions without being pushy. This made the negotiation and the final deal once that both sides were happy with. Highly recommended.

Burak
NY, NY

06/25/2018

I have had a very positive experience with Usedvending.com. It was super easy to complete the forms and paperwork to list my machines. I was informed at every step along the way regarding how to price to sell & the next steps. I was connected with a wonderful buyer. I would use the services again.

Renay B,
St. Louis, MO


07/06/2018

I bought my food truck without any problem with the help of Wendy Byrd, and am gratefull.
Josphat Ombacho,
Aurora, CO

08/22/2019

The buying process was easy and Tonya was extremely friendly and helpful. We will definitely be purchasing again when the time comes.

Melanie Burnett,
Dickinson, TX

07/29/2016

I was very pleased with the assistance Julia gave me in making my purchase. She went above and beyond in helping make me a happy customer. Thanks.
William Hails,
Natchez, MS

02/16/2017

Hi Jennifer, I wanted to reach out to you and tell you how much I appreciate your time and effort. USEDvending.com made communication between buyer and seller easy. Your website and email updates on new trucks were very helpful as well. More importantly, I really appreciate your returning my calls in a timely fashion. In the future I will definitely use your service again and refer USEDvending to anyone looking for vending products. Thank for you time.

Archie Walker,
Fort Mill, SC


06/09/2017

Hello my name is Brad, and I recently got into the shaved ice business. I ran a automotive service department for Buick GMC for 15 years in Atlanta. I always stressed how important it is to give excellent customer service and go the extra mile to make sure your customers would never even think about going somewhere else. And that's exactly the service I received from Wendy Byrd. Since I am new in this business I had a lot of questions and many of them were not related to the trailer I was buying but more towards the business I was getting Into. She always went the extra Mile! Made sure she got me the answers I needed by calling DMVs and companies to make sure the information she provided for me was correct. Most importantly and I always did business like this is, she didn't just treat me like a customer. I truly felt a family atmosphere from Wendy and all the rest of the staff that helped me out. My plan is to have 5 trailers in 2 years and without a doubt I have my company and saleswoman and there is no need to look elsewhere. Great job ladies and Gents. Great experience and I look forward to doing more business with you in the future and recommending you to anyone that's is looking for your product. I will pitch it and sell it for you lol. Thanks again, God Bless.
Brad Vickers,
Stuart, FL

08/07/2019

Kristy was knowledgeable, available, and very helpful and the transaction went smoothly. Highly recommend.

Melissa Erkelens,
Bridgman, MI

08/17/2017

Tonya was great she worked very hard to put the deal together on my 30 foot barbecue trailer with quick responses and questions I had to getting hold of the seller to get them answered. The week I bought my trailer was a very tough week I lost my father she totally understood I would recommend used vending to anyone . Thank you Tonya for what you did I love my trailer sincerely,
John Beach
Harbor Springs, MI

01/30/2017

April and her team at UsedVending.com are a tremendous value to me. She works diligently to understand what is going on and ensure all parties are happy with the outcomes. She is always prompt to reply via email, voicemail, or text. She makes a difficult process much easier. I fully intend to work with April for all of my purchases indefinitely.

Sincerely,
Michael Wiggins
Healthy Vending Options, LLC
Hammond, LA

11/10/2014

To Whom It May Concern, Please allow me to take a few moments to extend my gratitude for a wonderful experience with my recent purchased through USEDvending.com. From my initial use of your website to the completion of my purchase. Prior to finding USEDvending.com I was looking at a healthy vending business opportunity however, I was somewhat uncomfortable with franchise fees and large investment for vending machines. Through some research I came across your website. My experience was positive from that point on, from my initial contact with with one of your representatives (Calice) to the receipt of my vending machines. I found your website to be very professional and easy to navigate. Calice, was the best!!! She was instrumental in leading me through the whole process of purchasing my machines.

She answered all my questions, put aside any fears I had about buying used machines and even, in my opinion, went above and beyond in answering questions about having a healthy vending business and shared some ideas that will help me get my business off on the right foot. her professionalism was A++ and she seemed atuned and concerned for my needs and even assisted in negotiating a better package price from the seller. She made it a point to stay fully engaged during the entire process and ensure I was satisfied with my purchase. When I picked up the machines they were everything that was advertised. Actually, as stated on the website these machines were brand new in their original packaging. I estimated by staying away from the business opportunity and purchasing these machine I saved approximately $24,000. Again please pass on my many thanks to Calice for a job well done! When I choose to expand my business I will return to USEDvending.com for additional machines if available. PS. Although brief, I also has a wonderful experience with another one of your representatives (April) that assisted me when Calice was out of the office and I ditto similar comments for her as well, thank you April!!
Regards, Donald Turco
San Antonio, TX

07/02/2018

Hi Denise, I appreciate the excellent support provided to us on the last two business transactions made between UsedVending and I. You have done a great job and facilitated all things in a timely manner. I am very satisfied with your assistance prior, during and after the two processes we have made with you during the last 10 days. Thank you Denise. We will continue monitoring the advertising of your web page. Have a good day!!
Alvaro Sandoval, Katy, TX

01/14/2020

A little skeptical at first, but Tonya made it simple and answered all questions relating to the process. Thank you Tonya for a awesome trailer.

Jeffrey Holt,
Laurel, MS

05/04/2017

I bought a vending machine, from Usedvending and I was so excited to have found it on your website. Thanks.
Sheritta Britford,
Fosters, AL

10/06/2010

April Hurd was my sales representative and she was great. She made purchasing a vending machine for our office extremely easy. She answered every question I had in a professional and timely manner. I am pleased with the service that I received from Mega Vending!

Heather - Bristol, PA

06/03/2014

Usedvending.com was the easiest and best way to sell your equipment. I will be using you again! Thank you for your help.
Eric, Arkansas

06/13/2012

I would like to say Thank You to Calice for finding a Buyer for one of my Vending Machines. The paperwork and transaction went smoothly. I hope she can help find buyers for the rest of my machines.

Kathy S.
Louisville,Colorado

04/18/2012

Gini was awesome to work with!! I was very pleased with the service received and response time on everything. I would highly recommend them and would do business with them in the future for sure! Thanks for making my life easier!

Ryan Roberts Grimes, IA

08/23/2018

Great service and support throughout the entire transaction. Will use them again when the opportunity arises.

Michael Worlund,
Temecula, CA

07/26/2014

Well first of all, I sold my truck at the price I was looking for and Melissa is on the ball. She has her act together and great in customer service before and after sale with a great attitude and very customer friendly. I posted another truck with used vending because im very satisfied.
Jeanpierre Lareau
Saratoga, NY

10/01/2019

Wendy was fantastic in assisting us in locating our perfect trailer. The size was just right and close enough for us to view and inspect. No hidden issues and we came home with the trailer in tow.

Gary Liebel,
Erie, PA

10/10/2019

Great service, had a problem with missing parts, and they were right there and got it all sorted out. I was worried because I am from Canada and the seller could have told me to go pack sand, but Used Vending was right there to help both parties. Well done.

Brian Dahl,
Edmonton, AB
See 2,100+ more or Write your own...