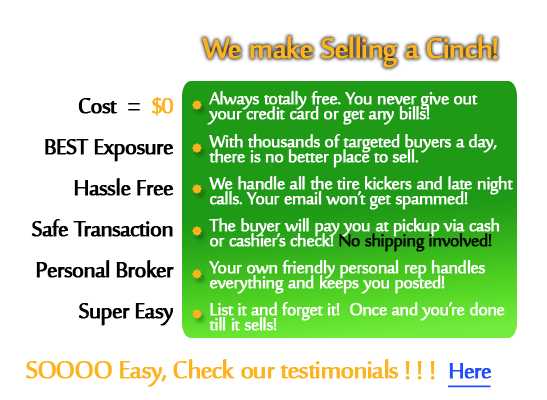 Selling Used Dump Trailers
Become one of our thousands of happy sellers! Your
used dump trailers
can be seen by thousands of buyers each and ever day. Just a few minutes of your time and you're done; we do the rest with No Cost to you - Ever.
Don't waste your time and money with other online tactics; none provide the ease, safety, and security that we do! It's true. We do all the work by handling the phone calls & emails. We advertise your used dump trailer to tens of thousands of buyers, yet you don't have to waste time with tire kickers - we handle them all.
When we find a serious buyer for your dump trailer, we will do the paperwork and only put them in touch with you if they are ready and able to purchase. If needed, we even offer the option of a free escrow service to ensure that both parties can complete a safe transaction. Here are a few hundreds letters from our thousands of happy customers - many are sellers just like you that had no luck through other online auction or classified sites...
Used Trailer Seller Letters
That's right, we remove all the headaches and provide results even when big names like ebay and craigslist can't. As one of the pioneers of online equipment brokers, we have built a strong reputation since 1999. We do a great job of promoting our seller's equipment; so they come back to us again and again.
Our buyers are given all information up front; therefore, they know they can trust us and often refer their friends and business associates. When you list your dump trailer with our broker service, just remember to include pictures, because Pictures Sell!! The more the better.
Getting started to sell your used dump trailer is easy. Just create a free account, add details about your trailer, and we do the rest. If you have other info or pictures to add later, just log into your account, it's easy to do. We may call you with a question from a buyer, but you'll love the free service which allows you to do more important things with your time.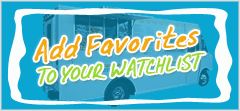 Customer Experiences
04/24/2017

Melissa Powers with Used Vending is Awesome! She made the process very easy. Any question I had she answered quickly, all I had to do is give her a text. She even helped me with the finance company I was using. I most definitely recommend Used Vending. Melissa is a rock star!
Armand Webster,
Cypress, TX


03/17/2014

My dealings with UsedVending.com were great and super easy. The truck listings were an excellent tool for finding just what I was looking for in a vending truck. Melissa was excellent and assisted me along the way. She was always quick to respond and very attentive to my emails. Thank you very much!
D.M.
Atlanta, GA

04/24/2012

My experience with your company, and with Mellissa was the best! This is the first time working with usedvending.com and I am extremely impressed. It was effortless. Melissa did everything, all I did was pay and pick up. How easy is that? Now usedvending.com is my "go to" for all future purchases. Thanks Melissa.

K.G.,
Fresno, California

09/20/2018

I was a little skeptical about using someone to sell for me, but decided to go for it! I was so impressed with the professional attitude and manner of the way business was taken care of. I had the privilege to work with Wendy, it was the best experience I have had in a long time! I would and and will recommend UsedVending and Wendy to whoever will listen! Thank you and thank Wendy for a very relaxing experience!

Steve Driggers.
Hernando, FL

08/11/2015

Ciao Jennifer. We received the truck and looks great. I want to let you know that we are very happy on how fast you were be able to find us the right deal, and how professional is your Team. Looking forward to keep doing business with you.
Fabrizio Cercatore
Berkely, California

03/01/2016

Every part of our journey with your company went without any problems, only super customer service by our rep. Melissa Powers!
Joe Keel
Palm Harbor, FL

06/17/2014

I am very pleased with my experience with Megavending in purchasing our first vending machine. My sales person, April was quick to respond to my questions, helped me through the purchasing and financing options and ensured that I was kept informed through the entire process to delivery. She is excellent in follow up and I highly recommend the company and my account representative. When we purchase our next machine...we will be repeat customers.
Marc B.
San Diego, CA

03/04/2013

Melissa Powers did a great job in handling the purchase of our new vending trailer. I would not hesitate to contact usedvending.com for future needs or to refer them to someone else. A very professional sales person and site.

Deborah Walker
Happy in Coffee City, TX

11/15/2017

I will like to say I love using UsedVending to sell my Trucks; my experience was excellent , great customer service and customer satisfaction, the representative Tonya Wages help me during the process of selling my truck- very professional , I will definitely do more business with this great site service.
Sincerely,
Angel Lorenzo
Williamsburg, VA

05/14/2019

Just made my first purchase using UsedVending.com.

Melissa was wonderful, she couldn't have been better!!! She was instrumental with every aspect of the process even with my unrealistic deadlines she pulled through. I wish she worked for the DMV . I will be using this site and MELISSA again I'm sure. THANK YOU FOR EVERYTHING.

David Morrison,
Elmira, NY

11/29/2013

Melissa Powers was awesome! The attention to details made me at ease to know that she knew her stuff. You have a tremendous asset to your company. Don't let her go! Thanks Melissa!
Greg C.
Las Vegas, NV.

09/06/2018

Wendy and Used Vending was awesome. I purchased a concession trailer from a person in Oregon. The process was well done. I was comfortable with the professional and organized contractual procedures. I had tried to buy a trailer on Ebay which fell through. I am always concerned when buying on Ebay. This was a very secure, legal and controlled process. Wendy helped me and seller though the whole transaction providing all of the detail necessary for us to make this work. Thank you Wendy and Used Vending. I would recommend this organization to anyone selling or purchasing anything vending.

Jerry Pettit,
Ellensburg, WA

09/27/2009

What a great and smooth experience. Mega-Vending alerted me to a location needing a vending machine. They provided the location my information. In just a few days I had secured the location.

Mega-Vending sold me a new machine for the location. The price was right. The service provided from the Mega-Vending reps was excellent.

I look forward to more great vending location opportunities provided by your company.

Thanks.
Chris
Bloomington, Illinois

02/14/2012

Thank you Stacy for your patience. Thanks to 4vendingtips.com I landed a location in an area where I desperately needed more business. I received a lead for a very strong vending location and I look forward to the next one.

Keith,
PA

07/08/2016

I Contacted Jennifer Melerine at USED Vending in May.I informed her that I was looking for a food truck & the price range willing to spend. She promptly forwarded several vehicles to my email.

Jen was very helpful in answering questions & walking me through the process. She coordinated with the seller (in another state), and arranged for me to see the vehicle. She also followed up before, during & after the transaction. The vehicle was purchased the first week in July.

All in all, the experience from start to finish was positive & pretty seamless. I won't hesitate to call Jen for our company's next food truck.

Patrick
Managing Partner
Beans & Cornbread,
Southfield, MI

03/07/2018

Bradley was awesome and very professional. He even went out of his way for both parties to make sure everything was above board and legit. Thank you very much Bradley.
Jeff Engroff,
Topeka, KS

03/07/2013

Hi Calice, Thank you for your help in getting us a nice deal on some good used snack and soda combo machines. The transaction was very smooth.

Chris Farmer,
Dallas Area Vending Company LLC

12/02/2016

Melissa, Was very pleased with your pursuit of selling my concession trailer. Your website captured more serious potential buyers than C-list, F-book, or the local newspaper. Thank you for the professionalism that was displayed during the entire process and will highly recommend your company to others.
Gene Ogle,
Tahlequah, OK

03/15/2017

April:This email is intended to confirm that we received the two Naturals2Go entree units and to thank you for your efforts on our behalf. Working with you was truly a great experience. You not only worked tirelessly on our behalf, but your happy and gracious demeanor made the experience relaxed and enjoyable. I would highly recommend you to anyone looking for a specialist in used vending machines. Your knowledge and patience ultimately led to a successful transaction. Thank you, thank you and most of all, THANK YOU!! All the best and I will definitely be using you for all my future needs.

David Propis
CEO, Island Vend Enterprises Corp.
Melville, NY

02/11/2014

We just sold our concession trailer at Usedvending.com and it would not have been possible without the kind assistance of Melissa Powers! She was patient, informative and overall amazing! Despite our skepticism about selling a large item online, she made the transaction happen so smoothly and answered all our questions,and we had a lot! Thank you Melissa!!!
J.M.
Bakerfield, CA

02/23/2012

We are a fairly new vending company, unfortunately we had problems with people breaking into the machines. One phone call to Stacy was all it took. He totally took the time to assist in which direction to take. I did as instructed, and am totally happy with results.

Steve,
Pennsylvania

06/23/2015

I have been searching for a Food Truck that was very low in price but had the potential to be built out to suit my needs. Although I looked at literally hundreds of first alerts to find what I wanted, I finally did. The help I received from Melissa and April during my search was fantastic. April was the one I dealt with to make the deal on the truck I finally purchased. She walked me through each step of the process and was very patient with getting my questions answered and directing me to finalize the deal. I got exactly what I was looking for in the end and couldn't be happier. Thanks to everyone at Used Vending for connecting me with the perfect truck and Seller.
Dennis Shaw
Damascus, Maryland

06/28/2010

Working with Melissa has been a pleasure. Not only was she courtious, prompt in returning phone calls and e-mails but she made sure our transaction ran smoothly. She even provided her cell phone number in case we had any questions after hours. Thanks Melissa for making this easy.

Barbra, GA

03/26/2012

Thank U so much, will be using u guys again. Thanks Calice.

Thomas,
Bardstown, Kentucky

07/24/2019

I was skeptical at first like most because I had never heard of Used Vending before. Soon after talking with Denise I knew this was the right decision. The process was easy and they stay on top of everything. The transaction with the buyer was fantastic! If you're debating selling with Used Vending, you're wasting valuable time.
Michael Murphy,
Mountain City, TN

12/16/2016

I bought a food trailer from you guys and I'm very happy with the service I was provided as well as the person who helped me with the transaction. The trailer was exactly what I was looking for and I was satisfied with every part of the transaction.
Maria Figueroa,
Winnemucca, NV

10/06/2009

Dear April,

Thank you so much for your help and assistance with helping me sell one of my machines. I believe everything went very well and I believe your pre-screening the buyer was great.

The buyer was extremely nice and I think very satisfied. We thourghly went through the whole machine and I believe he was very happy with the results.

I thank you so very much and thank you for expediting the sale quickly.

I also thank you for your attention and consideration of my needs. You are a very thourough and most pleasant person to deal with.

Thanks again,

Gil
Baldwin Park, California

08/20/2016

Usedvending.com was a big help to me, they made everything really easy and simple. Very quick on answering any questions I had! To top it all off, Mrs Jennifer was home with the flu and was still doing all she could from home to make sure I got what I need for my purchase!
Thanks used vending and a special thanks to Jenn!!
Terrance Nunn,
Comway, AR

07/20/2018

Denise, Thanks for your help. Your responsiveness and attention to a hot lead led to a sale of a piece of equipment that I didn't think would gain much interest. Much appreciated!
-Lou F.
Dumfries, VA

04/23/2016

After having my Food Truck listed on other list sites and having dealt with the many emails and phone calls that went nowhere, I finally decided to list my truck for sale with UsedVending.com. I am so glad I did. I got exactly what I wanted for my truck, I didn't have to haggle with anyone over price and the money was wired directly into my account within hours. Truly one of the smoothest transactions I have ever done. Jen, my rep, kept me informed and was great to work with. She helped me navigate through the transaction which was comforting when dealing with large amounts of money. Thank you,
Cambria,
Central Point, OR

05/23/2018

We had a GREAT experience working with Melissa from UsedVending.com. Pretty much IDEAL. She was quick to engage and respond. Patient as we waited for the right opportunity. Understanding of our budget. I especially appreciate that she helped steer us towards a reasonably close purchase as I was looking all over the Country and she emphasized that I should reign it in. Usedvending.com has a great flow of inventory. They are on their game. I will definitely call on them again if we need to make another purchase of this type!

Ben Adler,
Burlington, VT

12/10/2013

April,
Thanks for the help. I have purchased 6 machines from Mega vending and they all have worked flawlessly!
C.B.
Tulsa, OK

05/31/2013

All went great with the sale of 4 machines. They were on the site for only a week when Melissa had a buyer lined up. Less than a week later the machines were sold, everyone had been paid and the customer was putting his machines on location. Thanks Melissa for your hard work.

DWB,
Selma, AL

09/28/2016

Bradley,I wanted to thank you for all your help with my vending trailer. I am so pleased with my purchase.You were so easy to deal with and I love the fact that you were always available to answer my calls and/or text immediately. I will certainly pass your name and company on to anyone I come across that are looking to make a purchase.Again thanks so much.

Terry W.,
Killeen, TX

05/14/2018

Outstanding customer service and seamless transaction when selling my concessions trailer. Wendy provided excellent service every step of the way. In a world filled with internet scammers, UsedVending provides professional service with a real "piece of mind."

Andrew Northam,
Ft. Rucker, AL

04/12/2017

A BIG thank to Melissa Powers for all that she did for the sale of my food truck. She was very informative and made this process extremely easy. Melissa was always available by text or phone and it was a joy working with her. I would highly recommend Melissa Powers and Usedvending to anybody looking to buy or sale.

Thank you,

Jeanna B.
Kilgore, TX


02/08/2011

I am so impressed with the prompt and through service I received when I ordered a paper and a pencil vending machine from this company. April Hurd was quick to respond by e mail to any questions that I had, especially about how to order a replacement for the money slot. I was not aware that the slots should accept higher than $.50 for the paper notebooks, to cover costs. I am very satisfied with April's help in this matter.

Saginaw, MI

03/30/2016

Hi Mr. Greg, It was really nice working with your company. Transaction was really easy and simple. Just by listing on ur website helped me sell my truck. I would for sure recommend your company in future and will come back to do business with you guys. Thanks.
Joe S. Sandhu
Elk Grove, CA

02/16/2011

Thanks Melissa for making our 1st experience with www.UsedVending.com so simple and pleasurable. It was a great dealing with you and your seller. I will be using your company again in the future and I look forward to a long, mutually beneficial relationship.

Sincerely,
Bobby

05/09/2012

Pleasantly surprised on the process of sale, quick & effortless... Melissa was AWESOME, she took care of everything very professionally!! Thank you again Melissa.

Ryan,
Des Moines, IA

04/07/2014

I wanted to say Thank You to Stacy Sweet at USEDvending.com. Stacy made my purchase nice and easy. Thank You again for all your help!
A. W.
Soperton, FL

01/01/2009

Thanks for all your efforts- you have been a real professional to work with and there is a good possiblity that we may make a second purchase from you within the next 90 days.

Aloha!
Jay Higgins

Hawaii

06/15/2009

With Melissa's help, the sale of my Antares Vending Machines have been handled in a simple, and professional manner.
Used Vending is an excellent alternative to selling vending equipment in newspapers or vending magazines

Jim
Madison Wisconsin

03/02/2016

April, One again you have proved that working with you and usedvending.com is pure ease and a pleasure. You've made my small business a growing force. I will always search your site first when looking to add more machines in the future. Thanks again, and I'm sure continued business in the future. Thanks.
Lance Heutel,
DeSoto, MO

02/11/2014

Melissa Powers was a pleasure to work with and really made it a smooth transaction. I never felt pressured into a decision or rushed. With patience Melissa answered every question and I had a lot of them. I would definitely recommend UsedVending.com. Great Experience. Thanks Melissa.
Justin B.
East Windsor, CT

10/10/2017

So, my experience working with UsedVending was such a smooth one, I was a bit skeptical at first but the staff was reassuring which made my transaction super easy! I especially enjoyed working with Melissa, she was very knowledgeable and informative with every question I had. With all the crazy scams that are out there, I would recommend working with this company for a safe and secure purchase!!!!
Deanna Ray
Lansing, MI

06/13/2012

I've sucessfully purchased candy machine lots twice from Usedvending.com and both times have been very pleased with the results. Calice is GREAT to deal with. My last deal only worked because of her persistence and understanding. I highly recommend both the site and Calice!

Eric
Manassas, VA

09/15/2009

I have become used to everything working so smoothly with your company. Customers are always aware of what to expect; there are no surprises. Your communication is timely and reliable. As a result, there are no big issues. That is a great comfort to a vending operator.
Thanks

Don Knight
Schaumberg, Illinois

I tried selling my machines on my own with no success. Denise helped me sell 3 out of 5 units so far. I can't wait for her to help me sell the last 2. Thank you so much!
Edwin Matos,
Sumter, SC
See 1,900+ more or Write your own...