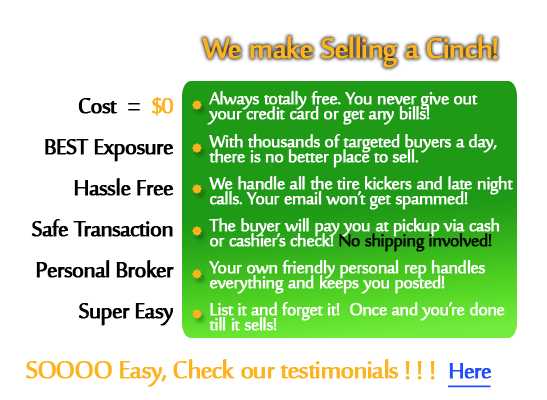 Selling Used Dump Trailers
Become one of our thousands of happy sellers! Your
used dump trailers
can be seen by thousands of buyers each and ever day. Just a few minutes of your time and you're done; we do the rest with No Cost to you - Ever.
Don't waste your time and money with other online tactics; none provide the ease, safety, and security that we do! It's true. We do all the work by handling the phone calls & emails. We advertise your used dump trailer to tens of thousands of buyers, yet you don't have to waste time with tire kickers - we handle them all.
When we find a serious buyer for your dump trailer, we will do the paperwork and only put them in touch with you if they are ready and able to purchase. If needed, we even offer the option of a free escrow service to ensure that both parties can complete a safe transaction. Here are a few hundreds letters from our thousands of happy customers - many are sellers just like you that had no luck through other online auction or classified sites...
Used Trailer Seller Letters
That's right, we remove all the headaches and provide results even when big names like ebay and craigslist can't. As one of the pioneers of online equipment brokers, we have built a strong reputation since 1999. We do a great job of promoting our seller's equipment; so they come back to us again and again.
Our buyers are given all information up front; therefore, they know they can trust us and often refer their friends and business associates. When you list your dump trailer with our broker service, just remember to include pictures, because Pictures Sell!! The more the better.
Getting started to sell your used dump trailer is easy. Just create a free account, add details about your trailer, and we do the rest. If you have other info or pictures to add later, just log into your account, it's easy to do. We may call you with a question from a buyer, but you'll love the free service which allows you to do more important things with your time.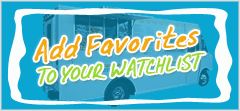 Customer Experiences
10/23/2009

Melissa:
Dealing with you and USEDVending was a very pleasant and rewarding experience. You were so helpful in getting our Vending/Canteen Trailer sold and everything went so smoothly I was very surprised. The main thing I would say is dealing with you and USEDVending was a lot easier than trying to sell it by ourselves. The wide range of potential customers from all over the U.S. is a lot better than trying to sell something just in your local area. Thank you for all your help.
Rosalind
Panama City Beach, Florida

11/08/2019

Very quick and responsive, made the buying process quick and easy!
Camille D.,
San Antonio, TX

10/10/2019

Great service, had a problem with missing parts, and they were right there and got it all sorted out. I was worried because I am from Canada and the seller could have told me to go pack sand, but Used Vending was right there to help both parties. Well done.

Brian Dahl,
Edmonton, AB

10/07/2010

Ms April Hurd was very kind with us, when doing business for a new vending machine. She is very valuable for your company. We recommend to speak with her when doing business . Thank you.

01/31/2011

I want to thank April for all her help. I came into purchasing a vending machine with very little knowledge. She was extremely helpful and never pushy. We plan on purchasing another machine this year and I won't even bother looking around. I'm going straight to April.

Harrisburg, PA

06/12/2012

Calice was amazing. She found a buyer, was prompt and responsive, and made sure both parties were comfortable and got what they wanted. I would recommend this site to anyone selling or buying a vending machine.

P.R.
Dallas, Texas

03/14/2012

Most helpful, professional and friendly customer service experience I have had in years. Thanks for all your help, I will refer others to you!

Dan,
Chicago, IL

07/06/2009

Wanted to express my gratitude to April for being so helpful over the past year! We've bought vending machines from Mega Vending on several occasions, and each time April was friendly and professional, and went WAY above and beyond what she had to in order to make sure we were taken care of. I have been recommending Mega Vending to other vendors I run into online, and will continue to do so...and tell them to ask for April! Keep up the great customer service!

Preston Dillon, Tree Frog Vending
Arvada, Colorado

Cheryl and Melissa,

I faxed the Ownership Transfer of Goods to you this morning. Please let me know if you did not receive it.

We would like to say "Thank You" for all the work you did to sell these machines. It was a pleasure working with the both of you!!!!!
Thanks again!

Norma S.
Rogers, Arkansas

01/06/2015

April, you were very helpful and kept in close contact with us about the machine and the delivery. we received the machine when you said we would and arrived in like new condition. we had been dealing with another company for over three months to no avail but with your help the whole process only took three weeks. We unpacked the soda machine plugged it in for a day and then loaded it up. So far everything has worked perfectly. We will be letting anyone we come in contact with about using Megavending as a supplier of their needs. Thanks,
Butch Haus, Milesburg Lions Club president.
Milesburg, PA

04/07/2015

Thank you Used vending and Greg for assisting me with the sale of my trailer. Through your patience and expertise it made this process simple and fast. If it was not for you and your staff I do not think I would have been able to sell my trailer. I hope others utilize your services for your promptness and professionalism. Thanks again.
Zorayda Borrero, Miami, FL

08/04/2010

Used Vending was very helpful in assisting with the purchase of a concession trailer. Melissa did a super job keeping me posted on the status of the transaction. Thanks for all your work!

Lynn Roath, Jr.
Grass Valley, CA

01/04/2013

Melissa, Thank you so much for making this such an easy process. Your phone calls, explanations, and ease with the paperwork ... your knowledge of the entire process made the sale. You make the buyer comfortable and the seller very happy.

Sincerely, AB
Bushkill, PA

08/09/2010

Professional, courteous, and dedicated to customer service! That's the way I'd sum up my great experience with USEDvending.com. April Hurd was not only a delight to work with, she was tremendously valuable in navigating the selling process and advising me all the way to closing. I highly recommend April and USEDvending.com!

Thank you, April!
Melissa

02/13/2016

Hi Wendy, Thank you so much for your help. I am very happy that I put my truck for sale up in this website and hope that we can do business again soon. UsedVending.com is a great website and I will be recommending it to friends. Thank you again.-Kostandin

-Kostandin T.,
Philadelphia, PA

10/17/2012

Thanks Melissa for all your assistance in selling my mobile kitchen. It was a positive experience working with Melissa for the first time. Thanks for everything.

Lamar,
Georgia

10/27/2014

I just wanted to share some of my wonderful experience with purchasing a concession trailer with your company through Crissy Cook. She made sure that every thing was done quickly and easily. From the beginning I stated to her that we were needing a trailer within a week and she made that possible. She answered ever one of our questions very to a tee and in a quickly manner. We know in the future we will be using this company again. Fantastic experience and transaction. We couldn't Thank her enough.
-Tiffany Sprayberry, Just A Little Frosting Co-Owner
Lineville, AL

09/09/2014

So far, we are completely satisfied with the coin changer. Just installed last week (photo). All working well. Thank you. Yours was the best price for the type and quality we wanted. Would certainly recommend your product, and your company to others.
Greg Dabel-
Creekside Townhouses, Sebastopol CA

02/27/2016

I wanted to drop a few lines to share our experience with UsedVending. From the beginning, we have had a wonderful relationship with our rep Jen Melerine. She was so helpful and patient with our inquiries and always very professional. In addition, she was always prompt with follow up. I truly felt like we were her only customers, that is how attentive she was. She even communicated with us outside of business hours and during weekends and shared her personal cell phone number. Now that's customer service. Jen definitely went above and beyond in every aspect. Once we found the food truck that was right for us, she was there through the entire process of the sale (one I might add which was not very easy due to our being out of the country). Even when our seller made some seemingly unreasonable requests, Jen worked with us to find solutions for both parties. In the future, should we need to buy or sell equipment we'll definitely be calling Jen directly. We are very happy to finally have our truck and look forward to opening for business in the coming months. A heartfelt thank you to Used Vending and most importantly Jenn Melerine for helping us through the long process of making this purchase.
Claudine & Trevor, TLC Enterprises
Bellingham, WA

01/19/2018

It was great to work with a broker so we knew we were getting verified information from the seller. I felt more at ease with the UsedVending.com system for researching and ultimately purchasing our concession trailer. We're really looking forward to using it at baseball games this summer!
Dana Wagner,
Kalamazoo, MI

02/01/2010

It was a pleasure working with you. Your service has been very professional and you have been kind, honest, knowledgeable and encouraging throughout the entire process. Thank you very much for making this easy for me. I would recommend your service to anyone who asked.

Thanks,
John

10/06/2010

I had only one vending machine to sell. April and the staff at Usedvending treated me like a big customer. They were very helpful throughout the process.
I felt confident and secure working with this online company.

Jedidia Dyer
Owner - Art Assist

11/13/2014

Thank you so much for assistance in getting us a drink vending machine. Your assistance, along the technical assistance received, was very beneficial and allowed for a smooth process in ordering and receiving our machine. Thanks again for all of your help and Prince George County will keep you mind should we have future vending needs.
Leigh Primmer,
Prince George County, VA



06/30/2011

I was so pleased with how smooth and fast everything went with me selling my mobile kitchen, Melissa was so helpful, thanx hun!! Now I'm in the process of purchasing a cart, and Stacey is great too... I will refer everyone I know looking for any vending, so far it's better than Ebay! Thanks usedvending!!!(Melissa & Stacey)

Laurel, MS

08/31/2015

Usedvending.com was so AWSOME for me! There is such great customer service, things went very smooth and I was able to sell my lunch truck within 3 months, I was very happy about that! Thank you usedvending! I've already recommended you to others!
Shelly Holland,
Cedar, MN

08/05/2019

Denise was a pleasure to work with. Our truck sold in less than 2 weeks. Thank you UsedVending!

Destry C.,
Atlanta, GA

10/17/2012

Melissa was very professional, punctual and efficient during the sales process. She was understanding of both seller and buyer considerations, offering suggestions without being pushy. This made the negotiation and the final deal once that both sides were happy with. Highly recommended.

Burak
NY, NY

10/25/2009

I am not privy of the vending industry and didn't know where to begin. Mega-Vending, in particular, Ms. Melanie Lee, made the task effortless. She found and screened the vendors, and provided them with the particulars about my office. All I had to do was meet and make my selection. Melanie, we couldn't have done it without you.

Thanks for your assistance.
Carol Johnson
Maryland

10/26/2016

Bradley, Thanks for making the sale of my trailer.Very professional.Had it listed for one day and had a buyer . Would highly recommend this company.Thanks again,
Linda Wallace,
Dixon, IL

07/18/2016

It's great service and helped me too. Thank you In the future I will contact you again if I need more it.
Ryszard Szynkowski,
Hagerstown, MD

07/20/2018

Denise, Thanks for your help. Your responsiveness and attention to a hot lead led to a sale of a piece of equipment that I didn't think would gain much interest. Much appreciated!
-Lou F.
Dumfries, VA

02/25/2007

Dear UsedVending.com, Thank you so much for selling my machines at the price asked for.
It made it so enjoyable to deal with April & Melissa who were very professional and a delight to deal with.
I wish there were more people out there just like them.
Yours sincerely,

Sweeta A.

11/13/2010

April Hurd is not only good looking and helpful, she's also very smart; what a great combination.

Manny, NV

10/22/2019

I needed to sell my food trailer in order to concentrate on opening new locations. UsedVending.com was where I had originally purchased the trailer several years ago, and that had been an excellent experience, so it seemed a natural choice to list the trailer with them. It was a very good decision. The listing process was easy, and the exposure that my listing got was very effective. The trailer sold quickly, and the transaction was effected very efficiently. I recommend UsedVending with the highest regard in terms of both purchasing and selling. Kristy was available any time I needed her, and her assistance was invaluable.

Chris DeVol,
Sunbury, OH

06/12/2011

Professional,courteous and efficient!

April exceeded my expectations in the search for a vending machine for our restaurant. She made the transaction very easy and I would recommend her highly.

South Carolina

03/02/2016

April, One again you have proved that working with you and usedvending.com is pure ease and a pleasure. You've made my small business a growing force. I will always search your site first when looking to add more machines in the future. Thanks again, and I'm sure continued business in the future. Thanks.
Lance Heutel,
DeSoto, MO

03/12/2015

It was a pleasure doing business with USED Vending. Your were very professional and more than helpful through the whole purchasing process. Thank you again for a stress-free transaction.

Ian N,
Columbia, SC

11/30/2018

Tonya was great! Walked us through each step of the process.
Eva & Dave,
Boston, MA

05/16/2014

We sold a shaved ice concession trailer on USEDVending. Melissa was our representative and walked us through every step of the sale. This was our first experience at selling anything via internet and we were pleased with our experience. We were able to make the sale profitable for us and Melissa was an integral part of that.
Thanks,
Cheryl, FL

01/08/2014

My experience in ordering stamp folders via the website went very quickly and smoothly. We received the product quickly also. Will definitely order from MEGA vending again.
P.K.
Knoxville, TN

09/27/2009

What a great and smooth experience. Mega-Vending alerted me to a location needing a vending machine. They provided the location my information. In just a few days I had secured the location.

Mega-Vending sold me a new machine for the location. The price was right. The service provided from the Mega-Vending reps was excellent.

I look forward to more great vending location opportunities provided by your company.

Thanks.
Chris
Bloomington, Illinois

10/20/2014

Thank-you April!! You and your company made it super easy for us to find someone to take care of our needs! Jose has been very nice and professional. Thanks Again! I will definitely recommend you!
Kim Hibbs
Alexandria, VA

03/13/2014

After listing my commercial kitchen trailer for sale through USEDvending.com, I was initially skeptical, but after being contacted by Melissa about a potential buyer I was ultimately impressed by the her efficiency in arranging the sale to my specifications. The transaction Melissa arranged was very smooth and quick. Thanks for your help in this endeavor Melissa.

Justin
Fayetteville, AR

09/04/2012

I had a great experience. I was called back at a reasonable time and was connected with a nice vendor in my area. I would recommend this site to anyone looking for a vendor in their area.

Debbie,
Forest Hill, Maryland

11/27/2009

As always, our experience with UsedVending was exceptional. With Melissa's help, we sold our machine at a price that was right for us. It was quick and easy.
THANKS Melissa!

Ken R
Dallas, Texas

11/03/2014

USEDVending is a great online site to get listed to sell your used/new vending machines. Usedvending staffs are professional and committed to sell the listed products as quickly as possible. In particular, Calice is awesome and she did her best to get sold my 7 machines in a short period of time. I'm a happy customer of usedvending.com.
- Sankar Egambaram,
Houstom,TX

11/18/2019

Working with UsedVending was great. Denise did a great job of keeping in touch and keeping track of all the necessary steps needed to make the selling of our vending machines a super easy process. I would definitely recommend UsedVending.com.

Meg K.
Dayton, OH

06/30/2019

Excellent professional service from Wendy Bryd. Followed up our sale through the whole process and helped us. I highly recommend Usedvending and Wendy, they were terrific.

Raad Al-Mumayiz,
Watertown, MA

03/11/2019

Worked with Kristy to get the coffee trailer of my dreams at a very good price. She was very professional and thorough and answered every question and concern that I had. Loved working with her and would do it again in a heart beat.
Happily,
Audrey D. Young
Yuba City, CA

11/04/2016

April --I'd like to thank you and your team for making the buying process so simple. We just completed the purchase of our second set of healthy vending machines and except to continue to purchase the machines through USEDvending. April makes the process simple, easy and stress-free. Both times the machines have been "as advertised and described" in the postings and the transaction has gone smoothly.

Thank you,
Jeff
See 2,000+ more or Write your own...