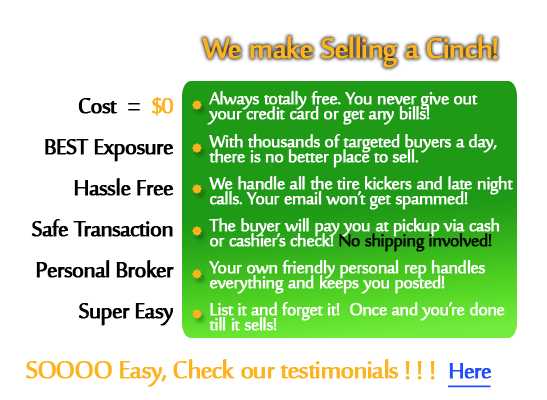 Selling Used Dump Trailers
Become one of our thousands of happy sellers! Your
used dump trailers
can be seen by thousands of buyers each and ever day. Just a few minutes of your time and you're done; we do the rest with No Cost to you - Ever.
Don't waste your time and money with other online tactics; none provide the ease, safety, and security that we do! It's true. We do all the work by handling the phone calls & emails. We advertise your used dump trailer to tens of thousands of buyers, yet you don't have to waste time with tire kickers - we handle them all.
When we find a serious buyer for your dump trailer, we will do the paperwork and only put them in touch with you if they are ready and able to purchase. If needed, we even offer the option of a free escrow service to ensure that both parties can complete a safe transaction. Here are a few hundreds letters from our thousands of happy customers - many are sellers just like you that had no luck through other online auction or classified sites...
Used Trailer Seller Letters
That's right, we remove all the headaches and provide results even when big names like ebay and craigslist can't. As one of the pioneers of online equipment brokers, we have built a strong reputation since 1999. We do a great job of promoting our seller's equipment; so they come back to us again and again.
Our buyers are given all information up front; therefore, they know they can trust us and often refer their friends and business associates. When you list your dump trailer with our broker service, just remember to include pictures, because Pictures Sell!! The more the better.
Getting started to sell your used dump trailer is easy. Just create a free account, add details about your trailer, and we do the rest. If you have other info or pictures to add later, just log into your account, it's easy to do. We may call you with a question from a buyer, but you'll love the free service which allows you to do more important things with your time.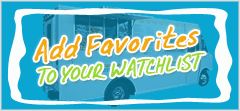 Customer Experiences
04/28/2016

Thanks for all your help Greg. You found a buyer very quickly and assisted me along the way. The process with your business could not have been easier- especially with a difficult buyer!
Amy Shepherd,
Woodstock, GA

Dear Jennifer, I want to thank you for the well job done. You were very professional on your work. Made me feel comfortable to do business out of State. Thank you and I hope to list with you again. I already gave your name and contact number to a friend in Arizona to list his vending truck with you. Thanks again and please let me know if I can be of any help.
Warm regards

Siamak R.
Frosty Freeze Mobil
Partymagicwagon.com
Colorado Springs, CO

03/15/2012

I have been using Usedvending.com for the past 6 months or so. They have posted great pictures of my food cart and a very descriptive ad.

Steve,
Aurora, OR

01/22/2018

I am so thrilled that I chose to use your company to sell our trailer. Great customer service from Melissa. She really made the experience simple. I give it a five star and I highly recommend your services. Thanks again

Dolores Ciccone,

Stuart, FL

06/09/2016

Dear Melissa,
Thank you for all of the hard work you have done on spearheading my mobile kitchen purchase. Your dedication to seeing it through from start to finish is truly an example of a great sales agent.
You have been effective and you have been responsive to all of my requests. I contacted six or so companies about buying a mobile kitchen, you were the most knowledgeable. The consensus among my staff is that I made a great buy.
Thank you again for all your hard work. Should you ever find yourself in Key West, FL, please look me up. I'll buy you dinner, better yet I'll make you dinner!!
Warmest Island regards.
Chef Warren,
Key West, FL

Thanks you soooo much for your help . You have one great employee that has your customers first Wowww! Kristen- pass this on or you can your boss call me

10/13/2009

Thank you. My experience great. I was able to sell my vending machines without any problems . I appreciate your work. Best wishes always.

Shirley
Palm Coast, Florida

01/19/2018

I'm new to the mobile food business, and Melissa was an extremely valuable resource. Even after I was ready to make a deal, she urged me to make sure I'd be able to make the modifications I wanted. Everything turned out fine, and I really appreciated the fact that she watched out for me. It was like she was another member of the team. Thank you!

Christine Stobaugh,
Bradenton, FL

12/11/2015

We purchased a food trailer from UsedVending and Jennifer Melerine. She was great to work with as well as your web site. We located the trailer that we were interested in and she did everything she could to get us this trailer. She even contacted the seller who had the trailer to save it for us as we were working on getting a check cut to purchase it. Jennifer followed up with the seller and myself to make sure that the trailer pickup went well. Your partner was a great experience as well. They made us feel at home from the moment we got there to the time we left. All in all it was a great experience. If we need a trailer in the future we will use both of these companies again.

Andrew Hamilton | Senior Director of Food and Beverage | Choctaw Casinos
Durant, OK

02/10/2011

Melissa was very helpful in getting my deal finalized. She even stayed after normal business hours to complete my deal. Best service anyone could ask for hands down.

Dionte'

Iowa

06/22/2011

I was pleased to work with everyone there. Stacy Sweet was very helpful. Would definitely buy from them and recommend them. Not hard at all buying from a company so far away from my state.I am happy with there services.

Janice, OR

01/07/2010

Thanks alot for you help, selling goes without any problems and safe.

Charlotte, NC

I am very happywith used vending.com Melissa and everybody are very nice and helpfull, I will use it again for my future business .
Thank you
Napa, California

07/01/2014

Good Morning, My experience with your company (you) was fantastic!
K. Bates
Tacoma, Washington

09/04/2009

April,

I just want to thank you for guiding me in this new adventure.

I will recommend 4Mega Vending to any vendor. They walk you through all the information you need to know to get familiar with the vending machines; from your first call, up to sales, customer service and technical support, they will answer all your questions and will give you peace in mind. I had a freight damaged machine when it was delivered, but they took care of it right away. Thanks again for your great service.

Houston, Texas

09/01/2016

I enjoyed my experience with Used vending and would do it again. I was a little nervous at first because I didn't know anything about UsedVending. I literally just found it online. But Bradley was great to work with, walked me through the process and was willing to contact me via text. Best part is they brought me a qualified buyer. I didn't have to worry about all the calls and emails from random people.
Angela Sims,
Kansas City, KS

01/31/2012

Hi Melissa- Yes, he came, on time, very pleasant transaction, no drama. Ibrahim and I want to thank you for your never-ending dedication to finding buyers for the express purchase of these machines and, for your sunny deposition and demeanor. You are a true customer service professional, and, an all around nice person. I cannot extoll your virtues enough. Good luck in your endeavors whatever they may be. You deserve the best, as, in our opinion, you are the best!

Sincerely, Ibrahim and Tamara
Chicago, IL

02/25/2014

I am Jeffrey Hinton, the owner of Moselle Fish & Chip Grill. I never expected a broker to help me purchase a concession trailer. My experience with April from USEDvending.com was outstanding. She stayed in contact with me throughout my entire buying process. Thanks April and USEDvending.com.
Jeffrey,
Moselle, MS

03/30/2016

Hi Mr. Greg, It was really nice working with your company. Transaction was really easy and simple. Just by listing on ur website helped me sell my truck. I would for sure recommend your company in future and will come back to do business with you guys. Thanks.
Joe S. Sandhu
Elk Grove, CA

08/21/2010

Found an add for Wowie Zowie gumball machines on UsedVending.com and got a great deal on them. Thanks to Melissa for send info on completing transaction. VERY HAPPY!!
UKJEFF

05/25/2011

Hi Vanessa,

I am EXTREMELY pleased with your site. You give me (the small businessman) an opportunity to expand and compete. My experience in dealing with you and everyone on the site has been Great!

Thanks,
Vending for All
Tennessee

04/07/2014

I wanted to say Thank You to Stacy Sweet at USEDvending.com. Stacy made my purchase nice and easy. Thank You again for all your help!
A. W.
Soperton, FL

06/23/2015

I have been searching for a Food Truck that was very low in price but had the potential to be built out to suit my needs. Although I looked at literally hundreds of first alerts to find what I wanted, I finally did. The help I received from Melissa and April during my search was fantastic. April was the one I dealt with to make the deal on the truck I finally purchased. She walked me through each step of the process and was very patient with getting my questions answered and directing me to finalize the deal. I got exactly what I was looking for in the end and couldn't be happier. Thanks to everyone at Used Vending for connecting me with the perfect truck and Seller.
Dennis Shaw
Damascus, Maryland

08/05/2014

We were very pleased with the ease of listing our equipment and the incredible customer service we received during the process. Communication is everything in making a business transaction and they were great. We highly recommend using UsedVending.com to buy or sell your equipment.
P. Brill
League City, Texas

11/03/2017

Tonya, was absolutely wonderful to work with on selling my mobile kitchen. Even though we had temporarily removed the listing, the unit became available again. Tonya went back to the last serious inquiry that we had and what do you know.... She got the deal done and almost full asking price. Congratulations to Used Vending for having such a capable employee and a personal thank you to Tonya.
Charlie Wiggins,
Nesbit, MS

03/26/2010

April Hurd is one of best customer service representatives I've ever had. She really knows her vending machines. Extremely helpful!I wish all reps were like her.


Mike, AM Vending
California

04/18/2012

Gini was awesome to work with!! I was very pleased with the service received and response time on everything. I would highly recommend them and would do business with them in the future for sure! Thanks for making my life easier!

Ryan Roberts Grimes, IA

06/10/2014

Used Vending: Just wanted to share my experience with others regarding Used Vending. We were selling a coffee trailer in Montana, definitely off the beaten path, and were not expecting any interest anytime soon. Low and behold Crissy kept telling us that there was an interested party and they would put an offer in soon (we thought, "yeah right"), except that they actually did put in an offer! Within 5 days the trailer was leaving our house and the money was in our bank! Crissy was amazing, the process is very simple, and UsedVending gets results! Thank you UsedVending!
Jon in Montana

04/26/2017

Used Vending does what they say they do. Melissa was very instrumental in the closing of the sale. Everything went as expected. I do recommend them.
Thank you.
Ricardo Zeschitz,
El Paso, TX.



04/04/2017

I was on the Usedvending.com website for about 3 hrs total, spraed out in a weeks time. Once I found the unit I wanted, it took four days to purchase and have the unit. The process was fast and efficient. The customer service Wendy provided was top notch- GREAT job, thank you from the Family Home Center family.

Michael M,
President.F.H.C

08/22/2010

I was looking for vending machines for my company and I came across 4Mega-Vending.com. I bought a new machine that works amazing and is a decent price, all with the help of April. I recommend asking for her help if you need any assistance looking for an electric vending machine. She returned my phone calls and helped me find one that fits my price range. The machine look's great in my shop!

Kristina; Brooklyn, Ny

06/16/2016

April was great to work with, especially since it was my first time using Usedvending.com. She helped me to understand how the process worked and to manage my expectations from beginning to end. They will be the first company I go to in the future to expand my business. Thank you!!

Matthew P. Scheidel, President
Top Shelf Vending Company
Vero Beach, FL 32966



05/19/2016

I have been watching the UsedVending.com website for several years as I was preparing to start our non-profit business. When I finally made contact with Wendy, she was extremely patient and informative. She was aware of my lack of experience with concession trailers, and took the time to make sure that I understood everything that was necessary to have a successful start-up. She raised questions that I would not have considered, insuring a seamless inspection and licensing process here in WI. I am very happy with our recent purchase of a fully equipped, 20' 2015, World Wide Trailer. And extremely satisfied with the service provided to me. I feel that Wendy has a genuine interest in my success beyond the actual transaction! I will definitely recommend her personally and Used Vending to any of my peers who might be interested in the mobile restaurant business.
Thanks for your patience and your concern,

Pat Joyce
Pay It Forward Ethiopia Inc.
De Pere, WI

07/11/1999

UsedVending.com was a great experience for me and my business. If you're looking for great priced vending machines, this is the place to do it. Make UsedVending.com work for you.

M.J. Vending A Full-line Vending Service
Slidell, LA (Matt Wood - owner)

02/03/2014

April,
Thanks again for your help with selecting and processing the order from start to finish. I am very happy with the drink machine 600E, it will serve the needs of my 45 employees well. You were most helpful in choosing the right machine for my needs and budget, further with follow up questions and getting me the labels we needed. I have already recommended your company to another TCA Office in Boise ID, you may get a call from them in the future.
Ron. G
Chantilly, VA

08/07/2015

Hey Greg, thank you for all your help with the purchase of my new Snowie trailer! The transaction went exactly as you said it would. Thanks again,
Ray ( Gainesville Ga)

08/24/2011

Thanks Melissa
The transaction went very smooth and easy, very professional. I was impressed.

J. Reed

TX

08/12/2009

I was happy to know that our company was provided with the service that others could not fulfil. At first I thought that we weren't going to be able to get a machine but they came through. Thank you for the hard work.

Van Nuys, California

05/20/2016

It was a pleasure to work with April, she always kept me in the loop and never had a problem. Things went very smoothly. Thanks for the help.
Rick LoChirco
Henderson, NV

10/04/2012

4VendingTips.com was a very easy website to use. I filled out the information. Gini confirmed she received the email, and I had someone calling to make an appointment in 24 hours. I called other vendors and the vendor referred by 4VendingTips.com was the best fit for our company. He is local and thats what I was looking for. Thank you Gini.

Cathy
Charleston, SC

07/06/2016

I'd like to thank Bradley Heath for working with me in obtaining a Snow ball trailer. I honestly was not sure about working with an out of state company but Bradley was able to make this a smooth business transaction. He was always available to answer my questions even on his off days, it didn't take long for him to narrow down what I was looking for. I thank you Bradley for your patience and expertise and would recommend USEDvending to those interested in this type of business.

Sincerely,
Debbie Wilson
Terrytown, LA

06/03/2014

Usedvending.com was the easiest and best way to sell your equipment. I will be using you again! Thank you for your help.
Eric, Arkansas

12/16/2015

April has done such an outstanding job helping us with this transaction!! This is our second time using usedvending.com and we are really excited about using them again in the very near future!
Julie Farrar,
Ocala, Florida

11/11/2013

You have been excellent handling my order like true professionals. Your customer service has been wonderful and blows away what I have dealt with on other sites. Your response time has been great too. All my future orders will be with you.

R.M.
St. Anne, IL

08/01/2017

I would like to thank Melissa and Used Vending for a quick and smooth transaction. Melissa was quick to get all of my questions answered, and went out of her way to get the seller lined up with me to have the trailer delivered to our location. I would definitely use them again.
B. Jury,
Crown Point, IN

03/06/2018

Wendy did a great job walking us through the process and mediate between us and the seller. She went above and beyond with giving us full access to her phone number to text with updates. I would definitely recommend this company for purchasing vending equipment.
Skylar Nelles,
Grand Rapids, MI

07/18/2016

My experience with UsedVending was easiest, April was a great help for the transactions went smoothly and everybody wins. Thank you.
Dee McCarty
Stokesdale, NC


09/05/2016

I had such a wonderful experience selling my food trailer with used vending. Bradley made the process so easy. He was very knowledgeable and always prompt to get back to me. I would recommend them to anyone. Thank you Usedvending. I am very happy.
Leticia Ackerman,
Lake Worth, FL




12/21/2015

The process was a breeze!!! Melissa is great and Usedvending.com gets everything together for you!!!
Maria & Frank Huereque,
Ridgecrest, CA

04/02/2015

Great Experience.. Fast Deal Very Professional... Machine was exactly like described...friendly staff.
J. Marion, Wellsville, NE
See Hundreds more or Write your own...