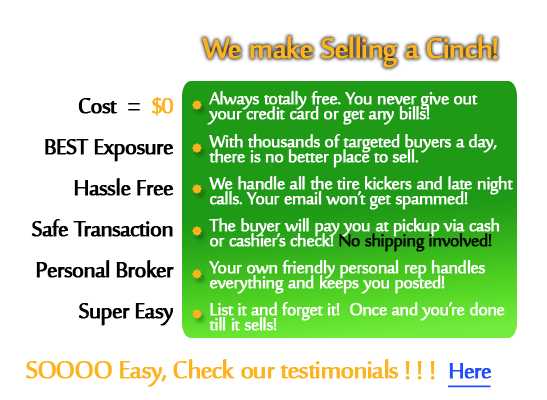 Selling Used Dump Trailers
Become one of our thousands of happy sellers! Your
used dump trailers
can be seen by thousands of buyers each and ever day. Just a few minutes of your time and you're done; we do the rest with No Cost to you - Ever.
Don't waste your time and money with other online tactics; none provide the ease, safety, and security that we do! It's true. We do all the work by handling the phone calls & emails. We advertise your used dump trailer to tens of thousands of buyers, yet you don't have to waste time with tire kickers - we handle them all.
When we find a serious buyer for your dump trailer, we will do the paperwork and only put them in touch with you if they are ready and able to purchase. If needed, we even offer the option of a free escrow service to ensure that both parties can complete a safe transaction. Here are a few hundreds letters from our thousands of happy customers - many are sellers just like you that had no luck through other online auction or classified sites...
Used Trailer Seller Letters
That's right, we remove all the headaches and provide results even when big names like ebay and craigslist can't. As one of the pioneers of online equipment brokers, we have built a strong reputation since 1999. We do a great job of promoting our seller's equipment; so they come back to us again and again.
Our buyers are given all information up front; therefore, they know they can trust us and often refer their friends and business associates. When you list your dump trailer with our broker service, just remember to include pictures, because Pictures Sell!! The more the better.
Getting started to sell your used dump trailer is easy. Just create a free account, add details about your trailer, and we do the rest. If you have other info or pictures to add later, just log into your account, it's easy to do. We may call you with a question from a buyer, but you'll love the free service which allows you to do more important things with your time.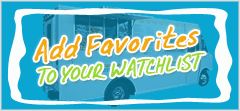 Customer Experiences
05/09/2014

Stacy Sweet was extremely helpful with locating the best truck for our needs. He took a lot of time to assist us along the way. We received our truck last week, and are very pleased with it. We think it will be the first of many more. Thanks Stacy!
K.H.
Chicago, IL

06/06/2016

Would like to thank Melissa for all her help and making our purchase of my food trailer go very smoothly. We purchased an old trailer and completely remodeled it (we knew the shape it was in when we purchased it, and knew we would be redoing most of it.) I would definitely make usedvending.com a go-to if I'm in the market for another piece of equipment big or small. thanks again Melissa for all your help, job well done.
Larry Clark,
Erie, PA

10/06/2009

Overall all aspects of customer service was very good. We dealt with April for our purchases and she went above and beyond to make sure all questions were answered and assisted in fitting our specific business needs. I highly recommend this company.

Pittsburgh, Pennsylvana

05/16/2014

Thank you Melissa Powers! I was selling my food truck and dreading each tedious step of the process. I listed my truck on Craigslist and eBay and a couple of smaller internet sites, when I was contacted by Usedvending.com! I practically jumped at the opportunity to take the exhausting leg work out of this sell. My PERSONAL AGENT WAS MELISSA POWERS. My interaction with Melissa was very professional and at times humorous. She never doubted for a minute she wouldn't get the job done. Thank you again Melissa for doing the most awesome JOB.
Dano.
Florence, SC

06/30/2011

I was very pleased with the location service and Stacy Sweet!! It really saves time and money to use this service. Great Job!!!
Thanks,

Darrell, SC

09/25/2017

I placed my 6 x 10 food trailer ad all over the internet and paid advertising. In the end UsedVending.com came through with a buyer. It was quick and painless on the final transaction. UsedVending really knows what they are doing. There is such small market out there from my experience, its great to have UsedVending in my corner month after month. Than you very much UsedVending.com for getting my food trailer sold with very little effort on my part.
David Stillwell,
Wilsonville, OR

10/09/2014

I want to say thank you to usedvending.com. They were very helpful in the selling of my vending machines. It's organized very professionally.
Omar Williams,
Raleigh, North Carolina



09/22/2011

Having never used a service like USEDvending.com we did'nt know what to expect. Our experience with them and especially Melissa Powers has been exceptional. Melissa knows her business and goes the extra mile for her customers. We recommend Melissa and USEDvending and will use them again in the future

Paula & Doug,
Connecticut

12/10/2014

April. Working with MEGA vending was a positive experience. Working with you definitely made the purchase easier with you keeping me informed and keeping the communication line open at all times. And of course your positive attitude was nice also. After using the machines for the last couple of months we decided we made a great purchase and we would definitely use MEGA vending again for any future vending purchases and will recommend it to other people. Thank you for the help with the purchase.
Jeffery A. Ham SFC, Readiness NCO
Sioux city, IA

10/12/2016

Had an awesome experience working with Melissa Powers and Used Vending. Melissa explained every step of the process completely. She kept in contact with us and the buyer continually; we never had to wonder what was happening. Melissa is a pleasant, caring person and was so patient with our questions and concerns. Our buyer was a nice young man. It was enjoyable for us to share in his enthusiasm as he took possession of the trailer and looked forward to his new concession venture. Thank you for the help with our sale.
Jerome and Sheryl Johnson,
Marshfield, WI

04/26/2010

April did a terrific job finding exactly the machine I was looking for, within my area, and within a week! This was a terrific experience and completely relaxed me as a first time buyer.

Melissa, Thanks! The Truck is working great for our needs. You made it happen on our timetable!
Tom Gordon,
Transportation Coordinator, 20th Century Fox
Los Angeles, CA

02/13/2012

Melissa Powers was very helpful to me throughout the entire process. Very courteous, professional, and prompt and thorough with her responses. This is a great outfit to do business with. I highly recommend. :)

RH,
South Carolina

04/13/2010

I had a new vending machine sitting in my garage collecting dust. UsedVending.com was a no brainer! Melissa, thanks for all your professional and timely help!

Nashville, TN

11/27/2013

April, Thanks you did a great job in a timely manner. I would be happy to work with you again.
Keith A.
Port St. Lucie, FL



06/06/2009

To whom it may concern:
I just wanted to write this letter to inform you of the wonderful service I received from Ms. April Hurd in September 2008. Her informative emails, willingness to assist, and efficiency in answering my questions made my vending machine purchase a breeze. She was there with me every step of the way, whenever I needed her, all the way up until the machine was delivered. If there is ever an employee recognition ceremony or employee of the month spot light program hosted by your company, April will definitely be a great candidate!
Again, I thank you for the wonderful service that I have received and because of Ms. Hurd's excellent customer service, Mega Vending will always be my first choice when purchasing in the future.
With many thanks,
Gloria D. Smith
Owner, SNACKTIVITY, LLC

09/03/2014

Thank you Usedvending.com for your help with all of my buying/selling needs! You guys are like the realtors of the vending industry!
Romaro Crowder,
Indian Head, MD

02/08/2012

I could not believe what a great job Calice did within a short period of time by selling my used vending machines week after week. I recommend Calice and usedvending.com for anyone who wants to buy or sell their vending machines at fastest time and within the best market price.

Okey, NJ

10/02/2016

Melissa Powers - was WONDERFUL. Melissa made this transaction almost seamless. I had never sold an item with anyone like this before so didn't really know what to expect, but Melissa asked all the right questions, of both myself and also of the buyer, followed up with emails and phone calls on a regular basis and also had a very positive and helpful attitude. I would highly recommend Melissa Powers to anyone who was looking to get the job done in a timely and professional way.

Nancy Grochmal,
Wallingford, CT

10/08/2010

Connie Jordan/MegaVending referred us to a real money-maker location. We depend on MegaVending for quality referrals to expand our vending business. Thanks Connie/MegaVending. We look forward to more referrals!

Prestigious Partners LLC

10/05/2016

Hi Wendy!I just want to thank you and your company USEDVending for all of your help. You were very prompt with getting back to us with the answers we needed. You went above and beyond for us by allowing us to contact you through messages, via email and text due to our conflict in schedule's. I would recommend you and your company to anyone that is looking to buy used vending or trucks! Thank you for everything that you have done!

Amanda J Shear,
Mexico, New York



02/27/2016

I only have good things to say about your customer service. Looking for a vending machine vendor was one of the most tedious tasks I have done. When I came across your number, I thought why not. From the first conversation we had over the phone you were super knowledgeable and very friendly. Every email that I sent to you, was responded within the same day. You helped me so much, April  Š At the end of the second day you gave me an update, advising that your first search didn € t pull up anything, but you weren € t going to give up. By that same day you told me that you had found a vendor and they should be giving me a call. The following day he came over and we set up the appointment to have the vending machines installed. You were so helpful, you don € t need improving, your service was Spectacular!!! Keep up the great work. Awesome customer service, very friendly. Thank you.
Sincerely, Bianca Miranda
Corporate Administrative Assistant
Bell, CA

04/12/2017

Grey, just want you to know it was a pleasure working with you. I want to thank you for your help in purchasing Chris' machines. You were not only professional and timely but shared much knowledge about the Vending business. Being new to this industry I found this most helpful. I look forward to working with you again soon. Thanks.

Kevin Hipes,
President, Healthy Choices of Florida

04/29/2016

Wendy you have made this whole experience worth while. You were honest and upfront. I would recommend anyone to do business with this inline business, and I will do business again, because this company has proved that it can be trusted.
Charles Wells,
Arlington, TX



02/04/2016

Wendy, My experience with a your company and yourself was smooth and professional. The procedures set in place to protect seller and buyer are well thought out and work to the good of all involved, My contact Wendy went beyond call of duty giving out a personal cell number to reach outside of business hours and while I tried not to be to intrusive about timely information it was as if she was working real-time. I would certainly do business again should the need arise, Website BOOKMARKED.................8-)
Mike Fuller
Sr. Eng Specialist Berry Plastics Corp.
Evansville, IN

12/22/2014

I don't know how to say. I only know your people have good service. And your company is very good for truck buyer and seller :)
 ‡ ˆ " Xi Lin
Malden, MA

01/28/2011

TO ME APRIL IS 4MEGA
When I call, I ask for April, She always takes time to explain things and then follows through on what she says she will do. She is very pleasant and courteous.
April keep up the good work. You are special.

Everette Denning, Denning Vending Service
Cary, North Carolina

06/23/2011

April made the whole process a breeze. Thanks for helping me find what I needed quickly and easily!

Mike, NJ

06/14/2013

My daughter Evelyn and I had a great experience with Stacy. I had problems with my computer but Stacy got the deal done with Evelyn and we got a great deal. Thanks Stacy.
WJ Price
Montgomery,tx

08/01/2014

Hi Melissa, Thanks for finding a buyer for our food trailer. I tried Craigslist but had no luck. Thanks to you I sold it and the transaction was easy. The buyer came and picked it up, we transferred title and everything was smooth. I appreciate your help.
Chuck Kane,
New Hope, Pennsylvania

10/16/2011

A great experience using and working with the folks at usedvending.com. Helpful expert service. Melissa Powers especially! Thanks!

Daniel,
Nashville, TN

05/04/2011

Excellent service. The website is 100% genius... facebook may be the mother of all internet success, but UsedVending should be a close second! And thank you UsedVending for making the site free of charge! Melissa is a great salesman. What she did was amazing. From her office in Tennessee, she sold my concession trailer to someone located in another state from me. He drove to my location (5 hour drive) with cash in hand, no questions asked. Melissa performed a miracle, and more importantly, she made me a lot of money. Thank you Melissa.

Brandon Dean

03/28/2017

Thank you sooo much for your time and patience with this purchase. You were amazing and we are excited to begin this venture asap!
James & Leslie,
Little Rock, AR

03/30/2011

I was able to sell three vending machines in about three months thanks to this website service and the wonderful help I received from Melissa. She was very helpful, attentive and professional. I recommend this website service as it is the only thing that worked in trying to sell my machines (I also tried Craigs list, the local newspaper and another website.) Thanks!!! Christine

CA

08/12/2015

I send all info, pics and voila.. my truck was listed with them....Now it is sold...no problems...no headaches... I gave 5 stars to this company because they are very professionals, delivery all requested services on time. I will do it again if I have to.
Sincerely,
Liliana Orozco,
Miami, FL

03/24/2017

Thanks so much Bradley and the UsedVending.com crew. It was my dream to start up a food truck after I was picked up by Food Network then after living my dream for a bit, I decided I wanted to pursue a restaurant and that's where UsedVending came in. They helped me to quickly find a buyer and the whole process was pretty quick and painless. You guys rock!

Mike Castaneda,
Wellington, KS


06/13/2014

Dear Mega Vending Management, We have recently had the pleasure in dealing with Ms. April Hurd / Mega Vending Sales Associate. April was extremely helpful with this process. She understood our requirements and easily guided us Through set up. Thereafter, professional vendors promptly contacted us and presented us proposals. They too were responsive and flexible. Whole process was less than 1 week. I would strongly suggest Mega Vending services for anyone looking to fulfill their needs.
Neil Dale,
Vice President €General Manager
Clark Worldwide Transportation

10/21/2009

thanks for being so patient

Charles
Upper Marlboro, Maryland

08/22/2012

Thanks Stacy for all your help through the process of finding the right machine for our church. You were very prompt in all communications and we were able to have the units delivered and up and running in less than two weeks. Everyone at the church were impressed and pleased with our purchased. I will have no reservations in referring others to you.

Royce H.
Madison, MS

08/25/2014

MEGAvending is a great company to work with. They were with me every step of the way from ordering all the way until after delivery. They are professional and friendly, and the vending machines came quick and undamaged.

Ashley,
Pryor, OK



01/22/2014

To Stacy of Usedvending.com:
I just want to thank you for handling the sale of my concession trolley. The end result was a happy seller and a happy buyer. It doesn't get much better than that.
The whole transaction was handled very professionally and you made this transaction experience a true pleasure.

Rich Conger, FL

07/25/2011

Thanks Melissa, you did a great job! You worked tirelessly to find us a buyer and our sale could not have gone smoother once the buyer got here. He was very friendly, the kitchen trailer was exactly what he was looking for, and within minutes we were on our way to finalize the sale! We look forward to doing business with you again and I would highly recommend you to anyone!

Jill,
North Carolina

08/07/2015

I recently made a life changing decision by changing careers. I decided being my own boss and cooking for a living was my niche. I contacted Melissa with usedvending and she walked me through the process from beginning to end. I ended up with a fabulous cooking trailer and would highly recommend Melissa to anyone looking to purchase used food service items. Mild to wild, usedvending will take care of your every need.
Doug S.
Houston, TX

09/22/2009

April was very helpful and especially nice and professional. She was able to answer all my questions quickly and accurately. She was a pleasure to work with and would not hestitate to call her again if I needed further assistance. Thanks April for a job extremely well done.

M. Pate
Normal, Illinois

03/23/2011

We had a great transaction with Melissa Powers , this is our second purchase with her and it was even better than the first one.Her great sence of urgency and professionalism made it a very satisfying experience.

C.V.Vending.

12/09/2010

Thank you for all of your help in obtaining our two machines last month. You made it very easy and the transaction went smoothly. We appreciate your patience in helping us get this done. If we need more machines, you will be the first one we call.........you made things so much easier than we thought possible!!

Darwin,
MO

01/25/2011

I have had the pleasure of listing and selling 2 machines with Melissa. She is top notch in getting the job done in a very efficient and professional mannner. I have been in the vending business for 33 years and would highly recommend her services and expertise.

Jim
Boston, MA

01/04/2013

Melissa, Thank you so much for making this such an easy process. Your phone calls, explanations, and ease with the paperwork ... your knowledge of the entire process made the sale. You make the buyer comfortable and the seller very happy.

Sincerely, AB
Bushkill, PA

04/02/2015

As a premier wholesale distributor, Starkman €has reputation for exceptional personalized service is key. That's why we rely on professional vendors like MegaVending. Their personalized service and exceptional products are unmatched. Starkman can always count on Megavending for competitive prices and outstanding customer service.
Maria Orengo Starkman,
Distributors Atlantic City, NJ

10/25/2009

I found your site to be very helpful in our search for several vending machines. When I contacted the number to get more information, April Hurd was the cs rep and she was extremely helpful and followed up with me throughout my search. We did not purchase from you (although we wish we had) April kept a pleasant professional and courteous attitude. I will keep you in mind when its time to replace what we have. Thank you.
Marquita Smith,
Tampa, FL
See Hundreds more or Write your own...