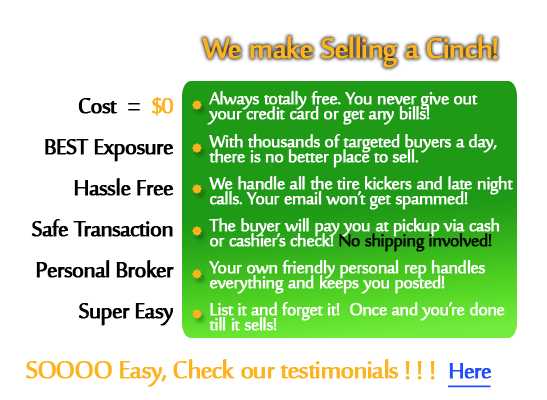 Selling Used Dump Trailers
Become one of our thousands of happy sellers! Your
used dump trailers
can be seen by thousands of buyers each and ever day. Just a few minutes of your time and you're done; we do the rest with No Cost to you - Ever.
Don't waste your time and money with other online tactics; none provide the ease, safety, and security that we do! It's true. We do all the work by handling the phone calls & emails. We advertise your used dump trailer to tens of thousands of buyers, yet you don't have to waste time with tire kickers - we handle them all.
When we find a serious buyer for your dump trailer, we will do the paperwork and only put them in touch with you if they are ready and able to purchase. If needed, we even offer the option of a free escrow service to ensure that both parties can complete a safe transaction. Here are a few hundreds letters from our thousands of happy customers - many are sellers just like you that had no luck through other online auction or classified sites...
Used Trailer Seller Letters
That's right, we remove all the headaches and provide results even when big names like ebay and craigslist can't. As one of the pioneers of online equipment brokers, we have built a strong reputation since 1999. We do a great job of promoting our seller's equipment; so they come back to us again and again.
Our buyers are given all information up front; therefore, they know they can trust us and often refer their friends and business associates. When you list your dump trailer with our broker service, just remember to include pictures, because Pictures Sell!! The more the better.
Getting started to sell your used dump trailer is easy. Just create a free account, add details about your trailer, and we do the rest. If you have other info or pictures to add later, just log into your account, it's easy to do. We may call you with a question from a buyer, but you'll love the free service which allows you to do more important things with your time.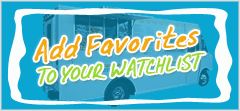 Customer Experiences
11/03/2016

Melissa powers was more than helpful! She was very prompt (even though I think she forgot about the time difference and always text me at 6 am but it was great!) and funny too! Which is what I enjoyed most. It wasn't a transactional deal, she was genuinely interested. It felt like she really was trying to help me. I would definitely go through her again if I need another truck!
Carmen Caristo,
Las Vegas, NV

02/17/2017

Usedvending .com does the job again. I have used them several times to sell equipment and they do a great job. Wendy was very helpful and had our interest in mind. She was very through on how the process works and was able to get us top dollar. We will always use Usedvending.com for any sales we need.
Randy Twyford
Twyford BBQ
Jacksonville, IL



10/26/2009

We were very impressed with Mellisa and all the hard work she put into selling out conssesion trailer for us, she was very easy to work with and took care of all our needs, I will defenitly contact her for any future needs.
Thank you so much.
Meagan, Texas

08/19/2010

Can't say enough how much I appreciate the effort from Melissa. Super job from posting until the final sale. I look forward to againg working with you in the future.

Jim O.

03/03/2010

Melissa and Used Vending handled everything very professionally

Spring, TX

12/14/2015

Thanks Melissa again for selling our 16 foot food trailer. It was a pleasure and if anyone has something to sell I highly recommend USEDVENDING.COM they are friendly and professional in every aspect.
Pasquale Venditti
Shohola, PA

09/11/2018

We are very satisfied with Denise's efforts, follow up, constant communication and support through out the whole process of acquitting the vending machines. Definitively more business will come through her. Denise is definitively in the top for customer service.

Jose Ardila,
Houston,. TX

06/23/2016

I just wanted to appreciate the professionalism that Melissa provided me during my purchase through Usedvending.com. I would recommend this site to anyone looking for something they know they want or need to be exactly sure what there looking for. Thanks again to Melissa and all the support!!!!
Chris Burris
Houston, TX

04/24/2018

FANTASTIC service by Melissa and the website "UsedVending.com". If and when I decide to sell my truck, this is where I will go. Everything worked out much better than I ever expected. Thank you Melissa, Lorenzo, and Kari.
Mike Kalkauski,
Ludington, MI

01/31/2017

You did an awesome job! You went above and beyond!!!
Arson Taitano
Galveston, TX



11/14/2011

Melissa Powers, you have done an awesome job of selling my vending machines. I really appreciate your dilligence and follow through. It really paid off. I will definitely use you to sell any machines in the future.

Gary S.
San Diego, California

08/28/2014

Hi Calice! Thank you so much for making my experience with Usedvending.com so hassle free and stress free! I loved that I only got called when there was a serious buyer and how quick you got all my paperwork to me for the sale. The transaction was incredibly smooth and easy thank you again for all your help I couldn't be happier with your services.
Pilar L.
Valencia, CA

05/25/2017

Thanks for all the hard work.
S. McRiley,
Tarzana, CA

01/14/2015

Calice, I would like to thank you for your help with finding a buyer for one of the machines I have listed with UsedVending. The process went smoothly and the service was friendly and helpful. I hope to list other machines with you soon.
Thanks again,
Todd Bujnak
Ellisville, MO

09/22/2011

Having never used a service like USEDvending.com we did'nt know what to expect. Our experience with them and especially Melissa Powers has been exceptional. Melissa knows her business and goes the extra mile for her customers. We recommend Melissa and USEDvending and will use them again in the future

Paula & Doug,
Connecticut

05/31/2012

Melissa Powers at usedvending.com is a true sales professional that blew me away with her persistence and abilities, I will definitely refer her to anyone I can looking to buy or sell vending equipment. Thank you very much and I wish you great success with your future endeavors!!!

Ron F.,
Lancaster, PA

03/04/2013

Melissa Powers did a great job in handling the purchase of our new vending trailer. I would not hesitate to contact usedvending.com for future needs or to refer them to someone else. A very professional sales person and site.

Deborah Walker
Happy in Coffee City, TX

11/30/2008

Seller and I are happy. You do good work. I ended up getting a personal loan to get it started.

thank you

Yemassee, South Carolina

10/22/2009

I worked with Melanie Lee to get a vending machine for the development I manage. The first contact she sent me was the company I went with. I am very happy with my decision.

Thanks Melanie.
Urbana, Illinois

05/23/2014

Hey Tina Just a note to say thanks and job well done! ! I'm really happy with how things worked with USEDVENDING. If I have something to sell in the future you will hear from me. Thanks again.
Tim, MN

08/20/2009

I had a very positive experience working with Melanie. She was able to answer all my questions and responded to my emails in a timely fashion. I look forward to working with her again.

Mickey
Youngstown, Ohio

01/26/2011

"Customer Service" is a term that has been used very loosely and often misused. But any time I had to deal with you guys, I knew that I get a straight answer and clear instruction on what you could do for me and in return what are my obligations. There was no empty promises nor dilatory responses. I knew exactly when and what would take place next. This service approach along with the pleasant phone conversation with Vanessa Long, makes a very positive business experience. One initial e-mail and one follow up phone call took care of the business. With my crazy schedule, I appreciate this quick & straightforward service and Vanessa is always a joy to contact, to wrap up the business. Keep up the good work guys.
Thank you.

MTPVending

07/30/2012

Melissa Powers was a delight to work with. This was my first purchase of vending equipment and went smoothly and painlessly. Kudos to Melissa for guiding a beginner thru the process with no snags.

Thanks Melissa ! Dave Deaton
VA

06/05/2017

My experience with USEDvending was a great experience. I found a vending trailer on their web site and was able to make contact with one of their agents named Melissa. Melissa called me and even text me to keep in touch of what was happening with the purchase of the trailer. I am from California and the vending trailer was in Oregon, but Melissa made the transaction very easy and friendly. All the paperwork was verified by her before I even made the trip out of state. Everything that was listed on USEDvending was correct about the vending trailer. I would really recommend and use myself USEDvending again. Thank you Melissa for making the transaction go so smooth.

Christy D,
Oakdale, CA


06/07/2016

This was my first time using usedvending.com. and let me tell ya the i'll definitely use them again. I was able to buy a good food truck and they made the entire process a breeze. I highly recommend Melissa Powers she's very helpful and professional.

Orfil Quezada,
Columbus, OH

07/17/2018

Denise Keyes did an excellent job assisting me on purchasing 3 vending machines. Her product knowledge was spot on and an excellent communicator through out the process. Thanks Denise.
John S.,
Santa Fe Springs, CA

11/03/2017

Tonya, was absolutely wonderful to work with on selling my mobile kitchen. Even though we had temporarily removed the listing, the unit became available again. Tonya went back to the last serious inquiry that we had and what do you know.... She got the deal done and almost full asking price. Congratulations to Used Vending for having such a capable employee and a personal thank you to Tonya.
Charlie Wiggins,
Nesbit, MS

03/20/2018

I recently used UsedVending.com to purchase a concession trailer and it was truly a great experience. Working with Wendy was a pleasure and she walked me through every step of the process until the trailer was in my driveway. I would definitely recommend Usedvending.com to anyone who is looking to sell or buy. I am a very pleased buyer!!!
Eliza W.,
Midlothian, VA

11/28/2010

I want to thank Melisa Powers for her help in finding our catering trailer. She was very professional and thoughtfull of all our needs. We looked at several hundred trailers before finding Melissa. I would recomend her to anyone searching for a safe way of buying a catering trailer. Thanks Again Melissa.

Robert, TX

06/26/2015

I was very pleased with my experience. Crissy was great. She communicated quickly and to the point and helped me get the food truck of my dreams. (Seriously though, you were great. Thank you so much I could not be happier.)
James Casey,
Ardmore, OK

08/07/2015

Hi Crissy! This is Kim & Jay - the Pico De Guyo people! We wanted to let you know how pleased we were with the service we received from you and USEDvending.com. From the first phone call we made, it was EASY for us to get our truck listed, updates made, and questions answered. You provided our first qualified buyer within 10 days of listing, and 3 weeks later our truck was sold! We love how you have designed your service so that sellers don't have to come up with any money to list their truck - and your system really works! Thank you for the great service you are providing to those of us in this industry! We would definitely recommend you to anyone looking to sell their truck! Thanks.

Kim Walgren,
Buffalo, WY

02/23/2011

April is a terrific person. She has, I think, really gone out of her way to help me sell some of my vending machines. She has been very helpful in understanding and following through with some of my most difficult time. She has often very courteous and has made suggestions to help me sell my my machines. I think she well serves her employer as well as her customers. It has always been a true pleasure to work with her.

Gil Gamboa,
Baldwin Park, CA.

07/30/2014

Respectfully, I would like to take a moment to thank Used Vending, staff and especially Calice, for their courtesy towards me, in finding me vending machines at Great prices. Calice has helped me on at least three occasions with finding me Great deals. I would recommend Used VENDING to anyone that is in the vending business, like I said the staff is Great and that is the reason why I keep coming back. Thanks Again.
Robert Kennedy
Baltimore, Maryland.

05/16/2016

It was very easy to list my vending machines on the website. Customer Service was great to deal with when they had an offer. I would definitely use this service again.
J. Shamberg
Healthy Vending of the Triad
High Point, NC

05/14/2012

Mellisa was a tremendous asset to connecting us with some truly wonderful people, who also were great to work with, paying a reasonable price, moving the machines and all very timely. Would give my repeat business to her and her Company any time.

Jim,
Colorado

03/23/2016

Melissa you have been more than amazing with the help you have provided for the 2 trailers we have purchased. Thanks you so much...This is the start of a new business for Jerrood and I. We are grateful that you listened to our needs and provided that...twice

Thanks again,
Rhonda Brockington
Rock Hill, SC

06/14/2013

Stacy Sweet was a pleasure to work with. It was my first time to use this website and I couldn't be happier. Stacy had answers to all my questions and completed my purchase from start to finish within 24 hours!!! He was AWESOME !!! I will certainly be on this site daily looking for more good deals and will insist on Stacy to help me.

MB
Katy, TX

02/07/2012

From my initial research to the first can of soda purchased, Used Vending was awesome. Melissa took care of all my questions along the way. Even after the sale, she has been there to help in all aspects. The whole situation went exactly as I had hoped. Thank you!!!

Benjamin,
Ohio

10/03/2010

When I put my concession truck on USEDvending.com I thought that I might get a call or two. Boy was I surprized!!! In just 3 weeks my truck has been sold due to the hard work of Melissa Powers. She was very professional and consistant in persute of finding the right buyer for my unit. I would like to thank you Melissa and USEDvending.com for a job well done.

Kentucky

06/26/2019

(Denise) I want to thank you and the rest of the UsedVending team for all your help! Y'all made the selling experience very easy.

Justin Helmberger,
Anna, TX

08/07/2015

Buyer said everything was nicer than he expected. It has been great working with you. The sales process was fast and everything went smoothly. The buyer was super easy to deal with. You found a good one! We got our money. So all set, until the next one.
Best regards, Jill Kup
Jonas Ridge, North Carolina

03/07/2017

Hi Melissa,I was very skeptical about your company at first, and I thought It was going to take a long time to sell our trailer.Then I immediately started receiving inquiries from your sales and it was sold within in 2 weeks. The process was easy, and you knew exactly what we wanted.I was very impressed by your service, and I would definitely come back in future. Thank you very much for your help.

Regards,
Terry Yo
CNS Logistics, Inc.
Gardena, CA

10/05/2017

I have dealt with Grey on two different occasions and he's always come through for me.He has sold a machine for me and I am currently buying a machine. Thanks Grey!
Rusty M w/ Big Town Vending
Kingsland, TX

03/24/2017

You guys Rock! Grey and his team handled my transaction with complete professionalism and I would highly recommend their services to anyone!
Doug M,
Houston TX

11/10/2014

To Whom It May Concern, Please allow me to take a few moments to extend my gratitude for a wonderful experience with my recent purchased through USEDvending.com. From my initial use of your website to the completion of my purchase. Prior to finding USEDvending.com I was looking at a healthy vending business opportunity however, I was somewhat uncomfortable with franchise fees and large investment for vending machines. Through some research I came across your website. My experience was positive from that point on, from my initial contact with with one of your representatives (Calice) to the receipt of my vending machines. I found your website to be very professional and easy to navigate. Calice, was the best!!! She was instrumental in leading me through the whole process of purchasing my machines.

She answered all my questions, put aside any fears I had about buying used machines and even, in my opinion, went above and beyond in answering questions about having a healthy vending business and shared some ideas that will help me get my business off on the right foot. her professionalism was A++ and she seemed atuned and concerned for my needs and even assisted in negotiating a better package price from the seller. She made it a point to stay fully engaged during the entire process and ensure I was satisfied with my purchase. When I picked up the machines they were everything that was advertised. Actually, as stated on the website these machines were brand new in their original packaging. I estimated by staying away from the business opportunity and purchasing these machine I saved approximately $24,000. Again please pass on my many thanks to Calice for a job well done! When I choose to expand my business I will return to USEDvending.com for additional machines if available. PS. Although brief, I also has a wonderful experience with another one of your representatives (April) that assisted me when Calice was out of the office and I ditto similar comments for her as well, thank you April!!
Regards, Donald Turco
San Antonio, TX

01/12/2011

1/13/2011

I would like to thank Vanessa for all her efforts and due diligence in seeking out a quality vendor for our company. I have had no success on my own locating vending company's that can support our small company needs. I was at a point of giving up when I found and contacted 4Mega Vending. My search was over. Vanessa took over and began searching for me. Vanessa was always their for me explaining the process and working very hard to find vendors. The calls came in. It was great. My labor intensive project just became easy. Due to Vanessa, I believe I have found an excellent, quality, vendor. I am excited about our choice. Vanessa made my search very easy, smooth and pleasant. I just cannot say enough about Vanessa. My experience has been exceptional. I have dealt with many companies and many individuals during my career and Vanessa knows what customer service means.

I highly recommend 4 Mega Vending to anyone who is looking for assistance in locating vending services.

Susan
McKinney, Texas

03/10/2013

Christina did a wonderful job of helping me find just the right trailer that I was looking for. She kept in touch with me the entire time and even followed up with me after the transaction! Thanks, Christina for a job well done!

Nadine in Colorado

01/25/2010

Made the best decision of my life choosing usedvending.com to represent me in my first vending machine purchase. My agent April was amazing in every way! Her dedicated loyalty to me as a customer (buyer) has moved me to write this testimonial. Where in this society most people tend to take things for granted, she went above and beyond to see that i was satisfied with the end result of our transactions. This combined with her concerned follow up has impressed me immensely.I would highly recommend Usedvending.com and her as an agent to anyone looking to buy a vending machine.

Sedona, AZ

I Purchased Six Used Vending Machines through Eric Normand at Usedvending.com. Through out the entire process I found Eric to be very Professional, and extremely helpful. Eric arranged a purchase for me of machines that were within driving distance, so that I could pick them up and save on packaging and shipping charges. I also purchased some machines that required to be shipped from out of state. The machines arrived Promptly on the date Eric told me they would be here, there was a misunderstanding with the shipping company of payment of shipping, I called Eric, prior to going to the shipping company, and by the time I arrived he had it all straightened out. The Products and Service I received from Eric, and Usedvending.com were First rate all the way. I would recommend usedvending.com to anyone looking for Vending equipment.
P.L. Brown
Beaumont, Texas

05/11/2016

Hi Jennifer I want to thank you for helping me with the purchase of my food truck. It was everything you advertised on your Web site. The Seller is being very helpful in finding me someone to fix the clutch because of the distance I'm away from where the truck is located. I feel I got a great deal even with the repairs I knew that had to be done before I could drive it back to North Carolina.
Greg Kish,
China Grove, NC
See 1,900+ more or Write your own...