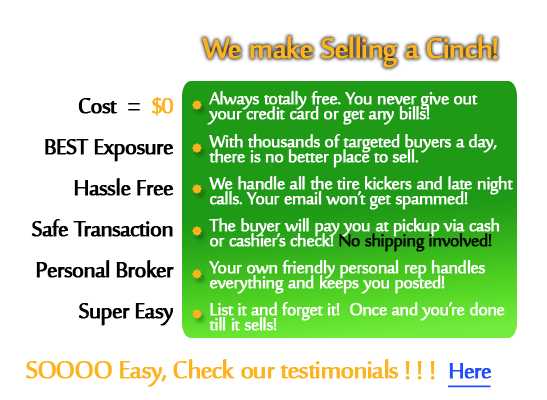 Selling Used Dump Trailers
Become one of our thousands of happy sellers! Your
used dump trailers
can be seen by thousands of buyers each and ever day. Just a few minutes of your time and you're done; we do the rest with No Cost to you - Ever.
Don't waste your time and money with other online tactics; none provide the ease, safety, and security that we do! It's true. We do all the work by handling the phone calls & emails. We advertise your used dump trailer to tens of thousands of buyers, yet you don't have to waste time with tire kickers - we handle them all.
When we find a serious buyer for your dump trailer, we will do the paperwork and only put them in touch with you if they are ready and able to purchase. If needed, we even offer the option of a free escrow service to ensure that both parties can complete a safe transaction. Here are a few hundreds letters from our thousands of happy customers - many are sellers just like you that had no luck through other online auction or classified sites...
Used Trailer Seller Letters
That's right, we remove all the headaches and provide results even when big names like ebay and craigslist can't. As one of the pioneers of online equipment brokers, we have built a strong reputation since 1999. We do a great job of promoting our seller's equipment; so they come back to us again and again.
Our buyers are given all information up front; therefore, they know they can trust us and often refer their friends and business associates. When you list your dump trailer with our broker service, just remember to include pictures, because Pictures Sell!! The more the better.
Getting started to sell your used dump trailer is easy. Just create a free account, add details about your trailer, and we do the rest. If you have other info or pictures to add later, just log into your account, it's easy to do. We may call you with a question from a buyer, but you'll love the free service which allows you to do more important things with your time.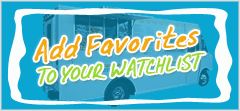 Customer Experiences
10/28/2009

April has been SO helpful to me! I have only just begun to get into the vending business with my very first machine, but April has been EAGER to help me in my search for materials, information, and parts for my first machine! It's great to know that there are still great professional customer service people out there! In a time when you never know if you will even get to talk to a real person when you contact customer service, it is a pleasant suprise to talk to someone who wants to help you solve your problems!
Thanks April!

Plymouth, Minnesota

05/04/2017

I bought a vending machine, from Usedvending and I was so excited to have found it on your website. Thanks.
Sheritta Britford,
Fosters, AL

04/20/2016

Hi Melissa, wanted to say thank you for your help with getting this truck. I am really excited as well as my staff and FANS. I'll keep you in the loop and get you some finish pics. Aloha.
Cary Peterson,
Kawaihae - Kamuela, Hawaii

02/27/2014

Good Morning Stacy, I would like to tell how pleased I am with the way everything went with the purchase I made through Usedvending.com . Connie was awesome and even threw in a few items I could use in starting up my new food truck business. I would also like to thank you Stacy, you were very cordial and professional through the whole transaction.I would recommend your company without hesitation...
Rick,
Skandia, MI

09/11/2010

Forget E-Bay, Whatshisname's list and all the rest, and dispense with the spammers, fruitcakes, and lookylou's! Don't let Melissa Power's sweet smile fool you - The woman is a pit bull when it comes to selling your merchandise!

John C. Sumter

09/18/2015

My experience using USEDvending.com was a very good one. Melissa worked with me on a couple of different units until I purchased the one I thought would fit my need. Melissa is very good with updates and communications. I would use the company again.
John Patterson,
Martinsville, VA

04/27/2016

All the people at UsedVending were very helpful in making this sale happen. Everything went very smoothly. I got my asking price and it was a pleasure doing business with them.
Mary L.,
DeLand, FL

08/21/2015

Hi Jennifer, Thank you for arranging the successful transaction for my trailer. The most I liked about the experience with USEDvending was the Personal touch, namely the text communication keeping me updated. I was also glad you could accept photos of documents instead of bothering with fax. I ll send you a list of a few other items soon. Jani Vira Greenville NC

06/24/2015

I sold my food trailer last weekend using usedvending.com. They made it so easy they did all the work and all I had to do was collect the money. I would use this service again. Thank you usedvending.com.
Hina Patel
Kansas City, MO

09/29/2010

Ms. Melissa did a very fine & professional job assisting me in
the purchasing transaction.

Goldboro, NC

10/10/2012

This is our second transaction with usedvending.com and as before, everything went smoothly and our whole experience makes us want to come back again.

D. LONG - WEST VIRGINIA

03/26/2010

April Hurd is one of best customer service representatives I've ever had. She really knows her vending machines. Extremely helpful!I wish all reps were like her.


Mike, AM Vending
California

03/28/2016

Julia, I just want to thank you for all the help you provided in the sale of my trailer. You really went above and beyond in finding the right buyer for me. If I ever had anything like this to sell again, I would be sure to contact you first!
Thank you,
Melanie DeRoehn
Warren, NH

06/18/2010

April Hurd is the best. Wicked fast responding to emails and worked the sale so everything went as smooth as butter. This has been the best brokered purchase I have ever had!!!

New Hampshire

11/14/2010

Vanessa was very effective in getting us matched with the best vendors suited for our needs. The whole process took less than two weeks and this morning we received our soda & snack machines! Kudos to Vanessa for being on top of things!!

Marcella C
Office Administrator

09/22/2016

Hello April, Once the deal is complete, I just wanted to let you know how much I appreciate the great job that you did in helping me to sell the vending machines that I had. Especially the dedication on your part, with the monthly updates/checks on my account, all the way up to the completion of the sale. Thank you very much, great job by you and your organization.
Phil Hardy,
Broomfield, CO

03/24/2011

Needed to get 2 vending machines sold. April Hurd was very professional & informative she made the process smooth & simple. Thank u April.

Valerie Hawkins.

01/28/2017

My experience with usedvending.com was a very pleasant one. I bought 10 vending machines and the process was seamless. Erin was very helpful negotiating on my behalf and answered all my questions. I was a little hesitant with the transfer paperwork but usedvending.com provided all the necessary legal paperwork and the transition from seller to buyer was very smooth. I will continue to use usedvending.com for future purchases. Kingston Vending

04/02/2017

Hi Bradley,You guys were great! Everything went smooth and the sellers were super cool and friendly. I loved using your website to find just the right food truck/trailer for me. Having the watch list was a really great feature. It let me know when there was a drop in price on trucks I was looking at. I have wanted to do this for a long time and wanted something small to cut my teeth on. When I saw the price reduction on one of the food trailers I had on my watch list come down I shared it with my husband and he gave me the go ahead to make the call. From there it was all pretty simple. I contacted the seller and drove home with the trailer the same day. When I am ready to upgrade to something bigger I will be back to find the my next trailer/truck. Thank you for being there to connect dreamers with their dream!

Sincerely,

Amy Luksha,
Ware, MA

03/30/2011

April Hurd was very prompt, helpful, and really cares about you as a customer. Excellent follow up.

WI

05/20/2014

Tina,
Just wanted to drop you a note to thank you for your assistance with my recent purchase of a food trailer. The whole experience of was very enjoyable. You and your company made it a very simple and quick process. You were very efficient in getting information between the seller and myself and always very pleasant and helpful. The seller was also a joy to work with when we met to complete the transaction.
Thanks again for your help.
J.T. Schacherer, Minnesota

09/25/2011

Melissa, Thanks that was a great deal. As soon as we have these machines placed, I am sure I will be in touch for other great deals. If you do come across another great deal like this one, please feel free to give me a call. Like my husband said, too great a deal to pass on.

Thanks again for thinking of me when this deal came up and I appreciate the personal attention. It was great working with you, your company was very professional and I appreciate the fast turn around.

Thanks again, Denise
Poconos, PA

02/01/2010

Good Morning Melissa,
I just wanted to thank you and Cheryl for all your help with this transaction. You both are knowledgable, friendly, and timely with answering my questions. I would higly recommend UsedVending to anyone!

Kay,
Wisconsin

10/25/2009

4 vending the best. I highly recomend 4 vending, very professional company and the staff Melanie lee, April, super, very helpful. I will definitely use 4 vending in the future. Very good locations. DLara vending.

Westmont, Illinois.

11/17/2014

Hi April, It was a real pleasure working with you for the purchase of a Coin Change Machine. You were responsive in a very timely manner, were able to address all of my questions. Delivery was done in the time promised. I truly appreciated working with you and will gladly recommend your company to anyone who is looking for a vending machine. Thank you again!

Melissa Pachon-Tepper
Glendale, WI

04/18/2012

Gini was awesome to work with!! I was very pleased with the service received and response time on everything. I would highly recommend them and would do business with them in the future for sure! Thanks for making my life easier!

Ryan Roberts Grimes, IA

10/09/2008

Hello, April did a great job selling me my coke machine, everything was just like she said it would would be, I would recommend for all your vending needs.

Rocky,
Rome Georgia

02/02/2012

Melissa was absolutely wonderful to work with! We had a few challenges getting our unit sold but she never gave up! She was very thorough and worked hard to get the price we wanted.

Thanks again UsedVending - you're great! :)
Martha, Colorado

04/17/2011

Melissa, you have been a fantastic individual to work with. Even though we are many many miles apart, it was like working within someone locally, geat job.

And what I also love about your service, is the ability of the owner to control the costs online. And of course they are all confirmed very quickly by your update department.

This is our second successful sale and I will have no problems recommending you to anyone wishing to sell their Vending equipment.

Ron
Ontario, Canada

04/28/2016

Thanks for all your help Greg. You found a buyer very quickly and assisted me along the way. The process with your business could not have been easier- especially with a difficult buyer!
Amy Shepherd,
Woodstock, GA

10/25/2009

My experience with 4 mega vending was awesome! I contacted several other companies and it took several days for them to contact me.I emailed and within a few minutes I had a response. April Hurd is very professional and wonderful to work with.

Thanks
Monica Reece
Harris Jobe Elementary PTO

08/07/2015

Hey Greg, thank you for all your help with the purchase of my new Snowie trailer! The transaction went exactly as you said it would. Thanks again,
Ray ( Gainesville Ga)

07/25/2011

Thanks Melissa, you did a great job! You worked tirelessly to find us a buyer and our sale could not have gone smoother once the buyer got here. He was very friendly, the kitchen trailer was exactly what he was looking for, and within minutes we were on our way to finalize the sale! We look forward to doing business with you again and I would highly recommend you to anyone!

Jill,
North Carolina

07/05/2010

April was a FANTASTIC representative. She was very easy to work with and has a very sweet personality. I hope to deal with her again on the next machine I will be purchasing.


Paul Haanen Jr
Pres. AWC Employee Committee

12/22/2015

I'm Glad that I found Used Vending. Purchasing our Trailer was not as complicated as I thought it would be. With Jennifer's help, we were able to purchase a great trailer from great couple. Very happy with the purchase and the process. Thank You,
Debbie And Van,
Tampa, FL

05/09/2016

Hi April, I'd like to thank you for selling another one of our vending machines. Like our past experience with UsedVending all went smoothly. Thanks for your great customer service. Looking forward to selling another one soon.

Pete Morales,
Harleysville, PA


10/11/2010

The first time Melissa Powers called me regarding a buyer for my vending machines, I knew that I had made the right choice in using your company. Melissa is friendly, professional, polite and knowledgeable. Melissa made the sale a pleasure - she is an asset to your company! Thank you!

Denise A.
Owner

10/23/2014

Thanks for the great services- I would recommend you highly.
Yours truly,
Wrangler Rich from the Shiloh Ranch,
Hobart, Indiana

11/04/2015

Usedvending.com has now helped me twice. 4 years ago I was looking to buy a food truck, I knew very little about pretty much anything involving this business.Melissa took me by the hand and walked me thru the purchase of my knew business, after 3 successful years I was able to finally retire,so I figured who else but Usedvending to sell my food truck. Greg took over my ad and in no time at all was able to sell my truck. Thank you Used Vending what a great team you have.
Ed Stack - Madsams Food Truck
Columbia, KY

11/14/2014

Just a short note to let you know that I am very pleased with my experience doing business with MegaVending. Your patience with my "shopping" and your follow up concerning all the details were outstanding. I hope to add another machine late Spring 2015 and will certainly come back to MegaVending for my needs. Thanks once again for everything.
Tommy Allen -
Allen Rental Properties Alamo,Tn.

09/28/2000

Thanks so much for your help! The machines are perfect; just glad that I found you before I made that other purchase.
Thanks again,
Tim
San Diego, California

12/09/2015

Working with Melissa and Usedvending.com was a breeze - they got me the price I wanted and sold my unit in 2 days. Thanks guys.
David H. Farr
Mansfield, PA

07/13/2016

I just recently sold my food truck that I had listed with Usedvending.com. Melissa was my contact there and she did a great job handling the sale. It makes things a lot easier when your not used to selling. All the paperwork was provided which made it a breeze. I would list items again on USEDvending.com.
Victor Routsis
Richmond, VA

01/31/2011

Great service, April was really nice and helpful!!!

12/14/2015

Thanks Melissa again for selling our 16 foot food trailer. It was a pleasure and if anyone has something to sell I highly recommend USEDVENDING.COM they are friendly and professional in every aspect.
Pasquale Venditti
Shohola, PA

03/07/2017

Hi Melissa,I was very skeptical about your company at first, and I thought It was going to take a long time to sell our trailer.Then I immediately started receiving inquiries from your sales and it was sold within in 2 weeks. The process was easy, and you knew exactly what we wanted.I was very impressed by your service, and I would definitely come back in future. Thank you very much for your help.

Regards,
Terry Yo
CNS Logistics, Inc.
Gardena, CA

After advertising my concession trailer for more than 4 months on various advertising outlets on line, I was approached by Melissa with UsedVending.com. I have to admit, at first I was a bit skeptical. Within a week, I already had an interested buyer but we couldn't quite close-in on the price, but there were others shortly afterward. After less than 2 months of advertising on UsedVening.com, I had the buyer I had been waiting for nearly a half year, and he was very serious and willing to pay the asking price to get what I had originally wanted for the trailer in the beginning. After a couple of days, the deal was pretty well buttoned up. I'm very fortunate to have been approached by Melissa and glad that she convinced me to list the trailer with her. After all is said and done, I wouldn't list it with anyone but UsedVending.com. They were very fair and professional throughout the entire process. Thanks Melissa and if I ever have a similar need, rest assured, you will be the first person I call.
Jason Bell
Plano, Texas

02/06/2011

We have kudos for you and the smooth and efficient manner in which you handled the SHH Enterprises LLC purchase of the food concession trailer in New York. Thanks!!

Las Vegas, NV

03/25/2015

April was great and real helpful, thanks alot April was great.
David Webb
Williamstown, NJ
See Hundreds more or Write your own...