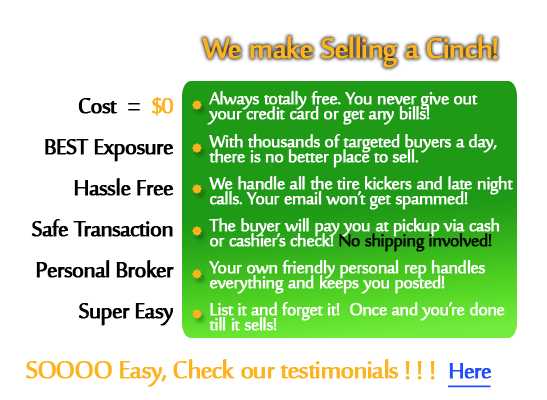 Selling Used Dump Trailers
Become one of our thousands of happy sellers! Your
used dump trailers
can be seen by thousands of buyers each and ever day. Just a few minutes of your time and you're done; we do the rest with No Cost to you - Ever.
Don't waste your time and money with other online tactics; none provide the ease, safety, and security that we do! It's true. We do all the work by handling the phone calls & emails. We advertise your used dump trailer to tens of thousands of buyers, yet you don't have to waste time with tire kickers - we handle them all.
When we find a serious buyer for your dump trailer, we will do the paperwork and only put them in touch with you if they are ready and able to purchase. If needed, we even offer the option of a free escrow service to ensure that both parties can complete a safe transaction. Here are a few hundreds letters from our thousands of happy customers - many are sellers just like you that had no luck through other online auction or classified sites...
Used Trailer Seller Letters
That's right, we remove all the headaches and provide results even when big names like ebay and craigslist can't. As one of the pioneers of online equipment brokers, we have built a strong reputation since 1999. We do a great job of promoting our seller's equipment; so they come back to us again and again.
Our buyers are given all information up front; therefore, they know they can trust us and often refer their friends and business associates. When you list your dump trailer with our broker service, just remember to include pictures, because Pictures Sell!! The more the better.
Getting started to sell your used dump trailer is easy. Just create a free account, add details about your trailer, and we do the rest. If you have other info or pictures to add later, just log into your account, it's easy to do. We may call you with a question from a buyer, but you'll love the free service which allows you to do more important things with your time.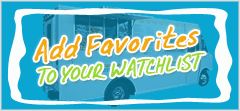 Customer Experiences
06/23/2015

Melissa, Thank you for everything. You were great and got everything done when you said you would. You really made it easy. I would use you again.
Doug Martindale,
Austin, TX

09/07/2011

We just installed a new located that was referred to us by Stacy. We work with the client and were able to fulfill there needs and not stretch ourselves.

This was an excellent referral. The customer was willing to work with us, this way it was a win-win for both of us.

Looking for to the next referral.

Thanks again Stacy

Jack R.

02/28/2010

April was wonderful to work with. She kept us up to date on the progress of our machines the entire time. We are very pleased with the product that we recieved also...Very good quality machines for the price. Thanks April for all your help!

10/14/2010

I WOULD LOVE TO THANK MELISSA FOR THE CUSTOMER SERVICE AND PERSONAL TOUCH WHEN COMMUNICATING WITH. HER VOICE IS PLEASING TO LISTEN TOO AND SHE BECAME MY ANGEL WHEN SHE HELPED US SELL OUR TRAILER. WE HAVE BEEN TRYING FOR MONTHS AND WITH IN ONE WEEK ON THIS WEB SITE IT WAS SOLD. THANK YOU SO MUCH FOR YOUR BUSINESS. TAKE CARE AND GOD BLESS YOU AND YOURS.PEACE OUT SISTER TAMARA

12/29/2011

I'm an independent owner of a vending service company (WMJ LLC). The demand for quality equipment and service is paramount in my business. Stacy Sweet at 4-MEGA Vending provided me with quality service and equipment; a job well done. I have refered Stacy and 4-MEGA Vending to my friends.

Bowie, MD

03/22/2018

Excellent service! Deidre was very helpful and worked with me every step of the way till I acquired the trailer I wanted. She is very resourceful and will strive to get you an answer to any question you may have. I recommend UsedVending and will use again if need be. At first, I was very skeptical about giving my money to someone I never met but I must say I wasn't disappointed. Thank you Deidre and to others at UsedVending for helping me get the trailer I wanted today. You guys rock!
Temi A
Houston, TX

04/05/2010

I would like to let everyone know how easy and helpful Melissa Powers with Used Vending has been to work with on my purchase. This was a new experience for me purchasing Vending equipment. With her help and knowledge the transaction was a breeze. I recommend them Very Highly, they are professionals at what they do and seem to have fun doing it. Anyone with manuals on Oscars wild ride contact Melissa.

Garry Emmons
Hillsborough, NC

07/21/2016

Wendy,Thanks again for helping sell my concession trailer. I was very happy with the whole experience.I asked my buyer how he liked it. He said it was very easy and that you walked him through everything he needed to do. I will refer you and your company to anyone I come across needing your service. Best Regards,

Ray Rabenda,
Beacon, NY

12/12/2012

Gini Sweet is the best! She has always been there for me to help me seal the deal. Im glad that she is working there, to help people like me who are expanding their business. She gets an a++++++++++++ ! thank you Gini - I look forward in continuing to grow my business with you. I'm so grateful to have you.

K.B.
Bronx, NY

06/20/2017

Melissa Powers is a SUPERSTAR! She made my selling experience a great one. She was extremely personable and I felt like I was speaking to a friend every time I needed to reach her. She kept me informed every step of the way and was there to answer all of my questions. I would definitely recommend Used Vending if I was going to buy or sell again!
Paulean Robinson,
Hampton, VA

06/01/2011

I want to thank Melissa Powers for her prompt response and hassle free procedures in handling my recent BBQ concession trailer purchase. Negotiating started on May 17th and I brought the unit home on May 29th. The unit was even more stunning than the online pics.
Whether you a buyer or seller on you next deal, I strongly recommend usedvending.com and Melissa Powers.

Don Baucham
DB's Rustic Iron BBQ
Odessa, Tx.
rusticironbbq.com

10/26/2009

Thanks Melanie for your time and dedication in assisting our company with trying to locate a leasing vending machine company that would meet our needs. Any additional suggestions are welcome.

Again thank you.
Washington, DC

08/22/2011

Stacy was great! I had a hard time finding a combo machine for our small office and he was able to find me someone right away!

Thanks, Stacy!

Kathleen,
CA

10/05/2016

Hi Wendy!I just want to thank you and your company USEDVending for all of your help. You were very prompt with getting back to us with the answers we needed. You went above and beyond for us by allowing us to contact you through messages, via email and text due to our conflict in schedule's. I would recommend you and your company to anyone that is looking to buy used vending or trucks! Thank you for everything that you have done!

Amanda J Shear,
Mexico, New York



04/11/2012

Another easy, smooth sale from Melissa! She was able to quickly find a solid buyer, who made an offer, and in 6 days we had finished negotiating, done the paperwork, and he had picked up the concession trailer! Thanks Melissa!!!

Jill & Al,
North Carolina

01/15/2016

Thank you to UsedVending.com and especially our Broker Wendy Byrd for quickly selling my food truck. The process was extremely easy and Wendy was very helpful in helping me put some finishing touches on my ad to attract buyers quickly. What a great experience! Communication and responses were timely! I am using them again to sell additional items!
Phil West Owner - Hungry, INC
www.HungryTruckINC.com
Phil@HungryTruckINC.com

06/28/2011

I used your company through Melissa Powers and she has made the purchases go very smoothly,one that fell apart,but with her experiance she moved me along to another purchase which was necessary for me to fulfill my clients needs,Thanks so much Melissa for your great help and caring for my business needs.

Wayne Basilotto,Your Choice Vending

04/02/2015

Great Experience.. Fast Deal Very Professional... Machine was exactly like described...friendly staff.
J. Marion, Wellsville, NE

02/23/2012

I was very pleased with the professional and helpful way that Melissa Powers assisted me in selling my equipment. Melissa was very good at keeping me informed about the process, as well as understanding of my situation. Thanks so much, Melissa!

Julie,
New Orleans

11/10/2014

To Whom It May Concern, Please allow me to take a few moments to extend my gratitude for a wonderful experience with my recent purchased through USEDvending.com. From my initial use of your website to the completion of my purchase. Prior to finding USEDvending.com I was looking at a healthy vending business opportunity however, I was somewhat uncomfortable with franchise fees and large investment for vending machines. Through some research I came across your website. My experience was positive from that point on, from my initial contact with with one of your representatives (Calice) to the receipt of my vending machines. I found your website to be very professional and easy to navigate. Calice, was the best!!! She was instrumental in leading me through the whole process of purchasing my machines.

She answered all my questions, put aside any fears I had about buying used machines and even, in my opinion, went above and beyond in answering questions about having a healthy vending business and shared some ideas that will help me get my business off on the right foot. her professionalism was A++ and she seemed atuned and concerned for my needs and even assisted in negotiating a better package price from the seller. She made it a point to stay fully engaged during the entire process and ensure I was satisfied with my purchase. When I picked up the machines they were everything that was advertised. Actually, as stated on the website these machines were brand new in their original packaging. I estimated by staying away from the business opportunity and purchasing these machine I saved approximately $24,000. Again please pass on my many thanks to Calice for a job well done! When I choose to expand my business I will return to USEDvending.com for additional machines if available. PS. Although brief, I also has a wonderful experience with another one of your representatives (April) that assisted me when Calice was out of the office and I ditto similar comments for her as well, thank you April!!
Regards, Donald Turco
San Antonio, TX

05/16/2016

It was very easy to list my vending machines on the website. Customer Service was great to deal with when they had an offer. I would definitely use this service again.
J. Shamberg
Healthy Vending of the Triad
High Point, NC

06/13/2011

Normally takes a bout a week to set up an account . I had this account that took me a month to set up due to numerous red tapes set up by the company and building management. I have to say if was not for the support and encouragements of your team I would have given up. Thank you Stacy Sweet to stand by me and helping me. You guys are AWESOME.

MTPVending

08/21/2015

Hi Jennifer, Thank you for arranging the successful transaction for my trailer. The most I liked about the experience with USEDvending was the Personal touch, namely the text communication keeping me updated. I was also glad you could accept photos of documents instead of bothering with fax. I ll send you a list of a few other items soon. Jani Vira Greenville NC

01/11/2017

April, thanks again for all your help in my purchasing the yogurt machines. I had a genuine feeling that it was actually my interest that you were most focused on. It went a long ways in helping to get this deal done.
Thanks again,
Kevin Harper,
Sugar Land, TX

09/19/2014

We had a good experience and everything was perfect.

A. Janlou
Rockville, MD

08/03/2013

Thank you Stacy! We couldn't have done this on our own. Thank you for helping us find a buyer, and for making the selling process so easy. We are very grateful.
R.L.
Severn, MD

I recently sold four combo machines through USEDvending.com, and was very satisfied with the service Eric Normand provided. While I received substantially less for my equipment than I originally paid, that was more a function of being ripped off by (distibuting company name protected) when I originally bought them. I wish I knew about USEDvending.com back then! Eric was prompt in returning my calls, and most importantly sent the check when promised! At any rate, I would highly recommend USEDvending.com and Eric Normand to other sellers and also buyers too, who can get some outrageous deals. Don't be like me - avoid (distibuting company name protected) and other 1-800-RIPOFFVEND companies like the plague, and go with USEDvending.com instead.
Barry Waterman

Chicago, Illinois

09/20/2011

April did a great job from start to finish, everything went according to plan and there were no surprises. I bought 2 machines in August and decided to buy 2 more after the we realized the need and there was only one place i thought to call. Great job.

C Pollard,
Texas

06/20/2012

Amazing experience - everything went so smoothly. Melissa did a great job with communication on what the next step and kept us very informed. Thanks.

Fran,
IL

08/13/2009

Melissa, Thanks for the list. I just want to say that you all are the most professional folks I have dealt with. You are extremely helpful and always positive. I bought a new machine from you in March 2005 and it was at a much lower price than was quoted from another vendor. In addition, it arrived within a few days. If megavending ever needs a reference, please feel free to contact me.

Bobby Bain

12/05/2013

Hi Melissa
Thank you for your help in finding me a buyer for my truck. You made it a painless easy transaction. Please find the attached document for the ownership transfer.

Thanks
John
Portland, CT

10/13/2016

Just wanted to say Thank you, to Melissa at Usedvending.com for selling my mobile boutique bus. Transaction was very easy. Melissa keep me informed, was very professional & addressed my concerns quickly. I would definitely sell with Usedvending.com again!!! Thank You.
Korena Ferguson,
Dellroy, Ohio

12/02/2009

Melissa and Cheryl,

Thanks to both of you for all your help in liquidating the machines.

My wife is so happy to have the cash, but more importantly, the extra space in the house !

Again thank you both and hope your Thanksgiving was good and that your Christmas will be a wonderful time with your families.

Mark and Sheryl,
Arkansas

12/21/2016

Hi April, we are happy to say that you made it so simple, efficient and friendly. We had the same experience when we sold the others. Thank you so much.
Susan Kirk,
Castaic, CA

04/29/2015

Melissa, I want to thank you very much for producing the sale of my lunch truck. When I first put the truck on Craigslist I got a call from you wanting to put my truck on your site at no charge to me. I accepted your offer & the truck was featured on your site. Some time passed & I got a call from Greg w/ a buyer. That buyer fell through, but you all kept working hard to find a buyer. I was impatient & I paid another company to advertiswe & sell the truck. Error on my part. They posted lots of ads but produced no results. YOU PRODUCED A SUCCESSFUL SALE. Melissa found a buyer & put together an agreeable sale. The buyer came to my house w/ a cashiers check & the sale was consumated. I couldn"t have done it without you. THANK'S A MILLION.
Mike Culliney,
Leavenworth, KS

Gini is very sweet to work with. Professional and casual at the same time. Make her laugh for a discount :)

Scott - The vending guy
Minnesota

02/06/2011

I really appreciate all you have done for me in setting up this transaction. Your whole staff was very knowledgeable and professional from the beginning. Thanks again for all of your help.

St. Petersburg, FL

11/11/2016

The transaction was great. Other than a few hiccups with check image, it was seamless. You guys run an A+ business and its always a pleasure getting the extra sales.
Joe Rush,
Virginia Beach, VA

03/28/2016

Melissa was very helpful and patient with us. She made everything easier and understanding for us. I would recommend Usedvending.Com a safe and trust worthy company to deal with. We loved working with Melissa because there was no pressure in purchasing our food trailer. We are well satisfied with everything Melissa helped us with. Thank you Melissa!!!

Jessica/Gilbert Torres,



03/09/2018

After many tries ... we finally got a sale. My food truck needed some tender loving care to bring it back to its glory. Used Vending is the best place to get many interested eyes on equipment like the food truck. The entire team at Used Vending did their best and answered every question potential buyers had. What they didn't know, they would call or text me for the answer, Everybody was very professional and handled the prospects well. Finally it was Wendy who handled some negotiations which ended up with a sale. I would like to thank Wendy along with the entire crew for a job done well.
Rick Hall,
Sedona, AZ

10/06/2010

I had only one vending machine to sell. April and the staff at Usedvending treated me like a big customer. They were very helpful throughout the process.
I felt confident and secure working with this online company.

Jedidia Dyer
Owner - Art Assist

10/25/2009

April Hurd Rocks!

Thanks for your help and support.
Monica Reimer

02/14/2018

Thank you Deidre for making the sale of the food truck as simple as it was,you helped us with the questions and other things before we even asked. Thanks for all of your help and looking forward to selling our next piece of equipment with you soon.
Russ Bowers,
Smithville, WV

09/14/2015

Good service.
Harjit Singh,
San Jose, CA

07/18/2016

It's great service and helped me too. Thank you In the future I will contact you again if I need more it.
Ryszard Szynkowski,
Hagerstown, MD

07/25/2010

Used Vending was great in helping me despose of all of my vending machines. The add was great, they helped me negoiate price and did everything they could to bring buyer and seller together. These people are the best.

Dave Clement,
Madison, Alabama

11/06/2013

I would like to thank Melissa Powers for all her help, she was very professional thru the whole process of selling my food truck. She walked me thru every step from the time my truck was put on your site until the very end when it was sold. I will be letting all my friends know of your site in case they have a need for it in the future. Once again thanks to Melissa, & the best part, it was sold in less than three months!
Thank You,

Joe B.
Cape Coral, FL

05/10/2018

It was a tough decision to sell our concession trailer but they made the sale easy. If I have any more food vending equipment to sell in the future Ill definitely be listing it with them. Thanks for the help selling it and making it simple on my end.

Michael Price,
Baroda, Michigan

01/20/2015

We are a small company and found it hard to find vending options for our office. However, MEGA Vending made everything simple for us. From inquiry through installation, MEGA Vending assisted us every step of the way. Thanks!
Liz Jacobs, Director of Marketing
MPC Group, LLC
Chicago, IL


08/28/2011

Yippeee!! That is the last batch of those confounded machines.
Attached is signed ownership transfer form... It's been a pleasure working with you.. Thanks Melissa, for all your
assistance over the past year to get these OUT of my garage....

Darlene,
Texas
See 1700+ more or Write your own...