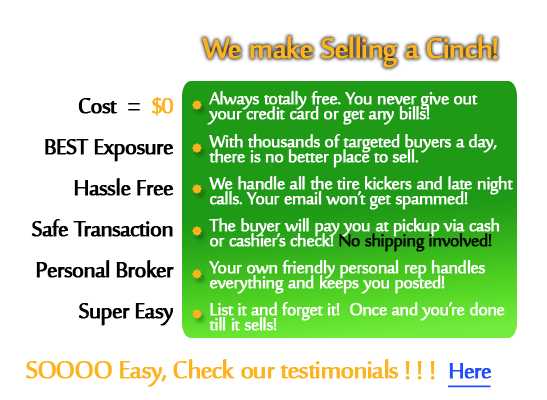 Selling Used Dump Trailers
Become one of our thousands of happy sellers! Your
used dump trailers
can be seen by thousands of buyers each and ever day. Just a few minutes of your time and you're done; we do the rest with No Cost to you - Ever.
Don't waste your time and money with other online tactics; none provide the ease, safety, and security that we do! It's true. We do all the work by handling the phone calls & emails. We advertise your used dump trailer to tens of thousands of buyers, yet you don't have to waste time with tire kickers - we handle them all.
When we find a serious buyer for your dump trailer, we will do the paperwork and only put them in touch with you if they are ready and able to purchase. If needed, we even offer the option of a free escrow service to ensure that both parties can complete a safe transaction. Here are a few hundreds letters from our thousands of happy customers - many are sellers just like you that had no luck through other online auction or classified sites...
Used Trailer Seller Letters
That's right, we remove all the headaches and provide results even when big names like ebay and craigslist can't. As one of the pioneers of online equipment brokers, we have built a strong reputation since 1999. We do a great job of promoting our seller's equipment; so they come back to us again and again.
Our buyers are given all information up front; therefore, they know they can trust us and often refer their friends and business associates. When you list your dump trailer with our broker service, just remember to include pictures, because Pictures Sell!! The more the better.
Getting started to sell your used dump trailer is easy. Just create a free account, add details about your trailer, and we do the rest. If you have other info or pictures to add later, just log into your account, it's easy to do. We may call you with a question from a buyer, but you'll love the free service which allows you to do more important things with your time.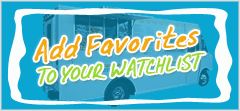 Customer Experiences
10/07/2009

Melissa did a terrific job at getting my machines sold. I would recommend her any day!!!
Thanks so much Used Vending...
Linda Schoeffler

Sacramento, Calfornia

07/24/2014

Melissa, I am happy to tell your supervisor about my experience with Usedvending.com! I had no experience or even a solid idea of what I wanted when I emailed Melissa and said I was interested in a mobile kitchen on your website. I had been looking at ads all over the internet and I kept coming back to Usedvending because the website was easy to navigate and had tons of equipment. I got so much information just from reading the ads! When I found a trailer I liked, I took a flyer and picked Melissa to contact. What a great choice! Melissa was a valuable source of information, she had questions I needed to ask, advise on what to do and how to do it. The support I received, her being available for questions through email, text and phone, made me feel like I had somebody really helping me to make the right decision. I found the trailer that will work for me, she helped me make an offer and worked with both myself and the seller to connect us and help the deal go through. I now own a really nice mobile kitchen and should be cranking out the sammichs by the end of next month! Melissa Powers, you rock! This has been a terrifically positive experience and I can only hope the rest of my business start up can go so smooth! thank you Melissa for all your help. Thank you Usedvending.com.

Michelle Yakovich,
The Perfect Bite
Tucson, Arizona

05/09/2016

My interaction with Julia and Used Vending was nothing short of great. Fantastic customer service, alerts to new items and arrangements for the pick up of the trailer that saved us 5 hours on our 13 hour drive from MD. to TN. I guarantee this company will make things easy.
Kathleen Keller,
Princess Anne, MD

10/07/2010

I received my best location from you guys. Connie was very personable and easy to talk to. I look forward to working with her in the future.

Thanks

11/13/2015

April helped facilitate our transaction very efficiently and provided great customer service! I will definitely use this service again in the future. Nicholas M. Wight Real Estate Investor
Legwork Investments 612.405.4295
nw.legwork@gmail.com
http://www.legworkinvestments.com

10/25/2009

April did a great job, the sale went very well and according to plan.

Thank you
Glenn
Loveland, Ohio

07/21/2016

Wendy,Thanks again for helping sell my concession trailer. I was very happy with the whole experience.I asked my buyer how he liked it. He said it was very easy and that you walked him through everything he needed to do. I will refer you and your company to anyone I come across needing your service. Best Regards,

Ray Rabenda,
Beacon, NY

05/16/2014

€Melissa Powers was a delight to work with. Her professionalism, experience and follow thru made our purchase effortless. I would recommend Used Vending and Melissa Powers to anyone looking to purchase in the future. €
Patti Miele
Catering Sales Manager,
White Horse Tavern Catering
Wellington, Florida


09/27/2009

When our church decided to purchase a drink machine for our fellowship hall, I was clueless on how to begin the process. I called 4Mega Vending Company. Because it was a used machine, I was originally skeptical. However, they were patient and helpful in answering all of my questions concerning costs, return in investment, up-keep, and models available for my situation.

After the purchase they delivered the machine and were helpful in walking me through the process of adjustments that I wanted to make, such as price changes, temperature control, etc. If I have a question, even after the warranty expiration, they have always been helpful in resolving the problem.

We have been extremely pleased with our purchase and our association with 4Mega Vending Company.

Sincerely,

Dr. Ed Ferlazzo
Minister of Worship and Administration
Haltom Road Baptist Church
Haltom City, TX

08/31/2015

I have nothing to say but positive things about used vending.com. Thank you Melissa for all your hard work and positivity. You made everything easy and fast. Definitely 5 *STARS* and I would recommend this to anyone. Thank you.
Matthew Hembree,
Wenatchee, WA



11/28/2010

What a FANTASTIC experience working with April and the usedvending.com site. I posted my machines and 2 weeks later they are all SOLD! I couldn't have asked for a smoother experience. No hassles! I should have done this sooner!!! April YOU ROCK!!!

PA

01/25/2010

Thanks alot for the great customer service that I have gotten. I've been trying to get into vending for a few years, and you guys (specifically April Hurd) have been MORE than helpful!
Marquette Marshall
Endeavor Enterprise Vending

03/05/2012

We have completed the sale of our concession trailer! Melissa was great to work with - from start to finish everything went very smoothly. We have already recommended Melissa and USEDvending to a friend of ours. Thank you!

Diane,
Plant City, FL

11/08/2016

Worked together with Wendy Byrd through the entire process of selling my truck. She made it so simple and painless to complete the transaction between me and the buyer. Sold my item in less than a week!! Great company and will definitely use USEDvending again in the future.
Faez Hallak,
West Palm Beach, FL

03/28/2017

Thank you sooo much for your time and patience with this purchase. You were amazing and we are excited to begin this venture asap!
James & Leslie,
Little Rock, AR

07/25/2011

Thanks Melissa, you did a great job! You worked tirelessly to find us a buyer and our sale could not have gone smoother once the buyer got here. He was very friendly, the kitchen trailer was exactly what he was looking for, and within minutes we were on our way to finalize the sale! We look forward to doing business with you again and I would highly recommend you to anyone!

Jill,
North Carolina

01/23/2011

Usedvending...One Of A Kind Melissa is awesome. She did an exceptioal job. everything went very smooth with the sale of two of my vending machines. Looking forward to working with Melissa again on the sale of my five other machines.Thanks again melissa. Great Job Usedvending!!! Sandra T. Crossville, Tenn.

02/25/2011

Thanks to Vanessa. Very friendly service. A pleasure to work with and look forward to more opportunities.

Chris, IL

11/03/2014

USEDVending is a great online site to get listed to sell your used/new vending machines. Usedvending staffs are professional and committed to sell the listed products as quickly as possible. In particular, Calice is awesome and she did her best to get sold my 7 machines in a short period of time. I'm a happy customer of usedvending.com.
- Sankar Egambaram,
Houstom,TX

04/11/2012

Another easy, smooth sale from Melissa! She was able to quickly find a solid buyer, who made an offer, and in 6 days we had finished negotiating, done the paperwork, and he had picked up the concession trailer! Thanks Melissa!!!

Jill & Al,
North Carolina

12/16/2015

Got 5,000 views after 3 days of listing. UsedVending.com found a buyer for me after a week. Quick responses back and forth from USED Vending. Great middle man. I'll use them again for sure.
Cody Nickson w/ Buffalo Tails
Lake Mills, IA

10/26/2009

Mega-Vending has brought good steady business our way!!!

Jeff,
Las Vegas, Nevada

02/19/2014

I was looking for a food truck to purchase and from the time I inquired about one until the day I drove it home, Calice Bilica, was such a tremendous help. She was there every step of the way with answers or any assistance that was needed. Thank you Calice for all of your hard work.
G.B.
Tulsa, OK

02/25/2016

I was more than pleased with the service I received from Melissa Powers with USEDVENDING.COM in the sale of my Concession Trailer. Her service was outstanding! Thanks again.
Bill P.
Fort Smith, AR

05/16/2013

The website was user friendly. Easy questions to answer. Received phone call right away. New vendor came out Tueday, 5/14 and installed a machine for us. Very friendly, courteous, and I feel will give us great customer service. Thank you for all your help. The staff are ecstatic to have a working machine!!!

Jnaie Kellett, Executive Director
Oregon

02/07/2012

To anyone looking to buy a concession trailer you should consider using usedvending.com. The staff is excellent, especially Melissa Powers. Every question and concern was answered in a sincere and timely manner. If Im involved with another trailer I will not hesitate to call Melissa.

Sincerely,
Jerry and Dee
Syracuse, NY

11/13/2015

I am very thankful for the company. The entire experience was outstanding, and quite simple. The trip I made from Nashville, TN to Oklahoma was long, but very worth it. I am happy with the services I was offered, and I wouldn't think twice about using them again in the future! Thank you!
Humerto Zarate,
Nashville, TN

10/06/2016

April: I wanted to write you a quick note to say how much I appreciate your helping me with the purchase of three vending machines I need for my business. Your insights, communications skills, dedication and enthusiasm made this a win-win for everyone. I appreciate your continuing follow up and demonstrated interest in helping me with this purchase. Again thanks again for your efforts to make this work for everyone involved.
Ed Williams,
Billings, MT

07/16/2009

I just wanted to say THANKS! for my recent experiences I have had with your company. I am new to the vending industry, establishing myself in January 2009, and am still learning the ropes with a lot of help from April and Kara. These two ladies are huge assets to your company! I can't thank them enough for the assistance and information they have given to me.
I was contacted by Kara in March 2009 about a medium size account in my service area. After meeting with the client, it seemed like a good fit, and I informed Kara of my decision. She handled the entire transaction smoothly and without a hitch; it was a very different experience then I have had with the few locating services I have dealt with.
At that point, I contacted April about the location. She listened to specifics of the account and made a recommendation as to which machines to consider. When it turned out that the machine we had chosen (an ST3000) was a little outside of my price range, April promptly arranged financing for the equipment. Considering the recent state of the credit markets, and the short length of time I have been in business, I was relieved to say the least!
The machine was delivered with no problems and has been on location for about a month now. Everything is working great and the capacity of the unit seems a perfect fit for the account it is in. Thanks again, April and Kara, you made this the easiest account that I have!
Joshua J.
Milpitas, California

01/27/2016

The experience was great!! Melissa helped made the process easy! I would recommend this company anyday! The service was AWESOME!!!
Latoya London,
Zachary, LA



02/09/2012

Had a wonderful experience with used vending. Any question that had was answered in a timely manner. Melissa Power was wonderful. Great job Melissa. 2👍up!!!!

Anthony,
MS

07/11/2009

I enjoyed working with Melissa. She was very helpful and answered all of my questions. I sold my machines in only a few months.

Greg,
Mississippi

08/23/2012

Wonderful wonderful!!Not only was the product delivered in 30 minutes flat, they helped move out our old machine that our past vendor has not moved. So professional and extremely exceptional service!!!

K.T.
South Bend, Indiana

08/20/2009

I had a very positive experience working with Melanie. She was able to answer all my questions and responded to my emails in a timely fashion. I look forward to working with her again.

Mickey
Youngstown, Ohio

06/28/2010

Working with Melissa has been a pleasure. Not only was she courtious, prompt in returning phone calls and e-mails but she made sure our transaction ran smoothly. She even provided her cell phone number in case we had any questions after hours. Thanks Melissa for making this easy.

Barbra, GA

02/16/2015

Wow!! What a great group at Usedvending. They are the best. The sale of my trailer could not have gone better. If I am buying or selling, I will always go to Usedvending. They are they group to trust.
Stuart B.,
Burnet, TX

01/26/2011

"Customer Service" is a term that has been used very loosely and often misused. But any time I had to deal with you guys, I knew that I get a straight answer and clear instruction on what you could do for me and in return what are my obligations. There was no empty promises nor dilatory responses. I knew exactly when and what would take place next. This service approach along with the pleasant phone conversation with Vanessa Long, makes a very positive business experience. One initial e-mail and one follow up phone call took care of the business. With my crazy schedule, I appreciate this quick & straightforward service and Vanessa is always a joy to contact, to wrap up the business. Keep up the good work guys.
Thank you.

MTPVending

I was scared of doing any business on the internet because of all the scams that are going on. This company is very professional, explaining every thing as they go. Melissa is an absolute business lady with exceptional interpersonal skills and I am very pleased with the service I received from her with the sale of my vending machine.

M.M.
Rosedale, New York

03/30/2016

Hi Mr. Greg, It was really nice working with your company. Transaction was really easy and simple. Just by listing on ur website helped me sell my truck. I would for sure recommend your company in future and will come back to do business with you guys. Thanks.
Joe S. Sandhu
Elk Grove, CA

They helped by giving a location with the amount of people I asked for! i would recommend them to anyone looking for leads in location for vending machines!

Art Pineda
Colorado

05/24/2017

When we decided to purchase our first concession trailer, we searched every web site we could find. We found that UsedVending was the one we kept returning to. They give you answers to any question you may have on any equipment you may be interested in. I worked with Melissa and Wendy. They were patient and helpful every step of the way. We traveled almost 800 miles to pick up our trailer, and Wendy made sure I had her cell number and schedule in case we ran into any problems. Thankfully, everything went well, and the trailer was just as described. I have already, and would definitely again recommend UsedVending to anyone in the market for vending equipment. Thanks for making our experience one that we can look back on with great memories and no regrets!
Dawn Jones,
Moss Point, MS

09/29/2009

This was our first foray into the vending machine world (we got a mechanical snack/drink combo for our learning center). It has definitely been a learning experience! But, after doing quite a lot of research, we found that Mega-Vending had the best prices and the widest selection. We worked with April who was always supremely responsive both over the phone and on email.


As I sat down with my tools to try to figure out the mechanics of some of our initial problems myself (and I did!).... I felt confident that if I couldn't find the problem, April, or someone in her office would help us out. She stayed with us through the whole process (even though her role was essentially done) and I don't think that you can ask for more in terms of customer service.

If you're thinking about vending machines, they are trickier than they look -- but Mega-Vending was definitely great about the support.

Los Angeles, California

07/17/2013

Once again, Stacy came through like a true Champ!! He worked closely with me providing all the behind-the-scene back-up I needed to help me land a new account!! 5 Gold Stars for you, Stacy!! Yours is the only referral service I use and you are absolutely the best!
Jackie
- Downingtown PA

10/20/2009

Melanie Lee was very helpful in assisting me to obtain the vending company that was right for our company. Thank you Melanie for all of your help!

Lisa
Buffalo, New York

04/26/2017

I had been searching for a used food truck for quite a while, basically striking out on all the common internet sites (E**y, C*****list Etc) After during an extensive search I came across Usedvending.com. From my very first phone call through to my final purchase Usedvending was their to help and guide me through my purchase of my food truck. My agent Bradley was extremely knowledgeable on all facets of the purchase. From equipment, to negotiation, to closing the deal. Bradley and the team were there every step of the way. I highly recommend Usedvending.com as your one stop source for buying vending equipment.
Bill Berenson,
Traverse, MI


09/04/2012

I run an industrial catering outfit and was in need of some extra catering trucks, upon some extensive reasearch on the internet, I found used vending and got to talk to melissa. She really helped me in what I needed to do all thru the process and she even called Mississippi DMV to find out some things as far as me having them transportated back to Ohio. I would reccommend UsedVending and Melissa for all my needs, I had a great experience.

Von Troy,
Ohio

04/15/2014

I've spent months looking for the right food truck- April saved me so much time and effort, she found me what I was looking for in a week. I'm very happy I went the usedvending.com way. Better then sifting through the crazies on craigslist!
Jason Masek,
Corpus Christi, Texas


12/28/2010

Melissa,
Thank you so very much for everything you've done for Greg & I. Where do I email a letter of how well we were treated!

Sincerely,
Greg & Colleen

05/31/2016

I had a great experience having my concession trailer sold through Usedvending.com. Thanks to Wendy for handling the transaction and making everything simple and easy for both myself and the buyer. If I ever need to buy or sell another trailer, I will be sure to go through usedvending.com.
Thanks to all of you,
Morris Jackson,
So Sweet Icy TreatsCalhoun, Ga

02/25/2014

We were thrilled with the level of service and professionalism we received from your company. We had no idea the trailer would sell so soon!!! Only listed a few weeks and the next thing we knew it was a done deal. Couldn't believe how easy the whole thing was. Thanks again for your help, you were amazing.
A.B.
Kilgore, TX
See Hundreds more or Write your own...