MONTANA
Montana Trailers & RVs for Sale! Buy or sell used trailers in Montana – we have used RVs, used horse trailers, used camper travel trailers, used heavy equipment trailers, used dump trailers, used livestock trailers, etc… AllUsedTrailers.com brings Montana safe, easy transactions of buying used near you!
DISPLAY OPTIONS
Item No: MT-DT-495H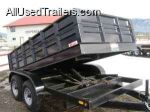 7x12 Dump Trailer!!!
This is a brand new trailer. With brakes and 16" tires. Has a GVW of 10,000.
$6,325. Columbia Falls, Montana.
Call Stacy at 601-749-5660, or click the REQUEST button below to email for more info on this trailer.
Item No: MT-DT-496H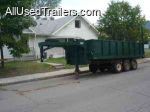 16' Gooseneck Dump Trailer!!!
This is a heavy duty trailer that has newer paint, deck and hydraulic pump. Pulls and opperates well.

$5,700. Missoula, Montana.
Call Stacy at 601-749-5660, or click the REQUEST button below to email for more info on this trailer.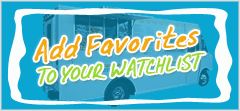 Login to Inquire Online
Call: 601-749-5660
Customer Experiences
06/27/2017

I would definitely recommend used vending for my leads and to acquire more equipment April was awesome at helping me get the job done and was super professional and was happy to help me when additional time was needed, I look forward to working with April again here soon.

Lennie Blevins,
Wichita, KS

03/02/2016

April, One again you have proved that working with you and usedvending.com is pure ease and a pleasure. You've made my small business a growing force. I will always search your site first when looking to add more machines in the future. Thanks again, and I'm sure continued business in the future. Thanks.
Lance Heutel,
DeSoto, MO

10/14/2010

I WOULD LOVE TO THANK MELISSA FOR THE CUSTOMER SERVICE AND PERSONAL TOUCH WHEN COMMUNICATING WITH. HER VOICE IS PLEASING TO LISTEN TOO AND SHE BECAME MY ANGEL WHEN SHE HELPED US SELL OUR TRAILER. WE HAVE BEEN TRYING FOR MONTHS AND WITH IN ONE WEEK ON THIS WEB SITE IT WAS SOLD. THANK YOU SO MUCH FOR YOUR BUSINESS. TAKE CARE AND GOD BLESS YOU AND YOURS.PEACE OUT SISTER TAMARA

11/16/2016

Melissa, Thank you so much for your assistance in the purchase of my new concession trailer! I had a great experience with you and your company. Everything went through without a hitch and we were able to bring our trailer home within 2 weeks of putting in an offer! I will definitely do business with you again and recommend you to anyone who may need your services. Thanks again!
Sincerely,
India Holland,
Holcomb, MO

11/02/2016

I couldn't be happier with my experience with UsedVending.com. The hot dog cart I bought is in fantastic condition for a great price, and Wendy made the process seamless. It was 100% quick, easy and a great overall experience. I've been looking for a while at multiple sites, and I'm glad I found what I wanted on UsedVending.com.
Jerry Patterson,
Sewell, NJ

11/09/2009

April got me the best deal and it shipped quickly! Thanks so much!

Elkhart, Indiana

02/19/2014

I was looking for a food truck to purchase and from the time I inquired about one until the day I drove it home, Calice Bilica, was such a tremendous help. She was there every step of the way with answers or any assistance that was needed. Thank you Calice for all of your hard work.
G.B.
Tulsa, OK

03/17/2016

April was very helpful, both machines I bought work great they are both up and running, transaction went smooth the seller was very helpful & explained everything about the machinces- also help load. Thank you.
Don Cosette,
Antigi, WI

01/29/2012

I've been in business with 4megavending since 2010 and they are GREAT! Stacy Sweet is very professional and easy to work with. I'm blessed to be in business with them.

Wesley Chapel, Florida

03/03/2017

Hey Wendy Jim here Just wanted to say thank you for all the help you gave me in purchasing the trailer. Everything went off without a hitch (no pun intended). You did a great job with the sell. I really appreciated all the fine assistance. I would surely recommend you and your company to anyone that would be interested in your service. Thanks again.
Jim McDaniel,
Charleston, WV

12/22/2014

I don't know how to say. I only know your people have good service. And your company is very good for truck buyer and seller :)
 ‡ ˆ " Xi Lin
Malden, MA

Melissa was a great help with helping us buy a food trailer in Atlanta Georgia. With out usedvending.com the transaction would not of happened. I would of bought a lesser trailer locally. Thank you for your help. God Bless Brad & Rea San Angelo, Texas

10/25/2009

I am not in the vending industry so I didn't know a lot about the product. I had looked at many machines, both new and used, which only added more to the confusion about what to do. Somehow I found April Hurd and she took care of everything. She was very informative and helpful and her follow up was great. I ended buying a new machine and it has been great.

Thank you very much.

Mark Winkler
Huntersville, NC

After advertising my concession trailer for more than 4 months on various advertising outlets on line, I was approached by Melissa with UsedVending.com. I have to admit, at first I was a bit skeptical. Within a week, I already had an interested buyer but we couldn't quite close-in on the price, but there were others shortly afterward. After less than 2 months of advertising on UsedVening.com, I had the buyer I had been waiting for nearly a half year, and he was very serious and willing to pay the asking price to get what I had originally wanted for the trailer in the beginning. After a couple of days, the deal was pretty well buttoned up. I'm very fortunate to have been approached by Melissa and glad that she convinced me to list the trailer with her. After all is said and done, I wouldn't list it with anyone but UsedVending.com. They were very fair and professional throughout the entire process. Thanks Melissa and if I ever have a similar need, rest assured, you will be the first person I call.
Jason Bell
Plano, Texas

11/12/2015

To whom it may concern: I have recently purchased some used vending machines through UsedVending/MegaVending and worked with April Hurd as the broker. After explaining my intentions, and the time frame I was interested in, she immediately contacted the seller and coordinated the transaction THE SAME DAY! Words can not express how pleasantly surprised I was to actually complete the transaction in the same day. But she didn't stop there...she also made sure both buyer and seller had the appropriate forms filled out, and paperwork completed. There were no "surprises" in the transaction, and her customer service was EXCELLENT.

Since completing the transaction, I now intend to continue working with MegaVending to find new locations for my vending machines. Hopefully, I will still be working with April on that part as well, as working with her has been a refreshing change from what I'm used to with some other companies.

Customer Service is a largely overlooked area, but it is of utmost importance as well. Because April has provided such excellent customer service, your company will continue having my business in the future. She really shines...and your company would be very fortunate to have more employees like her!

Regards,
Steve, General Manager
Maranatha Vending LLC
Indianapolis, IN


12/09/2010

Thank you for all of your help in obtaining our two machines last month. You made it very easy and the transaction went smoothly. We appreciate your patience in helping us get this done. If we need more machines, you will be the first one we call.........you made things so much easier than we thought possible!!

Darwin,
MO

Thank you for helping me find the Great Deal I received by going to your web site. I was surprised to find that I could get machines in such great shape at such an extremely low price! The final cost came in even lower that we had first discussed due to your hard work on keeping the shipping cost down. The service I received was second to none. My machines are all placed and are operating just like new.
Thank you again and God Bless.
Ricky

10/15/2009

Melissa was just the BEST person/middleperson for the job of finally getting rid of my machines! She was persistant and consistent and I truly appreciated all her efforts!

Thanks Melissa!

Jessica
Gainesville, Virginia

05/11/2016

April,I wanted to thank you for all your help and guidance that you gave us during this process. We are certainly new to the vending industry and you went out of your way to show us the ropes. I am excited about the opportunities that vending offers and there is no doubt that we will be calling you in the future as the business grows. Thanks again and God Bless.
Gerrad Hicks,
Helena, AL

07/12/2013

Cristina Lumpkin was AWSOME, said she would sell my food bus fast, and that is exactly what she did. Within just a few days I had a full price offer, that buyer backed out and within a few hours she had another buyer that bought it, full price. NO hassles, the transaction went just like she promised. I will call Cristina again when I have more items to sale. You should also. Nice work Cristina, you know what you are doing, GREAT customer service. Thanks.
Roger
Orangevale, CA

09/03/2016

My experience was great! Everything was so easy. All my questions were answered in a timely manner and my contract to purchase the trailer I liked was easy to understand. I hope to expand my new business, and I know you will be there for me when I do.
Kelly Pulver,
Ocklawaha, FL

04/28/2016

Thanks for all your help Greg. You found a buyer very quickly and assisted me along the way. The process with your business could not have been easier- especially with a difficult buyer!
Amy Shepherd,
Woodstock, GA

10/17/2012

Mad Sam's Mobile food unit is up and running in the Kentucky area....Would not have been possible without the wonderful help from Melissa..she answered every question ( being new at this I had a bunch )and if she didn't know she would find out....anyways she did a wonderful job and I wouldn't hesitate to use them again........

Mad Sam's in Columbia KY - Stop by and see us

12/29/2011

I presented a delima to Stacy Sweet and he came through like a champ! We ordered 4 machines for a vending contract we were awarded at the last second. We ordered the machines on 12/21/11 and HAD to have delivery NLT 12/29- as you can imangine this presented quite a problem with shipping being so close to the Christmas holiday. Stacy went above and beyone the call. The original shipper backed out on the delivery date and Stacy worked his tail off securing another shipper who delivered my machines on time and in great condition! Your company is lucky to have an employee who cares that much and is willing to go the extra mile for excellent customer satisfaction.

Carthage, MS

01/14/2017

I had reservations about weather to believe selling with Usedvending was real or a scam. Well I found out it's real. Bradley did a great job from start to finish. Thanks Bradley.
Alan Michael,
Anna, OH


02/17/2011

I enjoyed working with Mellisa, she made it easy to sell my vending machine and the seller the company found was nice to deal with also.

Sincerely,
Lou P.

02/19/2014

I recently purchased a 32-selection vending machine from Megavending.com (my 2nd purchase in as many years). I have been extremely pleased with both my purchases and customer service. April was unbelievably nice and helpful. All of my future purchases will be done using Megavending.com. They truly are top-notch!
B.R.
Houma, LA

06/07/2008

USED VENDING, I wanted to express my appreciation for the great job that Used Vending has done for me. I am just starting into the vending business and have spent hours and days doing research to be certain I can make a profit and it is something I would be happy doing. Your company and especially Mellissa and April have listen to my questions and shared their experience and knowledge with me. They have cautioned me in areas that I need to understand and have guided me with helpful advice that will increase my probability of success. I have just bought my first 17 vending machine and will be buying more as I learn this business.The machines were as advertised in excellent condition and dramatically less than a new machine. I know I will increase my probability of success because of the information that Mellissa and April have shared with me. I sincerely appreciate the time and effort your company has extended in helping me to get into the vending business

Thank You
Carlton Faulconer
Lake Forest, CA

02/11/2014

We just sold our concession trailer at Usedvending.com and it would not have been possible without the kind assistance of Melissa Powers! She was patient, informative and overall amazing! Despite our skepticism about selling a large item online, she made the transaction happen so smoothly and answered all our questions,and we had a lot! Thank you Melissa!!!
J.M.
Bakerfield, CA

02/24/2016

USEDVending made selling our items so much easier, really appreciate all the hard work they go through to pair buyer/seller together!
Patrick Davis,
Plainfiels, IN

01/11/2017

April, thanks again for all your help in my purchasing the yogurt machines. I had a genuine feeling that it was actually my interest that you were most focused on. It went a long ways in helping to get this deal done.
Thanks again,
Kevin Harper,
Sugar Land, TX

02/23/2017

My journey to find an affordable, suitable, usable mobile food trailer started on *****slist and *bay with no luck. I then found and ended up using the services provided by usedvending.com. My search was like finding a needle in a haystack due to the strict mobile food plan codes dictated by Los Angeles County. I ran into many obstacles in finding the right trailer (such as no exhaust system, no drainboards, floors not coved, no emergency exit, etc...) but I did not give up.I was patient and consulted with Melissa Powers at Usedvending for almost a year. Melissa was very patient with my search and updated me on every potential mobile food trailer that met my requirements (which was very specific). The search ended when Melissa aligned my search with a seller that had a trailer with all the requirements to meet my business needs. Melissa handled the seller/buyer communication and purchasing process very professional and made things easy to understand for me. The trailer that I ended up purchasing had all the cooking equipment's and so much more! It even came with 2 large size propane tanks, a generator and a power converter! The trailer was very clean, equipment's well cared for and even had screened sliding doors, AC and heating! Who would've guess? I would be paying double or even triple for the same trailer anywhere else. I am overly satisfied and enthusiastic about the quality of the trailer and the money that I saved. I am now in the process of starting my mobile food business thanks to usedvending.

I would especially like to thank Melissa Powers at usedvending.com for all her help, guidance and encouragement on this long journey on finding the perfect mobile food truck and at such a great price. Without Melissa and usedvending.com, I would probably still be on the search for my trailer. I highly recommend the services of usedvending.com for your mobile trailer needs. Don't waste your time with any other sites (trust me, I've used them all!)

Thank you Melissa Powers for your professionalism and superb customer service at usedvending.com!

Pang Kue,
Castaic, CA


04/22/2013

Thank you for all your help in selling our food truck. The process was quick and painless.
I.R.
Miami, FL



01/20/2015

Melissa Powers with Used Vending has been working with me on my purchase. I really appreciated all her help in the purchase of the food trailer. With her help and knowledge the transaction was a breeze. I recommend them Very Highly, they are very professional at what they do.
Geoffrey Hubbard
Roselle, NJ

01/07/2017

I recently purchased a truck through this site. Bradley Heath was extremely helpful throughout the entire process. Bradley went out of his way to make the transaction smooth and was there to answer all of our questions/ concerns at any time. Thank you for all of your help Bradley.
Jim Coponi
Colonia, NJ

02/11/2011

Vanessa made our whole transaction so easy. She was very informative in our first conversation. A vendor contacted me the next day. Everything was installed the next week. Couldn't ask for better customer service. I would recommend your company to anyone needed great vending service!!

C Jennings, GA

02/15/2017

Used Vending, I wanted to drop and note and say thanks to your company and the EXCEPTIONAL SERVICE provided by your representative Jennifer. Words cannot express how much I really appreciated her professionalism, communication and guidance throughtout this process. I have already been spreading the word about your company and will continue to recommend your company to others in the future. Thanks again Jen and the UsedVending.com company!

Andre' Johnson
Southfield, MI

10/20/2009

Melanie Lee was very helpful in assisting me to obtain the vending company that was right for our company. Thank you Melanie for all of your help!

Lisa
Buffalo, New York

06/22/2011

I was pleased to work with everyone there. Stacy Sweet was very helpful. Would definitely buy from them and recommend them. Not hard at all buying from a company so far away from my state.I am happy with there services.

Janice, OR

02/01/2011

April did a great job for us. I had no knowledge of ordering a vending machine, and she made it so easy! The price was great, the service was amazing and we had a great vending machine in a few days! Thanks, April! You have our business for good!

Nancy Jones
PHCC Texas
Buda, Texas

03/17/2016

I signed up with 4Vendingtips.com to get locations for my machines and have gotten several good accounts. April Hurd is the best. She is so nice and helpful. Thank you.

Jeff L.
Oceanside CA

07/08/2015

Calice did a wonderful job with my Smoothie Cart Sale. She was always responded in a timely manner and worked through the entire sale with me. I ran into some complications with the seller but Calice had my back and made sure that the sale was conducted in a professional, safe, and fair manner. I would highly recommend her and Used Vending.

Mustafa Malik,
San Diego, CA

08/20/2009

I had a very positive experience working with Melanie. She was able to answer all my questions and responded to my emails in a timely fashion. I look forward to working with her again.

Mickey
Youngstown, Ohio

11/09/2016

Thanks Bradley for helping us sell our food truck. I had it listed with your company for less than two months and started getting hits fast. Your team was extremely nice, professional and helpful. If there was a question, you were right there to answer. I would definitely do business with you again and I thank you for helping me sell my truck.
Respectfully Submitted,
Dan Deramus,
Winter Garden, FL

11/28/2010

What a FANTASTIC experience working with April and the usedvending.com site. I posted my machines and 2 weeks later they are all SOLD! I couldn't have asked for a smoother experience. No hassles! I should have done this sooner!!! April YOU ROCK!!!

PA

03/09/2015

My experience with Used Vending was great. The service I received was wonderful. I found the unit I was interested in and Used Vending secured the sale for me.
T. Lewis,
New Orleans, LA

12/01/2016

Hi Usedvending, it's Tom from Comfort Cruzine food truck - we just sold, thanks to the great people you have on staff, especially Wendy Byrd. She answered any and all questions went out of her way to make this sale happen, thanks again and happy holidays.
Thomas Wilson,
Howell, MI

10/20/2009

april did a exceptional job for me a true professional all the way good job april. i will buy more from her when i need them.

Pea Ridge, Arkansas

11/24/2015

Used Vending provided great service. Melissa Powers was the representative that helped me, she was very helpful and professional. I had been trying to sell my food truck for a year and had several candidates interested but none had the capital. Used Vending found a buyer from Texas. I appreciated that UsedVending only contacts you if they have a buyer with the money ready. Melissa was very knowledgeable, she coordinated everything perfectly with me and the buyer from Texas. I would strongly recommend this company.Thanks Melissa & Used Vending.
Martin Ruiz
Marietta, Georgia

11/14/2013

Outstanding customer serivice! Great communication skills! April Hurd was able to help me 100% with all my concerns about the product I purchased today. I couldn't be happier with my experience over all. What an amazing job, April! Thanks for all your help.
Guillermo H.
McHenry IL
See Hundreds more or Write your own...