DELAWARE
Delaware Trailers & RVs for Sale! Buy or sell used trailers in Delaware– we have used RVs, used horse trailers, used camper travel trailers, used heavy equipment trailers, used dump trailers, used livestock trailers, etc… AllUsedTrailers.com brings Delaware safe, easy transactions of buying used near you!
DISPLAY OPTIONS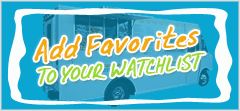 Login to Inquire Online
Call: 601-749-5660
Customer Experiences
08/04/2010

Used Vending was very helpful in assisting with the purchase of a concession trailer. Melissa did a super job keeping me posted on the status of the transaction. Thanks for all your work!

Lynn Roath, Jr.
Grass Valley, CA

10/03/2010

When I put my concession truck on USEDvending.com I thought that I might get a call or two. Boy was I surprized!!! In just 3 weeks my truck has been sold due to the hard work of Melissa Powers. She was very professional and consistant in persute of finding the right buyer for my unit. I would like to thank you Melissa and USEDvending.com for a job well done.

Kentucky

06/04/2015

I've had a really positive experience working with you at UsedVending.com. You got a fair price, were easy to use and had nationwide reach for selling our truck. You were great to work with in arranging the details and keeping us up to date on where in the process everything was. I would have no hesitation using your services again!
Thanks,
Art Garcia
Long Beach, CA

02/20/2012

Tara was amazing. Being a businesswoman myself, I was very impressed with the fact that Tara was available every time I called. A+ service. Looking forward to future business.

Tia,
South Carolina

04/15/2009

We had a positive experience in dealing with both Melissa and Cheryl at Used Vending while selling our hotdog cart. We had placed our cart on craigs list and had not received any responses when I did some research and found Used Vending online. I first talked with Cheryl, who helped me with providing a write-up, pictures and made suggestions on the price. After not receiving any calls, I called Cheryl and asked for suggestions - we lowered the price and waited patiently. Not much longer and it was sold. It was great to let someone else deal with the customer and negotiate and all we had to do was show it and let them take it home. If there is a need to sell concession equipment in the future, we will definitely call Used Vending and specifically ask for Cheryl and/or Melissa.
Thanks.
Starla Peninger
N. Richland Hills, Texas

08/21/2011

All I can say is Stacy rocks! Quick and dependable!

Shannon B.
Arlington, TX

10/07/2010

I received my best location from you guys. Connie was very personable and easy to talk to. I look forward to working with her in the future.

Thanks

04/02/2015

Hi Calice. My experience with USEDvending was productive and efficient. Within a week of the notification the deal was "done" and the paperwork was signed I met with the buyer and finalized the deal. Two days later he had his machines and was pleased with his purchase.
Cathy Parsons - Healthy Snacks 4 You :-)
Elkton, MD

06/20/2012

Amazing experience - everything went so smoothly. Melissa did a great job with communication on what the next step and kept us very informed. Thanks.

Fran,
IL

03/06/2013

Very good doing business with Amanda and Calice, when we finally got the machines priced correctly.

G.B.
Oak Lawn, IL

08/01/2016

Short and sweet, April is the absolute best at helping people close deals, she is the best.
Don Goeldi,
Chilton, WI

07/16/2012

Melissa at usedvending.com was spectacular !! We purchased a concession trailer and could not be more pleased with her professionalism and the quality of the new business we purchased. She was always available to answer our questions and the turn around time on return calls was very efficient. She really takes the time to ensure everything is covered for a smooth transaction.

Erika and Rob
Ontario, Canada

05/01/2014

It was a long wait for us to connect with the right owner and Melissa Powers was there for us throughout the process. She would call with what seemed like strange questions, but she was doing due diligence to the buyers requests. In the end, we were connected with an enthusiastic buyer (and 3 others highly interested)who will have a bright future because of Melissa and Used Vending!
Susan
Laurel, MD

08/23/2012

Thanks to Calice for connecting me with the Seller of a used vending machine. Everything about the transaction was handled well. All of my questions were answered in a timely manner and there were no unforeseen circumstances. The seller was honest and worked with our pick-up issues. Expectations were certainly met!

M.B.
Irwin, PA

10/29/2009

I had some used vending machines I had been trying to sell for a couple of years.

Melissa did a great job not only finding a buyer, but facilitating the whole transaction.

When I ran into a big problem at the time of the sale, Melissa took care of it for me immediately.

I had a great experience with Melissa and UsedVending.com and I would encourage anyone to give them a try.

Sincerely,

Karl Hummel
Live Oak, Texas

03/04/2013

Very nice doing business through your site.
D.H.
Whittier, CA




02/11/2014

Melissa Powers was a pleasure to work with and really made it a smooth transaction. I never felt pressured into a decision or rushed. With patience Melissa answered every question and I had a lot of them. I would definitely recommend UsedVending.com. Great Experience. Thanks Melissa.
Justin B.
East Windsor, CT

06/15/2012

I would like to say Thank You to Calice and Usedvending.com for being proactive in finding a buyer for my Combo Vending Machines. Service from start to finish was outstanding for a first time seller.

Norman,
Staten Island, New York

10/15/2013

I purchased two food concession trailers recently with Melissa acting as my broker. One of the trailers was 700 miles away. I was able to make all arrangements through Melissa, including inspection. She handles all details flawlessly. The trailer was picked up and delivered through a third party transporter. The only hitch in doing business with UsedVending is the hitch used by the transporter. Needless to say, I am a totally satisfied buyer and would gladly use Used Vending the next time I am in the market for a trailer.
Stephen W.
Miami, FL

07/26/2014

Well first of all, I sold my truck at the price I was looking for and Melissa is on the ball. She has her act together and great in customer service before and after sale with a great attitude and very customer friendly. I posted another truck with used vending because im very satisfied.
Jeanpierre Lareau
Saratoga, NY

04/26/2017

I had been searching for a used food truck for quite a while, basically striking out on all the common internet sites (E**y, C*****list Etc) After during an extensive search I came across Usedvending.com. From my very first phone call through to my final purchase Usedvending was their to help and guide me through my purchase of my food truck. My agent Bradley was extremely knowledgeable on all facets of the purchase. From equipment, to negotiation, to closing the deal. Bradley and the team were there every step of the way. I highly recommend Usedvending.com as your one stop source for buying vending equipment.
Bill Berenson,
Traverse, MI


09/18/2017

I started with taking a call from UsedVending wanting to list my food truck I had listed on Craigslist. I was appalled and assumed was a scam so I told them don't call back. After a few days I looked in to the company and appeared it was a legit site. I listed the food truck and in 6 weeks I had more leads. Melissa was awesome in texting me with questions for buyers and sending information to them. Little over 6 weeks they had a buyer that came down and bought the truck with no hassle or issues. I got the amount I wanted with no hassle and Used Vending was right behind me the whole way to make sure it was done right the first time. Now I am looking to buy something else and I know where I plan to start looking. I give them a 9 out of 10 for service, work quality and website design.
R. Havens,
West Plains, MO

07/02/2015

Hi Crissy! This is Kim & Jay - the Pico De Guyo people! We wanted to let you know how pleased we were with the service we received from you and USEDvending.com. From the first phone call we made, it was EASY for us to get our truck listed, updates made, and questions answered. You provided our first qualified buyer within 10 days of listing, and 3 weeks later our truck was sold! We love how you have designed your service so that sellers don't have to come up with any money to list their truck - and your system really works! Thank you for the great service you are providing to those of us in this industry! We would definitely recommend you to anyone looking to sell their truck! Thanks again!

Kim Walgren,
Buffalo, WY

10/16/2009

Couldn't have asked for a better person to work thru to get what I wanted done.

Ed in Texas

12/16/2015

Got 5,000 views after 3 days of listing. UsedVending.com found a buyer for me after a week. Quick responses back and forth from USED Vending. Great middle man. I'll use them again for sure.
Cody Nickson w/ Buffalo Tails
Lake Mills, IA

03/31/2016

This was our first time experience using USEDvending. We were a little nervous and apprehensive but the experience ended up wonderful. Special kudos to April. She made this whole deal seem effortless and was a pleasure to work with. Thank you. PS To Upper Management- April needs a raise.....
Carole Rodgers
Casanova, Virginia

11/14/2013

Mellissa and staff were great to work with and prompt to respond to questions as we progressed through this transaction. We would recommend them to prospective clients and hope to do further business!

Barbara and Jay Buckert
WA

10/22/2009

Used vending sold my used vending machines Melisa handled the transaction it was a hard transaction. MELISA handled it very well and all parties were very happy and the transaction was very good. Used vending lived up to all of ther agrements. I am very happy with Used Vending and am looking foward to doing futcher
business with useed vending
sincerly
Eddie
Salisbury, MA

03/05/2012

Purchased some machines, working with Calice made the purchase easy and enjoyable. I will be buying again. Thanks Calice for a job well done!

Mike,
Venice, FL

04/10/2014

Hello April,
I wanted to drop a line and Thank you again for the wonderful experience I had in dealing with you. The process on my end was much longer than expected. In fact about 6 months longer than it should have been. During that time every obstacle that came up you had a solution for. You made me feel as if I was your only customer with quick responses to all my questions. I would definitely recommend you to anyone who is need of your company's products and/or services. Please feel free to share this with your superiors or prospective clients.
James Z.
Oakwood Village, OH

09/24/2009

I have been working with April at USED vending for 2 years now, and I have ALWAYS received fast and friendly service. I would recommend USEDvending to anyone that needs new or used vending parts!
Jeff Eversman

Fairmont, Minnesota

03/29/2016

Looking for a snow cone trailer on line I found UsedVending.com, I never heard of this company before and to be honest I was very, very hesitant; so to be sure I called to the brokers first and they contacted me right away. I noticed that UsedVending.com was a serious place to trade. After a couple days I found a snow cone trailer that I liked , so I contacted Mrs. Julia Hodges, the perfect broker that I needed for my transaction. She is very professional and helpful, all the transaction went easy, smooth, and successful. Now I'm very happy with my snow cone trailer ready to start my own small business I absolutely recommend UsedVending.com, is a safe place to trade. Thanks so much Mrs. Julia Hodges for your help, you are a real professional broker full of knowledge and skills, thanks so much. God bless you. .
Jordan Bahena
Visalia, CA

10/10/2016

I was so very pleased with the expertise shown by Bradley and Melissa. Bradley worked with me very closely with numerous potential buyers, and then Melissa followed up with finding the buyer who eventually bought my truck. All of their actions were extremely professional, and they were very friendly and helpful. I cannot imagine having tried to go through the selling process by myself, and these two and the whole company really helped me to get the truck sold in a very timely manner. I also have now decided to sell some of my restaurant equipment as well on the site. I am very pleased with usedvending and I would recommend them to everyone.
Paul Francel,
Piedmont, OK

03/15/2012

I have been using Usedvending.com for the past 6 months or so. They have posted great pictures of my food cart and a very descriptive ad.

Steve,
Aurora, OR

09/22/2009

April was very helpful and especially nice and professional. She was able to answer all my questions quickly and accurately. She was a pleasure to work with and would not hestitate to call her again if I needed further assistance. Thanks April for a job extremely well done.

M. Pate
Normal, Illinois

03/07/2017

Hello Wendy I like to thank you for your wonderful service. Buyer and seller are 100% satisfied with our experience in the transaction. I thank you again and in the future I will used your services. Best.
Adan,
Carson, CA


04/02/2015

Great Experience.. Fast Deal Very Professional... Machine was exactly like described...friendly staff.
J. Marion, Wellsville, NE

10/15/2009

melissa did a fast and wonderful job selling my machines thank u. od

Raymore, Missouri

I can't even begin to tell you how wonderful, helpful and proficient our sales rep April Hurd was in getting us started in our vending adventure. She was so fast at getting a response to all my needs. We couldn't be happier with our combo machine! We will continue to work with April as our business expands as I couldn't imagine going to anyone else. Big thanks MEGAvending and April!
Jessica Anderson,
Ridge, New York

I would like to say I had the BEST experience ever! Tara at ext 15 was AWESOME and provided the absolute BEST customer service and I would reccomend her or your service to anyone. If I ever purchase other vending machinces I will definitely use your service again. Thank you once again for the best experience ever!

10/25/2009

4 vending the best. I highly recomend 4 vending, very professional company and the staff Melanie lee, April, super, very helpful. I will definitely use 4 vending in the future. Very good locations. DLara vending.

Westmont, Illinois.

08/23/2012

Wanted to drop a line to tell you that it was a pleasure dealing with 4megavending.com and Stacy. I had quite a few questions before my purchase and Stacy was informative and helpful in helping me pick out the right machine for our office. Ordering was easy and once the machine arrived it only took us @30 minutes to get it unpacked and running. Keeps the drinks colder than I expected. Thanks again for all your help Stacy. Look forward to working with you in the future.

R.M.
Baton Rouge, LA

08/22/2009

Hi April, I wanted to get back to you.

In my dealings with you I have been very impressed with your customer service skills and your willingness to go the extra mile. Your attitude is both refreshing and greatly appreciated. I wish every business that I dealt with had your friendly demeanor as well as your knack for following up.

Thank you so much for all of your extra efforts. It is my pleasure to work with someone who is so committed to helping their customers.

Best regards,
John
West Haven, CT

Hello Julie, I just received the shipment. That was fast. I really appreciate your help and I'm very impressed how fast you filled and shipped my order. I'll be ordering 20-25 more machines in the next two or three months. I'll definitely be in touch when the time comes. Thanks again,
Randy P.

09/01/2016

Overall the process was really nice. It's a little scary when you're not sure if you have a real buyer or your just being stalled until one can be acquired with all the scams out there now. You helped me hang in there and assured me there was a buyer on the other end of the deal- thank you.

Roderick McClendon,
Houston, TX

05/24/2017

When we decided to purchase our first concession trailer, we searched every web site we could find. We found that UsedVending was the one we kept returning to. They give you answers to any question you may have on any equipment you may be interested in. I worked with Melissa and Wendy. They were patient and helpful every step of the way. We traveled almost 800 miles to pick up our trailer, and Wendy made sure I had her cell number and schedule in case we ran into any problems. Thankfully, everything went well, and the trailer was just as described. I have already, and would definitely again recommend UsedVending to anyone in the market for vending equipment. Thanks for making our experience one that we can look back on with great memories and no regrets!
Dawn Jones,
Moss Point, MS

04/20/2016

April Hurd has been so helpful in getting me new accounts. Both times its been a pleasure working with her. Looking forward to the next time. Thanks April.
Randy Shuette,
Las Vegas, NV

12/25/2010

Vanessa Long helped our company with a new location from beginning to end. She was very helpful and gave us all the details...and very honest i might add...even when we had a new company move on my location she was on my side and reassured my location,,,thank so much i will look forward in doing business your company soon!!!

TN

05/27/2016

Melissa,

Thanks for all your assistance throughout the process of this transaction! My new trailer is in my commissary lot and I'm ready to get started as a new business owner! (Wish me luck!)

The sale yesterday went very smoothly. The trailer was everything I'd expected and David, the seller, was very helpful and happy to answer all my questions.

I'm glad I happened to find USEDVending.com or else I'm sure I'd still be haunting the personal ads looking for the right trailer. The site's options and the information provided really put my mind at ease that I was making the right choice.

Most importantly, the personal touch and knowledge you provide as a sales representative really insured that this transaction went smoothly. What could have been a very stressful process turned out to be a piece of cake!

Thanks and all the best

Jeff B. Gimbel
Philadelphia, PA

10/15/2009

Melissa has helped me sell 2 machines in a short amount of time, at no cost to me. She does all of the work with a few phone calls and emails. I tried a newspaper ad for 4 weeks that cost over $100 and I had 1 response. Used Vending. com has worked very well for me.

West Hartford, Connecticut
See Hundreds more or Write your own...