ALASKA
Alaska Trailers & RVs for Sale! Buy or sell used trailers in Alaska – we have used RVs, used horse trailers, used camper travel trailers, used heavy equipment trailers, used dump trailers, used livestock trailers, etc… AllUsedTrailers.com brings Alaska safe, easy transactions of buying used near you!
DISPLAY OPTIONS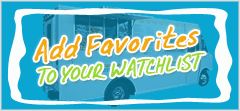 Login to Inquire Online
Call: 601-749-5660
Customer Experiences
I can't tell you what a relief it is to have an empty garage. Without your help, I may never have sold those vendors. I was ready to dump them and lose everything. This would have been easier than the sight of them everyday. Your service is very much appreciated.
Jody
Denver, CO

03/04/2012

We just completed a major purchase of a food truck in Kansas - Melissa kept the process going and helped us work with the owner to fix issues with the title and complete the sale. She was quick with responses and even helped connect us with someone about a mobile POS they were selling even though there was nothing in the deal for her. We appreciated the professional service she provided.

03/10/2012

USEDVENDING.COM & MELISSA, 1ST CLASS OPERATION. I was so lucky to have found Used Vending and Melissa Powers to help me with the sale of my food truck. Melissa was very efficient and a joy to work with. She was always there if the buyer needed information to help with the negotiations. Her personality made our phone calls pleasureable. She would be the 1st person I would call if I needed help with buying or selling. I have and will recommend Melissa and Used Vending to help with their Buy/Sell needs. This was a 1st class experience, THANKS SO MUCH!

Bob
El Dorado, KS

09/26/2014

Hi Calice, Just a few words on my experience with Used Vending. I have been very happy using Used Vending. I have been in the vending business for 1 year and am trying to grow my company. Buying the vending machines from your site has helped me grow from 5 machines to 16 in no time at all. Calice has been a great help getting my bids to the right people and getting back to me. The deposit went smoothly every time. I picked up 10 machines yesterday and the couple was from Hastings NE. I live in Omaha and had to hire a truck and coordinate with the couple from Hastings a pick up time for both of us. There was never I a time where I felt uncomfortable and things from Calice were upfront. Thanks for saving me lots of money on machines and helping grow my business in a short time. I will definitely be using your site in the future.
Thanks,
Cathy Burdis
CBvendingomaha.com
Omaha, Nebraska

03/09/2011

I will continue business..
April was awesome! She so friendly taking care of a need I had. In today's world it is nice to see there are still good people out there who care. She made my day. I will continue doing business with this company because of her. Thank you April

Robert, New Jersey

06/30/2010

Melissa did all the work! What a great experience. We just sat back and waited for Melissa's call arranging the sale of our 8 machines. Great job!

Bob

05/29/2012

Gini Sweet Helped me out tremendously in getting someone in here to take care of my vending needs. Thanks Gini for all your help in this matter.

Terry Lovely, Storm Trailers
Indiana

11/30/2011

I have had good experience's with Stacy Sweet and Mega Vending. Very easy to work with. No scamming, real and honest business. I have had several opportunities given to me, and it has helped grow my business.

The Vending Guy
Twin Cities, Minnesota

11/17/2014

Hi April, It was a real pleasure working with you for the purchase of a Coin Change Machine. You were responsive in a very timely manner, were able to address all of my questions. Delivery was done in the time promised. I truly appreciated working with you and will gladly recommend your company to anyone who is looking for a vending machine. Thank you again!

Melissa Pachon-Tepper
Glendale, WI

01/23/2011

Usedvending...One Of A Kind Melissa is awesome. She did an exceptioal job. everything went very smooth with the sale of two of my vending machines. Looking forward to working with Melissa again on the sale of my five other machines.Thanks again melissa. Great Job Usedvending!!! Sandra T. Crossville, Tenn.

02/26/2012

Thanks!! I appreciate Stacy Sweet's help in negotiating the sale of my trailer; he made it quick and simple. Great site, great service.

Palmdale, California

12/20/2010

April with mega vending was very helpful in helping us select and order our vending machine for our new office. Upon receiving our machine April has been very helpful with our follow up questions and getting our questions directed to the right people. We are extremely pleased with the machine and the customer service we have received from mega vending and April specifically.

N. Turner with Edcor

11/13/2015

Went great, Frank was great. Thought if send a pic this is my 15 year old daughter, she's the one going into the "vending biz":). It's in the common area of my office building. We had the best time the last couple days setting it up. Take care.
Monte H.
Tulsa, OK

03/15/2010

April Hurd is a fantastic person to deal with. She is professional, courteous, friendly, and will do what ever it takes to help someone that is trying to buy a vending machine. I will spread the word about the excellent service April and 4 Mega have given to me. Keep up the good work April!

Bob Smith, Robcandy Enterprises
Grapevine, Texas

10/26/2009

Thanks Melanie for your time and dedication in assisting our company with trying to locate a leasing vending machine company that would meet our needs. Any additional suggestions are welcome.

Again thank you.
Washington, DC

03/19/2014

Melissa was wonderful to work with. She found us exactly what we were looking for at a great price! We couldn't be happier with our experience.
D.S.
Ortonville, MI

12/18/2013

April,
I would like to thank you for the wonderful customer service you provided to me on my recent purchase. You were very helpful and pleasant to deal with. Everything was delivered as promised and in good condition. Thank you.
L.B.
Magnolia, TX

10/20/2009

Melanie Lee was very helpful in assisting me to obtain the vending company that was right for our company. Thank you Melanie for all of your help!

Lisa
Buffalo, New York

I would strongly advise anyone wanting to sell equipment to use the services of USEDvending.com. I had listed my unit on another well known web site and had to deal with lots of crazy offers and look -y- loos. Once I listed with USEDvending, Cristina, my service agent, did all of the work. She notified me only when she had a serious buyer lined up. She did all the work and I took the check to the bank! Do yourself a favor and use this company to sell your equipment and rest easy that they will do a great job for you. Thank you USEDvending and Cristina for all you did for me!
C.T.
Houston, TX

Dear Eric, Your Great! I want to purchase 10 NEW Vendstars complete with stands. I'll tell you Eric I will definitely be doing more business with you in the future...you shall see. I have searched the entire net practically looking for not only good prices but someone I felt comfortable working with and BINGO....I found You!
Thanks Eric
Sincerely, Shirley D.

05/31/2012

Melissa Powers at usedvending.com is a true sales professional that blew me away with her persistence and abilities, I will definitely refer her to anyone I can looking to buy or sell vending equipment. Thank you very much and I wish you great success with your future endeavors!!!

Ron F.,
Lancaster, PA

03/04/2012

Calice was so helpful. She made the process so easy and answered all of my questions quickly. Can't ask for more than that! Thanks again Calice :D

Jennifer,
Pensylvania

10/11/2010

The first time Melissa Powers called me regarding a buyer for my vending machines, I knew that I had made the right choice in using your company. Melissa is friendly, professional, polite and knowledgeable. Melissa made the sale a pleasure - she is an asset to your company! Thank you!

Denise A.
Owner

07/26/2014

Well first of all, I sold my truck at the price I was looking for and Melissa is on the ball. She has her act together and great in customer service before and after sale with a great attitude and very customer friendly. I posted another truck with used vending because im very satisfied.
Jeanpierre Lareau
Saratoga, NY

10/25/2009

We have ordered several machines through mega vending. I would recommend this company to anyone. Accurate orders, fast shipping, very nice customer service. I haven't had the first problem. I will continue ordering through mega vending. Thank You April for your services.

Brandon
Big South Wholesale Of VA

10/30/2009

April Hurd is the best thing since cotton candy, literally... I started my business a little less than three years ago and her office has already provided me with three top-notch locations that have propelled my business ten folds. April has been helpful throughout each and every process that I had with MegaVending. I purchased equipment and had locations given to me, every transaction was handled professionally, courteously, and expeditiously, you don't want it any other way. Thank you April for your dedication to your professionalism. It's people like you that makes dealing with MegaVending more rewarding.

Las Vegas, Nevada

04/05/2010

I would like to let everyone know how easy and helpful Melissa Powers with Used Vending has been to work with on my purchase. This was a new experience for me purchasing Vending equipment. With her help and knowledge the transaction was a breeze. I recommend them Very Highly, they are professionals at what they do and seem to have fun doing it. Anyone with manuals on Oscars wild ride contact Melissa.

Garry Emmons
Hillsborough, NC

04/18/2012

I worked with Melissa for months. The education and honesty were most helpful. She kept me in my price range, didn't try to upsell me or sell me junk, and she was always available. We journeyed across the US and I highly recommend Melissa for her professionalism and the friendship that grew. The couple of units that I missed out on were due to my hesitation. I should have listened to her.

Brian Lurie
Kirkland, Wa.

07/05/2010

April was a FANTASTIC representative. She was very easy to work with and has a very sweet personality. I hope to deal with her again on the next machine I will be purchasing.


Paul Haanen Jr
Pres. AWC Employee Committee

03/13/2015

I found Used Vending when I decided I really wanted to get out of the RAT RACE and stop making others rich and make myself some money instead! Used Vending had so many options for mobile food start ups I was overwhelmed. Finally, a MATCH! Plus, the owner was only 60 miles from me. Yes, I picked up "The Beast" as we call our food trailer and made new friends. The previous owner was so kind and we just clicked. She gave me great tips on the biz! Used Vending Melissa Powers was the agent that put the whole thing together. MAN---I wish she was available for all of the biz stuff I have to do from now til I open....lol! YOU CANNOT go wrong with this agency. They truly JUMP RIGHT ON IT! I want to thank Melissa again, you gave me and my daughter and son a REAL COOL and FUN yet challenging future! We will send photos once the biz is up and running. I will also give the info on Used Vending to anyone looking for anything MOBILE FOOD!
Thanks S. Golden-
Edgewater, Maryland

09/27/2009

When our church decided to purchase a drink machine for our fellowship hall, I was clueless on how to begin the process. I called 4Mega Vending Company. Because it was a used machine, I was originally skeptical. However, they were patient and helpful in answering all of my questions concerning costs, return in investment, up-keep, and models available for my situation.

After the purchase they delivered the machine and were helpful in walking me through the process of adjustments that I wanted to make, such as price changes, temperature control, etc. If I have a question, even after the warranty expiration, they have always been helpful in resolving the problem.

We have been extremely pleased with our purchase and our association with 4Mega Vending Company.

Sincerely,

Dr. Ed Ferlazzo
Minister of Worship and Administration
Haltom Road Baptist Church
Haltom City, TX

01/26/2010

April went out of her way to help me with our new vending machine! She was awesome to work with and got the machine to us quickly. I looked forward to her emails with the inspirational quotes!

09/01/2015

Hi Melissa Thank you for doing a terrific job in helping me sell my kitchen trailer. You were always prompt, courteous and very easy to work with. I wish you and UsedVending.com all the best.
Ketan Parikh,
Moreno Valley, CA

06/15/2009

Here you go April! I just wanted you to know that I had a very good experience working with you. This was my first time and now I am ready to go any other time because thanks to you I know what I'm doing. All transactions were easy and whenever I needed you, you were there. Not only were you there ready to go, but you were there with an AMAZING attitude and OUTSTANDING service. Even when you were sick you came in and took care of me and who knows what else. Also the day before that you were too sick to come in, other people stepped up and helped me out with great service.

Last but for sure not least, it was great to work with someone else in THE Faith. Ha I keep reading your email signatures. Anybody reading this, just know that if you get to work with April, you are very lucky!
Josh

04/29/2010

We are SO happy with our soda machine, but April Hurd is our angel. She was SUPER in facilitating our purchase, but she also was so gracious when we lost our key. In a FLASH we were back in business. She actually thanked us for the opportunity to serve us further! You can't beat that!

Pastor Steve

Usedvending.com was a lifesaver for me in selling my concession trailer. After trying the popular ......list for 8 months and attracting hundreds of scammers, deadbeats and people who wanted me to finance for them, I found Melissa! She helped me fine tune my ad and target the right buyers. My deal went fast, and I had my money within a week from the time the buyer first came to look ! I can't say enough about the professionalism at Usedvending.com.
Dennis Coffey,
New York

12/22/2014

I don't know how to say. I only know your people have good service. And your company is very good for truck buyer and seller :)
 ‡ ˆ " Xi Lin
Malden, MA

08/26/2012

Calice and Used Vending ROCK!! Used Vending has been a fabulous way to purchase bulk vending equipment. Calice has worked hard to get me the best price on all of the equipment. I will continue to utilize Used Vending and Calice for my equipment needs.

C.F.
Virginia Beach, VA

10/28/2009

Your web site was very helpful. I was able to create my own web sale ad on your site by following your clear directions. The staff at UsedVending was attentive to my needs ; and responded to my questions promptly. Thankyou for making the sale of my vending machines complete. I highly recommend your service to all in need.

Tuscon, Arizona

09/24/2015

I would recommend for anyone in the business to USEDvending.com . It was easy and the brokers and customer service were knowledgeable and very friendly. My broker Jennifer was awsome, and made my experience getting into the business more wonderful than I had expected. She went above and beyond for me, kept in touch until we found what I was lookng for.
Barbara Hastings,
Mount Pleasant, NC

01/14/2015

Calice, I would like to thank you for your help with finding a buyer for one of the machines I have listed with UsedVending. The process went smoothly and the service was friendly and helpful. I hope to list other machines with you soon.
Thanks again,
Todd Bujnak
Ellisville, MO

06/11/2011

I am very thankful for Mr. Stacy Sweet and his team being such a great help in finding a wonderful new client for Heavenly Snacks. I highly recommend their service and I am very grateful! THANK YOU!

Virginia

08/15/2010

Can't tell you how much ive enjoyed working with all of you at used vending . April was great to work with every step of the way. Everyone looking to sell or buy should with out doubt use Used vending for their needs. Web site is great also, very easy to use and follow. Great job folks , keep it up .

James Stoops

12/27/2012

We have had 2 very good experiences with placing our machines through our representative Gini Sweet. She has been most helpful and follows up on our placements regularly. Thanks Gini for being so helpful. We look forward to doing business with you in the future.

G & M
Hueytown, Alabama

09/15/2015

My experience with this company is wonderful. I have yet to come across such a lovely service, very cooperative , extra ordinary helpful. I am very very happy with them.
Kris Handa,
Marietta, GA

This was a most seamless experience I have encountered. Melissa contacted me first to inform me of a local buyer and helped walk me through the process including handling all the negotions and paperwork. I was Extremly statisfied with the website and my contact point Melissa at the company. This was a 10 plus experience.

J.M.
Jacksonville, Florida.

10/17/2011

I listed my machine on Craig's List and Ebay and got absolutely nothing out of it for almost a year. When I first listed my machine with usedvending.com they actually provided feedback on my pricing as compared to the market. Once I adjusted my price the inquiries started to come in. My customer service rep, April Hurd, is awesome and very punctual. I had one customer ready to buy but would not respond to her persistent communications. It all worked out as within a week she had another customer ready to buy and closed the deal that same week.

Ron Teicher,
New Jersey

06/29/2011

USED Vending.com did an incredible job locating a buyer for our vending machines. Melissa Powers really worked the leads and when all was said and done, both myself and the buyer was happy. Everything went smooth and the paperwork was minimal... a job well done by Melissa and her assistant April. We really appreicate both of the ladies help, talent and knowledge of the industry and product lines with the re-placement of our machines. I would recommend this site to anyone that is selling/buying a business or just machines... they are awesome..

Dennis, Sarasota, Fl.
See Hundreds more or Write your own...