ALASKA
Alaska Trailers & RVs for Sale! Buy or sell used trailers in Alaska – we have used RVs, used horse trailers, used camper travel trailers, used heavy equipment trailers, used dump trailers, used livestock trailers, etc… AllUsedTrailers.com brings Alaska safe, easy transactions of buying used near you!
DISPLAY OPTIONS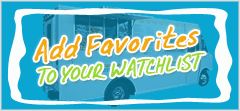 Login to Inquire Online
Call: 601-749-5660
Customer Experiences
07/06/2009

Wanted to express my gratitude to April for being so helpful over the past year! We've bought vending machines from Mega Vending on several occasions, and each time April was friendly and professional, and went WAY above and beyond what she had to in order to make sure we were taken care of. I have been recommending Mega Vending to other vendors I run into online, and will continue to do so...and tell them to ask for April! Keep up the great customer service!

Preston Dillon, Tree Frog Vending
Arvada, Colorado

03/25/2012

UsedVending.com is a very professional company. Excellent customer service and very thorough. I trusted them to help me sell a trailer and they did the job in an A+ fashion. Two potential buyers came at the same time and they negotiated a great price of sale. I'm very pleased and grateful!!!

Terri, CA

10/31/2017

Wow wow wow! Honestly I never thought I would've sold my food truck through a company that was free. I had every intention of selling it myself but boy was i wrong. UsedVending came in and sold it without hassle or trouble it was a really great experience, thanks Wendy! You're awesome!
Benjmain Campbell,
Ropesville, TX


12/10/2012

Very professional and simple...Found the site thru a google search and was happy with everything.

RT,
Orlando, FL

03/10/2012

USEDVENDING.COM & MELISSA, 1ST CLASS OPERATION. I was so lucky to have found Used Vending and Melissa Powers to help me with the sale of my food truck. Melissa was very efficient and a joy to work with. She was always there if the buyer needed information to help with the negotiations. Her personality made our phone calls pleasureable. She would be the 1st person I would call if I needed help with buying or selling. I have and will recommend Melissa and Used Vending to help with their Buy/Sell needs. This was a 1st class experience, THANKS SO MUCH!

Bob
El Dorado, KS

10/25/2009

April Hurd Rocks!

Thanks for your help and support.
Monica Reimer

02/23/2011

April is a terrific person. She has, I think, really gone out of her way to help me sell some of my vending machines. She has been very helpful in understanding and following through with some of my most difficult time. She has often very courteous and has made suggestions to help me sell my my machines. I think she well serves her employer as well as her customers. It has always been a true pleasure to work with her.

Gil Gamboa,
Baldwin Park, CA.

12/20/2016

Used Vending was terrific.They kept at it until we sold our trailer. All over the internet AND for free!
Amporn Wright,
Bismarck, North Dakota

08/26/2012

Calice, Everything was perfect! I tried selling these many times on eBay with no results. it only took you two weeks to get me a buyer.....phenomenal!

Gianni,
Hicksville, NY

01/31/2011

April has been a great deal of help in purchasing our first vending machines. She was there from beginning to end. We received the machines today and we are very impressed with the way they look.
Thanks April for your help!
John P

03/06/2014

Firstly, everybody I dealt with at USEDvending (Stacy) was more than helpful. Melissa, you restored my faith in dealing with large purchases. I only wish the remainder of getting my dream business up and running could be so easy. I am not just being nice, Melissa truly went above and beyond the call of duty in every. Thank all ya'all again.
JK
Las Vegas

08/23/2017

My name is Joe Weber. I am with Loafinjoes. Melissa powers with my contact person at used vending. She was really great to work with. She answered all my questions and made the transaction of purchasing the food trailer as easy as can be. I would highly recommend Usedvending and Melissa too.

01/23/2018

We're so glad we found Used Vending! We found an unbelievable deal on the perfect food cart for our business. Melissa was a pleasure to work with and made the process smooth. I hope that we find the other food cart we are looking for listed here in the next few weeks so that we can continue to do business with Used Vending. After losing everything for our business in a major fire three days before Christmas ( a month ago) with no insurance coverage in a sad turn of events. Landing here and finding this deal was definitely an answer to prayer! We will definitely be recommending this company.
Andrea Brown,
Bend, oregon

04/07/2014

I wanted to say Thank You to Stacy Sweet at USEDvending.com. Stacy made my purchase nice and easy. Thank You again for all your help!
A. W.
Soperton, FL

06/15/2015

Hi Melissa,I wanted to thank you. I really never thought we could sale the trailer so fast. It was easy, very easy and faster than what i thought. Our buyer was serious and did not came to try to lower the price or anything. Thank you.

Ivan Enrique Gonzalez Lauzardo,
Miami, FL

12/16/2015

Hey Melissa, Thank you very much for your help in selling my catering truck. You were prompt with communication and were a great liaison between the buyer and me. Thanks very much too, for pulling everything together to make the sale happen.
Sincerely, Lori Stratford
Bozeman, Montana

10/09/2008

Hello, April did a great job selling me my coke machine, everything was just like she said it would would be, I would recommend for all your vending needs.

Rocky,
Rome Georgia

07/27/2009

April is very sweet and very nice to deal with. I brought several machines from her and she is very professional. She is also willing to negotiate on the prices of the Machines unlike some cut and throat sales people We have come across in the past. She is prompt in her sales inquiries and knowledegable on the Machines.

Livingston, New Jersey

After advertising my concession trailer for more than 4 months on various advertising outlets on line, I was approached by Melissa with UsedVending.com. I have to admit, at first I was a bit skeptical. Within a week, I already had an interested buyer but we couldn't quite close-in on the price, but there were others shortly afterward. After less than 2 months of advertising on UsedVening.com, I had the buyer I had been waiting for nearly a half year, and he was very serious and willing to pay the asking price to get what I had originally wanted for the trailer in the beginning. After a couple of days, the deal was pretty well buttoned up. I'm very fortunate to have been approached by Melissa and glad that she convinced me to list the trailer with her. After all is said and done, I wouldn't list it with anyone but UsedVending.com. They were very fair and professional throughout the entire process. Thanks Melissa and if I ever have a similar need, rest assured, you will be the first person I call.
Jason Bell
Plano, Texas

05/17/2016

I am writing this to compliment Used Vending for selling my gumball machines. Someone from Romania purchased them so I was highly skeptical. April's service and quick responses instilled confidence in me to try this internationally . Everything worked out and I was pleasantly surprised.
David baker,
Phoenix, AZ

10/06/2010

I had only one vending machine to sell. April and the staff at Usedvending treated me like a big customer. They were very helpful throughout the process.
I felt confident and secure working with this online company.

Jedidia Dyer
Owner - Art Assist

09/29/2010

April and 4mega vending have provided me with quality equipment and great service. All questions are answered timely and professionally and April is great to work with. Thanks!

Rob
Tots' Landing Learning Centers, LLC

08/13/2010

Posted my add in June and sold 4 of my vending machines in August! I never thought I would get such a fast response. It was nice to have a person behind the wed site that I could ask questions and it was an additional plus that the person I was dealing with was Melissa! She had all the answers and was a pleasure to deal with, thanks Melissa and thanks to USEDvending.com!

New Jersey

07/20/2014

Thank You. Everything was very fast and easy, Melissa Help me a lot in everything!!! She is great!!!!!!!
Carlos Perez,
Miami, FL

11/18/2015

Melissa assisted with the sale of our trailer. We purchased this trailer through used vending.com about a year and a half ago. After our circumstances changed, we decided to sell the trailer. Her expertise in getting this trailer sold was extremely beneficial. She streamlined the paperwork and made my job as the seller simple. We appreciate the professionalism of usedvending.com it will certainly recommend them to others.

Sincerely,
Debbie Clem
Jane Lew, WV


08/09/2011

Stacy Sweet made a sweet transaction and great deal for me with seller. He saved my life because I need a machine for a high traffic location and I would have lost it if it wasn't for usedvending.com, Thanks again Stacy.

Precious
Wilson, NC

12/08/2017

Thank you Melissa for your professionalism and organization
Alix Jean-Pierre,
Edmonton, Canada

04/06/2017

Bradley, Thank you so much for all the help in getting my vending trailer sold. It was on the website for 3 weeks and it sold. Bradley kept me informed as the sale progressed until it was completed. I would recommend this site to anyone

Donna Watson,
Tupelo, MS


06/15/2009

Here you go April! I just wanted you to know that I had a very good experience working with you. This was my first time and now I am ready to go any other time because thanks to you I know what I'm doing. All transactions were easy and whenever I needed you, you were there. Not only were you there ready to go, but you were there with an AMAZING attitude and OUTSTANDING service. Even when you were sick you came in and took care of me and who knows what else. Also the day before that you were too sick to come in, other people stepped up and helped me out with great service.

Last but for sure not least, it was great to work with someone else in THE Faith. Ha I keep reading your email signatures. Anybody reading this, just know that if you get to work with April, you are very lucky!
Josh

07/28/2014

Working with Melissa and Used Vending was a breeze! They did all the work for us and sent only very interested buyers our way. It saved us lots of time and was well worth it. If you want to sell a truck quickly and without hassles, this is the site to use!

Kristi Whitfield, DC

03/03/2016

I've had my trailer on the market for the last 6 months, I learned of UsedVending.com by searching the internet. I listed my trailer on Used Vending and it was sold within two months. I would highly recommend that anyone needing to sell a concession trailer to list with this company immediately, you will be happy with the results. We worked with Melissa Powers and she assisted us through the process, she was absolutely amazing! Thank you UsedVending! :)
Kaylee Pelton

02/16/2011

Thanks Melissa for making our 1st experience with www.UsedVending.com so simple and pleasurable. It was a great dealing with you and your seller. I will be using your company again in the future and I look forward to a long, mutually beneficial relationship.

Sincerely,
Bobby

11/11/2014

I tried for for two years to sell my Food Truck on my own, using time, energy and a lot of money to no avail. Usedvending.com came to my rescue with advertising, helpful hints, excellent and clear communication and follow up. Melissa made sure I had all the information and resources for a smooth transaction experience with the buyers. I most appreciated Melissa providing me feedback from failed previous potential buyers and advised me based on her experience in this business. The day I finally listened to her advice is the very day I sold my Food Truck. Thank you Melissa and thank you usedvending.com for providing wonderful, professional service.
S. Waithe,
Yorktown Heights, NY

10/10/2017

So, my experience working with UsedVending was such a smooth one, I was a bit skeptical at first but the staff was reassuring which made my transaction super easy! I especially enjoyed working with Melissa, she was very knowledgeable and informative with every question I had. With all the crazy scams that are out there, I would recommend working with this company for a safe and secure purchase!!!!
Deanna Ray
Lansing, MI

04/26/2010

April did a terrific job finding exactly the machine I was looking for, within my area, and within a week! This was a terrific experience and completely relaxed me as a first time buyer.

10/09/2013

Calice was a great help and stayed on top of negotiations. She kept in contact periodically and advised us. We highly recommend her!
L.I.
Deland, FL

11/13/2015

Went great, Frank was great. Thought if send a pic this is my 15 year old daughter, she's the one going into the "vending biz":). It's in the common area of my office building. We had the best time the last couple days setting it up. Take care.
Monte H.
Tulsa, OK

01/28/2014

I'm not sure why you would want to sell your stuff on any other site because UsedVending.com sold my Food Truck in less than a month. The process was professional, friendly and quick. They help you throughout and build a relationship with you. I will definitely use them again, everything was just that easy. My point of contact was Stacy. He was great, friendly and just amazing.

Thanks Stacy Sweet, What a sweet experience!
Deonne, MD

03/23/2011

We had a great transaction with Melissa Powers , this is our second purchase with her and it was even better than the first one.Her great sence of urgency and professionalism made it a very satisfying experience.

C.V.Vending.

06/13/2016

Thanks UsedVending for getting me results in 1 week. You got me a serious buyer to get my business SOLD . Now I can focus on the next new adventure in life .
Jen McCartney
Cape Coral, FL

04/11/2017

Hi Grey, Working with you and usedvending was great. With so many Scams and con artists out there it was great to find an honest and professional company and staff. Great experience. Thank you.

Chris D.
Palm Coast, FL

02/21/2017

For over a year I have dealt with Megavending.com and Usedvending.com in helping my company purchase drink and snack machines for our people. We moved away from the big drink people because we felt a responsibility to our working family to provide drinks and snacks at the lowest possible price. We were not out to make a profit so much as to encourage a higher level of morale. In order to do this I turned to April Hurd at Megavending.com to find me good, solid machines at a price that would allow the company to afford this luxury. She took the information of what we were trying to do and searched every listing she had to find the units that would best fit the bill (and our budget). We knew little to nothing about drink and snack machines but she guided us every step to ensure we would be well pleased and not have to worry about problems in the future. Not only did she find us a good deal but also negotiated on our behalf to get us the best unit at the very best price. Then, when we had the units shipped to our facility, she made sure we had the right contacts for operational instruction, spare parts and repairs when and if we should need them. We had an occasion where I, personally, broke a part of the dollar changer and her contacts had the replacement part in my hands in a day. Now that is super service. To date we have a total of 7 machines from Megavending and Usedvending and, if I really liked our Sales Department a bit more, I might go and buy another machine just for them from April. Great people with exemplary knowledge.
Tim Donowick,
Director of Operations
Monschein Industries, Inc.



11/29/2013

Melissa Powers was awesome! The attention to details made me at ease to know that she knew her stuff. You have a tremendous asset to your company. Don't let her go! Thanks Melissa!
Greg C.
Las Vegas, NV.

05/25/2011

Hi Vanessa,

I am EXTREMELY pleased with your site. You give me (the small businessman) an opportunity to expand and compete. My experience in dealing with you and everyone on the site has been Great!

Thanks,
Vending for All
Tennessee

02/23/2016

My experience with Usedvending was the best experience I've had. Melissa and Jen with the most professional people I've had to deal with and I'm very glad that I did business with Usedvending they were prompt they will decide they sold my equipment very very excellent live, I want to thank them both so much.
R. Wills
Jacksonville, FL

07/25/2016

Thank you for your recent help in acquiring a candy crane machine. The transaction went very smoothly and the machine was in excellent condition. April, you are awesome to work with and I always know that you will provide excellent customer service. I look forward to working with you and Used Vending for many years to come.
Curtis Frierman,
Virginia Beach, VA

09/20/2017

I wish everything else I dealt with along my process of opening my food truck was as easy as dealing with Melissa at usedvending.com. Melissa was on it every step of the way and she rocked it. Any questions or problems I had along the way she took care of it and went above and beyond. I would recommend the services at usedvending.com to anyone looking at purchasing a food truck.
J. Trez
Santa Rosa, CA

02/23/2012

Thanks!! I appreciate Stacy Sweet's help in negotiating the sale of my machines ... he made it quick and simple. Great site, great service.

Charles,
Mobile, Alabama

05/02/2017

I would like to say I was hesitant initially with listing my truck on USEDvending.com. Instantly I was impressed with the quality service from all of the representatives that I interacted with. This positive interaction made the whole process run smoothly from beginning to end. As the seller, and from the buyers perspective it was well worth using their outstanding services. Wendy was very professional and made every part of the selling process understandable and worthwhile! I highly recommend that anyone that is interested in selling or buying any kind of commercial equipment regardless of size check out USEDvending .com.

Highly satisfied customer,
Kalan Chaloupek
Las Cruces, NM


05/05/2014

Stacy Sweet was patient and helpful guiding me through the process. I had questions about things I had little experience with and Stacy offered his impartial opinion without pushing me one way or the other. I really felt at ease and trusted his input while always having the door to "walk away if it does not feel right."

Thank you Stacy! Job well done! Can't wait to get cooking!
Dave S, PA
See Hundreds more or Write your own...