ALASKA
Alaska Trailers & RVs for Sale! Buy or sell used trailers in Alaska – we have used RVs, used horse trailers, used camper travel trailers, used heavy equipment trailers, used dump trailers, used livestock trailers, etc… AllUsedTrailers.com brings Alaska safe, easy transactions of buying used near you!
DISPLAY OPTIONS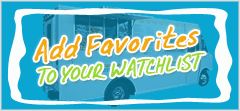 Login to Inquire Online
Call: 601-749-5660
Customer Experiences
08/03/2015

The Used Vending team was awesome to work with. Their communication and updates throughout the process was exceptional. They paired me up with a buyer all the way across the country and the transaction went very smooth. I would advise anyone looking to buy or sell a unit to consider using them. It was too easy and I walked away from the deal with my asking price. Thanks Used Vending.. Cheers!
Nathan Thomas,
Dallas, TX

11/26/2015

Hi Melissa! :) So the food truck is up and running great!!! :)Been super busy! I know I promised you a picture as soon as it was wrapped! It's so cute!!!!!! I love the way my design came to life! We've had an amazing first month! Thanks for your help in making this dream happen!

- Chef Darci :)
*H-12 Outdoor Café*
Austin, TX


01/11/2017

April, thanks again for all your help in my purchasing the yogurt machines. I had a genuine feeling that it was actually my interest that you were most focused on. It went a long ways in helping to get this deal done.
Thanks again,
Kevin Harper,
Sugar Land, TX

07/20/2015

Hi there Jen, I want to start by saying thank you to Usedvending and yourself for help with the selling of my trailer. Usedvending helped make the sale of my food trailer but you were the go to person for questions and a quick response. Your easy access by phone or e-mail and your ability to respond quickly absolutely made not just my transferring of the trailer over to the buyer but the purchasing of the trailer as well. Thank you again for your time and patience and I wish you and your company the best. Who knows, maybe one day I might be purchasing from Usedvending instead of selling.
Thank you, Joel Wright
Peyton, CO

12/20/2010

April with mega vending was very helpful in helping us select and order our vending machine for our new office. Upon receiving our machine April has been very helpful with our follow up questions and getting our questions directed to the right people. We are extremely pleased with the machine and the customer service we have received from mega vending and April specifically.

N. Turner with Edcor

04/03/2011

Thank You Melissa for a smooth transaction. I appreciate your help in moving my machines!

Mr. Milner

06/10/2014

Hi Melissa, I just wanted to send a quick note of thanks. Your help with the purchase of our food trailer was exemplary! I thank you for the continued communication through out the process most of all. After having the first trailer become unavailable, you added us to the MeFirst list which is what allowed me to get a great unit. The trailer exceeded our expectations and is exactly what we needed. I look forward to future business with you and your company, and have already been telling others about our experience. Glad I found you in my searching, it was worth the wait.
Thank you,
Kimberly Parent- CA

05/21/2000

I contacted Eric Normand through his webpage several months ago in regards to some vending machines that I had for sell. His service provided another way to sell my vending machines other than posting classified ads. His service directly reached potential buyers and saved me money. I got a fair price for my vending machines and was able to sell them in a reasonable time. He kept in contact with me the whole time we worked together and I felt reassured that his efforts were true to helping me sell my machines.
Thanks,
Jason Aycock

10/06/2016

Usedvending.com helped sell our concession trailer in two weeks' time. No stress and a very easy transaction. And the icing on the cake is we sold it to a very nice couple.
Linda Boles,
Talahassee, FL

01/31/2011

I want to thank April for all her help. I came into purchasing a vending machine with very little knowledge. She was extremely helpful and never pushy. We plan on purchasing another machine this year and I won't even bother looking around. I'm going straight to April.

Harrisburg, PA

11/18/2015

Melissa assisted with the sale of our trailer. We purchased this trailer through used vending.com about a year and a half ago. After our circumstances changed, we decided to sell the trailer. Her expertise in getting this trailer sold was extremely beneficial. She streamlined the paperwork and made my job as the seller simple. We appreciate the professionalism of usedvending.com it will certainly recommend them to others.

Sincerely,
Debbie Clem
Jane Lew, WV


06/02/2010

I was delighted to be able to go through the process of selling my five soda/snack machines with Melissa. She contacted me about a customer interested in two, possibly three of my machines. I ended up selling all five! Melissa was friendly and helpful throughout the sale of my machines!
Norm

02/12/2014

We recently sold our concession trailer through Usedvending.com. Melissa Powers was awesome. She handled all of the paperwork and made our end very easy. From the time we got the offer call from Melissa until the unit rolled out of the driveway was only 22 hours! Thank you very much, Melissa € € .
R.Z.
Sierra Vista, AZ

08/10/2010

Thanks Malissa,we appreciate everything you did to assist us in making our dream come true.You made this process simple from beginning all the way to the end.
Businesses need more professional, friendly and enthusiatic people like you. Keep up the great work.


April and Antonio Rodgers

03/31/2017

Dear Bradley, Thanks for the quick Action on getting my Cart, And All The Great Customer Service to Get The sale complete, Could not have done it without your Help- probably, would of never brought, but you made it simple, You Are A nice person and honest, will send more Customers your Way. Thanks again.

Jean Bogard,
Appolo Beach, FL


07/22/2012

I sold my food cart through Melissa at Usedvending.com. I really liked Melissa, and enjoyed working with her. I like her southern accent, too!! I would use you again, and recommend usedvending to a potential customer, should the opportunity arise.

Steve Kasel, former customer.



11/13/2015

I was very satisfied with the way Usedvending handled the negotiations for the trailer I purchased. Wendy made everything so easy. I will definetly use the service again in the future when planning to purchase a new trailer.

J. Dillon
Roanoke,VA

09/04/2012

I run an industrial catering outfit and was in need of some extra catering trucks, upon some extensive reasearch on the internet, I found used vending and got to talk to melissa. She really helped me in what I needed to do all thru the process and she even called Mississippi DMV to find out some things as far as me having them transportated back to Ohio. I would reccommend UsedVending and Melissa for all my needs, I had a great experience.

Von Troy,
Ohio

09/01/2016

Overall the process was really nice. It's a little scary when you're not sure if you have a real buyer or your just being stalled until one can be acquired with all the scams out there now. You helped me hang in there and assured me there was a buyer on the other end of the deal- thank you.

Roderick McClendon,
Houston, TX

11/15/2010

I was truly surprised at how quick and easy it was to get the two machines I needed for my two locations. They shipped almost instantly and I had them delivered and in place weeks before I expected. Props to April, she got the job done with exceptional professionalism and expedience.

-Charlie, TX

02/07/2016

My name is Shirley Tyrala and I recently decided to go on a search for my perfect food truck. I had been looking at the Used Vending site for a few weeks and finally decided to call Melissa about a few I had interest in. Since the day I called Melissa was amazing ! Many call, emails, texts, etc. had to be exchanged and she responded immediately to all my needs. Today I own that food truck and am looking forward to making another purchase in the near future. True professionals!!
Sincerely,
Shirley J. Tyrala
Epping, NH

11/04/2015

A gigantic THANK YOU to Melissa and the crew at UsedVending.com. Given the cost of advertising, it is amazing that a trailer would be internationally advertised on a high profile web-site at no cost to the seller. More importantly my trailer was portrayed professionally yet in a format that presented the unit exactly as it appears and is functionally operable; including many pictures and a quality description for the potential buyer. I always knew the status of potential purchasers, and when the "correct" buyer came along, all of the documentation and coordination of the sale was "spot on." Thanks again Melissa and UsedVending.com... I am now in the process of designing and ordering a new trailer with cash-in-hand.
Dave @ Prairie Fire
Forsyth, Montana

10/25/2011

I would like to thank Melissa Powers for going over and above board to assist me in my recient purchase. She was super friendly and really did a great job when I ran into a little difficulty. I would recommend Melissa to anyone who asked me about this service.

Vinnie Walsh,
New Jersey

10/15/2014

Using USEDvending.com made my search and purchase of a mobile coffee shop incredibly simple and easy. Melissa and the staff are more than helpful!! I will recommend to anyone and everyone who is looking for vending items and equipment. Thanks for making my transition into the food truck industry so easy!
Caleb Brantley,
Wichita Falls, TX

01/07/2012

Melissa was SO helpful in getting everything together for us to buy our concession trailer. We are impressed with the way she stayed in there for a couple of months until the buyer came through with the paperwork. Our trailer is wonderful and we would use your company again!

Little Switzerland, NC

05/28/2014

Tina was extremely helpful throughout the entire process and the seller and I were able to come to a reasonable and mutually beneficially agreement. I would definintely recommend using UsedVending to anyone who is considering purchasing used concession equipment. Thank you Used Vending for all of your help and for my new (used) trailer.
S. Morris,
El Paso, TX

10/14/2010

Special recognition MUST go to Melissa on account of her unparalleled professionalism. Her combination of friendliness and efficiency in consummating my purchase exceeded my expectations for customer service. USEDvending has a workforce to be proud of; I couldn't be happier! Thank you so much, Melissa!

Patti
Fresno, CA

06/13/2014

Hi! Sorry Cristina! (this is Traci, Kyle has no time to do anything lol), and we meant to get back with you sooner than this! but we got the food trailer and everything went really smooth. Thank you for all your help and patience with everything! We hope you get a raise (if that's how it works! don't know if your paid by the hour or commission lol but you done A GREAT JOB!) we would recommend Usedvending.com to others. God Bless.
Traci,
West Virginia

11/08/2012

When I first got into the vending business,I used a different locating service. Let me tell you that they didnt really do a good job. When I found out about 4VENDINGTIPS.COM, I decided to give them a try. The absolute best decision I ever made. Gini Sweet is an absolute pleasure to do business with and I'm looking forward to my next GREAT location with their help! THANKS GINI!!

GW
Birmingham, AL

03/16/2012

Again this was another smooth and fast transaction. Stacy Sweet worked very hard to ensure the transaction was handled very fast. I am very pleased with the machines. We were dealing with more than one seller and Stacy was great in helping me coordinate the pick-up at all locations. Thanks again for all the help and assistance. usedvending.com is our #1 source for all our vending machine purchases.

C. Hollingsworth,
Mississippi

10/13/2016

Just wanted to say Thank you, to Melissa at Usedvending.com for selling my mobile boutique bus. Transaction was very easy. Melissa keep me informed, was very professional & addressed my concerns quickly. I would definitely sell with Usedvending.com again!!! Thank You.
Korena Ferguson,
Dellroy, Ohio

11/03/2017

Tonya, was absolutely wonderful to work with on selling my mobile kitchen. Even though we had temporarily removed the listing, the unit became available again. Tonya went back to the last serious inquiry that we had and what do you know.... She got the deal done and almost full asking price. Congratulations to Used Vending for having such a capable employee and a personal thank you to Tonya.
Charlie Wiggins,
Nesbit, MS

08/11/2015

Ciao Jennifer. We received the truck and looks great. I want to let you know that we are very happy on how fast you were be able to find us the right deal, and how professional is your Team. Looking forward to keep doing business with you.
Fabrizio Cercatore
Berkely, California

12/01/2014

My experience with April has been exceptional. I have done two transactions with her and she worked hard to get me what I needed. I trust her to get the job done and highly recommend her to anyone looking for a vending machine.
Jerry Kelow,
New Day Vending
Colorado Springs , CO

05/25/2016

Dear April,Thank you very much for your help in purchasing the two orders. It was a really good experience to work with you. For sure, we'll make more acquisitions by usedvending.com.

Best regards,
Mihai-George, STATE Administrator
www.magicball.ro

10/14/2009

The rep at usedvending.com was very professional and thorough. It only took 2 weeks from the first contact untill the sale went through! Thank you usedvending.com!

Humble, Texas

09/10/2014

These guys get the job done! The last business i did with them was great fast and easy. Im so happy with the service that I added 2 more listings. They are responsible, reliable and know what they are doing. They look at your sale like their own and they care for the seller as much as the buyer! You have a business to sell this is the place!

Jose Paniagua,
Harrisonburg, VA

04/28/2013

Excellent service from Stacy Sweet! He was able to provide me with a location and a machine! I would recommend this company to anyone in the vending business.
F.C.
Louisville, KY

06/24/2016

I am so pleased with my experience with Usedvending.com. The staff was helpful and courteous. My sale went off without a hitch and I would certainly use this company again.
John Standifer III,
McKinney, TX



03/02/2010

I have had the best experiance with your company, April Hurd provided me with the best customer service I could have asked for . I actually train customer service . April went above and beyond the call of duty . She not only handled my request from the start to finish , she very pleasent to talk to made me feel comfortable about my purchase . Thank you April , you are a great asset to the company.

Marietta, GA

08/24/2009

I sold my 48 Vendstar candy machines through USEDvending.com. The service is very good. There was always someone answer my questions and phone calls. I had a very good experience by working with them.

Derwood, Maryland

10/05/2017

I have dealt with Grey on two different occasions and he's always come through for me.He has sold a machine for me and I am currently buying a machine. Thanks Grey!
Rusty M w/ Big Town Vending
Kingsland, TX

04/06/2017

Bradley, Thank you so much for all the help in getting my vending trailer sold. It was on the website for 3 weeks and it sold. Bradley kept me informed as the sale progressed until it was completed. I would recommend this site to anyone

Donna Watson,
Tupelo, MS


04/17/2011

Thanks Melissa. It was a fast and smooth deal.

Toronto, Canada

10/18/2009

April was extremely prompt in answering my questions by email and phone. I was impressed at how helpful she was and how she understood right away what I wanted and was able to help me make an informed decision on a machine that fit my needs. The other companies I talked to were not nearly as prompt or service oriented. I got a great price and the machine is working out great.

Thank you,

Paul Sullivan
Saint George, Utah

12/08/2009

April did a great job helping me the select the right machine for my oepration. We operate MixStirs juice bars throughout the east coast and are considering adding these machines to all of our locations. Our machine is working flawlessly. Thanks again!

Mike Greenberg
President, MixStirs

08/30/2012

Melissa- your company made the sale of our equipment so easy. You took care of the customer and we collected our money. This is the way to go!

K.G.
Central City, Kentucky

05/27/2016

April, Used Vending was fantastic. The process was uncomplicated and they supplied all the necessary documentation for the sale of my equipment. The transaction could not have been any easier and April took the time after hours to answer my questions and help get all the documentation completed. My experience with Used Vending was outstanding , I will use them again to sell my equipment.
Eric Turnbow,
Salt Lake City, UT

04/07/2016

Fast and smooth operation. Got the call, next day the equipment was picked up. Thanks April.
Chris Kane,
Anaheim, CA
See Hundreds more or Write your own...