TRAILER SEARCH OPTIONS
Item No: CA-DT-518H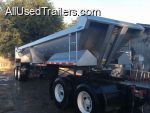 2000 32' Beal Hardbody End Dump!!!
32' rock and demo trailer. 11 - 24.5" tires, steel wheels, fixed tandem, framless 24 yd capacity end dump trailer. 2nd owner.
Still in new condition. Less than 50 miles on unit. Half round tub.
$30,800. Gustine, California.



Call Stacy at 601-749-5660, or click the REQUEST button below to email for more info on this trailer.
Item No: CA-DT-523H
SOLD
Carson 14' Dump Trailer!!!
Unit is 14' long with 4' high sides with removable equipment ramps with holds downs built into the trailer bed. Electronic brakes also on trailer. Seller is original owner; it was used for 2 months and is in like new condition.

$6,900. Palmdale, California.
SOLD
Call Stacy at 601-749-5660, or click the REQUEST button below to email for more info on this trailer.
Item No: CA-DT-593H
2001 - Hanson Steel End Dump Air Ride Dump Trailer!!!
Unit has 90% brakes - and 60% plus on tires. Aluminum wheels, new black pain, new ram, new bushings. Low Pro 24.5. This 1/2 round, air ride suspension trailer has had almost everything replaced except air lines & air bags. It's ready to work and in good condition.

$15,400. Temecula, California.
CLICK on "MORE DETAILS" for PICS!!!
Call Stacy at 601-749-5660, or click the REQUEST button below to email for more info on this trailer.
See what other customers are saying...
Hey there! Pick up went great!! Rosendo and his wife Veronica were very gracious. Rosendo and his son helped Steve load all the machines. All 32 were in boxes. Everything was there but a set of instructions. Rosendo is going to look for his set and fax me a copy. If he can't find it, he will call the company and get a new copy.


The entire experience of buying my new business was easy, fun, and stress free due to your hard work and caring attitude. Thank you. Now, I only hope that my business itself will be just a fun.


I'll be back in touch with you when I get these machines up and running. By then, I'll be "biting at the bit" wanting to enlarge. Of course, I wouldn't think of using anyone else but you and USEDvending.com


Thanks again, Patti
---
Dear Melissa,
Please use this as you like. It is from the heart !

"Usedvending.com was a lifesaver for me in selling my concession trailer. After trying the popular ......list for 8 months and attracting hundreds of scammers, deadbeats and people who wanted me to finance for them, I found Melissa! She helped me fine tune my ad and target the right buyers. My deal went fast, and I had my money within a week from the time the buyer first came to look ! I can't say enough about the professionalism at Usedvending.com."

Dennis Coffey, New York
Item No: CA-ET-514H
REDUCED!!!! 2007 HURRICANE 170 XR1 DRYWALL SPRAY RIG!!!
12 FT LONG 5 FT WIDE 5 FT HIGH. 150 FT SPRAY HOSE, 113 RUNNING HOURS, STAINLESS STEEL TANK, BRAND NEW AND CLEAN.
WAS: $14,300.
NOW: $11,000. Sacremento, California.
Click on "More Details" for PICS!!!
Call Stacy at 601-749-5660, or click the REQUEST button below to email for more info on this trailer.
Item No: CA-RV-562H
2003 - 32' Fleetwood Jamboree Motorhome Coach RV!!!
This unit has some neat features such as extra spacious bedroom, shower with glass door, wardrobe closet, and more. Has not been exposed to smoking or animals. See details for features & amenities.

$46,200. Santa Rosa, California.
CLICK on "MORE DETAILS" for PICS & FEATURES!!!
Call Stacy at 601-749-5660, or click the REQUEST button below to email for more info on this trailer.
Item No: CAN-LT-453H
1993 BARRETT Three Deck Hog/Cattle Combo Trailer!!!
48 ft long X 8.5 ft wide. Trailer has complete winter board. It is in very good condition. See details for features.

$16,652 USD. Dutton, Ontario.
CLICK on "MORE DETAILS" for PICS!!!
Call Stacy at 601-749-5660, or click the REQUEST button below to email for more info on this trailer.
Item No: CO-ET-480H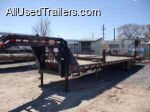 (2) 2008 - 36' Gooseneck Trailers!!!
These are 36' goose-neck trailers with straight deck. Tandem dual wheels, oil bath hubs, 2 speed jack with 2 legs. Both trailers are in very good condition.

$6,325. Grand Junction, Colorado.
Call Stacy at 601-749-5660, or click the REQUEST button below to email for more info on this trailer.
Item No: CO-ET-484H
Rocking Chair Mfg & Trail Master - Heavy Equipment Trailers for Sale
I have two gooseneck trailers. One is made by Rocking Chair Mfg. 24" dove tail. Rated at 20,000lbs
The other is made by Trail Master. 20' long with 5' dove tail and rate at 20,000lbs

$6,800 each Greeley, Colorado
Call Stacy at 601-749-5660, or click the REQUEST button below to email for more info on this trailer.
Item No: CO-HT-482H
2007 Featherlight Horse/Stock Trailer!!!
This trailer is in good condition. Tires, floor, paint, brakes, lights all in good condition. This is one you can use to haul your livestock or your rope horses and hay if need be.
$5,635. Denver, Colorado.
Click on "More Details" for PICS!!!


Call Stacy at 601-749-5660, or click the REQUEST button below to email for more info on this trailer.
Item No: CO-RV-568H
2004 - 30' Winnebago Sightseer RV Motorhome!!!
This unit is in very good condition. Has only 47,716 miles on it and was not exposed to smoking. Has full bathroom, kitchen, living room, and dinette plus many outside features. See details for full list of amenities & features.

$43,890. Westminster, Colorado.
CLICK on "More DETAILS" for PICS & FEATURES!!!
Call Stacy at 601-749-5660, or click the REQUEST button below to email for more info on this trailer.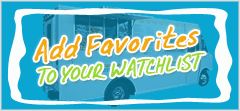 Login to Inquire Online
Call: 601-749-5660
Customer Experiences
10/26/2009

We were very impressed with Mellisa and all the hard work she put into selling out conssesion trailer for us, she was very easy to work with and took care of all our needs, I will defenitly contact her for any future needs.
Thank you so much.
Meagan, Texas

10/09/2010

Hi Connie,
Just a quick note and thank you for your professionalism and ease in doing business with your company!!

Arizona

11/15/2010

Ms. April is a great asset to your company, I congratulate you all for the wonderfull services you gave to Millennia Atlantic University.

Doral, FL

01/07/2012

Melissa was SO helpful in getting everything together for us to buy our concession trailer. We are impressed with the way she stayed in there for a couple of months until the buyer came through with the paperwork. Our trailer is wonderful and we would use your company again!

Little Switzerland, NC

06/28/2010

Working with Melissa has been a pleasure. Not only was she courtious, prompt in returning phone calls and e-mails but she made sure our transaction ran smoothly. She even provided her cell phone number in case we had any questions after hours. Thanks Melissa for making this easy.

Barbra, GA

11/17/2010

April Hurd was very helpful in providing excellent customer service. She definately is a great asset to your company! Look forward to work with her again in the future.

Gor, CA

04/17/2011

Thanks Melissa. It was a fast and smooth deal.

Toronto, Canada

01/07/2010

Thanks alot for you help, selling goes without any problems and safe.

Charlotte, NC

11/06/2010

Melissa was extremely helpful and professional with us as a first time buyer. She made everything go smoothly and I was not only extremely impressed by her efforts through the purchasing process, but with the follow up as well. My company will definately be using Melissa and her company again. Thank you again.

Rob G
Pennsylvania

11/09/2010

Melissa was so helpful and very professional. SHe did everything she could to sell our unit. When it sold the transaction went very smoothly. Thanks, Melissa and Used Vending!

Cindy S.

07/19/2011

Couldn't believe how quickly my equipment was sold on this site. Amazing and Stacy was great and got right to the point of things.

Dennis R,
New Jersey

09/09/2009

April has been most helpful in the buying process. Every question answered. Friendly and courtious service. A pleasure doing business with and plan on doing more. I strongly recommend. Thanks April.

Jim,
Mc Roberts, Kentucky

05/28/2011

Melissa is a pleasure to work with. Your service has been very, professional and fast. you have been great and encouraging throughout the entire process. Thank you very much for making this easy for me. I would highly recommend your service to anyone!...John

02/23/2011

With Melissa's professional guidance my selling experience went very smoothly. It was a delight to work with Melissa. Thank you.



Pittsboro, NC

10/14/2010

I WOULD LOVE TO THANK MELISSA FOR THE CUSTOMER SERVICE AND PERSONAL TOUCH WHEN COMMUNICATING WITH. HER VOICE IS PLEASING TO LISTEN TOO AND SHE BECAME MY ANGEL WHEN SHE HELPED US SELL OUR TRAILER. WE HAVE BEEN TRYING FOR MONTHS AND WITH IN ONE WEEK ON THIS WEB SITE IT WAS SOLD. THANK YOU SO MUCH FOR YOUR BUSINESS. TAKE CARE AND GOD BLESS YOU AND YOURS.PEACE OUT SISTER TAMARA

06/01/2011

April Hurd is an excellent sales person to deal with. I never met her but feel she is a true friend. She is very professional. I will continue to do business with her whenever I can and will spread the word out. Thanks April

Helen Wong

09/14/2018

Melissa was fantastic!! She was professional, friendly and was on top of answering my texts/emails quickly! From placing my ad to selling my truck, she was there every step of the way. I'm very pleased with Melissa and UsedVending!

Mahalo!
Jaymie M.
San Diego, CA

11/16/2010

Vannesa Long was very helpful with the entire transaction. All questions were taken care of in a timely manner, and her follow-up was Superb!

Thanks much.
D.Medeiros

03/25/2011

thank you for your service.Vanessa was truely great in her help and was very sweet in the way she helped.

sincerely howard swayne

06/22/2011

I was pleased to work with everyone there. Stacy Sweet was very helpful. Would definitely buy from them and recommend them. Not hard at all buying from a company so far away from my state.I am happy with there services.

Janice, OR

10/03/2011

April was a great sales rep. Thank You!! Tommy, Atlanta, Georgia

06/30/2012

Melissa at usedvending.com was amazing! She always called me right away. She handled everything professionaly and with a great attitude. I am more than satisfied with my purchase!!! I could not thank you enough!

L.R.
Minneapolis, MN

11/13/2010

April Hurd is not only good looking and helpful, she's also very smart; what a great combination.

Manny, NV

09/30/2010

Melissa Powers did a great job lining up the seller and myself quickly. I was able to start my business much sooner. Thanks again, Melissa.

Steve M

02/15/2011

It was great to work with Melissa throughtout the process of me buying my soft serve ice cream trailer. She was very helpful and quick to respond to any questions or emails i had for her. I would definately use Melissa again in the future she made it very easy to make the transaction of my concession trailer.thanks noonans concessions

Wakefield, MA

02/10/2011

Melissa was very helpful in getting my deal finalized. She even stayed after normal business hours to complete my deal. Best service anyone could ask for hands down.

Dionte'

Iowa

03/30/2011

April Hurd was very prompt, helpful, and really cares about you as a customer. Excellent follow up.

WI

12/01/2010

Melissa was GREAT to work with! She is truly interested in her customers success and this shows in her warm personality as well as her professionalism in her business. I felt very comfotable dealing with her and had a high level of trust. Melissa always returned my calls and had some great ideas in how to best sell my concession vehicle. Thanks!

Keep up the good and honest work!

Mark M.
The Macho Taco

07/02/2010

a very professional and easy transaction in getting our concession trailer sold. Melissa was very prompt and efficient in helping make the sale close. Thanks for all your efforts!

Joe Hurst
Thomasville

10/25/2009

April Hurd Rocks!

Thanks for your help and support.
Monica Reimer

04/11/2011

I had a great experience with this selling site, April Hurd is wonderful and is very helpful.I will defiantly be doing business with them in the future.

Illinois

04/24/2012

My experience with your company, and with Mellissa was the best! This is the first time working with usedvending.com and I am extremely impressed. It was effortless. Melissa did everything, all I did was pay and pick up. How easy is that? Now usedvending.com is my "go to" for all future purchases. Thanks Melissa.

K.G.,
Fresno, California

04/27/2011

Thank you Melissa for the sale of my BBQ concession trailer, although it is located in the middle of the Pacific Ocean, you made it happen. Your personality, professional knowledge of the industry was no doubt the reason this trailer sold. You can be assured that in the future if the need comes to sell another one, you will be the one I contact.

Bill from always Sunny Hawaii.

12/13/2010

I dont have words to describe how professional and efficient Melissa was. Her Costumer Service was amazing. Melissa you made the process very easy and the most important thing everybody was happy with the transaction. Thanks Again.

Lina,

FL

01/31/2011

Great service, April was really nice and helpful!!!

09/14/2010

All of the staffs are all very helpful.

California

07/13/2010

Melissa Powers has helped us to find used equipment twice now and she has been quick to get responses both times. We really appreciate her help and will continue to use her resources in the future.
thanks so much.
Phyllis Long

01/09/2011

For petes steak, if we only listened to Melisa our unit would nave been sold sooner! Great job Melissa and our trailer has a great new home clear across the country in Co., unreal!

10/28/2010

Mellisa Did Great Job Very Easy Deal

Russell B.
TEXAS

02/26/2012

Thanks!! I appreciate Stacy Sweet's help in negotiating the sale of my trailer; he made it quick and simple. Great site, great service.

Palmdale, California

02/14/2011

Melissa was great to work with. The sale was handled very professionally.

Thank you



TX

03/25/2012

UsedVending.com is a very professional company. Excellent customer service and very thorough. I trusted them to help me sell a trailer and they did the job in an A+ fashion. Two potential buyers came at the same time and they negotiated a great price of sale. I'm very pleased and grateful!!!

Terri, CA

09/11/2010

Forget E-Bay, Whatshisname's list and all the rest, and dispense with the spammers, fruitcakes, and lookylou's! Don't let Melissa Power's sweet smile fool you - The woman is a pit bull when it comes to selling your merchandise!

John C. Sumter

07/25/2011

Thanks Melissa, you did a great job! You worked tirelessly to find us a buyer and our sale could not have gone smoother once the buyer got here. He was very friendly, the kitchen trailer was exactly what he was looking for, and within minutes we were on our way to finalize the sale! We look forward to doing business with you again and I would highly recommend you to anyone!

Jill,
North Carolina

03/20/2012

Melissa Powers helped me a great deal with selling my trailer. She got me in touch with serious buyers and when it comes to certain items, you cannot not mess around with non-serious buyers. Melissa was always very prompt and she was always very friendly. Thanks usedvending.com!

Landon,
North Dakota

03/28/2010

Thank you for all of your help. I am just starting my company and so far you have provided more info than others.I look forward to working with you in the future.



Chris

11/02/2010

April was just amazing. I asked so many questions! She answered them tirelessly. She is an expert in her field. April was prompt with her replies, accurate with her information, and her customer service skills were awesome. She was a true professional throughout the experience.
Thanks so much, April.

Wanda, Evans, GA

10/23/2011

I am very satisfied with how much exposure our item received on this site! Our sales rep Melissa Powers was very professional and stayed in close contact all the way through the process.

Pat,
Mt. Morris, MI

04/25/2011

OMG! Melissa was professional, personable, knowledgeable and made my transaction go off as smoothly as possible, she is truly an ace. Thanks again, you get an A

Cameron, IL

09/29/2010

April was so great and she made my experience easy. She was so kind, patient and met each need I had professionally,yet very personable. Thank you April for everything!

Best wishes Shauna

TX
See 1800+ more or Write your own...