HORSE TRAILERS
Used Horse Trailers for Sale Online - Whether a horse trailer with living quarters or just a 2 bay trailer for local use, we have great deals on all types of used horse trailers for sale. Search by your zip code to find the perfect used horse trailer in your area or see the distance that you could travel to pick up one you like better.
DISPLAY OPTIONS
Item No: TX-HT-608H
2003 - 7'6" Wide Bloomer 4 Horse Trailer w/Living Quarters!!!
This is a very clean trailer- ready to roll to your next event. Interior of LQ is very clean and does not need any repair. Everything works fine. Exterior has normal wear and tear but in great condition. See details for complete description and features.
$34,650. Collinsville, Texas.
Call Stacy at 601-749-5660, or click the REQUEST button below to email for more info on this trailer.
Item No: IN-HT-606H
1995 - 37' Sundowner 4-Horse Trailer with Living Quarters!!!
This unit has 12' living quarters with 2 closets, full size shower, toilet & sink. Has table that converts into a bed, plus a kingsize bed in the gooseneck. Kitchen has a fridge with freezer and microwave. It can transport 4 horses and has a loading ramp and movable back tack. If purchased for the amount shown, seller will include a generator. Trailer is in good condition.

$17,600. Boonville, Indiana.
Call Stacy at 601-749-5660, or click the REQUEST button below to email for more info on this trailer.
Item No: NV-HT-600H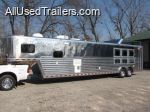 2007 - 39' Hart Ultimate 3 Horse Trailer!!!
This slant load trailer can transport 4 horses without dividers. It is totally self contained. 7' 6" Tall, 8' Wide, 39' Long (including gooseneck). Has living quarters and is like new.

$6,900. Las Vegas, Nevada.

CLICK on "MORE DETAILS" for PICS!!!
Call Stacy at 601-749-5660, or click the REQUEST button below to email for more info on this trailer.
Item No: TX-HT-599H
2001 Sooner/Revolution 3 Horse Trailer!!!
This unit has front and back tack rooms and drop down windows. It's in very good condition.

$11,990. Weatherford, Texas.
CLICK on "MORE DETAILS" for PICS!!!
Call Stacy at 601-749-5660, or click the REQUEST button below to email for more info on this trailer.
Item No: IL-HT-594H
2001 Circuit Champ Horse Trailer!!!
This unit is in excellent condition. Seller was easily able to pull this unit 6 cyl. Explorer. It was not used very often so it's in like new condition. It has 4 new tires with less than 500 miles. See details for more info.

$4,485. Bloomington, Illinois.
CLICK on "MORE DETAILS" for PICS & FEATURES!!!
Call Stacy at 601-749-5660, or click the REQUEST button below to email for more info on this trailer.
Item No: OK-HT-580H
1996 - Sundowner 4 Horse Slant with Living Quarters!!!
8 ft short wall. Gooseneck. Full bath, microwave, refrigerator, full bed, table (makes into a smaller bed), Tack room. Great condition!

$24,200. Lucien, Oklahoma.
CLICK on "MORE DETAILS" for PICS!!!
Call Stacy at 601-749-5660, or click the REQUEST button below to email for more info on this trailer.
Item No: MI-HT-582H
2008 - 13' x 8' Merhow VeryLite 4 Horse Trailer with Living Quarters!!!
This gorgeous, all aluminum horse trailer with transport you and your equine friends with syle and comfort. The stalls are fully insulated, with mangers in each. It sleeps 5 comfortably and includes fridge, cooktop, TV, CD/DVD player, shower, much more. See details for full list of features & equipment.

$49,500. ClarkLake, Michigan.
CLICK on "MORE DETAILS" for PICS & FEATURES!!!
Call Stacy at 601-749-5660, or click the REQUEST button below to email for more info on this trailer.
Item No: MI-HT-544H
2005 - Double D Experience Horse Trailer with Living Area!!!
For 3 horses. Has 40" short wall, no rust galvaneal exterior & swing out tack box for wide entry. It has a living area, awning, and much more. Trailer was used for only 3 years and is in like new condition. See details for complete list of features.

$17,600. Kellogg, Michigan.

CLICK on "MORE DETAILS" for FEATURES!!!
Call Stacy at 601-749-5660, or click the REQUEST button below to email for more info on this trailer.
Item No: AZ-HT-542H
1996 - Ponderosa Goose Neck 2 Horse Trailer!!!
Unit has a 6 x 8 area up front so there is plenty of room. There is a mattress in the gooseneck. Has good tires and a saddle rack.

$4,200. Marana, Arizona.
Call Stacy at 601-749-5660, or click the REQUEST button below to email for more info on this trailer.
Item No: MD-HT-539H
2009 Sundowner Sunlite 730 Gooseneck 4 Horse Trailer!!!
Unit is and extra tall 7'6" tall, 6'9' wide, appx. 29' long. Slant load, fully equipped with tack room. Seller is original owner; trailer was used for 1.5 years and is in very good condition. The trailer is in great shape, the horses really like traveling in it! Tack room is big for all necessary equipment.
Spare tire, break system, lights, all in perfect condition. Excellent condition. The only issue is the rubber in two drop down windows, it can be easily replaced. All other parts perfect. See details for complete description and features.

$16,500. Damascus, Maryland.

CLICK on "MORE DETAILS" for PICS & FEATURES!!!
Call Stacy at 601-749-5660, or click the REQUEST button below to email for more info on this trailer.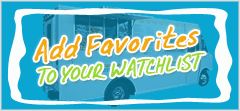 Login to Inquire Online
Call: 601-749-5660
Customer Experiences
03/28/2012

We posted our trailer on 3/19, in three days we had a buyer and the transaction was complete on 3/28. Melissa is absolutely awesome!! She answered all of our questions and was always professional. Thanks for all of your help!!!

Mary,
Jasper, GA

03/25/2011

thank you for your service.Vanessa was truely great in her help and was very sweet in the way she helped.

sincerely howard swayne

02/26/2012

Thanks!! I appreciate Stacy Sweet's help in negotiating the sale of my trailer; he made it quick and simple. Great site, great service.

Palmdale, California

04/24/2012

My experience with your company, and with Mellissa was the best! This is the first time working with usedvending.com and I am extremely impressed. It was effortless. Melissa did everything, all I did was pay and pick up. How easy is that? Now usedvending.com is my "go to" for all future purchases. Thanks Melissa.

K.G.,
Fresno, California

11/06/2010

Melissa was extremely helpful and professional with us as a first time buyer. She made everything go smoothly and I was not only extremely impressed by her efforts through the purchasing process, but with the follow up as well. My company will definately be using Melissa and her company again. Thank you again.

Rob G
Pennsylvania

04/25/2012

Melissa was most helpful from the initial listing phase to the final sale process and follow-through. It was 1-2-3 simple and easy. UsedVending.com enabled me to sell my product fast and efficiently. I wouldn't hesitate to use their services again.

Alan
Franklin, TN

12/07/2009

It was indeed a pleasure to work with April. I would not hesitate to call on her again in the future

Denver, CO

09/11/2010

Forget E-Bay, Whatshisname's list and all the rest, and dispense with the spammers, fruitcakes, and lookylou's! Don't let Melissa Power's sweet smile fool you - The woman is a pit bull when it comes to selling your merchandise!

John C. Sumter

06/18/2010

April Hurd is the best. Wicked fast responding to emails and worked the sale so everything went as smooth as butter. This has been the best brokered purchase I have ever had!!!

New Hampshire

09/30/2010

Melissa Powers did a great job lining up the seller and myself quickly. I was able to start my business much sooner. Thanks again, Melissa.

Steve M

01/07/2010

Thanks alot for you help, selling goes without any problems and safe.

Charlotte, NC

08/24/2011

Thanks Melissa
The transaction went very smooth and easy, very professional. I was impressed.

J. Reed

TX

11/07/2011

This is a great place to sell your equipment. Melissa was very cordial, to the point, and did a good job to find a buyer for the concession trailer. Thanks Melissa.

Deloris B., Mississippi

02/23/2010

Great customer service-- very helpful... thanks April Hurd--

Anthony,
Florida

10/03/2011

April was a great sales rep. Thank You!! Tommy, Atlanta, Georgia

02/06/2011

I really appreciate all you have done for me in setting up this transaction. Your whole staff was very knowledgeable and professional from the beginning. Thanks again for all of your help.

St. Petersburg, FL

10/23/2011

I am very satisfied with how much exposure our item received on this site! Our sales rep Melissa Powers was very professional and stayed in close contact all the way through the process.

Pat,
Mt. Morris, MI

03/30/2011

April Hurd was very prompt, helpful, and really cares about you as a customer. Excellent follow up.

WI

03/28/2010

Thank you for all of your help. I am just starting my company and so far you have provided more info than others.I look forward to working with you in the future.



Chris

03/20/2012

Melissa Powers helped me a great deal with selling my trailer. She got me in touch with serious buyers and when it comes to certain items, you cannot not mess around with non-serious buyers. Melissa was always very prompt and she was always very friendly. Thanks usedvending.com!

Landon,
North Dakota

06/01/2011

ALTHOUGH IT TOOK A WHILE..WHEN THE RIGHT BUYER CAME ALONG, MELISSA AND HER STAFF MADE THE TRANSACTION REAL SMOOTH.ALL PHONE MESSAGES WERE RETURNED. ALL QUESTIONS AND CONCERNS WERE ADDRESSED. IF YOU KNOW ANYONE BUYING OR SELLING,THIS IS THE PLACE TO GO!! THANKS AGAIN

BILL SHICK,CLEVELAND TN.

08/20/2010

This is my second time working with Melissa. She has been a great help to me in both purchases. She is very helpful and knowledgeable about the products they sell. Thanks Melissa

Vanessa, Louisiana

11/18/2010

Melissa an exceptional job on getting things done. She is quick with responses and she is a woman of her word :) which made things very simple. It was an Exceptional Job Mellisa

10/26/2011

I had my truck on Craigslist, local papers and autotrader for weeks with no action. I then put my truck on usedvending and sold it in a couple weeks. Melissa contacted me and she was off to the races i.e first contact, great turn around time on calls and timely paperwork. This was a seamless and timely sale. Melissa was great to work with and knew her stuff. Thanks again.

James A Benoit, CT

03/05/2012

USEDvending.com was AWESOME to work with! They listed my trailer immediately and had it sold within 48 hours! Melissa was so helpful and lighening fast with my questions and helped me from start to finish. I would recommend this to anyone looking to buy/sell. First class all the way!

Nick,
Jonesboro, AR

10/25/2009

April Hurd Rocks!

Thanks for your help and support.
Monica Reimer

10/26/2009

Keep up the good work!!

I cannot praise Melissa enough on all her help. She made it so easy to purchase more equipment for our new business and I will diffidently be contacting her again, SOON I HOPE!

Shawnee, CA.

01/07/2012

Melissa was SO helpful in getting everything together for us to buy our concession trailer. We are impressed with the way she stayed in there for a couple of months until the buyer came through with the paperwork. Our trailer is wonderful and we would use your company again!

Little Switzerland, NC

10/26/2010

April, thanks for all that you do! With your helpful and cheerful demeanor, you have made my purchase a "very painless experience". Again, much thanks!

Take Good Care!

John "The Wash Tub"
Decatur, TN

12/06/2009

I am BEYOND satisfied with your services. Melissa not only helped my mother and I with a purchase of a catering trailer earlier this year. But, she assisted us in a sale of one we had to do just this past week. From beginning to the very final piece of paperwork they were just a phone call away. Melissa and Cheryl made our buying and selling experience a very smooth one.Thanks girls.

Gainesville, Georgia

06/27/2012

Melissa, the trailer we purchased through you just arrived and we could not be more pleased. Your help narrowing the 100's of selections down to the last one was an enormous help! You can be sure we will be using your company again.

Gary M.
Sharon, Alabama



03/02/2010

I have had the best experiance with your company, April Hurd provided me with the best customer service I could have asked for . I actually train customer service . April went above and beyond the call of duty . She not only handled my request from the start to finish , she very pleasent to talk to made me feel comfortable about my purchase . Thank you April , you are a great asset to the company.

Marietta, GA

01/31/2011

Great service, April was really nice and helpful!!!

10/25/2009

Bought a catering truck from you, and sold it through you! Great customer service!

Laura
Reunion, Florida

03/25/2012

UsedVending.com is a very professional company. Excellent customer service and very thorough. I trusted them to help me sell a trailer and they did the job in an A+ fashion. Two potential buyers came at the same time and they negotiated a great price of sale. I'm very pleased and grateful!!!

Terri, CA

11/15/2010

Ms. April is a great asset to your company, I congratulate you all for the wonderfull services you gave to Millennia Atlantic University.

Doral, FL

06/30/2012

Melissa at usedvending.com was amazing! She always called me right away. She handled everything professionaly and with a great attitude. I am more than satisfied with my purchase!!! I could not thank you enough!

L.R.
Minneapolis, MN

09/29/2010

April was so great and she made my experience easy. She was so kind, patient and met each need I had professionally,yet very personable. Thank you April for everything!

Best wishes Shauna

TX

04/27/2011

Thank you Melissa for the sale of my BBQ concession trailer, although it is located in the middle of the Pacific Ocean, you made it happen. Your personality, professional knowledge of the industry was no doubt the reason this trailer sold. You can be assured that in the future if the need comes to sell another one, you will be the one I contact.

Bill from always Sunny Hawaii.

09/14/2011

I recently completed a sale of a used food truck through your website. Thanks to Melissa Powers I had a very positive and professional experience. From the ease of setting up the information on your professional website and the customer support that followed I was confident the vehicle would sell on this site. Thank you for all of your assistance.

Patrick
Cromwell, CT

06/28/2011

I used your company through Melissa Powers and she has made the purchases go very smoothly,one that fell apart,but with her experiance she moved me along to another purchase which was necessary for me to fulfill my clients needs,Thanks so much Melissa for your great help and caring for my business needs.

Wayne Basilotto,Your Choice Vending

11/02/2010

April was just amazing. I asked so many questions! She answered them tirelessly. She is an expert in her field. April was prompt with her replies, accurate with her information, and her customer service skills were awesome. She was a true professional throughout the experience.
Thanks so much, April.

Wanda, Evans, GA

11/13/2010

April Hurd is not only good looking and helpful, she's also very smart; what a great combination.

Manny, NV

08/10/2010

Thanks Malissa,we appreciate everything you did to assist us in making our dream come true.You made this process simple from beginning all the way to the end.
Businesses need more professional, friendly and enthusiatic people like you. Keep up the great work.


April and Antonio Rodgers

12/08/2009

April helped me out so much, i would have been lost with out her

Takoma Park, Maryland

06/23/2011

April made the whole process a breeze. Thanks for helping me find what I needed quickly and easily!

Mike, NJ

05/28/2011

Melissa is a pleasure to work with. Your service has been very, professional and fast. you have been great and encouraging throughout the entire process. Thank you very much for making this easy for me. I would highly recommend your service to anyone!...John

07/27/2011

I bought the perfect concession trailer that fit my needs through your service. Mellisa Powers was awesome awesome help. She made everything very easy and she is a pleasure to work with.
Thank you so much for a job well done.

Dan Mullin / Mullin's catering
New York

10/16/2011

My experience with this company was superb. Not only was I treated with respect and professionalism, but the customer service rep that I worked with was competent, punctual, and followed-through on every lead and responded to every question. This is a company that does what it say it will do and I am happy to recommend them to anyone.

Very Satisfied Customer
Miami, FL

11/16/2010

Vannesa Long was very helpful with the entire transaction. All questions were taken care of in a timely manner, and her follow-up was Superb!

Thanks much.
D.Medeiros
See 1800+ more or Write your own...