WEST VIRGINIA
West Virginia Trailers & RVs for Sale! Buy or sell used trailers inWest Virginia – we have used RVs, used horse trailers, used camper travel trailers, used heavy equipment trailers, used dump trailers, used livestock trailers, etc… AllUsedTrailers.com brings West Virginia safe, easy transactions of buying used near you!
DISPLAY OPTIONS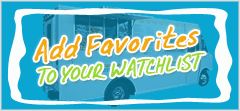 Login to Inquire Online
Call: 601-749-5660
Customer Experiences
01/09/2011

For petes steak, if we only listened to Melisa our unit would nave been sold sooner! Great job Melissa and our trailer has a great new home clear across the country in Co., unreal!

10/01/2009

Our experience with USEDvending and their representative Melissa Powers, has been very positive. Melissa demonstrated professionalism by being very informative and timely with both of our transactions. We won't hesitate calling USEDvending.com in the future.

Diane and Dave Davis
Tuscaloosa, Alabama

07/24/2014

My experience with your company was absolutely positive. Your updates and e-mails were timely and informative. The buyer was a gentleman. Thank you for all for help. I hope you received the sales receipt I faxed to you on Saturday. Thank you.
Smaragda,
Clemson, SC

07/27/2011

Melissa made it so easy for me to purchase a truck. She would call me me with all details before I would even think of them. I have not had any better customer service anywhere.

Thank you!!
Claudia,



CO

02/07/2010

Buying our vending machine was easy and professional. I appreciated all of Melissa's help in finding the right machine, it's perfect for our youth department!

Kristi
Snoqualmie, WA

11/13/2015

My experience with Greg and USEDVENDING was an absolute A+. I really had no idea what to expect, I had never used a service like this before and was very hesitant/skeptical of used vending since I couldn't talk to the seller directly. Unknowingly I assumed their process would be a hindrance to me, since I'm use to dealing with sellers first hand. Let me tell you, it wasn't a hindrance, it was a blessing. Greg took a ton of leg work out of the deal for me, and made it so smooth and easy. He even went out of his way to contact two different states to gather our state specific forms and information, which was a must for the deal, for me anyway. Totally worth it, I would certainly use this company again, and when it's time to upgrade trailers, Greg will be the first person I call to start hunting for me. Outstanding job guys!
Another Satisfied Customer, Trent W.
Dixon, KY

08/22/2011

Stacy was great! I had a hard time finding a combo machine for our small office and he was able to find me someone right away!

Thanks, Stacy!

Kathleen,
CA

10/11/2010

The first time Melissa Powers called me regarding a buyer for my vending machines, I knew that I had made the right choice in using your company. Melissa is friendly, professional, polite and knowledgeable. Melissa made the sale a pleasure - she is an asset to your company! Thank you!

Denise A.
Owner

02/20/2012

Tara was amazing. Being a businesswoman myself, I was very impressed with the fact that Tara was available every time I called. A+ service. Looking forward to future business.

Tia,
South Carolina

08/12/2012

I am very happy with the service Gini gave me, as she was upfront and asked me to provide some basic information. In a few days I was able to have a vendor come out and view my Office. I had tried on my own to get a machine out here, but had no luck. The efficiency in matching and doing all the leg work is impressive. I will refer many others to your site. Thank you.

T. M.
Milpitas, California.

02/26/2011

Melissa Powers at USEDvending was great to work with. She was patient with the paperwork, prompt with e-mails, knowledgeable with logistics, pleasant over the phone and professional in the process. I'd recommend USEDvending to anyone in the business thanks to Melissa.

St.Louis, MO.

06/04/2015

We sold our snowball vehicle last week and I just wanted to let you know that the transaction was seamless and was everything we expected and more. We appreciate all your hard work in getting us viable customers who were genuinely interested in the vehicle. We would definitely use your company again if we were ever in need to sell a concession type vehicle in the future. The communication process was exceptional as well.

Walt M,
Palm Coast, FL

06/18/2011

The purchase of my concession tailer could not have been a better experience for me! Melissa was great and took care of everything for me. Great experience at Used Vending and Melissa is the BEST!!!!

Noelle, TX

07/08/2011

I just want to say that Melissa and April are truly a blessing. They both helped me tremendously in finding the vending machine that best suits my needs. Melissa walk me thru the steps and A to Z. It's been a few months now since I've had my machine and I must say it's a huge success. Thank you ladies so much for helping a new comer like myself get adjusted to the vending businness. Mega Vending/ Used Vending you rock!!!!

Josh T., Los Angeles, Ca.

03/19/2014

Melissa was wonderful to work with. She found us exactly what we were looking for at a great price! We couldn't be happier with our experience.
D.S.
Ortonville, MI

06/12/2013

We had excellent service from Stacy Sweet who made the sale work. On previous attempts to sell last year the sale would always fall apart for one reason or another, but Stacy knew how to get it done despite some email problems.
MRH,
Rockville, MD

09/11/2010

Forget E-Bay, Whatshisname's list and all the rest, and dispense with the spammers, fruitcakes, and lookylou's! Don't let Melissa Power's sweet smile fool you - The woman is a pit bull when it comes to selling your merchandise!

John C. Sumter

I can't even begin to tell you how wonderful, helpful and proficient our sales rep April Hurd was in getting us started in our vending adventure. She was so fast at getting a response to all my needs. We couldn't be happier with our combo machine! We will continue to work with April as our business expands as I couldn't imagine going to anyone else. Big thanks MEGAvending and April!
Jessica Anderson,
Ridge, New York

04/08/2011

Wow! Vanessa, you & your colleagues at 4 Mega have done it again! The new account that you referred me to is awesome! It's amazing how easy you make it for me, you do all of the locating work and I just meet and shake hands with the contact & roll in with my machines! What a winning combination! I appreciate you, Vanessa, and your co-workers at 4 Mega Vending.com, and I look forward to conducting lots of business with you! Thank you!

Victor Carter

01/20/2015

Melissa Powers with Used Vending has been working with me on my purchase. I really appreciated all her help in the purchase of the food trailer. With her help and knowledge the transaction was a breeze. I recommend them Very Highly, they are very professional at what they do.
Geoffrey Hubbard
Roselle, NJ

My hats off to Melissa and her staff. When my husband was diagnosed with cancer several months ago, we thought for sure we would be stuck with our concession trailer until the spring. But thanks to Melissa's and staff's hard work, they found a buyer and yesterday they picked it up. What a breeze it is to work with Melissa and the staff. They truly take care of EVERYTHING. Well worth it if you have something they can sell for you. Thanks again for everything!!!

M. H.
Virginia Beach, VA

07/10/2014

Very positive experience. My company's listing of a food truck with Usedvending.com brought a legitimate, qualified buyer to the table. We previously tried online vehicle auction type sites and had no success. Usedvending.com was more of the niche market we needed to sell the vehicle. Great exposure to those buyers specifically looking for food trucks, as was our case. My account rep Melissa was very cheerful and pleasant to work with. Very professional, knowledgeable and explained the transaction process in detail. Online signing of documents was easy & convenient. Overall a very smooth transaction. I highly recommend Usedvending.com.

S.B.
San Antonio, TX



03/13/2014

After listing my commercial kitchen trailer for sale through USEDvending.com, I was initially skeptical, but after being contacted by Melissa about a potential buyer I was ultimately impressed by the her efficiency in arranging the sale to my specifications. The transaction Melissa arranged was very smooth and quick. Thanks for your help in this endeavor Melissa.

Justin
Fayetteville, AR

08/30/2012

Melissa- your company made the sale of our equipment so easy. You took care of the customer and we collected our money. This is the way to go!

K.G.
Central City, Kentucky

10/01/2012

It was a pleasure working with Gini to find a vendor for our location. She made it a point to continuously follow up and ensure we received the best possible service. Gini's pleasant manner and professionalism is very much appreciated.

P.B.
Terrell, TX

I think there aught to be a Melissa Powers fan club!! If there isn't one yet, then I think I ought to start one with me as President! It is now Saturday afternoon, but we just got up. Shirley & I are sore but happy after all that lifting and twisting Friday afternoon. Edward is a nice guy, and lives less than 5 miles from us. I knew you were closed by the time we finished loading at about 5:00 PM. Friday.
I will fax you the signed paperwork Monday afternoon. We don't normally get up until 11 AM. Mornings are slow when one is 71 yrs old., so it will be some time after that when I get down to Office Depot to Fax the signed form to you.
Melissa, you are a miracle worker. Thanks for all you did to make this happen.
Most Cordially,
Herbert Baucom

Silver Spring, Maryland

10/06/2010

Attention Mega Vending,

What I would like to say is not exaggerating or complimenting ,it is true ,and really mean it with full honesty .
April is not just a sales lady or in charge person ,she is a real human ,very helpful .very easy to deal with and very humble .My wife contacted her once and she came back to with this impression .Hay Mohamed she said , do you know this lady April is very nice ,call her for your machine problem ,she will help you ,I said yes you are right . I enjoyed working with her in spite of I never met her.If you deal with her you will never regret.
God Bless April and i really thankful.

Mohamed Hassan

01/07/2014

Melissa did a great job helping me with getting the food truck we really wanted. Great service and super responsive.
J.P.
St. Louis, MO



12/30/2014

Dear Ms Melissa, I am very happy with the transition with you. It went very smoothly, U took care of things very professionally and very good attitude. I felt like I had known U for ever. I still need another trailer and I promise you it will be through U my dear friend.
Love, Ruby
Needville, TX

09/14/2015

Good service.
Harjit Singh,
San Jose, CA

08/06/2012

Gini is WONDERFULL!!! I love Gini and how she is so kind to assist me in this vending business. This is the first time I used this website and company and already I have had a pleasant experience with her. She made me feel very special and important and I recommend her to anyone out there!

Jason,
Los Angeles, CA

01/24/2011

Melissa from Used Vending was an incredible asset in selling my mobile kitchen and equipment. From the start, Melissa was a true professional and I credit the sale to her caring attitude for both seller and buyer. She is friendly and knowledgeable and always took the time necessary to answer any questions. I could not be more satisfied with my experience.

Thank you,
Michael

03/27/2011

My family & I tried selling these vending machines after my Dad passed away. We Craig's list, ads and word of mouth with no luck. I found this FANTASTIC site while googling info. I've dealt with Vanessa just about from day 1 which was over 6 months ago and was really hoping that we would be able to sell these before Dad's house sold. Well they did it!! They've sold and my family and I are very grateful!!!
Thankyou Vanessa and Team!!
June Adamchuk

02/12/2012

Stacy, thanks for all your help - everything went well, please send more my way. Thanks.

Andy,
Kansas

06/30/2011

I was very pleased with the location service and Stacy Sweet!! It really saves time and money to use this service. Great Job!!!
Thanks,

Darrell, SC

02/25/2014

I am Jeffrey Hinton, the owner of Moselle Fish & Chip Grill. I never expected a broker to help me purchase a concession trailer. My experience with April from USEDvending.com was outstanding. She stayed in contact with me throughout my entire buying process. Thanks April and USEDvending.com.
Jeffrey,
Moselle, MS

08/09/2011

Stacy Sweet made a sweet transaction and great deal for me with seller. He saved my life because I need a machine for a high traffic location and I would have lost it if it wasn't for usedvending.com, Thanks again Stacy.

Precious
Wilson, NC

This was a most seamless experience I have encountered. Melissa contacted me first to inform me of a local buyer and helped walk me through the process including handling all the negotions and paperwork. I was Extremly statisfied with the website and my contact point Melissa at the company. This was a 10 plus experience.

J.M.
Jacksonville, Florida.

02/25/2011

I am so pleased to have done business with UsedVending.com. I worked with April who was very knowledgeable about the products. It was a pleasure working with her. She was very helpful in finding me machines that fit my needs. I look forward to working with her again on my next purchase. I highly recommend this company. I give them an A+ outstanding job.

Jonathan Washington D.C

07/31/2012

Gini helped us find a vendor: Susquehanna Vending that got machines small enough to fit through our narrow doors and supply snacks, meals, and sodas.

R.J.
Lancaster, PA

12/27/2012

We have had 2 very good experiences with placing our machines through our representative Gini Sweet. She has been most helpful and follows up on our placements regularly. Thanks Gini for being so helpful. We look forward to doing business with you in the future.

G & M
Hueytown, Alabama

01/22/2014

Calice,
Thank you so much for the kind and generous help with my purchase. You went well beyond my expectations with the numerous emails, text and phone conversations to help with my last minute deal, in the last few hours of 2013. The transaction was flawless. I will definately be contacting you again in the future for more purchases
Sincerely,
Hudson Gray
Clarksville, TN

05/19/2014

Hi Melissa ,
Just wanted to say Thanks for taking care of me in my Food Truck hunt. You answered all my questions and pointed me in the right direction for my needs . Your process was seamless and very easy . I would highly recommend your company and mainly yourself to work with . I'll be contacting you very soon in the future for Truck #'s 2&3 .

Thanks again for your support & guidance,
Ed Sautro
Wake Forest NC

08/03/2015

The Used Vending team was awesome to work with. Their communication and updates throughout the process was exceptional. They paired me up with a buyer all the way across the country and the transaction went very smooth. I would advise anyone looking to buy or sell a unit to consider using them. It was too easy and I walked away from the deal with my asking price. Thanks Used Vending.. Cheers!
Nathan Thomas,
Dallas, TX

07/25/2010

Vannesa, This is the transfer of goods. Sale is complete and I thank you for such prompt service and attention to detail. It was a very pleasant and refreshing experience. I will recommend you to anyone that I know that needs to sell or purchase you products.

Jeff

09/06/2011

I think Melissa was the first to help. I think she did a great job and was very professional in dealing with the public. Sometime that can be hectic.

April Hurd was very helpful when I contacted her for some information. She didnt hestitate to help. Keep up the GOOD WORK. I would recommend you to other people.

Gwyn,
Alabama

03/12/2015

"After no success on Craigslist, I decided to try listing an item with UsedVending.com. A few months went by and I forgot about the ad, but the machine sold for the full asking price. Transaction was seemless and the staff handled the all communications with the buyer. Will definitely use these guys again, great experience."
Jordan S.
Unionville, PA

09/09/2014

I fully endorse the use of USEDvending.com: They are incredibly professional, organized, and most importantly they know how to sell your used machines. I had several machines I wanted to sell. I was no longer able to continue with the business and wanted to recoup some of my expenditures: I had these machines up for sale on various other sites that were known for selling items quickly; quickly being the optimum word. They sat and sat and sat some more generating very little interest, none of which was at all serious. Then I found USEDvending.com, and listed my machine with them. I set up an account, listed the items, all of which took a few minutes, and then USEDvending.com did all the rest. It took all of 14 days to sell my machines, at my price, and have them picked up. Would I recommend USEDvending.com? Anytime, Anywhere, Anyhow!
Brian O'Callaghan,
Toms River NJ

09/19/2014

We had a good experience and everything was perfect.

A. Janlou
Rockville, MD
See Hundreds more or Write your own...