WEST VIRGINIA
West Virginia Trailers & RVs for Sale! Buy or sell used trailers inWest Virginia – we have used RVs, used horse trailers, used camper travel trailers, used heavy equipment trailers, used dump trailers, used livestock trailers, etc… AllUsedTrailers.com brings West Virginia safe, easy transactions of buying used near you!
DISPLAY OPTIONS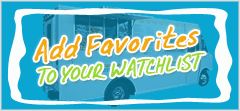 Login to Inquire Online
Call: 601-749-5660
Customer Experiences
06/19/2011

I worked with April Hurd to purchase my first Vending machine. She was professionsal and answered all of my questions. She provided copies of the manuals for my review and made sure I knew what I was getting into when I ordered the Combo 300. The system arrived on time but the key was missing. April provided a key to me the next day and we go the system working. It was a great experience for my first system and I plan to call on her when my customers want to add vending to their business.

Fairfax, VA

03/19/2014

I worked with Stacy Sweet. He was very knowledgeable in trailers and gave me good advice. He always answered my questions with a quick turnaround. When I asked for something custom he got it done. Thanks for a nice and easy transaction! I love my new trailer.
Rhonda
The Woodlands

03/03/2016

I've had my trailer on the market for the last 6 months, I learned of UsedVending.com by searching the internet. I listed my trailer on Used Vending and it was sold within two months. I would highly recommend that anyone needing to sell a concession trailer to list with this company immediately, you will be happy with the results. We worked with Melissa Powers and she assisted us through the process, she was absolutely amazing! Thank you UsedVending! :)
Kaylee Pelton

11/04/2009

April at 4Mega Vending is the best. I had a time frame that needed to be met and she pulled it off. All she said she would do she did. I will always and only use april in the future. Thanks again

James
Long Island NY

09/27/2012

Gini did a great job of answering all of my questions and making all of the arrangements. My experience with Usedvending was very positive.

P.M.
Salt Lake City, Utah

03/23/2011

April Hurd is a wonderful person to work with. She is very professional and patient. I had a great experience purchasing vender machine. I am sure I will come back again for more products in the future. Thanks, April.

Roger Zhang
Brooklyn, NY

10/10/2016

Thanks so much for all of your assistance. I had a great experience working with UsedVending. Everyone was very professional and helpful from posting my original listing, emailing me monthly to ensure the listing was up to date, coordinating questions and responses between potential buyers and seller, and providing support and document direction throughout the final transaction and transfer of property. I would use this service again in a heartbeat and recommend it to anyone else I know in this industry. This can be a really stressful process and UsedVending made it very easy for me. Thanks again.

Regards,Kandi Mitchell
Former Owner, Shenandoah Express Juice & Java
Bristow, VA

03/15/2017

April:This email is intended to confirm that we received the two Naturals2Go entree units and to thank you for your efforts on our behalf. Working with you was truly a great experience. You not only worked tirelessly on our behalf, but your happy and gracious demeanor made the experience relaxed and enjoyable. I would highly recommend you to anyone looking for a specialist in used vending machines. Your knowledge and patience ultimately led to a successful transaction. Thank you, thank you and most of all, THANK YOU!! All the best and I will definitely be using you for all my future needs.

David Propis
CEO, Island Vend Enterprises Corp.
Melville, NY

11/26/2014

Melissa Powers did an exceptional job helping us sell our concession trailer! She was so nice and on the ball about every single thing! She explained the whole selling process very well so we totally understood how everything was going to go. A wonderfully smooth transaction! We plan on using your site again to sell another trailer in the future, and would love to work with Melissa again!
Julie and Kirby Farrar,
Ocala, FL

08/28/2014

Melissa thank you again. We completed the deal as I'm sure you know and are very pleased. Your brokerage does a great service.
Clay Redding,
Portland, Oregon

07/29/2016

I was very pleased with the assistance Julia gave me in making my purchase. She went above and beyond in helping make me a happy customer. Thanks.
William Hails,
Natchez, MS

04/07/2014

I wanted to say Thank You to Stacy Sweet at USEDvending.com. Stacy made my purchase nice and easy. Thank You again for all your help!
A. W.
Soperton, FL

08/09/2011

Stacy Sweet made a sweet transaction and great deal for me with seller. He saved my life because I need a machine for a high traffic location and I would have lost it if it wasn't for usedvending.com, Thanks again Stacy.

Precious
Wilson, NC

08/31/2015

Usedvending.com was so AWSOME for me! There is such great customer service, things went very smooth and I was able to sell my lunch truck within 3 months, I was very happy about that! Thank you usedvending! I've already recommended you to others!
Shelly Holland,
Cedar, MN

09/10/2016

UsedVending.com and Bradley were extremely helpful throughout the whole process. I was very appreciative of them always keeping me informed about any updates in doing their best to help me. I knew I wasn't spending a whole lot of money yet they treated me like A MILLION $ client. I will definitely be doing business with them in the future.
Sean Gates,
Wichita, KS

04/17/2011

Thanks Melissa. It was a fast and smooth deal.

Toronto, Canada

06/21/2012

Stacy Sweet is the best! He always goes out of his way to help. Thanks so much, Stacy!

Jennifer
Denver, CO

11/06/2013

I would like to thank Melissa Powers for all her help, she was very professional thru the whole process of selling my food truck. She walked me thru every step from the time my truck was put on your site until the very end when it was sold. I will be letting all my friends know of your site in case they have a need for it in the future. Once again thanks to Melissa, & the best part, it was sold in less than three months!
Thank You,

Joe B.
Cape Coral, FL

10/24/2016

We found your site very informative & your rep Bradley Heath very helpful. He worked with us & the seller to reach an agreement that worked for both parties. I will recommend your site as well as Bradley to others who are looking for a concession business. Thanks for all your help!
Carolyn Morgan,
Peculiar, MO

12/20/2010

This was a very satisfying experience for me. I had been in the market to purchase a concession trailer for six months. I had finally decided to bite the bullet and purchase a new one which was going to be over my budget. Before I committed to the new trailer I call Melissa, she remembered me from a few months before and gave me a recommendation to one of the trailers on her site. Within two days I was able to make an offer and buy my trailer. Thanks to Melissa and UsedVending.com. I will definitely use this site again for my buying and selling needs.

Reed
Loxley, AL

01/02/2014

I want to say that working with you was a pleasure and you always returned my calls promptly and had answers it a timely manner. I wish all the suppliers I worked with on a daily basis where as quick and full of answers as you have been. Thanks again for everything up to this point and I will be in touch if I need help or just to report or success with our vending machine set up.
D.A.
Brighton, CO

04/29/2015

Melissa, I want to thank you very much for producing the sale of my lunch truck. When I first put the truck on Craigslist I got a call from you wanting to put my truck on your site at no charge to me. I accepted your offer & the truck was featured on your site. Some time passed & I got a call from Greg w/ a buyer. That buyer fell through, but you all kept working hard to find a buyer. I was impatient & I paid another company to advertiswe & sell the truck. Error on my part. They posted lots of ads but produced no results. YOU PRODUCED A SUCCESSFUL SALE. Melissa found a buyer & put together an agreeable sale. The buyer came to my house w/ a cashiers check & the sale was consumated. I couldn"t have done it without you. THANK'S A MILLION.
Mike Culliney,
Leavenworth, KS

01/06/2015

April, you were very helpful and kept in close contact with us about the machine and the delivery. we received the machine when you said we would and arrived in like new condition. we had been dealing with another company for over three months to no avail but with your help the whole process only took three weeks. We unpacked the soda machine plugged it in for a day and then loaded it up. So far everything has worked perfectly. We will be letting anyone we come in contact with about using Megavending as a supplier of their needs. Thanks,
Butch Haus, Milesburg Lions Club president.
Milesburg, PA

10/10/2016

April, I want to thank you for your assistance in sell my machines. The buyer was more than thrilled with his purchase and I was as equally impressed with how smooth the transaction was processed. You were in constant contact with both parties and we could not have done it without you. Your experience and professionalism during the sell really exhibited the reason I listed with your service. Thanks again - April.
James Harmon,
Granville, OH

10/25/2009

April Hurd Rocks!

Thanks for your help and support.
Monica Reimer

Dealing with Stacy at usedvending.com was great! He was able to answer all my questions and concerns in a prompt manner. A great help in facilitating the sale of my mobile kitchen!
D.H.
Charlottesville, VA

09/28/2009

I was impressed by your representative (April) and the customer service she provided us. Not many companies like this left around the country. Better to hear it from the boots on the ground rather than from some far away place or recorded info.

Brian
Lindsay, California

10/12/2016

I was looking for a concession stand when I came across USEDvending.com. I found one I thought I might like but was apprehensive about how to go about negotiating the price I wanted to pay. The process was much easier than I thought. One phone call to Wendy and my fears were gone. She was the "go between" for me as I negotiated and eventually purchased the stand. She asked the seller all the questions I had and went back to him several times on my behalf. I felt more at ease having her ask my questions than having to do it directly with a seller I didn't know. Overall a great experience. Thank you Wendy and USEDvending.com

Steve Hanvey
Owner/ Austin Ice Company
Austin, TX

03/24/2011

April was wonderful to work with, she always followed through with everything she said and made the process of buying and setting up our soda machine very easy. Right down to the delivery guys it was a wonderful experience. I will definitely use them again when I need to purchase my next machine

Dale

08/19/2010

Can't say enough how much I appreciate the effort from Melissa. Super job from posting until the final sale. I look forward to againg working with you in the future.

Jim O.

02/17/2013

I am so happy -- Used Vending.com sold all 5 of my Office Deli machines!! I worked with both Melissa and Calice I wouldn't be happier with the experience -- they were both a joy to work with.

D.R.
Westmont, IL

05/15/2017

To whom it may concern,I would like to say I was hesitant initially with listing my truck on USEDvending.com. Instantly I was impressed with the quality service from all of he representatives that I interacted with. This positive interaction made the whole process run smoothly from beginning to end. As the seller, and from the buyers perspective it was well worth using their outstanding services. Wendy was very professional and made every part of the selling process understandable and worthwhile! I highly recommend that anyone that is interested in selling or buying any kind of commercial equipment regardless of size check out USEDvending .com.

Highly satisfied customer,
Kalan Chaloupek
Las Cruces, NM


11/01/2010

Thanks to Melissa, one of my vending machines sold in as little as one mo. she is very professional and polite.! You are very lucky to have someone like her with your company. Thank you Melissa !!!

IL

06/03/2015

My experience with USEDvending.com was a wonderful experience. Greg Frierson was a great help in answering all of my 

questions and the transaction went very smoothly.
 I am the proud new owner of a Food Concession Trailer thanks to Greg!
Donna K. Tyson,
Columbia, VA


10/23/2014

My experience dealing with Melissa Powers was great. A smooth easy transfer of equipment, with no out of pocket funds from me. Thanks Melissa for a great job.
Sincerely,
Jim Lowe
Crawfordville, FL

11/16/2016

Melissa, Thank you so much for your assistance in the purchase of my new concession trailer! I had a great experience with you and your company. Everything went through without a hitch and we were able to bring our trailer home within 2 weeks of putting in an offer! I will definitely do business with you again and recommend you to anyone who may need your services. Thanks again!
Sincerely,
India Holland,
Holcomb, MO

03/06/2014

Firstly, everybody I dealt with at USEDvending (Stacy) was more than helpful. Melissa, you restored my faith in dealing with large purchases. I only wish the remainder of getting my dream business up and running could be so easy. I am not just being nice, Melissa truly went above and beyond the call of duty in every. Thank all ya'all again.
JK
Las Vegas

09/04/2012

I run an industrial catering outfit and was in need of some extra catering trucks, upon some extensive reasearch on the internet, I found used vending and got to talk to melissa. She really helped me in what I needed to do all thru the process and she even called Mississippi DMV to find out some things as far as me having them transportated back to Ohio. I would reccommend UsedVending and Melissa for all my needs, I had a great experience.

Von Troy,
Ohio

09/19/2012

I cannot say enough about this website. Melissa was excellent. What drive and dedication, Melissa worked with the buyer, stayed in contact with both of us. Follow up calls for both parties. I cannot say enough about this company, my trailer was sold in roughly 5 weeks, amazing. Very satisfied. Thank You Melissa and Usedvending.
A.P.
Michigan


02/27/2014

Good Morning Stacy, I would like to tell how pleased I am with the way everything went with the purchase I made through Usedvending.com . Connie was awesome and even threw in a few items I could use in starting up my new food truck business. I would also like to thank you Stacy, you were very cordial and professional through the whole transaction.I would recommend your company without hesitation...
Rick,
Skandia, MI

06/04/2016

I had an awesome experience with usedvending.com. I contacted Melissa Powers and she was always quick to respond and extremely helpful locating and negotiating a concession trailer for my new business. I plan to expand and I will definitely contact her through this site again!
Lori Culver,
Roanoke, VA

02/25/2014

We were thrilled with the level of service and professionalism we received from your company. We had no idea the trailer would sell so soon!!! Only listed a few weeks and the next thing we knew it was a done deal. Couldn't believe how easy the whole thing was. Thanks again for your help, you were amazing.
A.B.
Kilgore, TX

08/12/2014

Hi, I am writing to let you know that my experience with Melissa was awesome, she really knows what she is doing and made it incredibly easy and fun. Thank You and I'm enjoying my new food trailer!!

Rylee Mac's Market & Cooking School,
Durango, Colorado




09/12/2009

We were very pleased with the quality and timeliness of communications with Usedvending.com. Melissa was knowledgeable, personable and facilitated our purchase with great professionalism. We were pleased with the machines we purchased and the savings we received compared to other purchases we have made. The website is easy to navigate and the email updates are very helpful.
Dannella Burnett
Oakwood Vending
Gainesville, Georgia

07/10/2015

Hi April, sure thing. Purchase was easy and straightforward. Equipment came in good shape, and install was a piece of cake. Seems to be working well but do have a question about coin distribution € will contact a different time.
Thanks,
Molly Medkovik
Denver, CO

05/31/2013

All went great with the sale of 4 machines. They were on the site for only a week when Melissa had a buyer lined up. Less than a week later the machines were sold, everyone had been paid and the customer was putting his machines on location. Thanks Melissa for your hard work.

DWB,
Selma, AL

02/03/2011

Hey there! Just wanted to say thanks for being such professionals on the phone & behind the scene! Vanessa did such an awesome job in securing an account for us here in Dallas & the set up and transaction was 100% seamless! Thanks so much & we're looking forward to purchasing more locations through Vanessa and 4Mega Vending!

Victor Carter
Mr. All Worlds Inc.

05/31/2016

Dear April,

Thank You so much for the sale of my popcorn wagon. Even though this is a unique item you never gave up on me. You kept constant contact and finally got the job done. I am super happy with April and this company . They explained things to me each step of the way and the payment was received promptly. I wouldn't hesitate to do business with used vending again.

Darlene M.,
Sloughhouse, CA

02/03/2016

I'm glad that I found USED vending. All the representatives were professional and explained the process well. Best thing was that they sold my item! The company was reliable and always followed up with me. I was very happy with the customer service experience and would recommend the company.
Best, Alexandra & Miguel
Manassas, VA

03/01/2012

My entire experience with usedvending.com was very positive. Melissa was professional and proactive in her assistance with finding a buyer and was extremely helpful during the negotiation and purchase. I would definitely use Usedvending.com again.

Keith,
Florida
See Hundreds more or Write your own...