WEST VIRGINIA
West Virginia Trailers & RVs for Sale! Buy or sell used trailers inWest Virginia – we have used RVs, used horse trailers, used camper travel trailers, used heavy equipment trailers, used dump trailers, used livestock trailers, etc… AllUsedTrailers.com brings West Virginia safe, easy transactions of buying used near you!
DISPLAY OPTIONS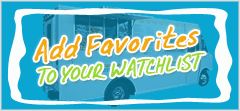 Login to Inquire Online
Call: 601-749-5660
Customer Experiences
10/21/2009

I recently became aware of 4 MEGA Vending, I am a small vending operator. my contact there is Ms. Melanie Lee, who has been very helpful,not pushy, no hade sell, only the help that you request and need.
They have found me one location already. And have a large inventory of routes and new and used equipment. In a business that has it's share of fly by night operators with over priced equipment wit alledged $800.00 per day income, these people are real helpful, and I woudl readly reccomend any looking for locations, equipment, or advise to call them, I highly reccomend them and I am a 35 year retired federal law enforcement officer.
Charlie
Houston, Texas

10/17/2012

Working with Used Vending was very straightforward and painless. Melissa was very helpful in every aspect of the transaction process, and doesn't take sides when conducting the deal. I would recommend contacting Melissa if your thinking about getting into or out of the mobile food game.

Frank,
Buffalo, NY

10/24/2009

April, is very helpful, amd really knows machines. She is very honest and trustworthy, not like other distributors that give vending a bad name.
Maryann
Framarang Refreshment Svcx.
Edison, NJ

01/07/2014

Melissa did a great job helping me with getting the food truck we really wanted. Great service and super responsive.
J.P.
St. Louis, MO



10/15/2009

melissa did a fast and wonderful job selling my machines thank u. od

Raymore, Missouri

01/17/2011

Melissa,
Great job in getting back to us with the machines we needed and explaining how the process works. The transaction went very smooth and the description was what was stated. We are happy with the machines and will be doing more business in the near future. Thank you for your help and we will be talking to you soon. Glenn Elk Grove, Ca.

10/22/2008

Hi Melissa,
Yes our vending machine has been very profitable for our office.It has made money for us.
Unfortunately we are not in the vending business so i wouldn't be able to purchase more.
I still have your number and if i see any business that are looking for a machine i will reffer them to you.
Thank you for services and it won't be forgotten.
I wish you a great day!

G. Ruggiero,
Florida

06/01/2011

April Hurd is an excellent sales person to deal with. I never met her but feel she is a true friend. She is very professional. I will continue to do business with her whenever I can and will spread the word out. Thanks April

Helen Wong

09/27/2009

What a great and smooth experience. Mega-Vending alerted me to a location needing a vending machine. They provided the location my information. In just a few days I had secured the location.

Mega-Vending sold me a new machine for the location. The price was right. The service provided from the Mega-Vending reps was excellent.

I look forward to more great vending location opportunities provided by your company.

Thanks.
Chris
Bloomington, Illinois

10/10/2012

Melissa, Thanks for the really great help finding buyers for my vending machines in April and October 2012. This is a real 'class act'. Melissa did 99% of the work and I got 100% satisfaction. I will singing your praises to anyone who will listen. Many thanks again.

PMG
Bossier City, LA

08/10/2016

I would like to spread the word that Usedvending really helped me out. I was finding overpriced equipment and food trailers in my area so I started searching online and that's how I found Usedvending.com. I found a friendly looking picture of Melissa Powers so I contacted her. I found my food trailer and she helped the buying process go smoothly and at a price I could afford! Thanks!

Gina Bouldin,
Boerne, TX

Melissa was great, she brought me a couple offers, but the people backed out at the last minute. Thanks, I would use this company again.

01/13/2010

I wanted to thank you for a great machine . thanks to all of you. Have a great 2010

Ray,
GA

11/24/2015

Used Vending provided great service. Melissa Powers was the representative that helped me, she was very helpful and professional. I had been trying to sell my food truck for a year and had several candidates interested but none had the capital. Used Vending found a buyer from Texas. I appreciated that UsedVending only contacts you if they have a buyer with the money ready. Melissa was very knowledgeable, she coordinated everything perfectly with me and the buyer from Texas. I would strongly recommend this company.Thanks Melissa & Used Vending.
Martin Ruiz
Marietta, Georgia

10/22/2009

Used vending sold my used vending machines Melisa handled the transaction it was a hard transaction. MELISA handled it very well and all parties were very happy and the transaction was very good. Used vending lived up to all of ther agrements. I am very happy with Used Vending and am looking foward to doing futcher
business with useed vending
sincerly
Eddie
Salisbury, MA

03/21/2016

At first I was very hesitant because I never heard of this company before and to be honest when it came to leaving a small deposit towards the vending machine I almost didn't do it. After doing some research it seemed to be a legitimate company so I went ahead with it and I am very happy that I did. April was very helpful in seeing me through with filling out the paperwork and even gave me a call to see how everything went she was very helpful. I hope this company knows how lucky they are to have her on board. I had a great experience with Used Vending and looking forward to doing business with them in the future. Thank you April!!!
Andre Aponte,
Brooklyn, NY

09/07/2011

We just installed a new located that was referred to us by Stacy. We work with the client and were able to fulfill there needs and not stretch ourselves.

This was an excellent referral. The customer was willing to work with us, this way it was a win-win for both of us.

Looking for to the next referral.

Thanks again Stacy

Jack R.

08/06/2014

We wanted to thank Stacy Sweet and USEDvending for helping us to sell our ice cream truck. We had dealt with several potential customers with no results, Stacy Sweet made the sale smooth and pleasant and we will use USEDvending again in the future. Thanks.
Dan Parks,
Live Oak, FL

11/06/2011

I would like to thank Stacy Sweet for his perseverence in selling a portion of my vending machines. He really got creative in selling them and it's been a pleasant experience. I'm sure in due time he'll sell the rest. Thanks Stacy. Pam Al-Bawab Georgia

08/10/2010

Thanks Malissa,we appreciate everything you did to assist us in making our dream come true.You made this process simple from beginning all the way to the end.
Businesses need more professional, friendly and enthusiatic people like you. Keep up the great work.


April and Antonio Rodgers

02/19/2013

Stacy Sweet did a great job by working with me on a great new vending location.

S.F.
Frankfort, IL

10/14/2016

Thanks for helping me sell my trailer - I was surprised at how fast it sold and I pleased With the service and help I received in selling the unit. I would recommend the site to all my friends, and I did recommend the service to fellow food truck owner that was getting ready to sell his unit.
John Boles,
Tallahassee, FL

09/03/2014

Thank you Usedvending.com for your help with all of my buying/selling needs! You guys are like the realtors of the vending industry!
Romaro Crowder,
Indian Head, MD

08/12/2009

I was happy to know that our company was provided with the service that others could not fulfil. At first I thought that we weren't going to be able to get a machine but they came through. Thank you for the hard work.

Van Nuys, California

03/02/2010

I have had the best experiance with your company, April Hurd provided me with the best customer service I could have asked for . I actually train customer service . April went above and beyond the call of duty . She not only handled my request from the start to finish , she very pleasent to talk to made me feel comfortable about my purchase . Thank you April , you are a great asset to the company.

Marietta, GA

11/17/2010

April Hurd was very helpful in providing excellent customer service. She definately is a great asset to your company! Look forward to work with her again in the future.

Gor, CA

05/27/2016

Melissa,

Thanks for all your assistance throughout the process of this transaction! My new trailer is in my commissary lot and I'm ready to get started as a new business owner! (Wish me luck!)

The sale yesterday went very smoothly. The trailer was everything I'd expected and David, the seller, was very helpful and happy to answer all my questions.

I'm glad I happened to find USEDVending.com or else I'm sure I'd still be haunting the personal ads looking for the right trailer. The site's options and the information provided really put my mind at ease that I was making the right choice.

Most importantly, the personal touch and knowledge you provide as a sales representative really insured that this transaction went smoothly. What could have been a very stressful process turned out to be a piece of cake!

Thanks and all the best

Jeff B. Gimbel
Philadelphia, PA

12/29/2009

dear melissa i would like to thank you and used vending company for the best service i have ever had. the sale of my concession truck went real smooth. a job well done.

if you ever need a reference please have them call me

chuck neri
stafford springs ct

02/12/2012

Stacy, thanks for all your help - everything went well, please send more my way. Thanks.

Andy,
Kansas

06/13/2014

Hi! Sorry Cristina! (this is Traci, Kyle has no time to do anything lol), and we meant to get back with you sooner than this! but we got the food trailer and everything went really smooth. Thank you for all your help and patience with everything! We hope you get a raise (if that's how it works! don't know if your paid by the hour or commission lol but you done A GREAT JOB!) we would recommend Usedvending.com to others. God Bless.
Traci,
West Virginia

12/17/2013

I have high marks for UsedVending and its staff. I would like to let everyone know how helpful Melissa from Used Vending has been to work with on selling one of our food trucks. They handle everything from setting up the profile and ad to finding the buyer. We had a great experience dealing with UsedVending and they found a buyer fairly quickly. The buyer just came, quickly looked over the truck, and drove off with the food truck due to how well everything was advertised and questions that could be asked before the sale. UsedVending dealt with all the offers and paperwork trying to get the food truck sold for us. I would highly recommend Used Vending to anyone trying to sell their food trucks.

Kevin Tighe
Georgetown, MA

02/20/2012

Melissa Powers did an excellent job helping us to sell our concession trailer. She was quick to follow up and kept pushing until we finally sold!! Her knowledge of business was instrumental. Thanks Melissa.

Don,
Ohio

07/17/2013

Once again, Stacy came through like a true Champ!! He worked closely with me providing all the behind-the-scene back-up I needed to help me land a new account!! 5 Gold Stars for you, Stacy!! Yours is the only referral service I use and you are absolutely the best!
Jackie
- Downingtown PA

11/02/2016

I couldn't be happier with my experience with UsedVending.com. The hot dog cart I bought is in fantastic condition for a great price, and Wendy made the process seamless. It was 100% quick, easy and a great overall experience. I've been looking for a while at multiple sites, and I'm glad I found what I wanted on UsedVending.com.
Jerry Patterson,
Sewell, NJ

03/28/2016

Julia, I just want to thank you for all the help you provided in the sale of my trailer. You really went above and beyond in finding the right buyer for me. If I ever had anything like this to sell again, I would be sure to contact you first!
Thank you,
Melanie DeRoehn
Warren, NH

10/15/2009

Melissa has helped me sell 2 machines in a short amount of time, at no cost to me. She does all of the work with a few phone calls and emails. I tried a newspaper ad for 4 weeks that cost over $100 and I had 1 response. Used Vending. com has worked very well for me.

West Hartford, Connecticut

10/28/2010

Mellisa Did Great Job Very Easy Deal

Russell B.
TEXAS

09/20/2009

I had an exceptional experience working with Mega-vending. April, of your sales team, made me feel like a valued customer instead of another order number. I received my purchase in a timely manor, and the product was exactly what I was looking for.

Morton Grove, Illinois

11/08/2012

When I first got into the vending business,I used a different locating service. Let me tell you that they didnt really do a good job. When I found out about 4VENDINGTIPS.COM, I decided to give them a try. The absolute best decision I ever made. Gini Sweet is an absolute pleasure to do business with and I'm looking forward to my next GREAT location with their help! THANKS GINI!!

GW
Birmingham, AL

02/23/2012

I was very pleased with the professional and helpful way that Melissa Powers assisted me in selling my equipment. Melissa was very good at keeping me informed about the process, as well as understanding of my situation. Thanks so much, Melissa!

Julie,
New Orleans

10/03/2016

Our experience with USEDvending.com was the best we ever had for selling our concession trailer. We had tried other web sites and had no replies or they were no shows. Within a week, we had already somebody interested by using USEDvending.com. and within three weeks we sold our concession trailer. Julia is one of the agents there and made the experience so easy and pleasant. They did all the work for us that we would had to do, I would highly recommend anyone selling vending items to use them.

Nick & Vicki Primavera
* Dogs on the Run *
La Quinta, CA

03/01/2012

My entire experience with usedvending.com was very positive. Melissa was professional and proactive in her assistance with finding a buyer and was extremely helpful during the negotiation and purchase. I would definitely use Usedvending.com again.

Keith,
Florida

05/16/2014

€Melissa Powers was a delight to work with. Her professionalism, experience and follow thru made our purchase effortless. I would recommend Used Vending and Melissa Powers to anyone looking to purchase in the future. €
Patti Miele
Catering Sales Manager,
White Horse Tavern Catering
Wellington, Florida


10/13/2009

I recently purchased 3 G620 model vending machines. April made this purchase go really smoothly and I was able to close the deal within a few days. I appreciate all the help and being able to secure these machines for the deal I got.

Kevin
Orlando, Florida

03/05/2013

Dear Stacy,
My brother and I would just like to personally thank you and your business for the excellent service we received. You guys have handled all these little things with the shipping excellently and we are very appreciative. We ordered a Snack machine from another company at the same time as we ordered your drink machine and the service we have received from that company has been awful. So I just want you guys to know that you're great and we will definitely order from MegaVending when we get our next account.
Thanks, John
Orange City, FL

05/30/2012

I received a location notification from 4Mega Vending, and found it very interesting. I contacted Gini and she helped me through the entire process, and I was awarded the location. As it turned out the securing of the location took longer then anticipated, and was more troublesome then expected. Gini stood by me the whole way and was in constant contact with me. With her help I was able to get the location and complete the installation of the machines. I am very much looking forward to working with Gini and securing more locations. My appreciation to Gini and everyone at 4 Mega Vending.

Preston Nebel NEI Video & Vending,
VA

10/14/2009

Our journey to find the exact machine for our needs turned out to be an easy one....April our customer service rep was not only helpful and informative but turned out to be that real down to earth friendly person that we all look for but never seem to find. On normal terms we are usually forced to speak to automated operators or tranfered to person to person. April became our personal assistant until we found exactly what suited our needs. Thank you for a pleasant expierience.
Best Regards Sheryl Elliott Easy Management Co.
Walpole, MA

05/19/2016

I have been watching the UsedVending.com website for several years as I was preparing to start our non-profit business. When I finally made contact with Wendy, she was extremely patient and informative. She was aware of my lack of experience with concession trailers, and took the time to make sure that I understood everything that was necessary to have a successful start-up. She raised questions that I would not have considered, insuring a seamless inspection and licensing process here in WI. I am very happy with our recent purchase of a fully equipped, 20' 2015, World Wide Trailer. And extremely satisfied with the service provided to me. I feel that Wendy has a genuine interest in my success beyond the actual transaction! I will definitely recommend her personally and Used Vending to any of my peers who might be interested in the mobile restaurant business.
Thanks for your patience and your concern,

Pat Joyce
Pay It Forward Ethiopia Inc.
De Pere, WI

01/25/2010

Made the best decision of my life choosing usedvending.com to represent me in my first vending machine purchase. My agent April was amazing in every way! Her dedicated loyalty to me as a customer (buyer) has moved me to write this testimonial. Where in this society most people tend to take things for granted, she went above and beyond to see that i was satisfied with the end result of our transactions. This combined with her concerned follow up has impressed me immensely.I would highly recommend Usedvending.com and her as an agent to anyone looking to buy a vending machine.

Sedona, AZ

06/30/2011

I was so pleased with how smooth and fast everything went with me selling my mobile kitchen, Melissa was so helpful, thanx hun!! Now I'm in the process of purchasing a cart, and Stacey is great too... I will refer everyone I know looking for any vending, so far it's better than Ebay! Thanks usedvending!!!(Melissa & Stacey)

Laurel, MS
See Hundreds more or Write your own...