TEXAS
Texas Trailers & RVs for Sale! Buy or sell used trailers in Texas – we have used RVs, used horse trailers, used camper travel trailers, used heavy equipment trailers, used dump trailers, used livestock trailers, etc… AllUsedTrailers.com brings Texas safe, easy transactions of buying used near you!
DISPLAY OPTIONS
Item No: TX-HT-534H
1992 - Hart 3 Horse Slant Trailer with Full Living Quarters!!!
This deluxe horse trailer has plenty of amenities for you and your horses. Roof mount a/c, a new 2 speed jack, kitchen, bath & bedoom. It's in like new condition. See details for list of features & equipment.

$11,000. Atlanta, Texas.

CLICK on "MORE DETAILS" for PICS & FEATURES!!!
Call Stacy at 601-749-5660, or click the REQUEST button below to email for more info on this trailer.
Item No: TX-ET-474H
1992 Benlee Rolloff Trailer!!!
This trailer has 60,000 Lb Capacity, 5 Stage Inside Cylinder, 3 Stage Outside Cylinders and 33' Rails and is in good condition.
$24,145. Houston, Texas.
Click on "More Details" for more Pics!!!


Call Stacy at 601-749-5660, or click the REQUEST button below to email for more info on this trailer.
Item No: TX-HT-488H
2006 4 HORSE TRAILER W/LIVING QUARTERS!!!
This trailer is 8' wide, 8' tall, and includes full living quarters. It is a 4 horse slant load trailer with full carpeted side tack w/ four saddle racks and mega bridle hooks-over 40 hooks. This trailer has been well kept and is in very good condition. Please see the detail for more information on the features.

$54,985. Stephenville, Texas.
Click on "More Details" for Features!!!
Call Stacy at 601-749-5660, or click the REQUEST button below to email for more info on this trailer.
See what other customers are saying...
Hey there! Pick up went great!! Rosendo and his wife Veronica were very gracious. Rosendo and his son helped Steve load all the machines. All 32 were in boxes. Everything was there but a set of instructions. Rosendo is going to look for his set and fax me a copy. If he can't find it, he will call the company and get a new copy.


The entire experience of buying my new business was easy, fun, and stress free due to your hard work and caring attitude. Thank you. Now, I only hope that my business itself will be just a fun.


I'll be back in touch with you when I get these machines up and running. By then, I'll be "biting at the bit" wanting to enlarge. Of course, I wouldn't think of using anyone else but you and USEDvending.com


Thanks again, Patti
---
Dear Melissa,
Please use this as you like. It is from the heart !

"Usedvending.com was a lifesaver for me in selling my concession trailer. After trying the popular ......list for 8 months and attracting hundreds of scammers, deadbeats and people who wanted me to finance for them, I found Melissa! She helped me fine tune my ad and target the right buyers. My deal went fast, and I had my money within a week from the time the buyer first came to look ! I can't say enough about the professionalism at Usedvending.com."

Dennis Coffey, New York
Item No: TX-HT-487H
2003 3 Horse Slant Trailer with Living Quarters!!!
Very nice,clean trailer in good condition, with all the same equipment as the big trailers have, just smaller. Living quarters with short wall with dinette and separate bathroom. Door to horse compartment. Please see details for more pictures.


$25,200. Decatur, Texas.
Click on "More Details" for Pics!!!
Call Stacy at 601-749-5660, or click the REQUEST button below to email for more info on this trailer.
Item No: TX-HT-486H
1995 Shelby 2 Horse Straight Load with Living Quarters!!!
This is a 2 horse trailer is in good condition and is 7' tall so it can hold larger horses. It also has living quarters with bed, shower and much more. Please see details for more features.


$6,050. Dallas, Texas.
Click on "More Details" for Pics and Features!!!


Call Stacy at 601-749-5660, or click the REQUEST button below to email for more info on this trailer.
Item No: TX-ET-476H
2005 48' Car Hauler with Living Quaters!!!
This trailer is in very good condition and ready to haul your stuff. Please see details for features.


$27,500. Orange, Texas.
Click on "More Details" for PICS & FEATURES!!!


Call Stacy at 601-749-5660, or click the REQUEST button below to email for more info on this trailer.
Item No: TX-ET-479H
2009 20ft Gooseneck Dump Trailer!!!
This trailer is in very good condition and can be used as a Dump trailer or the sides can be removed to be used as a flatbed trailer. See Details for more features.
$12,000. Beaumont, Texas.
Click on "More Details" for more Pics & Features!!!
Call Stacy at 601-749-5660, or click the REQUEST button below to email for more info on this trailer.
Item No: TX-HT-473H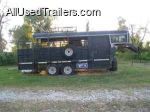 Heavy Duty Gooseneck Horse Trailer!!!
2 horse, slant, gooeseneck trailer in fair condition. Rubber-lined, with tack room and sleeping quarters over the gooseneck. Top needs repairs due to rust but the rest of the trailer is in good condition. Also would make a good landscaping trailer
$2,875. Winnie, Texas.
Call Stacy at 601-749-5660, or click the REQUEST button below to email for more info on this trailer.
Item No: TX-HT-466H
2001 TRAV-A-LONG OUTLAW HORSE TRAILER!!!
LS BODY STYLE 4 horse trailer with sleeping area. See details for more features.
$9,775. Hereford, Texas.
Click on "More Details" for Pics & Features!!!
Call Stacy at 601-749-5660, or click the REQUEST button below to email for more info on this trailer.
Item No: TX-DT-472H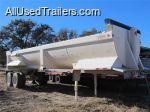 Like New 2007 32ft Dragon Demolition Dump Trailer for sale
2007 Dragon Demolition End Dump. Like new 32' Dragon Demolition End Dump trailer. Half round.
$25,800 Fredericksburg, Texas
Call Stacy at 601-749-5660, or click the REQUEST button below to email for more info on this trailer.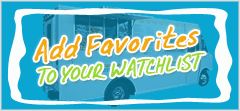 Login to Inquire Online
Call: 601-749-5660
Customer Experiences
11/20/2013

Mellissa was great to work with. She was real patient and knowledgable. She matched a buyer for our food trailer perfectly and we received full price! We are very satisfied!!!

Liz Sander
Chicago, IL

10/03/2011

April was a great sales rep. Thank You!! Tommy, Atlanta, Georgia

01/31/2012

Hi Melissa- Yes, he came, on time, very pleasant transaction, no drama. Ibrahim and I want to thank you for your never-ending dedication to finding buyers for the express purchase of these machines and, for your sunny deposition and demeanor. You are a true customer service professional, and, an all around nice person. I cannot extoll your virtues enough. Good luck in your endeavors whatever they may be. You deserve the best, as, in our opinion, you are the best!

Sincerely, Ibrahim and Tamara
Chicago, IL

10/11/2012

Hi Melissa Yes I did have a positive experience Thank you very much. The chap we bought it from was very helpful and went more than the extra mile. Thank you for all your help and efficiency, I am having it wrapped.

J.T.
Salt Lake City, Utah

01/12/2011

Vanessa,
Thank you so much for your speedy reply and consistent follow up! We were in need of a vendor and you provided that service and answered all of our questions. You made our move to a new location and getting set up for business a smooth transaction. We initially only wanted 1 vending machine but ended up getting 3! Again, Great Job!

10/25/2009

I am not in the vending industry so I didn't know a lot about the product. I had looked at many machines, both new and used, which only added more to the confusion about what to do. Somehow I found April Hurd and she took care of everything. She was very informative and helpful and her follow up was great. I ended buying a new machine and it has been great.

Thank you very much.

Mark Winkler
Huntersville, NC

03/26/2010

April Hurd is one of best customer service representatives I've ever had. She really knows her vending machines. Extremely helpful!I wish all reps were like her.


Mike, AM Vending
California

I want to say a big "thank you" to Julie Hunger. I have just completed a purchase of four vending machines, and the transaction worked perfectly, thanks to her tireless efforts. There was a bit of negotiation involved, with quite a few telephone calls necessary to keep everything on track. But through it all, Julie kept the deal together, handled all of the paperwork with great expertise, and stayed in communication at all times. I am a satisfied customer, and will be happy to deal with usedvending.com again.
Sincerely Bill H.

10/07/2009

Melissa did a terrific job at getting my machines sold. I would recommend her any day!!!
Thanks so much Used Vending...
Linda Schoeffler

Sacramento, Calfornia

01/17/2011

Melissa,
Great job in getting back to us with the machines we needed and explaining how the process works. The transaction went very smooth and the description was what was stated. We are happy with the machines and will be doing more business in the near future. Thank you for your help and we will be talking to you soon. Glenn Elk Grove, Ca.

01/25/2010

Thanks alot for the great customer service that I have gotten. I've been trying to get into vending for a few years, and you guys (specifically April Hurd) have been MORE than helpful!
Marquette Marshall
Endeavor Enterprise Vending

05/28/2014

Tina was extremely helpful throughout the entire process and the seller and I were able to come to a reasonable and mutually beneficially agreement. I would definintely recommend using UsedVending to anyone who is considering purchasing used concession equipment. Thank you Used Vending for all of your help and for my new (used) trailer.
S. Morris,
El Paso, TX

12/17/2013

I have high marks for UsedVending and its staff. I would like to let everyone know how helpful Melissa from Used Vending has been to work with on selling one of our food trucks. They handle everything from setting up the profile and ad to finding the buyer. We had a great experience dealing with UsedVending and they found a buyer fairly quickly. The buyer just came, quickly looked over the truck, and drove off with the food truck due to how well everything was advertised and questions that could be asked before the sale. UsedVending dealt with all the offers and paperwork trying to get the food truck sold for us. I would highly recommend Used Vending to anyone trying to sell their food trucks.

Kevin Tighe
Georgetown, MA

02/02/2012

Melissa was absolutely wonderful to work with! We had a few challenges getting our unit sold but she never gave up! She was very thorough and worked hard to get the price we wanted.

Thanks again UsedVending - you're great! :)
Martha, Colorado

01/25/2011

When I am in need of another machine, ( USEDvending .com ) will be my first stop.

R Teel

03/16/2012

Again this was another smooth and fast transaction. Stacy Sweet worked very hard to ensure the transaction was handled very fast. I am very pleased with the machines. We were dealing with more than one seller and Stacy was great in helping me coordinate the pick-up at all locations. Thanks again for all the help and assistance. usedvending.com is our #1 source for all our vending machine purchases.

C. Hollingsworth,
Mississippi

12/29/2011

I'm an independent owner of a vending service company (WMJ LLC). The demand for quality equipment and service is paramount in my business. Stacy Sweet at 4-MEGA Vending provided me with quality service and equipment; a job well done. I have refered Stacy and 4-MEGA Vending to my friends.

Bowie, MD

02/23/2013

Your company was terrific, and Amanda Haynes was a huge help. It was great doing business with you!

M. Russell
Dallas, TX

I recently sold four combo machines through USEDvending.com, and was very satisfied with the service Eric Normand provided. While I received substantially less for my equipment than I originally paid, that was more a function of being ripped off by (distibuting company name protected) when I originally bought them. I wish I knew about USEDvending.com back then! Eric was prompt in returning my calls, and most importantly sent the check when promised! At any rate, I would highly recommend USEDvending.com and Eric Normand to other sellers and also buyers too, who can get some outrageous deals. Don't be like me - avoid (distibuting company name protected) and other 1-800-RIPOFFVEND companies like the plague, and go with USEDvending.com instead.
Barry Waterman

Chicago, Illinois

11/18/2013

All I can say is that if you are lucky enough to get Melissa Powers as your salesperson, you've struck gold! She is as good as it gets. Attention to detail, incredible follow-up, she is all over it. Talk about taking care of a customer, it doesn't get any better. If you have any needs in used vending, do yourself a favor. Get a hold of Melissa. You won't be sorry. Super Satisfied Customer!
David D.
Cobb, CA

09/18/2009

I made one phone call and the rest was handled.

You can not get any better than that.

Chuck
American Linehaul Inc.
Wood Dale, Illinois

05/01/2014

It was a long wait for us to connect with the right owner and Melissa Powers was there for us throughout the process. She would call with what seemed like strange questions, but she was doing due diligence to the buyers requests. In the end, we were connected with an enthusiastic buyer (and 3 others highly interested)who will have a bright future because of Melissa and Used Vending!
Susan
Laurel, MD

09/14/2010

They found me a good buyer,
and now I have room in my garage!
Great communication from April...

Canada

03/23/2011

April Hurd is a wonderful person to work with. She is very professional and patient. I had a great experience purchasing vender machine. I am sure I will come back again for more products in the future. Thanks, April.

Roger Zhang
Brooklyn, NY

05/28/2012

I found Used Vending on an internet search and thank God I did!! They were finally able to sell 2 of the 5 vending machines I was trying to sell! I sold them to a young man who seems quite eager to start his business. Thank you Melissa for all your help!! Now just sell my other 3!!!

D.W.
Westmont, IL

10/11/2011

I searched everywhere for a operating manual to an older vending machine. I decided to shoot an email to usedvending.com as they seemed like the most searched and reputable company on the internet to see if they could help. Within the same day of contacting them April Hurd responded with a PDF copy of the manual. This has to be the BEST customer service ever, especially considering I did not even buy anything. I will definitely use these guys next time for my vending machine purchases. Thanks again April. Matt, Redwood City, CA

03/24/2010

Wish I had known about Used Vending BEFORE I got involved with vending. Melissa has assisted me in selling 3 machines now, and does whatever is required to negotiate the deal. She is very knowledgeable of the industry, and up front about the current environment. She initially spent quite of bit of time educating me about the process and prospects. What a great forum for bringing vending buyers and sellers together. Thanks for all your help so far!

DJ
Dallas, Texas

10/14/2009

Called with a simple parts question and was attended to in a very prompt and courteous manner. Unfortunatly I was looking for VERY obscure parts for an OLD machine ( older than the help...) still the person I talked to, April, was very helpful and provided the contact number for a possible solution to my problem.
Thanks to you April.

Coatesville, Pennsylvania

12/18/2013

April,
I would like to thank you for the wonderful customer service you provided to me on my recent purchase. You were very helpful and pleasant to deal with. Everything was delivered as promised and in good condition. Thank you.
L.B.
Magnolia, TX

06/27/2011

Was looking for a vending machine that would hold both drinks & snacks and needed it to cost to be inexpensive. Not an easy request. By with April Hurd's help we were able to locate one in my city. WOW! We made this purchase to be able to gather funds to donate to the American Heart Association and several other charitable institutes. Job well done! Thanks!

Orlando, FL

09/29/2010

THANKS FOR EVERYTHING YOU DID FOR US APRIL.WE LOOK FORWARD TO MORE BUSINESS WITH YOU VERY SOON! I KNOW OUR MASSAGE CHAIRS WILL DO GREAT!

HEAVENLY TOUCH

I think there aught to be a Melissa Powers fan club!! If there isn't one yet, then I think I ought to start one with me as President! It is now Saturday afternoon, but we just got up. Shirley & I are sore but happy after all that lifting and twisting Friday afternoon. Edward is a nice guy, and lives less than 5 miles from us. I knew you were closed by the time we finished loading at about 5:00 PM. Friday.
I will fax you the signed paperwork Monday afternoon. We don't normally get up until 11 AM. Mornings are slow when one is 71 yrs old., so it will be some time after that when I get down to Office Depot to Fax the signed form to you.
Melissa, you are a miracle worker. Thanks for all you did to make this happen.
Most Cordially,
Herbert Baucom

Silver Spring, Maryland

02/11/2014

Melissa was on top of the sale of our trailer and equipment having a buyer within a few days of our listing. Usedvending.com and Melissa were instrumental for us. Thank you!
S.R.
Durham, NC



12/20/2010

April with mega vending was very helpful in helping us select and order our vending machine for our new office. Upon receiving our machine April has been very helpful with our follow up questions and getting our questions directed to the right people. We are extremely pleased with the machine and the customer service we have received from mega vending and April specifically.

N. Turner with Edcor

07/16/2012

Melissa at usedvending.com was spectacular !! We purchased a concession trailer and could not be more pleased with her professionalism and the quality of the new business we purchased. She was always available to answer our questions and the turn around time on return calls was very efficient. She really takes the time to ensure everything is covered for a smooth transaction.

Erika and Rob
Ontario, Canada

08/21/2014

Hey April, The vending machine has been a great addition to our theatre. The actors love it because I am able to control what we put in there. Unlike most vending machines we have no candy bars, instead we have healthier options like trail mix and freeze dried fruit. We can also put in some unusual items that actors seem to need frequently like black socks, deodorant and tea bags. Everyone laughs about it, but they are using it like crazy. We are kind of weird I know, but thanks for helping us out! The machine is great and sales are strong. I anticipate that the machine should be paid off with in a year and a half or so and then it's all profit! Thanks so much,
Kal Poole,
Helena, MT

08/26/2012

Calice, Everything was perfect! I tried selling these many times on eBay with no results. it only took you two weeks to get me a buyer.....phenomenal!

Gianni,
Hicksville, NY

02/20/2012

Tara was amazing. Being a businesswoman myself, I was very impressed with the fact that Tara was available every time I called. A+ service. Looking forward to future business.

Tia,
South Carolina

02/24/2011

Vanessa and April have been very helpful in getting us set up with a vendor. Vanessa went over and above helping us out. I would recommend this company to anyone looking for vendors.

Debbie
Administrative Assistant
Champaign, IL

06/01/2011

I want to thank Melissa Powers for her prompt response and hassle free procedures in handling my recent BBQ concession trailer purchase. Negotiating started on May 17th and I brought the unit home on May 29th. The unit was even more stunning than the online pics.
Whether you a buyer or seller on you next deal, I strongly recommend usedvending.com and Melissa Powers.

Don Baucham
DB's Rustic Iron BBQ
Odessa, Tx.
rusticironbbq.com

09/29/2014

I just want to thank you so much, you helped me so much. Your professionalism was a breath of fresh air for me. My son and I had a great trip getting the truck. If I ever need anything else I will go to you for what I'm looking for. Thank you again so much.
Sincerely, Laura Dumas
Sioux Falls, SD

03/26/2012

Thank U so much, will be using u guys again. Thanks Calice.

Thomas,
Bardstown, Kentucky

06/04/2012

We want to thank Melissa for facilitating our purchase. The purchase of our three machines went smoothly and no problems were encountered.

Scott,
New Mexcio

11/14/2013

Mellissa and staff were great to work with and prompt to respond to questions as we progressed through this transaction. We would recommend them to prospective clients and hope to do further business!

Barbara and Jay Buckert
WA

06/04/2012

Thank you 4Mega-Vending for making what I thought would be a long difficult process, so EASY! After I explained to Gini S. what my company was looking for-she did all the work. She made the calls and contacted several vendors that would fit my needs. They called me - all I did was decide between them. 4Mega-Vending is definatly the way to go to supply any of your vending needs. Thank you Gini-You're the best.

Cathy L.,
Seminole, FL

10/23/2009

Melissa:
Dealing with you and USEDVending was a very pleasant and rewarding experience. You were so helpful in getting our Vending/Canteen Trailer sold and everything went so smoothly I was very surprised. The main thing I would say is dealing with you and USEDVending was a lot easier than trying to sell it by ourselves. The wide range of potential customers from all over the U.S. is a lot better than trying to sell something just in your local area. Thank you for all your help.
Rosalind
Panama City Beach, Florida

04/15/2009

We had a positive experience in dealing with both Melissa and Cheryl at Used Vending while selling our hotdog cart. We had placed our cart on craigs list and had not received any responses when I did some research and found Used Vending online. I first talked with Cheryl, who helped me with providing a write-up, pictures and made suggestions on the price. After not receiving any calls, I called Cheryl and asked for suggestions - we lowered the price and waited patiently. Not much longer and it was sold. It was great to let someone else deal with the customer and negotiate and all we had to do was show it and let them take it home. If there is a need to sell concession equipment in the future, we will definitely call Used Vending and specifically ask for Cheryl and/or Melissa.
Thanks.
Starla Peninger
N. Richland Hills, Texas

06/15/2009

Here you go April! I just wanted you to know that I had a very good experience working with you. This was my first time and now I am ready to go any other time because thanks to you I know what I'm doing. All transactions were easy and whenever I needed you, you were there. Not only were you there ready to go, but you were there with an AMAZING attitude and OUTSTANDING service. Even when you were sick you came in and took care of me and who knows what else. Also the day before that you were too sick to come in, other people stepped up and helped me out with great service.

Last but for sure not least, it was great to work with someone else in THE Faith. Ha I keep reading your email signatures. Anybody reading this, just know that if you get to work with April, you are very lucky!
Josh

06/30/2012

Melissa at usedvending.com was amazing! She always called me right away. She handled everything professionaly and with a great attitude. I am more than satisfied with my purchase!!! I could not thank you enough!

L.R.
Minneapolis, MN

02/27/2012

My experience was one to remember! Tara Nelson-Pettigrew was amazing and never stop placing all my needs and concerns first. I look forward to business with her and the entire Company in the very near future! Thank You.
See Hundreds more or Write your own...