TEXAS
Texas Trailers & RVs for Sale! Buy or sell used trailers in Texas – we have used RVs, used horse trailers, used camper travel trailers, used heavy equipment trailers, used dump trailers, used livestock trailers, etc… AllUsedTrailers.com brings Texas safe, easy transactions of buying used near you!
DISPLAY OPTIONS
Item No: TX-HT-534H
1992 - Hart 3 Horse Slant Trailer with Full Living Quarters!!!
This deluxe horse trailer has plenty of amenities for you and your horses. Roof mount a/c, a new 2 speed jack, kitchen, bath & bedoom. It's in like new condition. See details for list of features & equipment.

$11,000. Atlanta, Texas.

CLICK on "MORE DETAILS" for PICS & FEATURES!!!
Call Stacy at 601-749-5660, or click the REQUEST button below to email for more info on this trailer.
Item No: TX-ET-474H
1992 Benlee Rolloff Trailer!!!
This trailer has 60,000 Lb Capacity, 5 Stage Inside Cylinder, 3 Stage Outside Cylinders and 33' Rails and is in good condition.
$24,145. Houston, Texas.
Click on "More Details" for more Pics!!!


Call Stacy at 601-749-5660, or click the REQUEST button below to email for more info on this trailer.
Item No: TX-HT-488H
2006 4 HORSE TRAILER W/LIVING QUARTERS!!!
This trailer is 8' wide, 8' tall, and includes full living quarters. It is a 4 horse slant load trailer with full carpeted side tack w/ four saddle racks and mega bridle hooks-over 40 hooks. This trailer has been well kept and is in very good condition. Please see the detail for more information on the features.

$54,985. Stephenville, Texas.
Click on "More Details" for Features!!!
Call Stacy at 601-749-5660, or click the REQUEST button below to email for more info on this trailer.
See what other customers are saying...
Hey there! Pick up went great!! Rosendo and his wife Veronica were very gracious. Rosendo and his son helped Steve load all the machines. All 32 were in boxes. Everything was there but a set of instructions. Rosendo is going to look for his set and fax me a copy. If he can't find it, he will call the company and get a new copy.


The entire experience of buying my new business was easy, fun, and stress free due to your hard work and caring attitude. Thank you. Now, I only hope that my business itself will be just a fun.


I'll be back in touch with you when I get these machines up and running. By then, I'll be "biting at the bit" wanting to enlarge. Of course, I wouldn't think of using anyone else but you and USEDvending.com


Thanks again, Patti
---
Dear Melissa,
Please use this as you like. It is from the heart !

"Usedvending.com was a lifesaver for me in selling my concession trailer. After trying the popular ......list for 8 months and attracting hundreds of scammers, deadbeats and people who wanted me to finance for them, I found Melissa! She helped me fine tune my ad and target the right buyers. My deal went fast, and I had my money within a week from the time the buyer first came to look ! I can't say enough about the professionalism at Usedvending.com."

Dennis Coffey, New York
Item No: TX-HT-487H
2003 3 Horse Slant Trailer with Living Quarters!!!
Very nice,clean trailer in good condition, with all the same equipment as the big trailers have, just smaller. Living quarters with short wall with dinette and separate bathroom. Door to horse compartment. Please see details for more pictures.


$25,200. Decatur, Texas.
Click on "More Details" for Pics!!!
Call Stacy at 601-749-5660, or click the REQUEST button below to email for more info on this trailer.
Item No: TX-HT-486H
1995 Shelby 2 Horse Straight Load with Living Quarters!!!
This is a 2 horse trailer is in good condition and is 7' tall so it can hold larger horses. It also has living quarters with bed, shower and much more. Please see details for more features.


$6,050. Dallas, Texas.
Click on "More Details" for Pics and Features!!!


Call Stacy at 601-749-5660, or click the REQUEST button below to email for more info on this trailer.
Item No: TX-ET-476H
2005 48' Car Hauler with Living Quaters!!!
This trailer is in very good condition and ready to haul your stuff. Please see details for features.


$27,500. Orange, Texas.
Click on "More Details" for PICS & FEATURES!!!


Call Stacy at 601-749-5660, or click the REQUEST button below to email for more info on this trailer.
Item No: TX-ET-479H
2009 20ft Gooseneck Dump Trailer!!!
This trailer is in very good condition and can be used as a Dump trailer or the sides can be removed to be used as a flatbed trailer. See Details for more features.
$12,000. Beaumont, Texas.
Click on "More Details" for more Pics & Features!!!
Call Stacy at 601-749-5660, or click the REQUEST button below to email for more info on this trailer.
Item No: TX-HT-473H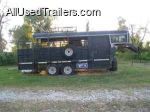 Heavy Duty Gooseneck Horse Trailer!!!
2 horse, slant, gooeseneck trailer in fair condition. Rubber-lined, with tack room and sleeping quarters over the gooseneck. Top needs repairs due to rust but the rest of the trailer is in good condition. Also would make a good landscaping trailer
$2,875. Winnie, Texas.
Call Stacy at 601-749-5660, or click the REQUEST button below to email for more info on this trailer.
Item No: TX-HT-466H
2001 TRAV-A-LONG OUTLAW HORSE TRAILER!!!
LS BODY STYLE 4 horse trailer with sleeping area. See details for more features.
$9,775. Hereford, Texas.
Click on "More Details" for Pics & Features!!!
Call Stacy at 601-749-5660, or click the REQUEST button below to email for more info on this trailer.
Item No: TX-DT-472H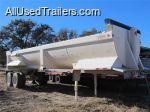 Like New 2007 32ft Dragon Demolition Dump Trailer for sale
2007 Dragon Demolition End Dump. Like new 32' Dragon Demolition End Dump trailer. Half round.
$25,800 Fredericksburg, Texas
Call Stacy at 601-749-5660, or click the REQUEST button below to email for more info on this trailer.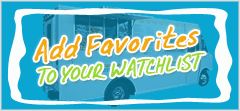 Login to Inquire Online
Call: 601-749-5660
Customer Experiences
06/24/2016

I am so pleased with my experience with Usedvending.com. The staff was helpful and courteous. My sale went off without a hitch and I would certainly use this company again.
John Standifer III,
McKinney, TX



02/20/2012

Melissa Powers did an excellent job helping us to sell our concession trailer. She was quick to follow up and kept pushing until we finally sold!! Her knowledge of business was instrumental. Thanks Melissa.

Don,
Ohio

05/19/2011

Hi Vanessa,

Sorry I'm so late in getting back to you. Our first event with our Model T cart was a success and brought us two more. We are on our way. I want to thank you for your excellent customer service and help all along the way of this process.

Rebekah, CA

11/09/2010

Melissa was so helpful and very professional. SHe did everything she could to sell our unit. When it sold the transaction went very smoothly. Thanks, Melissa and Used Vending!

Cindy S.

04/17/2011

Thanks Melissa. It was a fast and smooth deal.

Toronto, Canada

09/01/2011

Thanks Melissa! You were a great help keeping this transaction coordinated and organized. I would highly reccommend you and your organization and if these two machines work out for Northwest Alternatives, we may be back for more. Thanks again!

Brian
Boise, ID

12/08/2009

April did a great job helping me the select the right machine for my oepration. We operate MixStirs juice bars throughout the east coast and are considering adding these machines to all of our locations. Our machine is working flawlessly. Thanks again!

Mike Greenberg
President, MixStirs

Thank You Melissa and Used Vending! My husband and I started our own Food Truck business and purchased our truck from Used Vending. I was quite leery at first, not knowing of Used Vending and never doing this before much less over the internet.... however I must say that Melissa made our (My) experience a smooth and friendly one. I remember Melissa was leaving for vacation but stayed late and came back into the office to finish our paperwork delaying the start of her vacation. We were able to get an amazing deal on an amazing truck due to her dedication and excellent customer service. I will definitely use Used Vending in the future.... Thank you!

Priya
Coral Springs, FL

05/29/2014

April was very helpful with us, with our decision to purchase a vending machine, starting with the type of machine and the price of the machine. I really do thank her for her feedback and help with locating a vending machine that fits our need. Thanks April.

C&J Mallet, MS

10/14/2009

I have been in the vending business for the past 22 years. I have seen a lot of bad locators who promise the world and deliver less than rocks!! We have taken several leads from 4Mega Vending with April, Kara, & Mel. I can truthfully say that all the leads that we have taken have been good for us. In addition, to lead acquisition, we have also purchased several machines through their site. All of which are in service today. So I would do them an injustice to not recommed them to anyone. They have proven themselves to me and I look forward to a more prosperous year in sales and growth!

Demetrius Williams
21st Century Vending
Fontana, CA

03/25/2011

thank you for your service.Vanessa was truely great in her help and was very sweet in the way she helped.

sincerely howard swayne

09/30/2010

April worked very hard between me and the seller. I found her to be very professional and got back to me in a timely manner. April is also lighthearted and makes her job seem effortless which I'm sure it isn't. I would and will do business with April and USEDvending again. I give them 100% on a job well done!

RHY
Port St. Lucie, FL

10/03/2016

Our experience with USEDvending.com was the best we ever had for selling our concession trailer. We had tried other web sites and had no replies or they were no shows. Within a week, we had already somebody interested by using USEDvending.com. and within three weeks we sold our concession trailer. Julia is one of the agents there and made the experience so easy and pleasant. They did all the work for us that we would had to do, I would highly recommend anyone selling vending items to use them.

Nick & Vicki Primavera
* Dogs on the Run *
La Quinta, CA

02/13/2016

Hi Wendy, Thank you so much for your help. I am very happy that I put my truck for sale up in this website and hope that we can do business again soon. UsedVending.com is a great website and I will be recommending it to friends. Thank you again.-Kostandin

-Kostandin T.,
Philadelphia, PA

10/25/2011

I would like to thank Melissa Powers for going over and above board to assist me in my recient purchase. She was super friendly and really did a great job when I ran into a little difficulty. I would recommend Melissa to anyone who asked me about this service.

Vinnie Walsh,
New Jersey

06/06/2016

Jennifer,

Thank you so very much for all of your help in completing our search and ultimately buying our new trailer! Above all, your patience and calm demeanor was paramount in keeping our deal alive throughout its completion.

As with any large purchase from out of state, things can seem pretty hectic and out of control but your mediation between the manufacturer and me the buyer truly exemplified your work ethic.

It was a pleasure doing business with you and we have found a new friend in the manufacturer.

Our most prevalent obstacle was the transfer of funds. dBoth myself and the seller really felt comfortable having UsedVending as the escrow account prior to approval of purchase.

I hope to do business with you all in the future.

Sincerely,

Anthony Falcon, Chef Proprietor

Gaucho Parrilla Argentina, LLC

11/06/2013

My experience with Mega vending can be summed up in one word, AMAZING! From the time that I entered my information into their system, I was immediately taken care of. April was so attentive to the needs we required, incredibly understanding, and efficient in executing a perfect fit for our company. We had a very smooth and easy experience and we will definitely refer them in the future.

J. Ortiz
New Jersey

12/28/2010

Melissa,
Thank you so very much for everything you've done for Greg & I. Where do I email a letter of how well we were treated!

Sincerely,
Greg & Colleen

12/07/2010

Hi,

It was great to work with used vending. Melissa has not just been very easy to work with, but she is always available when you need her and work out all the details. We sold total of 4 machines with the help of her, so we recommend everyone who need to sell machines to contact her. Thanks again Mellisa for your professional service.

Muhammad.Silver Spring.MD.

03/28/2010

Thank you for all of your help. I am just starting my company and so far you have provided more info than others.I look forward to working with you in the future.



Chris

11/06/2010

Melissa was extremely helpful and professional with us as a first time buyer. She made everything go smoothly and I was not only extremely impressed by her efforts through the purchasing process, but with the follow up as well. My company will definately be using Melissa and her company again. Thank you again.

Rob G
Pennsylvania

01/31/2011

Great service, April was really nice and helpful!!!

11/18/2013

All I can say is that if you are lucky enough to get Melissa Powers as your salesperson, you've struck gold! She is as good as it gets. Attention to detail, incredible follow-up, she is all over it. Talk about taking care of a customer, it doesn't get any better. If you have any needs in used vending, do yourself a favor. Get a hold of Melissa. You won't be sorry. Super Satisfied Customer!
David D.
Cobb, CA

10/07/2009

Dear Sir:

During the last summer, I posted several vending machines for sale on your website. My questions were all answered completely, professionally and in a timely manner.

This past month, some interest started concerning these machines. My customer service representative, Melissa, has been wonderful. Very personable and professional. She keeps in constant touch with me concerning any developments.

At this point, we normally 'talk' or email several times a day as we are waiting on final closure of the sale.

Without her help, I would have been at a loss how to proceed and finalize this sale.

Melissa has been a invaluable part of this process and I thank her GREATLY for her time and expertise.
Olivia,
New Jersey

09/29/2009

This was our first foray into the vending machine world (we got a mechanical snack/drink combo for our learning center). It has definitely been a learning experience! But, after doing quite a lot of research, we found that Mega-Vending had the best prices and the widest selection. We worked with April who was always supremely responsive both over the phone and on email.


As I sat down with my tools to try to figure out the mechanics of some of our initial problems myself (and I did!).... I felt confident that if I couldn't find the problem, April, or someone in her office would help us out. She stayed with us through the whole process (even though her role was essentially done) and I don't think that you can ask for more in terms of customer service.

If you're thinking about vending machines, they are trickier than they look -- but Mega-Vending was definitely great about the support.

Los Angeles, California

08/25/2015

I cannot say enough good things about Used Vending. I had listed my concession trailer on the ever popular CList and no strong prospects ever came to me. Finding Used Vending for us got the deal done. Next year we will be looking for a truck or trailer and I can tell you I will go back to Used Vending.
Sincerely,
Mark
Lavon, TX

08/02/2010

i am very happy with my purchase through used vending.com and look forward to doing it again soon.

Frank P.

08/01/2014

Much thanks to Stacy for the constant communication and support. You made this an enjoyable and seamless experience. Anytime I had to edit my listing for pictures or added items the customer service team here was quick to make those changes. Having someone do the initial contact with interested buyers was worth a great deal to my partner and I. I would recommend everyone give you guys a shot at helping sell their equipment. Thanks again for everything!

Brittney B.
Terrel, TX

My hats off to Melissa and her staff. When my husband was diagnosed with cancer several months ago, we thought for sure we would be stuck with our concession trailer until the spring. But thanks to Melissa's and staff's hard work, they found a buyer and yesterday they picked it up. What a breeze it is to work with Melissa and the staff. They truly take care of EVERYTHING. Well worth it if you have something they can sell for you. Thanks again for everything!!!

M. H.
Virginia Beach, VA

10/17/2012

Our dream came through. Thanks for your professional effort Gini. I will recommend you to anyone.

Jhun
Cheyenne, WY.

08/21/2010

Found an add for Wowie Zowie gumball machines on UsedVending.com and got a great deal on them. Thanks to Melissa for send info on completing transaction. VERY HAPPY!!
UKJEFF

06/03/2014

Megavending walks you step by step with establishing a new client. If one word can describe MegaVending its "Professionalism". Great customer service, reliable, and incredibly friendly (April was my representative) I would love to do business with them over and over again. Its not easy finding good people to work with in the vending industry but, Mega Vending is the place to rely on. Thank you for your services,
Frank Perez, IL

11/01/2010

Everything went like clockwork! Thank you so much for your help. Will certainly be in touch when we have another location to place!

Thanks, Jane

10/10/2012

Melissa, Thanks for the really great help finding buyers for my vending machines in April and October 2012. This is a real 'class act'. Melissa did 99% of the work and I got 100% satisfaction. I will singing your praises to anyone who will listen. Many thanks again.

PMG
Bossier City, LA

10/19/2009

Use this site if you want to buy or sell your vending equiptment, fast! Great customer service and easy sale procedures.

Mike
Memphis, Tennessee

04/23/2016

Hi Jennifer Wanted to thank you for your assistance in getting my machines sold. You went the extra mile late on a Friday to make sure all was taken care of and kept in touch to make sure the transaction went smoothly...which it did! I appreciate your help with this transaction! Thanks. Donald Chase,
Westlake, LA

02/25/2011

Thanks to Vanessa. Very friendly service. A pleasure to work with and look forward to more opportunities.

Chris, IL

02/11/2014

We just sold our concession trailer at Usedvending.com and it would not have been possible without the kind assistance of Melissa Powers! She was patient, informative and overall amazing! Despite our skepticism about selling a large item online, she made the transaction happen so smoothly and answered all our questions,and we had a lot! Thank you Melissa!!!
J.M.
Bakerfield, CA

I purchased an Antares combination (snack/soda) vending machine from USEDvending.com and was very pleased with the outcome. I had been searching for a combo machine for over a year when I received a solicitation email from USEDvending.com. I must admit, I was leary about dealing with a company of whom I had no reference. The price was very very reasonable. The machine was practically new and in great condition. Since I've had the machine I haven't had any problems with it and am very happy with my selection of distributors. I would DEFINITELY recommend USEDvending.com for your source of vending equipment.

Mechelle
Houston, Texas

11/25/2014

Calice, Thank you very much for Your help finding the perfect vending machine. You made the process easy and painless. The photos on the site were exactly what I was getting. I felt good that the purchase was secure and I was not being take advantage of. When I arrived to see the machine, it was in good working condition and in better shape that I thought it would be in. If I need anything else vending related, I will be sure to come to you! Thanks Again!
Tyler Diciola,
Algonquin, IL

02/18/2014

I truly enjoyed my experience with UsedVending.com, they were steadfast and structured with the entire process. I was able to search products and talk to a great customer service representative in Ms. April. She helped me receive my products within days with a smooth trustworthy transaction at a great price!
Thanks again April
Cordially,
Harvey in MS

08/23/2012

Wanted to drop a line to tell you that it was a pleasure dealing with 4megavending.com and Stacy. I had quite a few questions before my purchase and Stacy was informative and helpful in helping me pick out the right machine for our office. Ordering was easy and once the machine arrived it only took us @30 minutes to get it unpacked and running. Keeps the drinks colder than I expected. Thanks again for all your help Stacy. Look forward to working with you in the future.

R.M.
Baton Rouge, LA

11/13/2014

I just wanted to give a big thanks to Melissa for helping me through the transaction of selling my vending machine. Tried to sell for a couple of years, then posted it on used vending. As soon as they found a buyer, the process only took 2 days. Melissa was very easy to communicate with and moved everything along painlessly.
Chris Dellinger,
Clemmons, North Carolina

04/06/2014

I really enjoyed working with Used Vending. I tried other sites, but always had unqualified people wanting to purchase. Melissa called me with a buyer who was looking for a food truck and was very qualified and after looking at my truck, brought it. I would highly recommend Melissa and Used Vending.
B.A.
Chester, VA

01/25/2010

Made the best decision of my life choosing usedvending.com to represent me in my first vending machine purchase. My agent April was amazing in every way! Her dedicated loyalty to me as a customer (buyer) has moved me to write this testimonial. Where in this society most people tend to take things for granted, she went above and beyond to see that i was satisfied with the end result of our transactions. This combined with her concerned follow up has impressed me immensely.I would highly recommend Usedvending.com and her as an agent to anyone looking to buy a vending machine.

Sedona, AZ

08/15/2009

I have used 4megavending.com for several years now, and they are always helpful and have excellent customer service. I have referred other vending operators to their site as well. Keep up the good work!

Marion, Iowa

01/06/2015

April, you were very helpful and kept in close contact with us about the machine and the delivery. we received the machine when you said we would and arrived in like new condition. we had been dealing with another company for over three months to no avail but with your help the whole process only took three weeks. We unpacked the soda machine plugged it in for a day and then loaded it up. So far everything has worked perfectly. We will be letting anyone we come in contact with about using Megavending as a supplier of their needs. Thanks,
Butch Haus, Milesburg Lions Club president.
Milesburg, PA

05/31/2016

Dear April,

Thank You so much for the sale of my popcorn wagon. Even though this is a unique item you never gave up on me. You kept constant contact and finally got the job done. I am super happy with April and this company . They explained things to me each step of the way and the payment was received promptly. I wouldn't hesitate to do business with used vending again.

Darlene M.,
Sloughhouse, CA

10/12/2010

Connie and Mega Vending has referred us to several account of which are great locations. They are professional and very helpful in securing the right type of accounts.

Suzy Q Snacks
Las Vegas

10/03/2011

WHAT A GREAT RESOURCE!!! Listing and selling my used vending machines was easy and hassle free. Stacy Sweet contacted me when he had a buyer. Stacey was very professional and kind as he brokered the sale. It was a pleasure meeting the buyer and his family. Because of the great service of Stacey and usedvending.com, I sold my machines and met some terrific people! I will be sure to recommend this site to others. Keep up the great work! Delphine, Florida
See Hundreds more or Write your own...