TEXAS
Texas Trailers & RVs for Sale! Buy or sell used trailers in Texas – we have used RVs, used horse trailers, used camper travel trailers, used heavy equipment trailers, used dump trailers, used livestock trailers, etc… AllUsedTrailers.com brings Texas safe, easy transactions of buying used near you!
DISPLAY OPTIONS
Item No: TX-HT-534H
1992 - Hart 3 Horse Slant Trailer with Full Living Quarters!!!
This deluxe horse trailer has plenty of amenities for you and your horses. Roof mount a/c, a new 2 speed jack, kitchen, bath & bedoom. It's in like new condition. See details for list of features & equipment.

$11,000. Atlanta, Texas.

CLICK on "MORE DETAILS" for PICS & FEATURES!!!
Call Stacy at 601-749-5660, or click the REQUEST button below to email for more info on this trailer.
Item No: TX-ET-474H
1992 Benlee Rolloff Trailer!!!
This trailer has 60,000 Lb Capacity, 5 Stage Inside Cylinder, 3 Stage Outside Cylinders and 33' Rails and is in good condition.
$24,145. Houston, Texas.
Click on "More Details" for more Pics!!!


Call Stacy at 601-749-5660, or click the REQUEST button below to email for more info on this trailer.
Item No: TX-HT-488H
2006 4 HORSE TRAILER W/LIVING QUARTERS!!!
This trailer is 8' wide, 8' tall, and includes full living quarters. It is a 4 horse slant load trailer with full carpeted side tack w/ four saddle racks and mega bridle hooks-over 40 hooks. This trailer has been well kept and is in very good condition. Please see the detail for more information on the features.

$54,985. Stephenville, Texas.
Click on "More Details" for Features!!!
Call Stacy at 601-749-5660, or click the REQUEST button below to email for more info on this trailer.
See what other customers are saying...
Hey there! Pick up went great!! Rosendo and his wife Veronica were very gracious. Rosendo and his son helped Steve load all the machines. All 32 were in boxes. Everything was there but a set of instructions. Rosendo is going to look for his set and fax me a copy. If he can't find it, he will call the company and get a new copy.


The entire experience of buying my new business was easy, fun, and stress free due to your hard work and caring attitude. Thank you. Now, I only hope that my business itself will be just a fun.


I'll be back in touch with you when I get these machines up and running. By then, I'll be "biting at the bit" wanting to enlarge. Of course, I wouldn't think of using anyone else but you and USEDvending.com


Thanks again, Patti
---
Dear Melissa,
Please use this as you like. It is from the heart !

"Usedvending.com was a lifesaver for me in selling my concession trailer. After trying the popular ......list for 8 months and attracting hundreds of scammers, deadbeats and people who wanted me to finance for them, I found Melissa! She helped me fine tune my ad and target the right buyers. My deal went fast, and I had my money within a week from the time the buyer first came to look ! I can't say enough about the professionalism at Usedvending.com."

Dennis Coffey, New York
Item No: TX-HT-487H
2003 3 Horse Slant Trailer with Living Quarters!!!
Very nice,clean trailer in good condition, with all the same equipment as the big trailers have, just smaller. Living quarters with short wall with dinette and separate bathroom. Door to horse compartment. Please see details for more pictures.


$25,200. Decatur, Texas.
Click on "More Details" for Pics!!!
Call Stacy at 601-749-5660, or click the REQUEST button below to email for more info on this trailer.
Item No: TX-HT-486H
1995 Shelby 2 Horse Straight Load with Living Quarters!!!
This is a 2 horse trailer is in good condition and is 7' tall so it can hold larger horses. It also has living quarters with bed, shower and much more. Please see details for more features.


$6,050. Dallas, Texas.
Click on "More Details" for Pics and Features!!!


Call Stacy at 601-749-5660, or click the REQUEST button below to email for more info on this trailer.
Item No: TX-ET-476H
2005 48' Car Hauler with Living Quaters!!!
This trailer is in very good condition and ready to haul your stuff. Please see details for features.


$27,500. Orange, Texas.
Click on "More Details" for PICS & FEATURES!!!


Call Stacy at 601-749-5660, or click the REQUEST button below to email for more info on this trailer.
Item No: TX-ET-479H
2009 20ft Gooseneck Dump Trailer!!!
This trailer is in very good condition and can be used as a Dump trailer or the sides can be removed to be used as a flatbed trailer. See Details for more features.
$12,000. Beaumont, Texas.
Click on "More Details" for more Pics & Features!!!
Call Stacy at 601-749-5660, or click the REQUEST button below to email for more info on this trailer.
Item No: TX-HT-473H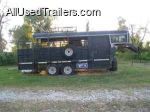 Heavy Duty Gooseneck Horse Trailer!!!
2 horse, slant, gooeseneck trailer in fair condition. Rubber-lined, with tack room and sleeping quarters over the gooseneck. Top needs repairs due to rust but the rest of the trailer is in good condition. Also would make a good landscaping trailer
$2,875. Winnie, Texas.
Call Stacy at 601-749-5660, or click the REQUEST button below to email for more info on this trailer.
Item No: TX-HT-466H
2001 TRAV-A-LONG OUTLAW HORSE TRAILER!!!
LS BODY STYLE 4 horse trailer with sleeping area. See details for more features.
$9,775. Hereford, Texas.
Click on "More Details" for Pics & Features!!!
Call Stacy at 601-749-5660, or click the REQUEST button below to email for more info on this trailer.
Item No: TX-DT-472H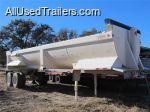 Like New 2007 32ft Dragon Demolition Dump Trailer for sale
2007 Dragon Demolition End Dump. Like new 32' Dragon Demolition End Dump trailer. Half round.
$25,800 Fredericksburg, Texas
Call Stacy at 601-749-5660, or click the REQUEST button below to email for more info on this trailer.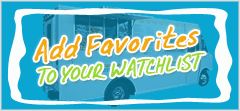 Login to Inquire Online
Call: 601-749-5660
Customer Experiences
09/29/2009

Two thumbs up to April Hurd. She helped me out with a Ship To Address correction, and it turns out she was a Sales Rep who went the extra mile to help out a customer. She did not take the stance "That's not my job", but followed thru till the issue was resolved. That's good PR for your company. Thanks!!!!!
Rosemary, Mandeville, LA

06/10/2014

Used Vending: Just wanted to share my experience with others regarding Used Vending. We were selling a coffee trailer in Montana, definitely off the beaten path, and were not expecting any interest anytime soon. Low and behold Crissy kept telling us that there was an interested party and they would put an offer in soon (we thought, "yeah right"), except that they actually did put in an offer! Within 5 days the trailer was leaving our house and the money was in our bank! Crissy was amazing, the process is very simple, and UsedVending gets results! Thank you UsedVending!
Jon in Montana

12/28/2016

Wendy, I wanted to just drop you a note and thank you for all of your help in buying my trailer. It is hard enough to buy something out of state, and is usually very difficult to get information about the item you are buying. You kept me up to date on the trailer the entire time. I cant say enough about the help I received from you during the purchase of my trailer. I would refer you and your organization to anyone trying to purchase an item from your site. If I ever have anything to sell or buy, in the future, I will surely give you a call. Thank you again for your help and professionalism.
Curtis Fountain,
Hackberry, LA

12/17/2014

Hi Crissy, I wanted to say thank you so much for all your help in selling our truck! It was a pleasure to work with you and Usedvending. We were very pleased at how smoothly and professionally the whole transaction went down. Thank You again.

Michelle Rex,
Brecksville, OH

10/14/2009

The rep at usedvending.com was very professional and thorough. It only took 2 weeks from the first contact untill the sale went through! Thank you usedvending.com!

Humble, Texas

10/12/2009

We have been very fortunate to find your company for parts for our vending machines. We are very grateful actually to have each other, parts makes us both $$$ You have been very helpful to service our needs when we need parts.
Thanks so much, April works hard at her job to please her customers.
Go April.
Pam & John Hawk
Columbus, Ohio

04/02/2015

Calice,I want to thank your for all your help with my latest transaction. You have been very helpful and answered all my questions in a timely manner. I was happy to have sold my first machine!! Keep up the good work and again I appreciated your attention and friendly service.
Henry Wright,
Plant City, FL

11/05/2008

Hi April,
Long time past since we sold through your help our vending machine.

Thanks again, you did a fine job.

David Bromberger
Florida

05/23/2014

Hey Tina Just a note to say thanks and job well done! ! I'm really happy with how things worked with USEDVENDING. If I have something to sell in the future you will hear from me. Thanks again.
Tim, MN

04/04/2017

I was on the Usedvending.com website for about 3 hrs total, spraed out in a weeks time. Once I found the unit I wanted, it took four days to purchase and have the unit. The process was fast and efficient. The customer service Wendy provided was top notch- GREAT job, thank you from the Family Home Center family.

Michael M,
President.F.H.C

08/12/2015

€ Mega Vending was easy to work with and did an excellent job in communication with pricing and delivery. I would use them again. €
Edna Cummings,
Houston, TX

09/26/2014

Melissa provided us with exceptional service, going above and beyond to make sure everything related to our purchase was not only communicated, but also explained thoroughly along the way. I would VERY highly recommend USEDvending.com for all your merchandise related equipment needs! Thanks!
Sincerely,
Glenn Iverson
Auction Stalkers, LLC
Las Vegas- NV

09/14/2010

All of the staffs are all very helpful.

California

01/20/2017

I had the best experience selling my vending machines with April with UsedVending.com. She helped me from start to finish and kept me close to her through my selling process. She was a go getter and got the price I wanted for my machines. She even stayed in touch over the weekend to make sure my transaction was going smooth. I will definitely use this company again due to their hospitality.
Ashley W.
Memphis, TN

I will like thank Melissa with usevending.com for her great professionalism, promptness, and politeness. (the 3 P's!). My purchase of the VM251/1515 Mechanical Snack & Soda Combo w/ Bill Changer was flawless because of her great feed back and pleasant attitude. The seller was also very polite. I look forward to doing more business with her in the future, Thanks!

Dave.D
Norfolk, VA

03/13/2015

I found Used Vending when I decided I really wanted to get out of the RAT RACE and stop making others rich and make myself some money instead! Used Vending had so many options for mobile food start ups I was overwhelmed. Finally, a MATCH! Plus, the owner was only 60 miles from me. Yes, I picked up "The Beast" as we call our food trailer and made new friends. The previous owner was so kind and we just clicked. She gave me great tips on the biz! Used Vending Melissa Powers was the agent that put the whole thing together. MAN---I wish she was available for all of the biz stuff I have to do from now til I open....lol! YOU CANNOT go wrong with this agency. They truly JUMP RIGHT ON IT! I want to thank Melissa again, you gave me and my daughter and son a REAL COOL and FUN yet challenging future! We will send photos once the biz is up and running. I will also give the info on Used Vending to anyone looking for anything MOBILE FOOD!
Thanks S. Golden-
Edgewater, Maryland

03/28/2010

Thank you for all of your help. I am just starting my company and so far you have provided more info than others.I look forward to working with you in the future.



Chris

07/13/2010

Melissa Powers has helped us to find used equipment twice now and she has been quick to get responses both times. We really appreciate her help and will continue to use her resources in the future.
thanks so much.
Phyllis Long

06/05/2017

My experience with USEDvending was a great experience. I found a vending trailer on their web site and was able to make contact with one of their agents named Melissa. Melissa called me and even text me to keep in touch of what was happening with the purchase of the trailer. I am from California and the vending trailer was in Oregon, but Melissa made the transaction very easy and friendly. All the paperwork was verified by her before I even made the trip out of state. Everything that was listed on USEDvending was correct about the vending trailer. I would really recommend and use myself USEDvending again. Thank you Melissa for making the transaction go so smooth.

Christy D,
Oakdale, CA


01/25/2011

I have had the pleasure of listing and selling 2 machines with Melissa. She is top notch in getting the job done in a very efficient and professional mannner. I have been in the vending business for 33 years and would highly recommend her services and expertise.

Jim
Boston, MA

03/01/2012

My entire experience with usedvending.com was very positive. Melissa was professional and proactive in her assistance with finding a buyer and was extremely helpful during the negotiation and purchase. I would definitely use Usedvending.com again.

Keith,
Florida

10/14/2010

Special recognition MUST go to Melissa on account of her unparalleled professionalism. Her combination of friendliness and efficiency in consummating my purchase exceeded my expectations for customer service. USEDvending has a workforce to be proud of; I couldn't be happier! Thank you so much, Melissa!

Patti
Fresno, CA

10/21/2009

Great customer service from April! She was easy to work with and quick to reply on all my questions.

I had a positive experience working with her all the way to closing the deal.

Thanks again April!

11/02/2010

April was just amazing. I asked so many questions! She answered them tirelessly. She is an expert in her field. April was prompt with her replies, accurate with her information, and her customer service skills were awesome. She was a true professional throughout the experience.
Thanks so much, April.

Wanda, Evans, GA

Hi - Just wanted to say Gini Sweet helped me at just the right time; i had lost a couple of vending accounts i had, and was losing money, when i received an e-mail from Gini telling me she had a location for me. I went and spoke with the contact person and within 3 days i am delivering a machine to a new account. Thank You Gini! I appreciate it very much.

Mike Smith, MSVending
Rhode Island

09/15/2015

My experience with this company is wonderful. I have yet to come across such a lovely service, very cooperative , extra ordinary helpful. I am very very happy with them.
Kris Handa,
Marietta, GA

02/23/2013

Your company was terrific, and Amanda Haynes was a huge help. It was great doing business with you!

M. Russell
Dallas, TX

12/09/2014

Melissa, Thank you so much for all your time & help selling our food stand! I am sure to tell anyone & everyone about you! Also wanted to say thank you for all your time texting me when I didn't have a voice! God Bless You,
Clayton & Cammie Thayer
Wheatridge, CO

08/15/2014

My experience with MEGAvending has been great, especially my sales rep April Hurd! She was extremely helpful in getting us the right machine for our application and getting them set up for us. Once they arrived all we had to do is plug them in and stock them up. No programming needed! I was on a pretty serious time crunch and she helped us meet our schedule. I would most certainly use MEGAvending in the future!
Jason Bailey,
Evansvillle, IN

08/17/2009

I can olny think of a few words for to say about 4MEGA Vending. honest,up frount, helpful. I guess I could go on. The best part about 4Mega is the(WICKED GOOD) employees. All are willing to help you with any of your needs. The one stand out person in my mind. Would be April She is liike talking to a friend. I feel she realy cares about you and your sucsess. She is why I buy all my new machiens from 4 MEGA. THANK YOU from Drop Q Vending Jay burbee
Henniker, New Hampshire

05/29/2015

If only everyone in customer service could be half a nice and helpful as Melissa , the world would be a better place . She was very informative and thorough with all my questions & if i ever need to sell something again i will definitely use this web site. It was actually a fun experience. Thank you Melissa.

Gail Hultquist,
Sacramento, CA

Melissa, Thanks! The Truck is working great for our needs. You made it happen on our timetable!
Tom Gordon,
Transportation Coordinator, 20th Century Fox
Los Angeles, CA

02/08/2012

Calice, I lack words to express my thankfulness for the great job you did by selling my used vending machines at the least possible time. Your greate salesmanship is appreciated.

Azuike, NJ

07/25/2016

Thank you for your recent help in acquiring a candy crane machine. The transaction went very smoothly and the machine was in excellent condition. April, you are awesome to work with and I always know that you will provide excellent customer service. I look forward to working with you and Used Vending for many years to come.
Curtis Frierman,
Virginia Beach, VA

12/04/2015

Wendy Byrd was the key to an excellent buying experience with Used Vending. She professionally answered all my questions about the equipment I was interested in purchasing. She was key in making the deal happen during negotiations. Thank You Again Wendy.
Tim Mangum,
Woodbridge, VA


06/13/2011

I would like to thank Stacy Sweet for all the hard work and customer service in helping us to obtain a vendor at our location. Thank you for your professionalism, follow-up, and kindness.

Independence, OH
Arleen

02/08/2012

I presented my situation to Tara and she came through like a champ! She help me find my machines, Tara went above and beyond the call of duty to help out. Used vending is lucky to have an employee who cares that much and is willing to go the extra mile for excellent customer satisfaction. Will be buying more this year!

Robert,
Dallas Texas

10/07/2010

Had a great experience with Mega Vending!!! We got our soda and snack machine within 1 week at our school. I would definitely suggest using Mega Vending, the customer service was amazing. Connie Jordan was a great help.

Thanks Mega Vending

07/10/2013

If you want to sell quickly and without headaches, I suggest contacting Melissa today. I couldn't be happier with my results, and you will agree by simply using Used Vending as your source to sell. Thank you again Melissa!

Tony from Tucson, AZ

05/17/2016

Many Many Thanks to Wendy Byrd for selling my trailer. If anyone reads this I highly recommend Wendy as she will get the job done. Best Regards,
Jeff T.
Fort Walton Beach, FL

08/28/2014

Hi Calice! Thank you so much for making my experience with Usedvending.com so hassle free and stress free! I loved that I only got called when there was a serious buyer and how quick you got all my paperwork to me for the sale. The transaction was incredibly smooth and easy thank you again for all your help I couldn't be happier with your services.
Pilar L.
Valencia, CA

09/14/2015

Good service.
Harjit Singh,
San Jose, CA

03/18/2015

I would like to leave a heartfelt thank you to your team. The experience I had, headed up by Crissy, was exceptional. From inception to receipt of the trailer, it went like clockwork. Crissy made it very easy, fast, and painless. Kudos to Crissy!!
Thanks again,
Mike A, NJ

11/25/2014

Calice, Thank you very much for Your help finding the perfect vending machine. You made the process easy and painless. The photos on the site were exactly what I was getting. I felt good that the purchase was secure and I was not being take advantage of. When I arrived to see the machine, it was in good working condition and in better shape that I thought it would be in. If I need anything else vending related, I will be sure to come to you! Thanks Again!
Tyler Diciola,
Algonquin, IL

10/20/2015

Hello Melissa I appreciate the service that you gave my family especially me, and I just want to say a big thanks for your service. It was easy and apreciative and I am happy with the whole buying business. I appreciate the owner of the trailer for taking time to assist us , also I appreciate the whole kindness you did to us ,
Best of luck,
Rosa and Ruben Hernandez
Cody, WY



10/24/2010

Melissa Powers is an awesome individual with awesome sales power! If you want something sold you need to speak with Melissa Powers! Awesome job Melissa! Thanks for all your help!!

Regards,
Mike Archuleta
Trinidad Colorado

Eric Norman Thank You, Your customer service is extraordinarily splendid and deserves to be commended thank you !! You've went beyond the call of duty to satisfy a potential customer. If this is your policy or standard operating procedure then success is inevitable with you and your company!!!

M. Maynard SR

11/14/2013

Outstanding customer serivice! Great communication skills! April Hurd was able to help me 100% with all my concerns about the product I purchased today. I couldn't be happier with my experience over all. What an amazing job, April! Thanks for all your help.
Guillermo H.
McHenry IL

10/20/2009

Melanie Lee helped me find a vending company in my area. She responded quickly and I received several phone calls and emails within the first couple of hours.
I really didn't have to do anything but pick a company.
Very fast, easy and reliable!!

Chatsworth, California

04/05/2017

Mr. Grey - Thanks to Used Vending my equipment moved really fast.This went really well. Thanks a lot all sold because of you guys!
Mark Maclin,
Memphis, TN

See Hundreds more or Write your own...