TEXAS
Texas Trailers & RVs for Sale! Buy or sell used trailers in Texas – we have used RVs, used horse trailers, used camper travel trailers, used heavy equipment trailers, used dump trailers, used livestock trailers, etc… AllUsedTrailers.com brings Texas safe, easy transactions of buying used near you!
DISPLAY OPTIONS
Item No: TX-HT-534H
1992 - Hart 3 Horse Slant Trailer with Full Living Quarters!!!
This deluxe horse trailer has plenty of amenities for you and your horses. Roof mount a/c, a new 2 speed jack, kitchen, bath & bedoom. It's in like new condition. See details for list of features & equipment.

$11,000. Atlanta, Texas.

CLICK on "MORE DETAILS" for PICS & FEATURES!!!
Call Stacy at 601-749-5660, or click the REQUEST button below to email for more info on this trailer.
Item No: TX-ET-474H
1992 Benlee Rolloff Trailer!!!
This trailer has 60,000 Lb Capacity, 5 Stage Inside Cylinder, 3 Stage Outside Cylinders and 33' Rails and is in good condition.
$24,145. Houston, Texas.
Click on "More Details" for more Pics!!!


Call Stacy at 601-749-5660, or click the REQUEST button below to email for more info on this trailer.
Item No: TX-HT-488H
2006 4 HORSE TRAILER W/LIVING QUARTERS!!!
This trailer is 8' wide, 8' tall, and includes full living quarters. It is a 4 horse slant load trailer with full carpeted side tack w/ four saddle racks and mega bridle hooks-over 40 hooks. This trailer has been well kept and is in very good condition. Please see the detail for more information on the features.

$54,985. Stephenville, Texas.
Click on "More Details" for Features!!!
Call Stacy at 601-749-5660, or click the REQUEST button below to email for more info on this trailer.
See what other customers are saying...
Hey there! Pick up went great!! Rosendo and his wife Veronica were very gracious. Rosendo and his son helped Steve load all the machines. All 32 were in boxes. Everything was there but a set of instructions. Rosendo is going to look for his set and fax me a copy. If he can't find it, he will call the company and get a new copy.


The entire experience of buying my new business was easy, fun, and stress free due to your hard work and caring attitude. Thank you. Now, I only hope that my business itself will be just a fun.


I'll be back in touch with you when I get these machines up and running. By then, I'll be "biting at the bit" wanting to enlarge. Of course, I wouldn't think of using anyone else but you and USEDvending.com


Thanks again, Patti
---
Dear Melissa,
Please use this as you like. It is from the heart !

"Usedvending.com was a lifesaver for me in selling my concession trailer. After trying the popular ......list for 8 months and attracting hundreds of scammers, deadbeats and people who wanted me to finance for them, I found Melissa! She helped me fine tune my ad and target the right buyers. My deal went fast, and I had my money within a week from the time the buyer first came to look ! I can't say enough about the professionalism at Usedvending.com."

Dennis Coffey, New York
Item No: TX-HT-487H
2003 3 Horse Slant Trailer with Living Quarters!!!
Very nice,clean trailer in good condition, with all the same equipment as the big trailers have, just smaller. Living quarters with short wall with dinette and separate bathroom. Door to horse compartment. Please see details for more pictures.


$25,200. Decatur, Texas.
Click on "More Details" for Pics!!!
Call Stacy at 601-749-5660, or click the REQUEST button below to email for more info on this trailer.
Item No: TX-HT-486H
1995 Shelby 2 Horse Straight Load with Living Quarters!!!
This is a 2 horse trailer is in good condition and is 7' tall so it can hold larger horses. It also has living quarters with bed, shower and much more. Please see details for more features.


$6,050. Dallas, Texas.
Click on "More Details" for Pics and Features!!!


Call Stacy at 601-749-5660, or click the REQUEST button below to email for more info on this trailer.
Item No: TX-ET-476H
2005 48' Car Hauler with Living Quaters!!!
This trailer is in very good condition and ready to haul your stuff. Please see details for features.


$27,500. Orange, Texas.
Click on "More Details" for PICS & FEATURES!!!


Call Stacy at 601-749-5660, or click the REQUEST button below to email for more info on this trailer.
Item No: TX-ET-479H
2009 20ft Gooseneck Dump Trailer!!!
This trailer is in very good condition and can be used as a Dump trailer or the sides can be removed to be used as a flatbed trailer. See Details for more features.
$12,000. Beaumont, Texas.
Click on "More Details" for more Pics & Features!!!
Call Stacy at 601-749-5660, or click the REQUEST button below to email for more info on this trailer.
Item No: TX-HT-473H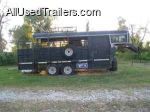 Heavy Duty Gooseneck Horse Trailer!!!
2 horse, slant, gooeseneck trailer in fair condition. Rubber-lined, with tack room and sleeping quarters over the gooseneck. Top needs repairs due to rust but the rest of the trailer is in good condition. Also would make a good landscaping trailer
$2,875. Winnie, Texas.
Call Stacy at 601-749-5660, or click the REQUEST button below to email for more info on this trailer.
Item No: TX-HT-466H
2001 TRAV-A-LONG OUTLAW HORSE TRAILER!!!
LS BODY STYLE 4 horse trailer with sleeping area. See details for more features.
$9,775. Hereford, Texas.
Click on "More Details" for Pics & Features!!!
Call Stacy at 601-749-5660, or click the REQUEST button below to email for more info on this trailer.
Item No: TX-DT-472H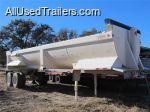 Like New 2007 32ft Dragon Demolition Dump Trailer for sale
2007 Dragon Demolition End Dump. Like new 32' Dragon Demolition End Dump trailer. Half round.
$25,800 Fredericksburg, Texas
Call Stacy at 601-749-5660, or click the REQUEST button below to email for more info on this trailer.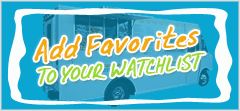 Login to Inquire Online
Call: 601-749-5660
Customer Experiences
11/16/2010

Vannesa Long was very helpful with the entire transaction. All questions were taken care of in a timely manner, and her follow-up was Superb!

Thanks much.
D.Medeiros

01/28/2010

Just starting in the Bulk Vending Business. Melissia was great.Answered all questions and made all of it a very seamless process.

Thanks Again

Dale D.

11/14/2011

Melissa Powers, you have done an awesome job of selling my vending machines. I really appreciate your dilligence and follow through. It really paid off. I will definitely use you to sell any machines in the future.

Gary S.
San Diego, California

After advertising my concession trailer for more than 4 months on various advertising outlets on line, I was approached by Melissa with UsedVending.com. I have to admit, at first I was a bit skeptical. Within a week, I already had an interested buyer but we couldn't quite close-in on the price, but there were others shortly afterward. After less than 2 months of advertising on UsedVening.com, I had the buyer I had been waiting for nearly a half year, and he was very serious and willing to pay the asking price to get what I had originally wanted for the trailer in the beginning. After a couple of days, the deal was pretty well buttoned up. I'm very fortunate to have been approached by Melissa and glad that she convinced me to list the trailer with her. After all is said and done, I wouldn't list it with anyone but UsedVending.com. They were very fair and professional throughout the entire process. Thanks Melissa and if I ever have a similar need, rest assured, you will be the first person I call.
Jason Bell
Plano, Texas

10/15/2012

Calice, Thanks for your help in locating a replacement machine. Things couldn't have gone any better.This is the second time I have needed your services, and I will certainly use them again.

M.M.
Baltimore, Md.

04/18/2012

Gini was awesome to work with!! I was very pleased with the service received and response time on everything. I would highly recommend them and would do business with them in the future for sure! Thanks for making my life easier!

Ryan Roberts Grimes, IA

01/25/2010

These is my second purchase of Vending Machines with USEDvending I am extremely pleasure by the exelent service that They give to me and specially the affectionate treatment(deal) that give to me April Hurd.

Thanks a Lot.

B.Colón
San Juan,P.R.

05/19/2011

Hi Vanessa,

Sorry I'm so late in getting back to you. Our first event with our Model T cart was a success and brought us two more. We are on our way. I want to thank you for your excellent customer service and help all along the way of this process.

Rebekah, CA

02/15/2011

It was great to work with Melissa throughtout the process of me buying my soft serve ice cream trailer. She was very helpful and quick to respond to any questions or emails i had for her. I would definately use Melissa again in the future she made it very easy to make the transaction of my concession trailer.thanks noonans concessions

Wakefield, MA

08/01/2014

Hi Melissa, Thanks for finding a buyer for our food trailer. I tried Craigslist but had no luck. Thanks to you I sold it and the transaction was easy. The buyer came and picked it up, we transferred title and everything was smooth. I appreciate your help.
Chuck Kane,
New Hope, Pennsylvania

08/27/2009

I have been in the vending business for nearly 5 years and only had moderate success until Melanie, at 4 Mega Vending, offered me the perfect location. The location proved to be my most profitable location of all times and I am forever grateful to Melanie for all of her assistance. She is the reason why I have been so successful in the vending business while many others have failed.

Atlanta, Georgia

01/19/2011

Thanks Melissa, your assistance in quickly and accurately listing my machine and identifying a qualified buyer helped my transaction go very smoothly. Your company is truly one of kind!

Darryl RR,LLC
Gaithersburg, MD

11/26/2013

April is the best! She worked with me to obtain great profitable locations. She was there throughout the whole process to make sure everything went smoothly and to make sure that both parties were completely satisfied. And I I'm satisfied every time! As well as my locations that I have obtained with her. April is the best and I love doing business with her and her company Megavending.com.

Kenneth,
New Jersey



07/04/2012

We recently bought a food truck and couldn't be happier. Gini Sweet did an awesome job for us. She was prompt and efficient which was critical because of our desire to purchase a truck immediately. Gini, thank you for your excellent service and helping us realize our dreams.

Kathy R.,
Wheel Good Food, LLC Anchorage, Alaska

01/13/2011

I have had only good experiences when dealing with April at 4 mega vending. Whenever I call and whatever I need, she is right on top of things. I will not be using any other company for our vending needs. April has completely sold us on this company.
Dave
Palm Bay, Fl

10/08/2010

Connie Jordan/MegaVending referred us to a real money-maker location. We depend on MegaVending for quality referrals to expand our vending business. Thanks Connie/MegaVending. We look forward to more referrals!

Prestigious Partners LLC

02/21/2011

usedvending.com gave us a free, easy way to get rid of a machine that was just taking up space in our office. April Hurd was the rep that helped us throughout the entire sale.She was professional, polite, and made sure that everything was made easy enough that a kindergartener could have sold the machine. I would recommend usedvending.com to anyone who wants a painless way to sell their unwanted vending machine.

Liz LeBleu
Chief Operations Officer
PrescriptFit, INC
Gulfport, MS

02/01/2010

Good Morning Melissa,
I just wanted to thank you and Cheryl for all your help with this transaction. You both are knowledgable, friendly, and timely with answering my questions. I would higly recommend UsedVending to anyone!

Kay,
Wisconsin

10/25/2009

Bought a catering truck from you, and sold it through you! Great customer service!

Laura
Reunion, Florida

Just wanted to get a word of thanks off to you for handling the sale of my vending machines. You came through with what you promised and the transaction was handled in a professional manner and went smoothly. Certainly the sale went more quickly than I could have managed on my own trying to sell these vending machines locally. I'd recommend your service to others who want to sell their vending machines.

Edward Kaufman

12/05/2013

April
Thank you for the wonderful customer service during my purchase of my son's vending machine. The assistance with the delivery was great.

Paul
Flint, Michigan

10/20/2014

Thank-you April!! You and your company made it super easy for us to find someone to take care of our needs! Jose has been very nice and professional. Thanks Again! I will definitely recommend you!
Kim Hibbs
Alexandria, VA

Melissa, Thank you for all your help in the sale of my vending machines. We just completed the transaction and everything went great. Nice man! I would highly recommend your business to anyone. Thanks again. Scott

Wisconsin Dells, Wisconsin

12/02/2010

Melissa - I want to thank you and your company for helping me sell my vending machines. Back in the Spring of '10 I decided I wanted to unload my machines. I had no idea how I was going to do this, an add in the local paper a notice on the bulletin board in my local supermarket I was stumped. I googled used vending machines and your company was the first on the list. I listed my machines in May, sold 4 in August and 3 in November. Thank you for all your hard work you were wonderful to deal with and I wish you a very happy holiday season and a prosperous 2011.

Thank you again,
Jean
New Jersey

08/11/2014

I was thoroughly impressed with the outcome of using this site to sell my snack machine. Being that I knew only what the average person does regarding vending machines and that is,"What do I want and do I need to get change?" € The Megavending Rep. walked me through what I needed to sell them and that was pretty much it, I just waited for the emails. The second person that was interested bought the machine. The way they have it set up works out well, it weeds out the window shoppers and does not waste either the sellers or buyers time. I will definitely use them again if I ever need to sell or if I am looking for a vending machine.
Brett Braunschweiger,
Houston, TX



02/17/2011

I enjoyed working with Mellisa, she made it easy to sell my vending machine and the seller the company found was nice to deal with also.

Sincerely,
Lou P.

03/11/2012

I was very satisfied with the Professional customer service that we received. Melissa Powers was a pleasure to work with and she is very knowlegable on what she sells. I would recommend this to anyone looking to for a used or new machine. Thank you Melissa for a Great Job.

Scott,
New Jersey





06/05/2014

Dear April, Everything went very well with the transaction, I am pleased with the equipment. Andrei was not only very helpful and informative, but pleasant to get to know and 2.5 hours after contact I drove out of Lancaster with the new truck and drove through the night and was back in Holbrook by noon the next day, ran the title work and everything is switched over and looking good. I am very pleased with how everything went and want you to look for a comparable deal on a short bed rollback. You have been pleasant to work with and the whole transaction has moved smoothly and rapidly.
Steve,
Holbrook, AZ

I purchased a 2006 out of Maryland. I've been looking for one locally for a while. Deciding to go online and finding Melissa at USEDvending.com was the best business decision that I ever made. The process was smooth, fast. Looking forward to working with her again. Thank you for your professionalism, patience, helpfulness. It was really appreciated.
C.G.
Fairfield, CT

05/25/2011

Hi Vanessa,

I am EXTREMELY pleased with your site. You give me (the small businessman) an opportunity to expand and compete. My experience in dealing with you and everyone on the site has been Great!

Thanks,
Vending for All
Tennessee

11/13/2010

April Hurd is not only good looking and helpful, she's also very smart; what a great combination.

Manny, NV

03/24/2011

Needed to get 2 vending machines sold. April Hurd was very professional & informative she made the process smooth & simple. Thank u April.

Valerie Hawkins.

05/16/2012

Working with Melissa, was a first time for us, with UsedVending...and it was a great experience. Would not hesitate to use them again or recommend this company to others. Our sale went really well...Melissa guided us thru the whole process. Good Job! We were very pleased with our sale!

Lou & Jan,
Montana

04/24/2012

My experience with your company, and with Mellissa was the best! This is the first time working with usedvending.com and I am extremely impressed. It was effortless. Melissa did everything, all I did was pay and pick up. How easy is that? Now usedvending.com is my "go to" for all future purchases. Thanks Melissa.

K.G.,
Fresno, California

06/20/2012

Amazing experience - everything went so smoothly. Melissa did a great job with communication on what the next step and kept us very informed. Thanks.

Fran,
IL

I Purchased Six Used Vending Machines through Eric Normand at Usedvending.com. Through out the entire process I found Eric to be very Professional, and extremely helpful. Eric arranged a purchase for me of machines that were within driving distance, so that I could pick them up and save on packaging and shipping charges. I also purchased some machines that required to be shipped from out of state. The machines arrived Promptly on the date Eric told me they would be here, there was a misunderstanding with the shipping company of payment of shipping, I called Eric, prior to going to the shipping company, and by the time I arrived he had it all straightened out. The Products and Service I received from Eric, and Usedvending.com were First rate all the way. I would recommend usedvending.com to anyone looking for Vending equipment.
P.L. Brown
Beaumont, Texas

07/24/2014

My experience with your company was absolutely positive. Your updates and e-mails were timely and informative. The buyer was a gentleman. Thank you for all for help. I hope you received the sales receipt I faxed to you on Saturday. Thank you.
Smaragda,
Clemson, SC

07/12/2013

Cristina Lumpkin was AWSOME, said she would sell my food bus fast, and that is exactly what she did. Within just a few days I had a full price offer, that buyer backed out and within a few hours she had another buyer that bought it, full price. NO hassles, the transaction went just like she promised. I will call Cristina again when I have more items to sale. You should also. Nice work Cristina, you know what you are doing, GREAT customer service. Thanks.
Roger
Orangevale, CA

09/23/1999

I have had great results with the folks at Used Vending when selling my machines. If you want results, I would highly recommend their services.
Jason G.
Slidell, LA

08/26/2009

My experience with Used Vending.com was extremely good. The information
given on the vehicle was accurate and supported with documentation from
the seller. Both the seller and Used Vending.com answered all of my
questions and exceeded my expectations for a smooth purchase and
transfer process. The seller and Used Vending.com were there after the
sell to make sure everything went well and to ask if I had any
additional questions.
I would highly recommend them.
Regards,
LZ
Stephenville, Texas

12/22/2012

Hi Melissa, Thank You for all your help. The Office deli I purchased is up and running fine.

John
Modern Day Vending
NJ

08/20/2010

Received a call from Melissa on August 17, 2010 at 9:30 am to let me know about an inquiry re my machines. At 10:00 am received another call informing me that my machines wer sold. Thank you Melissa for your hard work

Wayne Bovell
Brampton , Canada

02/25/2014

I am Jeffrey Hinton, the owner of Moselle Fish & Chip Grill. I never expected a broker to help me purchase a concession trailer. My experience with April from USEDvending.com was outstanding. She stayed in contact with me throughout my entire buying process. Thanks April and USEDvending.com.
Jeffrey,
Moselle, MS

03/04/2013

Very nice doing business through your site.
D.H.
Whittier, CA




10/07/2009

Melissa did a terrific job at getting my machines sold. I would recommend her any day!!!
Thanks so much Used Vending...
Linda Schoeffler

Sacramento, Calfornia

12/05/2013

Thank You April, for the great customer service and information.
C.R.
Greenburg, PA

10/06/2009

I recently placed an order for coffee and when it arrived I realized I had ordered decaf instead of regular. Melanie was very helpful in expediting an exchange for the correct item. I have been purchasing all of my coffee and tea from Coffeeasap for a couple of years and have been extremely pleased with the service - especially the fast shipping!

-anonymous

12/03/2013

This was our first experience with Usedvending. Melissa kept us informed every step of the way with potential buyers and the sale went wonderfully. We couldn't be happier with how smooth the process went!!
T. & B.
Lyman, ME

09/14/2010

All of the staffs are all very helpful.

California

I just want to say thank you so much for the excellent customer service and patience that you've had with me. I purchased 3 great combo units from your web site and they are perfect and arrived without a scratch. I was and still am new at this business but you made it a comfortable first purchase. I love vending, thanks :o)
P.S. My friends and I will be back for more great deals!!
Sincerely,
A beginning vendor :o)
See Hundreds more or Write your own...