TEXAS
Texas Trailers & RVs for Sale! Buy or sell used trailers in Texas – we have used RVs, used horse trailers, used camper travel trailers, used heavy equipment trailers, used dump trailers, used livestock trailers, etc… AllUsedTrailers.com brings Texas safe, easy transactions of buying used near you!
DISPLAY OPTIONS
Item No: TX-HT-534H
1992 - Hart 3 Horse Slant Trailer with Full Living Quarters!!!
This deluxe horse trailer has plenty of amenities for you and your horses. Roof mount a/c, a new 2 speed jack, kitchen, bath & bedoom. It's in like new condition. See details for list of features & equipment.

$11,000. Atlanta, Texas.

CLICK on "MORE DETAILS" for PICS & FEATURES!!!
Call Stacy at 601-749-5660, or click the REQUEST button below to email for more info on this trailer.
Item No: TX-ET-474H
1992 Benlee Rolloff Trailer!!!
This trailer has 60,000 Lb Capacity, 5 Stage Inside Cylinder, 3 Stage Outside Cylinders and 33' Rails and is in good condition.
$24,145. Houston, Texas.
Click on "More Details" for more Pics!!!


Call Stacy at 601-749-5660, or click the REQUEST button below to email for more info on this trailer.
Item No: TX-HT-488H
2006 4 HORSE TRAILER W/LIVING QUARTERS!!!
This trailer is 8' wide, 8' tall, and includes full living quarters. It is a 4 horse slant load trailer with full carpeted side tack w/ four saddle racks and mega bridle hooks-over 40 hooks. This trailer has been well kept and is in very good condition. Please see the detail for more information on the features.

$54,985. Stephenville, Texas.
Click on "More Details" for Features!!!
Call Stacy at 601-749-5660, or click the REQUEST button below to email for more info on this trailer.
See what other customers are saying...
Hey there! Pick up went great!! Rosendo and his wife Veronica were very gracious. Rosendo and his son helped Steve load all the machines. All 32 were in boxes. Everything was there but a set of instructions. Rosendo is going to look for his set and fax me a copy. If he can't find it, he will call the company and get a new copy.


The entire experience of buying my new business was easy, fun, and stress free due to your hard work and caring attitude. Thank you. Now, I only hope that my business itself will be just a fun.


I'll be back in touch with you when I get these machines up and running. By then, I'll be "biting at the bit" wanting to enlarge. Of course, I wouldn't think of using anyone else but you and USEDvending.com


Thanks again, Patti
---
Dear Melissa,
Please use this as you like. It is from the heart !

"Usedvending.com was a lifesaver for me in selling my concession trailer. After trying the popular ......list for 8 months and attracting hundreds of scammers, deadbeats and people who wanted me to finance for them, I found Melissa! She helped me fine tune my ad and target the right buyers. My deal went fast, and I had my money within a week from the time the buyer first came to look ! I can't say enough about the professionalism at Usedvending.com."

Dennis Coffey, New York
Item No: TX-HT-487H
2003 3 Horse Slant Trailer with Living Quarters!!!
Very nice,clean trailer in good condition, with all the same equipment as the big trailers have, just smaller. Living quarters with short wall with dinette and separate bathroom. Door to horse compartment. Please see details for more pictures.


$25,200. Decatur, Texas.
Click on "More Details" for Pics!!!
Call Stacy at 601-749-5660, or click the REQUEST button below to email for more info on this trailer.
Item No: TX-HT-486H
1995 Shelby 2 Horse Straight Load with Living Quarters!!!
This is a 2 horse trailer is in good condition and is 7' tall so it can hold larger horses. It also has living quarters with bed, shower and much more. Please see details for more features.


$6,050. Dallas, Texas.
Click on "More Details" for Pics and Features!!!


Call Stacy at 601-749-5660, or click the REQUEST button below to email for more info on this trailer.
Item No: TX-ET-476H
2005 48' Car Hauler with Living Quaters!!!
This trailer is in very good condition and ready to haul your stuff. Please see details for features.


$27,500. Orange, Texas.
Click on "More Details" for PICS & FEATURES!!!


Call Stacy at 601-749-5660, or click the REQUEST button below to email for more info on this trailer.
Item No: TX-ET-479H
2009 20ft Gooseneck Dump Trailer!!!
This trailer is in very good condition and can be used as a Dump trailer or the sides can be removed to be used as a flatbed trailer. See Details for more features.
$12,000. Beaumont, Texas.
Click on "More Details" for more Pics & Features!!!
Call Stacy at 601-749-5660, or click the REQUEST button below to email for more info on this trailer.
Item No: TX-HT-473H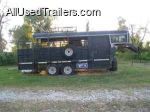 Heavy Duty Gooseneck Horse Trailer!!!
2 horse, slant, gooeseneck trailer in fair condition. Rubber-lined, with tack room and sleeping quarters over the gooseneck. Top needs repairs due to rust but the rest of the trailer is in good condition. Also would make a good landscaping trailer
$2,875. Winnie, Texas.
Call Stacy at 601-749-5660, or click the REQUEST button below to email for more info on this trailer.
Item No: TX-HT-466H
2001 TRAV-A-LONG OUTLAW HORSE TRAILER!!!
LS BODY STYLE 4 horse trailer with sleeping area. See details for more features.
$9,775. Hereford, Texas.
Click on "More Details" for Pics & Features!!!
Call Stacy at 601-749-5660, or click the REQUEST button below to email for more info on this trailer.
Item No: TX-DT-472H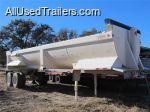 Like New 2007 32ft Dragon Demolition Dump Trailer for sale
2007 Dragon Demolition End Dump. Like new 32' Dragon Demolition End Dump trailer. Half round.
$25,800 Fredericksburg, Texas
Call Stacy at 601-749-5660, or click the REQUEST button below to email for more info on this trailer.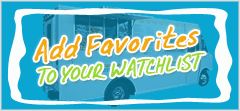 Login to Inquire Online
Call: 601-749-5660
Customer Experiences
03/15/2010

April Hurd is a fantastic person to deal with. She is professional, courteous, friendly, and will do what ever it takes to help someone that is trying to buy a vending machine. I will spread the word about the excellent service April and 4 Mega have given to me. Keep up the good work April!

Bob Smith, Robcandy Enterprises
Grapevine, Texas

04/06/2011

Thanks, Melissa, for your patience and persistence when I was hard to get hold of! Appreciate it very much.
Had a very straight forward and smooth transaction! Looking forward to working with you again!

Edmonton, Canada

08/21/2010

Found an add for Wowie Zowie gumball machines on UsedVending.com and got a great deal on them. Thanks to Melissa for send info on completing transaction. VERY HAPPY!!
UKJEFF

06/22/2011

I was pleased to work with everyone there. Stacy Sweet was very helpful. Would definitely buy from them and recommend them. Not hard at all buying from a company so far away from my state.I am happy with there services.

Janice, OR

02/01/2010

Good Morning Melissa,
I just wanted to thank you and Cheryl for all your help with this transaction. You both are knowledgable, friendly, and timely with answering my questions. I would higly recommend UsedVending to anyone!

Kay,
Wisconsin

10/25/2009

I luckily came across the website for April. I run a 19 store chain of convenience stores and one of them has a laundromat attached. We needed a coin changer machine and I knew very little about them. My time is valuable and April quickly guided me to the best option for my needs. She answered any questions I had with ease and made the purchase painless and enjoyable, I would highly recommend April for any equipment purchases you have.

Most Sincere, Brian Laudenbach JM Oil Company.
St Cloud, Minnesota

08/04/2010

Used Vending was very helpful in assisting with the purchase of a concession trailer. Melissa did a super job keeping me posted on the status of the transaction. Thanks for all your work!

Lynn Roath, Jr.
Grass Valley, CA

02/21/2011

usedvending.com gave us a free, easy way to get rid of a machine that was just taking up space in our office. April Hurd was the rep that helped us throughout the entire sale.She was professional, polite, and made sure that everything was made easy enough that a kindergartener could have sold the machine. I would recommend usedvending.com to anyone who wants a painless way to sell their unwanted vending machine.

Liz LeBleu
Chief Operations Officer
PrescriptFit, INC
Gulfport, MS

09/26/2014

Hi Calice, Just a few words on my experience with Used Vending. I have been very happy using Used Vending. I have been in the vending business for 1 year and am trying to grow my company. Buying the vending machines from your site has helped me grow from 5 machines to 16 in no time at all. Calice has been a great help getting my bids to the right people and getting back to me. The deposit went smoothly every time. I picked up 10 machines yesterday and the couple was from Hastings NE. I live in Omaha and had to hire a truck and coordinate with the couple from Hastings a pick up time for both of us. There was never I a time where I felt uncomfortable and things from Calice were upfront. Thanks for saving me lots of money on machines and helping grow my business in a short time. I will definitely be using your site in the future.
Thanks,
Cathy Burdis
CBvendingomaha.com
Omaha, Nebraska

03/05/2012

We have completed the sale of our concession trailer! Melissa was great to work with - from start to finish everything went very smoothly. We have already recommended Melissa and USEDvending to a friend of ours. Thank you!

Diane,
Plant City, FL

11/11/2014

My experience with usedvending services was excellent. I felt very comfortable and informed through the whole process. I'll definitely refer my business associates and use again in near future. Thanks again Traci for all your help!
Chemmonia McArthur,
Virginia Beach, VA

05/16/2012

Working with Melissa, was a first time for us, with UsedVending...and it was a great experience. Would not hesitate to use them again or recommend this company to others. Our sale went really well...Melissa guided us thru the whole process. Good Job! We were very pleased with our sale!

Lou & Jan,
Montana

01/10/2011

April was a great help in obtaining my first vending machine and I will continue to use used vending through her help.
David

05/12/2009

April,
We had lost our vending machines when our office burned in 2006, our employee/snack fund had barely stayed solvent using the honor system. In less than 5 months after purchasing the combo snack unit, we are consistently profiting $100/mo in a 20 person office and the footprint of the unit is about 1/3 the space of our previous soda and snack machines, plus we don't need to constantly interrupt the cashier for change.
The combo unit has worked out for us vey well.
Thanks.

Jeff
Pensacola, Florida

10/15/2013

I purchased two food concession trailers recently with Melissa acting as my broker. One of the trailers was 700 miles away. I was able to make all arrangements through Melissa, including inspection. She handles all details flawlessly. The trailer was picked up and delivered through a third party transporter. The only hitch in doing business with UsedVending is the hitch used by the transporter. Needless to say, I am a totally satisfied buyer and would gladly use Used Vending the next time I am in the market for a trailer.
Stephen W.
Miami, FL

09/26/2013

Melissa at Used Vending was great!!! She was helpful, considerate and always available. I had somewhat of an unusual item to sell on the site, but my item sold for exactly what I was seeking and Melissa guided me the whole way. I would highly recommend the Used Vending site to anyonewho is selling or trying to buy great used vending equipment.
Thanks Melissa!
Sam
Lafayette, CO

05/11/2010

I was looking for 25 cent coin machine and April found the right ones with no problem was fast and easy to work with her she was friendly and courteous a nice person to talk to thank you

BEN GAUDIANO

11/10/2011

It was great working with Melissa Powers, she got one of my vending machines sold. I would work with her again! She is good at what she does and you can get her on the phone if you need too.

Dianne R., MD.

10/07/2010

Ms April Hurd was very kind with us, when doing business for a new vending machine. She is very valuable for your company. We recommend to speak with her when doing business . Thank you.

02/19/2011

I have just recently involved in doing business with usedvending.com. I must say, my experience so far has been the best I've ever had since doing business. Melissa has been great. Melissa made the transition to buying and acquiring my vending machines with location smooth and timely. She answered every questions with specific details. Melissa addressed my concerns with care and understanding. I felt like I was speaking to a friend rather than to someone I am trying to do business with. This is how comfortable and at ease Melissa made me feel.

E. Adrien

Port Jervis, NY

09/01/2011

Thanks Melissa! You were a great help keeping this transaction coordinated and organized. I would highly reccommend you and your organization and if these two machines work out for Northwest Alternatives, we may be back for more. Thanks again!

Brian
Boise, ID

12/04/2012

Hello Calice, I just got off the phone with Stacy from your company or from Mega Vending and I couldn't be happier. He was exceptionally helpful and displayed such a positive attitude rarely seen nowadays. I would like to thank him for the top notch service that I was the recipient of. Because of his coaching, our vending machine was fixed and our entire building is very happy. Thank you again for the contact. It is wonderful to run into people like him : he is a rare breed and should be recognized and congratulated for his exceptional customer service skills.

Hyacinthe,
CA

06/13/2012

I would like to say Thank You to Calice for finding a Buyer for one of my Vending Machines. The paperwork and transaction went smoothly. I hope she can help find buyers for the rest of my machines.

Kathy S.
Louisville,Colorado

12/10/2013

April,
Thanks for the help. I have purchased 6 machines from Mega vending and they all have worked flawlessly!
C.B.
Tulsa, OK

10/25/2009

Bought a catering truck from you, and sold it through you! Great customer service!

Laura
Reunion, Florida

05/09/2012

Pleasantly surprised on the process of sale, quick & effortless... Melissa was AWESOME, she took care of everything very professionally!! Thank you again Melissa.

Ryan,
Des Moines, IA

07/31/2012

Gini helped us find a vendor: Susquehanna Vending that got machines small enough to fit through our narrow doors and supply snacks, meals, and sodas.

R.J.
Lancaster, PA

02/19/2010

Would recommend UsedVending.
What a pleasure it was to work with Melissa. We went into his process not knowing what to expect. Melissa walked us though each segment of the deal and was totally helpful in every way. We were also working with a time factor, us being on the west coast but she worked it out. I have enjoyed working closely with Melissa and would highly recommend the company to my friends and family.

San Francisco, CA

05/21/2000

I contacted Eric Normand through his webpage several months ago in regards to some vending machines that I had for sell. His service provided another way to sell my vending machines other than posting classified ads. His service directly reached potential buyers and saved me money. I got a fair price for my vending machines and was able to sell them in a reasonable time. He kept in contact with me the whole time we worked together and I felt reassured that his efforts were true to helping me sell my machines.
Thanks,
Jason Aycock

12/05/2013

It have been great working with April Hurd for the last years. Keep up the great work, look to hear from you soon.

Thanks
Delbert Fain
DLJ vending

05/13/2012

I've used 4MegaVending since the start of my vending business in 2007 and Gini and all the staff at 4MegaVending have always been courteous, professional and most of all very efficient. I think that's why I keep coming back! Good job!

Francis,
Honolulu, HI

03/04/2012

I was very satisfied with the service, Melissa powers was very helpful, the whole deal was quick and easy and we had our machine in the office in 2 days, thanks!

Terry, B
Baltimore, MD

My hats off to Melissa and her staff. When my husband was diagnosed with cancer several months ago, we thought for sure we would be stuck with our concession trailer until the spring. But thanks to Melissa's and staff's hard work, they found a buyer and yesterday they picked it up. What a breeze it is to work with Melissa and the staff. They truly take care of EVERYTHING. Well worth it if you have something they can sell for you. Thanks again for everything!!!

M. H.
Virginia Beach, VA

10/13/2009

Dealing with April was a real pleasure! When she told me that we would have the deal wrapped up that day I thought no way - but she was true to her word. If I could deal with more people like her I'd have a whole lot more hair.

Bill Ruby
Las Vegas Ice Center

08/19/2010

Can't say enough how much I appreciate the effort from Melissa. Super job from posting until the final sale. I look forward to againg working with you in the future.

Jim O.

09/09/2011

I have been working with your company going on three years now in reference to my vending equipment, my experience working with you has always been great. Your company is of great service to our industry. Special thanks to April and Stacy, thank you again for all your help.

Matthew B,
Maryland

11/27/2013

April, Thanks you did a great job in a timely manner. I would be happy to work with you again.
Keith A.
Port St. Lucie, FL



07/06/2009

Wanted to express my gratitude to April for being so helpful over the past year! We've bought vending machines from Mega Vending on several occasions, and each time April was friendly and professional, and went WAY above and beyond what she had to in order to make sure we were taken care of. I have been recommending Mega Vending to other vendors I run into online, and will continue to do so...and tell them to ask for April! Keep up the great customer service!

Preston Dillon, Tree Frog Vending
Arvada, Colorado

11/09/2010

Melissa was so helpful and very professional. SHe did everything she could to sell our unit. When it sold the transaction went very smoothly. Thanks, Melissa and Used Vending!

Cindy S.

02/09/2012

Melissa and Calice were so helpful during the whole process. I appreciate their hard work. This went as smooth as can go, great comunication and excellent people. The best in the business!!!!!

Raphael,
PA

02/01/2011

April did a great job for us. I had no knowledge of ordering a vending machine, and she made it so easy! The price was great, the service was amazing and we had a great vending machine in a few days! Thanks, April! You have our business for good!

Nancy Jones
PHCC Texas
Buda, Texas

Usevending is one of the few reliable sources that we found to sell our used vending machine April was helpful in every step of the process, she was diligent and communicated frequently. Thank you!
Stacey, CA

04/26/2010

April did a terrific job finding exactly the machine I was looking for, within my area, and within a week! This was a terrific experience and completely relaxed me as a first time buyer.

10/26/2009

Mega-Vending has brought good steady business our way!!!

Jeff,
Las Vegas, Nevada

08/06/2012

Gini is WONDERFULL!!! I love Gini and how she is so kind to assist me in this vending business. This is the first time I used this website and company and already I have had a pleasant experience with her. She made me feel very special and important and I recommend her to anyone out there!

Jason,
Los Angeles, CA

06/28/2011

I used your company through Melissa Powers and she has made the purchases go very smoothly,one that fell apart,but with her experiance she moved me along to another purchase which was necessary for me to fulfill my clients needs,Thanks so much Melissa for your great help and caring for my business needs.

Wayne Basilotto,Your Choice Vending

03/04/2012

I will definitely recommend usedvending.com to anyone in need of their services. Melissa powers is an awesome salesperson who always communicates quickly and efficiently. Melissa brokered each interested parties questions back and forth with me, and I was always amazed at how easy she made tough buyer questions. Thank you melissa and thank you usedvending.com.

Ron,
Pennsylvania

08/21/2014

Hey April, The vending machine has been a great addition to our theatre. The actors love it because I am able to control what we put in there. Unlike most vending machines we have no candy bars, instead we have healthier options like trail mix and freeze dried fruit. We can also put in some unusual items that actors seem to need frequently like black socks, deodorant and tea bags. Everyone laughs about it, but they are using it like crazy. We are kind of weird I know, but thanks for helping us out! The machine is great and sales are strong. I anticipate that the machine should be paid off with in a year and a half or so and then it's all profit! Thanks so much,
Kal Poole,
Helena, MT

06/02/2010

I was delighted to be able to go through the process of selling my five soda/snack machines with Melissa. She contacted me about a customer interested in two, possibly three of my machines. I ended up selling all five! Melissa was friendly and helpful throughout the sale of my machines!
Norm
See Hundreds more or Write your own...