NEW YORK
New York Trailers & RVs for Sale! Buy or sell used trailers in New York – we have used RVs, used horse trailers, used camper travel trailers, used heavy equipment trailers, used dump trailers, used livestock trailers, etc… AllUsedTrailers.com brings New York safe, easy transactions of buying used near you!
DISPLAY OPTIONS
Item No: NY-ET-609H
2009 - Rance Rough Rider 4-Slot Enclosed Snowmobile Trailer!!!
This trailer is for safely transporting all your snow toys- it has 4 slots and is in excellent condition having no dents or blemishes. Used only 2 winters. Dimensions are 6' inside, 8' width, 24' long. See the details for list of features.
. Hamburg, New York.
See "Details" for More Pics & Features!


Call Stacy at 601-749-5660, or click the REQUEST button below to email for more info on this trailer.
Item No: NY-RV-558H
2009 - 36' Class A Scorpion Outlaw Toy Hauler & Motor Home!!!
Home-like living while hauling your toys. Low milage, outside shower, inverter ducted roof air conditioning, large garage area. It's in very good condition. See details for amenities.

$99,000. Pierrepont Manor, New York.
CLICK on "MORE DETAILS" for PICS & FEATURES!!
Call Stacy at 601-749-5660, or click the REQUEST button below to email for more info on this trailer.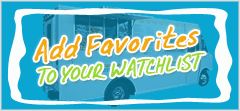 Login to Inquire Online
Call: 601-749-5660
Customer Experiences
10/06/2016

Usedvending.com helped sell our concession trailer in two weeks' time. No stress and a very easy transaction. And the icing on the cake is we sold it to a very nice couple.
Linda Boles,
Talahassee, FL

12/05/2014

Hi April, First of all, let me apologize for taking so long to get back to you! I want to really thank you for your persistence on behalf of your client who purchased our machines and on our behalf because we were not sure that we were ever going to be able to sell our machines since they are no longer being manufactured. It was only through your persistence in finding your customer what he needed and matching that need with our machines were we able to sell our machines. The credit for our successful transaction goes to you, April. You are the best!!! And your customer was very pleasant to work with. It all boils down to working with reputable, professional people on all sides of a transaction.

The only suggestion that I have is for the actual instructions for sellers to use in performing the required electronic signatures be revised to reflect the exact experience that the seller is going to have online with regard to the individual steps of the process. If you remember, I had a little trouble because what the video instructions indicated would happen was not exactly how the process went. Other that that,.everything was wonderful!

I certainly would recommend Used Vending.com as an advertising platform and specifically I would recommend you, April, as the company representative of choice for handling the sales transaction. I can not say enough about your professionalism, due diligence and overall pleasant, cheerful attitude when dealing with us. It was, indeed, our pleasure to work with you! Keep up the outstanding work! Have a happy, safe Holiday Season!
Brenda McGee
Las Vegas, NV

This was a most seamless experience I have encountered. Melissa contacted me first to inform me of a local buyer and helped walk me through the process including handling all the negotions and paperwork. I was Extremly statisfied with the website and my contact point Melissa at the company. This was a 10 plus experience.

J.M.
Jacksonville, Florida.

12/16/2015

We had our concession trailer listed with you and you have sold it. It was great working with you. You kept us informed with everything. Thank you so much for all that you did. It was a great experience working with you. Thank you.
Tammy Crow,
Punta Gorda, FL

04/05/2017

Mr. Grey - Thanks to Used Vending my equipment moved really fast.This went really well. Thanks a lot all sold because of you guys!
Mark Maclin,
Memphis, TN


04/02/2015

Calice,I want to thank your for all your help with my latest transaction. You have been very helpful and answered all my questions in a timely manner. I was happy to have sold my first machine!! Keep up the good work and again I appreciated your attention and friendly service.
Henry Wright,
Plant City, FL

03/15/2016

I can't say enough great things about Used Vending! You guys are great, you take bad selling experiences that most people like myself have from other sites and really truly make the selling process very easy and enjoyable! I've talked to many of the sales people through this process and they were all very nice to deal with. I would like to say a big thank you to Greg for getting the same done! Thank you, Todd.
Todd Halverson,
Vermillion, SD

07/21/2016

Wendy,Thanks again for helping sell my concession trailer. I was very happy with the whole experience.I asked my buyer how he liked it. He said it was very easy and that you walked him through everything he needed to do. I will refer you and your company to anyone I come across needing your service. Best Regards,

Ray Rabenda,
Beacon, NY

05/01/2014

It was a long wait for us to connect with the right owner and Melissa Powers was there for us throughout the process. She would call with what seemed like strange questions, but she was doing due diligence to the buyers requests. In the end, we were connected with an enthusiastic buyer (and 3 others highly interested)who will have a bright future because of Melissa and Used Vending!
Susan
Laurel, MD

11/27/2013

April, Thanks you did a great job in a timely manner. I would be happy to work with you again.
Keith A.
Port St. Lucie, FL



10/07/2009

Melissa did a terrific job at getting my machines sold. I would recommend her any day!!!
Thanks so much Used Vending...
Linda Schoeffler

Sacramento, Calfornia

09/27/2009

What a great and smooth experience. Mega-Vending alerted me to a location needing a vending machine. They provided the location my information. In just a few days I had secured the location.

Mega-Vending sold me a new machine for the location. The price was right. The service provided from the Mega-Vending reps was excellent.

I look forward to more great vending location opportunities provided by your company.

Thanks.
Chris
Bloomington, Illinois

02/12/2014

We recently sold our concession trailer through Usedvending.com. Melissa Powers was awesome. She handled all of the paperwork and made our end very easy. From the time we got the offer call from Melissa until the unit rolled out of the driveway was only 22 hours! Thank you very much, Melissa € € .
R.Z.
Sierra Vista, AZ

05/14/2014

I've done business in the past with Mega Vending and will continue to. Their step by step buying process works right down to the delivery date. They'll also assist you in which machine would most suit your needs. April was most helpful, honest and always there when I had any questions. I recommend MegaVending and April very highly, Keep up the great buying experience!!!!
W.B.
Your Choice Vending, NJ

05/17/2016

Good afternoon ladies, I have been so busy that I was not able to thank you so much for your hard work. I greatly appreciate all of your help. The machine looks and works great. Thank you again for everything.

Sincerely,Reginald King Jr.
Crown Vending Services
Houston, TX

03/02/2017

Melissa, the whole experience was great. I appreciate the efficiency in which the transactions were done. I know in the food business, time is money! I have been viewing your web site for about 6-8 months and liked getting the updates with the new listings. The selection was great and it looked like there was good stuff listed no matter where you were located. I have recommended your site to others and I'm sure I will continue to browse. Thanks again for your help.
Michael Carnahan,
Newark, OH

07/11/1999

UsedVending.com was a great experience for me and my business. If you're looking for great priced vending machines, this is the place to do it. Make UsedVending.com work for you.

M.J. Vending A Full-line Vending Service
Slidell, LA (Matt Wood - owner)

11/14/2013

Mellissa and staff were great to work with and prompt to respond to questions as we progressed through this transaction. We would recommend them to prospective clients and hope to do further business!

Barbara and Jay Buckert
WA

09/19/2014

Melissa, I would like to thank you for our experience in dealing with UsedVending.com. It was a pleasure working with you and the service you folks provide is very beneficial. You bring willing sellers together with willing buyers and the transaction can happen relatively very quickly. The gentlemen that I worked with was a pleasure to deal with, he was obviously motivated to make the sale happen. This was indicated very quickly after you had asked him what his best price was and then he got back to you right away with my many questions. For what we were looking at a mobile brick oven trailer we were able to get into a turn-key business for literally 1/3 of the price vs having to go with brand new. Huge thanks once again for all your help and putting this together.

Kindly,
Michael Tereza,
Elk Grove Village, IL

12/06/2010

What a wonderful group to work with. I needed to downsize my business due to illness and listed my machines with USEDvending. It took a little while because at first I was stubborn about negotiating the porice. But I have sold what I wanted to sell and the delivery and all was painless. Thanksd for all your service.

TX

12/08/2011

Another satisfied repeat customer. Melissa Powers has the professional experience and the personal touch to get the job done. All my interactions and transactions has got off without a hitch. She not only follows up, keeps you informed but also follows through. Thanks and keep up the excellent work.

Regards,
Willam L. Colorado Springs

08/10/2010

Melissa was wonderful to work with... Always very helpful and quick to respond.. USEDVending.com had our vehicle spoken for in less than a week and sold in under 3 weeks something that we were unable to do in 2 months.. Great Website and we would do buisness with again!

Matthew Ballance
CEFCU Vehicle Services,
East Peoria, IL

09/12/2011

I can say enough about the super quick response time and professionalism by Stacy Sweet. He sent me a lead. I followed up and within two days I had a new customer. In this industry, new qualified leads are hard to come by but Stacy and his team makes it so smooth for all parties. I highly recommend all vendors to contact Stacy and he will help you grow your business!!

Jon,
Boston, MA

10/06/2016

April, Just a note of appreciation to you and the Used Vending team for helping to sell my three machines. Your professionalism is most valued. The efficiency of your organization in processing my initial request and guiding the process is most valued for the first time customer. Again thank you, Lee
Lee J. Cox,
St. Louis, MO

02/22/2012

Thanks to Tara Nelson-Pettigrew for assisting in the sell of my vending machines. She kept me aware of any inquiries and interested buyers. It was a pleasure to communicate with her during the listing of items. Thanks again Tara. Job well done. Gold Star awarded!!!!!!

Ray
South Carolina

10/23/2009

I had several questions about a vending trailer that I found on the usedvending site and Melissa wrote me and then called me right away. She worked between me and the seller and provided excellent service. Unfortunately I did not end up getting this particular trailer, but Melissa has kept me updated on new listings that may meet my needs. I look forward to doing business with her and usedvending again in the future. I definitely will only go through used vending when i'm ready to buy. Thanks again for all your hard work and great service.

Joe M
Greeneville, Tennessee

07/18/2015

My experience was wonderful with this company, thanks for the key to my future.
Stacy Clark,
Wedowee, Alabama

02/02/2016

Hi Wendy, I had a really good experience, you guys provide a great service. Thanks again!
Felix Kazantsev,
Brookline, MA



04/04/2013

Thanks to Stacy and Gini. They have always given us great service with placing vending machines. We will be in touch with you soon about buying some more vending machines. Keep up the good work.

Gary and Mary in Hueytown, AL

03/22/2016

I recently advertised and sold a small vending machine through your site. The process was quick, smooth, and everybody involved was fair and honest. Your agent, April Hurd was professional, friendly and made the process easy. Thank you for a job well done.
J. Clay,
Marietta, GA

05/04/2010

My experience with Melissa Powers usedvending.com was great. The process went very smoothly.

12/21/2015

The process was a breeze!!! Melissa is great and Usedvending.com gets everything together for you!!!
Maria & Frank Huereque,
Ridgecrest, CA

10/17/2012

Working with Used Vending was very straightforward and painless. Melissa was very helpful in every aspect of the transaction process, and doesn't take sides when conducting the deal. I would recommend contacting Melissa if your thinking about getting into or out of the mobile food game.

Frank,
Buffalo, NY

12/05/2013

It have been great working with April Hurd for the last years. Keep up the great work, look to hear from you soon.

Thanks
Delbert Fain
DLJ vending

06/04/2015

My experience was great! Everything was very well represented by the company and the total process was easy to get done. The seller was well organized and we handled the transaction with no difficulty. It is pretty much risk free since the potential buyer has the opportunity to withdraw if they want.

Sincerely,
Andy Trekell
Diboll, TX

09/10/2014

These guys get the job done! The last business i did with them was great fast and easy. Im so happy with the service that I added 2 more listings. They are responsible, reliable and know what they are doing. They look at your sale like their own and they care for the seller as much as the buyer! You have a business to sell this is the place!

Jose Paniagua,
Harrisonburg, VA

12/28/2016

Wendy, I wanted to just drop you a note and thank you for all of your help in buying my trailer. It is hard enough to buy something out of state, and is usually very difficult to get information about the item you are buying. You kept me up to date on the trailer the entire time. I cant say enough about the help I received from you during the purchase of my trailer. I would refer you and your organization to anyone trying to purchase an item from your site. If I ever have anything to sell or buy, in the future, I will surely give you a call. Thank you again for your help and professionalism.
Curtis Fountain,
Hackberry, LA

10/06/2010

April Hurd was my sales representative and she was great. She made purchasing a vending machine for our office extremely easy. She answered every question I had in a professional and timely manner. I am pleased with the service that I received from Mega Vending!

Heather - Bristol, PA

03/23/2017

I just wanted to let you know how much I appreciated everything you did to get us the trailer we picked out. I had a very good experience working with you and would do so again in the future. I know this deal was very trying for you and you held it together professionally and saw us through it.Thank you.

Dave Robinson,
Columbus, GA

05/09/2016

I had a wonderful experience with my customer service rep. She answered all of my questions in a timely manner. She was honest and straight-forward, as well as caring. I can't see no better way.
Anieti Umanah
Houston, TX

06/20/2012

I must say that the whole experience was more than pleasant besides the fact the food truck sold in ONE day, yes I said it ONE day, sent to you guys on Wednesday posted on Thursday made contact with purchaser on Friday the flew down the same day met with them on Saturday morning as there flight got in midnight Friday SOLD on Saturday. Wow thanks Gini Sweet for all your help! I will recommend and use you guys again in a heart beat! again thanks for everything!

Michelle
Seattle, Washington

11/09/2015

I had a great experience dealing with usedvending. I had most of my interaction with Melissa Powers. She is fun and upbeat. Always gets right back to you with answers. I had high expectations for selling my BBQ trailer for lots of money, but, while I didn't get what I was hoping..do we ever?....the whole process was painless. Very professional and effective at what they do!! Thanks Melissa!!!
Wendy Binder,
Derry, PA

01/15/2016

Calice, my experience with Used Vending.com was outstanding. I received monthly contact, which let me know my product was not just languishing. Calice and the other representatives were very professional. I would not hesitate to recommend Used Vending to anyone.
Thanks,
Andrea C.
Prince George, VA

06/23/2015

I had a wonderful experience with the purchase of anteres machine through usedvendning company. Calice made me feel confident that I dealt with professional people. Calice is very professional, organize, and above friendly person who cares with whom she does business with. Thank you so much foe wonderful experience, I will use your service in the future if I need to purchase more equipment. I will also recomand Calice's outstanding service to anyone interested in vending product. Thank you so much, and keep up the great service .
MARIUSZ CZUPIAL,
Sicklerville, NJ

03/04/2012

I was very satisfied with the service, Melissa powers was very helpful, the whole deal was quick and easy and we had our machine in the office in 2 days, thanks!

Terry, B
Baltimore, MD

Stacy did a remarkable job helping Me obtain a quality used vending machine. He told me exactly what was going to happen and ensured everything went smoothly. Thank you and I will recommend your service to other business owners.
BS
Upper Marlboro, Maryland

06/29/2009

Hi,

I just wanted to drop a note about my experience with your company (4 mega vending .com). I run a dormitory at a college preparatory school and we have for years been thinking about whether we should take the leap and purchase machines for our dorms rather than having an outside service providing full service snacking. The concern was where we could find a company that could supply the machines we needed and the extra support we needed as people new to the vending process. After scouring the internet we stumbled into this site and decided to call. April, our sales rep, was thoughtfully unassuming and helpful throughout the process. When we asked ridiculous amounts of questions she happily answered them and patiently walked us through the selection process taking into consideration our population size, budget and dimension constraints while also keeping in mind our goals for providing nutritional options for our students. After we made our machine selection the order arrived just as we had discussed (on the day and time they were scheduled) and there were no surprises. After the sale, when I had some additional questions and when most companies no longer care, April was courteous and helpful once again. April has demonstrated that at least one company truly knows how to make vending easy.

Thanks,
Stephen Moyer
George School
Newtown, Pa.

08/07/2015

Hi Crissy! This is Kim & Jay - the Pico De Guyo people! We wanted to let you know how pleased we were with the service we received from you and USEDvending.com. From the first phone call we made, it was EASY for us to get our truck listed, updates made, and questions answered. You provided our first qualified buyer within 10 days of listing, and 3 weeks later our truck was sold! We love how you have designed your service so that sellers don't have to come up with any money to list their truck - and your system really works! Thank you for the great service you are providing to those of us in this industry! We would definitely recommend you to anyone looking to sell their truck! Thanks.

Kim Walgren,
Buffalo, WY

03/02/2012

The experience of buying a used vending machine through USEDvending.com was very quick and easy. Melissa Powers walked me through the entire transaction. At first, there was a question of whether another buyer was in line ahead of me. Melissa told me that she would know for sure within a day. Sure enough, she called me back to give me the green light. Melissa led me through the steps of charging my deposit online, then put me in touch with the seller. Every step of the transaction went off exactly as Melissa told me it would.

Dan K. ,
Illinois

09/24/2009

I have been working with April at USED vending for 2 years now, and I have ALWAYS received fast and friendly service. I would recommend USEDvending to anyone that needs new or used vending parts!
Jeff Eversman

Fairmont, Minnesota
See Hundreds more or Write your own...