NEW YORK
New York Trailers & RVs for Sale! Buy or sell used trailers in New York – we have used RVs, used horse trailers, used camper travel trailers, used heavy equipment trailers, used dump trailers, used livestock trailers, etc… AllUsedTrailers.com brings New York safe, easy transactions of buying used near you!
DISPLAY OPTIONS
Item No: NY-ET-609H
2009 - Rance Rough Rider 4-Slot Enclosed Snowmobile Trailer!!!
This trailer is for safely transporting all your snow toys- it has 4 slots and is in excellent condition having no dents or blemishes. Used only 2 winters. Dimensions are 6' inside, 8' width, 24' long. See the details for list of features.
. Hamburg, New York.
See "Details" for More Pics & Features!


Call Stacy at 601-749-5660, or click the REQUEST button below to email for more info on this trailer.
Item No: NY-RV-558H
2009 - 36' Class A Scorpion Outlaw Toy Hauler & Motor Home!!!
Home-like living while hauling your toys. Low milage, outside shower, inverter ducted roof air conditioning, large garage area. It's in very good condition. See details for amenities.

$99,000. Pierrepont Manor, New York.
CLICK on "MORE DETAILS" for PICS & FEATURES!!
Call Stacy at 601-749-5660, or click the REQUEST button below to email for more info on this trailer.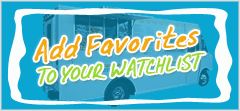 Login to Inquire Online
Call: 601-749-5660
Customer Experiences
09/28/2000

Thanks so much for your help! The machines are perfect; just glad that I found you before I made that other purchase.
Thanks again,
Tim
San Diego, California

04/27/2011

Thank you Melissa for the sale of my BBQ concession trailer, although it is located in the middle of the Pacific Ocean, you made it happen. Your personality, professional knowledge of the industry was no doubt the reason this trailer sold. You can be assured that in the future if the need comes to sell another one, you will be the one I contact.

Bill from always Sunny Hawaii.

06/27/2012

Melissa, the trailer we purchased through you just arrived and we could not be more pleased. Your help narrowing the 100's of selections down to the last one was an enormous help! You can be sure we will be using your company again.

Gary M.
Sharon, Alabama



Gini was great! We are now set up and running our new BBQ sandwich shop! Bubba's Place, thanks to Gini and her dedication on getting the job done as quickly as possible. A BIG thank you Gini. Jeff and Linda.

Texas

12/08/2011

Another satisfied repeat customer. Melissa Powers has the professional experience and the personal touch to get the job done. All my interactions and transactions has got off without a hitch. She not only follows up, keeps you informed but also follows through. Thanks and keep up the excellent work.

Regards,
Willam L. Colorado Springs

10/01/2012

Thanks Gini for helping to fill our soda void! You found us very nice vendors who catered to our needs and made the process very easy. I know that if we need something in the future you will be the first person I call!

Adrianna
Dallas, Texas

Cheryl and Melissa,

I faxed the Ownership Transfer of Goods to you this morning. Please let me know if you did not receive it.

We would like to say "Thank You" for all the work you did to sell these machines. It was a pleasure working with the both of you!!!!!
Thanks again!

Norma S.
Rogers, Arkansas

10/19/2009

MELISSA, HANDLED A SALE FOR ARE COMPANY OF ONE VENDING MACHINE ABOUT 3 MONTHS AGO AND DID A GREAT JOB IT WAS HANDLED VERY PROFESSIONALY ALL PAPER WORK IN ORDER. SHE IS WORKING ON THE SALE OF 2 MORE OF ARE MACHINES AT THIS MOMENT AND WE HAVE NOTHING BUT FAITH IN THE WAY THEY HANDLE THE SALE WITH NOTHING BUT INTEGERITY. AGAIN THANKS TO USEDVENDING INC.

MIKE GRASON FRESH OASIS CREATIONS INC.
Orlando, Florida

11/16/2010

Vannesa Long was very helpful with the entire transaction. All questions were taken care of in a timely manner, and her follow-up was Superb!

Thanks much.
D.Medeiros

03/28/2012

We posted our trailer on 3/19, in three days we had a buyer and the transaction was complete on 3/28. Melissa is absolutely awesome!! She answered all of our questions and was always professional. Thanks for all of your help!!!

Mary,
Jasper, GA

08/28/2014

Melissa thank you again. We completed the deal as I'm sure you know and are very pleased. Your brokerage does a great service.
Clay Redding,
Portland, Oregon

07/23/2014

Stacy, I am very pleased with the service and helpfulness of those at usedvending.com. Every conversation was personable and informative. The sale went off with out a glitch! Paper work was minimal. I even had my lawyer check over the three documents before signing. I was assured that all was in order and legally accurate. The only thing that could have made it better for me would be if the monthly notice encouraged a lowering of the price over time if not selling. It only makes sense, but under the pressure of difficult life circumstances I never thought of it on my own. I great experience and a great company!


<>< Michele Robinson, PA

Melissa was a great help with helping us buy a food trailer in Atlanta Georgia. With out usedvending.com the transaction would not of happened. I would of bought a lesser trailer locally. Thank you for your help. God Bless Brad & Rea San Angelo, Texas

09/18/2012

Melissa- I had an extremely positive experience selling my food truck w/ usedvending.com. Very professional staff, no strings attached, and no cost to me! The best part is how they facilitate all negotiations and weed out the buyers that aren't serious, which saved me a great deal of time. I definitely recommend their service. 10 out of 10!

Mike,
Florida

08/24/2010

We purchased our equipment back in 2007 through Mega Vending, April was our sales contact.2010 we decided to sell this same unit through their affiliate, Used Vending. We all know making the purchase is exciting but their are times when the sell can be more than challenging. This particular challenge was overcome by a sales representative that worked through the issue, communicated clearly, and resolved our issue. It takes an experienced staff and strong company to work through these challenges and ultimately make both parties happy. This is that kind of company.

Thanks again April

P Webster/ P an B Petro

08/17/2009

I can olny think of a few words for to say about 4MEGA Vending. honest,up frount, helpful. I guess I could go on. The best part about 4Mega is the(WICKED GOOD) employees. All are willing to help you with any of your needs. The one stand out person in my mind. Would be April She is liike talking to a friend. I feel she realy cares about you and your sucsess. She is why I buy all my new machiens from 4 MEGA. THANK YOU from Drop Q Vending Jay burbee
Henniker, New Hampshire

10/01/2015

Hey Greg, The experience you provided in helping our company buy this new food truck was exceptional. When it came time to put in an offer on the truck, you went above and beyond, even staying a little later than you were supposed to so the deal could happen. Putting down the deposit to hold the truck was also simple and quick. From the time I put in my first offer to the time I put down the deposit was maybe 30 minutes so it all moved really fast, and very smooth. I look forward to maybe doing business again when we are ready for another truck.
Adam Salinas
Tsucaloosa, AL

11/01/2010

Everything went like clockwork! Thank you so much for your help. Will certainly be in touch when we have another location to place!

Thanks, Jane

02/28/2010

April was wonderful to work with. She kept us up to date on the progress of our machines the entire time. We are very pleased with the product that we recieved also...Very good quality machines for the price. Thanks April for all your help!

09/07/2012

Gini was very helpful working things out with my vending location. I hope to do business with her in the future.

Ed,
St.Louis, MO

04/07/2014

I wanted to say Thank You to Stacy Sweet at USEDvending.com. Stacy made my purchase nice and easy. Thank You again for all your help!
A. W.
Soperton, FL

03/12/2015

MEGAvending was very easy to order from. April did a great job of walking me through the inventory to make sure it suited our needs and kept me informed throughout the delivery process. I would recommend MEGAvending to anyone looking for a quality snack machine.

Jo Marie Brown
Columbia, SC

Transaction went well from start to finish. Eric was friendly and professional throughout the entire transaction. Would do business with him again. Thanks for the business

John Logsdon,
Texas

08/21/2014

Hey April, The vending machine has been a great addition to our theatre. The actors love it because I am able to control what we put in there. Unlike most vending machines we have no candy bars, instead we have healthier options like trail mix and freeze dried fruit. We can also put in some unusual items that actors seem to need frequently like black socks, deodorant and tea bags. Everyone laughs about it, but they are using it like crazy. We are kind of weird I know, but thanks for helping us out! The machine is great and sales are strong. I anticipate that the machine should be paid off with in a year and a half or so and then it's all profit! Thanks so much,
Kal Poole,
Helena, MT

02/25/2011

Thanks to Vanessa. Very friendly service. A pleasure to work with and look forward to more opportunities.

Chris, IL

10/28/2009

April has been SO helpful to me! I have only just begun to get into the vending business with my very first machine, but April has been EAGER to help me in my search for materials, information, and parts for my first machine! It's great to know that there are still great professional customer service people out there! In a time when you never know if you will even get to talk to a real person when you contact customer service, it is a pleasant suprise to talk to someone who wants to help you solve your problems!
Thanks April!

Plymouth, Minnesota

12/13/2010

I dont have words to describe how professional and efficient Melissa was. Her Costumer Service was amazing. Melissa you made the process very easy and the most important thing everybody was happy with the transaction. Thanks Again.

Lina,

FL

10/22/2009

4-Mega Vending is great! I had the pleasure of working with Melanie Lee. She helped me find a wonderful Vendor who was matched perfectly with the needs of my company. I will definitely use 4-Mega Vending in the future and will definitely recommend it to my friends.

Allentown, Pennsylvania

03/01/2012

Stacy made it very easy to order my machine. Very satisfied with the business.

Todd,
Knoxville, TN

08/01/2014

Much thanks to Stacy for the constant communication and support. You made this an enjoyable and seamless experience. Anytime I had to edit my listing for pictures or added items the customer service team here was quick to make those changes. Having someone do the initial contact with interested buyers was worth a great deal to my partner and I. I would recommend everyone give you guys a shot at helping sell their equipment. Thanks again for everything!

Brittney B.
Terrel, TX

06/14/2013

My daughter Evelyn and I had a great experience with Stacy. I had problems with my computer but Stacy got the deal done with Evelyn and we got a great deal. Thanks Stacy.
WJ Price
Montgomery,tx

01/05/2011

Great service and easy to use website. April was very courteous and quick in a response to my questions. very professional organization.



NE

02/07/2012

To anyone looking to buy a concession trailer you should consider using usedvending.com. The staff is excellent, especially Melissa Powers. Every question and concern was answered in a sincere and timely manner. If Im involved with another trailer I will not hesitate to call Melissa.

Sincerely,
Jerry and Dee
Syracuse, NY

09/18/2009

I made one phone call and the rest was handled.

You can not get any better than that.

Chuck
American Linehaul Inc.
Wood Dale, Illinois

10/10/2012

This is our second transaction with usedvending.com and as before, everything went smoothly and our whole experience makes us want to come back again.

D. LONG - WEST VIRGINIA

06/13/2011

Normally takes a bout a week to set up an account . I had this account that took me a month to set up due to numerous red tapes set up by the company and building management. I have to say if was not for the support and encouragements of your team I would have given up. Thank you Stacy Sweet to stand by me and helping me. You guys are AWESOME.

MTPVending

08/28/2011

Yippeee!! That is the last batch of those confounded machines.
Attached is signed ownership transfer form... It's been a pleasure working with you.. Thanks Melissa, for all your
assistance over the past year to get these OUT of my garage....

Darlene,
Texas

11/02/2010

April was just amazing. I asked so many questions! She answered them tirelessly. She is an expert in her field. April was prompt with her replies, accurate with her information, and her customer service skills were awesome. She was a true professional throughout the experience.
Thanks so much, April.

Wanda, Evans, GA

07/10/2014

Very positive experience. My company's listing of a food truck with Usedvending.com brought a legitimate, qualified buyer to the table. We previously tried online vehicle auction type sites and had no success. Usedvending.com was more of the niche market we needed to sell the vehicle. Great exposure to those buyers specifically looking for food trucks, as was our case. My account rep Melissa was very cheerful and pleasant to work with. Very professional, knowledgeable and explained the transaction process in detail. Online signing of documents was easy & convenient. Overall a very smooth transaction. I highly recommend Usedvending.com.

S.B.
San Antonio, TX



10/23/2011

I am very satisfied with how much exposure our item received on this site! Our sales rep Melissa Powers was very professional and stayed in close contact all the way through the process.

Pat,
Mt. Morris, MI

10/26/2009

i enjoyed this knowldageble visiting this site.

Phoenix, Arizona

11/13/2014

I just wanted to give a big thanks to Melissa for helping me through the transaction of selling my vending machine. Tried to sell for a couple of years, then posted it on used vending. As soon as they found a buyer, the process only took 2 days. Melissa was very easy to communicate with and moved everything along painlessly.
Chris Dellinger,
Clemmons, North Carolina

09/07/2011

We just installed a new located that was referred to us by Stacy. We work with the client and were able to fulfill there needs and not stretch ourselves.

This was an excellent referral. The customer was willing to work with us, this way it was a win-win for both of us.

Looking for to the next referral.

Thanks again Stacy

Jack R.

11/10/2014

To Whom It May Concern, Please allow me to take a few moments to extend my gratitude for a wonderful experience with my recent purchased through USEDvending.com. From my initial use of your website to the completion of my purchase. Prior to finding USEDvending.com I was looking at a healthy vending business opportunity however, I was somewhat uncomfortable with franchise fees and large investment for vending machines. Through some research I came across your website. My experience was positive from that point on, from my initial contact with with one of your representatives (Calice) to the receipt of my vending machines. I found your website to be very professional and easy to navigate. Calice, was the best!!! She was instrumental in leading me through the whole process of purchasing my machines.

She answered all my questions, put aside any fears I had about buying used machines and even, in my opinion, went above and beyond in answering questions about having a healthy vending business and shared some ideas that will help me get my business off on the right foot. her professionalism was A++ and she seemed atuned and concerned for my needs and even assisted in negotiating a better package price from the seller. She made it a point to stay fully engaged during the entire process and ensure I was satisfied with my purchase. When I picked up the machines they were everything that was advertised. Actually, as stated on the website these machines were brand new in their original packaging. I estimated by staying away from the business opportunity and purchasing these machine I saved approximately $24,000. Again please pass on my many thanks to Calice for a job well done! When I choose to expand my business I will return to USEDvending.com for additional machines if available. PS. Although brief, I also has a wonderful experience with another one of your representatives (April) that assisted me when Calice was out of the office and I ditto similar comments for her as well, thank you April!!
Regards, Donald Turco
San Antonio, TX

07/27/2011

I bought the perfect concession trailer that fit my needs through your service. Mellisa Powers was awesome awesome help. She made everything very easy and she is a pleasure to work with.
Thank you so much for a job well done.

Dan Mullin / Mullin's catering
New York

10/18/2009

April was extremely prompt in answering my questions by email and phone. I was impressed at how helpful she was and how she understood right away what I wanted and was able to help me make an informed decision on a machine that fit my needs. The other companies I talked to were not nearly as prompt or service oriented. I got a great price and the machine is working out great.

Thank you,

Paul Sullivan
Saint George, Utah

05/28/2012

I found Used Vending on an internet search and thank God I did!! They were finally able to sell 2 of the 5 vending machines I was trying to sell! I sold them to a young man who seems quite eager to start his business. Thank you Melissa for all your help!! Now just sell my other 3!!!

D.W.
Westmont, IL

I want to say a great big thank you to Melissa for all of her hard work during my recent transaction. What a great experience and a pleasure it was to work with her! We will certainly use USEDvending.com in the future and will most definitely ask for Melissa! Thanks again!
Desmond,
Traverse City, MI

08/07/2015

Buyer said everything was nicer than he expected. It has been great working with you. The sales process was fast and everything went smoothly. The buyer was super easy to deal with. You found a good one! We got our money. So all set, until the next one.
Best regards, Jill Kup
Jonas Ridge, North Carolina

08/15/2014

My experience with MEGAvending has been great, especially my sales rep April Hurd! She was extremely helpful in getting us the right machine for our application and getting them set up for us. Once they arrived all we had to do is plug them in and stock them up. No programming needed! I was on a pretty serious time crunch and she helped us meet our schedule. I would most certainly use MEGAvending in the future!
Jason Bailey,
Evansvillle, IN
See Hundreds more or Write your own...