NEW YORK
New York Trailers & RVs for Sale! Buy or sell used trailers in New York – we have used RVs, used horse trailers, used camper travel trailers, used heavy equipment trailers, used dump trailers, used livestock trailers, etc… AllUsedTrailers.com brings New York safe, easy transactions of buying used near you!
DISPLAY OPTIONS
Item No: NY-ET-609H
2009 - Rance Rough Rider 4-Slot Enclosed Snowmobile Trailer!!!
This trailer is for safely transporting all your snow toys- it has 4 slots and is in excellent condition having no dents or blemishes. Used only 2 winters. Dimensions are 6' inside, 8' width, 24' long. See the details for list of features.
. Hamburg, New York.
See "Details" for More Pics & Features!


Call Stacy at 601-749-5660, or click the REQUEST button below to email for more info on this trailer.
Item No: NY-RV-558H
2009 - 36' Class A Scorpion Outlaw Toy Hauler & Motor Home!!!
Home-like living while hauling your toys. Low milage, outside shower, inverter ducted roof air conditioning, large garage area. It's in very good condition. See details for amenities.

$99,000. Pierrepont Manor, New York.
CLICK on "MORE DETAILS" for PICS & FEATURES!!
Call Stacy at 601-749-5660, or click the REQUEST button below to email for more info on this trailer.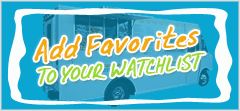 Login to Inquire Online
Call: 601-749-5660
Customer Experiences
06/10/2014

Used Vending: Just wanted to share my experience with others regarding Used Vending. We were selling a coffee trailer in Montana, definitely off the beaten path, and were not expecting any interest anytime soon. Low and behold Crissy kept telling us that there was an interested party and they would put an offer in soon (we thought, "yeah right"), except that they actually did put in an offer! Within 5 days the trailer was leaving our house and the money was in our bank! Crissy was amazing, the process is very simple, and UsedVending gets results! Thank you UsedVending!
Jon in Montana

10/10/2014

Hi Traci, I wanted to thank you and Used Vending.com for a great experience. I was impressed with how quick my concession trailer sold. You were very helpful answering my questions and explaining all the details. The high level of communication keeping me up to date every step of the way was important to me. The entire process was very professional and I am extremely satisfied with the outcome. I will absolutely consider Used Vending.com again in the future and I will also be sure to tell my family, friends and business contacts about your service.
Sincerely,
John Raimondo
Laurel Maryland

08/28/2014

Hi Calice! Thank you so much for making my experience with Usedvending.com so hassle free and stress free! I loved that I only got called when there was a serious buyer and how quick you got all my paperwork to me for the sale. The transaction was incredibly smooth and easy thank you again for all your help I couldn't be happier with your services.
Pilar L.
Valencia, CA

07/02/2015

Hi Crissy! This is Kim & Jay - the Pico De Guyo people! We wanted to let you know how pleased we were with the service we received from you and USEDvending.com. From the first phone call we made, it was EASY for us to get our truck listed, updates made, and questions answered. You provided our first qualified buyer within 10 days of listing, and 3 weeks later our truck was sold! We love how you have designed your service so that sellers don't have to come up with any money to list their truck - and your system really works! Thank you for the great service you are providing to those of us in this industry! We would definitely recommend you to anyone looking to sell their truck! Thanks again!

Kim Walgren,
Buffalo, WY

06/04/2015

Thanks for making the sale of my vending machine go so smoothly. Upon receiving the initial three emails, it felt somewhat overwhelming but instructions where clear and concise, which made the whole process actually straightforward and simple. At one point in the process, I felt a little bit in the dark on where we stood with the seller's interest and how long it might take to close but you quickly responded to my inquiry with clear status on what the next steps were, and when they would happen. Thanks again,
Rick Gerardi
Orange, CA

08/01/2014

Much thanks to Stacy for the constant communication and support. You made this an enjoyable and seamless experience. Anytime I had to edit my listing for pictures or added items the customer service team here was quick to make those changes. Having someone do the initial contact with interested buyers was worth a great deal to my partner and I. I would recommend everyone give you guys a shot at helping sell their equipment. Thanks again for everything!

Brittney B.
Terrel, TX

11/06/2013

I would like to thank Melissa Powers for all her help, she was very professional thru the whole process of selling my food truck. She walked me thru every step from the time my truck was put on your site until the very end when it was sold. I will be letting all my friends know of your site in case they have a need for it in the future. Once again thanks to Melissa, & the best part, it was sold in less than three months!
Thank You,

Joe B.
Cape Coral, FL

09/27/2009

What a great and smooth experience. Mega-Vending alerted me to a location needing a vending machine. They provided the location my information. In just a few days I had secured the location.

Mega-Vending sold me a new machine for the location. The price was right. The service provided from the Mega-Vending reps was excellent.

I look forward to more great vending location opportunities provided by your company.

Thanks.
Chris
Bloomington, Illinois

02/17/2011

I enjoyed working with Mellisa, she made it easy to sell my vending machine and the seller the company found was nice to deal with also.

Sincerely,
Lou P.

02/19/2011

I have just recently involved in doing business with usedvending.com. I must say, my experience so far has been the best I've ever had since doing business. Melissa has been great. Melissa made the transition to buying and acquiring my vending machines with location smooth and timely. She answered every questions with specific details. Melissa addressed my concerns with care and understanding. I felt like I was speaking to a friend rather than to someone I am trying to do business with. This is how comfortable and at ease Melissa made me feel.

E. Adrien

Port Jervis, NY

I Purchased Six Used Vending Machines through Eric Normand at Usedvending.com. Through out the entire process I found Eric to be very Professional, and extremely helpful. Eric arranged a purchase for me of machines that were within driving distance, so that I could pick them up and save on packaging and shipping charges. I also purchased some machines that required to be shipped from out of state. The machines arrived Promptly on the date Eric told me they would be here, there was a misunderstanding with the shipping company of payment of shipping, I called Eric, prior to going to the shipping company, and by the time I arrived he had it all straightened out. The Products and Service I received from Eric, and Usedvending.com were First rate all the way. I would recommend usedvending.com to anyone looking for Vending equipment.
P.L. Brown
Beaumont, Texas

01/20/2015

Melissa Powers with Used Vending has been working with me on my purchase. I really appreciated all her help in the purchase of the food trailer. With her help and knowledge the transaction was a breeze. I recommend them Very Highly, they are very professional at what they do.
Geoffrey Hubbard
Roselle, NJ

10/03/2011

WHAT A GREAT RESOURCE!!! Listing and selling my used vending machines was easy and hassle free. Stacy Sweet contacted me when he had a buyer. Stacey was very professional and kind as he brokered the sale. It was a pleasure meeting the buyer and his family. Because of the great service of Stacey and usedvending.com, I sold my machines and met some terrific people! I will be sure to recommend this site to others. Keep up the great work! Delphine, Florida

10/17/2012

Our dream came through. Thanks for your professional effort Gini. I will recommend you to anyone.

Jhun
Cheyenne, WY.

10/06/2009

Dear April,

Thank you so much for your help and assistance with helping me sell one of my machines. I believe everything went very well and I believe your pre-screening the buyer was great.

The buyer was extremely nice and I think very satisfied. We thourghly went through the whole machine and I believe he was very happy with the results.

I thank you so very much and thank you for expediting the sale quickly.

I also thank you for your attention and consideration of my needs. You are a very thourough and most pleasant person to deal with.

Thanks again,

Gil
Baldwin Park, California

11/27/2013

April, Thanks you did a great job in a timely manner. I would be happy to work with you again.
Keith A.
Port St. Lucie, FL



11/18/2010

April was a lifesaver! Inheriting a purchasing position; and working with another new employee in our vending department, we were both at a loss . . . April made it very easy to obtain the materials and pats we requested. THANKS!

M.Cadora
Fiscal/Acquisitions
Robinson Rancheria

04/15/2014

I have worked with Melissa Powers in the past when purchasing equipment through your website. She always makes things fun...but, I had no idea how fast Stacy Sweet works his magic, because my unit literally flew out the door once I priced it ready to sell. Not only that, but he somehow came up with a buyer only 45 minutes away! I am completely satisfied once again with UsedVending.com and would recommend Stacy Sweet anytime. Well done.
F.S.
Santa Rose, CA

08/12/2012

I am very happy with the service Gini gave me, as she was upfront and asked me to provide some basic information. In a few days I was able to have a vendor come out and view my Office. I had tried on my own to get a machine out here, but had no luck. The efficiency in matching and doing all the leg work is impressive. I will refer many others to your site. Thank you.

T. M.
Milpitas, California.

11/02/2009

We purchased a Soda Machine. The whole transaction was a blast. The sales rep was very professional and friendly. She patiently answered all our questions and helped us with our modification requests. We recieved the machine as promised and the deliverly guys were nice also.

Astoria, New York

11/28/2013

Thanks Mellissa, everything was as represented. The deal was so easy, I will not hesitate to call you again.
B.C.
Bloomington, IN



02/20/2012

Tara Nelson-Pettigrew was terrific! She kept us informed every step of the way and was very prompt to respond to any of our questions. Not only is she right on top of everything but she has a wonderful upbeat personality and was a real pleasure to talk to. Great job Tara.

Candy,
California

02/08/2012

Calice, I lack words to express my thankfulness for the great job you did by selling my used vending machines at the least possible time. Your greate salesmanship is appreciated.

Azuike, NJ

07/20/2014

Thank You. Everything was very fast and easy, Melissa Help me a lot in everything!!! She is great!!!!!!!
Carlos Perez,
Miami, FL

10/18/2010

Melissa, was very helpful in assisting us in the purchase of our "new" used concession trailer through USEDvending. Melissa was very prompt in returning emails and phone calls and negotiating the deal! Way to go Melissa!

Dennis and Linda
DLBM Inc.

10/21/2009

I recently became aware of 4 MEGA Vending, I am a small vending operator. my contact there is Ms. Melanie Lee, who has been very helpful,not pushy, no hade sell, only the help that you request and need.
They have found me one location already. And have a large inventory of routes and new and used equipment. In a business that has it's share of fly by night operators with over priced equipment wit alledged $800.00 per day income, these people are real helpful, and I woudl readly reccomend any looking for locations, equipment, or advise to call them, I highly reccomend them and I am a 35 year retired federal law enforcement officer.
Charlie
Houston, Texas

10/17/2012

Melissa was very professional, punctual and efficient during the sales process. She was understanding of both seller and buyer considerations, offering suggestions without being pushy. This made the negotiation and the final deal once that both sides were happy with. Highly recommended.

Burak
NY, NY

02/20/2011

Thank you so much Vanessa for helping me finding a location for my vending machine. You are courteous and professional in you business ethics. This ps evident, in your timely fasion for contacting me as well as the location, sending me the paperwork, and putting me in contact with the location manager. All of which took place in such a short time. Thanks for being so organized. I will always keep on doing business with you. I will also encourage others who are interested in the vending business to consider usedvending.com. I actually already spoke to my sister about it. Furheemore, compare to other locating companies, your locating fee is very reasonable. Thank you so much Vanessa. I will never forget how much you've helped me.

E. Adrien

11/06/2012

I had 2 office deli machines. I thought I would never get rid of ... I came to this site, and not long after, they had 1 sold - then not much longer, the other. I had great results and a great sales person.

CJ
Roanoke Rapids, NC

07/26/2014

Well first of all, I sold my truck at the price I was looking for and Melissa is on the ball. She has her act together and great in customer service before and after sale with a great attitude and very customer friendly. I posted another truck with used vending because im very satisfied.
Jeanpierre Lareau
Saratoga, NY

08/01/2011

I worked with Stacy at 4VendingTips.com and he was extremely helpful and followed up with me every step of the way! I got set up with my new vending company quickly and easily! Thanks for all your help Stacy, I will definitely recommend your services to anyone that I hear is looking for a vending service.

Thanks again!
Karla
OH

This was a most seamless experience I have encountered. Melissa contacted me first to inform me of a local buyer and helped walk me through the process including handling all the negotions and paperwork. I was Extremly statisfied with the website and my contact point Melissa at the company. This was a 10 plus experience.

J.M.
Jacksonville, Florida.

04/25/2011

Thank you, Melissa, for making the sale of my vending machines so easy. This is THE BEST way to sell equipment (or find equipment). You even worked out a negotiated deal to meet the needs of myself and the seller.

Tony from Iowa

07/27/2011

I bought the perfect concession trailer that fit my needs through your service. Mellisa Powers was awesome awesome help. She made everything very easy and she is a pleasure to work with.
Thank you so much for a job well done.

Dan Mullin / Mullin's catering
New York

03/21/2011

April from UsedVending.com was very helpful in the purchasing of 6 soda machines. She wanted to make sure I got a good deal and helped out in any way she could. I was impressed with how nice she treated me even though we had never worked with this company before. I would definitely deal with April again. Thank you April!

North Dakota

01/31/2012

Mr. Stacy and this company has always been great in providing and extra opportunity to expand my ever growing business. A worthwhile service with exceptional people.

Thanks!
-Ryan, Heavenly Snacks

06/30/2011

I was so pleased with how smooth and fast everything went with me selling my mobile kitchen, Melissa was so helpful, thanx hun!! Now I'm in the process of purchasing a cart, and Stacey is great too... I will refer everyone I know looking for any vending, so far it's better than Ebay! Thanks usedvending!!!(Melissa & Stacey)

Laurel, MS

09/10/2014

Your Handling Of My Sale Brought Peace Of Mind! Thank you Melissa, from beginning to end you were with me all the way. Your setting up of the transaction, keeping it rolling, and your followup allowed the transaction to come off without a hitch. Highly recommend your services.

Ross Ferguson,
South Bend, Indiana

10/15/2013

I purchased two food concession trailers recently with Melissa acting as my broker. One of the trailers was 700 miles away. I was able to make all arrangements through Melissa, including inspection. She handles all details flawlessly. The trailer was picked up and delivered through a third party transporter. The only hitch in doing business with UsedVending is the hitch used by the transporter. Needless to say, I am a totally satisfied buyer and would gladly use Used Vending the next time I am in the market for a trailer.
Stephen W.
Miami, FL

08/20/2009

I had a very positive experience working with Melanie. She was able to answer all my questions and responded to my emails in a timely fashion. I look forward to working with her again.

Mickey
Youngstown, Ohio

08/22/2012

The process was seamless and easy. I filled in the questionaire online and Gini contacted me the same afternoon. Within a couple of days we had 2 vendors to choose from and were up and running with the vending machines a few days after that. They are a greta resource. Thank You.

T. Dillon
Chesapeake, VA

03/07/2011

April Hurd and UsedVending.com have been very helpful to me in selling my vending machines. It is a pleasure working with April. She is very knowledgeable about the products and extremely courteous and professional. Thank you so much April for all your help.

Sanger, CA

07/13/2010

USEDvending did a great job at selling our trailer; Cheryl and Melissa are wonderful to work with and if I have a future need, I'll go right back to sell or buy with them again! Thanks girls for all you did for us!

EA and Donna Click
Abilene, TX

08/18/2014

Just a note to let you know how much I appreciate you sending me qualified buyers for my vending machines. It has been a pleasure working with you.
Thank you,
Jimmy Constant, Baton Rouge, LA

10/06/2009

I recently placed an order for coffee and when it arrived I realized I had ordered decaf instead of regular. Melanie was very helpful in expediting an exchange for the correct item. I have been purchasing all of my coffee and tea from Coffeeasap for a couple of years and have been extremely pleased with the service - especially the fast shipping!

-anonymous

05/22/2010

i must let everyone know that MELISSA made me very comfortable from our first conversation. she was with me all the way. the sale of my machines was fast, smooth, and easy. if anyone has vending machines to sell or want to purchase call MELISSA A.S.A.P

mickey

10/07/2014

Aside from the hiccup in programming the prices and the absence of labels that fit the machine, everything was perfectly satisfying. Ultimately, the mechanical setup within the machine was correct in spite of our initial uncertainty. It was simply my installer who needed a tutorial in that department. Thanks for all your help. I would be glad to do business again if/when I am in need of additional equipment.

Nathan Wilson,
Lewiston, ID

10/26/2009

i enjoyed this knowldageble visiting this site.

Phoenix, Arizona

12/30/2010

Melissa

I would like to thank you for all the help in selling my used vending machines. You were very helpful and i never had any issues or problems with any of the transactions.I recommend you and usedvending.com to anyone who needs to sell used vending equipment.

Thank you Melissa.

Mike
Garden city, Michigan
See Hundreds more or Write your own...