NEW YORK
New York Trailers & RVs for Sale! Buy or sell used trailers in New York – we have used RVs, used horse trailers, used camper travel trailers, used heavy equipment trailers, used dump trailers, used livestock trailers, etc… AllUsedTrailers.com brings New York safe, easy transactions of buying used near you!
DISPLAY OPTIONS
Item No: NY-ET-609H
2009 - Rance Rough Rider 4-Slot Enclosed Snowmobile Trailer!!!
This trailer is for safely transporting all your snow toys- it has 4 slots and is in excellent condition having no dents or blemishes. Used only 2 winters. Dimensions are 6' inside, 8' width, 24' long. See the details for list of features.
. Hamburg, New York.
See "Details" for More Pics & Features!


Call Stacy at 601-749-5660, or click the REQUEST button below to email for more info on this trailer.
Item No: NY-RV-558H
2009 - 36' Class A Scorpion Outlaw Toy Hauler & Motor Home!!!
Home-like living while hauling your toys. Low milage, outside shower, inverter ducted roof air conditioning, large garage area. It's in very good condition. See details for amenities.

$99,000. Pierrepont Manor, New York.
CLICK on "MORE DETAILS" for PICS & FEATURES!!
Call Stacy at 601-749-5660, or click the REQUEST button below to email for more info on this trailer.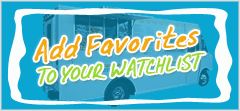 Login to Inquire Online
Call: 601-749-5660
Customer Experiences
10/14/2012

It was a pleasure doing business with you. Everything went as promised. Melissa did a fine job. Thank you.

A.P.
Sandwich, MA

11/27/2013

April, Thanks you did a great job in a timely manner. I would be happy to work with you again.
Keith A.
Port St. Lucie, FL



12/15/2012

Thanks Melissa Powers for your salesmanship and getting my Office Deli finally sold. I called to cancel and you had an interested buyer for me. Thanks for the good communication in handling this sale.

Jan,
IOWA

11/17/2010

April Hurd was very helpful in providing excellent customer service. She definately is a great asset to your company! Look forward to work with her again in the future.

Gor, CA

Gini is very sweet to work with. Professional and casual at the same time. Make her laugh for a discount :)

Scott - The vending guy
Minnesota

02/12/2013

After our business failed we were worried that selling our concession trailer would be difficult. Since we are in a small town in Kentucky we felt like it would be hard to find local buyers. Melissa did a great job advising us on pricing, our pictures, and our followers. She helped us find a buyer in a reasonable time and was available to answer our questions along the way. She even helped us through some difficulties as the sale was coming together. We were very happy with Melissa Powers and Usedvending.com.

-Jason
Berea, KY

03/12/2015

Calice, Having never purchased vending equipment through USEDvending.com. I must say that my first time experience was positive. The negotiation process between myself and the seller was smooth; the broker (Calice) was responsive to my questions and all issues where handled in a professional and business like manner. The document processing involved with the purchase transaction was very easy to understand and navigate. Overall, I would buy through USEDvending.com in the future.
Sincerely,
LAUNDROLUX - HAVRE DE GRACE, LLC
Stan Marshall - General Manager
Havre De Grace, MD

12/08/2011

Another satisfied repeat customer. Melissa Powers has the professional experience and the personal touch to get the job done. All my interactions and transactions has got off without a hitch. She not only follows up, keeps you informed but also follows through. Thanks and keep up the excellent work.

Regards,
Willam L. Colorado Springs

09/12/2010

I recently got in contact with usedvending.com on a different matter and was put through to April. They were not able to help me on that matter, however April took her time and got to know me and my business, by asking questions. I mentioned that I had just got out of the cigarette machine business, because of the law changes in VA. The next day she had called me back and mentioned she had a buyer interested in buying all my cigarette machines. After about 3 weeks of really trying hard and going through all kinds of hoops, she managed to get the deal to go through. I was able to sell all my machines in one shot, with very little effort on my part. I will definately remember April for all my vending needs, both selling and buying because she is so easy to deal with. It was a real pleasure getting to know her.

Preston Nebel
Preston Amusement & Vending Company
Burke, VA

06/03/2014

Usedvending.com was the easiest and best way to sell your equipment. I will be using you again! Thank you for your help.
Eric, Arkansas

08/24/2011

Thanks Melissa
The transaction went very smooth and easy, very professional. I was impressed.

J. Reed

TX

10/15/2009

What a great company. If I've ever had questions and needed to call, I've always been treated with courtesy and a willingness to help. This is a true stand up company. And the coffee is GREAT! Always fast shipping.

Thanks, Melanie, for helping me with my order and the quick response. My package arrived today. I always recommend you guys for anyone using Flavia.

Diana

05/09/2014

Stacy Sweet was extremely helpful with locating the best truck for our needs. He took a lot of time to assist us along the way. We received our truck last week, and are very pleased with it. We think it will be the first of many more. Thanks Stacy!
K.H.
Chicago, IL

10/15/2009

Melissa has helped me sell 2 machines in a short amount of time, at no cost to me. She does all of the work with a few phone calls and emails. I tried a newspaper ad for 4 weeks that cost over $100 and I had 1 response. Used Vending. com has worked very well for me.

West Hartford, Connecticut

07/29/2009

I have been very pleased with the support I've received from Usedvending.com. Melissa has been great to work with and is an advocate for both the buyer and seller. She coordinates with both parties to insure the transaction goes smoothly and that everyones needs are met. I have been very surprised at how easy it is buying used vending equipment online. Thank you Melissa and Usedvending.com.

Karen,
Glen Allen, VA

06/19/2011

I worked with April Hurd to purchase my first Vending machine. She was professionsal and answered all of my questions. She provided copies of the manuals for my review and made sure I knew what I was getting into when I ordered the Combo 300. The system arrived on time but the key was missing. April provided a key to me the next day and we go the system working. It was a great experience for my first system and I plan to call on her when my customers want to add vending to their business.

Fairfax, VA

03/14/2000

Once again I want to thank you for all your work on getting me started. Please copy the message below and put it on you web site reference page, it truly shows how I feel about doing business with you.

UsedVending.com???? On the Internet???? Is what some of you might be thinking, as I did when I saw it early January 2000. I decided to give them a try anyway. If you want to do business with a company that is professional, with honesty and integrity, then UsedVending.com is the one. Just getting started in the vending business, I bought 20 vending machines from Eric and a few days later he called me with a lead on an small existing route within 5 miles of my house. He set things up and the seller and I met and made the deal. Smooth transactions all around for both the machines and the route. I plan on doing business with Eric and UsedVending.com again.

Sutton's Vending
Fort Worth, Texas

Melissa, Thank you for all your help in the sale of my vending machines. We just completed the transaction and everything went great. Nice man! I would highly recommend your business to anyone. Thanks again. Scott

Wisconsin Dells, Wisconsin

10/19/2009

I was very please with the way April handle this purchase, i will recommend any one to come to usedvending.com to buy new and used vending machinery thank you guys again.

Thomas
Bardstown, Kentucky

06/27/2011

Was looking for a vending machine that would hold both drinks & snacks and needed it to cost to be inexpensive. Not an easy request. By with April Hurd's help we were able to locate one in my city. WOW! We made this purchase to be able to gather funds to donate to the American Heart Association and several other charitable institutes. Job well done! Thanks!

Orlando, FL

02/21/2011

Had a rush order and worked with April Hurd. She was very plesant to deal with and turned my order quickly. Actually gathering the data I needed for a quote that particular day. Actually won my repeat business. Keep up the good work!

Ohio

12/08/2011

I contacted Melissa at extension 11 to look for vending machines, and the work she did for me was very good. The machines were just like she said and everything went as planned. Very happy with purchase.

Claud,
Big Spring, TX

04/15/2009

We had a positive experience in dealing with both Melissa and Cheryl at Used Vending while selling our hotdog cart. We had placed our cart on craigs list and had not received any responses when I did some research and found Used Vending online. I first talked with Cheryl, who helped me with providing a write-up, pictures and made suggestions on the price. After not receiving any calls, I called Cheryl and asked for suggestions - we lowered the price and waited patiently. Not much longer and it was sold. It was great to let someone else deal with the customer and negotiate and all we had to do was show it and let them take it home. If there is a need to sell concession equipment in the future, we will definitely call Used Vending and specifically ask for Cheryl and/or Melissa.
Thanks.
Starla Peninger
N. Richland Hills, Texas

10/25/2009

April did a great job, the sale went very well and according to plan.

Thank you
Glenn
Loveland, Ohio

07/25/2010

Used Vending was great in helping me despose of all of my vending machines. The add was great, they helped me negoiate price and did everything they could to bring buyer and seller together. These people are the best.

Dave Clement,
Madison, Alabama

06/13/2012

I've sucessfully purchased candy machine lots twice from Usedvending.com and both times have been very pleased with the results. Calice is GREAT to deal with. My last deal only worked because of her persistence and understanding. I highly recommend both the site and Calice!

Eric
Manassas, VA

08/27/2012

Calice, All i have to say is just look at all the other testmonials... No words!! was a pleasure you took care of the hard part and left me with money... Thanks again!!

Pinny
Brooklyn, NY

10/15/2011

I AM 11 YEARS OLD AND I OWN A VENDING BUSINESS. My name is Tyler Hollingsworth and I just wanted to share my story of how I started my vending business. I am in the Boy Scouts and I wanted to earn my Personal Management Merit Badge, to do this I had to have an income and manage it for a period of time. I asked my dad for if he would pay me to do my chores around the house so I could earn my Merit Badge and he said no that my chores was part of my family responsibility. He said I needed to find something that had a supply and demand earn the money. About a week later I asked my dad if he would loan me the money to buy me some gumball machines. After a long discussion he loaned me $1000.00 with a payment plan. After I got my first gumball machines in June 2010 and located them I realized that I needed more machines to really make good money. I asked my dad for another loan, he hesitated but loaned me the money in the end. I have since payed my loan off and my business is debt free. Today I have over 200 vending machines valued at over $60,000.00 and over $40,000.00 in merchandise. I should end this year with a $30,000.00 plus in profits, and if I stay on track I should make a profit of between $50,000 to $70,000 next year. I also give a percentage of my profits to Boy Scouts because the Boy Scouts is the reason I stared my business. Usedvending.com and Stacy Sweet are part of my success. I now use them as my main source for purchasing vending machines. Stacy Sweet is my broker rep. with usedvending.com and I feel that when I need machines I can call on him and he will find the machines at the price I can afford. Tyler Hollingsworth, Mississippi

09/22/2011

APRIL WAS VERY HELPFUL AND HONEST WE WORRIED HER A LOT, AND SHE NEVER COMPLAINED. OUR MACHINE CAME IN A TIMELY FASHION. WE PURCHASED TWO OF THEM FOR OUR DRIVING ACADEMY. WE WERE PLEASED.

Sharonda,
Maryland

05/18/2015

After 1 1/2 years of looking for a Concession Trailer / Mobil Kitchen and running into scams and miss represented junk. I finally found a company I could do business with. Thank You April. You were there every step of the way. Even texting, to wish me a safe trip, after the deal was done. The Mobil Kitchen was everything it was represented to be. And the seller was honest and told me everything about the trailer. Right down to giving me the books on the refrigerator and freezer. I could not be more pleased. Thank you.
Curt Richey,
Fremont, NE

11/11/2013

You have been excellent handling my order like true professionals. Your customer service has been wonderful and blows away what I have dealt with on other sites. Your response time has been great too. All my future orders will be with you.

R.M.
St. Anne, IL

02/11/2014

We just sold our concession trailer at Usedvending.com and it would not have been possible without the kind assistance of Melissa Powers! She was patient, informative and overall amazing! Despite our skepticism about selling a large item online, she made the transaction happen so smoothly and answered all our questions,and we had a lot! Thank you Melissa!!!
J.M.
Bakerfield, CA

10/07/2014

Aside from the hiccup in programming the prices and the absence of labels that fit the machine, everything was perfectly satisfying. Ultimately, the mechanical setup within the machine was correct in spite of our initial uncertainty. It was simply my installer who needed a tutorial in that department. Thanks for all your help. I would be glad to do business again if/when I am in need of additional equipment.

Nathan Wilson,
Lewiston, ID

03/05/2013

Dear Stacy,
My brother and I would just like to personally thank you and your business for the excellent service we received. You guys have handled all these little things with the shipping excellently and we are very appreciative. We ordered a Snack machine from another company at the same time as we ordered your drink machine and the service we have received from that company has been awful. So I just want you guys to know that you're great and we will definitely order from MegaVending when we get our next account.
Thanks, John
Orange City, FL

10/25/2009

Bought a catering truck from you, and sold it through you! Great customer service!

Laura
Reunion, Florida

02/06/2012

Hello I would like to thank Melissa a lot, she was really helpful and nice. She knows what she is doing and that helps a lot. Each time when i call her with questions she has answers. Melissa is devoted to her job and excellent customer service. She is always trying to find buyers for our vending machines for the right price. Thank you Melissa Powers.

Ronald and Rasia Wells
R&R Vending.

11/26/2014

Melissa Powers did an exceptional job helping us sell our concession trailer! She was so nice and on the ball about every single thing! She explained the whole selling process very well so we totally understood how everything was going to go. A wonderfully smooth transaction! We plan on using your site again to sell another trailer in the future, and would love to work with Melissa again!
Julie and Kirby Farrar,
Ocala, FL

11/18/2013

All I can say is that if you are lucky enough to get Melissa Powers as your salesperson, you've struck gold! She is as good as it gets. Attention to detail, incredible follow-up, she is all over it. Talk about taking care of a customer, it doesn't get any better. If you have any needs in used vending, do yourself a favor. Get a hold of Melissa. You won't be sorry. Super Satisfied Customer!
David D.
Cobb, CA

07/25/2011

Thanks Melissa, you did a great job! You worked tirelessly to find us a buyer and our sale could not have gone smoother once the buyer got here. He was very friendly, the kitchen trailer was exactly what he was looking for, and within minutes we were on our way to finalize the sale! We look forward to doing business with you again and I would highly recommend you to anyone!

Jill,
North Carolina

10/11/2012

Hi Melissa Yes I did have a positive experience Thank you very much. The chap we bought it from was very helpful and went more than the extra mile. Thank you for all your help and efficiency, I am having it wrapped.

J.T.
Salt Lake City, Utah

03/27/2011

My family & I tried selling these vending machines after my Dad passed away. We Craig's list, ads and word of mouth with no luck. I found this FANTASTIC site while googling info. I've dealt with Vanessa just about from day 1 which was over 6 months ago and was really hoping that we would be able to sell these before Dad's house sold. Well they did it!! They've sold and my family and I are very grateful!!!
Thankyou Vanessa and Team!!
June Adamchuk

12/05/2013

Hi Melissa
Thank you for your help in finding me a buyer for my truck. You made it a painless easy transaction. Please find the attached document for the ownership transfer.

Thanks
John
Portland, CT

02/20/2012

Tara was amazing. Being a businesswoman myself, I was very impressed with the fact that Tara was available every time I called. A+ service. Looking forward to future business.

Tia,
South Carolina

10/20/2009

4 Mega Vending is a solid and responsive company. When our company was looking for a low cost solution for replacing our old soda machine I found 4 Mega Vending.

It is always a risk to buy something like this without knowing the company you are working with. I took a chance and found that they are quick acting and customer service oriented. Iíve worked with April Hurd since 2006 and she has always answered my questions and requests. It is a welcome relief from the revolving door of customer service representatives at other companies.

I recommend 4 Mega Vending as a safe and responsible place to do your business.

BT
Honolulu, Hawaii

Melissa I can't thank you enough for finally getting the machines out of my living room. It's amazing - I can now actually walk right up to the dining window and look out. - Wow. I appreciate the time and effort that went into your accomplishment and its greatly appreciated. Thanks a bunch. It was also a pleasure working with you. The couple that bought the machines was absolutely adorable. Ciao, BJ

Culver City, California

10/20/2009

april did a exceptional job for me a true professional all the way good job april. i will buy more from her when i need them.

Pea Ridge, Arkansas

01/02/2014

I want to say that working with you was a pleasure and you always returned my calls promptly and had answers it a timely manner. I wish all the suppliers I worked with on a daily basis where as quick and full of answers as you have been. Thanks again for everything up to this point and I will be in touch if I need help or just to report or success with our vending machine set up.
D.A.
Brighton, CO

10/20/2014

Thank-you April!! You and your company made it super easy for us to find someone to take care of our needs! Jose has been very nice and professional. Thanks Again! I will definitely recommend you!
Kim Hibbs
Alexandria, VA

07/10/2013

If you want to sell quickly and without headaches, I suggest contacting Melissa today. I couldn't be happier with my results, and you will agree by simply using Used Vending as your source to sell. Thank you again Melissa!

Tony from Tucson, AZ

05/11/2010

I was looking for 25 cent coin machine and April found the right ones with no problem was fast and easy to work with her she was friendly and courteous a nice person to talk to thank you

BEN GAUDIANO
See Hundreds more or Write your own...