NEW YORK
New York Trailers & RVs for Sale! Buy or sell used trailers in New York – we have used RVs, used horse trailers, used camper travel trailers, used heavy equipment trailers, used dump trailers, used livestock trailers, etc… AllUsedTrailers.com brings New York safe, easy transactions of buying used near you!
DISPLAY OPTIONS
Item No: NY-ET-609H
2009 - Rance Rough Rider 4-Slot Enclosed Snowmobile Trailer!!!
This trailer is for safely transporting all your snow toys- it has 4 slots and is in excellent condition having no dents or blemishes. Used only 2 winters. Dimensions are 6' inside, 8' width, 24' long. See the details for list of features.
. Hamburg, New York.
See "Details" for More Pics & Features!


Call Stacy at 601-749-5660, or click the REQUEST button below to email for more info on this trailer.
Item No: NY-RV-558H
2009 - 36' Class A Scorpion Outlaw Toy Hauler & Motor Home!!!
Home-like living while hauling your toys. Low milage, outside shower, inverter ducted roof air conditioning, large garage area. It's in very good condition. See details for amenities.

$99,000. Pierrepont Manor, New York.
CLICK on "MORE DETAILS" for PICS & FEATURES!!
Call Stacy at 601-749-5660, or click the REQUEST button below to email for more info on this trailer.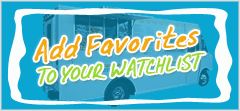 Login to Inquire Online
Call: 601-749-5660
Customer Experiences
08/25/2014

The process for purchasing our new concession trailer was quick and easy. UsedVending.com was helpful in the entire process and it was nice knowing there was a 'middle man' ensuring both parties were accountable in their own right. I would highly recommend buying from this site.

Elizabeth Brown,
Mansfield, AR

02/23/2012

Thanks!! I appreciate Stacy Sweet's help in negotiating the sale of my machines ... he made it quick and simple. Great site, great service.

Charles,
Mobile, Alabama

12/07/2009

Dear USEDVending-

I thought I would let you know that everything went REALLY smooth for our purchase of our new business adventure. The machine that we bought works great and the customer service we received from our representative, April, was OUTSTANDING. In the future we will always check with April before purchasing elsewhere. Thanks again for everything.

Columbus, Ohio

05/16/2014

Hi Calice,
My experience with UsedVending.com was fantastic. I was amazed at how quickly I was placed with a serious buyer. Both the buyer and I trusted you as a intermediary and we were able to conclude a large transaction with zero complications. I could not have been happier.
Thank You So Much Calice-
Dan Schwab, IL

04/22/2013

Thank you for all your help in selling our food truck. The process was quick and painless.
I.R.
Miami, FL



06/19/2011

I worked with April Hurd to purchase my first Vending machine. She was professionsal and answered all of my questions. She provided copies of the manuals for my review and made sure I knew what I was getting into when I ordered the Combo 300. The system arrived on time but the key was missing. April provided a key to me the next day and we go the system working. It was a great experience for my first system and I plan to call on her when my customers want to add vending to their business.

Fairfax, VA

02/13/2012

Melissa Powers was very helpful to me throughout the entire process. Very courteous, professional, and prompt and thorough with her responses. This is a great outfit to do business with. I highly recommend. :)

RH,
South Carolina

I just want to say thank you so much for the excellent customer service and patience that you've had with me. I purchased 3 great combo units from your web site and they are perfect and arrived without a scratch. I was and still am new at this business but you made it a comfortable first purchase. I love vending, thanks :o)
P.S. My friends and I will be back for more great deals!!
Sincerely,
A beginning vendor :o)

11/26/2011

Melissa Powers, lately When someone asks me about Customer service, I tell them to just call you and just talk to you. You went above and beyond to make sure that everyone is happy. I Thank you for assisting me in buying a vending machine and making sure I was satisfied. I am looking for another one, after I start this one. Better believe you will be my contact.

Thanks,
Matthew M., LA

10/09/2012

Hello Melissa, I know it's a bit late but I wanted to say Thank YOU !!! for all the work you did for us on the last transaction. The machines are in great condition and working great. Excellent buy!!! Thanks Again!!!

C. Velez
Jacksonville, FL

08/25/2014

MEGAvending is a great company to work with. They were with me every step of the way from ordering all the way until after delivery. They are professional and friendly, and the vending machines came quick and undamaged.

Ashley,
Pryor, OK



06/18/2011

The purchase of my concession tailer could not have been a better experience for me! Melissa was great and took care of everything for me. Great experience at Used Vending and Melissa is the BEST!!!!

Noelle, TX

12/07/2009

April is the best,
We have been trying to purchase a vending machine for several months, April has worked with us through the process. I always look forward to our conversatons on the phone, April never had a harsh word to say, even on the days I called her three and four times about the same thing. Our machine is operating beyond our expectations. We are looking at getting a much larger machine in the near future through 4Mega Vending.
Thank again for everything and Stay Blessed.

Maurice
Lawton, Oklahoma

10/20/2009

april did a exceptional job for me a true professional all the way good job april. i will buy more from her when i need them.

Pea Ridge, Arkansas

09/04/2012

No Problems, I found Used Vending and the truck that fit exactly what I needed to start my Bad Ass Coffee Mobile. If it wasn't for Melissa Powers working with me and handling all the work this deal would have been a nightmare. She was a wealth of information and worked for my benefit there by saving me a lot of money! I have already told others about her and Used Vending. The only way to go!

John
Las Vegas, Nevada

04/18/2012

Gini was awesome to work with!! I was very pleased with the service received and response time on everything. I would highly recommend them and would do business with them in the future for sure! Thanks for making my life easier!

Ryan Roberts Grimes, IA

10/10/2012

Melissa, Thanks for the really great help finding buyers for my vending machines in April and October 2012. This is a real 'class act'. Melissa did 99% of the work and I got 100% satisfaction. I will singing your praises to anyone who will listen. Many thanks again.

PMG
Bossier City, LA

08/24/2009

I sold my 48 Vendstar candy machines through USEDvending.com. The service is very good. There was always someone answer my questions and phone calls. I had a very good experience by working with them.

Derwood, Maryland

10/25/2009

Bought a catering truck from you, and sold it through you! Great customer service!

Laura
Reunion, Florida

06/28/2011

I used your company through Melissa Powers and she has made the purchases go very smoothly,one that fell apart,but with her experiance she moved me along to another purchase which was necessary for me to fulfill my clients needs,Thanks so much Melissa for your great help and caring for my business needs.

Wayne Basilotto,Your Choice Vending

08/06/2014

We wanted to thank Stacy Sweet and USEDvending for helping us to sell our ice cream truck. We had dealt with several potential customers with no results, Stacy Sweet made the sale smooth and pleasant and we will use USEDvending again in the future. Thanks.
Dan Parks,
Live Oak, FL

03/28/2012

We posted our trailer on 3/19, in three days we had a buyer and the transaction was complete on 3/28. Melissa is absolutely awesome!! She answered all of our questions and was always professional. Thanks for all of your help!!!

Mary,
Jasper, GA

02/10/2011

It has been a pleasurable experience working with Melissa. The sale process was quick, well organized and hassle free.

We appreciate your help and will utilize your services in the futuer.

Thanks,

Michelle Vervaeke

02/25/2011

Thanks to Vanessa. Very friendly service. A pleasure to work with and look forward to more opportunities.

Chris, IL

09/09/2014

I fully endorse the use of USEDvending.com: They are incredibly professional, organized, and most importantly they know how to sell your used machines. I had several machines I wanted to sell. I was no longer able to continue with the business and wanted to recoup some of my expenditures: I had these machines up for sale on various other sites that were known for selling items quickly; quickly being the optimum word. They sat and sat and sat some more generating very little interest, none of which was at all serious. Then I found USEDvending.com, and listed my machine with them. I set up an account, listed the items, all of which took a few minutes, and then USEDvending.com did all the rest. It took all of 14 days to sell my machines, at my price, and have them picked up. Would I recommend USEDvending.com? Anytime, Anywhere, Anyhow!
Brian O'Callaghan,
Toms River NJ

03/04/2012

I will definitely recommend usedvending.com to anyone in need of their services. Melissa powers is an awesome salesperson who always communicates quickly and efficiently. Melissa brokered each interested parties questions back and forth with me, and I was always amazed at how easy she made tough buyer questions. Thank you melissa and thank you usedvending.com.

Ron,
Pennsylvania

10/25/2009

April did a great job, the sale went very well and according to plan.

Thank you
Glenn
Loveland, Ohio

12/07/2009

Thank you Melissa and everyone else at usedvending.com for all your help! I truly appreciate you selling my concession trailer for me! You did all the work, while I collected the check!

Lake City, Florida

02/23/2012

We are a fairly new vending company, unfortunately we had problems with people breaking into the machines. One phone call to Stacy was all it took. He totally took the time to assist in which direction to take. I did as instructed, and am totally happy with results.

Steve,
Pennsylvania

08/22/2010

I was looking for vending machines for my company and I came across 4Mega-Vending.com. I bought a new machine that works amazing and is a decent price, all with the help of April. I recommend asking for her help if you need any assistance looking for an electric vending machine. She returned my phone calls and helped me find one that fits my price range. The machine look's great in my shop!

Kristina; Brooklyn, Ny

02/07/2012

This was my first experience buying a vending machine. I can't believe how easy it was to find a machine to fit my needs and make the purchase. The overall transaction was fast, easy and pleasant. Thanks to Calice for her help and answering questions.

Thanks,
George
Culpepper, VA

02/20/2012

Tara Nelson-Pettigrew was terrific! She kept us informed every step of the way and was very prompt to respond to any of our questions. Not only is she right on top of everything but she has a wonderful upbeat personality and was a real pleasure to talk to. Great job Tara.

Candy,
California

10/26/2009

Mega-Vending has brought good steady business our way!!!

Jeff,
Las Vegas, Nevada

02/15/2011

It was great to work with Melissa throughtout the process of me buying my soft serve ice cream trailer. She was very helpful and quick to respond to any questions or emails i had for her. I would definately use Melissa again in the future she made it very easy to make the transaction of my concession trailer.thanks noonans concessions

Wakefield, MA

07/30/2012

Melissa Powers was a delight to work with. This was my first purchase of vending equipment and went smoothly and painlessly. Kudos to Melissa for guiding a beginner thru the process with no snags.

Thanks Melissa ! Dave Deaton
VA

After deciding to close our vending business, my husband and I were at a loss about how we were going to sell 23 vending machines! We researched the internet to get an idea of how much Antares machines were selling for and came across USEDvending.com. It took us about 2 months to enter all of the information on the machines and we eventually finished by getting help from Melissa Powers. About 2 months passed and we did not have any bites on the machines, finding out that Antares had discontinued making our model because they were manufacturing a new, upgraded model. Melissa helped us with pricing and we waited! Two weeks ago, Melissa talked with a man interested in purchasing 4 machines from us. She called me and Randy, left messages. I called Melissa the following day and she was very thorough & efficient. She provided detailed information on my responsibilities to complete the sale and she was prompt to contact the buyer. After the purchase was complete, she followed up to make sure all was well. She then gave us the option of mailing a check or ACH deposit and we chose ACH deposit. To my surprise (not very many people follow up anymore!), when Melissa knew the ACH credit would not show up when originally discussed, she emailed me with an update. Today, the ACH credit was processed and I just received an email from her, letting me know! My first experience selling ANYTHING over the internet has been a great one.....and Melissa made it happen for us! Thanks Melissa!

06/18/2013

Sold our unit shortly after being posted. Christina was not only professional but a joy to work with! Thanks again!!
Judy M.
Lauderhill, FL

04/25/2012

Melissa was most helpful from the initial listing phase to the final sale process and follow-through. It was 1-2-3 simple and easy. UsedVending.com enabled me to sell my product fast and efficiently. I wouldn't hesitate to use their services again.

Alan
Franklin, TN

12/25/2010

Vanessa Long helped our company with a new location from beginning to end. She was very helpful and gave us all the details...and very honest i might add...even when we had a new company move on my location she was on my side and reassured my location,,,thank so much i will look forward in doing business your company soon!!!

TN

06/30/2010

Melissa did all the work! What a great experience. We just sat back and waited for Melissa's call arranging the sale of our 8 machines. Great job!

Bob

06/02/2010

I was delighted to be able to go through the process of selling my five soda/snack machines with Melissa. She contacted me about a customer interested in two, possibly three of my machines. I ended up selling all five! Melissa was friendly and helpful throughout the sale of my machines!
Norm

10/24/2010

Connie, Thank you so much for helping us build our business. With your help we learned of key locations and secured a position in the vending market. Hope to hear from you again soon.

Herriman, Utah

06/06/2013

Super great deal with Stacy> will repeat business with this company.....
R.D.
Chino Hills, CA

04/26/2010

April did a terrific job finding exactly the machine I was looking for, within my area, and within a week! This was a terrific experience and completely relaxed me as a first time buyer.

02/05/2011

I just bought my second machine which is already set up and making money! April was so great! She responds so quickly which made it possible to get the machine as quickly as I did! She even stayed at work late on a Friday to get all the paper work processed so I could pick up that day! Thank you so much April!! I will be contacting you soon for my 3rd machine!! :)

Stamford, CT

01/22/2014

To Stacy of Usedvending.com:
I just want to thank you for handling the sale of my concession trolley. The end result was a happy seller and a happy buyer. It doesn't get much better than that.
The whole transaction was handled very professionally and you made this transaction experience a true pleasure.

Rich Conger, FL

08/23/2012

Thanks to Calice for connecting me with the Seller of a used vending machine. Everything about the transaction was handled well. All of my questions were answered in a timely manner and there were no unforeseen circumstances. The seller was honest and worked with our pick-up issues. Expectations were certainly met!

M.B.
Irwin, PA

08/04/2010

Used Vending was very helpful in assisting with the purchase of a concession trailer. Melissa did a super job keeping me posted on the status of the transaction. Thanks for all your work!

Lynn Roath, Jr.
Grass Valley, CA

08/20/2010

Received a call from Melissa on August 17, 2010 at 9:30 am to let me know about an inquiry re my machines. At 10:00 am received another call informing me that my machines wer sold. Thank you Melissa for your hard work

Wayne Bovell
Brampton , Canada

06/20/2000

Eric, I wanted you to know that I was pleasantly surprised at how efficient your business was. I received all the equipment I ordered on time and with no problems. As you know, one of the pieces was broken, and I really appreciated you sending me a replacement part rather than making me have to order a new one from a manufacturer.
This was my first venture into ordering online (As you probably guessed by all the questions I was sending by e-mail) and the fact that you continued to reply promptly gave me a little more assurance about your company. I really did appreciate all the help and in the end, the very good service.

By the way, I found you by accident. I was looking for used equipment, but it never entered my mind to use "USEDvending.com". Thus, I found you at the bottom of a very long list of sites on Yahoo. After hours of inquiring into each I almost gave up and then noticed you close to the bottom of the list. Maybe you should consider advertising through some one of the major on-line services.

Anyway, thanks again. I am going to continue to grow my vending business, so I'll be in touch when I am ready to buy. If you need a reference, feel free to use my name. You have my phone number.

Sincerely,
Richard Willis First Choice Vending
Georgetown, Texas
See Hundreds more or Write your own...