NEW YORK
New York Trailers & RVs for Sale! Buy or sell used trailers in New York – we have used RVs, used horse trailers, used camper travel trailers, used heavy equipment trailers, used dump trailers, used livestock trailers, etc… AllUsedTrailers.com brings New York safe, easy transactions of buying used near you!
DISPLAY OPTIONS
Item No: NY-ET-609H
2009 - Rance Rough Rider 4-Slot Enclosed Snowmobile Trailer!!!
This trailer is for safely transporting all your snow toys- it has 4 slots and is in excellent condition having no dents or blemishes. Used only 2 winters. Dimensions are 6' inside, 8' width, 24' long. See the details for list of features.
. Hamburg, New York.
See "Details" for More Pics & Features!


Call Stacy at 601-749-5660, or click the REQUEST button below to email for more info on this trailer.
Item No: NY-RV-558H
2009 - 36' Class A Scorpion Outlaw Toy Hauler & Motor Home!!!
Home-like living while hauling your toys. Low milage, outside shower, inverter ducted roof air conditioning, large garage area. It's in very good condition. See details for amenities.

$99,000. Pierrepont Manor, New York.
CLICK on "MORE DETAILS" for PICS & FEATURES!!
Call Stacy at 601-749-5660, or click the REQUEST button below to email for more info on this trailer.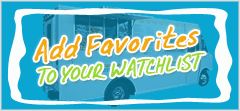 Login to Inquire Online
Call: 601-749-5660
Customer Experiences
04/07/2014

I wanted to say Thank You to Stacy Sweet at USEDvending.com. Stacy made my purchase nice and easy. Thank You again for all your help!
A. W.
Soperton, FL

10/26/2009

Working with April has been a real pleasure. April is always willing to go the extra mile and ensure all of my needs are taken care of. I highly recommend working with April for your vending needs.

John,
Connecticut

06/11/2012

When I first signed on to sell my machines, I was a little skeptical. That feeling soon disapeared. With Melissa helping me, it felt as though she cared about helping and was always friendly and cheerful and gave me confidence that we would be successful. And, we were. Having her as the facilitator of the transaction was awesome.

B.B.
Battle Ground, Washington

07/28/2014

Dear April, I want to take this time to express my gratitude to You for providing us an excellent service and handling it very professionally. We have been in business for almost 20 years now and I have never worked with a more professional person like you, you have been very honest with from start to finish and have dedicated your time in helping me and guiding me to get the right product to suit our needs. We are extremely and very satisfied with the machine, and the size this couldn't have been any better than this. We want your company to feel free to use us as a reference for potential customers in the future. All the best to you, And thank you. Best-Regards.
Ayman Datoo,
Flanders NJ

03/21/2011

April from UsedVending.com was very helpful in the purchasing of 6 soda machines. She wanted to make sure I got a good deal and helped out in any way she could. I was impressed with how nice she treated me even though we had never worked with this company before. I would definitely deal with April again. Thank you April!

North Dakota

Melissa was a great help with helping us buy a food trailer in Atlanta Georgia. With out usedvending.com the transaction would not of happened. I would of bought a lesser trailer locally. Thank you for your help. God Bless Brad & Rea San Angelo, Texas

01/14/2015

So very, very, very, glad I found Usedvending.com. I was in the market for a food truck and there were TONS to pick from, it took me forever to narrow a list to ask about. The staff are so friendly and personable and helped me find the perfect truck for me and I couldn't have gotten a better deal on such a quality vehicle. The sale went smoothly and the seller was very helpful too. We're almost ready to hit the streets with our company. I highly recommend this site!!
Andrea Lewis,
Lucasville, OH



01/28/2011

TO ME APRIL IS 4MEGA
When I call, I ask for April, She always takes time to explain things and then follows through on what she says she will do. She is very pleasant and courteous.
April keep up the good work. You are special.

Everette Denning, Denning Vending Service
Cary, North Carolina

SOLD!!! This is a Great Company. I Listed my Lunch Truck with Melissa Powers, and She sold it right away. Not any of those other cheesey websites. Its as simple as listing it at the right price, and forgeting about it.

D.N.
Forked River, New Jersey

12/16/2015

April has done such an outstanding job helping us with this transaction!! This is our second time using usedvending.com and we are really excited about using them again in the very near future!
Julie Farrar,
Ocala, Florida

Gini was great! We are now set up and running our new BBQ sandwich shop! Bubba's Place, thanks to Gini and her dedication on getting the job done as quickly as possible. A BIG thank you Gini. Jeff and Linda.

Texas

11/15/2010

Ms. April is a great asset to your company, I congratulate you all for the wonderfull services you gave to Millennia Atlantic University.

Doral, FL

03/28/2010

Thank you for all of your help. I am just starting my company and so far you have provided more info than others.I look forward to working with you in the future.



Chris

09/15/2009

I have become used to everything working so smoothly with your company. Customers are always aware of what to expect; there are no surprises. Your communication is timely and reliable. As a result, there are no big issues. That is a great comfort to a vending operator.
Thanks

Don Knight
Schaumberg, Illinois

02/03/2016

Hi Melissa. I wanted to say thank for ever thing, dealing with you was like dealing with a family member. Working with Melissa made the buying process extremely easy. From the time that I selected the truck it was less than one week to close. I can highly recommend using UsedVending.com, as it was the simplest transaction I have ever had. I will certainly be contacting them again in the future.
Regards,
Gerald Warner - OffBeat Eats
Houston, TX 77074



12/09/2014

Hi Melissa i just want to thank you for your help in selling my food truck. I know you worked really hard to get this done. I have used you and your company in the past to buy a trailer you were so helpful, and then you helped me sell it a year later and now you helped me sell my food truck. I have had nothing but great experiences working with you. You have great understanding of the food vending world and are able to explain it all very clearly. I will call you if I want to get back into it. Once again thank you.
Yours Truly,
Scott Hoffman
Southbridge, MA

11/09/2010

Melissa was so helpful and very professional. SHe did everything she could to sell our unit. When it sold the transaction went very smoothly. Thanks, Melissa and Used Vending!

Cindy S.

08/15/2013

Stacy, it was a pleasure working with you. You were very helpful in helping me select the correct machine. When there were changes to our order you handled them expeditiously. Thank you.
T.M.
Simi Valley, CA

03/16/2012

Again this was another smooth and fast transaction. Stacy Sweet worked very hard to ensure the transaction was handled very fast. I am very pleased with the machines. We were dealing with more than one seller and Stacy was great in helping me coordinate the pick-up at all locations. Thanks again for all the help and assistance. usedvending.com is our #1 source for all our vending machine purchases.

C. Hollingsworth,
Mississippi

07/25/2010

Vannesa, This is the transfer of goods. Sale is complete and I thank you for such prompt service and attention to detail. It was a very pleasant and refreshing experience. I will recommend you to anyone that I know that needs to sell or purchase you products.

Jeff

01/28/2014

I'm not sure why you would want to sell your stuff on any other site because UsedVending.com sold my Food Truck in less than a month. The process was professional, friendly and quick. They help you throughout and build a relationship with you. I will definitely use them again, everything was just that easy. My point of contact was Stacy. He was great, friendly and just amazing.

Thanks Stacy Sweet, What a sweet experience!
Deonne, MD

03/24/2014

I wanted to share with you my experience with your company. I looked all over the web for a company that would supply our office with a soda vending machine, without much luck. I came across your website and filled out the questionnaire, hoping your company could help me find someone who is willing to put one into an office of less than 40 people. April contacted me right away via email and stayed with me through the whole process. We had a gentleman come out to our office this week and will be returning next week to install our machine. I really appreciate all the help and the follow up from April. I will be sure to suggest her to anyone I know. Thank you again for all of your help!
Carrie B., Colorado



10/16/2011

My experience with this company was superb. Not only was I treated with respect and professionalism, but the customer service rep that I worked with was competent, punctual, and followed-through on every lead and responded to every question. This is a company that does what it say it will do and I am happy to recommend them to anyone.

Very Satisfied Customer
Miami, FL

10/13/2009

Dealing with April was a real pleasure! When she told me that we would have the deal wrapped up that day I thought no way - but she was true to her word. If I could deal with more people like her I'd have a whole lot more hair.

Bill Ruby
Las Vegas Ice Center

08/30/2012

Melissa- your company made the sale of our equipment so easy. You took care of the customer and we collected our money. This is the way to go!

K.G.
Central City, Kentucky

02/27/2016

I wanted to drop a few lines to share our experience with UsedVending. From the beginning, we have had a wonderful relationship with our rep Jen Melerine. She was so helpful and patient with our inquiries and always very professional. In addition, she was always prompt with follow up. I truly felt like we were her only customers, that is how attentive she was. She even communicated with us outside of business hours and during weekends and shared her personal cell phone number. Now that's customer service. Jen definitely went above and beyond in every aspect. Once we found the food truck that was right for us, she was there through the entire process of the sale (one I might add which was not very easy due to our being out of the country). Even when our seller made some seemingly unreasonable requests, Jen worked with us to find solutions for both parties. In the future, should we need to buy or sell equipment we'll definitely be calling Jen directly. We are very happy to finally have our truck and look forward to opening for business in the coming months. A heartfelt thank you to Used Vending and most importantly Jenn Melerine for helping us through the long process of making this purchase.
Claudine & Trevor, TLC Enterprises
Bellingham, WA

09/12/2012

Great experience, great coordination in selling my product. Thank for your help Calice!

Eric O.,
Illinois

12/21/2015

The process was a breeze!!! Melissa is great and Usedvending.com gets everything together for you!!!
Maria & Frank Huereque,
Ridgecrest, CA

07/10/2013

If you want to sell quickly and without headaches, I suggest contacting Melissa today. I couldn't be happier with my results, and you will agree by simply using Used Vending as your source to sell. Thank you again Melissa!

Tony from Tucson, AZ

03/28/2012

We posted our trailer on 3/19, in three days we had a buyer and the transaction was complete on 3/28. Melissa is absolutely awesome!! She answered all of our questions and was always professional. Thanks for all of your help!!!

Mary,
Jasper, GA

09/28/2000

Thanks so much for your help! The machines are perfect; just glad that I found you before I made that other purchase.
Thanks again,
Tim
San Diego, California

12/06/2011

Melissa Powers was very helpful at facilitating the purchase of 2 soda/snack vending machines. The process was easy. She was very quick and answered all of my questions. Thanks!

Wendy J,
Colorado Springs, CO

03/04/2012

I will definitely recommend usedvending.com to anyone in need of their services. Melissa powers is an awesome salesperson who always communicates quickly and efficiently. Melissa brokered each interested parties questions back and forth with me, and I was always amazed at how easy she made tough buyer questions. Thank you melissa and thank you usedvending.com.

Ron,
Pennsylvania

08/02/2010

I have been in the vending business for a year or so. My first transactions with vending companies were expensive and not very customer service oriented. However, I have made them work. When I needed to buy more machines, I had plenty of time to look, research, and time to negotiate. I felt like I shopped the planet. I kept coming back to April and she continued to work diligently with me. I purchased two machines from her, they were exactly what I needed and they were shipped on time. We even scheduled the delivery around a planned vacation I had. April is fantastic. She will always be my first call when I need machines.

Kenny Deen
Snacks A Lot, LLC
Henderson NV

04/21/2010

"Thanks April for all your help, counsel, and time in procuring my 4 vending machines!" You are very professional, informed, and a delight to work with! We will work again on more machines in the very near future! Thanks again!

James Sterling
Bastrop, Texas

10/11/2010

The first time Melissa Powers called me regarding a buyer for my vending machines, I knew that I had made the right choice in using your company. Melissa is friendly, professional, polite and knowledgeable. Melissa made the sale a pleasure - she is an asset to your company! Thank you!

Denise A.
Owner

08/21/2014

Hey April, The vending machine has been a great addition to our theatre. The actors love it because I am able to control what we put in there. Unlike most vending machines we have no candy bars, instead we have healthier options like trail mix and freeze dried fruit. We can also put in some unusual items that actors seem to need frequently like black socks, deodorant and tea bags. Everyone laughs about it, but they are using it like crazy. We are kind of weird I know, but thanks for helping us out! The machine is great and sales are strong. I anticipate that the machine should be paid off with in a year and a half or so and then it's all profit! Thanks so much,
Kal Poole,
Helena, MT

08/28/2014

Melissa thank you again. We completed the deal as I'm sure you know and are very pleased. Your brokerage does a great service.
Clay Redding,
Portland, Oregon

08/12/2015

€ Mega Vending was easy to work with and did an excellent job in communication with pricing and delivery. I would use them again. €
Edna Cummings,
Houston, TX

07/16/2012

Melissa at usedvending.com was spectacular !! We purchased a concession trailer and could not be more pleased with her professionalism and the quality of the new business we purchased. She was always available to answer our questions and the turn around time on return calls was very efficient. She really takes the time to ensure everything is covered for a smooth transaction.

Erika and Rob
Ontario, Canada

09/19/2014

Melissa, I would like to thank you for our experience in dealing with UsedVending.com. It was a pleasure working with you and the service you folks provide is very beneficial. You bring willing sellers together with willing buyers and the transaction can happen relatively very quickly. The gentlemen that I worked with was a pleasure to deal with, he was obviously motivated to make the sale happen. This was indicated very quickly after you had asked him what his best price was and then he got back to you right away with my many questions. For what we were looking at a mobile brick oven trailer we were able to get into a turn-key business for literally 1/3 of the price vs having to go with brand new. Huge thanks once again for all your help and putting this together.

Kindly,
Michael Tereza,
Elk Grove Village, IL

05/04/2011

used vending was great to work with. While my transaction was small, Melissa and the company treated me with respect and care. They made me feel that my business was the most important thing they were working on. Thanks so much for a job well done.

Paul

Jackson, MS

06/06/2013

Super great deal with Stacy> will repeat business with this company.....
R.D.
Chino Hills, CA

06/03/2014

Usedvending.com was the easiest and best way to sell your equipment. I will be using you again! Thank you for your help.
Eric, Arkansas

04/29/2010

We are SO happy with our soda machine, but April Hurd is our angel. She was SUPER in facilitating our purchase, but she also was so gracious when we lost our key. In a FLASH we were back in business. She actually thanked us for the opportunity to serve us further! You can't beat that!

Pastor Steve

03/04/2012

Calice was so helpful. She made the process so easy and answered all of my questions quickly. Can't ask for more than that! Thanks again Calice :D

Jennifer,
Pensylvania

09/14/2010

They found me a good buyer,
and now I have room in my garage!
Great communication from April...

Canada

06/12/2013

We had excellent service from Stacy Sweet who made the sale work. On previous attempts to sell last year the sale would always fall apart for one reason or another, but Stacy knew how to get it done despite some email problems.
MRH,
Rockville, MD

12/29/2009

dear melissa i would like to thank you and used vending company for the best service i have ever had. the sale of my concession truck went real smooth. a job well done.

if you ever need a reference please have them call me

chuck neri
stafford springs ct

10/01/2012

Thanks Gini for helping to fill our soda void! You found us very nice vendors who catered to our needs and made the process very easy. I know that if we need something in the future you will be the first person I call!

Adrianna
Dallas, Texas
See Hundreds more or Write your own...