NEW YORK
New York Trailers & RVs for Sale! Buy or sell used trailers in New York – we have used RVs, used horse trailers, used camper travel trailers, used heavy equipment trailers, used dump trailers, used livestock trailers, etc… AllUsedTrailers.com brings New York safe, easy transactions of buying used near you!
DISPLAY OPTIONS
Item No: NY-ET-609H
2009 - Rance Rough Rider 4-Slot Enclosed Snowmobile Trailer!!!
This trailer is for safely transporting all your snow toys- it has 4 slots and is in excellent condition having no dents or blemishes. Used only 2 winters. Dimensions are 6' inside, 8' width, 24' long. See the details for list of features.
. Hamburg, New York.
See "Details" for More Pics & Features!


Call Stacy at 601-749-5660, or click the REQUEST button below to email for more info on this trailer.
Item No: NY-RV-558H
2009 - 36' Class A Scorpion Outlaw Toy Hauler & Motor Home!!!
Home-like living while hauling your toys. Low milage, outside shower, inverter ducted roof air conditioning, large garage area. It's in very good condition. See details for amenities.

$99,000. Pierrepont Manor, New York.
CLICK on "MORE DETAILS" for PICS & FEATURES!!
Call Stacy at 601-749-5660, or click the REQUEST button below to email for more info on this trailer.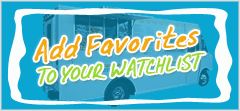 Login to Inquire Online
Call: 601-749-5660
Customer Experiences
12/16/2015

Had a great experience selling my business and surprisingly easy. The process started Friday and ended Tuesday. Calice, the sale rep answered all my question in a timely manner. I would definitely use them again if i ever need to buy or sell a business. Great job guys!!
Oscar Hernandez,
San Antonio

Usevending is one of the few reliable sources that we found to sell our used vending machine April was helpful in every step of the process, she was diligent and communicated frequently. Thank you!
Stacey, CA

06/01/2011

I want to thank Melissa Powers for her prompt response and hassle free procedures in handling my recent BBQ concession trailer purchase. Negotiating started on May 17th and I brought the unit home on May 29th. The unit was even more stunning than the online pics.
Whether you a buyer or seller on you next deal, I strongly recommend usedvending.com and Melissa Powers.

Don Baucham
DB's Rustic Iron BBQ
Odessa, Tx.
rusticironbbq.com

12/06/2011

Melissa Powers was very helpful at facilitating the purchase of 2 soda/snack vending machines. The process was easy. She was very quick and answered all of my questions. Thanks!

Wendy J,
Colorado Springs, CO

11/21/2015

I would like to thank Jennifer Melerine for her help with sale of my concession trailer the transaction was very smooth and fast. I will definitely recommend this website to anyone looking to sell or buy. Thank you,
Valerie Hewitt,
Tuckerton, NJ

05/23/2010

April was so helpful and such a delight to do business with. I was very happy with my soda/snack machine and the customer service I received was excellent!!

Lisa

09/14/2010

They found me a good buyer,
and now I have room in my garage!
Great communication from April...

Canada

06/18/2013

Sold our unit shortly after being posted. Christina was not only professional but a joy to work with! Thanks again!!
Judy M.
Lauderhill, FL

05/23/2014

Hey Tina Just a note to say thanks and job well done! ! I'm really happy with how things worked with USEDVENDING. If I have something to sell in the future you will hear from me. Thanks again.
Tim, MN

10/25/2011

Thank you April Hurd for your very prompt attention to my vending needs. Your company should be proud to have a dedicated and cheerful employee as they do in you. I would totally reccomend your company to anyone I possibly can. Thanks again for your help.

Vickey Lavender,
Alabama

03/23/2017

I just wanted to let you know how much I appreciated everything you did to get us the trailer we picked out. I had a very good experience working with you and would do so again in the future. I know this deal was very trying for you and you held it together professionally and saw us through it.Thank you.

Dave Robinson,
Columbus, GA

10/21/2009

4MEGA help me grow my vending business. Thanks a million.

Dwight
Autin, Texas

07/24/2011

Stacy Sweet is the man! He's a real stand up guy. He helped me to get the right location to increase my profits. He was always open and honest with me and provided me with valuable info that lead me to secure my location. I can't wait to secure my next location via 4 mega vending and honest hard working people like Mr Stacy Sweet! Please keep the leads coming thanks for everything.

Kenneth Bacon,
NY

09/15/2009

I have become used to everything working so smoothly with your company. Customers are always aware of what to expect; there are no surprises. Your communication is timely and reliable. As a result, there are no big issues. That is a great comfort to a vending operator.
Thanks

Don Knight
Schaumberg, Illinois

04/19/2017

I recently purchased a concession trailer through Usedvending.com and could not have been more pleased with the experience!! Wendy was very helpful, and had every question I had answered very quickly. She went above and beyond to make sure I had all of the info I needed, she even made time to talk to me on her off days. I would recommend to anyone looking to purchase this type of equipment to consider using there services!!

Jason McLendon

900 Degrees Catering

03/12/2015

Hi Melissa, Thank you so much for all your help with selling our Food Trailer! You helped us understand the information and details of what the buyer looks for, and helped broker the the deal which completed the sale. I will definitely recommend your services in the future to anyone looking to purchase, or sell equipment. Thank you again for all of your help!
Valerie Ledgerwood,
Port Orange, FL

01/26/2011

My initial order for three machines was a positive experience. Melissa handled the order from launch to completion and there were no disappointments. Particularly noteworthy, Melissa was constantly providing order status updates and arranged for my personal pick-up at the distributor. It was a "refreshing experience" to witness customer service at this level. Cudo's to Melissa!

I certainly recommend Melissa to others interested in buying new or used equipment.

Pat S.

04/04/2017

Great communication with all the staff at usedvending.com Professional and made the entire process of selling our used food trailer much easier than when I was trying to sell it on my own. Honest with expectations and prices. Easy to reach via text/phone. Grateful to have encountered this company and would definitely use again.
Ashley Degutis,
Hilliard, OH

06/12/2012

Calice was amazing. She found a buyer, was prompt and responsive, and made sure both parties were comfortable and got what they wanted. I would recommend this site to anyone selling or buying a vending machine.

P.R.
Dallas, Texas

02/07/2012

Had wonderful stress free experience with my transaction with used vending.com. Calice was just extremely helpful and provided a very good and positive experience to the transaction. thanks and will certainly use them again to buy or sell vending equipment.

Al,
Massachusetts

03/10/2016

Hi Greg, I had a very smooth experience using you and your company. I can't remember exactly how long my listing was active but I think it was less than two weeks and I had my unit sold and for full asking price. The buyer came up fully qualified and with a check in hand. It was very easy. Thank you,
Jake Sanders,
Director of Operations COLLEGE CHEFS, LLC
Champaign, IL

Eric Norman Thank You, Your customer service is extraordinarily splendid and deserves to be commended thank you !! You've went beyond the call of duty to satisfy a potential customer. If this is your policy or standard operating procedure then success is inevitable with you and your company!!!

M. Maynard SR

02/14/2011

Melissa was great to work with. The sale was handled very professionally.

Thank you



TX

05/04/2010

My experience with Melissa Powers usedvending.com was great. The process went very smoothly.

11/28/2013

Thanks Mellissa, everything was as represented. The deal was so easy, I will not hesitate to call you again.
B.C.
Bloomington, IN



01/05/2016

I want to say thank you to Wendy for being very friendly and professional at the same time, and am very happy with my trailer. Thank you so much.
Michely Almaraz,
Germantown, MD



10/06/2016

April: I wanted to write you a quick note to say how much I appreciate your helping me with the purchase of three vending machines I need for my business. Your insights, communications skills, dedication and enthusiasm made this a win-win for everyone. I appreciate your continuing follow up and demonstrated interest in helping me with this purchase. Again thanks again for your efforts to make this work for everyone involved.
Ed Williams,
Billings, MT

10/25/2010

Purchasing vending machines was a new experience for me, so to close my first deal, I relied on Usedvending.com's Vannessa Long to get the sale done. She was easy to deal with and made sure it went smoothly.

Thanks Vannessa!
Eric for Karen Vending
Mannassas, VA

06/23/2015

Melissa, Thank you for everything. You were great and got everything done when you said you would. You really made it easy. I would use you again.
Doug Martindale,
Austin, TX

05/19/2016

I have been watching the UsedVending.com website for several years as I was preparing to start our non-profit business. When I finally made contact with Wendy, she was extremely patient and informative. She was aware of my lack of experience with concession trailers, and took the time to make sure that I understood everything that was necessary to have a successful start-up. She raised questions that I would not have considered, insuring a seamless inspection and licensing process here in WI. I am very happy with our recent purchase of a fully equipped, 20' 2015, World Wide Trailer. And extremely satisfied with the service provided to me. I feel that Wendy has a genuine interest in my success beyond the actual transaction! I will definitely recommend her personally and Used Vending to any of my peers who might be interested in the mobile restaurant business.
Thanks for your patience and your concern,

Pat Joyce
Pay It Forward Ethiopia Inc.
De Pere, WI

08/15/2014

My experience with MEGAvending has been great, especially my sales rep April Hurd! She was extremely helpful in getting us the right machine for our application and getting them set up for us. Once they arrived all we had to do is plug them in and stock them up. No programming needed! I was on a pretty serious time crunch and she helped us meet our schedule. I would most certainly use MEGAvending in the future!
Jason Bailey,
Evansvillle, IN

06/04/2012

Thank you 4Mega-Vending for making what I thought would be a long difficult process, so EASY! After I explained to Gini S. what my company was looking for-she did all the work. She made the calls and contacted several vendors that would fit my needs. They called me - all I did was decide between them. 4Mega-Vending is definatly the way to go to supply any of your vending needs. Thank you Gini-You're the best.

Cathy L.,
Seminole, FL

08/14/2015

Greg, I can't thank you & USEDVending.com enough. Closing my business was tough; tougher was the thought of how long it'd take to sell my 26 € Food Trailer in the dead of Summer. But in just 1 week from when we listed you had a buyer, & 24 hours later they were driving away with the trailer! Hallelujah! Thank you Greg, what a relief your company has brought to me & my family.
Soli Deo Gloria,
Dan Gallo, Owner Boom Town Food Services, LLC
Grenwich, CT

11/18/2014

Thanks crissy for all your help with the sale of my food truck, you made it very easy for me sell.
Thank you,
Andrew Pellicane,
Hutto, TX

09/26/2014

Hi Calice, Just a few words on my experience with Used Vending. I have been very happy using Used Vending. I have been in the vending business for 1 year and am trying to grow my company. Buying the vending machines from your site has helped me grow from 5 machines to 16 in no time at all. Calice has been a great help getting my bids to the right people and getting back to me. The deposit went smoothly every time. I picked up 10 machines yesterday and the couple was from Hastings NE. I live in Omaha and had to hire a truck and coordinate with the couple from Hastings a pick up time for both of us. There was never I a time where I felt uncomfortable and things from Calice were upfront. Thanks for saving me lots of money on machines and helping grow my business in a short time. I will definitely be using your site in the future.
Thanks,
Cathy Burdis
CBvendingomaha.com
Omaha, Nebraska

10/21/2009

Friendly, Informative and an asset for anyone looking to get started in the vending business.

Carl
Wolcott, Connecticut

03/01/2012

Stacy made it very easy to order my machine. Very satisfied with the business.

Todd,
Knoxville, TN

After trying to find a vending machine company for 2 months I decided to try 4VendingTips.com. They quickly got with me and within a few days had connected me with a company willing to provide us what we needed. Great job!

Steve J.D. Byrider
Harrisonburg, VA

07/20/2011

Wow! Stacy, you & your colleagues at 4 Mega have done it again! The new account that you referred me to is awesome! It's amazing how easy you make it for me, you do all of the locating work and I just meet and shake hands with the contact & roll in with my machines! What a winning combination! I look forward to conducting lots of business with you! Thank you!

Steve S.
Ohio

04/10/2017

I enjoy selling with your company because ya'll always make short work of moving equipment. Thanks for everything.
Laurie Day,
Columbia, TN


09/18/2011

Just a note to show appreciation for Melissa Powers help in selling our two Planet ( wherever their from ) deli machines. Once a buyer came forward the process went pretty smooth. Thanks again.

Gene S. , Idaho

04/18/2016

ust wanted to let you know that my experience with UsedVending.com.com was a great experience. Julia Hodges was great in helping both the seller and buyer with all the questions and answers. The sale went very well and as the seller, I was very pleased. From the buyers experience, she stated to us that the trailer was in very good shape and better than she expected. Julia was great in assisting with everything. The trailer sold faster than I expected and might have taking me several more months without Usedvending.com. Thank you very much for your help and I would recommend anyone to use your company to sale their trailers with you!
Tony Douglas,
Humboldt, TN

04/18/2016

My experience with Used Vending was much better than I had expected. It was professional, friendly, and quick to respond. All paperwork was filled out and done electronically which made my life a lot easier! I worked with April who was very good at keeping in touch with me while I was getting financially ready to purchase my machines. I would recommend Used Vending to friends and family. I plan on being a repeat customer in the future when my business expands.

Terra Prince
TK Kandies,
Eagle Mountain, UT

04/18/2012

I worked with Melissa for months. The education and honesty were most helpful. She kept me in my price range, didn't try to upsell me or sell me junk, and she was always available. We journeyed across the US and I highly recommend Melissa for her professionalism and the friendship that grew. The couple of units that I missed out on were due to my hesitation. I should have listened to her.

Brian Lurie
Kirkland, Wa.

05/16/2012

Working with Melissa, was a first time for us, with UsedVending...and it was a great experience. Would not hesitate to use them again or recommend this company to others. Our sale went really well...Melissa guided us thru the whole process. Good Job! We were very pleased with our sale!

Lou & Jan,
Montana

01/06/2015

April, you were very helpful and kept in close contact with us about the machine and the delivery. we received the machine when you said we would and arrived in like new condition. we had been dealing with another company for over three months to no avail but with your help the whole process only took three weeks. We unpacked the soda machine plugged it in for a day and then loaded it up. So far everything has worked perfectly. We will be letting anyone we come in contact with about using Megavending as a supplier of their needs. Thanks,
Butch Haus, Milesburg Lions Club president.
Milesburg, PA

11/18/2015

Melissa assisted with the sale of our trailer. We purchased this trailer through used vending.com about a year and a half ago. After our circumstances changed, we decided to sell the trailer. Her expertise in getting this trailer sold was extremely beneficial. She streamlined the paperwork and made my job as the seller simple. We appreciate the professionalism of usedvending.com it will certainly recommend them to others.

Sincerely,
Debbie Clem
Jane Lew, WV


06/12/2017

April,Thanks so much for the additional business. It's en extreme pleasure to deal with someone who is a professional. We look forward to working with you again.
Marc B.,
Connecticut

02/06/2012

Hello I would like to thank Melissa a lot, she was really helpful and nice. She knows what she is doing and that helps a lot. Each time when i call her with questions she has answers. Melissa is devoted to her job and excellent customer service. She is always trying to find buyers for our vending machines for the right price. Thank you Melissa Powers.

Ronald and Rasia Wells
R&R Vending.

05/15/2017

To whom it may concern,I would like to say I was hesitant initially with listing my truck on USEDvending.com. Instantly I was impressed with the quality service from all of he representatives that I interacted with. This positive interaction made the whole process run smoothly from beginning to end. As the seller, and from the buyers perspective it was well worth using their outstanding services. Wendy was very professional and made every part of the selling process understandable and worthwhile! I highly recommend that anyone that is interested in selling or buying any kind of commercial equipment regardless of size check out USEDvending .com.

Highly satisfied customer,
Kalan Chaloupek
Las Cruces, NM

See Hundreds more or Write your own...