NEW YORK
New York Trailers & RVs for Sale! Buy or sell used trailers in New York – we have used RVs, used horse trailers, used camper travel trailers, used heavy equipment trailers, used dump trailers, used livestock trailers, etc… AllUsedTrailers.com brings New York safe, easy transactions of buying used near you!
DISPLAY OPTIONS
Item No: NY-ET-609H
2009 - Rance Rough Rider 4-Slot Enclosed Snowmobile Trailer!!!
This trailer is for safely transporting all your snow toys- it has 4 slots and is in excellent condition having no dents or blemishes. Used only 2 winters. Dimensions are 6' inside, 8' width, 24' long. See the details for list of features.
. Hamburg, New York.
See "Details" for More Pics & Features!


Call Stacy at 601-749-5660, or click the REQUEST button below to email for more info on this trailer.
Item No: NY-RV-558H
2009 - 36' Class A Scorpion Outlaw Toy Hauler & Motor Home!!!
Home-like living while hauling your toys. Low milage, outside shower, inverter ducted roof air conditioning, large garage area. It's in very good condition. See details for amenities.

$99,000. Pierrepont Manor, New York.
CLICK on "MORE DETAILS" for PICS & FEATURES!!
Call Stacy at 601-749-5660, or click the REQUEST button below to email for more info on this trailer.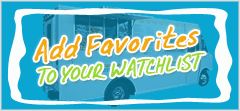 Login to Inquire Online
Call: 601-749-5660
Customer Experiences
09/18/2011

Just a note to show appreciation for Melissa Powers help in selling our two Planet ( wherever their from ) deli machines. Once a buyer came forward the process went pretty smooth. Thanks again.

Gene S. , Idaho

10/07/2009

April,

I really appriciate all the help you gave me and all the kindness that you showed!

Thanks So Very Much, Rose
Buckhannon, West Virginia

01/14/2015

Calice, I would like to thank you for your help with finding a buyer for one of the machines I have listed with UsedVending. The process went smoothly and the service was friendly and helpful. I hope to list other machines with you soon.
Thanks again,
Todd Bujnak
Ellisville, MO

05/16/2013

The website was user friendly. Easy questions to answer. Received phone call right away. New vendor came out Tueday, 5/14 and installed a machine for us. Very friendly, courteous, and I feel will give us great customer service. Thank you for all your help. The staff are ecstatic to have a working machine!!!

Jnaie Kellett, Executive Director
Oregon

08/06/2012

I recently got a new vending location from used vending.com and the transaction went smooth. The services provided by Gini, were very helpful, and the set up went smooth as well. This is not the first location I have gotten from working with this service. And every time the whole process was smooth and as easy as can possibly be. Thank you Gini, and i look forward to working with you in the future, to continue building my vending business, one location at a time.

Jason McNamara - JAMCO VENDING
Williamsburg, Indiana

03/27/2011

My family & I tried selling these vending machines after my Dad passed away. We Craig's list, ads and word of mouth with no luck. I found this FANTASTIC site while googling info. I've dealt with Vanessa just about from day 1 which was over 6 months ago and was really hoping that we would be able to sell these before Dad's house sold. Well they did it!! They've sold and my family and I are very grateful!!!
Thankyou Vanessa and Team!!
June Adamchuk

09/27/2009

When our church decided to purchase a drink machine for our fellowship hall, I was clueless on how to begin the process. I called 4Mega Vending Company. Because it was a used machine, I was originally skeptical. However, they were patient and helpful in answering all of my questions concerning costs, return in investment, up-keep, and models available for my situation.

After the purchase they delivered the machine and were helpful in walking me through the process of adjustments that I wanted to make, such as price changes, temperature control, etc. If I have a question, even after the warranty expiration, they have always been helpful in resolving the problem.

We have been extremely pleased with our purchase and our association with 4Mega Vending Company.

Sincerely,

Dr. Ed Ferlazzo
Minister of Worship and Administration
Haltom Road Baptist Church
Haltom City, TX

06/09/2016

Dear Melissa,
Thank you for all of the hard work you have done on spearheading my mobile kitchen purchase. Your dedication to seeing it through from start to finish is truly an example of a great sales agent.
You have been effective and you have been responsive to all of my requests. I contacted six or so companies about buying a mobile kitchen, you were the most knowledgeable. The consensus among my staff is that I made a great buy.
Thank you again for all your hard work. Should you ever find yourself in Key West, FL, please look me up. I'll buy you dinner, better yet I'll make you dinner!!
Warmest Island regards.
Chef Warren,
Key West, FL

12/17/2013

I have high marks for UsedVending and its staff. I would like to let everyone know how helpful Melissa from Used Vending has been to work with on selling one of our food trucks. They handle everything from setting up the profile and ad to finding the buyer. We had a great experience dealing with UsedVending and they found a buyer fairly quickly. The buyer just came, quickly looked over the truck, and drove off with the food truck due to how well everything was advertised and questions that could be asked before the sale. UsedVending dealt with all the offers and paperwork trying to get the food truck sold for us. I would highly recommend Used Vending to anyone trying to sell their food trucks.

Kevin Tighe
Georgetown, MA

11/04/2009

April at 4Mega Vending is the best. I had a time frame that needed to be met and she pulled it off. All she said she would do she did. I will always and only use april in the future. Thanks again

James
Long Island NY

08/15/2016

Dear Jennifer, I want to thank you for assisting me in the sale of my food trailer. I am grateful that USEDvending is out there to help in the process. You were there in the sale and for the paperwork that was involved. It couldn't of been easier selling from state to state. Thanks so much.

Jeff Simms,
Henderson, NV

10/17/2012

Thanks Melissa for all your assistance in selling my mobile kitchen. It was a positive experience working with Melissa for the first time. Thanks for everything.

Lamar,
Georgia

03/02/2010

I have had the best experiance with your company, April Hurd provided me with the best customer service I could have asked for . I actually train customer service . April went above and beyond the call of duty . She not only handled my request from the start to finish , she very pleasent to talk to made me feel comfortable about my purchase . Thank you April , you are a great asset to the company.

Marietta, GA

01/20/2015

The employees at this company was very helpful. I purchased the concession trailer and I am well pleased. Thank you again for all your help.
Janita West,
Lucedale, MS

05/09/2016

I had a wonderful experience with my customer service rep. She answered all of my questions in a timely manner. She was honest and straight-forward, as well as caring. I can't see no better way.
Anieti Umanah
Houston, TX

05/29/2015

If only everyone in customer service could be half a nice and helpful as Melissa , the world would be a better place . She was very informative and thorough with all my questions & if i ever need to sell something again i will definitely use this web site. It was actually a fun experience. Thank you Melissa.

Gail Hultquist,
Sacramento, CA

04/11/2011

I had a great experience with this selling site, April Hurd is wonderful and is very helpful.I will defiantly be doing business with them in the future.

Illinois

06/23/2015

I recently purchased a vehicle from USEDvending.com and it was a terrific experience! Melissa was very efficient and professional. My questions were answered immediately which made the decision process very easy! Once I decided to purchase the vehicle the paperwork and entire transaction was seamless and very professionally handled. I felt like I had an advocate in this deal instead of the uneasy feeling of purchasing through an un-vetted vendor. My vehicle was delivered on time and in the condition as promised. Thanks Melissa!
Karen Morse
Ben & Jerry €'s Ice Cream
Washington, DC

01/06/2013

Melissa was great to work with- thank you.

B.B.
Grand Forks, ND

12/14/2015

Thanks Melissa again for selling our 16 foot food trailer. It was a pleasure and if anyone has something to sell I highly recommend USEDVENDING.COM they are friendly and professional in every aspect.
Pasquale Venditti
Shohola, PA

08/12/2015

I send all info, pics and voila.. my truck was listed with them....Now it is sold...no problems...no headaches... I gave 5 stars to this company because they are very professionals, delivery all requested services on time. I will do it again if I have to.
Sincerely,
Liliana Orozco,
Miami, FL

10/22/2009

The team that run the company are real helpfull and super friendly. Doing business with them is always a pleasent experience. Try them You won't be sorry
Sam Elborno
school House Vending Inc2158737305
Hammonton, New Jersey

04/15/2014

I've spent months looking for the right food truck- April saved me so much time and effort, she found me what I was looking for in a week. I'm very happy I went the usedvending.com way. Better then sifting through the crazies on craigslist!
Jason Masek,
Corpus Christi, Texas


11/08/2012

When I first got into the vending business,I used a different locating service. Let me tell you that they didnt really do a good job. When I found out about 4VENDINGTIPS.COM, I decided to give them a try. The absolute best decision I ever made. Gini Sweet is an absolute pleasure to do business with and I'm looking forward to my next GREAT location with their help! THANKS GINI!!

GW
Birmingham, AL

09/18/2009

I made one phone call and the rest was handled.

You can not get any better than that.

Chuck
American Linehaul Inc.
Wood Dale, Illinois

08/17/2009

I can olny think of a few words for to say about 4MEGA Vending. honest,up frount, helpful. I guess I could go on. The best part about 4Mega is the(WICKED GOOD) employees. All are willing to help you with any of your needs. The one stand out person in my mind. Would be April She is liike talking to a friend. I feel she realy cares about you and your sucsess. She is why I buy all my new machiens from 4 MEGA. THANK YOU from Drop Q Vending Jay burbee
Henniker, New Hampshire

11/25/2008

April: We had a very positive working relationship with you and mega-vending. You were very helpful, courteous, and knowledgeable about your products. After talking with you, I had all the info I needed to order what we needed. Thank you for your assistance, and we will contact you with all our vending orders in the future.
Again, "Thanks",
John Karaska, Principal, Burlington County Institute of Technology.
Medford, New Jersey

08/27/2012

Calice, All i have to say is just look at all the other testmonials... No words!! was a pleasure you took care of the hard part and left me with money... Thanks again!!

Pinny
Brooklyn, NY

05/10/2011

Melissa,

Used Vending is the best site we found we had used others to try to sell our vending trailer and had the most response from Used Vending. The sale started slow and and closed fast Melissa was great though out it all.

Thanks
Don & Donna

04/13/2010

I had a new vending machine sitting in my garage collecting dust. UsedVending.com was a no brainer! Melissa, thanks for all your professional and timely help!

Nashville, TN

I purchased a 2006 out of Maryland. I've been looking for one locally for a while. Deciding to go online and finding Melissa at USEDvending.com was the best business decision that I ever made. The process was smooth, fast. Looking forward to working with her again. Thank you for your professionalism, patience, helpfulness. It was really appreciated.
C.G.
Fairfield, CT

05/31/2016

Dear April,

Thank You so much for the sale of my popcorn wagon. Even though this is a unique item you never gave up on me. You kept constant contact and finally got the job done. I am super happy with April and this company . They explained things to me each step of the way and the payment was received promptly. I wouldn't hesitate to do business with used vending again.

Darlene M.,
Sloughhouse, CA

02/22/2012

Thanks to Tara Nelson-Pettigrew for assisting in the sell of my vending machines. She kept me aware of any inquiries and interested buyers. It was a pleasure to communicate with her during the listing of items. Thanks again Tara. Job well done. Gold Star awarded!!!!!!

Ray
South Carolina

12/30/2014

Hi April, Thank you so much for all of your help. My coworkers are all very happy that we now have a snack machine and its all thanks to you finding us a great vendor. Mario has come and set up the machine sooner than expected and has been very helpful. Your email correspondence has been fantastic and you kept me well informed through the whole process. Thanks Again!
-Jessica Freitag,
Macomb County Habitat for Humanity Restore Assistant Manager
Mt Clemens, MI

02/21/2011

usedvending.com gave us a free, easy way to get rid of a machine that was just taking up space in our office. April Hurd was the rep that helped us throughout the entire sale.She was professional, polite, and made sure that everything was made easy enough that a kindergartener could have sold the machine. I would recommend usedvending.com to anyone who wants a painless way to sell their unwanted vending machine.

Liz LeBleu
Chief Operations Officer
PrescriptFit, INC
Gulfport, MS

06/12/2011

Professional,courteous and efficient!

April exceeded my expectations in the search for a vending machine for our restaurant. She made the transaction very easy and I would recommend her highly.

South Carolina

03/18/2015

I would like to leave a heartfelt thank you to your team. The experience I had, headed up by Crissy, was exceptional. From inception to receipt of the trailer, it went like clockwork. Crissy made it very easy, fast, and painless. Kudos to Crissy!!
Thanks again,
Mike A, NJ

10/14/2009

4Mega Vending was able to supply the machines we needed at a reasonable cost. Our machines arrived quicker than expected. April in Sales was great to work with.

Kelley Kelsay
Cincinatti, Ohio

11/24/2015

Used Vending provided great service. Melissa Powers was the representative that helped me, she was very helpful and professional. I had been trying to sell my food truck for a year and had several candidates interested but none had the capital. Used Vending found a buyer from Texas. I appreciated that UsedVending only contacts you if they have a buyer with the money ready. Melissa was very knowledgeable, she coordinated everything perfectly with me and the buyer from Texas. I would strongly recommend this company.Thanks Melissa & Used Vending.
Martin Ruiz
Marietta, Georgia

05/16/2014

April helped us find a great soda machine vendor!
We had 2 different gentlemen call to come see our site and put in a soda machine.
We ended up going with Frank's Vending out of Schaumburg, IL.
The process was seamless and April kept in constant contact via email.
Thanks so much for your services!

Keller Williams Realty Infinity
Naperville, IL

02/16/2010

I am new to this business and have found it to be very easy dealing with These folks. April is the best! She was very friendly, knowledgeable, helpful and knows this business !

I look forward to working with these guys in the future !

Keep up the great job!

Mike
Capital Vending
Hammond, Louisiana

10/09/2012

Hello Melissa, I know it's a bit late but I wanted to say Thank YOU !!! for all the work you did for us on the last transaction. The machines are in great condition and working great. Excellent buy!!! Thanks Again!!!

C. Velez
Jacksonville, FL

08/31/2015

My experience with this company was awesome. Love, love, love my agent Melissa. Awesome! Thank you very much.
Eddie Thiel,
Ontario, OR

10/21/2009

Friendly, Informative and an asset for anyone looking to get started in the vending business.

Carl
Wolcott, Connecticut

05/01/2014

It was a long wait for us to connect with the right owner and Melissa Powers was there for us throughout the process. She would call with what seemed like strange questions, but she was doing due diligence to the buyers requests. In the end, we were connected with an enthusiastic buyer (and 3 others highly interested)who will have a bright future because of Melissa and Used Vending!
Susan
Laurel, MD

06/05/2012

It was a privilege to work with Melissa Powers on the sale of my vending trailer. She is the consummate professional; extremely skilled at the process. She was responsive to the unexpected complexity of a transport situation, her diplomacy and diligence throughout was exemplary. I would highly recommend UsedVending and Melissa whether buying or selling.

Glenda H.
Okeechobee, FL

03/09/2015

My experience with Used Vending was great. The service I received was wonderful. I found the unit I was interested in and Used Vending secured the sale for me.
T. Lewis,
New Orleans, LA

07/25/2016

Thank you for your recent help in acquiring a candy crane machine. The transaction went very smoothly and the machine was in excellent condition. April, you are awesome to work with and I always know that you will provide excellent customer service. I look forward to working with you and Used Vending for many years to come.

Curtis Frierman,
Virginia Beach, VA

12/17/2014

Hi Traci, I just want to thank you for all your help,you were outstanding in the way you helped me to to buy my concession truck. I will let anyone know who is looking for a food truck, to use your company. thank you again.
Al Newton
Forestdale, MA

01/12/2016

I can't believe how easy it was to sell our food trailer with Used Vending. I got a call one morning that there was an offer and by 4pm that afternoon the trailer was sold and on its way to a new destination!!!! Thank you so much for making this procces of closing our business easy!!!!!
Duane and Lori Coucke,
Vinemont, AL
See Hundreds more or Write your own...