NEW YORK
New York Trailers & RVs for Sale! Buy or sell used trailers in New York – we have used RVs, used horse trailers, used camper travel trailers, used heavy equipment trailers, used dump trailers, used livestock trailers, etc… AllUsedTrailers.com brings New York safe, easy transactions of buying used near you!
DISPLAY OPTIONS
Item No: NY-ET-609H
2009 - Rance Rough Rider 4-Slot Enclosed Snowmobile Trailer!!!
This trailer is for safely transporting all your snow toys- it has 4 slots and is in excellent condition having no dents or blemishes. Used only 2 winters. Dimensions are 6' inside, 8' width, 24' long. See the details for list of features.
. Hamburg, New York.
See "Details" for More Pics & Features!


Call Stacy at 601-749-5660, or click the REQUEST button below to email for more info on this trailer.
Item No: NY-RV-558H
2009 - 36' Class A Scorpion Outlaw Toy Hauler & Motor Home!!!
Home-like living while hauling your toys. Low milage, outside shower, inverter ducted roof air conditioning, large garage area. It's in very good condition. See details for amenities.

$99,000. Pierrepont Manor, New York.
CLICK on "MORE DETAILS" for PICS & FEATURES!!
Call Stacy at 601-749-5660, or click the REQUEST button below to email for more info on this trailer.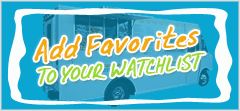 Login to Inquire Online
Call: 601-749-5660
Customer Experiences
06/22/2011

I was pleased to work with everyone there. Stacy Sweet was very helpful. Would definitely buy from them and recommend them. Not hard at all buying from a company so far away from my state.I am happy with there services.

Janice, OR

02/24/2011

Vanessa and April have been very helpful in getting us set up with a vendor. Vanessa went over and above helping us out. I would recommend this company to anyone looking for vendors.

Debbie
Administrative Assistant
Champaign, IL

02/08/2011

I am so impressed with the prompt and through service I received when I ordered a paper and a pencil vending machine from this company. April Hurd was quick to respond by e mail to any questions that I had, especially about how to order a replacement for the money slot. I was not aware that the slots should accept higher than $.50 for the paper notebooks, to cover costs. I am very satisfied with April's help in this matter.

Saginaw, MI

01/26/2011

My initial order for three machines was a positive experience. Melissa handled the order from launch to completion and there were no disappointments. Particularly noteworthy, Melissa was constantly providing order status updates and arranged for my personal pick-up at the distributor. It was a "refreshing experience" to witness customer service at this level. Cudo's to Melissa!

I certainly recommend Melissa to others interested in buying new or used equipment.

Pat S.

03/07/2011

April Hurd and UsedVending.com have been very helpful to me in selling my vending machines. It is a pleasure working with April. She is very knowledgeable about the products and extremely courteous and professional. Thank you so much April for all your help.

Sanger, CA

06/30/2011

I was so pleased with how smooth and fast everything went with me selling my mobile kitchen, Melissa was so helpful, thanx hun!! Now I'm in the process of purchasing a cart, and Stacey is great too... I will refer everyone I know looking for any vending, so far it's better than Ebay! Thanks usedvending!!!(Melissa & Stacey)

Laurel, MS

11/02/2009

We purchased a Soda Machine. The whole transaction was a blast. The sales rep was very professional and friendly. She patiently answered all our questions and helped us with our modification requests. We recieved the machine as promised and the deliverly guys were nice also.

Astoria, New York

08/20/2010

This is my second time working with Melissa. She has been a great help to me in both purchases. She is very helpful and knowledgeable about the products they sell. Thanks Melissa

Vanessa, Louisiana

01/13/2016

I am writing this to express my satisfaction with Usedvending.com. I have bought three units from their website and everything has been represented perfectly. I have zero complaints on the company and will used them when I need more machines in the future.
Thank you,
Josh Zolotor - CEO FoKus Innovations, LLC

05/04/2011

Excellent service. The website is 100% genius... facebook may be the mother of all internet success, but UsedVending should be a close second! And thank you UsedVending for making the site free of charge! Melissa is a great salesman. What she did was amazing. From her office in Tennessee, she sold my concession trailer to someone located in another state from me. He drove to my location (5 hour drive) with cash in hand, no questions asked. Melissa performed a miracle, and more importantly, she made me a lot of money. Thank you Melissa.

Brandon Dean

11/13/2015

Greg was very helpful in helping me sell my trailer, we had great communication and he gave me very good advice. I hope to work with him again!
Julie Farrar,
Ocala, FL

11/14/2011

Melissa Powers, you have done an awesome job of selling my vending machines. I really appreciate your dilligence and follow through. It really paid off. I will definitely use you to sell any machines in the future.

Gary S.
San Diego, California

06/29/2009

Hi,

I just wanted to drop a note about my experience with your company (4 mega vending .com). I run a dormitory at a college preparatory school and we have for years been thinking about whether we should take the leap and purchase machines for our dorms rather than having an outside service providing full service snacking. The concern was where we could find a company that could supply the machines we needed and the extra support we needed as people new to the vending process. After scouring the internet we stumbled into this site and decided to call. April, our sales rep, was thoughtfully unassuming and helpful throughout the process. When we asked ridiculous amounts of questions she happily answered them and patiently walked us through the selection process taking into consideration our population size, budget and dimension constraints while also keeping in mind our goals for providing nutritional options for our students. After we made our machine selection the order arrived just as we had discussed (on the day and time they were scheduled) and there were no surprises. After the sale, when I had some additional questions and when most companies no longer care, April was courteous and helpful once again. April has demonstrated that at least one company truly knows how to make vending easy.

Thanks,
Stephen Moyer
George School
Newtown, Pa.

03/19/2014

I was very satisfied with the service I received From APRIL HURD. She was very helpful in getting the deal worked out and very patient with the issues I bought up doing this transaction. She has a very awesome personality and no matter the situation or time, she was also very helpful. I will again use the service from USEDvending.com and only request for April to help me.
H.H.
Jacksonville, FL

10/26/2009

Working with April has been a real pleasure. April is always willing to go the extra mile and ensure all of my needs are taken care of. I highly recommend working with April for your vending needs.

John,
Connecticut

03/06/2013

Very good doing business with Amanda and Calice, when we finally got the machines priced correctly.

G.B.
Oak Lawn, IL

05/18/2015

After 1 1/2 years of looking for a Concession Trailer / Mobil Kitchen and running into scams and miss represented junk. I finally found a company I could do business with. Thank You April. You were there every step of the way. Even texting, to wish me a safe trip, after the deal was done. The Mobil Kitchen was everything it was represented to be. And the seller was honest and told me everything about the trailer. Right down to giving me the books on the refrigerator and freezer. I could not be more pleased. Thank you.
Curt Richey,
Fremont, NE

05/23/2010

April was so helpful and such a delight to do business with. I was very happy with my soda/snack machine and the customer service I received was excellent!!

Lisa

11/04/2014

I am very happy with the service I received form usedvending.com. Melissa worked diligently to find me the right buyer. The transaction went smoothly and without any hiccups. I would recommend their service to anyone looking to sell their mobile food carts, they have really helped me tremendously & I am very thankful.
Al S.
All Star Hot Dogs, Inc.
Boca Raton, FL

05/16/2014

Thank you Melissa Powers! I was selling my food truck and dreading each tedious step of the process. I listed my truck on Craigslist and eBay and a couple of smaller internet sites, when I was contacted by Usedvending.com! I practically jumped at the opportunity to take the exhausting leg work out of this sell. My PERSONAL AGENT WAS MELISSA POWERS. My interaction with Melissa was very professional and at times humorous. She never doubted for a minute she wouldn't get the job done. Thank you again Melissa for doing the most awesome JOB.
Dano.
Florence, SC

I recently sold four combo machines through USEDvending.com, and was very satisfied with the service Eric Normand provided. While I received substantially less for my equipment than I originally paid, that was more a function of being ripped off by (distibuting company name protected) when I originally bought them. I wish I knew about USEDvending.com back then! Eric was prompt in returning my calls, and most importantly sent the check when promised! At any rate, I would highly recommend USEDvending.com and Eric Normand to other sellers and also buyers too, who can get some outrageous deals. Don't be like me - avoid (distibuting company name protected) and other 1-800-RIPOFFVEND companies like the plague, and go with USEDvending.com instead.
Barry Waterman

Chicago, Illinois

06/04/2015

I've had a really positive experience working with you at UsedVending.com. You got a fair price, were easy to use and had nationwide reach for selling our truck. You were great to work with in arranging the details and keeping us up to date on where in the process everything was. I would have no hesitation using your services again!
Thanks,
Art Garcia
Long Beach, CA

07/29/2009

I have been very pleased with the support I've received from Usedvending.com. Melissa has been great to work with and is an advocate for both the buyer and seller. She coordinates with both parties to insure the transaction goes smoothly and that everyones needs are met. I have been very surprised at how easy it is buying used vending equipment online. Thank you Melissa and Usedvending.com.

Karen,
Glen Allen, VA

10/17/2012

The sale of my machine was very quick. Paperwork was explained well. M. Powers did a good job of putting buyer and seller together.

Ray D.,
Northbrook, Ill.

12/09/2014

Hi Melissa i just want to thank you for your help in selling my food truck. I know you worked really hard to get this done. I have used you and your company in the past to buy a trailer you were so helpful, and then you helped me sell it a year later and now you helped me sell my food truck. I have had nothing but great experiences working with you. You have great understanding of the food vending world and are able to explain it all very clearly. I will call you if I want to get back into it. Once again thank you.
Yours Truly,
Scott Hoffman
Southbridge, MA

03/04/2013

Melissa Powers did a great job in handling the purchase of our new vending trailer. I would not hesitate to contact usedvending.com for future needs or to refer them to someone else. A very professional sales person and site.

Deborah Walker
Happy in Coffee City, TX

10/26/2010

April, thanks for all that you do! With your helpful and cheerful demeanor, you have made my purchase a "very painless experience". Again, much thanks!

Take Good Care!

John "The Wash Tub"
Decatur, TN

03/06/2014

Firstly, everybody I dealt with at USEDvending (Stacy) was more than helpful. Melissa, you restored my faith in dealing with large purchases. I only wish the remainder of getting my dream business up and running could be so easy. I am not just being nice, Melissa truly went above and beyond the call of duty in every. Thank all ya'all again.
JK
Las Vegas

10/28/2014

To whom it may concern, I'd been searching your web sight for sometime looking for a concession trailer to start a business. After finding one that might fit my needs I contacted your web sight. I was surprised at how quick a response I received. Crissy, one of your Reps. was who helped me through the process. Her personable manor put me at ease and made me feel comfortable with my business venture. Each question I had was responded to by Crissy quickly. She found out all I need to know in order to make a reasonable offer. After making a decision to buy, the paperwork was made simple and fast. My experience with Crissy (UsedVending) was completed from start to finish in four days. Thanks so much for making this big buying experience as painless as it was.
Ronald Judkins,
Longdale, Nevada

06/18/2012

Stacy was very helpful and went out of his way to help us. Great service, big thumbs up.

Alex,
New York

05/10/2014

Calice Bilica could NOT have been more helpful, patient and absolutely wonderful with the sale of our vending machines. Facing the issue of aging parents is difficult enough, but when they live in a totally different state, well... We ended up with a most enthusiastic buyer and feel confident our clients will be in the best of hands. Thank you CALICE!!!
Jodi
Sabillasville, MD

03/19/2012

To whom it may concern: Thank you for allowing me to give this testimony. A couple of years ago we put our first concession trailer on your site. Withing a few weeks it was sold. The transaction with the men from New York went without a hitch. During this time I was on the phone with Melissa constantly as I had never done this before. To my delight she was always calm and even a huge encouragement as she would help dismiss my fears of something going wrong. We bought our first trailer after this and soon found out it was too big for most fairs and decided to sell within six weeks of receiving it. Once again Usedvending did a wonderful job as it sold within days of being on your site.

Thank you Melissa once again for your professional attitude and advice. We then bought our second trailer and while waiting for it to arrive I did a homemade quickover with a gooseneck trailer that i already used for other opportunities. Once the new trailer arrived we decided to sell this one as we didn't need it. For the third time we went with you and once again it sold withing a few weeks. Awesome!! Just recently my wife and i decided to let go of the other mobile kitchen. We loved it but with us being a ministry we saw that it was very easy to get offtrack from our primary calling to minister the gospel. This unit sold once again very quickly and as a result, we are now back on track. But what I really want to say is that I wish that we could find people with the caliber of Melissa. Our ministry would be further ahead. Thank you Melissa very much. It has been a huge delight working with you.

Sincerely, Joseph and CJ Kyser
Georgia

10/28/2009

April has been SO helpful to me! I have only just begun to get into the vending business with my very first machine, but April has been EAGER to help me in my search for materials, information, and parts for my first machine! It's great to know that there are still great professional customer service people out there! In a time when you never know if you will even get to talk to a real person when you contact customer service, it is a pleasant suprise to talk to someone who wants to help you solve your problems!
Thanks April!

Plymouth, Minnesota

Thank you for helping me find the Great Deal I received by going to your web site. I was surprised to find that I could get machines in such great shape at such an extremely low price! The final cost came in even lower that we had first discussed due to your hard work on keeping the shipping cost down. The service I received was second to none. My machines are all placed and are operating just like new.
Thank you again and God Bless.
Ricky

02/23/2011

With Melissa's professional guidance my selling experience went very smoothly. It was a delight to work with Melissa. Thank you.



Pittsboro, NC

10/02/2012

Calice did a fantastic job in helping us acquire our two vending machines. Thanks Calice!!

J.H.
Burkburnett, TX

10/20/2011

Thank you Stacy for the excellent location and working to a very smooth set up. The location is very happy and I have a new location. I have had multiple dealings with usedvending.com and they have all ran very smoothly and profitably, mostly due to the excellent staff there. I am really looking forward to our next deal. Thanks again for everything.

PRESTON NEBEL PAVCO, LLC BURKE, VA.

11/10/2011

Just want to thank you Mellissa for all your helpin selling my vending machine, I have 2 more and wouldn't think of using anyone else.

Sincerely,

John. M
Ripon, California

Recently, I have had to sell several of my snack and gumballs machines. Both transactions were handled in a very professional manner. Eric was available whenever I had questions and assisted me with the shipping/handling. I found him to be both honest and trustworthy and I appreciate all of the help that he provided me. I would recomment his service to anyone looking to buy and/or sell their equipment. Upon the completion of the transactions, the proceeds from the sale were forwarded to me in a timely fashion.
S.L. Miller
Michigan

Melissa Powers aggresively sought and executed the sale of one of our Office Deli Vending machines. We applaud her execellent job and that of the whole crew at Usedvending.com. We will be using Melissa & Usedvending.com to sell all of our equipment in the future.

11/03/2010

mellisa was wonderful, listed machines and they were sold very quickly. I was really amazed at the way everything was handled. Great job Mellisa!!!!!!!

Doug Nesselrodt

02/18/2014

I truly enjoyed my experience with UsedVending.com, they were steadfast and structured with the entire process. I was able to search products and talk to a great customer service representative in Ms. April. She helped me receive my products within days with a smooth trustworthy transaction at a great price!
Thanks again April
Cordially,
Harvey in MS

12/17/2014

Hi Traci, I just want to thank you for all your help,you were outstanding in the way you helped me to to buy my concession truck. I will let anyone know who is looking for a food truck, to use your company. thank you again.
Al Newton
Forestdale, MA

09/22/2009

April was very helpful and especially nice and professional. She was able to answer all my questions quickly and accurately. She was a pleasure to work with and would not hestitate to call her again if I needed further assistance. Thanks April for a job extremely well done.

M. Pate
Normal, Illinois

06/03/2012

UsedVending found a buyer for our 10 vending machines and we were very satisfied with the service provided. They gave us good advice throughout the process, and once they found a buyer, they worked with both buyer and seller to finalize a deal. Thank you especially to Calice for her professionalism and good disposition.

AR
McLean, VA

10/17/2012

Mad Sam's Mobile food unit is up and running in the Kentucky area....Would not have been possible without the wonderful help from Melissa..she answered every question ( being new at this I had a bunch )and if she didn't know she would find out....anyways she did a wonderful job and I wouldn't hesitate to use them again........

Mad Sam's in Columbia KY - Stop by and see us

10/13/2009

Thank you. My experience great. I was able to sell my vending machines without any problems . I appreciate your work. Best wishes always.

Shirley
Palm Coast, Florida

We looked for a trailer for our food concession business for over a year. Melissa helped us find exactly what we were looking for and walked us through every step to finalize the purchase with the seller. She is very knowledgeable and professional, we would recommend used vending and Melissa to anyone!
Kate Meek,
Calimesa, CA

01/31/2012

Hi Melissa- Yes, he came, on time, very pleasant transaction, no drama. Ibrahim and I want to thank you for your never-ending dedication to finding buyers for the express purchase of these machines and, for your sunny deposition and demeanor. You are a true customer service professional, and, an all around nice person. I cannot extoll your virtues enough. Good luck in your endeavors whatever they may be. You deserve the best, as, in our opinion, you are the best!

Sincerely, Ibrahim and Tamara
Chicago, IL

04/28/2014

It's been a bit of a process (2 years plus) trying to sell our wall mounted tempered controlled vending units, but Calice Bilica has been on her game. We are very grateful for the progress in getting rid of our inventory as well as the thorough attention to detail Calice provides. Thank you Calice and Usedvending.com!
D.R.
Baltimore, MD


See Hundreds more or Write your own...