LOUISIANA
Louisiana Trailers & RVs for Sale! Buy or sell used trailers inLouisiana – we have used RVs, used horse trailers, used camper travel trailers, used heavy equipment trailers, used dump trailers, used livestock trailers, etc… AllUsedTrailers.com brings Louisiana safe, easy transactions of buying used near you!
DISPLAY OPTIONS
Item No: LA-ET-592H
20' Three-Axle Heavy Equipment Trailer!!!
MFG. by Felps-Pintel. It is in good condition with some minor surface rust, but solid steel without. Electric brakes on two axles re-worked three years ago and wheels re-packed at same time. Good rubber on all six tires. Decking replaced two years ago with treated 2 by 8.
WAS: $3,600

NOW: $3,000. Belle Chasse, Louisiana.
CLICK on "MORE DETAILS" for PICS!!!
Call Stacy at 601-749-5660, or click the REQUEST button below to email for more info on this trailer.
Item No: LA-RV-566H
2007 - 34' Gulf Stream Endura Coach!!!
This great unit has only 6900 miles on it and is like new. It's built on a Chevy Kodiak 5500 chassis. It has Chevy 325HP V8 engine and 80 gal. fuel tank. KING size bed, attic fan, leather power seats, so much more. you could live full time here, or just for getaways. Many upgraded features, see details for list of amenities, etc.

$99,000. Bogalusa, Louisiana.
CLICK on "MORE DETAILS" for PICS & FEATURES!!!
Call Stacy at 601-749-5660, or click the REQUEST button below to email for more info on this trailer.
Item No: LA-RV-538H
2005 - 36' Safari Cheetah RV - Class A Diesel Motorhome!!!
This unit has 36,022 miles on it. Caterpillar 350 HP Diesel Engine, Allison Transmission, Leveling Jacks & Kohler 8kw Generator. Queen Bed, Shower, Sink/Vanity in bathroom area, Separate enclosed toilet area. It's in like new condition and ready to go.

$71,500. Monroe, Louisiana.

CLICK on "MORE DETAILS" for PICS & FEATURES!!!
Call Stacy at 601-749-5660, or click the REQUEST button below to email for more info on this trailer.
Item No: LA-DT-506H
2006 BIG TEX DUMP TRAILER!
MODEL 25DU-18. 25 Yard Dump Trailer Built up to 33 Yard. Seldom used and in Like New condition. Tandem gooseneck trailer. Be sure to see details for more information on this dump trailer!
$17,600. Laplace, Louisiana.
Click on "More Details" for Features!!!
Call Stacy at 601-749-5660, or click the REQUEST button below to email for more info on this trailer.
Item No: LA-HT-478H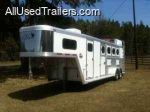 2005 CM Four Horse Trailer!!!
Four horse trailer with mangers in good condition. 6 ft short wall with cold a/c.
$25,300. Lake Charles, Louisiana.


Call Stacy at 601-749-5660, or click the REQUEST button below to email for more info on this trailer.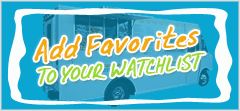 Login to Inquire Online
Call: 601-749-5660
Customer Experiences
07/05/2010

April was a FANTASTIC representative. She was very easy to work with and has a very sweet personality. I hope to deal with her again on the next machine I will be purchasing.


Paul Haanen Jr
Pres. AWC Employee Committee

03/13/2015

I found Used Vending when I decided I really wanted to get out of the RAT RACE and stop making others rich and make myself some money instead! Used Vending had so many options for mobile food start ups I was overwhelmed. Finally, a MATCH! Plus, the owner was only 60 miles from me. Yes, I picked up "The Beast" as we call our food trailer and made new friends. The previous owner was so kind and we just clicked. She gave me great tips on the biz! Used Vending Melissa Powers was the agent that put the whole thing together. MAN---I wish she was available for all of the biz stuff I have to do from now til I open....lol! YOU CANNOT go wrong with this agency. They truly JUMP RIGHT ON IT! I want to thank Melissa again, you gave me and my daughter and son a REAL COOL and FUN yet challenging future! We will send photos once the biz is up and running. I will also give the info on Used Vending to anyone looking for anything MOBILE FOOD!
Thanks S. Golden-
Edgewater, Maryland

10/25/2010

Purchasing vending machines was a new experience for me, so to close my first deal, I relied on Usedvending.com's Vannessa Long to get the sale done. She was easy to deal with and made sure it went smoothly.

Thanks Vannessa!
Eric for Karen Vending
Mannassas, VA

10/26/2009

Keep up the good work!!

I cannot praise Melissa enough on all her help. She made it so easy to purchase more equipment for our new business and I will diffidently be contacting her again, SOON I HOPE!

Shawnee, CA.

06/15/2009

Here you go April! I just wanted you to know that I had a very good experience working with you. This was my first time and now I am ready to go any other time because thanks to you I know what I'm doing. All transactions were easy and whenever I needed you, you were there. Not only were you there ready to go, but you were there with an AMAZING attitude and OUTSTANDING service. Even when you were sick you came in and took care of me and who knows what else. Also the day before that you were too sick to come in, other people stepped up and helped me out with great service.

Last but for sure not least, it was great to work with someone else in THE Faith. Ha I keep reading your email signatures. Anybody reading this, just know that if you get to work with April, you are very lucky!
Josh

11/21/2009

April from 4Mega Vending has been extremely helpful since the first time I talked with her. I just started my vending company and I do everything myself. April though has been so patient and helped me along the way.

I appreciate all the answers and help I get and will use 4Mega Vending in the future.

Thanks
Southgate, Michigan

02/23/2011

With Melissa's professional guidance my selling experience went very smoothly. It was a delight to work with Melissa. Thank you.



Pittsboro, NC

07/27/2011

I have been with Mega Vending for countless years. I just recently worked with Stacy there and he performed like a champ. The location he found was quite unreasonable, however patience and determination won out. They must have a top of line trainng facility there at Mega, everyone is so nice and they really know you once they interact with you. You are not a person with a wallet, they treat you like family and work hard to make sure you are completely satisfied, not only with locations but also equipment! Good Company, Great people, superior knowledge, that's what gets the job done!


Demetrius W.
21st Century Vending
Fontana, CA

01/19/2011

USEDvending.com is the greatest website to sell or buy vending machines. Customer service is the best I have ever worked with. I placed my information on the website and Melissa did the rest. Melissa provided a buyer and took care of all the paper work. The transaction went smoothly.
I look forward to working with Melissa again in the near future.

Julia
Marrero, La.

11/13/2010

April Hurd is not only good looking and helpful, she's also very smart; what a great combination.

Manny, NV

03/01/2012

My entire experience with usedvending.com was very positive. Melissa was professional and proactive in her assistance with finding a buyer and was extremely helpful during the negotiation and purchase. I would definitely use Usedvending.com again.

Keith,
Florida

02/01/2010

It was a pleasure working with you. Your service has been very professional and you have been kind, honest, knowledgeable and encouraging throughout the entire process. Thank you very much for making this easy for me. I would recommend your service to anyone who asked.

Thanks,
John

04/14/2014

I purchased my first concession trailer from UsedVending.com. I want to thank Stacy Sweet for the great customer service. He had all the information I needed which made my purchase easy and fast. I am very satisfied and look forward to working with you again. Thanks again.
M.H.
Vacaville, CA

10/25/2011

I would like to thank Melissa Powers for going over and above board to assist me in my recient purchase. She was super friendly and really did a great job when I ran into a little difficulty. I would recommend Melissa to anyone who asked me about this service.

Vinnie Walsh,
New Jersey

01/07/2012

Melissa was SO helpful in getting everything together for us to buy our concession trailer. We are impressed with the way she stayed in there for a couple of months until the buyer came through with the paperwork. Our trailer is wonderful and we would use your company again!

Little Switzerland, NC

05/04/2011

used vending was great to work with. While my transaction was small, Melissa and the company treated me with respect and care. They made me feel that my business was the most important thing they were working on. Thanks so much for a job well done.

Paul

Jackson, MS

02/19/2016

It was a great decision to use Usedending.com!!!! Melissa was amazing and she and my husband hit it off and had some really great phone visits!!! She set us up with the right concession trailer and when we met the seller we knew we had made the right choice!!!! Thanks Melissa.
Michelle Schexnayder,
Midland, LA

08/24/2010

We purchased our equipment back in 2007 through Mega Vending, April was our sales contact.2010 we decided to sell this same unit through their affiliate, Used Vending. We all know making the purchase is exciting but their are times when the sell can be more than challenging. This particular challenge was overcome by a sales representative that worked through the issue, communicated clearly, and resolved our issue. It takes an experienced staff and strong company to work through these challenges and ultimately make both parties happy. This is that kind of company.

Thanks again April

P Webster/ P an B Petro

06/30/2010

Melissa did all the work! What a great experience. We just sat back and waited for Melissa's call arranging the sale of our 8 machines. Great job!

Bob

10/21/2009

4MEGA help me grow my vending business. Thanks a million.

Dwight
Autin, Texas

06/18/2011

The purchase of my concession tailer could not have been a better experience for me! Melissa was great and took care of everything for me. Great experience at Used Vending and Melissa is the BEST!!!!

Noelle, TX

02/03/2014

April,
Thanks again for your help with selecting and processing the order from start to finish. I am very happy with the drink machine 600E, it will serve the needs of my 45 employees well. You were most helpful in choosing the right machine for my needs and budget, further with follow up questions and getting me the labels we needed. I have already recommended your company to another TCA Office in Boise ID, you may get a call from them in the future.
Ron. G
Chantilly, VA

04/06/2011

Thanks, Melissa, for your patience and persistence when I was hard to get hold of! Appreciate it very much.
Had a very straight forward and smooth transaction! Looking forward to working with you again!

Edmonton, Canada

03/04/2012

Calice was so helpful. She made the process so easy and answered all of my questions quickly. Can't ask for more than that! Thanks again Calice :D

Jennifer,
Pensylvania

11/18/2010

Melissa an exceptional job on getting things done. She is quick with responses and she is a woman of her word :) which made things very simple. It was an Exceptional Job Mellisa

08/29/2011

In business today it is difficult to find an 'actual person' to whom you can speak. So imagine my shock when I called Melissa from USEDVending and she answered the phone! From that point forward the transaction was held in a professional and smooth manner. I will use and recommend USEDVending.com to my friends and family.

CP
Gilbert, AZ.

I contacted usedvending.com on September 29 and discussed with Stacy Sweet my son's current vending machine needs. Stacy was very professional and made us feel that we were his most important customers. His first response was to find the machines we needed at the closest travel distance, next we discussed what we were willing to spend on the machines. Stacy contacted the seller and discussed our terms, the seller was in agreement and Stacy called me back and said everything was a go if my son was ready to buy. We made the deal on September 30 and was able to pick the machines up on October 2nd. This was a very smooth and quick transaction. When we met the seller we discussed how easy usedvending.com and Stacy Sweet had made this deal easy for both parties. As we talked she told me that Stacy also was very professional made her feel that she was his most important customer. We have purchased several vending machines over the past 17 months thru different venues and avenues but have never had the transactions go this smooth. Usedvending.com has become our main broker because they always make your needs their priority. In the future will always search usedvending.com for our vending machine needs. Thanks to usedvending.com and Stacy Sweet for all the great efforts, professional support and services you have given us. We look forward to our future purchases thru usedvending.com. Thanks again Stacy you are the best.

Charles Hollingsworth
Eupora, Mississippi

06/11/2012

When I first signed on to sell my machines, I was a little skeptical. That feeling soon disapeared. With Melissa helping me, it felt as though she cared about helping and was always friendly and cheerful and gave me confidence that we would be successful. And, we were. Having her as the facilitator of the transaction was awesome.

B.B.
Battle Ground, Washington

03/17/2016

April was very helpful, both machines I bought work great they are both up and running, transaction went smooth the seller was very helpful & explained everything about the machinces- also help load. Thank you.
Don Cosette,
Antigi, WI

10/01/2012

It was a pleasure working with Gini to find a vendor for our location. She made it a point to continuously follow up and ensure we received the best possible service. Gini's pleasant manner and professionalism is very much appreciated.

P.B.
Terrell, TX

11/30/2011

I have had good experience's with Stacy Sweet and Mega Vending. Very easy to work with. No scamming, real and honest business. I have had several opportunities given to me, and it has helped grow my business.

The Vending Guy
Twin Cities, Minnesota

05/09/2016

My interaction with Julia and Used Vending was nothing short of great. Fantastic customer service, alerts to new items and arrangements for the pick up of the trailer that saved us 5 hours on our 13 hour drive from MD. to TN. I guarantee this company will make things easy.
Kathleen Keller,
Princess Anne, MD

09/21/2016

Working with Bradley to purchase our food truck in Chicago was an absolute pleasure. He was available throughout every step of the process and we were able to close the deal in less than a week. Would definitely reach out to Bradley again for future projects.

Best,
Phil
Minneapolis, MS

04/02/2015

April, thankyou for your help in finding the right machine for my needs. It was a pleasure to visit with you and your recomendations are greatly appreciated. The machine arrived as described and has been put in service. Works great. Any future vending needs will definitely be referred your way Thankyou HUGH

10/28/2010

Mellisa Did Great Job Very Easy Deal

Russell B.
TEXAS

02/03/2014

I want to thank Stacy Sweet at usedvending.com for a great brokered deal and getting my concession trailer sold at a fair price. Service and communication was key to a successful transaction and the purchaser was very satisfied as was I. Thanks Stacy Sweet!
Ron G.
Slidell, LA.

06/15/2015

Hi Melissa,I wanted to thank you. I really never thought we could sale the trailer so fast. It was easy, very easy and faster than what i thought. Our buyer was serious and did not came to try to lower the price or anything. Thank you.

Ivan Enrique Gonzalez Lauzardo,
Miami, FL

02/10/2011

It has been a pleasurable experience working with Melissa. The sale process was quick, well organized and hassle free.

We appreciate your help and will utilize your services in the futuer.

Thanks,

Michelle Vervaeke

06/23/2010

April was absolutely outstanding to work with! She went out of her way to help and meet all of our needs, from answering all the many questions, helping patiently while the credit card went through, and kept me informed of the delivery! April was so knowledgeable of the vending machine and she made a good recommendation. I am so please as she made a purchase of a vending machine a pleasure.

Marion Baddorf
Business Manager

11/25/2014

Calice, Thank you very much for Your help finding the perfect vending machine. You made the process easy and painless. The photos on the site were exactly what I was getting. I felt good that the purchase was secure and I was not being take advantage of. When I arrived to see the machine, it was in good working condition and in better shape that I thought it would be in. If I need anything else vending related, I will be sure to come to you! Thanks Again!
Tyler Diciola,
Algonquin, IL

09/29/2010

April and 4mega vending have provided me with quality equipment and great service. All questions are answered timely and professionally and April is great to work with. Thanks!

Rob
Tots' Landing Learning Centers, LLC

05/19/2014

Hi Melissa ,
Just wanted to say Thanks for taking care of me in my Food Truck hunt. You answered all my questions and pointed me in the right direction for my needs . Your process was seamless and very easy . I would highly recommend your company and mainly yourself to work with . I'll be contacting you very soon in the future for Truck #'s 2&3 .

Thanks again for your support & guidance,
Ed Sautro
Wake Forest NC

05/28/2012

I found Used Vending on an internet search and thank God I did!! They were finally able to sell 2 of the 5 vending machines I was trying to sell! I sold them to a young man who seems quite eager to start his business. Thank you Melissa for all your help!! Now just sell my other 3!!!

D.W.
Westmont, IL

12/07/2009

April was very helpful. She make sure the order is shipping out correct. Great follow up.

Lincolnshire, Illinois

05/16/2014

April helped us find a great soda machine vendor!
We had 2 different gentlemen call to come see our site and put in a soda machine.
We ended up going with Frank's Vending out of Schaumburg, IL.
The process was seamless and April kept in constant contact via email.
Thanks so much for your services!

Keller Williams Realty Infinity
Naperville, IL

07/25/2011

Thanks Melissa, you did a great job! You worked tirelessly to find us a buyer and our sale could not have gone smoother once the buyer got here. He was very friendly, the kitchen trailer was exactly what he was looking for, and within minutes we were on our way to finalize the sale! We look forward to doing business with you again and I would highly recommend you to anyone!

Jill,
North Carolina

12/21/2015

The process was a breeze!!! Melissa is great and Usedvending.com gets everything together for you!!!
Maria & Frank Huereque,
Ridgecrest, CA

02/23/2016

My experience with Usedvending was the best experience I've had. Melissa and Jen with the most professional people I've had to deal with and I'm very glad that I did business with Usedvending they were prompt they will decide they sold my equipment very very excellent live, I want to thank them both so much.
R. Wills
Jacksonville, FL

04/26/2011

APRIL'
IT HAS BEEN REALLY NICE (AND EASY) TO DEAL WITH YOU.
I COULD NOT FIND THE PART I NEEDED ANYPLACE I LOOKED BUT YOU CAME WITH IT QUICKLY.
EVEN THOUGH I WAS ORDERING A SINGLE SMALL PART YOU MADE ME FEEL LIKE A BIG CUSTOMER(MAYBE SOMEDAY).
THANK YOU


HB
ELMIRA NEW YORK
See Hundreds more or Write your own...