LOUISIANA
Louisiana Trailers & RVs for Sale! Buy or sell used trailers inLouisiana – we have used RVs, used horse trailers, used camper travel trailers, used heavy equipment trailers, used dump trailers, used livestock trailers, etc… AllUsedTrailers.com brings Louisiana safe, easy transactions of buying used near you!
DISPLAY OPTIONS
Item No: LA-ET-592H
20' Three-Axle Heavy Equipment Trailer!!!
MFG. by Felps-Pintel. It is in good condition with some minor surface rust, but solid steel without. Electric brakes on two axles re-worked three years ago and wheels re-packed at same time. Good rubber on all six tires. Decking replaced two years ago with treated 2 by 8.
WAS: $3,600

NOW: $3,000. Belle Chasse, Louisiana.
CLICK on "MORE DETAILS" for PICS!!!
Call Stacy at 601-749-5660, or click the REQUEST button below to email for more info on this trailer.
Item No: LA-RV-566H
2007 - 34' Gulf Stream Endura Coach!!!
This great unit has only 6900 miles on it and is like new. It's built on a Chevy Kodiak 5500 chassis. It has Chevy 325HP V8 engine and 80 gal. fuel tank. KING size bed, attic fan, leather power seats, so much more. you could live full time here, or just for getaways. Many upgraded features, see details for list of amenities, etc.

$99,000. Bogalusa, Louisiana.
CLICK on "MORE DETAILS" for PICS & FEATURES!!!
Call Stacy at 601-749-5660, or click the REQUEST button below to email for more info on this trailer.
Item No: LA-RV-538H
2005 - 36' Safari Cheetah RV - Class A Diesel Motorhome!!!
This unit has 36,022 miles on it. Caterpillar 350 HP Diesel Engine, Allison Transmission, Leveling Jacks & Kohler 8kw Generator. Queen Bed, Shower, Sink/Vanity in bathroom area, Separate enclosed toilet area. It's in like new condition and ready to go.

$71,500. Monroe, Louisiana.

CLICK on "MORE DETAILS" for PICS & FEATURES!!!
Call Stacy at 601-749-5660, or click the REQUEST button below to email for more info on this trailer.
Item No: LA-DT-506H
2006 BIG TEX DUMP TRAILER!
MODEL 25DU-18. 25 Yard Dump Trailer Built up to 33 Yard. Seldom used and in Like New condition. Tandem gooseneck trailer. Be sure to see details for more information on this dump trailer!
$17,600. Laplace, Louisiana.
Click on "More Details" for Features!!!
Call Stacy at 601-749-5660, or click the REQUEST button below to email for more info on this trailer.
Item No: LA-HT-478H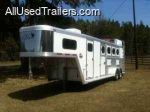 2005 CM Four Horse Trailer!!!
Four horse trailer with mangers in good condition. 6 ft short wall with cold a/c.
$25,300. Lake Charles, Louisiana.


Call Stacy at 601-749-5660, or click the REQUEST button below to email for more info on this trailer.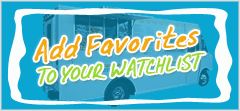 Login to Inquire Online
Call: 601-749-5660
Customer Experiences
01/24/2011

Melissa from Used Vending was an incredible asset in selling my mobile kitchen and equipment. From the start, Melissa was a true professional and I credit the sale to her caring attitude for both seller and buyer. She is friendly and knowledgeable and always took the time necessary to answer any questions. I could not be more satisfied with my experience.

Thank you,
Michael

Eric Norman Thank You, Your customer service is extraordinarily splendid and deserves to be commended thank you !! You've went beyond the call of duty to satisfy a potential customer. If this is your policy or standard operating procedure then success is inevitable with you and your company!!!

M. Maynard SR

08/10/2010

Melissa was wonderful to work with... Always very helpful and quick to respond.. USEDVending.com had our vehicle spoken for in less than a week and sold in under 3 weeks something that we were unable to do in 2 months.. Great Website and we would do buisness with again!

Matthew Ballance
CEFCU Vehicle Services,
East Peoria, IL

08/24/2011

Thanks Melissa
The transaction went very smooth and easy, very professional. I was impressed.

J. Reed

TX

They helped by giving a location with the amount of people I asked for! i would recommend them to anyone looking for leads in location for vending machines!

Art Pineda
Colorado

09/07/2011

We just installed a new located that was referred to us by Stacy. We work with the client and were able to fulfill there needs and not stretch ourselves.

This was an excellent referral. The customer was willing to work with us, this way it was a win-win for both of us.

Looking for to the next referral.

Thanks again Stacy

Jack R.

10/25/2011

Thank you April Hurd for your very prompt attention to my vending needs. Your company should be proud to have a dedicated and cheerful employee as they do in you. I would totally reccomend your company to anyone I possibly can. Thanks again for your help.

Vickey Lavender,
Alabama

07/25/2010

Vannesa, This is the transfer of goods. Sale is complete and I thank you for such prompt service and attention to detail. It was a very pleasant and refreshing experience. I will recommend you to anyone that I know that needs to sell or purchase you products.

Jeff

08/22/2010

I was looking for vending machines for my company and I came across 4Mega-Vending.com. I bought a new machine that works amazing and is a decent price, all with the help of April. I recommend asking for her help if you need any assistance looking for an electric vending machine. She returned my phone calls and helped me find one that fits my price range. The machine look's great in my shop!

Kristina; Brooklyn, Ny

04/07/2011

I had tried putting our machines on Craigs List and other places but as I was searching for other ways to sell I found your site and it has been the best thing for selling our vending machines!!!

Melissa was the best. She acted like we were her only client and took such great care of us. I have a hard time with computers and finding out how to print all my forms and she walked me thru the steps. You do not find that type of customer service very often.

Just Melissa's voice on the phone made me smile even when things didn't go as smooth as they should have gone. I would recommend this company to anyone wanting to sell their vending machines, especially if you get Melissa as their agent.

Great website and great people!!

Michigan

Stacy did a remarkable job helping Me obtain a quality used vending machine. He told me exactly what was going to happen and ensured everything went smoothly. Thank you and I will recommend your service to other business owners.
BS
Upper Marlboro, Maryland

07/19/2011

Couldn't believe how quickly my equipment was sold on this site. Amazing and Stacy was great and got right to the point of things.

Dennis R,
New Jersey

Dear Eric, Your Great! I want to purchase 10 NEW Vendstars complete with stands. I'll tell you Eric I will definitely be doing more business with you in the future...you shall see. I have searched the entire net practically looking for not only good prices but someone I felt comfortable working with and BINGO....I found You!
Thanks Eric
Sincerely, Shirley D.

01/31/2012

Hi Melissa- Yes, he came, on time, very pleasant transaction, no drama. Ibrahim and I want to thank you for your never-ending dedication to finding buyers for the express purchase of these machines and, for your sunny deposition and demeanor. You are a true customer service professional, and, an all around nice person. I cannot extoll your virtues enough. Good luck in your endeavors whatever they may be. You deserve the best, as, in our opinion, you are the best!

Sincerely, Ibrahim and Tamara
Chicago, IL

05/16/2012

I have been in sales over 25 years and the way I was treated as a HUMAN BEING by Stacy Sweet was a educating experience. He not only has awesome voice projection but his sense of know how and politness and willingness to create whatever the situation is into a positive experience.I am very very very happy and did I mention I was A VERY HAPPY CUSTOMER. Thank you again Used Vending and STACY SWEET!! " HOW "SWEET" it is.

A.R.
Pinellas Park, Florida.

11/30/2011

I have had good experience's with Stacy Sweet and Mega Vending. Very easy to work with. No scamming, real and honest business. I have had several opportunities given to me, and it has helped grow my business.

The Vending Guy
Twin Cities, Minnesota

08/09/2011

Once again another transaction complete thanks to Melissa's calm assertive nature to get the job done. Thanks, Melissa

William
Colorado Springs, CO

06/22/2011

Thanks Stacey,
After posting my cart on ebay and craigslist with no success, i ran across your web listing for selling carts and ultimately found a buyer through you guys over the other two outlets. The offer and counter was no nonsense and the deal was executed professionally.

trey weiland

02/12/2012

I am more than pleasantly suprised by Usedvending.com and Calice specifically for such an incredible job helping me secure the new machines we needed for our newest location. Her interface between myself and the sellers was phenomenal. Every question I asked, every E-mail I sent was answered quickly and concisely by Calice in minutes, not days. SHE made these deals happen and it is because of her superlative efforts that Usedvending.com is now my "go-to" for all of our future vending needs. No more professional staff can be found in this business -

Michael
Beaumont, TX

09/29/2009

Usedvending.com provides excellent, professional service. I plan to do business with them again.
Matthew
Camden, Tennessee

03/07/2011

Vanessa was great to work with. We are a small company and she worked to find a vender right for us. Thanks for full filling our vender needs. Mike Omaha,Ne.

Melissa,
Thanks for your help in making all the connections!
Your help was great.

Eli Weaver
Christian Aid Ministries
Berlin, OH

Dealing with Stacy at usedvending.com was great! He was able to answer all my questions and concerns in a prompt manner. A great help in facilitating the sale of my mobile kitchen!
D.H.
Charlottesville, VA

03/14/2012

Most helpful, professional and friendly customer service experience I have had in years. Thanks for all your help, I will refer others to you!

Dan,
Chicago, IL

12/15/2012

Thanks Melissa Powers for your salesmanship and getting my Office Deli finally sold. I called to cancel and you had an interested buyer for me. Thanks for the good communication in handling this sale.

Jan,
IOWA

06/28/2010

Working with Melissa has been a pleasure. Not only was she courtious, prompt in returning phone calls and e-mails but she made sure our transaction ran smoothly. She even provided her cell phone number in case we had any questions after hours. Thanks Melissa for making this easy.

Barbra, GA

02/20/2011

Thank you so much Vanessa for helping me finding a location for my vending machine. You are courteous and professional in you business ethics. This ps evident, in your timely fasion for contacting me as well as the location, sending me the paperwork, and putting me in contact with the location manager. All of which took place in such a short time. Thanks for being so organized. I will always keep on doing business with you. I will also encourage others who are interested in the vending business to consider usedvending.com. I actually already spoke to my sister about it. Furheemore, compare to other locating companies, your locating fee is very reasonable. Thank you so much Vanessa. I will never forget how much you've helped me.

E. Adrien

10/30/2009

April Hurd is the best thing since cotton candy, literally... I started my business a little less than three years ago and her office has already provided me with three top-notch locations that have propelled my business ten folds. April has been helpful throughout each and every process that I had with MegaVending. I purchased equipment and had locations given to me, every transaction was handled professionally, courteously, and expeditiously, you don't want it any other way. Thank you April for your dedication to your professionalism. It's people like you that makes dealing with MegaVending more rewarding.

Las Vegas, Nevada

05/10/2011

Melissa,

Used Vending is the best site we found we had used others to try to sell our vending trailer and had the most response from Used Vending. The sale started slow and and closed fast Melissa was great though out it all.

Thanks
Don & Donna

06/10/2014

Used Vending: Just wanted to share my experience with others regarding Used Vending. We were selling a coffee trailer in Montana, definitely off the beaten path, and were not expecting any interest anytime soon. Low and behold Crissy kept telling us that there was an interested party and they would put an offer in soon (we thought, "yeah right"), except that they actually did put in an offer! Within 5 days the trailer was leaving our house and the money was in our bank! Crissy was amazing, the process is very simple, and UsedVending gets results! Thank you UsedVending!
Jon in Montana

01/08/2014

My experience in ordering stamp folders via the website went very quickly and smoothly. We received the product quickly also. Will definitely order from MEGA vending again.
P.K.
Knoxville, TN

07/01/2014

I enjoyed working with used vending it was easy to post the item I needed to sell. I was impressed with the speed of the transaction. Melissa Powers was a joy to work with and made it so easy.
Jason S.
Greensboro N.C

02/10/2011

It has been a pleasurable experience working with Melissa. The sale process was quick, well organized and hassle free.

We appreciate your help and will utilize your services in the futuer.

Thanks,

Michelle Vervaeke

12/28/2010

Melissa,
Thank you so very much for everything you've done for Greg & I. Where do I email a letter of how well we were treated!

Sincerely,
Greg & Colleen

11/02/2009

We purchased a Soda Machine. The whole transaction was a blast. The sales rep was very professional and friendly. She patiently answered all our questions and helped us with our modification requests. We recieved the machine as promised and the deliverly guys were nice also.

Astoria, New York

01/25/2011

I have had the pleasure of listing and selling 2 machines with Melissa. She is top notch in getting the job done in a very efficient and professional mannner. I have been in the vending business for 33 years and would highly recommend her services and expertise.

Jim
Boston, MA

I purchased a 2006 out of Maryland. I've been looking for one locally for a while. Deciding to go online and finding Melissa at USEDvending.com was the best business decision that I ever made. The process was smooth, fast. Looking forward to working with her again. Thank you for your professionalism, patience, helpfulness. It was really appreciated.
C.G.
Fairfield, CT

10/10/2012

This is our second transaction with usedvending.com and as before, everything went smoothly and our whole experience makes us want to come back again.

D. LONG - WEST VIRGINIA

09/16/2012

Melissa was a gem to deal with, prompt and professional. I would not hesitate to buy and/or sell on this site!

Bob,
Georgia

05/16/2014

April helped us find a great soda machine vendor!
We had 2 different gentlemen call to come see our site and put in a soda machine.
We ended up going with Frank's Vending out of Schaumburg, IL.
The process was seamless and April kept in constant contact via email.
Thanks so much for your services!

Keller Williams Realty Infinity
Naperville, IL

12/25/2010

Vanessa Long helped our company with a new location from beginning to end. She was very helpful and gave us all the details...and very honest i might add...even when we had a new company move on my location she was on my side and reassured my location,,,thank so much i will look forward in doing business your company soon!!!

TN

06/12/2014

I bought my food trailer a couple of months ago with Melissa from Usedvending.com. It was an easy process and really enjoyed all the help she gave me when trying to find just the right rig. We are so happy with our trailer and are finally all ready to open for business. Thanks Melissa for all your help along the way and we can't say enough for helping us achieve our dreams!!! Gourmet Sandwiches anyone??
Sean Collins,
Deli'cious Mischief, Washington

06/18/2013

Sold our unit shortly after being posted. Christina was not only professional but a joy to work with! Thanks again!!
Judy M.
Lauderhill, FL

10/25/2011

I would like to thank Melissa Powers for going over and above board to assist me in my recient purchase. She was super friendly and really did a great job when I ran into a little difficulty. I would recommend Melissa to anyone who asked me about this service.

Vinnie Walsh,
New Jersey

11/20/2011

I am very pleased with Melissa Power's successful handling of vending machine sales for me and am continuing to work with her to sell the rest of my equipment. She was instrumental in negotiating a price which expedited my sale.

Sincerely,
Buz Rummel

02/14/2012

Thank you Stacy for your patience. Thanks to 4vendingtips.com I landed a location in an area where I desperately needed more business. I received a lead for a very strong vending location and I look forward to the next one.

Keith,
PA

07/24/2014

Melissa, I am happy to tell your supervisor about my experience with Usedvending.com! I had no experience or even a solid idea of what I wanted when I emailed Melissa and said I was interested in a mobile kitchen on your website. I had been looking at ads all over the internet and I kept coming back to Usedvending because the website was easy to navigate and had tons of equipment. I got so much information just from reading the ads! When I found a trailer I liked, I took a flyer and picked Melissa to contact. What a great choice! Melissa was a valuable source of information, she had questions I needed to ask, advise on what to do and how to do it. The support I received, her being available for questions through email, text and phone, made me feel like I had somebody really helping me to make the right decision. I found the trailer that will work for me, she helped me make an offer and worked with both myself and the seller to connect us and help the deal go through. I now own a really nice mobile kitchen and should be cranking out the sammichs by the end of next month! Melissa Powers, you rock! This has been a terrifically positive experience and I can only hope the rest of my business start up can go so smooth! thank you Melissa for all your help. Thank you Usedvending.com.

Michelle Yakovich,
The Perfect Bite
Tucson, Arizona

11/26/2013

April is the best! She worked with me to obtain great profitable locations. She was there throughout the whole process to make sure everything went smoothly and to make sure that both parties were completely satisfied. And I I'm satisfied every time! As well as my locations that I have obtained with her. April is the best and I love doing business with her and her company Megavending.com.

Kenneth,
New Jersey


See Hundreds more or Write your own...