LOUISIANA
Louisiana Trailers & RVs for Sale! Buy or sell used trailers inLouisiana – we have used RVs, used horse trailers, used camper travel trailers, used heavy equipment trailers, used dump trailers, used livestock trailers, etc… AllUsedTrailers.com brings Louisiana safe, easy transactions of buying used near you!
DISPLAY OPTIONS
Item No: LA-ET-592H
20' Three-Axle Heavy Equipment Trailer!!!
MFG. by Felps-Pintel. It is in good condition with some minor surface rust, but solid steel without. Electric brakes on two axles re-worked three years ago and wheels re-packed at same time. Good rubber on all six tires. Decking replaced two years ago with treated 2 by 8.
WAS: $3,600

NOW: $3,000. Belle Chasse, Louisiana.
CLICK on "MORE DETAILS" for PICS!!!
Call Stacy at 601-749-5660, or click the REQUEST button below to email for more info on this trailer.
Item No: LA-RV-566H
2007 - 34' Gulf Stream Endura Coach!!!
This great unit has only 6900 miles on it and is like new. It's built on a Chevy Kodiak 5500 chassis. It has Chevy 325HP V8 engine and 80 gal. fuel tank. KING size bed, attic fan, leather power seats, so much more. you could live full time here, or just for getaways. Many upgraded features, see details for list of amenities, etc.

$99,000. Bogalusa, Louisiana.
CLICK on "MORE DETAILS" for PICS & FEATURES!!!
Call Stacy at 601-749-5660, or click the REQUEST button below to email for more info on this trailer.
Item No: LA-RV-538H
2005 - 36' Safari Cheetah RV - Class A Diesel Motorhome!!!
This unit has 36,022 miles on it. Caterpillar 350 HP Diesel Engine, Allison Transmission, Leveling Jacks & Kohler 8kw Generator. Queen Bed, Shower, Sink/Vanity in bathroom area, Separate enclosed toilet area. It's in like new condition and ready to go.

$71,500. Monroe, Louisiana.

CLICK on "MORE DETAILS" for PICS & FEATURES!!!
Call Stacy at 601-749-5660, or click the REQUEST button below to email for more info on this trailer.
Item No: LA-DT-506H
2006 BIG TEX DUMP TRAILER!
MODEL 25DU-18. 25 Yard Dump Trailer Built up to 33 Yard. Seldom used and in Like New condition. Tandem gooseneck trailer. Be sure to see details for more information on this dump trailer!
$17,600. Laplace, Louisiana.
Click on "More Details" for Features!!!
Call Stacy at 601-749-5660, or click the REQUEST button below to email for more info on this trailer.
Item No: LA-HT-478H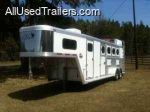 2005 CM Four Horse Trailer!!!
Four horse trailer with mangers in good condition. 6 ft short wall with cold a/c.
$25,300. Lake Charles, Louisiana.


Call Stacy at 601-749-5660, or click the REQUEST button below to email for more info on this trailer.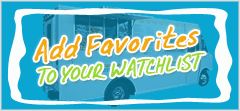 Login to Inquire Online
Call: 601-749-5660
Customer Experiences
01/05/2011

Great service and easy to use website. April was very courteous and quick in a response to my questions. very professional organization.



NE

07/16/2009

I just wanted to say THANKS! for my recent experiences I have had with your company. I am new to the vending industry, establishing myself in January 2009, and am still learning the ropes with a lot of help from April and Kara. These two ladies are huge assets to your company! I can't thank them enough for the assistance and information they have given to me.
I was contacted by Kara in March 2009 about a medium size account in my service area. After meeting with the client, it seemed like a good fit, and I informed Kara of my decision. She handled the entire transaction smoothly and without a hitch; it was a very different experience then I have had with the few locating services I have dealt with.
At that point, I contacted April about the location. She listened to specifics of the account and made a recommendation as to which machines to consider. When it turned out that the machine we had chosen (an ST3000) was a little outside of my price range, April promptly arranged financing for the equipment. Considering the recent state of the credit markets, and the short length of time I have been in business, I was relieved to say the least!
The machine was delivered with no problems and has been on location for about a month now. Everything is working great and the capacity of the unit seems a perfect fit for the account it is in. Thanks again, April and Kara, you made this the easiest account that I have!
Joshua J.
Milpitas, California

03/26/2012

Thank U so much, will be using u guys again. Thanks Calice.

Thomas,
Bardstown, Kentucky

04/02/2015

Hi Melissa, I want to let you know that I am so happy with the service that you and your company have given me. I really wish that I had found your company a year ago. I want to thank you again for your help, your did a great job. Thanks again.
Linda Overton,
Forth Worth, TX

09/07/2012

Gini was very helpful working things out with my vending location. I hope to do business with her in the future.

Ed,
St.Louis, MO

02/01/2010

It was a pleasure working with you. Your service has been very professional and you have been kind, honest, knowledgeable and encouraging throughout the entire process. Thank you very much for making this easy for me. I would recommend your service to anyone who asked.

Thanks,
John

09/09/2010

April was amazing to work with. Unlike other vending sell reps, her communication was consistent and professional. I look forward to purchasing my next set or Vending Machines, as April made the process smooth and effortless. Thank you,

Mr. Sherrod- New to the vending business

03/10/2013

Christina did a wonderful job of helping me find just the right trailer that I was looking for. She kept in touch with me the entire time and even followed up with me after the transaction! Thanks, Christina for a job well done!

Nadine in Colorado

02/23/2011

With Melissa's professional guidance my selling experience went very smoothly. It was a delight to work with Melissa. Thank you.



Pittsboro, NC

06/18/2012

Stacy was very helpful and went out of his way to help us. Great service, big thumbs up.

Alex,
New York

09/04/2012

No Problems, I found Used Vending and the truck that fit exactly what I needed to start my Bad Ass Coffee Mobile. If it wasn't for Melissa Powers working with me and handling all the work this deal would have been a nightmare. She was a wealth of information and worked for my benefit there by saving me a lot of money! I have already told others about her and Used Vending. The only way to go!

John
Las Vegas, Nevada

03/04/2010

With all the companies we deal with, we have never had a more pleasant and thorough experience than we had with April Hurd and Used vending. They have come through on two seperate occasions now in finding great customers to purchase our equipment. Very dedicated, professional, quick, and flawless transactions each time!! Thank you, April for all your hard work now and in the future. You are the best!

Matt
Carlisle, PA

08/12/2015

I would like to thank you for your special attention towards my needs to get my vending business start. Your quick responses to help out has been comforting while I am trying to start a new venture. Thanks so much.
Joey Hart,
Kew Gardens, New York



09/30/2010

April worked very hard between me and the seller. I found her to be very professional and got back to me in a timely manner. April is also lighthearted and makes her job seem effortless which I'm sure it isn't. I would and will do business with April and USEDvending again. I give them 100% on a job well done!

RHY
Port St. Lucie, FL

06/07/2008

USED VENDING, I wanted to express my appreciation for the great job that Used Vending has done for me. I am just starting into the vending business and have spent hours and days doing research to be certain I can make a profit and it is something I would be happy doing. Your company and especially Mellissa and April have listen to my questions and shared their experience and knowledge with me. They have cautioned me in areas that I need to understand and have guided me with helpful advice that will increase my probability of success. I have just bought my first 17 vending machine and will be buying more as I learn this business.The machines were as advertised in excellent condition and dramatically less than a new machine. I know I will increase my probability of success because of the information that Mellissa and April have shared with me. I sincerely appreciate the time and effort your company has extended in helping me to get into the vending business

Thank You
Carlton Faulconer
Lake Forest, CA

08/02/2010

I have been in the vending business for a year or so. My first transactions with vending companies were expensive and not very customer service oriented. However, I have made them work. When I needed to buy more machines, I had plenty of time to look, research, and time to negotiate. I felt like I shopped the planet. I kept coming back to April and she continued to work diligently with me. I purchased two machines from her, they were exactly what I needed and they were shipped on time. We even scheduled the delivery around a planned vacation I had. April is fantastic. She will always be my first call when I need machines.

Kenny Deen
Snacks A Lot, LLC
Henderson NV

10/17/2012

The sale of my machine was very quick. Paperwork was explained well. M. Powers did a good job of putting buyer and seller together.

Ray D.,
Northbrook, Ill.

10/17/2012

Thanks Melissa for all your assistance in selling my mobile kitchen. It was a positive experience working with Melissa for the first time. Thanks for everything.

Lamar,
Georgia

03/21/2014

I wanted to take this time to thank you for all your help. Being new to the vending machine industry I really was not even aware of all the right questions to ask before speaking to you. You really went above and beyond just making a sale. You made it easy for me to feel comfortable working with your company. From taking the time to explain to me what I should look for in a used machine or explaining the advantages of buying a new one. As well as getting the sale completed on your own time over the weekend; It was pretty amazing the level of service I received from you. Not sure when I will purchase my next vending machine but I'm sure that I will purchase it from you.
G.V.
Passaic, NJ

08/23/2012

Wanted to drop a line to tell you that it was a pleasure dealing with 4megavending.com and Stacy. I had quite a few questions before my purchase and Stacy was informative and helpful in helping me pick out the right machine for our office. Ordering was easy and once the machine arrived it only took us @30 minutes to get it unpacked and running. Keeps the drinks colder than I expected. Thanks again for all your help Stacy. Look forward to working with you in the future.

R.M.
Baton Rouge, LA

12/08/2011

I contacted Melissa at extension 11 to look for vending machines, and the work she did for me was very good. The machines were just like she said and everything went as planned. Very happy with purchase.

Claud,
Big Spring, TX

10/25/2009

April did a great job, the sale went very well and according to plan.

Thank you
Glenn
Loveland, Ohio

03/27/2012

Melissa worked very hard to assist me with selling my concession trailer. She was always professional and made sure all my questions were answered. The transaction was smooth and easy. I will buy and sale at usedvending.com again.

Scott Baldwin,
Florida

07/08/2015

Calice did a wonderful job with my Smoothie Cart Sale. She was always responded in a timely manner and worked through the entire sale with me. I ran into some complications with the seller but Calice had my back and made sure that the sale was conducted in a professional, safe, and fair manner. I would highly recommend her and Used Vending.

Mustafa Malik,
San Diego, CA

02/12/2013

I am in auto sales and have been for 20 yrs. Melissa made this a very positive experience! She was knowlegable and very helpful. We will come back to your site for future needs because of her.
Thank you,

Mark Smith
FSM Enterprises Inc.

05/04/2010

My experience with Melissa Powers usedvending.com was great. The process went very smoothly.

01/10/2011

April was a great help in obtaining my first vending machine and I will continue to use used vending through her help.
David

10/01/2012

It was a pleasure working with Gini to find a vendor for our location. She made it a point to continuously follow up and ensure we received the best possible service. Gini's pleasant manner and professionalism is very much appreciated.

P.B.
Terrell, TX

06/30/2011

I was very pleased with the location service and Stacy Sweet!! It really saves time and money to use this service. Great Job!!!
Thanks,

Darrell, SC

10/03/2011

April was a great sales rep. Thank You!! Tommy, Atlanta, Georgia

03/18/2015

I would like to leave a heartfelt thank you to your team. The experience I had, headed up by Crissy, was exceptional. From inception to receipt of the trailer, it went like clockwork. Crissy made it very easy, fast, and painless. Kudos to Crissy!!
Thanks again,
Mike A, NJ

11/02/2009

April at 4Mega-Vending provided me with excellent service. She was fast, efficient, and pleasant to deal with. The next time I'm looking for a vending machine 4MEGA-Vending will be who I use period!

David Lorent
Barnum Wash and Dry

08/02/2010

i am very happy with my purchase through used vending.com and look forward to doing it again soon.

Frank P.

02/16/2011

Thanks Melissa for making our 1st experience with www.UsedVending.com so simple and pleasurable. It was a great dealing with you and your seller. I will be using your company again in the future and I look forward to a long, mutually beneficial relationship.

Sincerely,
Bobby

03/27/2011

My family & I tried selling these vending machines after my Dad passed away. We Craig's list, ads and word of mouth with no luck. I found this FANTASTIC site while googling info. I've dealt with Vanessa just about from day 1 which was over 6 months ago and was really hoping that we would be able to sell these before Dad's house sold. Well they did it!! They've sold and my family and I are very grateful!!!
Thankyou Vanessa and Team!!
June Adamchuk

12/01/2014

My experience with April has been exceptional. I have done two transactions with her and she worked hard to get me what I needed. I trust her to get the job done and highly recommend her to anyone looking for a vending machine.
Jerry Kelow,
New Day Vending
Colorado Springs , CO

08/12/2015

Hi Calice, I would like to Thank You for helping me sell my vending machines on USED vending.com. You are always very efficient and quick in replying to emails and sending documents. The Company who bought the vending machine from me were very friendly and we answered all their questions, even gave them some training on how to change the prices on the machines. They liked the condition of the machine and the Sell transaction went very smoothly. I am very happy with the service I get from USEDvending.com and the clients have always been friendly and very satisfied with what we have sold them. I would recommend USED vending.com to other business's.
Thank You,
Kathryn Sibayan
Lousiville, Colorado

01/07/2014

April,

It was a pleasure doing business with you and your company. The product was delivered as scheduled. One again, Thank you for all of your assistance!

Michael Winn
Better Choices

10/21/2009

thanks for being so patient

Charles
Upper Marlboro, Maryland

12/07/2009

April was very helpful. She make sure the order is shipping out correct. Great follow up.

Lincolnshire, Illinois

10/17/2012

Our dream came through. Thanks for your professional effort Gini. I will recommend you to anyone.

Jhun
Cheyenne, WY.

12/13/2010

I dont have words to describe how professional and efficient Melissa was. Her Costumer Service was amazing. Melissa you made the process very easy and the most important thing everybody was happy with the transaction. Thanks Again.

Lina,

FL

05/09/2014

Stacy Sweet was extremely helpful with locating the best truck for our needs. He took a lot of time to assist us along the way. We received our truck last week, and are very pleased with it. We think it will be the first of many more. Thanks Stacy!
K.H.
Chicago, IL

10/26/2009

We were desperate to sell...April sold not 1 but 2 machines for us in one week. Wow!
Ann Schwausch

Utah

10/19/2009

4 mega vending and used vending was extremely helpful with the startup of my cigarette vending business.

Very knowledgeable and excellent follow up skills.

Thanks again!
Apple Vending
Atlanta, Georgia

05/16/2014

Hi Calice,
My experience with UsedVending.com was fantastic. I was amazed at how quickly I was placed with a serious buyer. Both the buyer and I trusted you as a intermediary and we were able to conclude a large transaction with zero complications. I could not have been happier.
Thank You So Much Calice-
Dan Schwab, IL

02/13/2009

Wonderful Customer Service...all my questions were answered in a timely manner...she was wonderful!!.....a true asset to your Company!!! Way to Go!!

Lisa Thurman
Prudential Gary Greene
Friendswood, Texas

09/22/2009

April was very helpful and especially nice and professional. She was able to answer all my questions quickly and accurately. She was a pleasure to work with and would not hestitate to call her again if I needed further assistance. Thanks April for a job extremely well done.

M. Pate
Normal, Illinois

10/17/2012

Melissa, Thanks so much for all your help. Everything was done in a very professional and efficient manner. I will definitely recommend you to anyone who is in need of your services. Thanks again.

MW
Knoxville, TN

05/21/2000

I contacted Eric Normand through his webpage several months ago in regards to some vending machines that I had for sell. His service provided another way to sell my vending machines other than posting classified ads. His service directly reached potential buyers and saved me money. I got a fair price for my vending machines and was able to sell them in a reasonable time. He kept in contact with me the whole time we worked together and I felt reassured that his efforts were true to helping me sell my machines.
Thanks,
Jason Aycock
See Hundreds more or Write your own...