LOUISIANA
Louisiana Trailers & RVs for Sale! Buy or sell used trailers inLouisiana – we have used RVs, used horse trailers, used camper travel trailers, used heavy equipment trailers, used dump trailers, used livestock trailers, etc… AllUsedTrailers.com brings Louisiana safe, easy transactions of buying used near you!
DISPLAY OPTIONS
Item No: LA-ET-592H
20' Three-Axle Heavy Equipment Trailer!!!
MFG. by Felps-Pintel. It is in good condition with some minor surface rust, but solid steel without. Electric brakes on two axles re-worked three years ago and wheels re-packed at same time. Good rubber on all six tires. Decking replaced two years ago with treated 2 by 8.
WAS: $3,600

NOW: $3,000. Belle Chasse, Louisiana.
CLICK on "MORE DETAILS" for PICS!!!
Call Stacy at 601-749-5660, or click the REQUEST button below to email for more info on this trailer.
Item No: LA-RV-566H
2007 - 34' Gulf Stream Endura Coach!!!
This great unit has only 6900 miles on it and is like new. It's built on a Chevy Kodiak 5500 chassis. It has Chevy 325HP V8 engine and 80 gal. fuel tank. KING size bed, attic fan, leather power seats, so much more. you could live full time here, or just for getaways. Many upgraded features, see details for list of amenities, etc.

$99,000. Bogalusa, Louisiana.
CLICK on "MORE DETAILS" for PICS & FEATURES!!!
Call Stacy at 601-749-5660, or click the REQUEST button below to email for more info on this trailer.
Item No: LA-RV-538H
2005 - 36' Safari Cheetah RV - Class A Diesel Motorhome!!!
This unit has 36,022 miles on it. Caterpillar 350 HP Diesel Engine, Allison Transmission, Leveling Jacks & Kohler 8kw Generator. Queen Bed, Shower, Sink/Vanity in bathroom area, Separate enclosed toilet area. It's in like new condition and ready to go.

$71,500. Monroe, Louisiana.

CLICK on "MORE DETAILS" for PICS & FEATURES!!!
Call Stacy at 601-749-5660, or click the REQUEST button below to email for more info on this trailer.
Item No: LA-DT-506H
2006 BIG TEX DUMP TRAILER!
MODEL 25DU-18. 25 Yard Dump Trailer Built up to 33 Yard. Seldom used and in Like New condition. Tandem gooseneck trailer. Be sure to see details for more information on this dump trailer!
$17,600. Laplace, Louisiana.
Click on "More Details" for Features!!!
Call Stacy at 601-749-5660, or click the REQUEST button below to email for more info on this trailer.
Item No: LA-HT-478H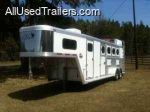 2005 CM Four Horse Trailer!!!
Four horse trailer with mangers in good condition. 6 ft short wall with cold a/c.
$25,300. Lake Charles, Louisiana.


Call Stacy at 601-749-5660, or click the REQUEST button below to email for more info on this trailer.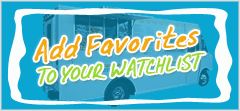 Login to Inquire Online
Call: 601-749-5660
Customer Experiences
11/04/2009

April at 4Mega Vending is the best. I had a time frame that needed to be met and she pulled it off. All she said she would do she did. I will always and only use april in the future. Thanks again

James
Long Island NY

10/28/2009

Your web site was very helpful. I was able to create my own web sale ad on your site by following your clear directions. The staff at UsedVending was attentive to my needs ; and responded to my questions promptly. Thankyou for making the sale of my vending machines complete. I highly recommend your service to all in need.

Tuscon, Arizona

09/07/2017

Used Vending was fantastic! I was able to sell my machines at a fair price in a relatively short period of time. The customer service was excellent and the lady I spoke with offered me some excellent advice about setting a price on my machines that would enable me to sell them quickly while still getting a reasonable amount for them. I highly recommend this service!
Ed Gedney,
McKinney, TX

08/09/2011

Stacy Sweet made a sweet transaction and great deal for me with seller. He saved my life because I need a machine for a high traffic location and I would have lost it if it wasn't for usedvending.com, Thanks again Stacy.

Precious
Wilson, NC

06/23/2015

I recently purchased a vehicle from USEDvending.com and it was a terrific experience! Melissa was very efficient and professional. My questions were answered immediately which made the decision process very easy! Once I decided to purchase the vehicle the paperwork and entire transaction was seamless and very professionally handled. I felt like I had an advocate in this deal instead of the uneasy feeling of purchasing through an un-vetted vendor. My vehicle was delivered on time and in the condition as promised. Thanks Melissa!
Karen Morse
Ben & Jerry €'s Ice Cream
Washington, DC

05/07/2017

I really didn't know what to expect. I had never purchased any thing from Used Vending in the past but they had several listings that met my needs, so I called. I was connected with Grey Molyneaux who instantly understood my expansion plans, budget, and timelines. His guidance through the purchase process was painless and gave me the confidence that I was working with the right people. Grey worked hard, and got the machines I needed. He stayed in constant contact with updates and new opportunities, ultimately getting the price I needed in the time frame required. My expansion plans will continue through the end of the year, and I will be coming back to Used Vending and Grey Molyneaux confident that they will help turn my needs into a reality.
Steve Rockwell,
Milford CT.

03/28/2016

Julia, I just want to thank you for all the help you provided in the sale of my trailer. You really went above and beyond in finding the right buyer for me. If I ever had anything like this to sell again, I would be sure to contact you first!
Thank you,
Melanie DeRoehn
Warren, NH

06/30/2011

I was very pleased with the location service and Stacy Sweet!! It really saves time and money to use this service. Great Job!!!
Thanks,

Darrell, SC

02/07/2012

Calice has been great!!!!

GT,
Houston Texas

02/08/2012

I could not believe what a great job Calice did within a short period of time by selling my used vending machines week after week. I recommend Calice and usedvending.com for anyone who wants to buy or sell their vending machines at fastest time and within the best market price.

Okey, NJ

10/25/2009

My experience with 4 mega vending was awesome! I contacted several other companies and it took several days for them to contact me.I emailed and within a few minutes I had a response. April Hurd is very professional and wonderful to work with.

Thanks
Monica Reece
Harris Jobe Elementary PTO

11/15/2010

Ms. April is a great asset to your company, I congratulate you all for the wonderfull services you gave to Millennia Atlantic University.

Doral, FL

02/16/2011

Thanks Melissa. Your're the greatest. I will always recommend Usedvending.com and Melissa for selling and buying vending machines. You get the job done! Thanks again for the professional and prompt service.

Julia
Marrero, La.

08/27/2009

I have been in the vending business for nearly 5 years and only had moderate success until Melanie, at 4 Mega Vending, offered me the perfect location. The location proved to be my most profitable location of all times and I am forever grateful to Melanie for all of her assistance. She is the reason why I have been so successful in the vending business while many others have failed.

Atlanta, Georgia

04/13/2017

Wendy, Thanks again for the awesome job and help with finding me the perfect trailer. It is better than advertised and you and your company gave superior service and always were very prompt with return phone calls. If ever needed I'll be back.
Sincerely,
KP,
Collierville, TN

11/11/2014

Hi Crissy, Just wanted to thank you for all your help with the sale of my Ice Cream trailer. Everything went very good and quick. I would for sure use your web site to sell items again. I was very surprise how easy everything went and hassle free. thanks again.
Best Regards,
Paul Angerami
Phoenix, AZ

05/16/2017

Good Evening Bradley/USEDvending.com- We want you to know how much we appreciate the outstanding customer service you have given us. We want you to know that we sincerely appreciate your responsiveness. We cannot express how pleased we are with the outstanding service your company provides. We love the trailer and will recommend your company to our friends and family. Thank You!
Harry and Barbara Carter,
Baton Rouge, LA

06/21/2016

Julia,
Thank you so much for helping with the sale of our food truck. From the time you contacted me with a buyer until the purchase was handled very smoothly and professionally. The organization of paperwork was extremely helpful. The ability to post and maintain the listing is very helpful as well. Being able to monitor views of the truck, allowed us to make changes to the listing and price that made the truck more marketable.

Michael Jennings,
Avon, Indiana

02/02/2016

Hi Wendy, I had a really good experience, you guys provide a great service. Thanks again!
Felix Kazantsev,
Brookline, MA



10/16/2009

Couldn't have asked for a better person to work thru to get what I wanted done.

Ed in Texas

03/04/2015

Used Vending .com was a great way to sell our vending trailer. It was minimal work on our part, and the only time we were contacted was when we had a buyer. Melissa Powers was wonderful to work with too. She was always positive and upbeat when we spoke to her. Our trailer was only on the site a short time before it sold. I would recommend this site to anyone looking for a vending trailer or selling one! Good Job usedvending.com
James Myers,
Macon, MO

07/10/2015

First I would like to thank Melissa Powers. Melissa made it comfortable and walked me thru the process, I admit I was excited and nervous at the same time. As the process went and I was closer to getting my truck and I talked to the seller, I felt myself getting closer to my dreams. Finally the day I was going to get my truck Melissa checked and made sure I was safe and confident about my decision. I met with the seller and his family which were great, he showed me the truck, I was amazed everything is what i prayed it would be. We went and handled our business and now I own my food truck. #closertomydreams
Tanner Scott,
Baltimore, MD

09/12/2009

We were very pleased with the quality and timeliness of communications with Usedvending.com. Melissa was knowledgeable, personable and facilitated our purchase with great professionalism. We were pleased with the machines we purchased and the savings we received compared to other purchases we have made. The website is easy to navigate and the email updates are very helpful.
Dannella Burnett
Oakwood Vending
Gainesville, Georgia

Just a quick note to let you know that Melissa Powers made my first food truck purchase a little less daunting! She was easy to get a hold of and was always there to give me advice and any information that I needed. I highly recommend Melissa to help with your food truck purchase.

Steve Flinchpaugh,
Katy Texas

01/14/2015

So very, very, very, glad I found Usedvending.com. I was in the market for a food truck and there were TONS to pick from, it took me forever to narrow a list to ask about. The staff are so friendly and personable and helped me find the perfect truck for me and I couldn't have gotten a better deal on such a quality vehicle. The sale went smoothly and the seller was very helpful too. We're almost ready to hit the streets with our company. I highly recommend this site!!
Andrea Lewis,
Lucasville, OH



09/03/2011

Melissa and team made selling my vending truck quick and easy.
After using craig's list and not getting any serious buyers, this is the way to go and I got a better price.
thanks so much Chris T

08/01/2017

I would like to thank Melissa and Used Vending for a quick and smooth transaction. Melissa was quick to get all of my questions answered, and went out of her way to get the seller lined up with me to have the trailer delivered to our location. I would definitely use them again.
B. Jury,
Crown Point, IN

07/27/2011

I bought the perfect concession trailer that fit my needs through your service. Mellisa Powers was awesome awesome help. She made everything very easy and she is a pleasure to work with.
Thank you so much for a job well done.

Dan Mullin / Mullin's catering
New York

08/21/2014

Hey April, The vending machine has been a great addition to our theatre. The actors love it because I am able to control what we put in there. Unlike most vending machines we have no candy bars, instead we have healthier options like trail mix and freeze dried fruit. We can also put in some unusual items that actors seem to need frequently like black socks, deodorant and tea bags. Everyone laughs about it, but they are using it like crazy. We are kind of weird I know, but thanks for helping us out! The machine is great and sales are strong. I anticipate that the machine should be paid off with in a year and a half or so and then it's all profit! Thanks so much,
Kal Poole,
Helena, MT

07/08/2016

This is a great site! I got exactly what I was looking for, and it was not too far away.
James Tanner,
Toldeo, Ohio

08/12/2015

I would like to thank you for your special attention towards my needs to get my vending business start. Your quick responses to help out has been comforting while I am trying to start a new venture. Thanks so much.
Joey Hart,
Kew Gardens, New York



02/20/2017

Hey there April...Just a quick note of appreciation for the successful handling the disposition of my vending machines. In fact the whole team deserves some praise as everything went off without a hitch. Having purchased these particular machines through UsedVending.com a few years ago with ease and convenience, it was only natural to use you again to sell them.The buyer was awesome and his crew arrived to pick them up ahead of schedule! Off to the bank now to deposit the check!!
Thanks again,
Chris Thompson
Santorini Vending Co.
Richmond, CA

02/01/2010

Good Morning Melissa,
I just wanted to thank you and Cheryl for all your help with this transaction. You both are knowledgable, friendly, and timely with answering my questions. I would higly recommend UsedVending to anyone!

Kay,
Wisconsin

11/20/2011

I am very pleased with Melissa Power's successful handling of vending machine sales for me and am continuing to work with her to sell the rest of my equipment. She was instrumental in negotiating a price which expedited my sale.

Sincerely,
Buz Rummel

01/25/2010

Made the best decision of my life choosing usedvending.com to represent me in my first vending machine purchase. My agent April was amazing in every way! Her dedicated loyalty to me as a customer (buyer) has moved me to write this testimonial. Where in this society most people tend to take things for granted, she went above and beyond to see that i was satisfied with the end result of our transactions. This combined with her concerned follow up has impressed me immensely.I would highly recommend Usedvending.com and her as an agent to anyone looking to buy a vending machine.

Sedona, AZ

Dear Eric, Your Great! I want to purchase 10 NEW Vendstars complete with stands. I'll tell you Eric I will definitely be doing more business with you in the future...you shall see. I have searched the entire net practically looking for not only good prices but someone I felt comfortable working with and BINGO....I found You!
Thanks Eric
Sincerely, Shirley D.

12/02/2010

Melissa - I want to thank you and your company for helping me sell my vending machines. Back in the Spring of '10 I decided I wanted to unload my machines. I had no idea how I was going to do this, an add in the local paper a notice on the bulletin board in my local supermarket I was stumped. I googled used vending machines and your company was the first on the list. I listed my machines in May, sold 4 in August and 3 in November. Thank you for all your hard work you were wonderful to deal with and I wish you a very happy holiday season and a prosperous 2011.

Thank you again,
Jean
New Jersey

08/10/2010

Thanks Malissa,we appreciate everything you did to assist us in making our dream come true.You made this process simple from beginning all the way to the end.
Businesses need more professional, friendly and enthusiatic people like you. Keep up the great work.


April and Antonio Rodgers

05/16/2012

Working with Melissa, was a first time for us, with UsedVending...and it was a great experience. Would not hesitate to use them again or recommend this company to others. Our sale went really well...Melissa guided us thru the whole process. Good Job! We were very pleased with our sale!

Lou & Jan,
Montana

03/07/2017

Hello Wendy I like to thank you for your wonderful service. Buyer and seller are 100% satisfied with our experience in the transaction. I thank you again and in the future I will used your services. Best.
Adan,
Carson, CA


04/30/2014

I had dealt a lot with Melissa and Stacy through the selling of my concession trailer and equipment. Both of them were on the ball when it came to serious offers about my stuff and Stacy was the man who got my stuff sold. He made sure that the gentleman who was interested in my stuff was extremely serious in purchasing it because the gentleman was 3000 miles away. As a result my stuff was sold and I am extremely satisfied with the work that was done in getting it sold. Thank You Melissa and Stacy for all your hard work.
Sincerely,
Patrick
Riverview, Fl

01/14/2015

Melissa, Thanks so much for securing and qualifying a buyer for our concession trailer. I appreciate the professional and prompt service you have provided on behalf of USEDvending.com. I would have never imagined that a buyer could have been secured from Nantucket, MA. Very happy I listed our trailer with USEDvending.com.
Sincerely, Larry K Thompson
Players Club, Lake City, FL

10/03/2010

When I put my concession truck on USEDvending.com I thought that I might get a call or two. Boy was I surprized!!! In just 3 weeks my truck has been sold due to the hard work of Melissa Powers. She was very professional and consistant in persute of finding the right buyer for my unit. I would like to thank you Melissa and USEDvending.com for a job well done.

Kentucky

11/11/2014

My experience with usedvending services was excellent. I felt very comfortable and informed through the whole process. I'll definitely refer my business associates and use again in near future. Thanks again Traci for all your help!
Chemmonia McArthur,
Virginia Beach, VA

04/21/2016

Hi April € Thank you for all your help and your follow up. It was a pleasure and a great experience working with you and your company. This was my first experience purchasing items from your company and you made my experience very comfortable and easy. Thank you for all your help.
Robert Lopez,
Rancho Viejo, TX

08/18/2011

I was very pleased with my interaction with Milissa Powers during our lastest purchase of two vending machines. She was easy to talk with, has a great sense of humor, and completely competent in helping us close the deal. Thanks Milisa.

Gerald Landry
Rose City Vending
Pasadena, CA

10/01/2009

Our experience with USEDvending and their representative Melissa Powers, has been very positive. Melissa demonstrated professionalism by being very informative and timely with both of our transactions. We won't hesitate calling USEDvending.com in the future.

Diane and Dave Davis
Tuscaloosa, Alabama

08/12/2009

I was happy to know that our company was provided with the service that others could not fulfil. At first I thought that we weren't going to be able to get a machine but they came through. Thank you for the hard work.

Van Nuys, California

10/20/2009

april did a exceptional job for me a true professional all the way good job april. i will buy more from her when i need them.

Pea Ridge, Arkansas
See Hundreds more or Write your own...