ALABAMA
Alabama Trailers & RVs for Sale! Buy or sell used trailers in Alabama – we have used RVs, used horse trailers, used camper travel trailers, used heavy equipment trailers, used dump trailers, used livestock trailers, etc… AllUsedTrailers.com brings Alabama safe, easy transactions of buying used near you!
DISPLAY OPTIONS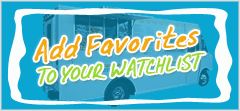 Login to Inquire Online
Call: 601-749-5660
Customer Experiences
11/15/2017

I will like to say I love using UsedVending to sell my Trucks; my experience was excellent , great customer service and customer satisfaction, the representative Tonya Wages help me during the process of selling my truck- very professional , I will definitely do more business with this great site service.
Sincerely,
Angel Lorenzo
Williamsburg, VA

07/23/2015

Our experience selling our food truck on USEDvending website was great! It allowed us to expose our food truck to new markets easily. The selling process was also painless and great.
Patee Green,
Gainesville, FL

10/07/2014

It was great having my equipment advertised through your company. It sold fast and easy. I'm going to let others know about how great ya'll are.

Lauri Day,
Columbia, TN

08/24/2010

We purchased our equipment back in 2007 through Mega Vending, April was our sales contact.2010 we decided to sell this same unit through their affiliate, Used Vending. We all know making the purchase is exciting but their are times when the sell can be more than challenging. This particular challenge was overcome by a sales representative that worked through the issue, communicated clearly, and resolved our issue. It takes an experienced staff and strong company to work through these challenges and ultimately make both parties happy. This is that kind of company.

Thanks again April

P Webster/ P an B Petro

10/09/2014

I want to say thank you to usedvending.com. They were very helpful in the selling of my vending machines. It's organized very professionally.
Omar Williams,
Raleigh, North Carolina



04/23/2012

Melissa was most helpful in answering the "ton" of questions I had asked of her concerning my concession trailer. She would also respond as quickly as possible to my messages left for her. Melissa and her company are very professional. The transaction went smoothly and I will recommend Used Vending always for their great service! Thanks Melissa!

Jay Miron, Iuka MS.

09/29/2014

I just want to thank you so much, you helped me so much. Your professionalism was a breath of fresh air for me. My son and I had a great trip getting the truck. If I ever need anything else I will go to you for what I'm looking for. Thank you again so much.
Sincerely, Laura Dumas
Sioux Falls, SD

04/15/2014

I've spent months looking for the right food truck- April saved me so much time and effort, she found me what I was looking for in a week. I'm very happy I went the usedvending.com way. Better then sifting through the crazies on craigslist!
Jason Masek,
Corpus Christi, Texas


06/13/2012

I would like to say Thank You to Calice for finding a Buyer for one of my Vending Machines. The paperwork and transaction went smoothly. I hope she can help find buyers for the rest of my machines.

Kathy S.
Louisville,Colorado

02/19/2010

Would recommend UsedVending.
What a pleasure it was to work with Melissa. We went into his process not knowing what to expect. Melissa walked us though each segment of the deal and was totally helpful in every way. We were also working with a time factor, us being on the west coast but she worked it out. I have enjoyed working closely with Melissa and would highly recommend the company to my friends and family.

San Francisco, CA

09/30/2010

April worked very hard between me and the seller. I found her to be very professional and got back to me in a timely manner. April is also lighthearted and makes her job seem effortless which I'm sure it isn't. I would and will do business with April and USEDvending again. I give them 100% on a job well done!

RHY
Port St. Lucie, FL

07/23/2014

Stacy, I am very pleased with the service and helpfulness of those at usedvending.com. Every conversation was personable and informative. The sale went off with out a glitch! Paper work was minimal. I even had my lawyer check over the three documents before signing. I was assured that all was in order and legally accurate. The only thing that could have made it better for me would be if the monthly notice encouraged a lowering of the price over time if not selling. It only makes sense, but under the pressure of difficult life circumstances I never thought of it on my own. I great experience and a great company!
Michele Robinson, PA

02/20/2018

Yes my experience with Used Vending was wonderful. Wendy reached out to me promptly, we were able to see the unit we were interested in that day. As well as she was able to get us a lower price which made the viewing and purchase less stressful and quicker. Thanks to Used Vending we are on our way to bring a new adventure in the Food Truck industry.

Shelly Hiser/ Weyer

10/07/2009

Melissa did a terrific job at getting my machines sold. I would recommend her any day!!!
Thanks so much Used Vending...
Linda Schoeffler

Sacramento, Calfornia

08/22/2009

Hi April, I wanted to get back to you.

In my dealings with you I have been very impressed with your customer service skills and your willingness to go the extra mile. Your attitude is both refreshing and greatly appreciated. I wish every business that I dealt with had your friendly demeanor as well as your knack for following up.

Thank you so much for all of your extra efforts. It is my pleasure to work with someone who is so committed to helping their customers.

Best regards,
John
West Haven, CT

01/08/2017

Excellent customer service from Wendy. Big attention to details and to do things really by the book. I am very satisfied with this service that exceeded my expectations. Thank you!
Thomas Nieves,
Fort Mill, SC

05/25/2011

Hi Vanessa,

I am EXTREMELY pleased with your site. You give me (the small businessman) an opportunity to expand and compete. My experience in dealing with you and everyone on the site has been Great!

Thanks,
Vending for All
Tennessee

04/15/2009

We had a positive experience in dealing with both Melissa and Cheryl at Used Vending while selling our hotdog cart. We had placed our cart on craigs list and had not received any responses when I did some research and found Used Vending online. I first talked with Cheryl, who helped me with providing a write-up, pictures and made suggestions on the price. After not receiving any calls, I called Cheryl and asked for suggestions - we lowered the price and waited patiently. Not much longer and it was sold. It was great to let someone else deal with the customer and negotiate and all we had to do was show it and let them take it home. If there is a need to sell concession equipment in the future, we will definitely call Used Vending and specifically ask for Cheryl and/or Melissa.
Thanks.
Starla Peninger
N. Richland Hills, Texas

01/31/2011

I want to thank April for all her help. I came into purchasing a vending machine with very little knowledge. She was extremely helpful and never pushy. We plan on purchasing another machine this year and I won't even bother looking around. I'm going straight to April.

Harrisburg, PA

04/08/2011

Had a great experience with Vanessa (Vee) leading the way - she contacted me regarding conditions of sale and from there the transaction took place in less than a week.

Dee, Michigan

07/13/2010

Melissa Powers has helped us to find used equipment twice now and she has been quick to get responses both times. We really appreciate her help and will continue to use her resources in the future.
thanks so much.
Phyllis Long

08/12/2014

Hi, I am writing to let you know that my experience with Melissa was awesome, she really knows what she is doing and made it incredibly easy and fun. Thank You and I'm enjoying my new food trailer!!

Rylee Mac's Market & Cooking School,
Durango, Colorado




01/13/2010

I wanted to thank you for a great machine . thanks to all of you. Have a great 2010

Ray,
GA

04/10/2017

I enjoy selling with your company because ya'll always make short work of moving equipment. Thanks for everything.
Laurie Day,
Columbia, TN


11/04/2015

I am delighted so far with my experience with UsedVending.com. They really know their market and the products, and have provided valuable guidance in how to market my vending machines.
Lee A. Bowers,
Villanova, PA

04/05/2010

I would like to let everyone know how easy and helpful Melissa Powers with Used Vending has been to work with on my purchase. This was a new experience for me purchasing Vending equipment. With her help and knowledge the transaction was a breeze. I recommend them Very Highly, they are professionals at what they do and seem to have fun doing it. Anyone with manuals on Oscars wild ride contact Melissa.

Garry Emmons
Hillsborough, NC

10/06/2016

Usedvending.com helped sell our concession trailer in two weeks' time. No stress and a very easy transaction. And the icing on the cake is we sold it to a very nice couple.
Linda Boles,
Talahassee, FL

12/04/2015

Wendy Byrd was the key to an excellent buying experience with Used Vending. She professionally answered all my questions about the equipment I was interested in purchasing. She was key in making the deal happen during negotiations. Thank You Again Wendy.
Tim Mangum,
Woodbridge, VA


10/02/2017

The sell of our trailer thru UsedVending.com was a very good experience. Melissa Powers was very helpful and prompt! She found a buyer very quickly and made the transaction pleasurable. Melissa was easy to work with and has a great since of humor. But the main thing was she got the money we wanted, and that's exceptional!
Mr & Mrs Kincaid,
Arkansas Pass, TX

08/12/2012

Dear Melissa, Thank you so much for all your time and help with the used trailer from Brooklyn. You provided us with all the information we needed and were able to answer all of our questions when needed. The buying of the trailer this weekend went very smoothly and it looked exactly like the pictures and had all of the amenities which were listed. Once again thank you for your time, information and all of the knowledge you were able to help with throughout this process.

Sincerely, Jennifer, Christopher & Dominick
New York

05/04/2018

Our experience with Wendy at UsedVending will be remembered fondly. With her help we closed on a most impressive 16' food trailer a couple months ago and needless to say have been extremely busy "getting the show on the road". We live in rural Alaska and the selection of ready-to-go Food Concession trailers up here is limited to say the least. Without the help of UsedVending the process of finding and comfortably closing the deal on a good trailer from far-away is just about inconceivable. We've all heard of the dangers involved in long distance Craigslist buying. The scams, the lost money, the product not being as-advertised. . . With UsedVending in the deal, a buyer has fantastic coverage of almost every Mobile Food Concession rig in America on a single site. But, the best part is the confidence of a reliable company holding your refundable down payment for two weeks while you have a chance to check out the purchase to be certain it meets expectations. We can't emphasize enough how comfortable that made the transaction. We were able to cement the deal quickly, then hunt down a pickup to pull our new trailer home to Alaska from Florida. The trip went well as a drive up the Alcan in March with an 8000# trailer can. We are set to open for business in Mid-May. Just about every minute since we flew to look at the trailer has gone into preparation for that day. Hindsight being perfect, we wouldn't want to have gone about it any other way. Thanks Wendy!

Tom Kluberton,
Talkeetna, Alaska


10/09/2012

Hello Melissa, I know it's a bit late but I wanted to say Thank YOU !!! for all the work you did for us on the last transaction. The machines are in great condition and working great. Excellent buy!!! Thanks Again!!!

C. Velez
Jacksonville, FL

03/23/2000

My experience with Eric Normand has been nothing but good. Have had two separate transactions with Eric and both have gone quickly and as represented. Received both payments promptly by mail with a check and no problems.

Ron
Texas

08/06/2014

We wanted to thank Stacy Sweet and USEDvending for helping us to sell our ice cream truck. We had dealt with several potential customers with no results, Stacy Sweet made the sale smooth and pleasant and we will use USEDvending again in the future. Thanks.
Dan Parks,
Live Oak, FL

04/10/2018

My experience with UsedVending has been outstanding!! It's been such a simple process to sell my machines and the people I have worked with these past couple of years has been outstanding!
Shari L.,
Hatboro, PA

11/07/2014

Hello Usedvending staff/Calice. My experience with usedvending during my recent purchase was great- there were no problems on either end and i enjoyed every step due to having no problems along the way. I will in the future look to usedvending for my purchases as I build my vending route and have recommended it to friends as a great place to purchase from. Thank you,
Romel J.
DJB Vending
McKinney, TX

01/12/2011

1/13/2011

I would like to thank Vanessa for all her efforts and due diligence in seeking out a quality vendor for our company. I have had no success on my own locating vending company's that can support our small company needs. I was at a point of giving up when I found and contacted 4Mega Vending. My search was over. Vanessa took over and began searching for me. Vanessa was always their for me explaining the process and working very hard to find vendors. The calls came in. It was great. My labor intensive project just became easy. Due to Vanessa, I believe I have found an excellent, quality, vendor. I am excited about our choice. Vanessa made my search very easy, smooth and pleasant. I just cannot say enough about Vanessa. My experience has been exceptional. I have dealt with many companies and many individuals during my career and Vanessa knows what customer service means.

I highly recommend 4 Mega Vending to anyone who is looking for assistance in locating vending services.

Susan
McKinney, Texas

09/19/2014

Melissa, I would like to thank you for our experience in dealing with UsedVending.com. It was a pleasure working with you and the service you folks provide is very beneficial. You bring willing sellers together with willing buyers and the transaction can happen relatively very quickly. The gentlemen that I worked with was a pleasure to deal with, he was obviously motivated to make the sale happen. This was indicated very quickly after you had asked him what his best price was and then he got back to you right away with my many questions. For what we were looking at a mobile brick oven trailer we were able to get into a turn-key business for literally 1/3 of the price vs having to go with brand new. Huge thanks once again for all your help and putting this together.

Kindly,
Michael Tereza,
Elk Grove Village, IL

10/17/2012

06/11/2009

Dealing with April was a pleasure- she was always up front and truthful through the entire deal. The soda machine has saved the company and employees big bucks- whcih equals great morale. Its the small things that make a difference in business deals and Mega Vending understands that. Thanks April.

James L. Sprayberry II
Mountainside, New Jersey

03/21/2011

April from UsedVending.com was very helpful in the purchasing of 6 soda machines. She wanted to make sure I got a good deal and helped out in any way she could. I was impressed with how nice she treated me even though we had never worked with this company before. I would definitely deal with April again. Thank you April!

North Dakota

08/18/2014

Just a note to let you know how much I appreciate you sending me qualified buyers for my vending machines. It has been a pleasure working with you.
Thank you,
Jimmy Constant, Baton Rouge, LA

11/09/2016

Thanks Bradley for helping us sell our food truck. I had it listed with your company for less than two months and started getting hits fast. Your team was extremely nice, professional and helpful. If there was a question, you were right there to answer. I would definitely do business with you again and I thank you for helping me sell my truck.
Respectfully Submitted,
Dan Deramus,
Winter Garden, FL

10/14/2014

Crissy, Thank you for the great service. Within days of posting my listing, I had several offers. I cannot believe how quickly my truck sold with zero hassles to me!
Betsy Jervis,
Chicago, IL

09/29/2010

I am very pleased with USEDvending.com and how easy it was to sell my concession trailer thru them. Melissa was a real joy to work with. I would defintely use them again!

Les Savage
Savage and Sons LLc

06/13/2011

Thanks, Mr. Stacy Sweet, for the great combo machine account! The leads and accounts that you & Vanessa have turned me on to has almost wiped out my stock pile of equipment in my warehouse, and that's a wonderful thing! I look forward to each & every transaction with you and 4 Mega, you guys make it so unbelieveably easy! Thanks again!

Victor Carter
Mr. All Worlds Inc.
"Vending Excellence"
469-231-7255
www.mrallworldsinc.com

08/20/2009

I had a very positive experience working with Melanie. She was able to answer all my questions and responded to my emails in a timely fashion. I look forward to working with her again.

Mickey
Youngstown, Ohio

11/26/2011

Melissa Powers, lately When someone asks me about Customer service, I tell them to just call you and just talk to you. You went above and beyond to make sure that everyone is happy. I Thank you for assisting me in buying a vending machine and making sure I was satisfied. I am looking for another one, after I start this one. Better believe you will be my contact.

Thanks,
Matthew M., LA

02/15/2011

It was great to work with Melissa throughtout the process of me buying my soft serve ice cream trailer. She was very helpful and quick to respond to any questions or emails i had for her. I would definately use Melissa again in the future she made it very easy to make the transaction of my concession trailer.thanks noonans concessions

Wakefield, MA

10/12/2016

Melissa,Thank you so much for handling the sale of my food concession trailer. You did a great job and it sold faster then I expected. It was a pleasure working with you!

Thank you,
Denny Conrad
Springfield, Mo.
See 1600+ more or Write your own...