ALABAMA
Alabama Trailers & RVs for Sale! Buy or sell used trailers in Alabama – we have used RVs, used horse trailers, used camper travel trailers, used heavy equipment trailers, used dump trailers, used livestock trailers, etc… AllUsedTrailers.com brings Alabama safe, easy transactions of buying used near you!
DISPLAY OPTIONS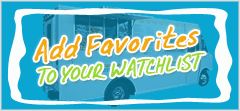 Login to Inquire Online
Call: 601-749-5660
Customer Experiences
I would like to commend April on her pleasant attitude and on her quick response to my questions concerning my vending cart that is on sale on your site. I have talked to her on the phone and when I hang up I have the answers I was looking for and a smile on my face because of her cheery personality!!
Dallas

Pueblo, Colorado

06/07/2008

USED VENDING, I wanted to express my appreciation for the great job that Used Vending has done for me. I am just starting into the vending business and have spent hours and days doing research to be certain I can make a profit and it is something I would be happy doing. Your company and especially Mellissa and April have listen to my questions and shared their experience and knowledge with me. They have cautioned me in areas that I need to understand and have guided me with helpful advice that will increase my probability of success. I have just bought my first 17 vending machine and will be buying more as I learn this business.The machines were as advertised in excellent condition and dramatically less than a new machine. I know I will increase my probability of success because of the information that Mellissa and April have shared with me. I sincerely appreciate the time and effort your company has extended in helping me to get into the vending business

Thank You
Carlton Faulconer
Lake Forest, CA

07/10/2014

The sales crew at USEDvending.com have helped me sell dozens of trailers. They are top shelf, best group of sales people I have ever worked with. They cover all details and make sure everything is in place for all involved. I would trust them fully and completely to assist with any sale. Great group!
Thanks for all your help,
Stuart from Texas

04/17/2011

Thanks Melissa. It was a fast and smooth deal.

Toronto, Canada

03/31/2013

I been trying to sell my giant gum ball machine for two years and had no luck until this website. Great service where they get you money for your old equipment. Thanks to Amanda Haynes for helping me from beginning to end. They are part of BBB and have no bad comments. I highly recommend them to help sell old products.

B.W.
Lake Worth, Florida

08/23/2012

Thank u Used Vending for a easy way to get what u need with no hassle. I give y'all two thumbs and toes up!!!! Keep doing what u doing and a special thanks to Calice for working that deal out for me. Take care will be using used vending again soon!!!!!

Mike W( make that money)
Pittsburgh, PA

10/13/2010

I just wanted to thank April for helping me get a great deal on a new combo machine. She was very helpful and made the whole process extremely easy.

Regards,
CT Vending

06/13/2012

I've sucessfully purchased candy machine lots twice from Usedvending.com and both times have been very pleased with the results. Calice is GREAT to deal with. My last deal only worked because of her persistence and understanding. I highly recommend both the site and Calice!

Eric
Manassas, VA

04/11/2012

Another easy, smooth sale from Melissa! She was able to quickly find a solid buyer, who made an offer, and in 6 days we had finished negotiating, done the paperwork, and he had picked up the concession trailer! Thanks Melissa!!!

Jill & Al,
North Carolina

04/07/2014

I wanted to say Thank You to Stacy Sweet at USEDvending.com. Stacy made my purchase nice and easy. Thank You again for all your help!
A. W.
Soperton, FL

We looked for a trailer for our food concession business for over a year. Melissa helped us find exactly what we were looking for and walked us through every step to finalize the purchase with the seller. She is very knowledgeable and professional, we would recommend used vending and Melissa to anyone!
Kate Meek,
Calimesa, CA

04/08/2011

Wow! Vanessa, you & your colleagues at 4 Mega have done it again! The new account that you referred me to is awesome! It's amazing how easy you make it for me, you do all of the locating work and I just meet and shake hands with the contact & roll in with my machines! What a winning combination! I appreciate you, Vanessa, and your co-workers at 4 Mega Vending.com, and I look forward to conducting lots of business with you! Thank you!

Victor Carter

10/28/2009

Your web site was very helpful. I was able to create my own web sale ad on your site by following your clear directions. The staff at UsedVending was attentive to my needs ; and responded to my questions promptly. Thankyou for making the sale of my vending machines complete. I highly recommend your service to all in need.

Tuscon, Arizona

Again, a great experience dealing with Melissa Powers and UsedVending.com for the sale of our concession trailer. She located a buyer quickly, and the transaction went smoothly. The whole thing took less than a week! Thanks Melissa, we will definitely use you again!

Jill K.
Miami, FL

06/04/2016

I had an awesome experience with usedvending.com. I contacted Melissa Powers and she was always quick to respond and extremely helpful locating and negotiating a concession trailer for my new business. I plan to expand and I will definitely contact her through this site again!
Lori Culver,
Roanoke, VA

03/01/2016

Every part of our journey with your company went without any problems, only super customer service by our rep. Melissa Powers!
Joe Keel
Palm Harbor, FL

10/28/2009

April has been SO helpful to me! I have only just begun to get into the vending business with my very first machine, but April has been EAGER to help me in my search for materials, information, and parts for my first machine! It's great to know that there are still great professional customer service people out there! In a time when you never know if you will even get to talk to a real person when you contact customer service, it is a pleasant suprise to talk to someone who wants to help you solve your problems!
Thanks April!

Plymouth, Minnesota

11/07/2016

The transaction went very well with USEDvending.com. Would be happy to use there services again.
Adam Welcher,
Texarcana, TX



02/07/2012

Calice has been great!!!!

GT,
Houston Texas

09/04/2009

April,

I just want to thank you for guiding me in this new adventure.

I will recommend 4Mega Vending to any vendor. They walk you through all the information you need to know to get familiar with the vending machines; from your first call, up to sales, customer service and technical support, they will answer all your questions and will give you peace in mind. I had a freight damaged machine when it was delivered, but they took care of it right away. Thanks again for your great service.

Houston, Texas

09/23/2015

I worked with April and getting vending service for our two locations. She was very prompt and followed up.
Sue Weaver
Hamilton, OH

06/24/2013

Calice you were great!! It was as easy as 1 2 3 to get my machines sold. Usedvending was easy to work with and there was no pressure to accept a price. Thanks so much!! God Bless You.
C M
Adel, Iowa

02/13/2009

Wonderful Customer Service...all my questions were answered in a timely manner...she was wonderful!!.....a true asset to your Company!!! Way to Go!!

Lisa Thurman
Prudential Gary Greene
Friendswood, Texas

02/23/2011

With Melissa's professional guidance my selling experience went very smoothly. It was a delight to work with Melissa. Thank you.



Pittsboro, NC

07/18/2015

My experience was wonderful with this company, thanks for the key to my future.
Stacy Clark,
Wedowee, Alabama

08/03/2015

The Used Vending team was awesome to work with. Their communication and updates throughout the process was exceptional. They paired me up with a buyer all the way across the country and the transaction went very smooth. I would advise anyone looking to buy or sell a unit to consider using them. It was too easy and I walked away from the deal with my asking price. Thanks Used Vending.. Cheers!
Nathan Thomas,
Dallas, TX

03/07/2011

April Hurd and UsedVending.com have been very helpful to me in selling my vending machines. It is a pleasure working with April. She is very knowledgeable about the products and extremely courteous and professional. Thank you so much April for all your help.

Sanger, CA

05/16/2014

Hi Calice,
My experience with UsedVending.com was fantastic. I was amazed at how quickly I was placed with a serious buyer. Both the buyer and I trusted you as a intermediary and we were able to conclude a large transaction with zero complications. I could not have been happier.
Thank You So Much Calice-
Dan Schwab, IL

09/18/2015

I would recommend usedvending.com to anyone! The customer service was exceptional! If you are in the market to buy or sell new or used vending, this is definitely the place for you. Jennifer was an absolute pleasure to work with and I thank you kindly for helping me sell my concession trailer!

04/30/2014

Thanks so much for helping us sell our food truck! It was quick, easy and everyone was happy with the sale price.
C.P.
Carbondale, IL



01/07/2014

April,

It was a pleasure doing business with you and your company. The product was delivered as scheduled. One again, Thank you for all of your assistance!

Michael Winn
Better Choices

06/03/2014

Usedvending.com was the easiest and best way to sell your equipment. I will be using you again! Thank you for your help.
Eric, Arkansas

01/19/2011

Thanks Melissa, your assistance in quickly and accurately listing my machine and identifying a qualified buyer helped my transaction go very smoothly. Your company is truly one of kind!

Darryl RR,LLC
Gaithersburg, MD

03/10/2012

USEDVENDING.COM & MELISSA, 1ST CLASS OPERATION. I was so lucky to have found Used Vending and Melissa Powers to help me with the sale of my food truck. Melissa was very efficient and a joy to work with. She was always there if the buyer needed information to help with the negotiations. Her personality made our phone calls pleasureable. She would be the 1st person I would call if I needed help with buying or selling. I have and will recommend Melissa and Used Vending to help with their Buy/Sell needs. This was a 1st class experience, THANKS SO MUCH!

Bob
El Dorado, KS

03/10/2013

Christina did a wonderful job of helping me find just the right trailer that I was looking for. She kept in touch with me the entire time and even followed up with me after the transaction! Thanks, Christina for a job well done!

Nadine in Colorado

03/08/2010

The help I recieved from April at used vending was great. The profesionalism was there from the begining of the process till the end. I look forward to using their service again.


abdul
MD

12/07/2009

Dear USEDVending-

I thought I would let you know that everything went REALLY smooth for our purchase of our new business adventure. The machine that we bought works great and the customer service we received from our representative, April, was OUTSTANDING. In the future we will always check with April before purchasing elsewhere. Thanks again for everything.

Columbus, Ohio

10/11/2011

I searched everywhere for a operating manual to an older vending machine. I decided to shoot an email to usedvending.com as they seemed like the most searched and reputable company on the internet to see if they could help. Within the same day of contacting them April Hurd responded with a PDF copy of the manual. This has to be the BEST customer service ever, especially considering I did not even buy anything. I will definitely use these guys next time for my vending machine purchases. Thanks again April. Matt, Redwood City, CA

10/09/2010

Hi Connie,
Just a quick note and thank you for your professionalism and ease in doing business with your company!!

Arizona

03/30/2011

I was able to sell three vending machines in about three months thanks to this website service and the wonderful help I received from Melissa. She was very helpful, attentive and professional. I recommend this website service as it is the only thing that worked in trying to sell my machines (I also tried Craigs list, the local newspaper and another website.) Thanks!!! Christine

CA

10/29/2009

I had some used vending machines I had been trying to sell for a couple of years.

Melissa did a great job not only finding a buyer, but facilitating the whole transaction.

When I ran into a big problem at the time of the sale, Melissa took care of it for me immediately.

I had a great experience with Melissa and UsedVending.com and I would encourage anyone to give them a try.

Sincerely,

Karl Hummel
Live Oak, Texas

10/14/2012

It was a pleasure doing business with you. Everything went as promised. Melissa did a fine job. Thank you.

A.P.
Sandwich, MA

02/01/2010

Good Morning Melissa,
I just wanted to thank you and Cheryl for all your help with this transaction. You both are knowledgable, friendly, and timely with answering my questions. I would higly recommend UsedVending to anyone!

Kay,
Wisconsin

06/03/2016

Wendy made this process very easy. I believe God had Wendy find the perfect trailer for me to start my journey. Thank you!
Michelle Bryant,

Houston, TX

06/28/2011

I used your company through Melissa Powers and she has made the purchases go very smoothly,one that fell apart,but with her experiance she moved me along to another purchase which was necessary for me to fulfill my clients needs,Thanks so much Melissa for your great help and caring for my business needs.

Wayne Basilotto,Your Choice Vending

07/25/2010

Used Vending was great in helping me despose of all of my vending machines. The add was great, they helped me negoiate price and did everything they could to bring buyer and seller together. These people are the best.

Dave Clement,
Madison, Alabama

07/08/2016

This is a great site! I got exactly what I was looking for, and it was not too far away.
James Tanner,
Toldeo, Ohio

07/05/2016

Morning Jennifer, I had a good experience with USEDvending from start to finish. I appreciate the friendly service and professionalism that was given to me. I'm very happy with my trailer. I would definitely tell anyone that is looking for a trailer to give USEDvending a call. Thanks!
Monnie Johnson,
Cibolo, TX

02/07/2012

Melissa, All I can say is WOW. You did a great job selling our concession trailer. You made the transaction very smooth. You are a true professional....I would recommend Usedvending.com and Melissa Powers to any one needing to sell a concession trailer.. In my opinion you are the best in the business!!!! Thanks, for the hard work!!

Irby Gilder Cataula, GA

06/16/2016

April was great to work with, especially since it was my first time using Usedvending.com. She helped me to understand how the process worked and to manage my expectations from beginning to end. They will be the first company I go to in the future to expand my business. Thank you!!

Matthew P. Scheidel, President
Top Shelf Vending Company
Vero Beach, FL 32966


See Hundreds more or Write your own...