ALABAMA
Alabama Trailers & RVs for Sale! Buy or sell used trailers in Alabama – we have used RVs, used horse trailers, used camper travel trailers, used heavy equipment trailers, used dump trailers, used livestock trailers, etc… AllUsedTrailers.com brings Alabama safe, easy transactions of buying used near you!
DISPLAY OPTIONS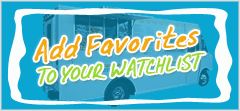 Login to Inquire Online
Call: 601-749-5660
Customer Experiences
12/12/2012

Gini Sweet is the best! She has always been there for me to help me seal the deal. Im glad that she is working there, to help people like me who are expanding their business. She gets an a++++++++++++ ! thank you Gini - I look forward in continuing to grow my business with you. I'm so grateful to have you.

K.B.
Bronx, NY

07/10/2014

Very positive experience. My company's listing of a food truck with Usedvending.com brought a legitimate, qualified buyer to the table. We previously tried online vehicle auction type sites and had no success. Usedvending.com was more of the niche market we needed to sell the vehicle. Great exposure to those buyers specifically looking for food trucks, as was our case. My account rep Melissa was very cheerful and pleasant to work with. Very professional, knowledgeable and explained the transaction process in detail. Online signing of documents was easy & convenient. Overall a very smooth transaction. I highly recommend Usedvending.com.

S.B.
San Antonio, TX



08/12/2015

I would like to thank you for your special attention towards my needs to get my vending business start. Your quick responses to help out has been comforting while I am trying to start a new venture. Thanks so much.
Joey Hart,
Kew Gardens, New York



12/22/2014

Crissy, Thank you very much for your help purchasing our first-ever coffee van! Your patience and understanding while we worked through the process was greatly appreciated. You were extremely helpful in making sure that all of our questions were answered in a timely manner. The care you took making our experience as painless as possible was outstanding. It felt as if you were right there with us the whole time.
Sincerely, Sherri & Jeff Woods
Senoia, GA

12/25/2010

Vanessa Long helped our company with a new location from beginning to end. She was very helpful and gave us all the details...and very honest i might add...even when we had a new company move on my location she was on my side and reassured my location,,,thank so much i will look forward in doing business your company soon!!!

TN

07/08/2015

Calice did a wonderful job with my Smoothie Cart Sale. She was always responded in a timely manner and worked through the entire sale with me. I ran into some complications with the seller but Calice had my back and made sure that the sale was conducted in a professional, safe, and fair manner. I would highly recommend her and Used Vending.

Mustafa Malik,
San Diego, CA

08/31/2011

Stacy has been of great value in locating my combo vending machine. I am not a sales type person and was at a stumbling block in getting my machines placed. Stacy was able to obtain a location for me in a very timely fashion.
Will definitely use you again.

Steve
Portland, OR

03/20/2017

Hi April,Thank you so much for finding a great vendor for us.We were looking for a right vending service who can provide drink and snack machine for our office and you found a great company for us. It happened so easy thanks to your help.

Mina,
Los Angeles, CA

SOLD!!! This is a Great Company. I Listed my Lunch Truck with Melissa Powers, and She sold it right away. Not any of those other cheesey websites. Its as simple as listing it at the right price, and forgeting about it.

D.N.
Forked River, New Jersey

11/28/2010

I want to thank Melisa Powers for her help in finding our catering trailer. She was very professional and thoughtfull of all our needs. We looked at several hundred trailers before finding Melissa. I would recomend her to anyone searching for a safe way of buying a catering trailer. Thanks Again Melissa.

Robert, TX

12/07/2009

Thank you Melissa and everyone else at usedvending.com for all your help! I truly appreciate you selling my concession trailer for me! You did all the work, while I collected the check!

Lake City, Florida

12/07/2009

April was very helpful. She make sure the order is shipping out correct. Great follow up.

Lincolnshire, Illinois

05/10/2017

April helped us move into our new account very smoothly. We are very happy to do business with usedvending.com. Thanks and can't wait to do business with you again!
Dave B.,
Farmington, UT

02/10/2015

I would just like to comment on how pleased I am with USEDvending! This was my first experience and at first I was a little skeptical. They proved me wrong and handled the sale of my trailer very efficiently and without a hitch!!! The staff was outstanding and made the transaction very smooth and easy for a first time seller. Thank you Crissy for your patience and great customer service! I will definitely recommend USEDvending to others!
Laura Rojas,
Chula Vista, CA

09/25/2011

Melissa, Thanks that was a great deal. As soon as we have these machines placed, I am sure I will be in touch for other great deals. If you do come across another great deal like this one, please feel free to give me a call. Like my husband said, too great a deal to pass on.

Thanks again for thinking of me when this deal came up and I appreciate the personal attention. It was great working with you, your company was very professional and I appreciate the fast turn around.

Thanks again, Denise
Poconos, PA

04/07/2011

I had tried putting our machines on Craigs List and other places but as I was searching for other ways to sell I found your site and it has been the best thing for selling our vending machines!!!

Melissa was the best. She acted like we were her only client and took such great care of us. I have a hard time with computers and finding out how to print all my forms and she walked me thru the steps. You do not find that type of customer service very often.

Just Melissa's voice on the phone made me smile even when things didn't go as smooth as they should have gone. I would recommend this company to anyone wanting to sell their vending machines, especially if you get Melissa as their agent.

Great website and great people!!

Michigan

01/27/2009

April, it seems that it is hard to find someone who is honest and trustworthy in the world today and it makes people leery of buying things online, especially when you have to give personal financial information. Our experience with Usedvending.com was awesome. The person that we bought our machine from was very helpful even after the purchase. I was so pleased to see that the machine I purchased was like new and operates the same. Thank you for being a company of integrity, offering money back guarantees if the machine is not as specified. This was the best experience I have had online.
Sylvia

05/16/2013

The website was user friendly. Easy questions to answer. Received phone call right away. New vendor came out Tueday, 5/14 and installed a machine for us. Very friendly, courteous, and I feel will give us great customer service. Thank you for all your help. The staff are ecstatic to have a working machine!!!

Jnaie Kellett, Executive Director
Oregon

08/22/2012

The process was seamless and easy. I filled in the questionaire online and Gini contacted me the same afternoon. Within a couple of days we had 2 vendors to choose from and were up and running with the vending machines a few days after that. They are a greta resource. Thank You.

T. Dillon
Chesapeake, VA

10/14/2014

Crissy, Thank you for the great service. Within days of posting my listing, I had several offers. I cannot believe how quickly my truck sold with zero hassles to me!
Betsy Jervis,
Chicago, IL

07/13/2010

USEDvending did a great job at selling our trailer; Cheryl and Melissa are wonderful to work with and if I have a future need, I'll go right back to sell or buy with them again! Thanks girls for all you did for us!

EA and Donna Click
Abilene, TX

01/15/2016

Dear Jennifer, Your company must know that all wealth is a product of labor, I can truly say that I apreciated working with you on getting my trailer sold, at times it seemed doing so was a tremendous challenge but you got it done. A business leader has to keep their organization focused on the mission and a leader also has to motivate potential partners to join, as you did, along with Eric your boss. Let me also note you not only worked with me from 9-5, you extended your services after hours, making your loving kindness a pleasure and a joy.
Again I give Thanks and look forward to working with you in the future.

Holy Smoke Mobile BBQ & Jerk
Dennis Pamplin
Lincoln, AL



01/08/2014

My experience in ordering stamp folders via the website went very quickly and smoothly. We received the product quickly also. Will definitely order from MEGA vending again.
P.K.
Knoxville, TN

01/09/2011

For petes steak, if we only listened to Melisa our unit would nave been sold sooner! Great job Melissa and our trailer has a great new home clear across the country in Co., unreal!

11/13/2015

I was very satisfied with the way Usedvending handled the negotiations for the trailer I purchased. Wendy made everything so easy. I will definetly use the service again in the future when planning to purchase a new trailer.

J. Dillon
Roanoke,VA

03/27/2017

UsedVending.com is AWESOME! Sold my trailer to a great buyer at a great price. The transition was fast and seamless Thanks to Bradley and Jenn.
Channon Powell,
Atlanta, GA

04/01/2017

I don't know who to send this to, but I want someone to see it and let them know how happy I am. I've been a personal bodyguard and a club cooler for well a long time I started when I was 17 and at 45 still doing it. Not to long ago me and my wife wanted to spend more time together and enjoy life without the constant potential danger of the job I have been doing for so many years. First we thought of a franchise restaurant. Then a food truck. But decided franchise would still be working for someone else and who knows if it would be what we wanted to do cause even though the job I have might be dangerous we still have alot of free time didn't want to spend even more time behind a counter for not as much money as what we are making already. So decided against that. Then the food truck idea was better but it would be limited of what and where you could park and setup at. Thats when the thoughts of dirty construction sights and vacant parking lots just didn't sit right.

Then one day my wife happened upon the idea of a concession trailer. And instantly I knew that it would be the perfect adventure. Because the sky's the limit. All the stuff we could do and sights we could see and be making us money at the same time. Every body likes the fair and the food. But why stop there you could travel with the fairs are concerts are feativals. Are you could do what we are going to do and that is the trades days and flea markets swap meets and festivals. As far as the trades days there is a huge one every first monday which is that Thursday Friday Saturday and Sunday before the first Monday of every month in canton texas thousands and thousands of people attend. Then the second third and fourth Mondays of the month there are trade days in Longview marshall and Mckinney texas. That is so much money guranteed. And would only be working the weekends during the day. And wouldn't be necessary to do all four. Cause even if you just sold snacks you are probably looking at 5000 to 6000 a weekend easy.But the hard part is finding the right trailer. Has to be quick so money can be made. But you have to find the right one for your needs and the money you have to spend. Well my wife worked magic and found a perfect trailer in everyway.

She emailed Mr. Bradley and that night I did too, not even realizing that we did. But no matter, we was promptly and very professional answered back. Bradley was so nice and understanding with every step he didn't mind that we had to text alot. At all different times of day and night he was always quick to respond and help us. He was able to get the trailer cheaper for us than the asking price. So cool. He was there for us in perfect outstanding service. He made the deal go by so much quicker than expected. All at one time we had a garage built bought a new truck and paid cash for all of it. So when we had to wait a week to have all the cash for the trailer. Even after all the work Mr Bradley did he still kept in touch and did everything perfectly till we got back in touch with him and got the trailer he really did simplify and make it so easy to get our dream started I will send everyone to Bradley and will be doing more business with him soon. He is a very valuable asset to yalls company. A damn fine job he does. Thank you again Bradley.

Roger Tate,
Tyler, TX


10/25/2009

4 vending the best. I highly recomend 4 vending, very professional company and the staff Melanie lee, April, super, very helpful. I will definitely use 4 vending in the future. Very good locations. DLara vending.

Westmont, Illinois.

09/16/2009

4MEGA-Vending.com is a wonderful idea! It's difficult to find vending services that want to deal with a company like ours but this search site hooked me up with a wonderful vendor (Fox Vending) and I couldn't be happier. Melanie from 4MEGA even checked in with me a few times afterwards to see how things were going.
The person(s) who gave birth to this vending match up site idea are geniuses!

-Kathleen King
-ACER Exhibits
Belcamp, Maryland

I think there aught to be a Melissa Powers fan club!! If there isn't one yet, then I think I ought to start one with me as President! It is now Saturday afternoon, but we just got up. Shirley & I are sore but happy after all that lifting and twisting Friday afternoon. Edward is a nice guy, and lives less than 5 miles from us. I knew you were closed by the time we finished loading at about 5:00 PM. Friday.
I will fax you the signed paperwork Monday afternoon. We don't normally get up until 11 AM. Mornings are slow when one is 71 yrs old., so it will be some time after that when I get down to Office Depot to Fax the signed form to you.
Melissa, you are a miracle worker. Thanks for all you did to make this happen.
Most Cordially,
Herbert Baucom

Silver Spring, Maryland

11/14/2013

Mellissa and staff were great to work with and prompt to respond to questions as we progressed through this transaction. We would recommend them to prospective clients and hope to do further business!

Barbara and Jay Buckert
WA

11/26/2015

Hi Melissa! :) So the food truck is up and running great!!! :)Been super busy! I know I promised you a picture as soon as it was wrapped! It's so cute!!!!!! I love the way my design came to life! We've had an amazing first month! Thanks for your help in making this dream happen!

- Chef Darci :)
*H-12 Outdoor Café*
Austin, TX


01/07/2017

I recently purchased a truck through this site. Bradley Heath was extremely helpful throughout the entire process. Bradley went out of his way to make the transaction smooth and was there to answer all of our questions/ concerns at any time. Thank you for all of your help Bradley.
Jim Coponi
Colonia, NJ

04/07/2014

I wanted to say Thank You to Stacy Sweet at USEDvending.com. Stacy made my purchase nice and easy. Thank You again for all your help!
A. W.
Soperton, FL

12/28/2010

Melissa,
We want to thank you and UsedVending.com for selling our vending truck.We tried to sell our truck for approx. 3-4 years and because of your professional and prompt service you sold our truck in 3 months.We recommend contacting Melissa at UsedVendin.com if you have anything to sell. She has an A+ personality and is very easy to work with.

Thank you Melissa and UsedVending.com
Greg
West Virginia

12/01/2014

My experience with Melissa Powers was wonderful. Call backs and questions were answered fast. Great Service!!!!!
Donna Melazzi,
Ocala, FL

04/28/2014

For the past three months I have been dealing with Calice on vending machines. The seller was over 1500 miles away, however somehow she worked out an agreement where it made it worthwhile to purchase these machines. I thank you and look forward to doing business again.
Sandy,
Casper, WY

12/01/2016

Frankly, it was all very favorable! Follow up on your behalf was on point. I would use your group or recommend your group to anyone. One more thing… our original rep left the company midstream in this search/transaction. When I discovered that, I was concerned that we would have been left by the wayside. Honestly, I have seen it before. I was surprised that almost the next day, I received your call and you identified yourself as the new point man. A job well done. I did not feel left out.

Thank You for this opportunity,
Larry L.
Mounds View, Minnesota

10/13/2009

Thank you. My experience great. I was able to sell my vending machines without any problems . I appreciate your work. Best wishes always.

Shirley
Palm Coast, Florida

08/13/2016

Erin Rose is a jewel and has assisted me in several transactions since March of 2016. I have been able to buy great vending machines at great prices.

Dana Boykin,
Belleville, MI

03/11/2012

I was very satisfied with the Professional customer service that we received. Melissa Powers was a pleasure to work with and she is very knowlegable on what she sells. I would recommend this to anyone looking to for a used or new machine. Thank you Melissa for a Great Job.

Scott,
New Jersey





10/15/2009

Melissa has helped me sell 2 machines in a short amount of time, at no cost to me. She does all of the work with a few phone calls and emails. I tried a newspaper ad for 4 weeks that cost over $100 and I had 1 response. Used Vending. com has worked very well for me.

West Hartford, Connecticut

03/19/2012

To whom it may concern: Thank you for allowing me to give this testimony. A couple of years ago we put our first concession trailer on your site. Withing a few weeks it was sold. The transaction with the men from New York went without a hitch. During this time I was on the phone with Melissa constantly as I had never done this before. To my delight she was always calm and even a huge encouragement as she would help dismiss my fears of something going wrong. We bought our first trailer after this and soon found out it was too big for most fairs and decided to sell within six weeks of receiving it. Once again Usedvending did a wonderful job as it sold within days of being on your site.

Thank you Melissa once again for your professional attitude and advice. We then bought our second trailer and while waiting for it to arrive I did a homemade quickover with a gooseneck trailer that i already used for other opportunities. Once the new trailer arrived we decided to sell this one as we didn't need it. For the third time we went with you and once again it sold withing a few weeks. Awesome!! Just recently my wife and i decided to let go of the other mobile kitchen. We loved it but with us being a ministry we saw that it was very easy to get offtrack from our primary calling to minister the gospel. This unit sold once again very quickly and as a result, we are now back on track. But what I really want to say is that I wish that we could find people with the caliber of Melissa. Our ministry would be further ahead. Thank you Melissa very much. It has been a huge delight working with you.

Sincerely, Joseph and CJ Kyser
Georgia

11/04/2015

I am delighted so far with my experience with UsedVending.com. They really know their market and the products, and have provided valuable guidance in how to market my vending machines.
Lee A. Bowers,
Villanova, PA

12/18/2013

April,
I would like to thank you for the wonderful customer service you provided to me on my recent purchase. You were very helpful and pleasant to deal with. Everything was delivered as promised and in good condition. Thank you.
L.B.
Magnolia, TX

02/13/2009

Wonderful Customer Service...all my questions were answered in a timely manner...she was wonderful!!.....a true asset to your Company!!! Way to Go!!

Lisa Thurman
Prudential Gary Greene
Friendswood, Texas

Eric Norman Thank You, Your customer service is extraordinarily splendid and deserves to be commended thank you !! You've went beyond the call of duty to satisfy a potential customer. If this is your policy or standard operating procedure then success is inevitable with you and your company!!!

M. Maynard SR

03/12/2015

Calice, Having never purchased vending equipment through USEDvending.com. I must say that my first time experience was positive. The negotiation process between myself and the seller was smooth; the broker (Calice) was responsive to my questions and all issues where handled in a professional and business like manner. The document processing involved with the purchase transaction was very easy to understand and navigate. Overall, I would buy through USEDvending.com in the future.
Sincerely,
LAUNDROLUX - HAVRE DE GRACE, LLC
Stan Marshall - General Manager
Havre De Grace, MD

09/17/2016

Excellent service, very attentive and honest when taking care of business.
James Yarber,
Denver, CO
See Hundreds more or Write your own...