ALABAMA
Alabama Trailers & RVs for Sale! Buy or sell used trailers in Alabama – we have used RVs, used horse trailers, used camper travel trailers, used heavy equipment trailers, used dump trailers, used livestock trailers, etc… AllUsedTrailers.com brings Alabama safe, easy transactions of buying used near you!
DISPLAY OPTIONS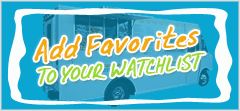 Login to Inquire Online
Call: 601-749-5660
Customer Experiences
11/18/2013

All I can say is that if you are lucky enough to get Melissa Powers as your salesperson, you've struck gold! She is as good as it gets. Attention to detail, incredible follow-up, she is all over it. Talk about taking care of a customer, it doesn't get any better. If you have any needs in used vending, do yourself a favor. Get a hold of Melissa. You won't be sorry. Super Satisfied Customer!
David D.
Cobb, CA

01/28/2014

I'm not sure why you would want to sell your stuff on any other site because UsedVending.com sold my Food Truck in less than a month. The process was professional, friendly and quick. They help you throughout and build a relationship with you. I will definitely use them again, everything was just that easy. My point of contact was Stacy. He was great, friendly and just amazing.

Thanks Stacy Sweet, What a sweet experience!
Deonne, MD

10/18/2009

April was extremely prompt in answering my questions by email and phone. I was impressed at how helpful she was and how she understood right away what I wanted and was able to help me make an informed decision on a machine that fit my needs. The other companies I talked to were not nearly as prompt or service oriented. I got a great price and the machine is working out great.

Thank you,

Paul Sullivan
Saint George, Utah

09/26/2014

Melissa provided us with exceptional service, going above and beyond to make sure everything related to our purchase was not only communicated, but also explained thoroughly along the way. I would VERY highly recommend USEDvending.com for all your merchandise related equipment needs! Thanks!
Sincerely,
Glenn Iverson
Auction Stalkers, LLC
Las Vegas- NV

05/19/2012

This website has been a great resource for information and helping to expand my business. Gini was very professional and easy to work with. I look forward to working with this company again.

Dave,
Olathe, Kansas

10/22/2009

I worked with Melanie Lee to get a vending machine for the development I manage. The first contact she sent me was the company I went with. I am very happy with my decision.

Thanks Melanie.
Urbana, Illinois

My hats off to Melissa and her staff. When my husband was diagnosed with cancer several months ago, we thought for sure we would be stuck with our concession trailer until the spring. But thanks to Melissa's and staff's hard work, they found a buyer and yesterday they picked it up. What a breeze it is to work with Melissa and the staff. They truly take care of EVERYTHING. Well worth it if you have something they can sell for you. Thanks again for everything!!!

M. H.
Virginia Beach, VA

04/02/2013

MY WIFE AND I WOULD LOVE TO THANK MELISSA POWERS FOR ALL THE HELP IN FINDING US THE FOOD TRUCK THAT FIT OUR NEEDS. SHE ALWAYS RETURN MY CALLS , WITH THE ANSWERS I WAS LOOKING FOR. WE SPENT FOUR MONTH LOOKING FOR A TRUCK AND SHE FOUND THE ONE!! WE LOVE IT!!!! NOW WE JUST NEED TO PUT IT TO WORK AN MAKE SOME MONEY. LOL THANKS AGAIN MELISSA.

L.J.
Ball, Louisiana

03/15/2012

I have been using Usedvending.com for the past 6 months or so. They have posted great pictures of my food cart and a very descriptive ad.

Steve,
Aurora, OR

08/23/2011

Had a wonderful 1st experience with you. Can't wait to get the next lead. Thanks so much for the help.

Mary,
Birmingham, AL

10/15/2013

I purchased two food concession trailers recently with Melissa acting as my broker. One of the trailers was 700 miles away. I was able to make all arrangements through Melissa, including inspection. She handles all details flawlessly. The trailer was picked up and delivered through a third party transporter. The only hitch in doing business with UsedVending is the hitch used by the transporter. Needless to say, I am a totally satisfied buyer and would gladly use Used Vending the next time I am in the market for a trailer.
Stephen W.
Miami, FL

03/27/2012

Melissa worked very hard to assist me with selling my concession trailer. She was always professional and made sure all my questions were answered. The transaction was smooth and easy. I will buy and sale at usedvending.com again.

Scott Baldwin,
Florida

02/07/2012

From my initial research to the first can of soda purchased, Used Vending was awesome. Melissa took care of all my questions along the way. Even after the sale, she has been there to help in all aspects. The whole situation went exactly as I had hoped. Thank you!!!

Benjamin,
Ohio

03/21/2014

I wanted to take this time to thank you for all your help. Being new to the vending machine industry I really was not even aware of all the right questions to ask before speaking to you. You really went above and beyond just making a sale. You made it easy for me to feel comfortable working with your company. From taking the time to explain to me what I should look for in a used machine or explaining the advantages of buying a new one. As well as getting the sale completed on your own time over the weekend; It was pretty amazing the level of service I received from you. Not sure when I will purchase my next vending machine but I'm sure that I will purchase it from you.
G.V.
Passaic, NJ

07/01/2014

I enjoyed working with used vending it was easy to post the item I needed to sell. I was impressed with the speed of the transaction. Melissa Powers was a joy to work with and made it so easy.
Jason S.
Greensboro N.C

02/08/2012

I presented my situation to Tara and she came through like a champ! She help me find my machines, Tara went above and beyond the call of duty to help out. Used vending is lucky to have an employee who cares that much and is willing to go the extra mile for excellent customer satisfaction. Will be buying more this year!

Robert,
Dallas Texas

05/23/2010

April was so helpful and such a delight to do business with. I was very happy with my soda/snack machine and the customer service I received was excellent!!

Lisa

05/04/2010

My experience with Melissa Powers usedvending.com was great. The process went very smoothly.

06/30/2011

I was very pleased with the location service and Stacy Sweet!! It really saves time and money to use this service. Great Job!!!
Thanks,

Darrell, SC

04/15/2009

We had a positive experience in dealing with both Melissa and Cheryl at Used Vending while selling our hotdog cart. We had placed our cart on craigs list and had not received any responses when I did some research and found Used Vending online. I first talked with Cheryl, who helped me with providing a write-up, pictures and made suggestions on the price. After not receiving any calls, I called Cheryl and asked for suggestions - we lowered the price and waited patiently. Not much longer and it was sold. It was great to let someone else deal with the customer and negotiate and all we had to do was show it and let them take it home. If there is a need to sell concession equipment in the future, we will definitely call Used Vending and specifically ask for Cheryl and/or Melissa.
Thanks.
Starla Peninger
N. Richland Hills, Texas

07/05/2010

April was a FANTASTIC representative. She was very easy to work with and has a very sweet personality. I hope to deal with her again on the next machine I will be purchasing.


Paul Haanen Jr
Pres. AWC Employee Committee

02/07/2012

This was my first experience buying a vending machine. I can't believe how easy it was to find a machine to fit my needs and make the purchase. The overall transaction was fast, easy and pleasant. Thanks to Calice for her help and answering questions.

Thanks,
George
Culpepper, VA

03/05/2001

Used vending helped me to purchase a good quality used machine. I happen to live near to their location and met Eric face to face. You can trust their honest desire to serve their customers.
Sincerely,
David Trosclair
Mandeville, LA

11/17/2010

April Hurd was very helpful in providing excellent customer service. She definately is a great asset to your company! Look forward to work with her again in the future.

Gor, CA

07/20/2014

Thank You. Everything was very fast and easy, Melissa Help me a lot in everything!!! She is great!!!!!!!
Carlos Perez,
Miami, FL

I have purchased 10 vending machines through Eric at USEDvending.com and have been very pleased with the service I have recieved.They were several different transactions and I received the same service each time. Eric always follows through to be sure I am satisfied. I will continue to do business with USEDvending.com as long as they are on the web. sincerely,

Dan

04/28/2013

Excellent service from Stacy Sweet! He was able to provide me with a location and a machine! I would recommend this company to anyone in the vending business.
F.C.
Louisville, KY

09/26/2014

Hi Calice, Just a few words on my experience with Used Vending. I have been very happy using Used Vending. I have been in the vending business for 1 year and am trying to grow my company. Buying the vending machines from your site has helped me grow from 5 machines to 16 in no time at all. Calice has been a great help getting my bids to the right people and getting back to me. The deposit went smoothly every time. I picked up 10 machines yesterday and the couple was from Hastings NE. I live in Omaha and had to hire a truck and coordinate with the couple from Hastings a pick up time for both of us. There was never I a time where I felt uncomfortable and things from Calice were upfront. Thanks for saving me lots of money on machines and helping grow my business in a short time. I will definitely be using your site in the future.
Thanks,
Cathy Burdis
CBvendingomaha.com
Omaha, Nebraska

12/14/2011

We would like to Thank Melissa and everyone at Used Vending. Melissa was a major player in the sale of our equipment, she took all hassle out of selling it by ourselves. I highly recommend Melissa to anyone in need of selling their equipment. We couldn't have done it without Melissa. Thanks again and Merry Christmas!

Corona, CA

10/16/2009

Couldn't have asked for a better person to work thru to get what I wanted done.

Ed in Texas

Hello Julie, I just received the shipment. That was fast. I really appreciate your help and I'm very impressed how fast you filled and shipped my order. I'll be ordering 20-25 more machines in the next two or three months. I'll definitely be in touch when the time comes. Thanks again,
Randy P.

06/17/2012

Thanks "usedvending.com" and especially Ms. Calice! My client needed a specific type of vending machine and usedvending had it listed. Calice helped put both buyer and seller together and all went according to plan. My client is now one Happy Camper! Thanks again Calice!

James Bastrop, Tx

01/10/2011

April was a great help in obtaining my first vending machine and I will continue to use used vending through her help.
David

11/06/2011

I would like to thank Stacy Sweet for his perseverence in selling a portion of my vending machines. He really got creative in selling them and it's been a pleasant experience. I'm sure in due time he'll sell the rest. Thanks Stacy. Pam Al-Bawab Georgia

04/08/2011

Had a great experience with Vanessa (Vee) leading the way - she contacted me regarding conditions of sale and from there the transaction took place in less than a week.

Dee, Michigan

09/30/2010

i had a very pleasant experience with Melissa selling my machines. She and her people were very friendly and helpful. Thanks again!

Carol in Victorville

09/19/2014

Melissa, I would like to thank you for our experience in dealing with UsedVending.com. It was a pleasure working with you and the service you folks provide is very beneficial. You bring willing sellers together with willing buyers and the transaction can happen relatively very quickly. The gentlemen that I worked with was a pleasure to deal with, he was obviously motivated to make the sale happen. This was indicated very quickly after you had asked him what his best price was and then he got back to you right away with my many questions. For what we were looking at a mobile brick oven trailer we were able to get into a turn-key business for literally 1/3 of the price vs having to go with brand new. Huge thanks once again for all your help and putting this together.

Kindly,
Michael Tereza,
Elk Grove Village, IL

10/19/2009

4 mega vending and used vending was extremely helpful with the startup of my cigarette vending business.

Very knowledgeable and excellent follow up skills.

Thanks again!
Apple Vending
Atlanta, Georgia

07/23/2014

Stacy, I am very pleased with the service and helpfulness of those at usedvending.com. Every conversation was personable and informative. The sale went off with out a glitch! Paper work was minimal. I even had my lawyer check over the three documents before signing. I was assured that all was in order and legally accurate. The only thing that could have made it better for me would be if the monthly notice encouraged a lowering of the price over time if not selling. It only makes sense, but under the pressure of difficult life circumstances I never thought of it on my own. I great experience and a great company!


<>< Michele Robinson, PA

06/13/2012

I've sucessfully purchased candy machine lots twice from Usedvending.com and both times have been very pleased with the results. Calice is GREAT to deal with. My last deal only worked because of her persistence and understanding. I highly recommend both the site and Calice!

Eric
Manassas, VA

10/14/2010

I WOULD LOVE TO THANK MELISSA FOR THE CUSTOMER SERVICE AND PERSONAL TOUCH WHEN COMMUNICATING WITH. HER VOICE IS PLEASING TO LISTEN TOO AND SHE BECAME MY ANGEL WHEN SHE HELPED US SELL OUR TRAILER. WE HAVE BEEN TRYING FOR MONTHS AND WITH IN ONE WEEK ON THIS WEB SITE IT WAS SOLD. THANK YOU SO MUCH FOR YOUR BUSINESS. TAKE CARE AND GOD BLESS YOU AND YOURS.PEACE OUT SISTER TAMARA

11/02/2009

April at 4Mega-Vending provided me with excellent service. She was fast, efficient, and pleasant to deal with. The next time I'm looking for a vending machine 4MEGA-Vending will be who I use period!

David Lorent
Barnum Wash and Dry

02/23/2012

I was very pleased with the professional and helpful way that Melissa Powers assisted me in selling my equipment. Melissa was very good at keeping me informed about the process, as well as understanding of my situation. Thanks so much, Melissa!

Julie,
New Orleans

08/25/2014

MEGAvending is a great company to work with. They were with me every step of the way from ordering all the way until after delivery. They are professional and friendly, and the vending machines came quick and undamaged.

Ashley,
Pryor, OK



02/25/2011

Thanks to Vanessa. Very friendly service. A pleasure to work with and look forward to more opportunities.

Chris, IL

06/27/2011

Was looking for a vending machine that would hold both drinks & snacks and needed it to cost to be inexpensive. Not an easy request. By with April Hurd's help we were able to locate one in my city. WOW! We made this purchase to be able to gather funds to donate to the American Heart Association and several other charitable institutes. Job well done! Thanks!

Orlando, FL

10/25/2009

April Hurd Rocks!

Thanks for your help and support.
Monica Reimer

12/02/2009

Melissa and Cheryl,

Thanks to both of you for all your help in liquidating the machines.

My wife is so happy to have the cash, but more importantly, the extra space in the house !

Again thank you both and hope your Thanksgiving was good and that your Christmas will be a wonderful time with your families.

Mark and Sheryl,
Arkansas
See Hundreds more or Write your own...