HEAVY EQUIPMENT TRAILERS
Used Heavy Equipment Trailers for sale online. Lowboys, compact and full size semi heavy equipment trailers are for sale nationwide. Search our trailers by zip code and see the distance from each equipment trailer to you. Pick it up when you are ready and save a bundle on our used trailers!
DISPLAY OPTIONS
Item No: NY-ET-609H
2009 - Rance Rough Rider 4-Slot Enclosed Snowmobile Trailer!!!
This trailer is for safely transporting all your snow toys- it has 4 slots and is in excellent condition having no dents or blemishes. Used only 2 winters. Dimensions are 6' inside, 8' width, 24' long. See the details for list of features.
. Hamburg, New York.
See "Details" for More Pics & Features!


Call Stacy at 601-749-5660, or click the REQUEST button below to email for more info on this trailer.
Item No: TX-ET-604H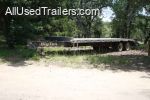 REDUCED!!!
2007 - Big Tex Heavy Equipment Trailer!!!
This is a 24' double axle trailer. High tensile, pintle hookup. It's in good condition and has good tires.
WAS: $13,200

NOW: $5,700. Stockdale, Texas.

CLICK on "MORE DETAILS" for PICS & FEATURES!!!
Call Stacy at 601-749-5660, or click the REQUEST button below to email for more info on this trailer.
Item No: LA-ET-592H
20' Three-Axle Heavy Equipment Trailer!!!
MFG. by Felps-Pintel. It is in good condition with some minor surface rust, but solid steel without. Electric brakes on two axles re-worked three years ago and wheels re-packed at same time. Good rubber on all six tires. Decking replaced two years ago with treated 2 by 8.
WAS: $3,600

NOW: $3,000. Belle Chasse, Louisiana.
CLICK on "MORE DETAILS" for PICS!!!
Call Stacy at 601-749-5660, or click the REQUEST button below to email for more info on this trailer.
Item No: IA-ET-577H
2008 - 40 Ft. Air Ride Gooseneck Flatbed Heavy Equipment Trailer!!!
In good condition, pulls and rides very well. It was custom built for the seller by Cascade Custom Trailers and used for hauling hot shot freight. See details for complete list of features.

$12,100. Wilton, Iowa.
CLICK on "MORE DETAILS" for PICS & FEATURES!!!
Call Stacy at 601-749-5660, or click the REQUEST button below to email for more info on this trailer.
Item No: WI-ET-575H
1988 - 24' Gooseneck Beaver Heavy Equipment Trailer!!!
Weighs 14,250lbs. Used for hauling large tires, tractors, etc. It is in very good condition. New brakes and lights, loading ramps rebuilt, tires in good condition, spare with 2 extra tires, diamond plate on beaver deck could be replaced if needed but frame work is all sound.

$4,600. Jackson, Wisconsin.

CLICK on "MORE DETAILS" for PICS & FEATURES!!!
Call Stacy at 601-749-5660, or click the REQUEST button below to email for more info on this trailer.
Item No: FL-ET-585H
1996 Baxter 8' x 16' Equipment Trailer!!!
Seller used this item for carrying vaious items from auctions. It is an open trailer in like new condition.

$900. Bronson, Florida.

CLICK on "MORE DETAILS" for PICS & FEATURES!!!
Call Stacy at 601-749-5660, or click the REQUEST button below to email for more info on this trailer.
Item No: MI-ET-576H
2002 Bedford Machinery Skid Steer Trailer!!!
Manufactured by Bedford Machinery and of high quality steel tube. Trailer has maybe 200 miles on it. 10,000 GVW, Dexter rubber torsion (no springs) , 6 lug rims , 225-75D- 15 tires, trailer has back stands and is in very good condition.

$2,860. Ottawa, Michigan.

CLICK on "MORE DETAILS" for PICS!!!
Call Stacy at 601-749-5660, or click the REQUEST button below to email for more info on this trailer.
Item No: VT-ET-581H
1998 - 34' Gooseneck Car Hauler!!!
Has 8' loading ramp, and lights down center. It has been very well maintained, so is in very good condition. See details for more pics.

$5,760. Johnson, Vermont.
CLICK on "MORE DETAILS" for PICS!!!
Call Stacy at 601-749-5660, or click the REQUEST button below to email for more info on this trailer.
Item No: CA-ET-514H
REDUCED!!!! 2007 HURRICANE 170 XR1 DRYWALL SPRAY RIG!!!
12 FT LONG 5 FT WIDE 5 FT HIGH. 150 FT SPRAY HOSE, 113 RUNNING HOURS, STAINLESS STEEL TANK, BRAND NEW AND CLEAN.
WAS: $14,300.
NOW: $11,000. Sacremento, California.
Click on "More Details" for PICS!!!
Call Stacy at 601-749-5660, or click the REQUEST button below to email for more info on this trailer.
Item No: TX-ET-474H
1992 Benlee Rolloff Trailer!!!
This trailer has 60,000 Lb Capacity, 5 Stage Inside Cylinder, 3 Stage Outside Cylinders and 33' Rails and is in good condition.
$24,145. Houston, Texas.
Click on "More Details" for more Pics!!!


Call Stacy at 601-749-5660, or click the REQUEST button below to email for more info on this trailer.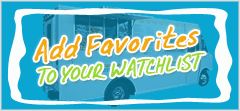 Login to Inquire Online
Call: 601-749-5660
Customer Experiences
10/16/2011

My experience with this company was superb. Not only was I treated with respect and professionalism, but the customer service rep that I worked with was competent, punctual, and followed-through on every lead and responded to every question. This is a company that does what it say it will do and I am happy to recommend them to anyone.

Very Satisfied Customer
Miami, FL

11/09/2010

Melissa was so helpful and very professional. SHe did everything she could to sell our unit. When it sold the transaction went very smoothly. Thanks, Melissa and Used Vending!

Cindy S.

11/17/2010

April Hurd was very helpful in providing excellent customer service. She definately is a great asset to your company! Look forward to work with her again in the future.

Gor, CA

08/19/2010

Can't say enough how much I appreciate the effort from Melissa. Super job from posting until the final sale. I look forward to againg working with you in the future.

Jim O.

02/14/2011

Melissa was great to work with. The sale was handled very professionally.

Thank you



TX

04/17/2011

Thanks Melissa. It was a fast and smooth deal.

Toronto, Canada

03/25/2012

UsedVending.com is a very professional company. Excellent customer service and very thorough. I trusted them to help me sell a trailer and they did the job in an A+ fashion. Two potential buyers came at the same time and they negotiated a great price of sale. I'm very pleased and grateful!!!

Terri, CA

03/09/2011

I will continue business..
April was awesome! She so friendly taking care of a need I had. In today's world it is nice to see there are still good people out there who care. She made my day. I will continue doing business with this company because of her. Thank you April

Robert, New Jersey

09/30/2010

Melissa Powers did a great job lining up the seller and myself quickly. I was able to start my business much sooner. Thanks again, Melissa.

Steve M

08/10/2010

Thanks Malissa,we appreciate everything you did to assist us in making our dream come true.You made this process simple from beginning all the way to the end.
Businesses need more professional, friendly and enthusiatic people like you. Keep up the great work.


April and Antonio Rodgers

06/22/2011

I was pleased to work with everyone there. Stacy Sweet was very helpful. Would definitely buy from them and recommend them. Not hard at all buying from a company so far away from my state.I am happy with there services.

Janice, OR

10/09/2010

Hi Connie,
Just a quick note and thank you for your professionalism and ease in doing business with your company!!

Arizona

07/02/2010

a very professional and easy transaction in getting our concession trailer sold. Melissa was very prompt and efficient in helping make the sale close. Thanks for all your efforts!

Joe Hurst
Thomasville

11/28/2010

I want to thank Melisa Powers for her help in finding our catering trailer. She was very professional and thoughtfull of all our needs. We looked at several hundred trailers before finding Melissa. I would recomend her to anyone searching for a safe way of buying a catering trailer. Thanks Again Melissa.

Robert, TX

12/07/2009

It was indeed a pleasure to work with April. I would not hesitate to call on her again in the future

Denver, CO

10/28/2010

Mellisa Did Great Job Very Easy Deal

Russell B.
TEXAS

04/11/2011

I had a great experience with this selling site, April Hurd is wonderful and is very helpful.I will defiantly be doing business with them in the future.

Illinois

12/01/2010

Melissa was GREAT to work with! She is truly interested in her customers success and this shows in her warm personality as well as her professionalism in her business. I felt very comfotable dealing with her and had a high level of trust. Melissa always returned my calls and had some great ideas in how to best sell my concession vehicle. Thanks!

Keep up the good and honest work!

Mark M.
The Macho Taco

11/02/2010

April was just amazing. I asked so many questions! She answered them tirelessly. She is an expert in her field. April was prompt with her replies, accurate with her information, and her customer service skills were awesome. She was a true professional throughout the experience.
Thanks so much, April.

Wanda, Evans, GA

12/06/2009

I am BEYOND satisfied with your services. Melissa not only helped my mother and I with a purchase of a catering trailer earlier this year. But, she assisted us in a sale of one we had to do just this past week. From beginning to the very final piece of paperwork they were just a phone call away. Melissa and Cheryl made our buying and selling experience a very smooth one.Thanks girls.

Gainesville, Georgia

07/27/2011

Melissa made it so easy for me to purchase a truck. She would call me me with all details before I would even think of them. I have not had any better customer service anywhere.

Thank you!!
Claudia,



CO

10/26/2009

Keep up the good work!!

I cannot praise Melissa enough on all her help. She made it so easy to purchase more equipment for our new business and I will diffidently be contacting her again, SOON I HOPE!

Shawnee, CA.

07/27/2011

I bought the perfect concession trailer that fit my needs through your service. Mellisa Powers was awesome awesome help. She made everything very easy and she is a pleasure to work with.
Thank you so much for a job well done.

Dan Mullin / Mullin's catering
New York

10/26/2011

I had my truck on Craigslist, local papers and autotrader for weeks with no action. I then put my truck on usedvending and sold it in a couple weeks. Melissa contacted me and she was off to the races i.e first contact, great turn around time on calls and timely paperwork. This was a seamless and timely sale. Melissa was great to work with and knew her stuff. Thanks again.

James A Benoit, CT

11/18/2010

Melissa an exceptional job on getting things done. She is quick with responses and she is a woman of her word :) which made things very simple. It was an Exceptional Job Mellisa

11/15/2010

Ms. April is a great asset to your company, I congratulate you all for the wonderfull services you gave to Millennia Atlantic University.

Doral, FL

03/02/2010

I have had the best experiance with your company, April Hurd provided me with the best customer service I could have asked for . I actually train customer service . April went above and beyond the call of duty . She not only handled my request from the start to finish , she very pleasent to talk to made me feel comfortable about my purchase . Thank you April , you are a great asset to the company.

Marietta, GA

06/27/2012

Melissa, the trailer we purchased through you just arrived and we could not be more pleased. Your help narrowing the 100's of selections down to the last one was an enormous help! You can be sure we will be using your company again.

Gary M.
Sharon, Alabama



12/08/2009

April helped me out so much, i would have been lost with out her

Takoma Park, Maryland

08/24/2011

Thanks Melissa
The transaction went very smooth and easy, very professional. I was impressed.

J. Reed

TX

03/28/2012

We posted our trailer on 3/19, in three days we had a buyer and the transaction was complete on 3/28. Melissa is absolutely awesome!! She answered all of our questions and was always professional. Thanks for all of your help!!!

Mary,
Jasper, GA

05/28/2011

Melissa is a pleasure to work with. Your service has been very, professional and fast. you have been great and encouraging throughout the entire process. Thank you very much for making this easy for me. I would highly recommend your service to anyone!...John

10/26/2009

We were very impressed with Mellisa and all the hard work she put into selling out conssesion trailer for us, she was very easy to work with and took care of all our needs, I will defenitly contact her for any future needs.
Thank you so much.
Meagan, Texas

02/06/2011

I really appreciate all you have done for me in setting up this transaction. Your whole staff was very knowledgeable and professional from the beginning. Thanks again for all of your help.

St. Petersburg, FL

01/09/2011

For petes steak, if we only listened to Melisa our unit would nave been sold sooner! Great job Melissa and our trailer has a great new home clear across the country in Co., unreal!

03/05/2012

USEDvending.com was AWESOME to work with! They listed my trailer immediately and had it sold within 48 hours! Melissa was so helpful and lighening fast with my questions and helped me from start to finish. I would recommend this to anyone looking to buy/sell. First class all the way!

Nick,
Jonesboro, AR

10/23/2011

I am very satisfied with how much exposure our item received on this site! Our sales rep Melissa Powers was very professional and stayed in close contact all the way through the process.

Pat,
Mt. Morris, MI

10/14/2010

I WOULD LOVE TO THANK MELISSA FOR THE CUSTOMER SERVICE AND PERSONAL TOUCH WHEN COMMUNICATING WITH. HER VOICE IS PLEASING TO LISTEN TOO AND SHE BECAME MY ANGEL WHEN SHE HELPED US SELL OUR TRAILER. WE HAVE BEEN TRYING FOR MONTHS AND WITH IN ONE WEEK ON THIS WEB SITE IT WAS SOLD. THANK YOU SO MUCH FOR YOUR BUSINESS. TAKE CARE AND GOD BLESS YOU AND YOURS.PEACE OUT SISTER TAMARA

11/13/2010

April Hurd is not only good looking and helpful, she's also very smart; what a great combination.

Manny, NV

12/13/2010

I dont have words to describe how professional and efficient Melissa was. Her Costumer Service was amazing. Melissa you made the process very easy and the most important thing everybody was happy with the transaction. Thanks Again.

Lina,

FL

08/01/2011

It was a pleasure doing business with Melissa. She was always up beat, friendly, informative and willing to help. The ease of the paperwork which can slow things down was all in order and made the transaction go smoothly. Thanks Melissa

10/03/2011

April was a great sales rep. Thank You!! Tommy, Atlanta, Georgia

07/13/2010

Melissa Powers has helped us to find used equipment twice now and she has been quick to get responses both times. We really appreciate her help and will continue to use her resources in the future.
thanks so much.
Phyllis Long

11/06/2010

Melissa was extremely helpful and professional with us as a first time buyer. She made everything go smoothly and I was not only extremely impressed by her efforts through the purchasing process, but with the follow up as well. My company will definately be using Melissa and her company again. Thank you again.

Rob G
Pennsylvania

09/11/2010

Forget E-Bay, Whatshisname's list and all the rest, and dispense with the spammers, fruitcakes, and lookylou's! Don't let Melissa Power's sweet smile fool you - The woman is a pit bull when it comes to selling your merchandise!

John C. Sumter

07/19/2011

Couldn't believe how quickly my equipment was sold on this site. Amazing and Stacy was great and got right to the point of things.

Dennis R,
New Jersey

10/25/2009

Bought a catering truck from you, and sold it through you! Great customer service!

Laura
Reunion, Florida

10/24/2010

Melissa Powers is an awesome individual with awesome sales power! If you want something sold you need to speak with Melissa Powers! Awesome job Melissa! Thanks for all your help!!

Regards,
Mike Archuleta
Trinidad Colorado

10/26/2010

April, thanks for all that you do! With your helpful and cheerful demeanor, you have made my purchase a "very painless experience". Again, much thanks!

Take Good Care!

John "The Wash Tub"
Decatur, TN

06/28/2011

I used your company through Melissa Powers and she has made the purchases go very smoothly,one that fell apart,but with her experiance she moved me along to another purchase which was necessary for me to fulfill my clients needs,Thanks so much Melissa for your great help and caring for my business needs.

Wayne Basilotto,Your Choice Vending
See 1800+ more or Write your own...